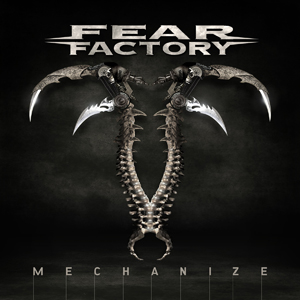 Name: Mechanize
Band: Fear Factory

Genre: Industrial Metal
Release Date: 5th February 2010
Label: AFM Records
Introduction
Formed in Los Angeles in 1990, FEAR FACTORY entered the metal scene with a crushing debut with 1992's 'Soul of a New Machine'. Combining death metal with an industrial influence, the original line-up of vocalist Burton C. Bell, drummer Raymond Herrera, guitarist Dino Cazares and bassist Andrew Shives was onto something that had not been widely explored. FEAR FACTORY had set a new standard in extreme music, a standard they would continue to bear to this very day. The albums 'Demanufacture' (1995) and 'Obsolete' (1998) followed with a great success. 'Digimortal', which was released in 2001, was the last FEAR FACTORY studio album to feature Cazares on guitars. Although the album reached Top 40 status, Bell and Cazares were having differences, and Bell left the band.
In 2002, the band released their original demo recordings as 'Concrete' and in 2003, an album of remixes and rarities called 'Hatefiles'. Just when it seemed the band was over, Bell returned and Cazares departed, allowing FEAR FACTORY to be resurrected and create their return effort, 'Archetype', on Liquid 8 Records. Olde Wolbers took on guitar duties and Byron Stroud of STRAPPING YOUNG LAD was recruited to handle bass. 'Archetype' was a return to the 'Demanufacture'-era sound and won much praise from long-time fans and supporters. Summer of 2005 sees the band preparing to release their fifth studio album, 'Transgression'. Unfortunately, the album has really bad reviews and FEAR FACTORY decide to change their line-up again. Now, they are back with Dino Cazares and the new output 'Mechanize'.
Album Review

After the bad reviews of FEAR FACTORY's last album 'Transgression', vocalist Burton C. Bell went back to the old roots and reunited with the original guitarist Dino Cazares. The band is completed by Byron Stroud (bass) and Gene Hoglan (drums). Now, I thought, they would come back and smash our faces into the ground but instead, 'Mechanize' starts with a pretty crappy opener that is also called 'Mechanize'. The parts of the song don't fit together. You could easily make 2 songs out of this one. Pretty disappointing if you ask me! After all the shit going on in the last time (conflicts about name-rights and ex-members of the band), you would think they would come back with a killer-album but the opener makes me think differently. 'Industrial Discipline' starts pretty powerful and Bell's voice sets in pretty good as well but he should definitely not sing clean vocals, like he does during the chorus. It almost hurts my ears listening to those strange-sounding notes. Let's just go on with 'Fear Campaign' which is way better than the first songs I listened to. It starts with a monologue and soon gets back to the powerful sound I was hoping for. And also, this time the clean vocals kick in just right. The alternation of his almost speaking clean vocals and the screamed parts really work together. Also the guitar-work towards the end of the song fits in just right.
After only listening to 3 songs, you can say that 'Mechanize' is way more guitar-based than the last album. Maybe Burton C. Bell wants to scream "We are back, louder than ever!" Well, with 'Fear Campaign', they showed that pretty damn good. The album continues with the song 'Powershifter'. The name doesn't really cover the song. The power is not shifted; it is shown at every single second of the song. Also, the guitars are shown off as well, again. Towards the end, you have a really short part that cools the song down but the song ends on a real high. 'Christploitation' starts off with some silent piano sounds and slowly, the song is built up into another powerful output. Also, some synthesizers accompany the song pretty well. He screams "Your god is just a lie!" with such an energy you just have to scream along! During this song, you can hear what the other albums, without Dino, were missing so badly: powerful riffs, the aggressiveness and this cold, sort of mechanical, atmosphere. The next song 'Oxidizer' seems to be, unlike the last songs of 'Mechanize', a little lifeless. Somehow, the guys just threw this song out in probably 5 minutes. This will definitely not help their comeback!
Track 7, 'Controlled demolition', knows to persuade again. With a chorus that goes right into your ear, nice riffs and the well-known hard sounds, it is probably one of the best songs on the new album. You should definitely listen to this one a little more often! Starting with a really nice and soft sound, 'Designing the enemy' transforms into another powerful song that won't go off your mind for a while. But it also keeps the soft sound and brings it back in the chorus and shortly after it before it goes back to the fast sounds. The song almost fades out with nice vocals and a beautiful sound. 'Metallic division' is an only musical song without any vocals whatsoever. It seems to be a bridge between the first songs and the last 'Final Exit' which starts again with a monologue and some nice and quiet sounds before it jumps right into a fast sound. This song goes the other way around with clean verses and a screamed chorus. This gives a really unique sound to it and Bell shows off his vocal skills in all his facets. Really nice ending to an all in all pretty nice comeback! FEAR FACTORY is back!
Tracklist

01. Mechanize
02. Industrial discipline
03. Fear campaign
04. Powershifter
05. Christploitation
06. Oxidizer
07. Controlled demolition
08. Designing the enemy
09. Metallic division
10. Final exit
Total: 44:58 Min.
Line-up

Burton C. Bell - vocals
Dino Cazares - guitar
Byron Stroud - bass
Gene Hoglan - drums
Website

http://www.fearfactorymusic.com/
Cover Picture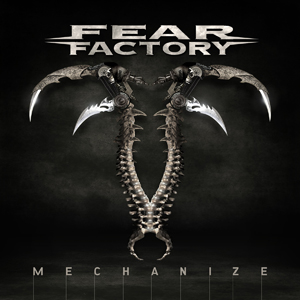 Rating

Music: 8
Sound: 9
Extras: 10 (Limited Edition "Toolbox" contains tools, a patch, a sticker, a poster, a certificate and the bonus track "crash test", re-recording from "Soul of a new machine")
Total: 9 / 10
{jos_sb_discuss:19}
See also (all categories):