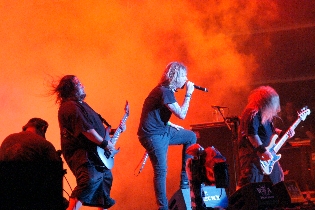 Wacken Open Air, Wacken, Schleswig-Holstein, Germany
5th- 7th August
Wacken Open Air Day 3: Orden Ogan, Tyr, Tiamat, Fear Factory, Cannibal Corpse, Immortal, Lock Up, Unleashed, Ektomorf
And so on day three of the behemoth of a festival that is Wacken, I decided to be discerning today in my choice of bands, resulting in seeing not so many but more of an excellent to my taste calibre. During the last day of Wacken Open Air, I covered shows at Black Stage, Party Stage and Wackinger Stage
Ektomorf (Black Stage)

There's nothing like a bit of thrash to wake you up in the morning, and this was no mere "bit" of thrash. It was a full on brutal assault by Hungary's leading purveyors of such stuff EKTOMORF. It's hard to know how it's possible to be so heavy first thing in the morning, especially when all those around you are looking decidedly fragile from the night before. But they really roared us all back to life kicking off with the excellent ' Rat War' and didn't finish until all subject matter from war, discrimination, death and pain had been covered. Their last song was the unforgettable ' I know them', a hell of a track and they got the day off to a harder than hell start with slick adeptness. http://www.ektomorf.com/ / http://www.myspace.com/ektomorf

Setlist
01. Rat War
02. Show Your Fist
03. What Doesn't Kill Me
04. We Rise
05. Ambush In The Night
06. I'm Against
07. Gypsy
08. Who Can I Trust
09. Rusty Cage
10. Outcast
11. Envy
12. Fuck You All
13. Drum Solo
14. Revenge to All
15. I Choke
16. I Know Them

Rating
Music: 9
Performance: 8
Sound: 8
Light: - (daylight)
Total: 8.5 / 10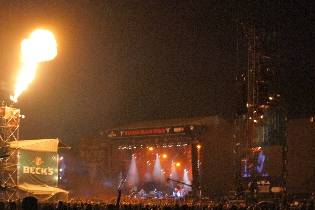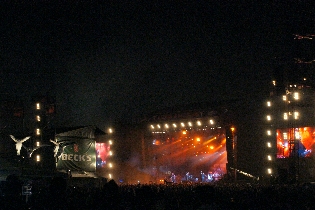 Unleashed (Black Stage)

From Hungarian gypsies to Swedish Vikings- Wacken is nothing but diverse and these deliciously dark and ferocious boys from up north smashed their way into our senses with killer precision and all the musical gore of a Viking blood fest. They were very dynamic, despite lead singer Johnny being in terrible pain with his back and their show has to be worth a good look with special mention to ' Wir kapitulieren niemals' as song of the set. http://www.unleashed.se/yggdrasil / http://www.myspace.com/unleashed

Setlist
01. Winterland
02. World of Lies
03. This Is Our World Now
04. Shadows in the Deep
05. Hammer Battalion
06. The Greatest of All Lies
07. Your Children Will Burn
08. Wir kapitulieren niemals
09. Into Glory Ride
10. Legal Rapes
11. The Longships Are Coming
12. Death Metal Victory

Rating
Music: 8
Performance: 8
Sound: 8
Light: - (daylight)
Total: 8 / 10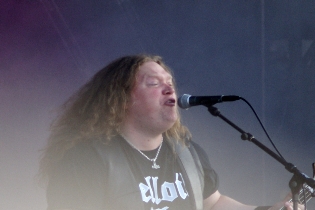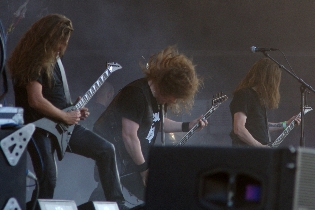 Lock Up (Black Stage)

"Mid eighties Thrash and Death Metal mixed with 16 pints of Vodka and Red Bull" is how these guys describe themselves with their usual self depreciating wit, and yet it was frustration over the situation in metal that led to their foundation (probably over 16 pints of vodka and red bull). With a huge musical pedigree (ex- CRADLE OF FILTH, NAPALM DEATH, DIMMU BORGIR) these lads, largely from Birmingham, England, certainly know what they're about. As they all have "other" band commitments it's rare to see these guys live, but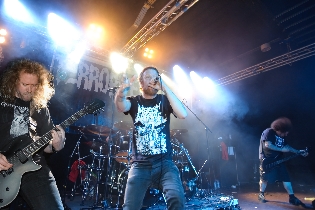 they are worth seeing. There's nothing polite about them, they're just a thundering, malicious cacophony of everything you could want in a band. 10/10 for being honestly the most unpretentious band living, with a brutal honesty in their music that's hard to match! http://www.myspace.com/lockup

Rating
Music: 9
Performance: 9
Sound: 8
Light: 8
Total: 8.7 / 10


Immortal (Black Stage)

IMMORTAL are an important band, not least because they were one of the first bands to fuse genres to create their own, at the time, unique sound. Hailing from Bergen, they're always a pleasure to listen to. Starting their set with the recent 'All shall fall' they ploughed their way through some personal favourites of mine 'Sons of Northern Darkness', 'Norden on fire' and ' 'Beyond the north waves', playing like it was their last chance. In one form or another they have been going for over 20 years and it shows in their consummate showmanship and the sheer tightness of the whole band. Totally recommended! http://www.immortalofficial.com/ / http://www.myspace.com/immortalofficial

Setlist
01. All Shall Fall
02. Sons of Northern Darkness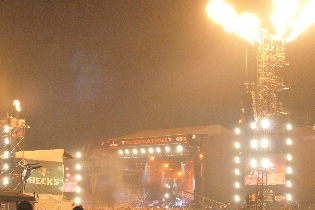 03. The Rise of Darkness
04. Damned in Black
05. Hordes to War
06. Norden on Fire
07. Withstand the Fall of Time
08. Beyond the North Waves
09. One by One

Rating
Music: 9
Performance: 9
Sound: 8
Light: - (daylight)
Total: 8.8 / 10


Cannibal Corpse (Black Stage)

You've got to love any band whose described as "undermining the national character of the United States". CANNIBAL CORPSE from New York certainly found it hilarious and did nothing to tone down their legendarily offensive lyrics and song titles. Good then, so we know we're dealing with honest to goodness, dyed in the wool, badasses here. Their music frankly reflects everything they stand for, which is essentially a horror movie script turned to music and they screamed their way rabidly through a total of fifteen tracks including 'Sentenced to burn', 'The time to kill is now' and the legendary ' Hammer smashed face' which bizarrely featured in ' Ace Ventura- Pet Detective' since Jim Carey is apparently a huge fan.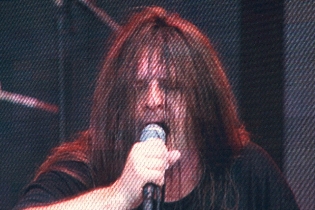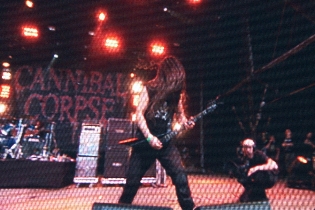 They played with a heavy weight sense of mounting anger and frustration which fits their lyrics purposefully and provoked riotous appreciation from the large audience who had turned out to see them, finishing with the sweetly titled ' Stripped, raped and strangled'. http://www.myspace.com/cannibalcorpse / http://www.cannibalcorpse.net/

Setlist
01. Scalding Hail
02. Unleashing the Bloodthirsty
03. Savage Butchery
04. Sentenced to Burn
05. The Wretched Spawn
06. I Will Kill You
07. I Cum Blood
08. Evisceration Plague
09. The Time To Kill Is Now
10. Death Walking Terror
11. Make Them Suffer
12. Priests of Sodom
13. Staring Through The Eyes Of The Dead
14. Hammer Smashed Face
----
15. Stripped, Raped and Strangled

Rating
Music: 9
Performance: 9
Sound: 8
Light: 9
Total: 8.9 / 10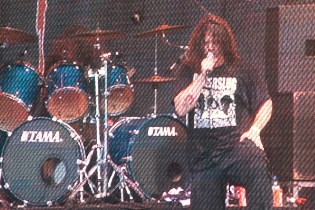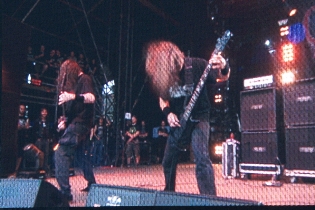 Fear Factory (Black Stage)

After seven albums and twenty one years in the business you expect a band to be good. Well, FEAR FACTORY certainly were that. Kicking off with the awesome 'Machanize' and running through the likes of 'Linchpin', 'Martyr' and ' Zero Signal'. They played a consistently good set for new and old fans alike and probably gained a few along the way. Always at ease with their audience, they sailed effortless through a twelve song long set, clearly thoroughly enjoying themselves. The audience were right there with them, howling, baying and predictably crowd surfing their way to an all too soon conclusion. It has to be said that their set was well-oiled and perfectly executed so that even people who are not particular fans of theirs appreciated what a great act they really are. Awesome! http://www.fearfactory.com/ / http://www.myspace.com/fearfactoryofficial

Setlist
01. Mechanize
02. Shock
03. Edgecrusher
04. Acres of Skin
05. Linchpin
06. Powershifter
07. Fear Campaign
08. Martyr
09. Demanufacture
10. Self Bias Resistor
11. Zero Signal
12. Replica

Rating
Music: 8
Performance: 8
Sound: 9
Light: 9
Total: 8.3 / 10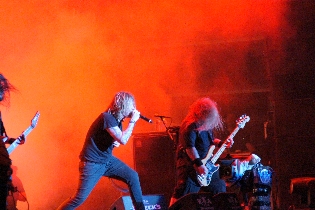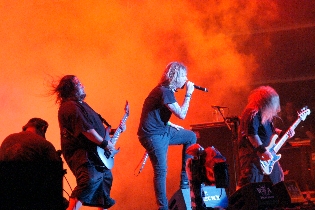 Tiamat (Party Stage)

Okay well I'll TRY to be subjective, but TIAMAT rank amongst one of my favourite groups of all time. Their lyrics are legendarily deep and dark and their music deceptively ambient, compared to a lot of bands of their genre. Well, firstly the sound was fantastic, well balanced and perfectly crisp against the night sky. Secondly, the lighting was gorgeous, all smoke machines and blue and pink hues drifting out across the audience, which however good or bad they might have been made it a pretty experience. Well, they were good. They were very good, as they strolled through an all too short setlist which tragically for me didn't include 'Clovenhoof', my absolute favourite track of theirs. It did however include 'Wildhoney', 'Gaia' and the fantastic 'Do you dream of me?' which made up for it.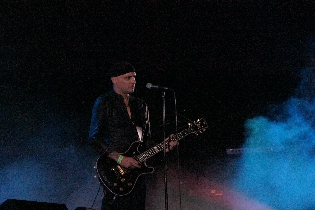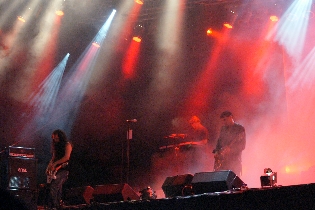 They are cool, laid-back and totally at one with their audience who sat and lay down towards the back of the crowd, just soaking in the sheer magic of these guys live. If you like their recorded work then I can't recommend them enough as a live act. Just one word for them:- Superb! http://www.churchoftiamat.com/ / www.myspace.com/tiamat

Setlist
01. Wildhoney
02. Whatever That Hurts
03. The Ar
04. 25th Floor
05. Gaia
06. Visionaire
07. Kaleidoscope
08. Do You Dream of Me?
09. Planets
10. A Pocket Size Sun

Rating
Music: 10
Performance: 10
Sound: 9
Light: 9
Total: 9.7 / 10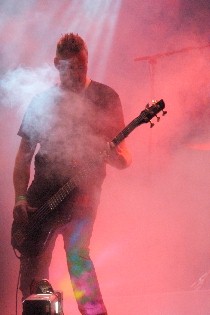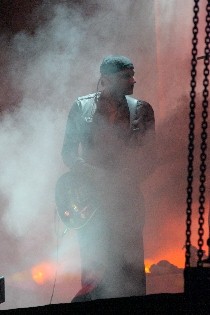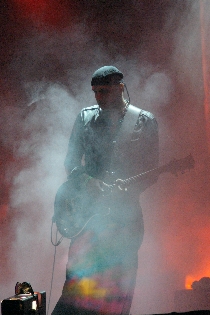 Tyr (Wackinger Stage)

Faroe Island folk metallers TYR were on bloody good form on the small Wackinger Stage, belting their way through an eleven track set that lit the audience up from the first note until the second they quite the stage. No strangers to controversy, they came under fire after Paganfest 2008 accused of being Nazis because for their use of some of the old Nordic symbols, which had for a time also been hijacked by the Nazi's but have now largely been reclaimed by the Pagan community. The band that is vehemently anti-Nazi felt compelled to issue a video statement to the contrary in the hope of putting the record straight, which they appear to have successfully done, and certainly there was no sign of anyone misinterpreting them at Wacken, everyone had a thoroughly good time during their set.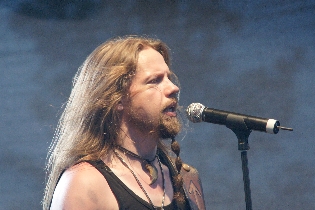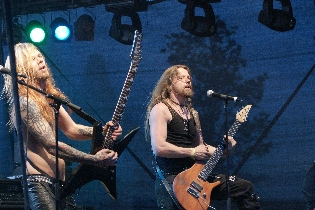 'Hold the Heathen Hammer High' was a high spot in the set as was the closer 'Ramund Hin Unge'. An awesomely accomplished group of musicians try to catch them if you can. http://www.myspace.com/tyr1

Setlist
01. By the Sword in My Hand
02. Tróndur Í Gøtu
03. Regin Smiður
04. Ólavur Riddararós
05. Sinklars Vísa
06. Hail to the Hammer
07. Hold the Heathen Hammer High
08. Northern Gate
09. Lokka Táttur
10. The Wild Rover
11. Ramund Hin Unge

Rating
Music: 10
Performance: 9
Sound: 9
Light: 9
Total: 9.4 / 10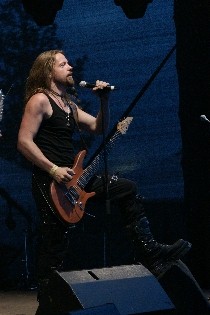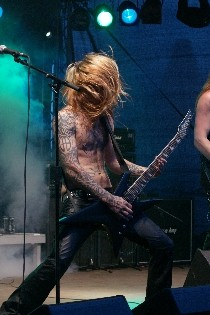 Orden Ogan (Wackinger Stage)

With a bit of a change of style next we were almost overwhelmed by ORDEN OGAN, German power metallers from Arnsberg, who have a decidedly folkey twist to their stuff. It's a fabulous mix full of energy and enthusiasm and the crowd went crazy for them. 'Welcome Liberty' and 'Angels War' were undoubtedly the best songs of the set but the encore 'Mystical Symphony' was really something else. I would have happily listened to another six hours of these guys and will be sure to check them out whenever possible. I suggest you do the same. http://www.myspace.com/ordenogan

Setlist
01. To New Shores of Sadness
02. Reality Lost
03. Farewell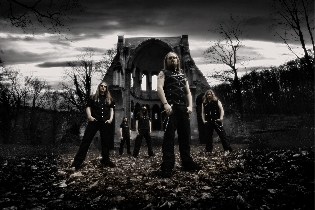 04. Welcome Liberty
05. Easton Hope
06. We Are Pirates
07. Angels War
---
08. Mystical Symphony

Rating
Music: 9
Performance: 10
Sound: 9
Light: 9
Total: 9.3 / 10


Summary

And so that brought to an end my Wacken 2010 experience. It had been hot, tiring but above all fun. People at Wacken are nice, the line-ups offer something for everyone and despite being a truly massive festival, on a scale that eclipses all others, it's not isolating in any way. Don't miss next year whatever you do, for BLIND GUARDIAN are already on the bill and I'm sure there will be many hundreds more great bands to come.

Photos courtesy and copyright of WOA & Maddi Isaacs
Written by Maddi Isaacs and Alexandra Morris
{jos_sb_discuss:17}

See also (all categories):