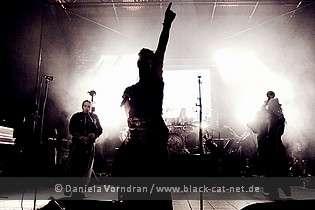 Kulturpark, Deutzen, Germany
3rd - 5th September 2010
Nocturnal Culture Night 5 Day 3: Saltatio Mortis, Leaether Strip, Nachtmahr, Modcom, Girls Under Glass, Xotox, Star Industry, Solar Fake, Slave Republic, Addicted Dreams
The last festival day welcomed us with nothing but sunshine and in addition it was even much warmer than before. Perfect conditions, I'd say to start into the final round of Nocturnal Culture Night 5, having in stock some indie pop with SLAVE REPUBLIC, classic EBM by LEAETHER STRIP or the medieval rock tunes of headliners SALTATIO MORTIS, amongst others of course.
Addicted Dreams (Small Stage)
The whole story started with Rene founding the solo project DUAL back in 2000. The project became a duo in 2004 with the addition of Alex to DUAL. Rights issues were the reason for them renaming the project to ADDICTED DREAMS in 2006. The first official release was the online EP 'Sweet Like An Angel' in 2007, followed by the debut album 'Don't Say It's Simple' the same year. ADDICTED DREAMS are Rene (vocals, lyrics, producing), Alex (lyrics, keys) and Stephan (lyrics, keys).
http://addicted-dreams.de/
/
http://www.myspace.com/addicteddreams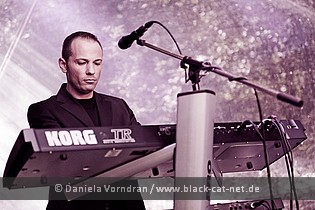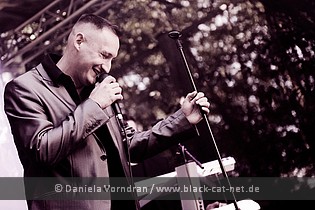 Music & Performance
ADDICTED DREAMS were filling in for VANESSA who, for unknown reasons, could not be there to play their gig at the festival. The show began with Alex and Stephan standing behind their keys and kind of doing the introduction until Rene walked in, elegantly dressed in a suit, through the "front door" to start with the vocals for the first song that presented genuine synth pop to dance to. Just the right thing for an easy start of the day! For 'Sweet Like An Angel, Rene told he had included a clapping section into the song and wanted us to take part when encouraged and he was done the favour. 'Take My Heart' was a ballad carried on soft piano and was meant as an isle before the next more upbeat track followed. Very sympathetic start!
Setlist
01. Play with Me…
02. That I Can Live
03. Sweet Like An Angel
04. Take My Heart
05. Dark Loneliness
06. Always Wanted
07. My Head
08. Beautiful Day
09. You Don't Believe
Rating
Music: 6
Performance: 7
Sound: 7
Light: - (daylight)
Total: 6.5 / 10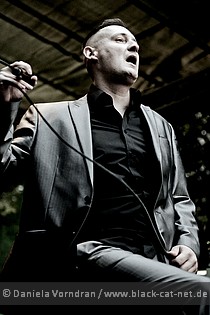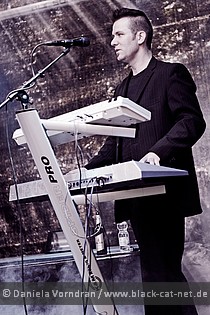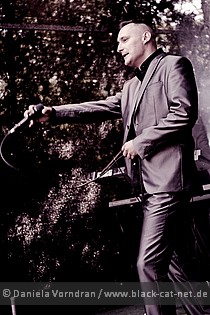 Slave Republic (Big Stage)
he seeds of what would be growing up to the duo SLAVE REPUBLIC in the end have been sown many years ago as a four-piece centring on New Wave music. The next thing heard is that the quarter has become a duo and now is focusing on what they're calling Alternative Pop. This is a stylistic description obviously making some people at the Accession Records office prick up their ears. The end of the story we now have with SLAVE REPUBLIC being the newest signing to the label and that they released the duo's debut album 'Electric One' on 12th March. SLAVE REPUBLIC is Alec Fu & Alex Alice.
http://www.slave-republic.com/
/
http://www.myspace.com/slaverepublic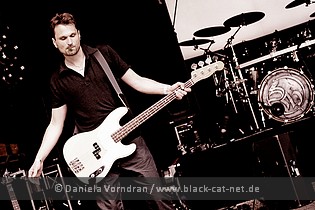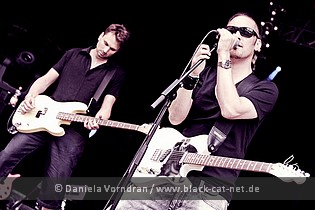 Music & Performance
The debut album 'Electric One' already proved a highlight; now I was going to find out whether or not the two guys would be able to present it properly live. The two commenced with 'The Driver' and you're nodding with the beat right away, standing or sitting in the sun. Further on we went with 'Hadron Collider' during which we experienced a technical glitch which as a result only left guitars, bass and vocals to continue and particularly the vocals were stunning just with the instrumental backdrop; I heard many positive remarks on that later. The electronics came back eventually to bring the track to an end in known fashion. It was hard to edge away the fascination, the following 'Number Three' was bearing.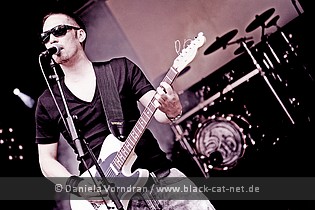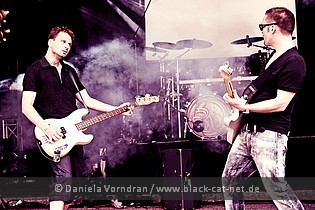 The audience was enjoying themselves, in particular a group in the middle singing along to all the songs. What else is there to do? And we were getting louder bit by bit and reached the peak on closing 'My Maker' throwing up the hands, happily recognized on stage. Enjoyed the show a lot!
Setlist
01. The Driver
02. Hadron Collider
03. Number Three
04. Electric
05. Less of Me
06. Choking / Drowning
07. My Maker
Rating
Music: 9
Performance: 8
Sound: 7
Light: - (daylight)
Total: 8.3 / 10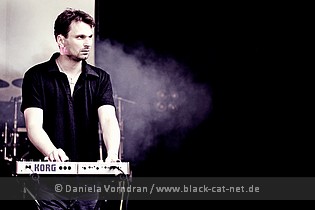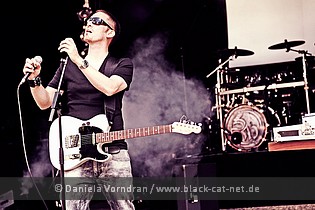 Solar Fake (Small Stage)
Sven Friedrich, former member of the prolific DREADFUL SHADOWS and the singer and songwriter of the follow-up band ZERAPHINE, gave birth to SOLAR FAKE in 2007. However, the idea of a solo project already existed longer than that, but after the last ZERAPHONE album had been released he finally had the time to delve into it. He ended up having 12 songs finding their way on the debut album 'Broken Grid' out in February 2008. Soon, he would also play various live gigs at festivals and some clubs. In 2009, and only at festivals, the EP 'Resigned' was put out. SOLAR FAKE is Sven Friedrich (production, vocals, lyrics) who was supported live by Frank on keys.
http://www.solarfake.de/
/
http://www.myspace.com/solarfake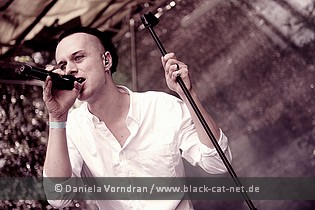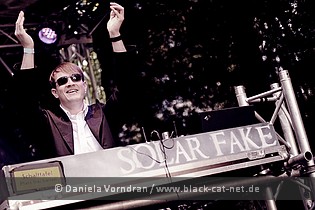 Music & Performance
The name Sven Friedrich alone obviously guarantees for a big crowd and already with the first song the crowd was dancing or admiring. A rather new song followed right up with 'Resigned', a pounding club track that didn't fail to accomplish what it was made for. Oddly enough, Sven moved a lot more than expected and even from left to right. The two-faced 'Stigmata Rain' from the debut album came up next and provided for happy faces, before 'Here I Stand' invited to get lost in thoughts. 'Sometimes' and 'Radical' brought in equal parts aggression and melancholy to the audience. The surprise however came with Sven announcing to do a cover version of the IAMX song 'Spit It Out'. While I think it basically was a nice rendition of the song with Sven doing a fine vocal delivery, I always had Chris' voice in my head and comparing those, the rendition didn't reach the intensity of the original. Nothing more extraordinary happened and the show will be remembered as a solid yet unspectacular performance by me.
Setlist
01. The Shield
02. Resigned
03. Stigmata Rain
04. Here I Stand
05. Sometimes
06. Radical
07. Hiding Memories From The Sun
08. Spit It Out (IAMX Cover)
09. Lies
Rating
Music: 7
Performance: 6
Sound: 7
Light: - (daylight)
Total: 6.7 / 10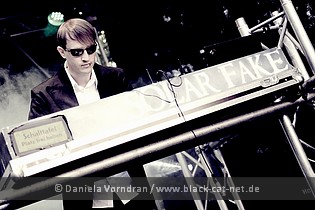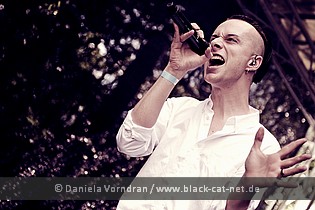 Star Industry (Big Stage)
This Belgian Goth-Rock outfit was born some time in 1996. The following year, they already entered the studio to produce what would become the first album 'Iron Dust Crush' for which they gained a lot of positive reception from the European press, which resulted in their first festival gig in Germany, Belgium and the UK. In summer 1999, the band released the 'New Millennium EP' on the Belgian Euro Rock festival in 2001; the next full-length album 'Velvet' followed and caused a burst of popularity for the band, enabling them to play even bigger festivals. Their most recent release, following 2007's 'Last Crusades' album, is called 'Black Angel White Devil' and is a live album that's connecting the band's past with the present. STAR INDUSTRY is Peter Beckers (vocals, guitar), Xavier "Psyche" Vranken (backing vocals, lead guitar), Stijn "Stign" Kuijpers (bass), Kurt Lantin (drums) and Peter "Utz" Gerits (synths, samples).
http://www.starindustry.be/
/
http://www.myspace.com/starindustrymusic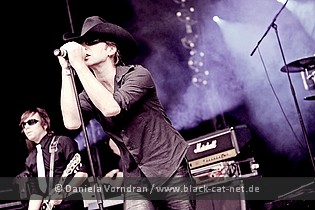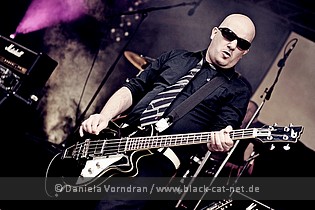 Music & Performance
Now it was to become a little bit more rocking with Belgian STAR INDUSTRY that with a little delay started into their set with 'Be Real and much enthusiasm! Sonorous vocals, atmospherics and earthly rock met with positive resonance. A darkly epic introduction and then it was time for 'Ceremonial' you could really let yourself fall into. 'Pray' had Peter raising his hands to the skies as if to really pray to an unknown god. The sound on that one however could have been somewhat better in my opinion. Anyway, now we got presented with a purely electronic tune with 'City of Light'. One question bothering during the following 'Kids' was which band played the original of the track. At the time, we couldn't find any answer.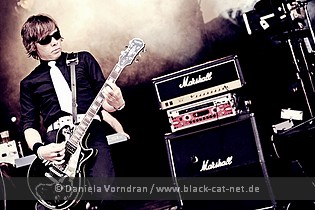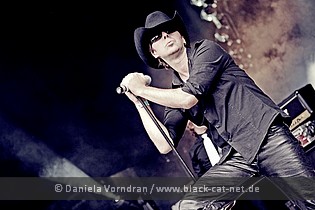 That one just came later by chance and revealed it's a song of MGMT. Being a song you could party to, it was astonishing how little the reaction was. But that certainly wasn't due to the band's performance which was overall good and should've been appreciated much more.
Setlist
01. Be Real
02. Spirits Wiithin
03. Ceremonial
04. Pray
05. City Of Light
06. Kids
07. Lost Generation
08. Nineties
Rating
Music: 8
Performance: 8
Sound: 7
Light: - (daylight)
Total: 7.8 / 10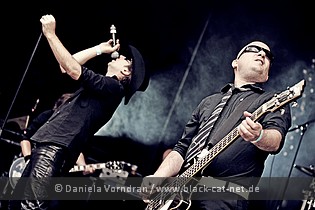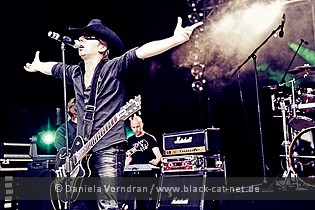 Xotox (Big Stage)


Andreas Davids founded XOTOX as a solo project in 1998 and with the first albums, self-released by him; he could establish a small but constantly growing fan base. In 2003, he signed a record deal with the ProNoize label and 'Lichtlos' became the first album under the label's moniker and the track 'Eisenkiller' went on heavy rotation in various clubs. Only a short period of time passed before Andreas pulled of his next album with 'Die Unruhe'. The limited CD was a thank you to the loyal fan base and sold-out soon. The next album '[psi]' hit the shops already in 2005 and peaked at #2 of the German Alternative Charts. Right in time for the 10th anniversary of the project 'In den Zehn Morgen', the third official studio album came out and even reached the #1 of the GAC. The newest release is 'Die Unruhe 2.0' from 2010. XOTOX is Andreas Davids (all music, production).
http://www.xotox.info/
/
http://www.myspace.com/xotox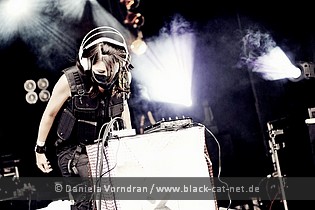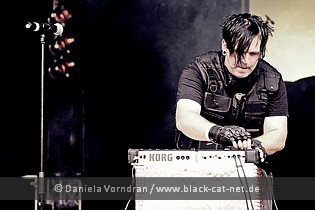 Music & Performance
If I think about my experiences with XOTOX I was pretty certain I wouldn't suddenly come to like them, but sometimes tastes tend to shift; in this case they didn't. Andreas Davids and his wife entered the stage wearing black face masks, getting to their positions behind two little synth towers built up on stage. A mayhem of noise overlapped the dance floor beat that got the crowd into action. For the second song, Andreas' wife stepped away from the electronics to put something around her neck that looked like it was a fog machine put into a kind of special case. That one produced an optical effect with her bashing against the back and a ring of smoke being pushed out. Due to public demand, the volume was raised for the third song and the beats, which sounded like bombs crashing into the ground, became even more unbearable for me. The last song I heard before escaping only harboured little structure under a collage of noise. Sorry, absolutely not my thing.
Rating
Music: 4
Performance: 6
Sound: 6
Light: - (daylight)
Total: 5 / 10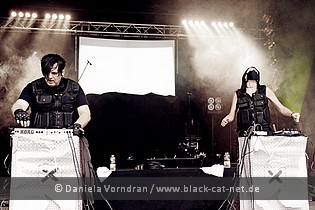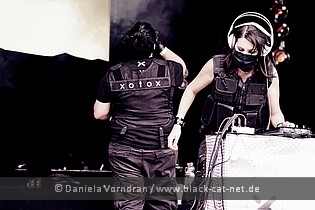 Girls Under Glass (Small Stage)


The start of the whole story goes way back to 1986. In May of the same year, they were already playing their first live show. Recordings for the first album 'Humus', which sold out rapidly upon release, commenced in 1987. The album eventually came out in 1988. With the third album 'Positive' a stylistic shift occurred and harder rock elements, as well as electronics found their way into the band's sound. Moreover, it was the first album to feature Volker Zacharias on vocals. Album number four 'Darius' sees them incorporating even Metal elements and features Peter Heppner as guest singer on two tracks. Until then they'd already build a reputation second to none inside the genre, which they had become an influential factor for and would be through all the years of their existence. The last aural proof of life came in 2005 with the album 'Zyklus' released on Cellar Door, a sub label of Dependent Records. A visual treat followed in 2006 with the 'Focus' live DVD. GIRLS UNDER GLASS is Volker Zacharias (vocals guitar), Axel Ermes (synth & digital treatment) and Lars Baumgardt (guitars).
http://www.myspace.com/girlsunderglass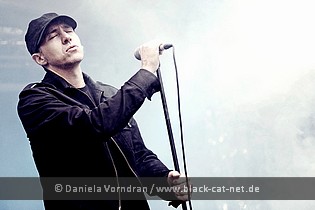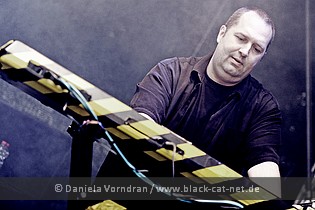 Music & Performance
The GIRLS UNDER GLASS introduced themselves on the small stage with quite a long, spherical introduction and just when you neared the point to getting annoyed by that, the thing stopped and the real show began with all the members appearing and starting the set with 'In Die Einsamkeit' which initially had an extremely booming bass sound. 'Die Zeit' followed it up and it got a little more hard and powerful with 'Ohne Dich' and the club filler 'Never Go'. All of that time, you could feel how much the band and especially Volker were eager to deliver a good show for their audience and it was candid dedication to the music that made him lay down such a heartfelt performance at the front. Last time it was taken as the set opener, which I found was not a perfect idea to start a set, but in the middle of a set you can do such a cover song, and 'Frozen' is a good version if you ask me. Before 'Burning Eyes' Volker asked if someone by chance had some Australian wine.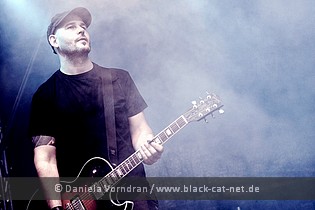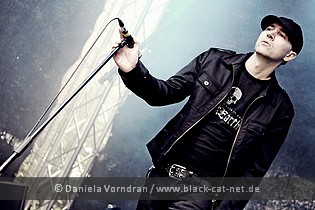 Suppose he didn't really expect to get served with Australian Shiraz later on. The show, which I deemed significantly better than the one on Blackfield Festival, ended with the very first track of the band 'Humus', a disquieting collage of vocals and atmospheres.
Setlist
01. In die Einsamkeit
02. Die Zeit
03. Ohne Dich
04. Never Go
05. Du bist das Licht
06. Frozen
07. When I Think About You
08. Burning Eyes
09. Feuerengel
10. Erinnerung
11. Humus
Rating
Music: 8
Performance: 8
Sound: 8
Light: - (daylight)
Total: 8 / 10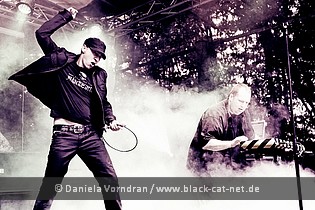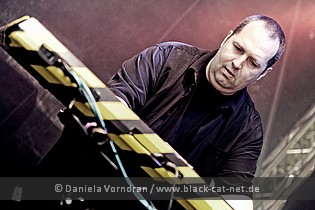 Modcom (Small Stage)


MODCOM is the solo-project of Ronan Harris well known for VNV NATION. The project made its debut on the Wave Gotik Treffen in Leipzig in 2006.The sound of this project is created with modular synthesizers and analogue sequencers for live sound creation. All the manipulation and processing to the sound is done live which is rather unusual today but was very common in the 70s.
http://www.modcom.de/
/
http://www.myspace.com/modcom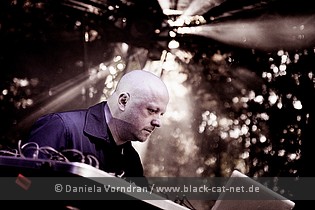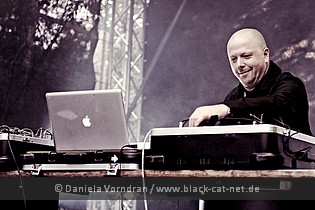 Music & Performance
Ronan had some minor problems with his flight, so he couldn't arrive at the festival in time. All bands before helped in playing earlier than planned so that MODCAOM hit the stage around 6 PM. Of course, you can't expect the same amount of on stage events as with VNV NATION. But Ronan catches his audience here with a different thing and that is the particular driving flavour of the music. When the first beats hit, it was like a call for action for the crowd to start dancing immediately, while samples and sequences were added and removed constantly to the beat-driven cocktail. Ronan, regardless of the stress behind him, didn't make a stressed but rather a happy impression. He wanted to play for the people and smiled when he looked up and saw them dancing. In a long run, the technoid sounds couldn't keep me close to the stage and so I left for a little meal and to wait for NACHTMAHR
Rating
Music: 6
Performance: 6
Sound: 8
Light: - (daylight)
Total: 6.4 / 10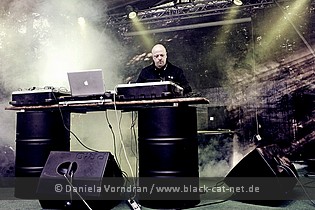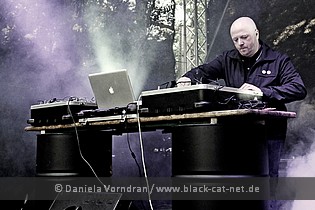 Nachtmahr (Big Stage)

The only purpose of NACHTMAHR is to make people dance. The song 'BoomBoomBoom' makes that perfectly clear: "I don't care whether you live or die. I only want to see you dance". Thomas Rainer, known as a member of L'AME IMMORTELLE, unleashes a full force of Electro / Industrial beats on the clubs with his new project. The first EP 'Kunst ist Krieg' is meanwhile sold-out but the album 'Feuer Frei' followed it up quite quickly and fed the hungry crowd with new destructive material. With 'Alle Lust will Ewigkeit', the second NACHTMAHR album was released on 7th August 2009.
http://www.myspace.com/nachtmahrprojekt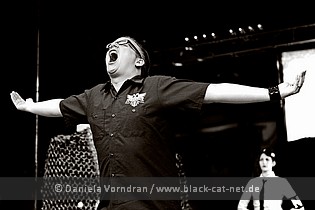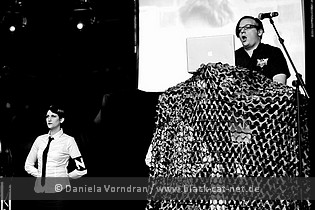 Music & Performance
While others were apparently completely excited about the upcoming show of Thomas Rainer's project, I was a "little" sceptical towards the performance since he couldn't win me over the last time I've attended a show. Well, let's get started with the beginning of the show and 'Schwarzflug', a monotonous club effort with intermixed speech samples of a flight. Thomas and his brother in arms were performing that song solely from the synth platforms. In the back they had two statues, pardon, two girls who I thought of being statues at first. But statues don't blink right? For the next song 'Deus Ex Machina', Thomas came to the front to the harsh vocals and some dancing, coupled with odd grimaces.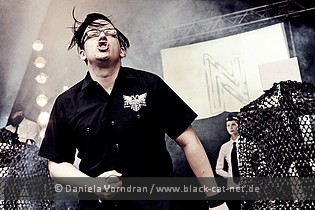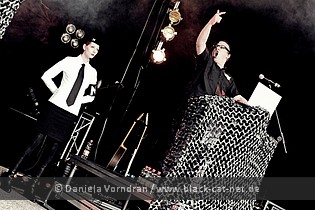 Next one was again instrumental and afterwards another vocal track followed. The thing that caused me to leave however was an incident with one of the girls. She drank something, and something didn't seem to be alright and she began to stumble and eventually fall into the arms of the other girl. She obviously passed out over exhaustion and in the back you could see two people looking after her while she was lying on the ground. Thomas looked at her, he must've seen what happened, and he continued with the show. Inacceptable!
Rating
Music: 4
Performance: 5
Sound: 7
Light: - (daylight)
Total: 4.9 / 10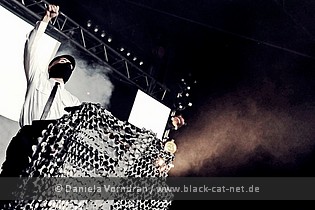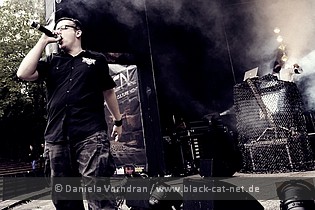 Leaether Strip (Small Stage)
Claus Larsen first released music under the name of LEÆTHER STRIP in 1989, however demos appearing on a later album suggest that the project commenced already several years earlier. LEÆTHER STRIP was one of the earliest and most prominent acts on Germany's now defunct Zoth Ommog record label on which he released his first album 'The Pleasure of Penetration' in 1990 with another collection, entitled 'Science for the Satanic Citizen' following that same year and continue to release albums until 1997, amongst them 'Solitary Confinement' from 1992, deemed today as one of Larsen's best works and influential for a number of epigones that, however, never really came close to its authenticity and genre-defining qualities. As of 2000 follows a dormancy period and except for a remix for German KIEW, nothing would be heard of him until 2005 he signs with Belgian label Alfa Matrix and releases the official comeback, the 'Suicide Bombers EP' only serving only as the start of a series of new releases out of Larsen Headquarters in the following years, another set of which was released in June.
http://www.myspace.com/leaetherstrip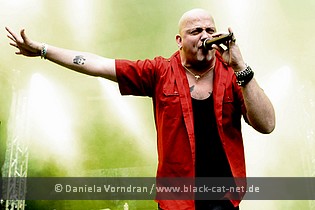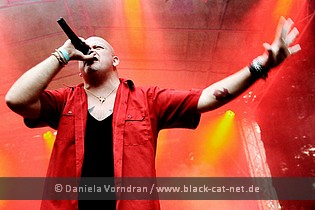 Music & Performance
I recall we had such a blast with Claus Larsen performing a few months back in Berlin and of course I was excited now to see LEATHER STRIP once again. Our host for the festival then announced Claus on short notice had removed all slow songs from the set to deliver a high-octane collection of club fillers, and he began the show with a special intro, called 'NCN Noir' before the real party could start and hard beats filled with distorted aggression filled the air. Then, a 'Desert Storm' was sweeping over us and those who were not blown away, quite some people, danced their hearts out. 'Hate Me' blasted through the PA as the next one and the aggression and fury within was close to becoming palpable. Claus kept the crowd going, free after the motto "No rest for the wicked" and fired away the next grenade with 'Introvert' which is quite a misleading title, because nothing about this song is introverted at all. But not only the music convinced people, it was also the attitude Claus is going on stage, the joy of performing that he gets an audience with.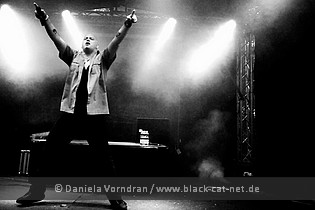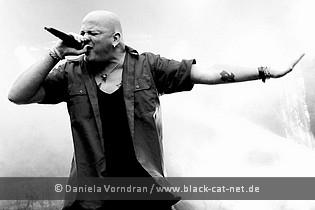 Next up, Claus has been digging inside his treasure chest and what he found appropriable was 'Japanese Bodies' with the beginning of which the crowd went totally mad, and that's still a mild description and a poging mass was what was accompanying the following 'Strap Me Down'. Another classic hit our ears then with 'Evil Speaks' from the much acclaimed album 'Solitary Confinement'. To cut a long story short, it was a big party from start to finish that only left content people at the stage and content Claus Larson on stage. Sometimes I wondered how the hell he could keep up that level of energy.
Setlist
01. Deutzen Noir (Intro)
02. Battlemind
03. Desert Storm
04. Hate me
05. Introvert
06. Japanese Bodies
07. Strap Me Down
08. Don't Tame Your Soul
09. Evil Speaks
10. Civil Disobedience
11. Adrenalin Rush
12. No Entry No Exit
13. Body Machine Body
14: Crash Flight 232
15. Battleground (Dessau Version)
Rating
Music: 9
Performance: 9
Sound: 8
Light: 7
Total: 8.6 / 10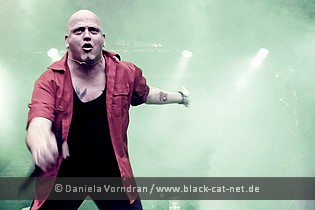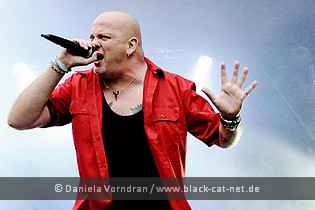 Saltatio Mortis (Big Stage)
SALTATIO MORTIS is one of the many (and popular) German Medieval Metal bands, and they are surely among the leading bands of this genre. SALTATIO MORTIS define their style as "medieval Punk" though, to differentiate from the rest of the genre. Their name is by the way Latin and means "dance of death". Formed in 2000, it was SALTATIO MORTIS' second album 'Das zweite Gesicht' (2001) that was causing a wave of popularity that spread even beyond the boundaries of the medieval genre and people would name them in one breath with big names such as IN EXTREMO or SUBWAY TO SALLY. For a certain period of time, the band was incorporating synthesizer sounds into their music; but has abandoned those elements later to veer into more rock oriented territory with older tracks now being performed in the new sound as well. In October 2006, it was announced that four members of the band would leave the line-up, luckily for the band they quickly found some new minstrels. After the line-up changes, SALATIO MORTIS pushed their popularity with the album 'Aus der Asche' in 2007. Last year the band released 'Wer Wind Saet', to many fans their best album to date and actually a Top 10 hit in Germany, followed by the live album 'Manufactum II' this summer.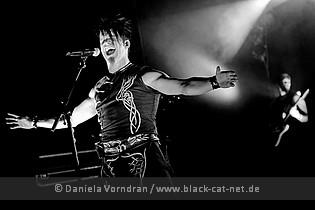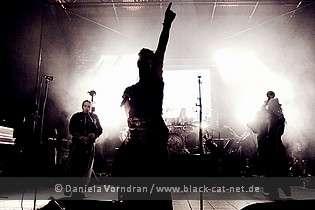 SALTATIO MORTIS is Alea der Bescheidene (vocals, bagpipes, shawm), Falk Irmenfried von Hasen-Mümmelstein (bagpipes, shawm), Lasterbalk der Lästerliche (drums, percussion), Magister Flux (modern equipment), El Silbador (bagpipe, shawm, flute), Mik el Angelo (guitars, flute, cittern), and Bruder Frank (bass).
http://www.saltatio-mortis.com
/
http://www.myspace.com/mittelalterpunk
Music & Performance
Once again, the cold hands of Winter were reaching out, but this time it felt much colder to me than before, but the final act of this year's festival would be sure to blow that away from the audience, at least for a while. The minstrels of SALTATIO MORTIS were to close the fifth Nocturnal Culture Night festival and they did it as they always do, in style and with a lot of fun and humour. An introduction set up an ominous mood, which didn't continue into the first song 'Rastlos', and Alea as always was just that: Unresting! Indulging in acrobatic moves at times, one of which was how he disposed of the flag when entering, he ran back and forth the stage to spread a joyful atmosphere. 'Tritt Ein' was up next and gradually the audience got into it now as more and more people were catching the vibe of the track.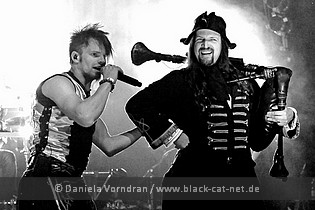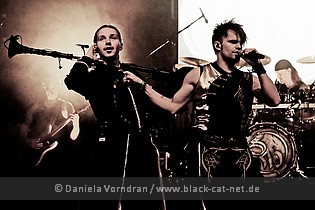 To 'Keines Herren Knecht', Alea picked a little boy from the audience to carry him around and other than with LOLA ANGST the other day, the little fella enjoyed that a lot. The highlight surely was the audience doing a polonaise through the ranks during 'Falsche Freunde' to have a jumping contest afterwards when back down in front of the stage. To close their set, the band chose 'Spielmannsschwur' and for one last time they brought the mood to a boil. You may admit it or not, but to me they're one fine live band even though I don't like their genre.
Rating
Music: 7
Performance: 9
Sound: 8
Light: 8
Total: 7.8 / 10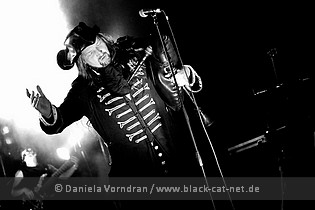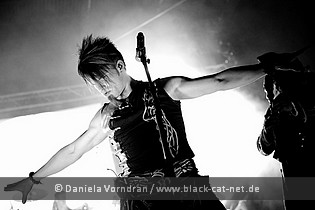 How time flies. Three days were already over again and people streamed towards their respective residence, hotels or tents or cars to make their way back home right away because of schooling or something. We still were chatting a bit until we decided to say goodbye to the festival grounds and nice people we met to get back to the hotel. So, how's my summary as writer and first timer to the festival. I love the familiar atmosphere of the festival, the location is beautiful and everything is simply relaxed, and we had very good weather. I for one would love to come back next year and would also like to say thanks to the organizers and staff for making it what it was: a great weekend with good music and nice people.
All pictures by Daniela Vorndran (
http://www.vorndranphotography.com/
/
http://www.black-cat-net.de/
/
www.myspace.com/vorndranphotography
)
{jos_sb_discuss:17}
See also (all categories):