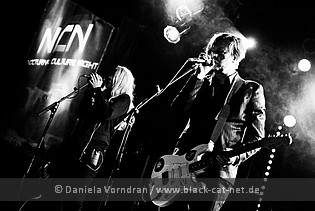 Kulturpark, Deutzen, Germany
6th to 8th September 2013
Nocturnal Culture Night 8 Day 2: Eycromon, microClocks, Elace, Terrolokaust, Lord Of The Lost, Fashion Show Eve Couture, .com/kill, Frozen Plasma, Versus, Diorama, Widukind, Lights Of Euphoria, Hocico, Oberer Totpunkt musical Reading, Haujobb, Phillip Boa & The Voodooclub, Spiritual Front

The second and longest festival day started at 12 noon and was awaiting us again with perfect summer weather. This day had a lot of various bands from different genres to offer. Highlights for many was surely the energetic show of PHILLIP BOA and his VOODOOCLUB or DIORAMA, who once more proved that they deserve higher positions in the line-up.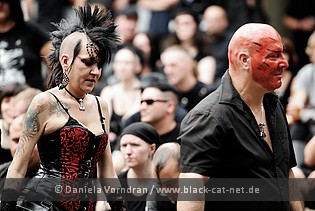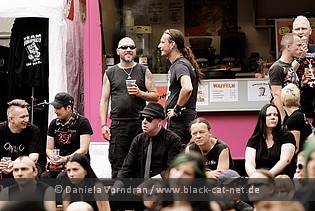 Eycromon

EYCROMON from Augsburg, consisting of six people, were opening the day on the main stage with their mix of Dark Wave, Classic and Electro. Female fronted, the band made a quite good impression on stage, even though there surely is still room to improve. Singer Mandra Gore is classically trained and this is really a good base to develop further. Currently, the band works on their second album to be released later this year. // http://www.eycromon.com / https://www.facebook.com/EYCROMON // Rating: 6 / 10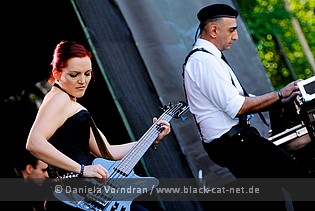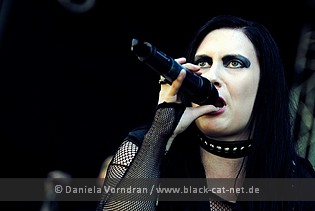 microClocks

This band, opening the small stage, already impressed me with their appearance on last year's Pluswelt Festival. The band from the Ruhr area, presenting Electro-Rock, is quite new in the business, releasing first single 'Is there anybody out there' in October 2011 and the debut album 'Opinions are on Sale' in November of the same year. Most attendees of NCN did not know the band so far, the more surprised they were by the energetic, rocking sound. With their pushing electronic rhythms and a modern sound, the band around front man Jens knows how to impress. At NCN, they even have improved their live presence compared with Pluswelt. Well done! // http://www.microclocks.de / https://www.facebook.com/microclocks // Setlist: 01. Hyperion / 02. Revolution / 03. Stars from diffuse matter / 04. Life is grim / 05. To a Friend / 06. All Eyes on you / 07. The Root of all Evil // Rating: 8 / 10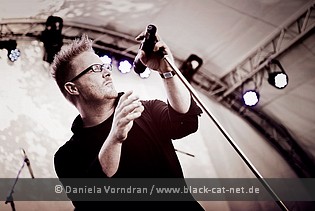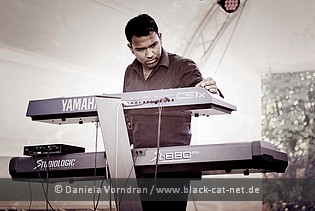 Elace

Last time I got in touch with this Hamburg based band was during the MESH tour in spring. The band came into being in 2010 when three trained musicians met and the chemistry matched right away. Just one day before their show, their debut album, 'Me', was released and of course, the band presented quite some songs out of this album. Their music has a downright melodic appeal and acoustic drums with rocking guitars, based on synth pop sounds with an overall 80s feel. Musically quite appealing to me, the live presence still was not strong enough for the big stage. I think in future, when the band got more live experience, they can put a much stronger show onto stage. // http://www.elace.me / https://www.facebook.com/ELACEband // Setlist: 01. Working Class Hero / 02. On This Day / 03. We'll Meet Again / 04. Home / 05. Robots / 06. A4 / 07. Can't Breathe No More // Rating: 7 / 10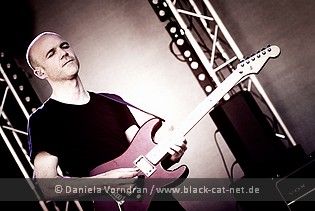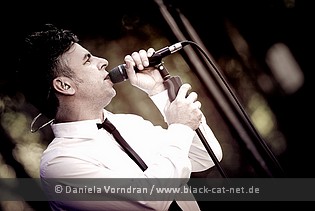 Terrolokaust

Front man of TERROLOKAUST from Spain, Javi Ssagittar, has a quite strong appearance on stage and spreads a lot of power and energy. The project surely would have deserved to play the big stage. As the band name already might hint, this is pure, loud terror. When it comes to dark electro / industrial, this band is surely one of the most interesting ones and in my humble opinion, they just outclass band like HOCICO and alike. I am sure, future will see much more success for the band. Currently, they were not able to step out of the shadow of bands like already mentioned Mexicans. Having released their second album, of course the audience could enjoy several pieces out of it. This show was really dancing time. // http://www.terrolokaust.com / https://www.facebook.com/Terrolokaust // Rating: 8 / 10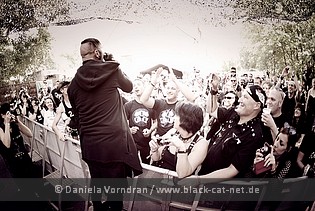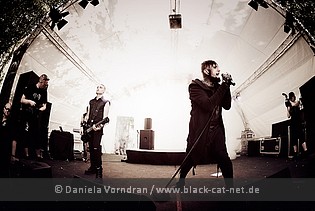 Lord Of The Lost

Currently, there seems to be no way to miss LORD OF THE LOST. The band from Hamburg is quite popular within the festival promoters, being present on many line-ups, and gaining more fans with every show. And indeed, the band has a strong live presence, even though their Dark Rock is not too innovative. The NCN show was once more highly acclaimed by the audience and they persuaded once more on stage. The band delivered once again a great and energetic live show with one special highlight: Erk, front man of HOCICO, was sharing the stage with LORD OF THE LOST for 'Marching into Sunset'. // http://www.lordofthelost.de / https://www.facebook.com/lordofthelost // Setlist: 01. Intro 'Live today' / 02. Live Today / Black Lolita / 03. Sex on Legs / 04. Zillah / 05. Blood for Blood / 06. Prison / 07. Break Your Heart / 08. Dry the Rain / 09. My Heart is Black / 10. Die tomorrow / 11. Marching into Sunset (With Erk of Hocico) / 12. Credo (Album Version) // Rating: 7.5 / 10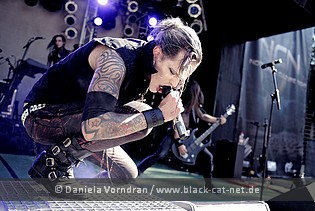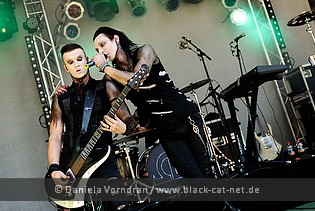 Fashion Show Eve Couture

As every year, the NCN offers not only lots of music, you also get readings and fashion shows at the culture stage. This time, the Eve Couture label was presenting its fashion. The label is very new, it was founded in February 2013 by fashion designer and custom tailor Eva-Maria Geißer. Through the Eve Couture label, only limited editions and smallest runs are available. Anything, from design over factoring to distribution, is 100% handmade in Germany. Any working step stays in the small team and any piece is just made after the order. The presented fashion was really fresh and so was the show. Quite amusing, with little role plays. Late at night, the designer presented the fashion again during one song at the show of SPIRITUAL FRONT. // http://www.eve-couture.com / https://www.facebook.com/EveCoutureHandmade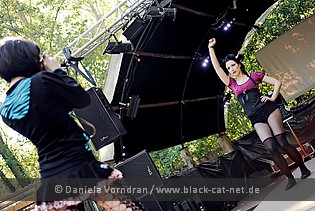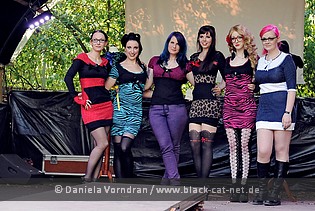 .com/kill

.COM/KILL is a side project of DIARY OF DREAMS mastermind Adrian Hates and guitarist Gauna:A, supported live on stage on E-drums by DIARY OF DREAMS drummer Dejan Nikolic. Reading this line-up, you might imagine something close to DoD, but you are wrong, at least when it comes to the live show of .COM/KILL. While the self-titled debut album is in parts still close to Adrian's main project, the live show is far from that. Hard-hitting, danceable beats, lots of electronic sounds, emotion and chubbiness, you'll get all of that. Who might think that there was not energy on stage with just two men behind their keyboards and the drummer in the back was proved wrong. Anybody spread a lot of energy, Dejan was a hard-hitting drum machine and even Gaun:A was giving a good front man during 'Whoah' when he took over the microphone and came to the front. Really a good show, convincing many people in the audience. // http://www.comkill.me / https://www.facebook.com/comkill // Setlist: 01. freaks like us / 02. still die gier / 03. Machines / 04. comkill one / 05. Whoah / 06. out of control / 07. monster divine // Rating: 8 / 10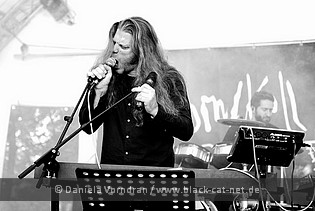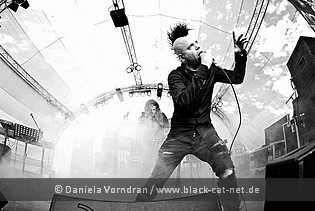 Frozen Plasma

FROZEN PLASMA were the unlucky fellows on that day. When the show was up to start, nothing happened. Soon afterwards we learned, that Vasi's flight from London was late and also the train afterwards. He just arrived and immediately entered the stage afterwards. Sadly, there was less time for the band so they had to present a shortened set. During the show, you still felt that Vasi was not really calmed down, but anyway, he was professional enough to play a good show. Besides well-known club hits 'Earthling', 'Irony' or 'Warmongers', the duo also presented a new song, 'Herz', for my taste much too cheesy. We'll see how the full new album will sound that the band promised to be released soon. // http://www.frozenplasma.com / https://www.facebook.com/pages/Frozen-plasma/119865398065719 // Setlist: 01. The End - Deliverance / 02. Earthling / 03. Home / 04. Herz / 05. Irony / 06. Warmongers / 07. Murderous Trap // Rating: 6 / 10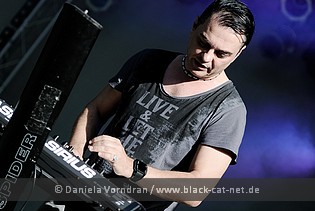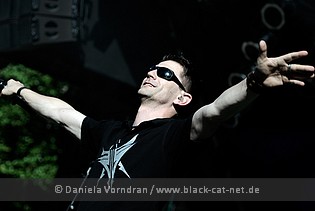 Versus

VERSUS were opening the big stage on last year's festival Saturday. They won the newcomer voting and were playing again this year on a later slot with more time. The band's audibly rooted in the worlds of electronic music, but still the sound was coming over rather organic though. As kind of trademark, singer André performed barefoot again. He was putting a lot of passion into his performance while the guys behind their keyboards were rather motionless. So, any eye was on the front man attracting the audience's attention. // http://www.versus-music.de / https://www.facebook.com/Versus2 // Setlist: 01. Intro / 02. Hunter / 03. A Matter of... / 04. A Lonesome Girls Night / 05. Viva La Party / 06. Definition:Lost (F.O.D.-Remix) / 07. We Are Cloned / 08. Into The Galaxy / 09. FreakWaves // Rating: 7.5 / 10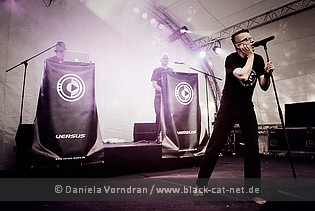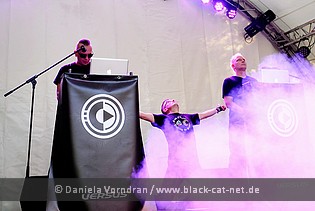 Diorama

Ok, I have to admit that I am quite a big fan of DIORAMA from Reutlingen, Germany. And there's a good reason for it. The music is very varied, maybe best described as electronic power pop, and the live presence, especially of singer Torben Wendt, has made a huge step forward during the last year. While back ten years ago I found the performance rather boring, by now, the band is one of the best live performers I know. With lots of energy and power, the quartet was fighting the heat on that Saturday afternoon. Even though the set was of course shorter than during their headliner tour, the band presented a good mix of old hits and songs out of their recent album, 'Even The Devil Doesn't Care'. For the first time on that day, the Amphi theatre was really crowded with lots of celebrating fans. Much too soon the set was over. Need to see more! // http://www.diorama-music.com / https://www.facebook.com/pages/Diorama/20921056622 // Rating: 9 / 10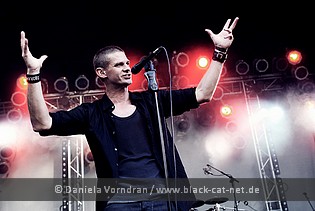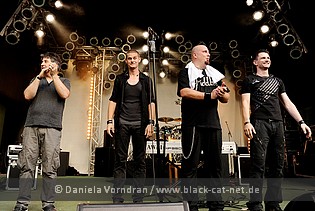 Widukind

Even if there are no overlappings of main and small stage, there might some occur between main stage and culture stage. This was happening with DIORAMA and the WIDUKIND performance. So, we just had a quite short stop at the culture stage for a short glimpse into the set of the project around Carsten Klatte, who is known for his work in many other projects. One of his own bands is called WIDUKIND, presenting, as he calls it himself, "Post-Apocalyptic-Folk", being in fact an interesting mixture of German lyrics, multi-layered sounds and acoustic elements. During the set Carsten and his company was supported by attractive Yve Darksound on microphone. As far as I can tell, this was a special concert. // http://www.widukinder.de / https://www.facebook.com/Widukinder // Rating: 8 / 10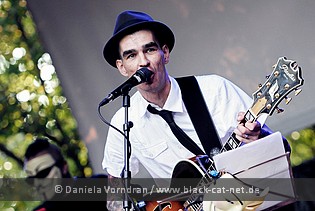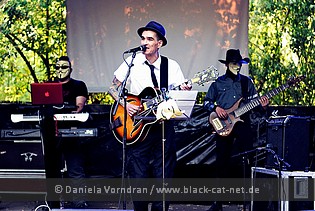 Lights Of Euphoria

LIGHTS OF EUPHORIA are already old hands in the music scene. First started as a single-song project, the band remained together after the success of their first song 'Subjection' (at that time with Claus Larsen of LEAETHER STRIP on vocals). After the release of their first album 'Brainstorm' on Zoth Ommog, LIGHTS OF EUPHORIA (LOE) started to become a real band when Jimmy Machon and Torben Schmidt teamed up together to produce further music together. After Zoth Ommog was going down, LOE found a new home at Accession Records, where the band released several CDs. Today, LOE are releasing via Torben's own label Infacted Rocordings. As you could expect from such professionals, LOE delivered an energetic show making people move. The current EP 'Schwarze Sonne', wherefrom of course also material as played besides old gems, was a good foretaste for the upcoming album. // http://infacted-recordings.com / https://www.facebook.com/lightsofeuphoria // Rating: 7 / 10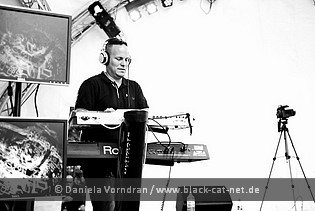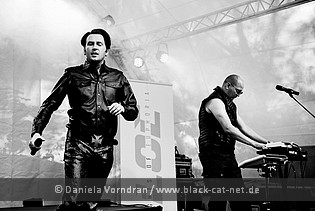 Hocico

While at NORDSTERN festival, mastermind of Mexican Dark Electro group HOCICO, Erk Aicrag, had to do the show without his cousin Rasco Agroyam, Rasco was with him at NCN. As you know and expect it from HOCICO, Erk was running across the stage in his well-known speed and turning the arena into his personal mad house. Just when the night was coming, HOCICO treated the audience with hammering beats and dark lyrics. Masses were moving and celebrating with the duo. // http://www.hocico.com / https://www.facebook.com/hocicoofficial // Setlist: Intro (entra en el fuego) / 02. The Shape of Things to Come / 03. Tales From the Third World / 04. It doesn't exist / 05. Forgotten Tears / 06. Bite Me! / 07. Bloodshed / 08. Dead Trust / 09. Distorted Face (Dulce Liquido Mix) / 10. T.O.S. of Reality / 11. Tiempos de Furia / 12. Thy Kingdom Come / Encore: 13. Poltergeist / 14. About a Dead // Rating: 7.5 / 10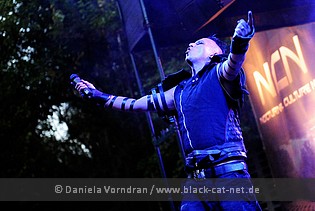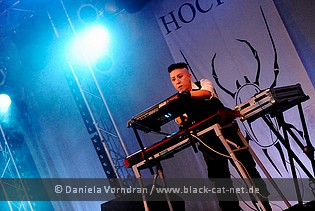 Oberer Totpunkt musical Reading

Was it a reading? Was it a concert? Somehow both of it. OBERER TOTPUNK invited to a musical reading. Bettina Bormann, head of the band, was presenting little stories in her unmistakable spoken words style, musically supported by OBERER TOTPUNKT drummer and composer Michael Krüger. People surely understand something really different when talking of an author's reading. So, the way OBERER TOTPUNKT presented works of Bettina was really a special event. // http://www.totpunkt.com / https://www.facebook.com/pages/Oberer-Totpunkt/134593484112 // Setlist: 01. Wundervolle Haare / 02. Nervenfieber / 03. Hexenjagd / 04. Albtraum / 05. Blutmond / 06. Teufels Lehrerin / 07. Meine Welt / 08. Hamburg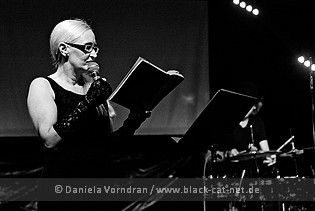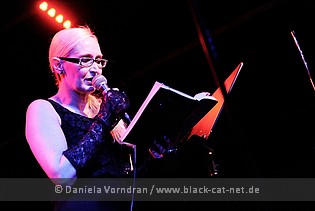 Haujobb

The project of Daniel Myer and Dejan Samardzic, supported live on stage by Manuel G. Richter, was ending the program of the small stage. There was, due to missing stage illumination – maybe the lights were out to direct your eyes into the screens – there was not much to see of the exciting electro show, but there was much to hear. Once more, Myer proved that his band is one of the spearheads in the electro scene. The set presented several songs out of their last album 'New World March', like 'Crossfire', 'Machine Drum', 'Little World' or 'Dead Market' to name a few, but also several classic songs like 'Renegades Of Noise' or 'The Noise Institute'. One of the highlights was surely the rare 'Dream Aid' from the 1995 album 'Freeze Frame Reality'. With the title track of the latest album, the set ended perfectly. // http://haujobb-music.com / https://www.facebook.com/haujobbmusic // Setlist: 01. Machine Drum / 02. Let's Drop Bombs / 03. Renegades Of Noise / 04. Anti/Matter / 05. Crossfire / 06. Unseeing / 07. Letting the Demons Sleep / 08. Penetration / 09. Dream Aid / 10. Little World / 11. The Noise Institute / 11. Dead Market / Encore: 12. New World March // Rating: 8.5 / 10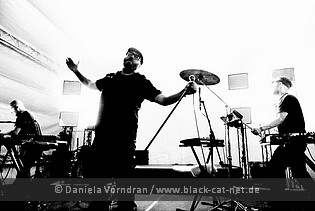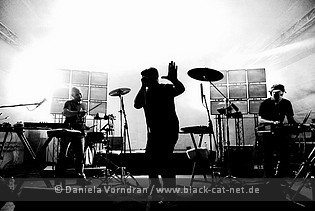 Phillip Boa & The Voodooclub

What a pleasure it was to see this band as headliner. PHILLIP BOA & THE VOODOOCLUB presented musical delicacies on the main stage. Just like at Amphi Festival, the band knew how to impress the audience. 'Fine Art in Silver' got things going and once again, it was the special interaction of Pia's female and Phillip's male vocals plus this kind of "fuck you" attitude that made the show so special. Nearly all those well-known and beloved classics were presented, might it be 'Annie flies the Lovebomber', 'Love on Sale', 'This is Michael' or 'Container Love'. For the excellent set, well-crafted and perfectly balanced, of course also some newer songs were woven in. But surely the perfect highlight were the encore songs like 'And then she kissed her' or THE Boa hymn, 'Kill your Idols', when people loudly screamed the chorus lines. Highlight of the day and well-deserved headliner position! // http://www.phillipboa.com / https://www.facebook.com/phillipboaandthevoodooclub // 01. Fine Art in Silver / 02. Annie flies the Lovebomber / 03. Want / 04. Diamonds fall / 05. Love on Sale / 06. Til the Day We Are Both Forgotten / 07. Albert is a Headbanger / 08. Atlantic Claire / 09. I dedicate my Soul to you / 10. Speed / 11. Deep in Velvet / 12. Loyalty / 13. This is Michael / 14. When the Wall of Voodoo breaks / 15. Container Love / Encore 1: 16. Lord have Mercy with the 1-Eyed / 17. Diana / 18. And then she kissed her / Encore 2: 14. Kill your Idols // Rating: 9 / 10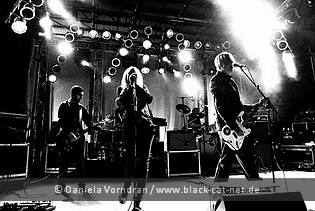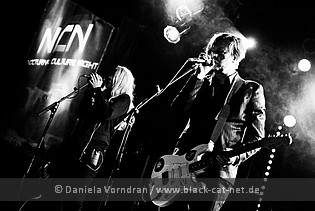 Spiritual Front

After the amazing show of PHILLIP BOA, another special treat was waiting at the culture stage late at night, Italian based SPIRITUAL FRONT. The Rome based band describes their music as "nihilist suicide pop". The influence of neoclassical and rock music elements, as well as tango and experimental feel, is unquestionable. Many people were looking forward the concert at NCN and the space in front of the culture stage was totally crowded. The show, underlined by videos on the screen in the back, was just beautiful and inspiring. The time while the band plays its sincere pure and heartfelt songs somebody's life can be turned upside down. As a special highlight, as already mentioned earlier, there was a little fashion show intermission of the Eve Couture label. Fitted quite well to the song 'German boys'. Perfect ending of this long day! // http://www.spiritualfront.com / https://www.facebook.com/spiritualfrontofficialpage // Setlist: 01. Shining circle / 02. Cold love in a cold coffin / 03. Walk the dead line / 04. Darkroom friendship / 05. Jesus died in las vegas / 06. Hey boy / 07. Song for the old man / 08. German boys / 09. No kisses on the mouth / 10. Slave / 11. Soul gambler / 12. Bastard angel // Rating: 8.5 / 10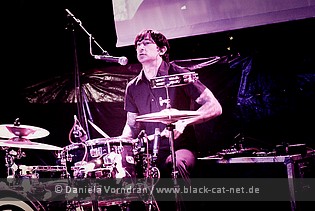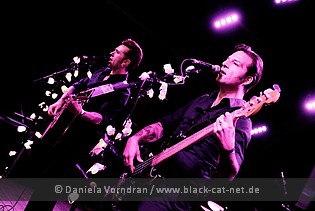 All pictures by Daniela Vorndran (http://www.vorndranphotography.com / http://www.black-cat-net.de/ / http://www.facebook.com/blackcatnet)



See also (all categories):