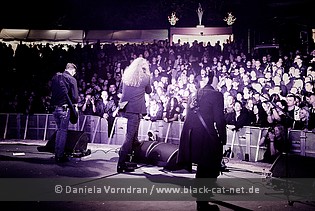 Kulturpark, Deutzen, Germany
6th to 8th September 2013
Nocturnal Culture Night 8 Day 1: Thouxsense, Seelennacht, MRDTC, Torul, Noisuf-X, Rotersand, Forced to Mode, Tyske Ludder, Diary of Dreams, Alice Neve Fox and 6Comm & Freya Aswynn – The Fruits of Yggdrasil

It is always at the farthest end of the festival season in autumn when a little festival takes place that over the years has gained considerable recognition amongst dark music lovers: The Nocturnal Culture Night (NCN), already running in its 8th edition. As every year, the festival is taking place inside the boundaries of the picturesque landscape of the culture park in a little place called Deutzen (near Leipzig). It's not only the familiarity of the atmosphere that has shaped its reputation, moreover it is the vast assortment of bands the NCN 2013 organizer come up with every year anew that differs quite a bit from the usual. This year we were blessed with perfect weather, it was hot and sunny on Friday and Saturday and still warm on Sunday, with only very little rain.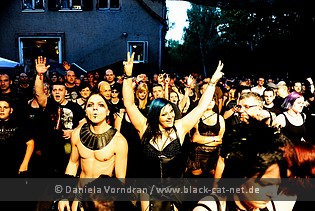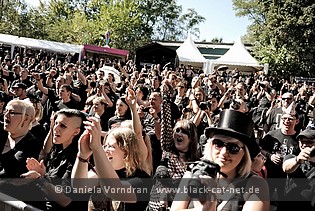 Thouxsense

This year's NCN was opened by the band THOUXSENSE from Leipzig. The band, consisting of four musicians, exists since 2006, releasing the first album 'Adeodeus' in 2010. Musically, the band made a quite good impression, presenting a mix of electronic pop and rock music, calling it themselves "eProck". Remarkable in the band line-up is the use of a violin besides the common instruments guitar and drums, and of course vocals, adding a special vibe to the music. Currently, the band is working on a new album. // http://www.thouxsense.de / https://www.facebook.com/pages/Thouxsense/110074392403893 // Rating: 7 / 10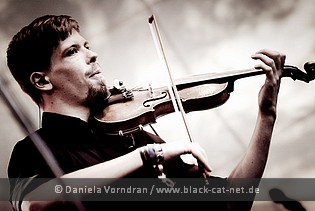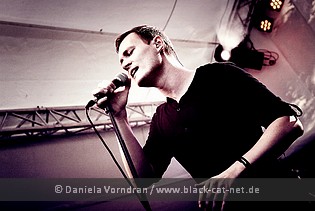 Seelennacht

Marc Ziegler's project SEELENNACHT was the band opening the main stage with a mix of romantic, Steampunk and… mainstream Goth in the footsteps of BLUTENGEL. I even heard comments that on stage we just see Chris Pohl's little brother. Besides Marc, on stage there was only one more musician, Matthias Lasowski on live keys. So far, SEELENNACHT has released two albums, latest one being 'In der Ferne' from 2010. A new release is in the making. On stage at daylight, the show did not really convince me, might be only a matter of taste, but there were several people having the same impression. Anyway, others really seemed to like it. // http://www.seelennacht.com / https://www.facebook.com/seelennacht // Rating: 5 / 10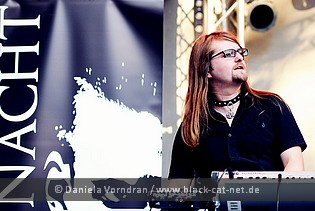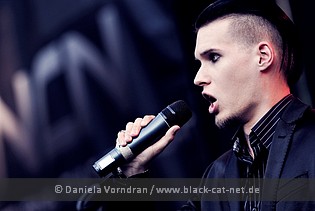 MRDTC

MRDTC stands for Mr. Dupont (Christoph Lemke) and Timo Claus (from AMNISTIA). The duo presented old-school EBM / Electro finding quite some lovers in the audience. The first release was the 7" '#1 (Liar)' in 2012 followed by the first album, '#2 (We Transfer)' in 2013 vial Emmobiz label. The songs were really danceable, making people in front of the small stage move. Quite a good show from the guys and I am curious what they will present at BIM Fest in December. // http://www.9xo.de/mrdtc / https://www.facebook.com/MRDTC.site // Setlist: 1. For The Good Times / 2. Discretion / 3. Netwerk / 4. Motif / 5. God Of Anger / 6. Liar / 7. Sickness // Rating: 8 / 10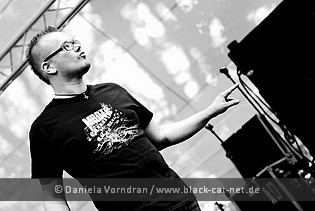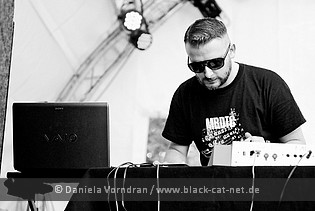 Torul

TORUL is based on Slovenia and in the 1990s already gained some recognition but would be putting out an evergreen with the 'Waterproof Theme' from 2002. TORUL released quite some stuff afterwards but apparently that wouldn't reach this tracks status. That was subject to change with TORUL returning to the spotlights and releasing new material around 2011 with a single, an EP and the album 'In Whole'. Their sophomore release on Infacted Recordings has just been released in spring this year with 'Tonight We Dream Fiercely'. On stage at NCN, the band made a really good live impression, even though singer Jan looks now kinda strange with that new beard in his face. But still, he has an absolutely fantastic stage presence. The catchy electro pop found a lot of lovers within the audience. Really a good show, guys! // http://www.torul-recordings.net / https://www.facebook.com/torul // Setlist: 1. The Sun / 2. Try / 3. The Fall / 4. Still Here / 5. All In / 6. In Whole / 7. Mad World (Tears for Fears cover) / 8. Where The Nights Start / 9. Show Me Your City / 10. Wake Up / 11. If You So Wish / 12. Glow / 13. Saddest Song / 14. It Was Supposed To Be Fun // Rating: 8 / 10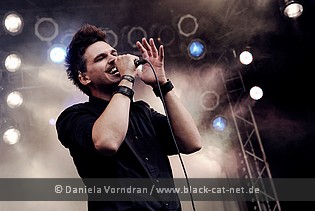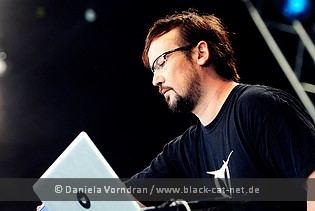 Noisuf-X

From fluffy catchy electro pop on main stage to harder electronic beats on the small stage. It was time for Jan L. and his project NOISUF-X. The motto of the show definitely was "get your ass moving". And people in front of stage did exactly that, danced and screamed to the hard beats. NOISUF-X is the side project of X-FUSION head Jan, releasing a first album back in 2005. So far, several released saw the light of day, the latest being 'Dead End District' two years ago. The mix of Rhythm & Noise and Techno beats is not really my cup of tea, but the show was quite good anyway. // http://www.noisuf-x.com / https://www.facebook.com/NOISUFXofficial // Rating: 7 / 10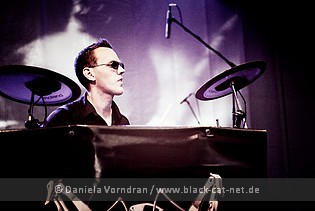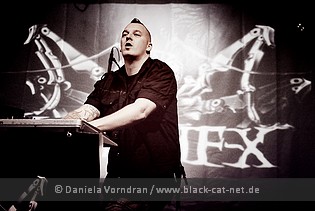 Rotersand

When it finally was getting darker at the Kulturpark, it was time for ROTERSAND, now shrunk to a duo consisting of Krishan E. Wesenberg and Rascal, to enter the stage and get the audience on front of the main stage moving. The electro band from Gelsenkirchen / Germany, has produced several club hits since 2003 and released a handful albums, the latest one dating already back to 2009 with 'Random Is Resistance'. Their electronic sound with elements of future pop, techno and trance finds many lovers and so, the crowd was quite big and loud when the first song, 'Merging Oceans', sounded from the speakers. Charismatic singer Rascal had the audience in his hands from the very start. Even ROTERSAND is now only acting as duo, the stage did not seem too big for the two guys. There was so much energy on stage and surely deserved the position as co-headliner. The audience loved the show and loudly sang along. For 'Exterminate Annihilate Destroy', Krishan as usually left his position behind the desk and joined Rascal in front of stage. Moody and calm song 'Undone' finally ended the show. // http://rotersand.net / https://www.facebook.com/rotersand // Setlist: 1. Merging Oceans / 2. Lost / 3. Dare to Live / 4. Waiting to Be Born / 5. I Cry / 6. Electronic World Transmission / 7. War On Error / 8. Exterminate Annihilate Destroy / 9. Undone // Rating: 8.5 / 10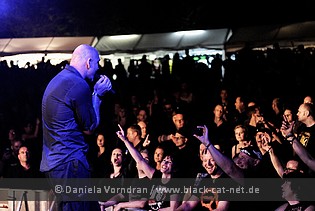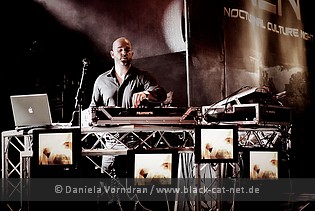 Forced to Mode

While ROTERSAND were entertaining the main stage, also the little culture stage was packed with people. Strange enough that they all gathered for a cover project. But FORCED TO MODE, as the name already hints, was presenting hits if a very well-known band with a huge fan base, DEPECHE MODE. And there were a lot of DM fans attending the NCN. FORCED TO MODE is not really a band, it is the DM cover project of FORCED MOVEMENT, a band existing several years already and of course releasing their own songs. But today on program were some of the biggest hits of DEPECHE MODE, like 'Enjoy The Silence', 'Personal Jesus' or 'Never let me down again'. Quite entertaining show and the singer has quite something in common with Dave Gahan in his Devotional times. Entertaining! // http://www.forced-movement.de / https://www.facebook.com/forcedmovement // Setlist: 1. World in my Eyes / 2. Walking in my Shoes / 3. Behind the Wheel / 4. Stripped / 5. Strangelove / 6. Personal Jesus / 7. Enjoy the Silence / 8. Never let me Down Again / 9. A Question of Time // 8 / 10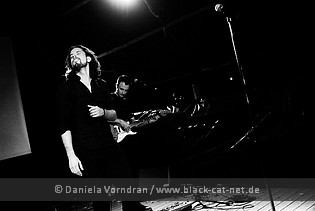 Tyske Ludder

From future pop and DEPECHE MODE back to hard-hitting electro and TYSKE LUDDER. The German band, consisting of Claus Ålbers (vocals, performance), Ølåf Å. Reimers (synths) and Rålf Homann (percussions, shouts), was already active in the nineties and has just released a new EP, 'Bambule'. The area in front of the small stage was crowded now when TYSKE were presenting their energetic and sweat-inducing show. Dancing was the motto! The stage was covered with a lot of smoke and out of it, you saw the schemes of the three band members appearing, firing their heavy beats towards the audience. TYSKE LUDDER's style is a bit harsh with a mix of catchy melodies which made me dance along the provoking songs, finding a lot of admirers within the NCN attendees. // http://www.tyske-ludder.com / https://www.facebook.com/tyskeludder // Setlist: 1. Intro / 2. Der androgyne Held / 3. Eugenix / 4. Hexenjagd / 5. Shokkz / 6. Bastard / 7. Abgesang (Northborne Remix) / 8. Canossa / 9. Bambule (Mexican Edit) / 10. Extrem / 11. Monotonie / 12. Panzer // Rating: 8 / 10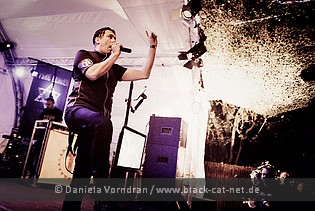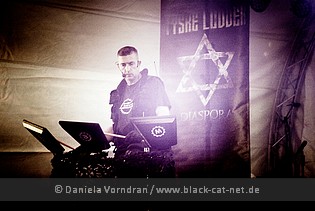 Diary of Dreams

Headliner of the first NCN day was once more DIARY OF DREAMS, surely the band with the most appearances at NCN so far. But seeing the fully packed amphi theater proved that there was a reason why the band is invited that often so perform at the festival. Just like at Nordstern festival, the band went without a keyboarder, forcing the impression of a rock band even more, even if I missed the additional keyboard play a little. Already during the last years, the influences of guitars were getting stronger with the addition of Flex as second guitarist besides Gaun:a. With a long 'Ego:X' intro, the band raised the anticipation and then they fired 'Nekrolog 43' towards the round. The band around mastermind Adrian Hates delivered a fantastic energetic show. The setlist had a few surprises in stock, like 'False Affection False Creation' from the band's first album, or 'Reign of Chaos', being rarely played during the last few years.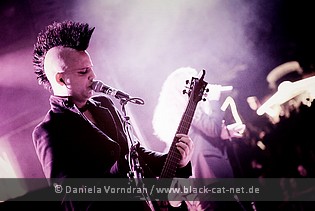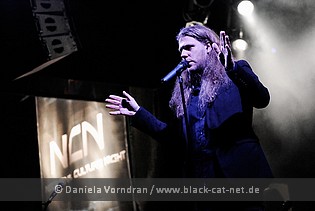 Time was running fast, too fast, and when the last sounds of 'kindrom' had faded, there was no time anymore for one of the fan favourites 'Traumtänzer', a song that belongs to a DIARY OF DREAMS show like 'Enjoy the Silence' belongs to a DEPECHE MODE concert. With loud applause, the band was rewarded at the end. The show was over much too soon, but there are some good news: the band will release a new album beginning of next year, followed by a tour in April. // http://www.diaryofdreams.de / https://www.facebook.com/officialdiaryofdreams // Setlist: 1. Intro / 2. Nekrolog 43 / 3. the Wedding / 4. Butterfly:Dance! / 5. Lebenslang / 6. Reign of Chaos / 7. Giftraum / 8. Echo in me / 9. Chemicals / 10. False Affection False Creation / 11. MeinEid / 12. MenschFeind / 13. King of Nowhere / 14. The Curse / Encore 1: 15. Undividable / 16. Kindrom / Planned Encore 2: Traumtänzer (not played as time was over) // Rating: 9 / 10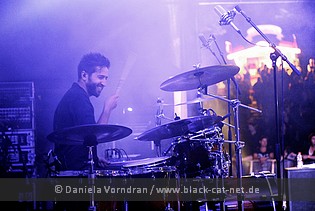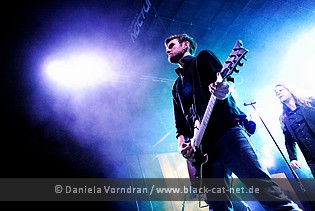 Alice Neve Fox

Since I missed Elena Alice Fossi's solo project, ALICE NEVE FOX, at Amphi Festival, I was happy to have another chance at NCN. The front woman of KIRLIAN CAMERA was presenting a special acoustic-oriented show. For this show, where she of course delivered her unmistakable lead vocals, she was supported by Kyoo Nam RossI on acoustic guitar, Andrea Artusi on double bass, Alessio Rubens Richard Tedeschi on cello and finally by MarIa Chiara Ugolotti on piano. Her show surely bewitched the audience with several KIRLIAN CAMERA songs in a really new frame, but also some songs of her all-female band SPECTRA*PARIS and a few cover versions, like MUSE's 'Time is running out' or 'No Sound But The Wind' by EDITORS. Wonderful end of the program on small stage! // https://www.facebook.com/elenaalice.fossi // Setlist: 1. Intro / 2. Nightglory / 3. Falsos Suenos / 4. Ultima Phoenix / 5. Time Is Running Out (Muse cover) / 6. Mad World (Tears for Fears cover) / 7. Lather (Jefferson Airplane cover) / 8. The Fountain Of Clouds / 9. No Sound But The Wind (Editors cover) / 10. Odyssey Europa / Encore: 11. Heldenplatz // Rating: 8 / 10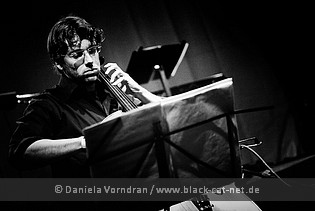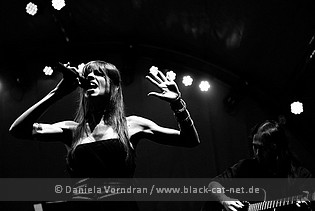 6Comm & Freya Aswynn – The Fruits of Yggdrasil

With the show of ALICE NEVE FOX, the program on Friday was not yet over. There was a special event still waiting for you at the culture stage. The British Neo-Folk project 6COMM was presenting "The Fruits of Yggdrasil" together with Pagan healer Freya Aswynn. 'The Fruits of Yggdrasil' is an album 6COMM recorded together with the healer in 1987 presenting old poems from the 'Edda' and other sources. Before the performance started, the audience was asked not to interrupt it with applause, there was enough time for applause at the end. So, the next hour was presenting an overall piece of art with sprechgesang, incantation of the runes and neo-folk music. Surely not an every-day event! // https://www.facebook.com/pages/6comm/446990411978769 / https://www.facebook.com/pages/6comm-Freya-Aswynn/203396993006395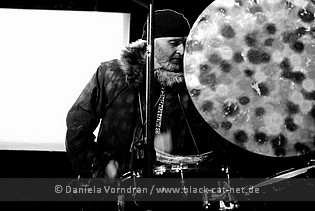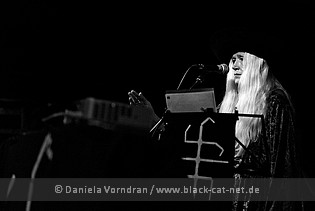 All pictures by Daniela Vorndran (http://www.vorndranphotography.com / http://www.black-cat-net.de/ / http://www.facebook.com/blackcatnet)



See also (all categories):