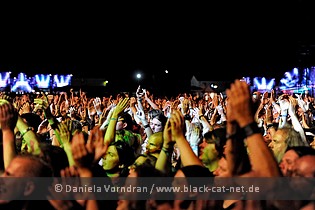 Airport Drispenstedt, Hildesheim, Germany
8th and 9th August 2015
M'era Luna Festival 2015 Day 2: Private Pact, Kai Meyer & ASP (Reading), Schwarzer Engel, Unzucht, Tyske Ludder, Dope Stars Inc., Absolute Body Control, Tanzwut, Tying Tiffany, Joachim Witt, Assemblage 23, Apoptygma Berzerk, Rotersand, Mono Inc., Nachtmahr, Einstürzende Neubauten, Anne Clark feat. Herr B., Nightwish
The second festival day welcomed us with perfect summer weather. And even though many people were celebrating until the early morning hours, a good crowd already waited in front of the entrance to enter the festival ground to see the opener of the day, Danish newcomer PRIVATE PACT.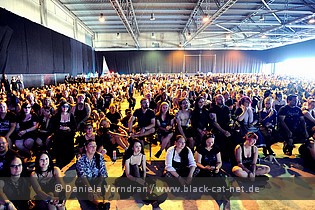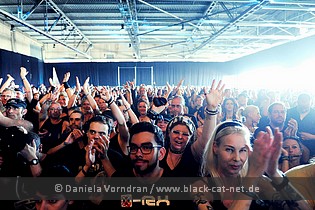 Private Pact - Main Stage (Dani)

Cold Wave / Synth New Wave band PRIVATE PACT from Danish Copenhagen had won the band contest at SPOT festival in Aarhus and were invited to M'era Luna to open the second festival day. Their sound is influenced by icons like DEPECHE MODE, KRAFTWERK and a double-depressive Ian Curtis, creating a kleptomaniac world of rhythm, electronic layers and filigree eclecticism. On stage, the three guys acted quite calm and restrained and were dressed in black suit pants and white shirts. All in all, PRIVATE PART were reminding me a lot of HURTS, not only due to their appearance, but also because of their music. Really promising. And the live performance will improve, I am sure. //
http://privatepact.org
/
https://www.facebook.com/privatepact
// Rating: 7 / 10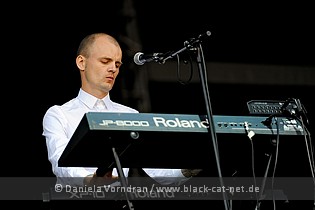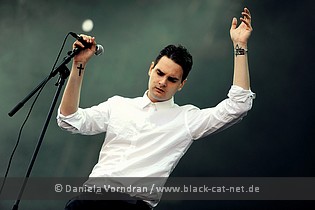 Reading Kai Meyer & ASP - Hangar (Dani)

Just like two years ago, on the festival Sunday, while the music on the main stage was in its last lap, the Hangar offered some prose being presented by highly acclaimed German fantasy author KAI MEYER, supported by Alexander Spreng and Sören Jordan from ASP. First, Asp and then Kai introduced the audience into the setting of the reading and the story presented, playing at historic Leipzig hotel Astoria. And 'Astoria' is also the name of one new ASP song, being released on the upcoming new album 'Verfallen' which is based on a novel written by Kai Meyer. During the reading, there was even a second new song presented. This concept is an interesting combination of story and music and was very well received by the audience. I think presenting this concept more often on stage, maybe enriched by some more songs, could be really successful. //
http://www.kaimeyer.com
/
https://www.facebook.com/KaiMeyerFanpage
/
http://www.aspswelten.de
/
https://www.facebook.com/AspsWelten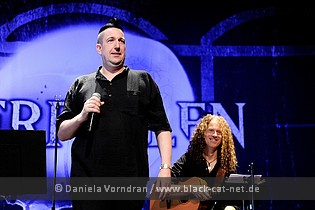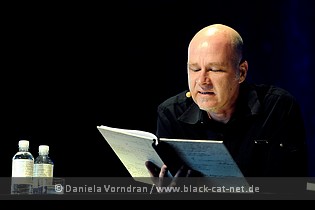 Schwarzer Engel - Main Stage (Dani)

Just like two years ago when Kai Meyer was reading, SCHWARZER ENGEL were playing at the main stage. Creative head of the band is Dave Jason. With his band, he created a monster made of theatrics, black metal, symphonic metal, visual bombast and morbid lyrics. Already a good crowd had gathered in front of stage and they were enthusiastic like the band on stage. Even though the music does not meet everyone's taste, it was intoxicating to many. It was fascinating with its mix of apocalypse, despair, mystic and darkness. //
https://www.schwarzerengel.info
/
https://www.facebook.com/schwarzerengelband
// Rating: 6 / 10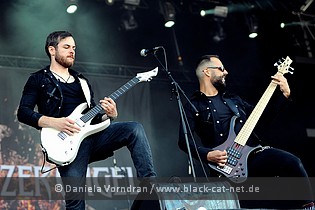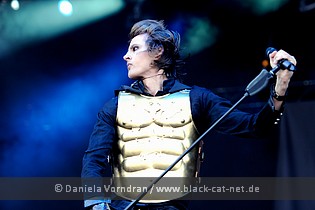 Unzucht - Main Stage (Dani)

Starting their career some years ago at M'era Luna as winner of the newcomer contest, UNZUCHT have gathered a big fan base during the last years and surely playing at this festival must be something special for the band. From supporting bands like MONO INC., JENNIFER ROSTOCK, or STAHLMANN to sold-out club shows to a first chart success with their 2013 album 'Rosenkreuzer', the band now is really popular in the black scene. Their plain rock is enriched by some drama, melancholy, metal riffs and of course the charm of singer Der Schulz. Of course, the audience loved the show, sang along loudly, clapped and celebrated the band. There was this special relationship between band and crowd and towards the end, Schulz came down from stage to surf the crowd, singing held by the hands of his fans. Great moment! Loud cheering rewarded the band after they finished their set with their single hit 'Engel der Vernichtung'. //
http://www.unzucht-music.com
/
https://www.facebook.com/Unzucht
// Setlist: 1. Unendlich / 2. Deine Zeit Läuft Ab / 3. Schweigen / 4. Unzucht / 5. Nur Die Ewigkeit / 6. Kleine Geile Nonne / 7. Engel Der Vernichtung // Rating: 8 / 10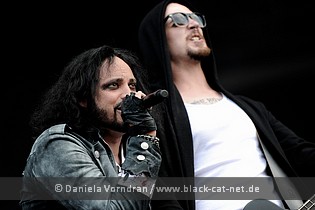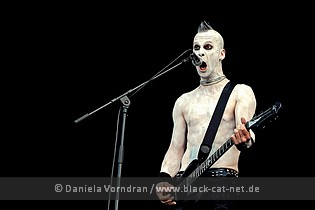 Tyske Ludder - Hangar (Susann)

After not seeing TYSKE LUDDER for a while live I saw a lot about them and their new song 'Meskalin' in the net and I was stretched on the appearance. In usually breath-taking manner, Claus Albers animated the audience to celebrate. What everybody was more than ready for. Also on Sunday the hangar was already well filled during the first bands and the people who did not venture in could watch the concert on the video screen. In spite of the very short time of appearance, TYSKE LUDDER could inspire the fans and even many who maybe not heard of the band and just went into the hangar to see something new. Unfortunately, is also to be seen here as a small deficiency that the sound was not pleasant in the whole hangar. There are definitively improvement possibilities for next time. //
http://www.tyske-ludder.com
/
https://www.facebook.com/tyskeludder
// Setlist: 1. Androgyner Held / 2. Canossa / 3. Oh la la la / 4. Monotonie / 5. Bambule / 6. Meskalin / 7. Panzer // Rating: 8 / 10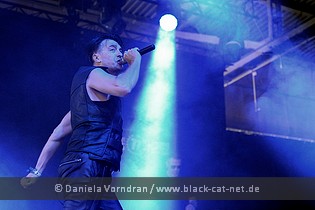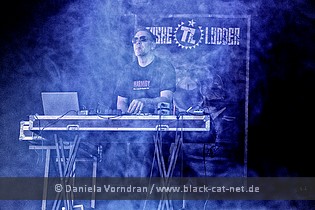 Dope Stars Inc. - Main Stage (Dani)

I remember a certain tour with DEATHSTARS, DIARY OF DREAMS, LACRIMAS PROFUNDERE and the Italian guys of DOPE STARS INC. where we had a lot of fun. Now it is already some years ago I saw the band live so I was really happy seeing their name in the line-up. This band is something special, presenting harsh Industrial mixed with Synthesizer sounds and placed on a bed of piercing guitar riffs. Especially Fabrice LaNuit and Darin Yevonde bring some rock star attitude to stage and are posing in best glam rock manner. In February this year, they released a new album named 'Terapunk', whose songs can be described as sufficiently aggressive, dynamic, smashingly tough and rhythmic, with a touch of industrial and an impact of punk, or maybe, cyberpunk. Definitely a show worth watching! //
http://www.dopestarsinc.com
/
https://www.facebook.com/dopestarsinc
// Setlist: 1. Bang your head / 2. Vyperbeat + Beatcrusher Medely / 3. Dressed inside your Fear / 4. Many Thanks / 5. Theta Titanium / 6. Self-Destructive Corps / 7. Make A Star / 8. 21st Century Slave // Rating: 8 / 10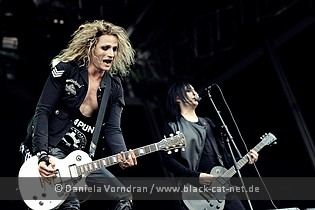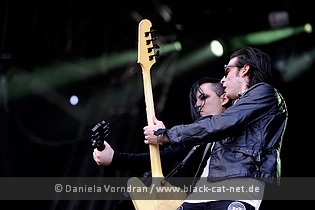 Absolute Body Control - Hangar (Josie)

A band I want to see again since years played in a show at the Hangar. Yay. I expected melodies to dance to and the interesting voice of Dirk Ivens. The good stuff first: Yes, they made me dance with their 80's-like music sounding like a mix of GARY NUMAN and a bit like OMD and there were no strobe lights blinding me like during the DIVE shows. All in all there was not much interaction with the audience which made the ABC show a bit boring for me or maybe less interesting and so I left after a couple of songs to find me something to drink. //
https://www.facebook.com/AbsoluteBodyControl
// Setlist: 1. Melting Away / 2. Love at first Sight / 3. Is there an Exit? / 4. Figures / 5. Automatic / 6. Invisible Touch / 7. Never Seen / 8. Did you do it / 9. Give me your Hands // Rating: 7 / 10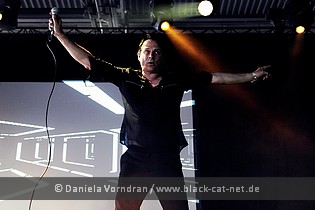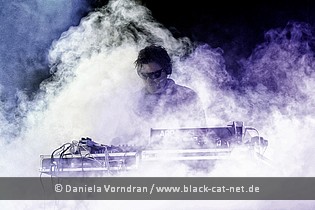 Tanzwut - Main Stage (Susann)

To see the Rock show by TANZWUT was at this sweaty temperatures already a real experience. The sun beat down without a cloud from heaven and made the crowd in front of the main stage sweat without doing anything. But not only that, also the show of TANZWUT was very sweaty. And that despite the early appearance time. The square in front of the stage was very well stocked and all celebrated from the first minute. Again, at first the sound was a little problem. If you stood in front of the stage boomed a music quite contrary. In the back row, it was much more pleasant for those reasons. So far I only knew the Middle Ages show TANZWUT and was looking forward to the rock show. My expectations were not disappointed. //
http://www.tanzwut.com
/
https://www.facebook.com/TANZWUTOfficial
// Rating: 9 / 10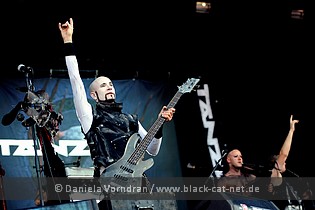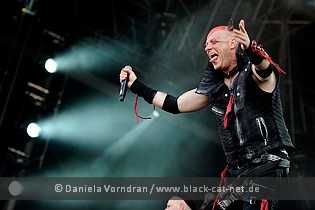 Tying Tiffany - Hangar (Linda)

I'm not certain if Tying Tiffany was a good first choice for Sunday after a sleepless night. I felt mildly screamed at and struggled to get my earplugs in in time before getting a headache from last night's hangover. Italian TYING TIFFANY is the outlet of a girlish-looking little lady who purposely aims to fool you with her looks. She's been working under that moniker for over 10 years already and according to what I got to see I can't help but think those were very successful years. She counterparts her looks with the unbridled energy of punk and industrial mixed and blended into an explosive cocktail. That goes for both the music and the stage performance. One time it's a hardly recognizable voice amidst a string of instruments, other times she's going all mental and acting like a rebel.
//
http://www.tyingtiffany.com
/
https://www.facebook.com/tyingtiffanyofficial
// Rating: 7 / 10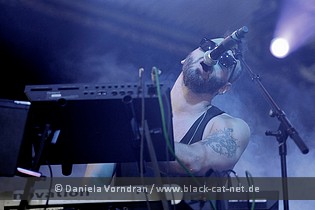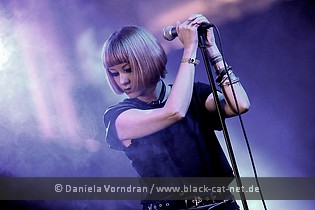 Joachim Witt - Main Stage (morTICIA)

The German singer, songwriter and actor is an iconic figure in the Independent music scene since his hit single 'Der goldene Reiter' (The golden rider) in the early 80's at the beginning of the Neue Deutsche Welle (New German Wave). Profound lyrics underlined with Synth Pop/ Synth Rock sound were characteristic for his music before the NDW deteriorated into a more hilarious direction. His first album was critically acclaimed. Also the second one sold successfully but the following couldn't live up to an earlier success. During the next years JOACHIM WITT secluded himself and pursued other projects like producing other bands as well as working as an actor. After meeting PETER HEPPNER in 1998 they decided to work together and their single 'Die Flut' (The flood) became a massive success in the German speaking countries and for JOACHIM a kind of comeback. Up to now he has launched 15 albums.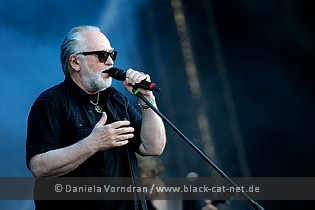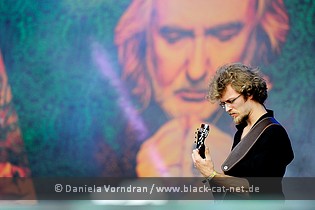 A big crowd had gathered in front of the main stage when JOACHIM entered the stage in a wanton mood. We learnt that he would have loved to chat a bit more with us but as the schedule is tight at a festival, he entertained us then with a cross section of songs of his careers that spans more than three decades to the pleasure of the audience which sang and danced along and rewarded each song with a big applause. JOACHIM showed up with excellent vocal qualities. The culmination was the performance of 'Der goldene Reiter' of course. //
http://www.joachimwitt.de
/
https://www.facebook.com/joachimwittmusik
// Setlist: 1. Intro (Neumond) / 2. Aufstehen / 3. Die Erde brennt / 4. Es regnet in mir / 5. Königreich / 6. Supergestört und superversaut / 7. Das geht tief / 8. Die Flut / 9. Goldener Reiter // Rating: 9 / 10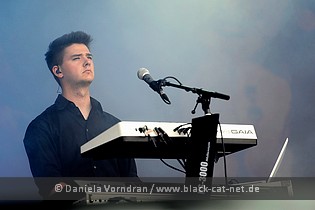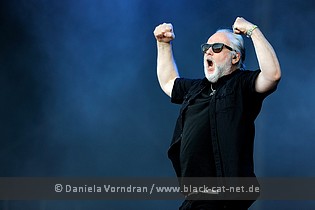 Assemblage 23 - Hangar (Josie)

Tom Shear and his project called ASSEMBLAGE 23 was one of the main reasons to go to M'era Luna festival this year. I listen to his music so often, his tracks accompanied me through a really dark time of my life and I will never forget how I went through the forest singing along his tracks just to feel better. So the ASSEMBLAGE 23 show was a bit of a throwback for me. Whenever you get the chance to see A23 live, go there and watch and enjoy the dark synths and he brilliant voice of Tom Shear. //
http://www.assemblage23.com
/
https://www.facebook.com/pages/Official-Assemblage-23/138651156153800
// Rating: 9 / 10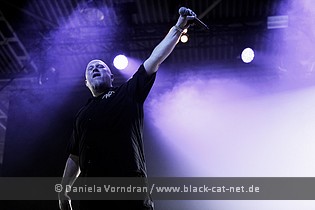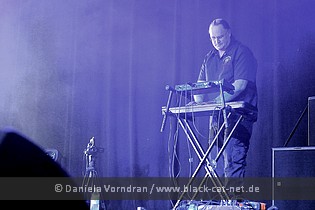 Apoptygma Berzerk - Main Stage (morTICIA)

The Norwegian music project was founded in 1989 by Stephan L. Groth and Jon Erik Martinsen. As the latter left the project soon Stephan continued with APOP (as fans call the band) as a solo project. But for live shows he is accompanied by a band. Innovative and danceable Synth Pop/ Synth Rock/ Future Pop sound soon attracted a lot of people. Perfectly on time the band entered the stage and opened the show with a METALLICA cover. But the party started eventually with the second song. Stephan, in a good spirit, invited the audience to sing along with him. Apart from some of its great dance tracks the band had another cover in the bag, an excellent interpretation of a JOY DIVISION song. Once again a fantastic APOPTYGMA BERZERK show where you could dance from start to the end. //
http://www.theapboffice.com
/
https://www.facebook.com/ApoptygmaBerzerk
// Setlist: 1. Fade to Black (Metallica cover) / 2. Love Never Dies / 3. Shadow / 4. Kathy's Song (Come Lie Next To Me) / 5. Black Vs. White / 6. In This Together / 7. Love Will Tear Us Apart (Joy Division cover) / 8. You Keep Me From Breaking Apart / 9. Starsign / 10. Until The End Of The World // Rating: 9 / 10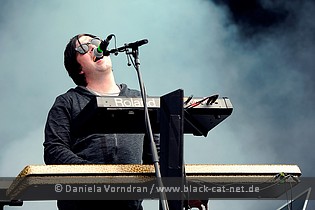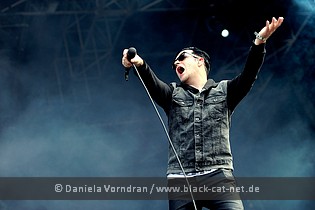 Rotersand - Hangar (morTICIA)

Another band from the genre of Electro- Industrial / Future Pop music now invited the crowd to party. Founded in 2002 the German band made a name for itself by touring with ASSEMBLAGE 23 and COVENANT as well as performing at the main festivals like the Dark City Festival, Infest, M'era Luna, WGT and Blackfield Festival. Actually the venue was already full to burst and after the APOPTYGMA BERZERK show even more people went over to see them. So I preferred to watch the show outside on the monitor. Inside the audience turned into a moving wave while outside the people were dancing as well. Not only Rascal invited the people to interact with him but also Krischan, from behind his keyboard, conducted the audience to the music. Before 'Electric Elephant' was played we learnt that this song entered the US charts as well. With a good mix of great dance tracks the guys didn't allow the audience a rest. But they also had some surprises at hand as for some songs a guest guitarist entered the stage and gave them a touch of Rock'n'Roll. Another special guest was Myk Jung (THE FAIR SEX), singing together with Rascal and Krischan THE Doctor Who fans song 'Exterminate, annihilate, destroy'.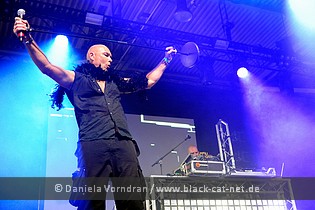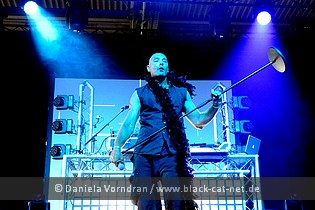 Also a new song was presented 'Torn realities' and Rascal asked us to be kind with them. Of course Rascal insisted on joining the crowd, walking around, singing and dancing before he returned on stage again. A fantastic and sweat inducing show ended and once again ROTERSAND proved to be a fabulous live band.
//
http://www.rotersand.net
/
https://www.facebook.com/rotersand
// Rating: 9 / 10
Mono Inc. - Main Stage (Susann)

For still sweaty temperatures I have put myself on Sunday on the way to the main stage. MONO INC. I could experience the one or other show live and was always been a bit disappointed by the band's performance. This time they surprised me really positive. Singer Martin Engler has cast a spell over the audience and could let the puppets dance. Each song has been celebrated and sung. To see so many people celebrate in this heat was a real treat for eyes and ears. So even I could change my view of the band and would hope for more concerts of this kind. More of MONO INC can be seen in November, when they go on tour in Germany. //
http://www.mono-inc.com
/
https://www.facebook.com/monoinc
// Setlist: 1. Arabia / 2. Symphony of Pain / 3. Gothic Queen / 4. Never-Ending Love Song / 5. Get Some Sleep / 6. Heile, Heile Segen / 7. Revenge / 8. After the War (Gary Moore cover) / 9. Voices of Doom / 10. Tag X // Rating: 7 / 10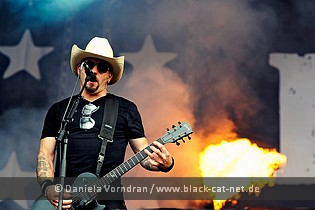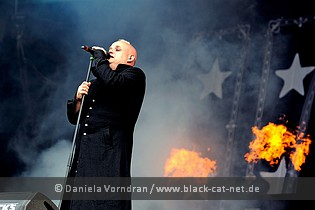 Nachtmahr - Hangar (Josie)

They appeared on stage and disappeared again as if it were the big bang each time on Sunday. Obviously this wasn't my first time seeing NACHTMAHR live but by far my best! There was an energized Thomas Rainer, who already performed on the Main stage on the previous day with LAI and whose enthusiasm was ever growing the longer the gig lasted. Gregor Beyerle and Massimo at the keys were simply a fantastic team. The charisma and also the vocals of Massimo is the icing on the cake for NACHTMAHR's live performances. After three years, Amaranthe and Nicole are a well-established team at the NACHTMAHR stage show, but this one was by far their best performance ever! A band which already has a history but they prove to their fans over and over aga8in that they can give more and more! Utter respect! //
http://www.nachtmahr.at
/
https://www.facebook.com/nachtmahr.band
// Setlist: 1. March of the Imperial Guard / 2. Wir schreiben Geschichte / 3. Ich bin / 4. Verräter an Gott / 5. Feuer frei! / 6. Liebst du mich? / 7. El Chupacabra / 8. Can you feel the beat? / 9. Boom Boom Boom / 10. Tanzdiktator / 11. Mädchen in Uniform / 12. Rise and Fall / 13. I hate Berlin / 14. Katharsis // Rating: 10 / 10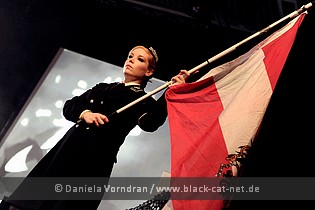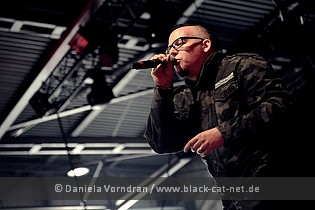 Einstürzende Neubauten - Main Stage (Alex)

EINSTÜRZENDE NEUBAUTEN were founded in 1980 in Berlin and have established themselves as one of the most iconic bands due to their anarchistic approach to music. The line between music and art is very thin in their works and it's more reasonable to consider it a mix of both. Whenever I listen to EN, I feel incredibly empowered and inspired and I was hoping that they would create the same energy on stage. Unfortunately, I was disappointed. The sun was shining, the bass was too loud, and somehow I wasn't able to get into the mood of the music. They had some crazy and innovative "instruments" on stage and Blixa Bargeld's voice plays are impressive but what I love about EN's music - the anarchistic and the shuddering - wasn't transmitted by the band on stage. I can speculate and say that's because they are all well off nowadays... at least the show made a snobby impression on me. Nevertheless, I am glad I got to see those icons on stage and I was lucky enough to stand next to a die-hard fan who was beyond happy to see Blixa and Co. live and somehow, he was able to transfer his mood on me and after a while I was as happy as he was. I know live recordings from the recent past which were a lot more impressive - and I think a lot of why I didn't get into an overly enthusiastic mood was because it was outdoors.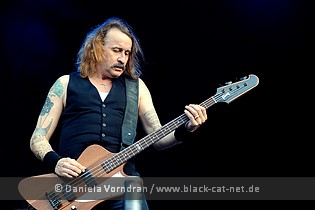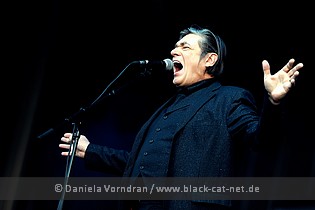 EN are rough, dark, loud, cruel - and the blazing heat did not underline that. In the end, it's still fantastic that they played at the M'era and at the end of the set people were screaming for more - unfortunately, there was no time left and it was a weird feeling that those rock stars did not get the extra time for an encore. One could consider it a "Halbes Set". //
https://www.facebook.com/pages/Einstürzende-Neubauten/10414650793
// Setlist: 1. The Garden / 2. Haus der Lüge / 3. Dead Friends / 4. Unvollständigkeit / 5. Die Befindlichkeit des Landes / 6. Sonnenbarke / 7. Von wegen / 8. Sabrina / 9. Susej // Rating: 8 / 10
Anne Clark feat. Herr B. - Hangar (Linda)

ANNE CLARK is a British songwriter, singer and pianist whose creations are added to the category "Spoken Word", that means, she does not sing, but reports her poetic texts rather in rhythmic words. Stylistically, her work is electronic music with partly rock-, dance-, folk- as well as also avant-garde classical period elements. Anne Clark and Herr B. were standing at a long table together. He provided the sound and she the words. It was a fantastic atmosphere. The decoration on the Hangar stage was underlined by red light. The crowd was listening to Anne's words like believers listen to their priest in a church. This was very deep. //
https://www.facebook.com/anne.clark.music
/
https://www.facebook.com/herrBmusicOfficial
// Rating: 9 / 10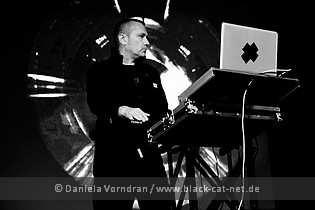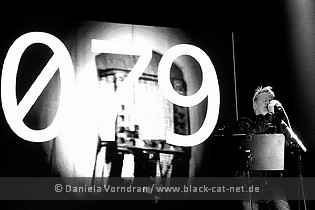 Nightwish - Main Stage (Alex)

The Finnish Symphony Metal formation has changed its female vocalists three times now and the first record with Floor Jansen, 'Endless Forms Most Beautiful', was released this March. I already wrote in my album review that I had hoped for more soprano parts because Floor is such a skilled singer who does not only perform poppy songs well. Since NIGHTWISH mostly played new songs at their M'era Luna set I watched the show with mixed feelings. Floor's performance in itself is worth a mention because this amazon is able to put an instant smile on people's faces with her outgoing and warm-hearted manner. And Nightwish rocked the crowd like no other band - everyone was head-banging, singing along and going crazy. Even ROB ZOMBIE did not achieve that.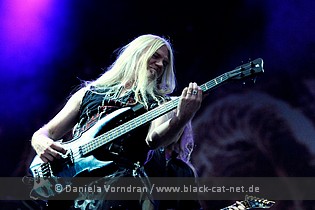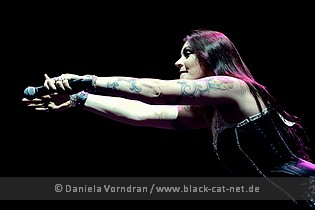 A lot of devoted fans obviously came to Hildesheim to rock out. Thus, it was still a solid show with lots of fire and special effects and a perfect band interplay. A worthy ending of a wonderful festival weekend (next time, lower temperatures, please!). //
http://www.nightwish.com
/
https://www.facebook.com/nightwish
// Setlist: 1. Intro: Roll Tide (Hans Zimmer song) / 2. Shudder Before the Beautiful / 3. Yours Is an Empty Hope / 4. Amaranth / 5. She Is My Sin / 6. My Walden / 7. Élan / 8. Weak Fantasy / 9. Storytime / 10. I Want My Tears Back / 11. Stargazers / 12. Ghost Love Score / 13. Last Ride of the Day / 14. The Greatest Show on Earth Chapter IV: The Understanding / 15. The Greatest Show on Earth Chapter V: Sea-Worn Driftwood // Rating: 9 / 10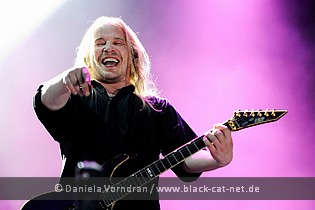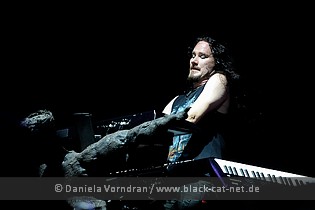 Final Words
Another successful M'era Luna has come to an end, a M'era Luna with a fantastic line-up, entertainingly crazy companions (yay, neologisms!), and overall good weather. Yes, the heat was partly unbearable and many creative innovations were seen during the festival weekend like two guys from Munich wearing watermelon halves on their pretty heads. Yes, the organisation team should think more of sun protection for future times – there were too few places to hide (unless one wanted to spend all day long in the Hangar but it got hot there as well, anyway). Besides, there are few other things to criticise: one of our friends did not get the beer palette he had ordered and paid for beforehand at the Becks stall, another friend complained about having to sign up in order to stay with a camper and the sound in the disco Hangar was horrendous. And even though it's always been like that they should really reconsider the 5€ you have to pay in order to party after the shows.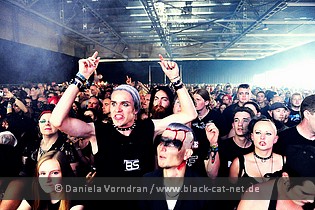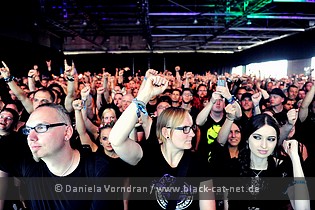 Other than that, it was a very enjoyable and great weekend. Already on the camp side, there was lots of fun to be had if one chose to hang out with the right people (like we did *wink*). There were many ridiculous songs to be heard (like from Tomas Tulpe, Christian Steiffen and Pattenbrigade:Wolff), many hilarious dance moves to be seen and many curious outfits to be observed. The shows were solid and even though a lot of bands were struggling with the sound on Sunday (like Anne Clark and Einstürzende Neubauten) they did not negate the fact that the visitors were enjoying themselves. This year, they also redecorated the Hangar stage and it looked gorgeous in its new industrial/ steampunk-like shroud. The people were friendly as usual and one never had the feeling of truly being alone even whilst strolling through the festival grounds on one's own. The food offer was very satisfying as well and they had a lot of food options for vegetarians and vegans as well.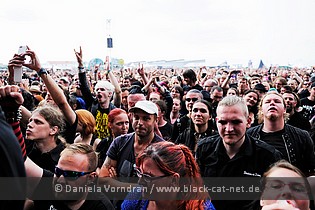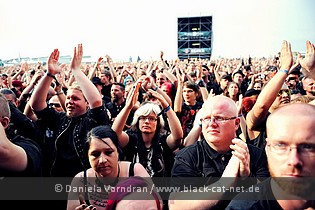 The greatest thing about a festival with a camping site is that it's not only about the music but also about the people and this M'era Luna offered a great mix of amazing music and great opportunities to make new friends. Some of our team even considered this their best M'era Luna experience so far and they cannot wait for the next time of rocking out and meeting old and new friends!
Written by Daniela Vorndran, Josie Leopold (
www.facebook.com/josieleopold.interviewt
), Susann Lucas, Linda-Jane Moedebeck, Alex UltraRiot and morTICIA
All Pictures by Daniela Vorndran (
http://www.vorndranphotography.com
/
http://www.facebook.com/blackcatnet
)
See also (all categories):