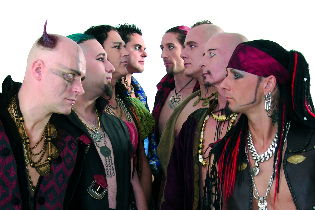 Wacken Open Air, Wacken, Schleswig-Holstein, Germany
5th- 7th August
Wacken Open Air Day 2 - Black Stage: Corvus Corax, Slayer, Arch Enemy, Endstille, Die Apokalyptischen Reiter, Orphaned Land, Dew Scented


Day two proved to be no less interesting than day one and we were up early to catch all of the acts on the Main stages as well as those on the Wackinger Stage.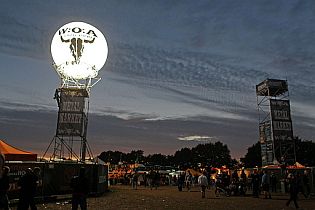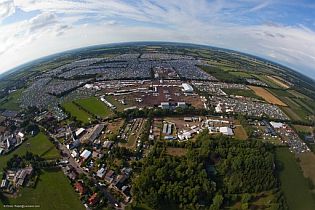 Dew Scented

Having eight albums to their name and being veterans of Wacken it's no surprise that these thrash metallers gave a great start to proceedings on day two. With their recently released album 'Invocation' firmly in their minds they proceeded to blast everyone's heads off with solid hard thrash for a good forty minutes. The sound was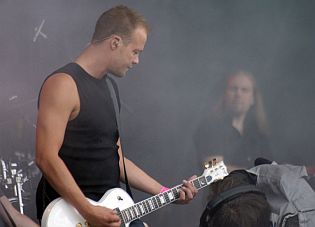 good, the front man Leif Jensen charismatic and they were given a worthy reception for their efforts underlining why they are invited back again and again. Going since 1992, their sound is however very contemporary and it was an enjoyable beginning to what proved to be a great day.
http://www.dew-scented.net/
/
http://www.myspace.com/dewscented
Rating
Music: 8
Performance: 8
Sound: 9
Light: - (Daylight)
Total: 8.2 / 10
Orphaned Land

If Jesus and Mary Magdalene had formed a metal band it would look something like ORPHANED LAND. They are a bit of a phenomenon, being a truly great outfit all the way from Israel and dating back to 1992 when they were formatively called RESSURECTION. A fascinating blend of Arabic and Jewish music and folklore, fused with a hard driving metal and progressive elements they really were the most fantastic and under billed band of the whole weekend. The lead singer Kobi Farhi is dynamite being all at once deliberately subdued and hard as hell. With their recent fourth album 'The Never Ending Way of ORWarriOR' a real masterpiece, they are a band that, having reached the dizzy heights of opening for METALLICA, ought to be far more in the public consciousness than they are. They opened with the striking 'Sapari', a deep and driving track with fantastic Arabic refrains running through it and some really tricky hefty drum work. Second up was 'The Sahara Storm'.
http://www.orphaned-land.com/
/
http://www.myspace.com/orphanedmyspace
Setlist

01. Sapari
02. The Sahara's Storm
03. Ocean Land
04. Norra el Norra
Rating

Music: 10
Performance: 9
Sound: 9
Light: - (Daylight)
Total: 9.5 / 10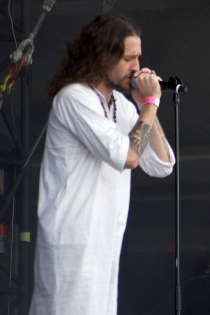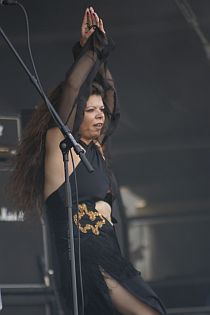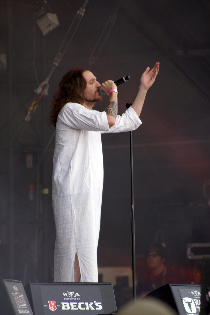 Die Apokalyptischen Reiter

Third up was a band close to my heart, those crazy guys that form DIE REITER. I have seen them hoards of times and unlike most bands you never get sick of hearing them. They are energetic, innovative and just damned good fun. The arena visibly swelled in anticipation of their performance and the crowd was chanting as the intro played and they skipped on stage. They played a 14 track set which interspersed old and new and included interestingly the first public performance ever of their new song 'Boten einer neuen Zeit' which I have to say is pretty damned good. For international travellers it's nice to hear a German band that plays in German and English but the highlight song-wise for me was the set closer 'Seemann'. The sheer energy of this band shone through throughout making them one of the treasures of the whole day.
http://www.reitermania.de/
/
http://www.myspace.com/reitermania
Setlist

01. Intro
02. Wir sind das Licht
03. Revolution
04. Es wird schlimmer
05. Unter der Asche
06. Adrenalin
07. Nach der Ebbe
08. Boten einer neuen Zeit (New Song first public performance)
09. Friede sei mit dir
10. We Will Never Die
11. Der Weg
12. Roll my Heart
13. Der Adler
14. Seemann
Rating

Music: 8
Performance: 9
Sound: 8
Light: 8
Total: 8.3 / 10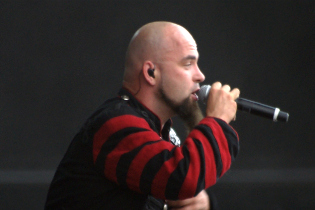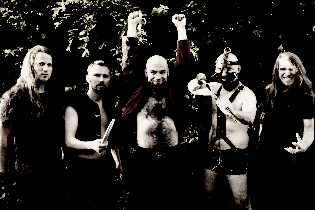 Endstille

Black metallers ENDSTILLE were next up, the band giving the audience a raw and rugged run for their money beginning with 'Feindfahrt' and never stalling in pace and precision until the end track, a reprise of 'Dominanz'. In the ten years they've been together they have evolved into a band that you wouldn't want to miss with new vocalist Zingultus giving it hell on the mic. They're a class act, incorporating some of the best music of their type into their twelve song set and leaving the audience baying like rabid dogs for more. Nice!
http://www.endstille.com/
/
http://www.myspace.com/endstilleband
Setlist

01. Feindfahrt
02. Endstilles Reich
03. ...of Disorder
04. Depressive/Abstract/Banished/Despised
05. Conquest Is Atheism
06. Unburied In The Sun
07. Bastard
08. When Katharina Falls
09. Biblist Burner
10. Dominanz
11. Frühlingserwachen
12. Dominanz (Reprise)
Rating

Music: 8
Performance: 9
Sound: 9
Light: 9
Total: 8.6 / 10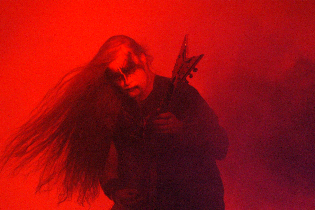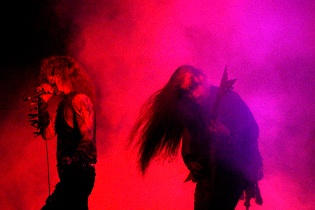 Arch Enemy

There are not many female screamers about, and ARCH ENEMY have perhaps the queen of them all in vocalist Angela Gossow. They brought their own very special brand of melodic death metal to the Black stage in what was a superb show full of fire and rage. It never ceases to amaze me how one so ethereal looking as Angela can harness such demonic power in her vocals and the audience were treated to an immortal set that consisted of eight main songs and two worthy encores. 'Dead eyes see no future' was astoundingly good being everything you could want both in a song and a performance. Originally formed by CARCASS guitarist Michael Amott, this epic band is a great energetic spectacle and received their due from an audience that soared to the same heights they did. Female fronted metal is all too rare and ARCH ENEMY really kicks it to where it should be.
http://www.archenemy.net/
/
www.myspace.com/archenemy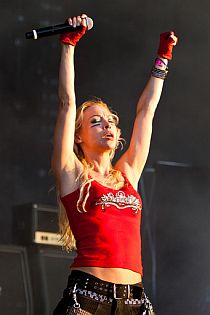 Setlist

01. The Immortal
02.Revolution Begins
03. Ravenous
04. Taking Back My Soul
05.My Apocalypse
06.Dead Eyes See No Future
07.Dead Bury Their Dead
08.We Will Rise
---
09.Nemesis
10.Fields of Desolation (Outro)
Rating

Music: 9
Performance: 9
Sound: 9
Light: 9
Total: 9 / 10
Slayer

Californian metal legends SLAYER, now thirty years old, came next regaling the audience with a plethora of tracks that spanned their career from their early hit 'Reign in blood' all the way up to their 2009 offering 'World painted blood'. Whilst these guys are not to my personal taste generally, they did a really excellent job of everything they did. Their stage presence was extreme, their performance precise and the whole set well executed. Driving rhythms and slick instrumentation and it has to be said drumming to die for meant that I was pleasantly surprised at how polished their live performance is. It was a thoroughly enjoyable set, thunderously so for their fans in the audience and hearing SLAYER play live is certainly something I'm glad I did.
http://www.slayer.net/
/
http://www.myspace.com/slayer
Setlist

01. World Painted Blood
02. Hate Worldwide
03. War Ensemble
04. Expendable Youth
05. Dead Skin Mask
06. Seasons in the Abyss
07. Hell Awaits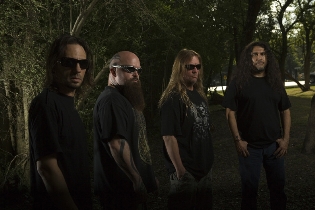 08. Spirit in Black
09. Mandatory Suicide
10. Chemical Warfare
11. Rain in Blood
12. South of Heaven
13. Angel of Death
Rating

Music: 8
Performance: 8
Sound: 9
Light: 9
Total: 8.3 / 10
Corvus Corax

As far as bands go, it's certainly true that these self proclaimed "Kings of minstrels" pull off most things they try their hands at and 'Cantus Buranus' is truly something to behold. Firstly it might help to know what it is however, if you've never had the pleasure of hearing it. It's a series of works taken from the 'Carmina Burana'. Still none the wiser? Okay imagine a group of medieval minstrels metalled to the hilt accompanied by a choir, a full scale orchestra and an operatic soprano. No, really. It's pretty damned impressive to say the least being without a shadow of a doubt the best thing I heard during the whole Wacken Festival. If the idea of bagpipes makes you run for the safety of your closet, think again, for this is a visual and musical spectacle not to be missed. 10 out of 10 for everything! It was exciting, a masterpiece of co-operation and something I could quite happily have sat through another ten times. Why can't everything be this good?
http://www.corvuscorax.de/
/
http://www.myspace.com/spielleute
Setlist - Cantus Buranus II

01. Fortuna
02. Florent Omnes
03. Dulcissima
04. Lingua Mendax
05. Rustica Puella
06. Nummus
07. Curritur
08. Sol solo
09. Venus
10. O langueo
11. Ergo Bibamus
Rating

Music: 10
Performance: 10
Sound: 9
Light: 9
Total: 9.7 / 10

Photos courtesy and copyright of WOA & Maddi Isaacs
Written by Maddi Isaacs and Alexandra Morris
{jos_sb_discuss:17}
See also (all categories):