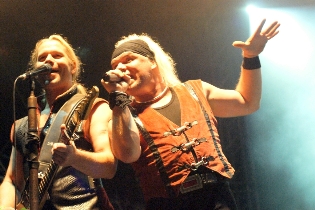 Andernach, Germany
28th August 2010

Summer's End Open Air: Subway to Sally, Die Apokalyptischen Reiter, Epica, Tanzwut, Fiddler's Green, Schelmish, Mono Inc, Sons of Seasons

And so I went for a one day festival with a killer line-up, through the beautiful Mosel valley to Andernach in Germany, certain of a great day. The festival site is located just a short drive from Andernach, with hard standing, which, given the unfortunate weather, was a Godsend. It's worth organizers of festivals bearing this kind of thing in mind as anyone who was at Glastonbury during the mud year will vouch for. So, with nice dry feet I watched a plethora of talent from across Germany and the Netherlands.
Sons of Seasons (14.30 - 15.00)
Having just finished recording their second album, these guys with a huge musical history to them individually, really brought the place to order with a truly great opening set. It's difficult to warm up a soggy audience, as it was threatening rain on and off, but they managed it with a dynamic setlist and great rapport with the spectators. They have a hard heavy sound with front man Henning Basse, former of METTALIUM, giving an outstanding performance. This is a group to watch as they have everything in the mix to be something truly huge.
http://www.sonsofseasons.com/
/
http://www.myspace.com/sonsofseasons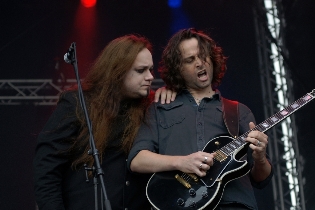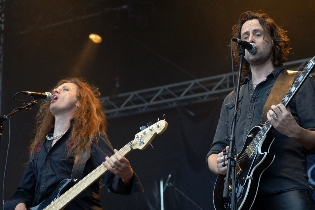 Setlist
01. Gods Of Vermin
02. Dead Man's Shadow
03. Fall Of Byzanz
04. Belial's Tower
05. Fallen Family
Rating
Music: 9
Performance: 9
Sound: 9
Light: - (daylight)
Total: 9 / 10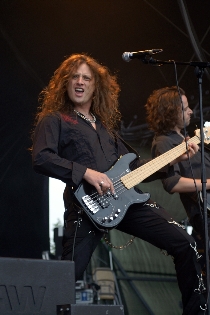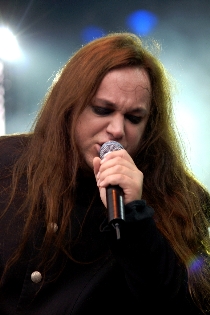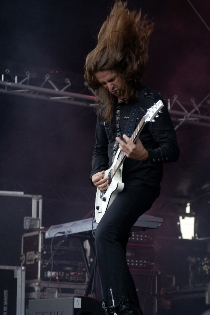 Mono Inc. (15.15 - 16.00)
Second up after an impressively short fifteen minute break were MONO INC., a slick DEPECHE MODE meets something a whole lot better outfit from Hamburg. Their front guy Martin Engler has the time of his life on stage and it's nice to see a band that, after the number of years they've been going, still have the sheer breathless excitement they have about performing. Their forty five minute set was packed with melodic Electronica fused with heavy riffs which gave a fantastically gothic feel to the whole thing. The audience love them and they love the audience, so it was a pleasure to watch the exchange of energy as the played their hearts out. If you get a chance to catch these guys live then please do so, you won't be disappointed.
http://www.mono-inc.com/
/
http://www.myspace.com/monoincmusic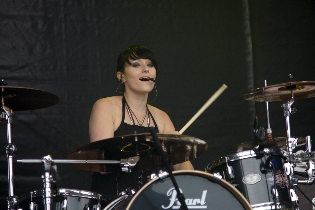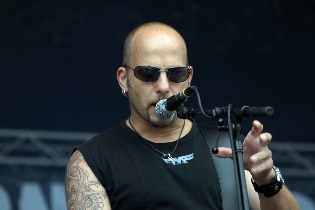 Setlist
01. This Is The Day
02. Temple Of The Thorn
03. Comedown
04. Blood Moon
05. Forgiven
06. The Passenger
07. Drum Solo
08. Voices Of Doom
09. Get Some Sleep
Rating
Music: 9
Performance: 9
Sound: 9
Light: - (daylight)
Total: 9 / 10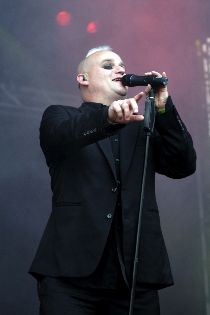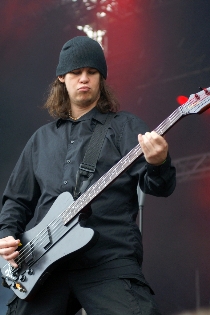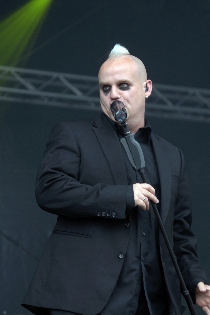 Schelmish (16.15 - 17.00)
A good solid dose of pure medieval never goes amiss at a festival and the band in charge of the first slot was SCHELMISH. I have seen this band a lot, and they never fail to please delivering audience pleasing songs a plenty. Dextro and Rimsbold share the vocals to good effect, whilst Desdemona runs through a myriad of weird and wonderful medieval instruments. They are without doubt one of the finest and best known of the medieval German bands and they delivered as you would expect them to.
http://www.schelmish.de/
/
http://www.myspace.com/schelmishband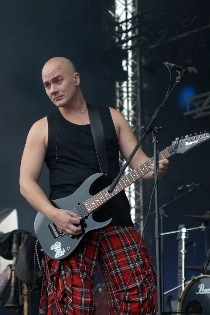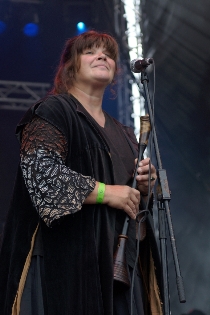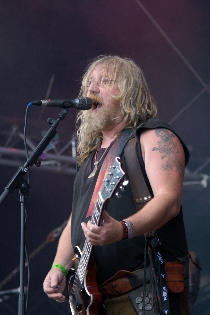 Setlist
01. Die hässlichen Kinder
02. Der Narr
03. Überladen
04. Das Moor
05. For The Clansmen
06. Chaos
07. Aequinoctium
08. Die Marionette
09. 1212
10. Sommer
11. Mosaik
12. Wir werden sehen
Rating
Music: 8
Performance: 8
Sound: 9
Light: - (daylight)
Total: 8.2 / 10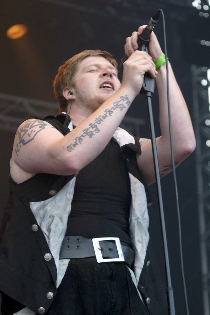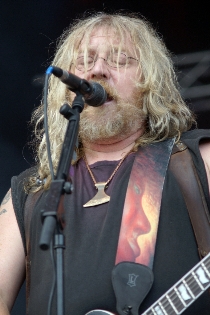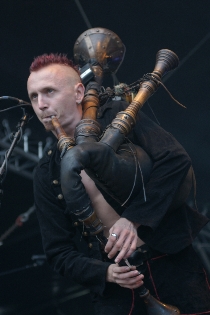 Fiddler's Green (17.20 – 18.10)
Named themselves after a folk song depicting an afterlife crammed with dancing and fiddles that never stop playing, FIDDLER'S GREEN do indeed live up to the slogans on their T shirts by proving "Folk's not dead!". Indeed it isn't, and if it was these guys would probably raise it single-handedly from its grave and drag it kicking and screaming back to life. They play speed fiddle. They play Irish ballads. They know a good song when they hear one, resulting in a fine set choice, i.e. the masterpieces 'Mrs McGrath', a Napoleonic anti-war anthem, and 'All these feelings'. After twenty years of doing their thing, these guys are pure entertainment and can make songs you thought you wished you'd never hear again your all new favourites. With such energy and enthusiasm, I was truly sorry when their set ended.
http://www.fiddlers.de/
/
http://www.myspace.com/speedfolk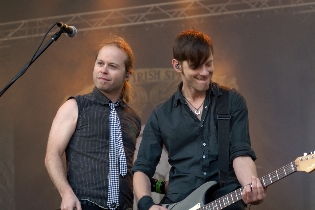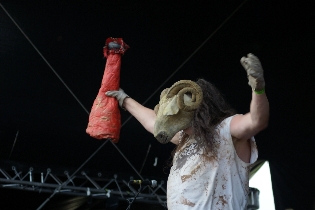 Setlist
01. Life Full Of Pain
02. Sporting Day
03. Highland Road
04. Mrs. McGrath
05. Irish Air
06. Rose In The Heather
07. All These Feelings
08. Kick The Bucket Tunes
09. Rocky Road To Dublin
10. Folk's Not Dead
11. The Night Pat Murphy Died
12. Bugger Off
Rating
Music: 9
Performance: 9
Sound: 9
Light: - (daylight)
Total: 9 / 10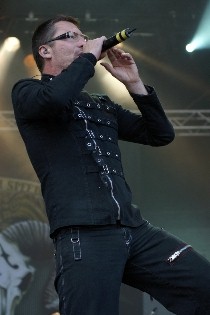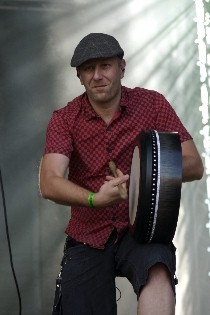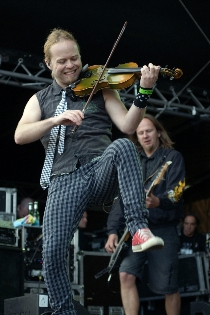 Tanzwut (18.30 - 19.20)
What can I say? These Berlin guys are legend. The little bastard electronic industrial brother of CORVUS CORAX, TANZWUT always arrives on stage like a dose of rhythmic plague, creeping under your veins 'til you can't stand still for the music coursing through your body. Summer's End was no different and within minutes the audience were dancing and cheering to the infectious tempos. They have a blast on stage, laughing and joking with the audience and it's true to say I'd have been ecstatically happy if these guys had continued to play all night, and judging by the audience's reaction to them I don't think I was alone. Pure awesomeness!
http://www.tanzwut.com/
/
http://www.myspace.com/tanzwutmusic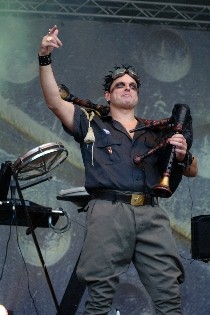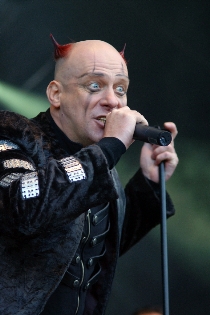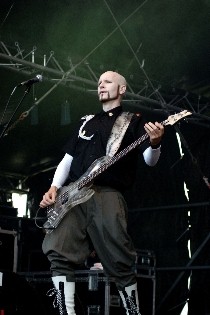 Setlist
01. Toccata
02. Ihr wolltet Spass
03. Im Labyrinth der Sinne
04. Meer
05. Wieder am Riff
06. Merseburger
07. Seelenverkäufer
08. Vulkan
09. Endlich
10. Was soll der Teufel im Paradies
Rating
Music: 9
Performance: 9
Sound: 8
Light: - (daylight)
Total: 8.8 / 10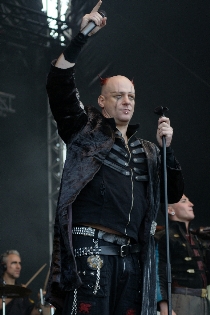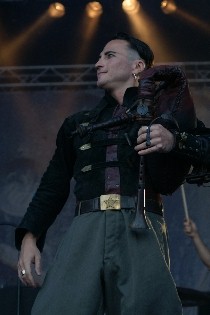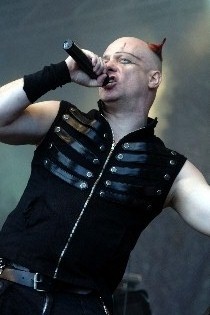 Epica (19.40 – 20.30)
It should be against the law to be as attractive as this band. They walk on stage, looking as if they belong in a catwalk and just when you're marvelling at their appearance they launch into a killer sound that assaults your senses with some great soprano work from lead singer Simone Simons' overlaying, grating guitar riffs. They really are very, VERY good. I'd not seen them live before, but there was a heavy Dutch contingent in the audience, so clearly a few fans had followed them from their native Holland. They have a crisp, unique style that is infinitely listenable to with some great backing 'grunts and screams' as he likes to describe it from resident lead guitarist Mark Jansen. Check them out if you can, you won't be disappointed.
http://www.epica.nl/
/
http://www.myspace.com/epica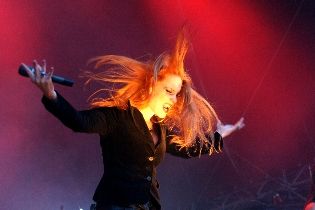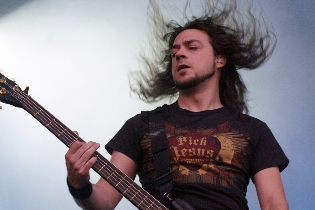 Setlist
01. Samadhi
02. Resign To Surrender
03. Quietus
04. Unleashed
05. Cry For The Moon
06. The Obsessive Devotion
07. Consign To Oblivion
Rating
Music: 8
Performance: 8
Sound: 9
Light: 9
Total: 8.3 / 10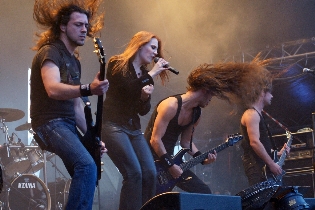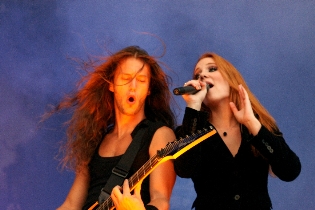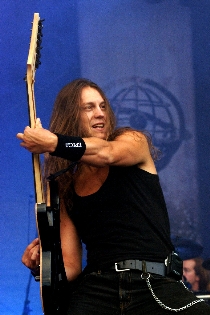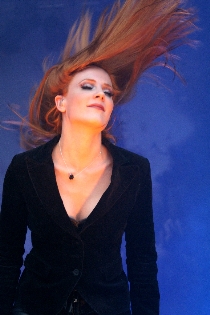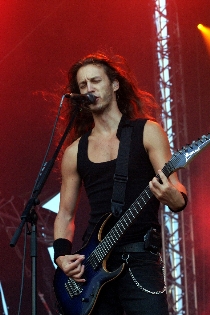 Die Apokalyptischen Reiter (21.00 – 22.00)
An hour of these guys usually leaves me hoarse from singing and with a distinctly cheerful demeanour. They are one of a kind, hard metal maniacs with a flair for visual spectacle and some really kickass songs. Ever since their inception in 1996, they've been doping things their way and this gig was no exception, seeing them on blisteringly good form. For those who've never seen them they have a gimp on a swing, tend to drag audience members onstage and have been known to part about with all manner of props from blow up dolls to the famous dinghy. Hard, heavy and hell bound, these guys gave it their all at Summer's End to massive applause from the audience.
http://www.reitermania.de/
/
http://www.myspace.com/reitermania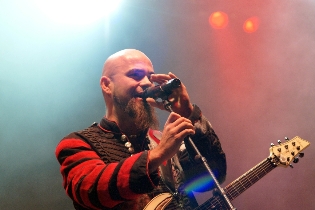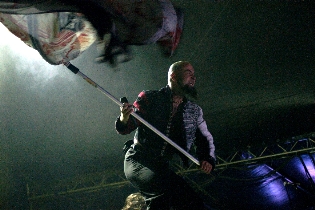 Setlist
01. Intro
02. Wir sind das Licht
03. Revolution
04. Friede sei mit dir
05. Unter der Asche
06. Es wird schlimmer
07. Boten einer neuen Zeit
08. Adrenalin
09. Nach der Ebbe
10. Drum Solo
11. Der Adler
12. Der Weg
13. Roll My Heart
14. We Will Never Die
---
15. Seemann
16. Reitermania
Rating
Music: 9
Performance: 10
Sound: 9
Light: 9
Total: 9.3 / 10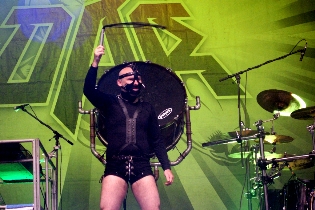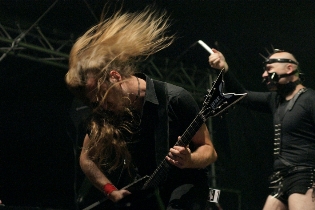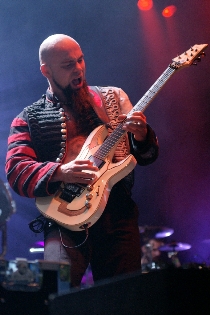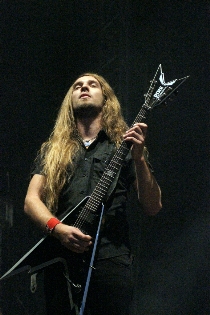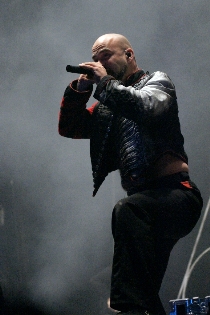 Subway to Sally (22.30 - 24.00)
After half an hour (just enough time for Currywurst) we came to the grand finale. By a fluke, I haven't seen SUBWAY TO SALLY for years so I was really looking forward to a full hour and half long concert as the finisher to the festival. It was impressive to say the least. For the first five songs, there were pyros everywhere, the stage lit beautifully, vast arrays of colour swathing the performers and it's fair to say that they were in great form. The performance was near perfect, and the audience howled their appreciation as pyro cannons blasted jets of fire high into the night sky and the whole stage floor seemed to catch light all around the performers. By the time the show reached its end, there was no-one there who wasn't in awe of the thought and planning that had gone into making this a very special show indeed.
http://www.subwaytosally.com/
/
http://www.myspace.com/subwaytosally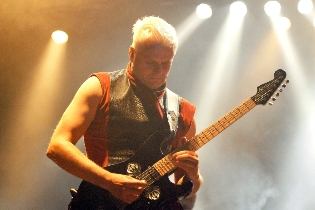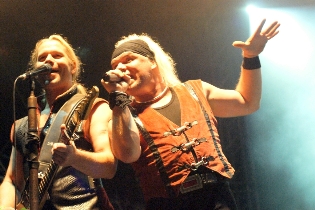 Setlist
01. Henkersbraut
02. Kleid aus Rosen
03. Feuerland
04. Kleine Schwester
05. Die Schlacht
06. Puppenspieler
07. 2000 Meilen unterm Meer
08. Maria
09. Meine Seele brennt
10. Judas Kuss
11. Besser, du rennst
12. Falscher Heiland
13. Veitstanz
14. Sieben
15. Julia und die Räuber
Rating
Music: 9
Performance: 10
Sound: 9
Light: 9
Total: 9.3 / 10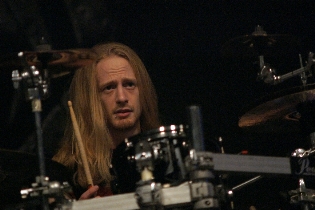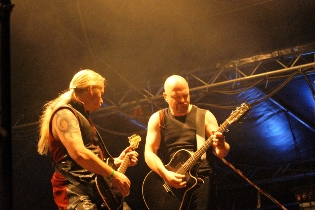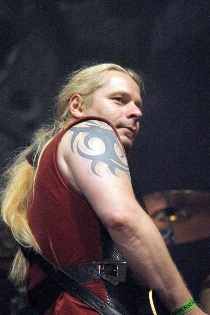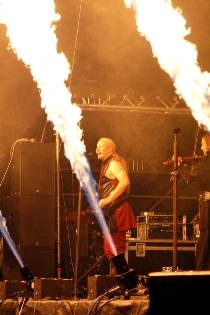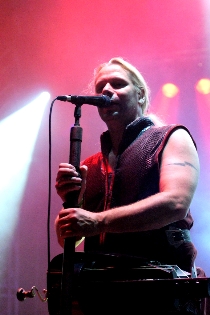 Summer's End is one of those jewels, a best kept secret and something which deserves all the success it can get. It was well organized, the security staff was absurdly friendly and efficient, food and drink was reasonably priced and there was hard standing so that it never risks descending into a mud slide. However, the best thing of all was the line-up. There was not a bad band there, and I could quite cheerfully have listened to any of them all night. A festival is only as good as its music they say- well that's true and that makes Summer's End a very good festival indeed.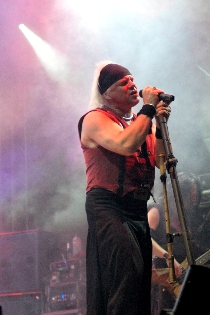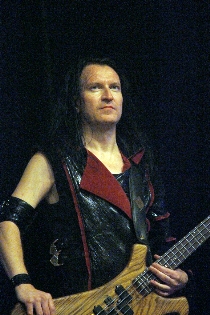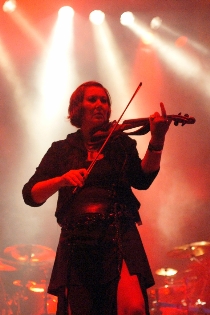 All pictures by Maddi Isaacs
{jos_sb_discuss:17}
See also (all categories):