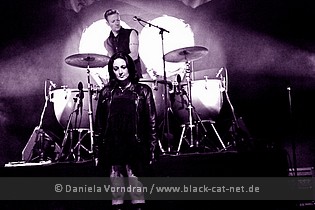 Kulturpark, Deutzen, Germany
3rd - 5th September 2010
Nocturnal Culture Night 5 Day 1: Downstairs Left, In The Nursery, Vomito Negro, Die Art, Iris, The House Of Usher, Patenbrigade:Wolff, Tenek, The Pussybats
When in September the summer slowly is fading away and the first trees have the colour of their leaves change, the clock also strikes the end of the festival season, but it also is the time when the Nocturnal Culture Night festival is taking place. In 2010, it was already taking place for the fifth time, but for me as writer it was the first time being at the festival and I was curious how it all would be. But with such acts as TENEK, IRIS or IN THE NURSERY playing the first day, it couldn't be so bad, could it?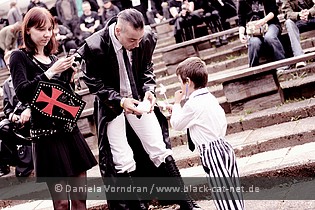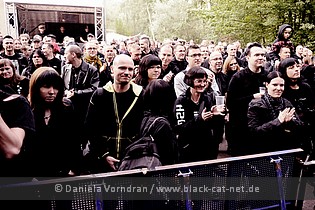 The Pussybats (Small Stage)
The history of the band, with the motto "Sex, Blood & Goth'n'Roll", so far includes the winning of the 'Battle of the Bands' contest on 2006, songs on various compilations like on 'Aderlass Vol.5; or on collections by the Orkus or Sonic Seducer magazines just to name a few; as well as a considerable mount of concerts in Germany, Austria or the Netherlands. In June, the band entered the studio to start the works for their debut album 'Famous Last Songs', produced by Chai Deveraux (JESUS ON EXTASY) and released in January 2009. Currently the band is working on the follow-up which is due for release in summer 2010. THE PUSSYBATS are Sid van Sin (vocals), Roy Rock (guitar), Marple 8 (bass / gore) and Mike Night (drums).
http://www.thepussybats.com/
/
http://www.myspace.com/thepussybats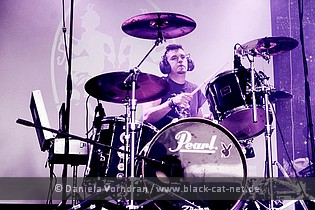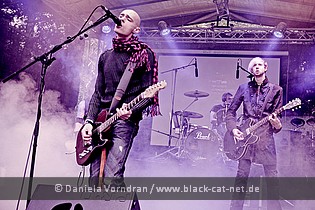 Music & Performance
The opener's slot of the festival was given to THE PUSSYBATS, playing at the small stage to a naturally not quite big audience at the early minutes of the festival. But that would be no reason for them to give it less of passion with their powerful opening cut atop a pounding rhythm base while the following had a lot more of spherical parts and piano in stock for the people. Next up was a rocking cover of WHITE TOWN's 'Your Woman' that even some of us could sing along to before 'Tunes 4 Tragedy' continued with the driving roundelay. The end of the show was given a little dirty blues and afterwards the band received a little applause for a successful start.
Rating
Music: 7
Performance: 7
Sound: 7
Light: - (daylight)
Total: 7 / 10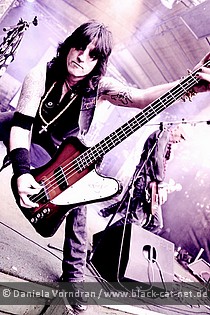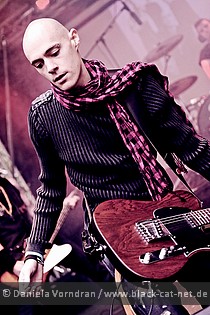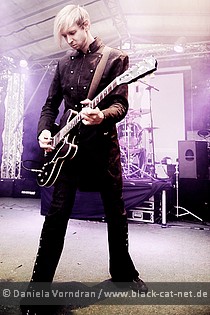 Tenek (Big Stage)
TENEK is the project of Geoff Pinckney; some might know him as live keyboardist from MESH, and Peter Steer. Their first release was a limited edition EP of 200 copies put out in September 2007 which is now sold-out but still available digitally through the web shop of their record label. Both of the preceding singles to the album 'Where's the Time?' and 'Submission' have been very well recognized in the UK and beyond making the band known to a wider audience. TENEK's live credit already include a support slot for THE HUMAN LEAGUE and just a few months ago in April they had a tremendous European debut show in German at the Pluswelt Festival. Their first album is going by the name of 'Stateless', which hit stores on 20th March 2009. The new album 'On the Wire' is out since 6
th
September. TENEK are Geoff Pinckney (vocals, programming, synths & bass) and Peter Steer (vocals, guitar, bass, synths & programming).
http://www.myspace.com/tenekuk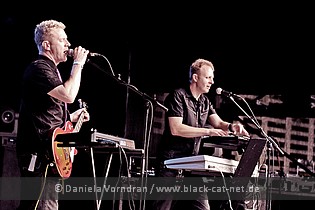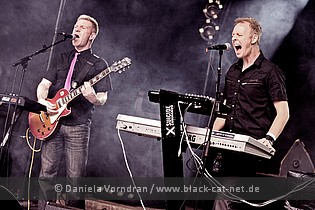 Music & Performance
One band I was eager to finally see live already since both their albums impressed me very much with a fresh approach to synth pop. But first TENEK had to deal with a little technical glitch before 'Losing Something' could start properly and gave dancing fodder to the crowd. With 'Higher Ground' Peter and Geoff went back to their debut album and gave it a little more indie and speed with the result of having a few more nodding heads in front of the stage. While there was not much action and movement to be seen with both handling their instruments their combined vocal power made up for the lack of that. A very strong performance in that department I must say. 'If I Should Fall' continued with the first album followed much too early by 'Blinded by You' when the guys were not expecting it to start already. With the pumping 'No Time for Fighting', the little sympathetic show found its end and left me satisfied. Looking forward to the next one already!
Setlist
01. Losing Something
02. Higher Ground
03. If I Should Fall
04. Blinded By You
05. No Time For Fighting
Rating
Music: 8
Performance: 7
Sound: 7
Total: 7.5 / 10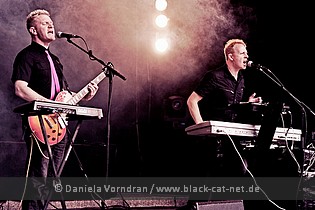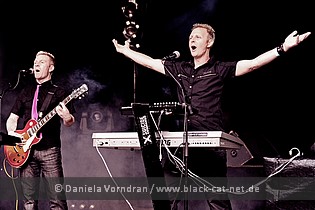 Patenbrigade:Wolff (Small Stage)
Sven Wolff and Lance Murdock make no secret of their obsession with heavy machinery. Endlessly fascinated with what appears to others as the monotonous daily routines of a construction site, they early on became enraptured with loud and gigantic machines, the glare of orange safety vests, yellow hard hats, and striped cordoning tape. However, the focus of their fervent adoration became the gravity-defying conductors in their seemingly never-ending tower cranes. It is exactly this bizarre source of inspiration that seems to have fuelled PATENBRIGADE: WOLFF and the duos zest for musical achievements since 1998. PATENBRIGADE: WOLFF is the soundtrack for this situation and remains dedicated to all tower crane conductors across the world. Ever since their inception they've released a string of albums and EPs. Their most recent release is called 'Baustoff (Musik für Rohrleger)'.
http://www.patenbrigade.com/
/
http://www.myspace.com/patenbrigadewolff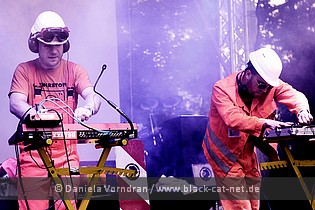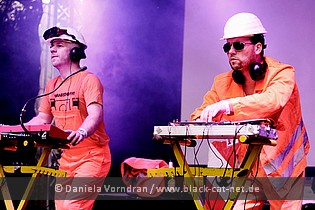 Music & Performance
Heading back to the other stage, the construction work brigade of PATENBRIGADE:WOLFF had taken their positions and threw in a little "Vorsicht! Feind hört mit!" and opened the dance floor with it. The crowd in front of the stage had gotten bigger for PATENBRIGADE:WOLFF have a certain reputation. With the next song 'Gefahrstoffe' gas masks were put on and the inspector Antje Diekmann was putting speech vocals over it. Speaking of Antje: She'd later get the chance to show how big her capabilities as a vocalist are on the beautiful 'Voyage' from the bands current album 'Baustoff (Popmusik für Rohrleger)' before 'Schusswechsel' catered for distorted aggression. Everyone seemed to enjoy themselves, whereas the band in my opinion did not use their full set of capabilities here and could have done a bit more on stage. The pounding 'Das Kraftfeld' and 'Abrissbude', performed by Andre Hartung, preceded the slow-motion 'Mauerradio' which was the last thing we've heard before getting back to the big stage to catch THE HOUSE OF USHER.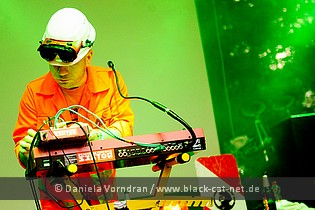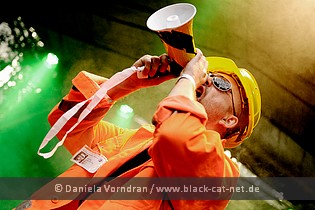 Setlist
01. Stalinallee
02. Feind hört mit
03. Gefahrstoffe
04. Voyage
05. Schusswechsel
06. Das Kraftfeld
07. Abrissbude
08. Mauerradio
09. Demokratischer Sektor
Rating
Music: 8
Performance: 7
Sound: 7
Light: - (daylight)
Total: 7.5 / 10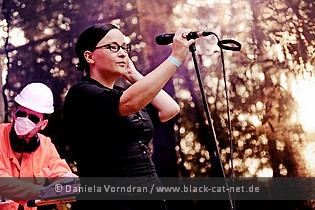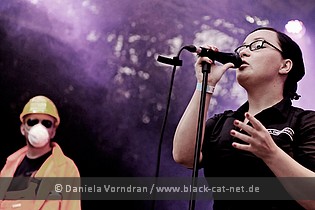 The House Of Usher (Big Stage)
In 1990, THE HOUSE OF USHER founded. Back then still without any drummer, so a drum computer would be taking over that job until 1994 after the release of the debut album 'Stars Fall Down'.1995 became a year of reformation and 1996 saw the release of the single 'Succubus' and in the following the album 'Zephyre', followed by a couple live gigs. Two years later in summer, The 'Black Sunday Chronology' was put out to the increasing fan base, who soon would be getting a self-released live CD of the tour they did with MIDNIGHT CONFIGURATION in 1999. Ten years later, they're still holding high the flags of a more classic direction of the Goth rock genre and have released their ninth album 'Angst'. THE HOUSE OF USHER is Jörg Kleudgen (vocals), Tom O'Connell (guitar), Georg Berher (guitar), Ralf Dunkel (bass) and Axel Burgard (drums).
http://www.the-house-of-usher.de/
/
http://www.myspace.com/thougothicrock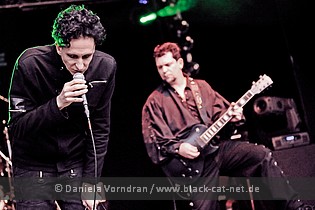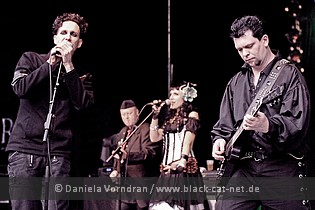 Music & Performance
What we didn't know at the time; there wouldn't have been a need to get into such a hurry. THE HOUSE OF USHER started a lot later than planned and therefore played a shortened set due to the technical difficulties they suffered from and which were obviously out of their control. Anyway, the unfortunately short set started with 'I Wanna Know' from their current album 'Angst'. Again, ethereal waves spread from the stage while earthly rock rhythms made the fundament and right in the midst of it the clear voice of Jörg Kleudgen. This time also a woman in a colourful dress was supporting the guys on stage. 'Equinoxe' kicked things up one or two notches and even if the guys' music is not exactly the hardest rock stuff, the track gave you plenty changes to rock. Even though the band gave their best, given the circumstances the mood on stage was not the same as back in Belgium. The set ended already with the next two songs, one being a favourite of mine 'Radio Cornwall'. Still a good performance even though there were some technical problems.
Rating
Music: 8
Performance: 7
Sound: 7
Light: 7
Total: 7.4 / 10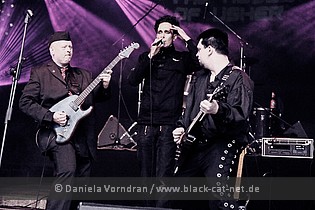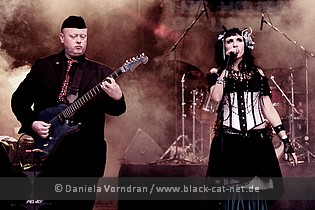 Iris (Small Stage)
IRIS is one of the best bands the electro pop genre has to offer. Singer Reagan Jones and keyboardist Matt Morris joined forces in the late 90s to create uniquely melodic, synth-heavy pop tracks. Their first record 'Disconnect' included the song 'Annie, would I lie to you' which became a club-hit instantly and was one of the best-selling releases in the history of record label "A Different Drum". With the addition of Andrew Sega a few years, the sound moved into a more experimental direction and guitars were added to the mix. In 2003, 'Awakening' followed and became incredibly successful. On the third album 'Wrath' released in 2005, they combined more rock-oriented songs with electronic beats and soundscapes. IRIS released 'Hydra' in April 2008, a double release, consisting of a CD with three brand-new tracks as well as remixes from tracks of the last two albums and a DVD. Finally, after over 5 years of waiting the new album 'Blacklight' will be released in September. IRIS is: Reagan Jones (vocals, song writing) and Andrew Sega (programming, guitars, keyboards) and Ned Kirby (bass).
http://www.irismusic.com/
/
http://www.myspace.com/iris2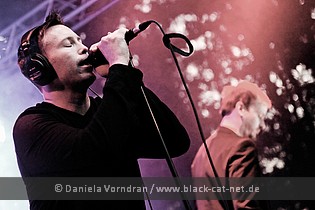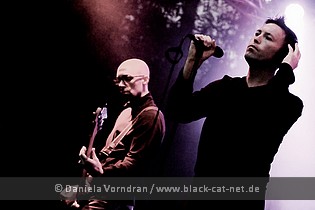 Music & Performance
Long time no see. I think it was 2008 when I saw IRIS for the first and preliminary last time. Since the electronics probably wouldn't strike again, another acoustic session like the one at Blackfield Festival that year wasn't likely and it didn't happen to say it right away. Instead Ned Kirby, Andrew Sega and Reagan Jones opened the set with a new track called 'Disintegrate', really a lot more back to the old days, much more electronics highlighting Reagan's fantastic voice. Next one was the rather indie-tinged 'Lands of Fire' from 'Wrath' diving headfirst into the limbs. Another new track followed with 'X-Wires' and I started to believe that new album would become no disappointment whatsoever. IRIS was going into slower territory with a track from 'Awakening' called 'Sentimental Scar'. Love that one, really. You could sense the mood getting better with every new tune and the mood on stage is included therein. Especially Reagan developed an awesome fun on stage and expressed several times how they liked playing at the festival.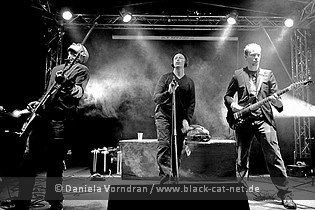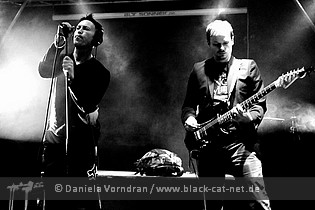 'It Generates' was following up and the perfect anthem to do a good dance. So the show went on with a good mixture of well-known and new material and Reagan's enthusiasm went up to appoint where he was taking a picture of the celebrating crowd during their last song 'Panic Rev' from the new single'. Wow, that was a real blast and I'm glad it's not so long that I'll be seeing them again.
Setlist
01. Disintegrate
02. Lands Of Fire
03. X Wires
04. Sentimental Scar
05. It Generates
06. Red Right Return
07. Nobody Wins
08. Stop Breaking Your Own Heart
09. Closer To Real
10. Sorrow Expert
11. New Invaders
12. Panic Rev
Rating
Music: 9
Performance: 9
Sound: 8
Light: 7
Total: 8.6 / 10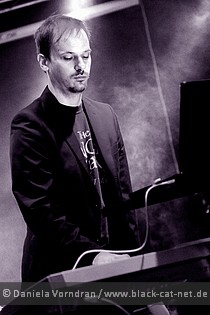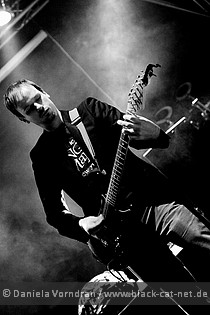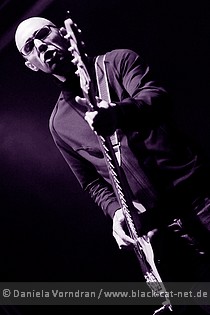 Die Art (Big Stage)
German band DIE ART was founded in 1986 and is the follow-up to DIE ZUCHT which had a rather short-lived existence with two years in total. The band quickly caught the attention of a bigger audience and having their song 'Chrome' played on the radio might have helped their popularity grow as well. After the German Unification the band has released their debut full-length 'Fear' which remains to be the most successful album of DIE ART up until now. After a concert in Leipzig's Moritzbastei in 2001 the band disbanded and left a back catalogue of nine album, various tapes and singles. In February 2007, the reunion of DIE ART was announced, ever since they've released two new studio albums with 'Funeral Entertainment' being the latest, released in October 2008. In September 2009, the first Best-Off compilation 'Für immer und Ewig' was released, holding exclusively German tongued tracks. DIE ART is Holger "Makarios" Oley (vocals), Thomas Gumprecht (guitar), Conrad Hoffmann (bass) and Thomas Stephan (drums).
http://www.die-art.de/
/
http://www.myspace.com/dieart007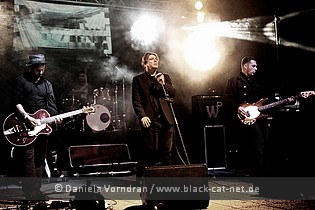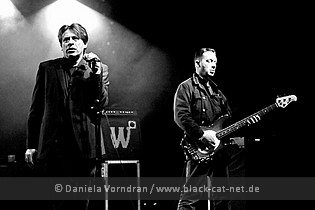 Music & Performance
Last time I've seen DIE ART they were playing an exciting, but rather intimate show due to the small room they were playing in with only 50-60 people in it. The audience in wait here at the festival was a little bigger but a veteran band like DIE ART of course was not impressed by any means and started right through with their passionate mixture of post-punk and indie rock carried by the distinctive vocals of mister Makarios who's by the way also doing a great job with reinforcing the words with mimics. Their songs are walking the line between German tongued and exclusively English voiced songs like the racing 'Wide Wide World'. 'Sie Sagte', a song from the early days, demonstrated how far away from typical German cliché lyric constructions they're operating, rather integrating a poetic character into the words to that song. The poetic content was coming even more to the fore on the saddening 'Das Schiff' It was getting dark already and increasingly colder at that but still quite some people were celebrating those temperatures away and had their fun while the troop was playing their hearts out.
Rating
Music: 8
Performance: 8
Sound: 8
Light: 7
Total: 7.9 / 10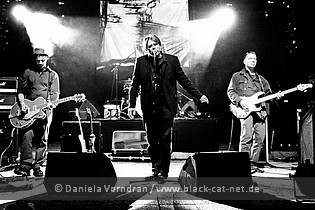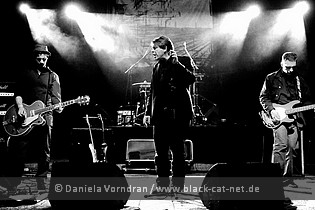 Vomito Negro (Small Stage)
Started in 1983, VOMITO NEGRO built themselves a legendary reputation in the years to come, coinciding with a great following. The band name is Latin for 'Black Vomit' which is a phenomenon that arises in the last stage of the disease yellow fever, when the patient throws up his putrefied intestines and ultimately dies. Of you take a deeper look into their discography starting with the very first self-titled release back in 1985 and rolling forward to discs such as 'Dare & More' (1987) or 'Schock' (1989) you can hear their music always was in a constant state of flux never sticking to any particular formula or following one scheme. After 'Fireball', an album mastermind Gin Devo wasn't really content with, VOMITO NEGRO was put on hiatus. In 2008, he decided that it was time to re-animate the project and together with new member Borg, he worked on a new album 'Skull & Bones'; released in January 2010.
http://www.myspace.com/vomitonegro1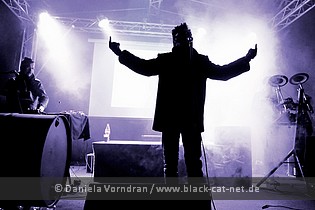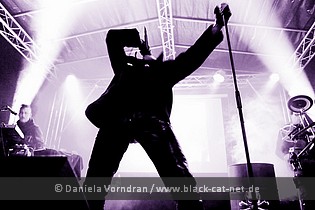 Music & Performance
Now it got really dark and not just because it was late already, also because VOMITO NEGRO were entering the stage soon accompanied by the sound collage 'Chateau des Amerois', visually underscored with disquieting footage on the video backdrop. The thing got really started then with the pitch-black 'Dance With Death' from the latest album 'Skull & Bones', danceable, aggressive and very pervasive the track and impressing the performance while I have to say it lacked a little of the passion that I can recall from the performance at last year's Gothic Festival. The crowd however used their chance to dance immediately and had themselves dragged down into the abyss when Gin Devo started the 'Dance With Death'. With the start of 'Burning Man', the black oil barrel drums were placed at the front and Gin added a nice percussion layer to the track with them.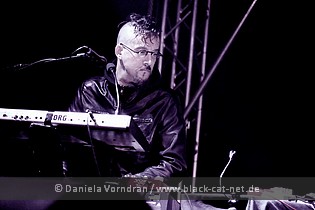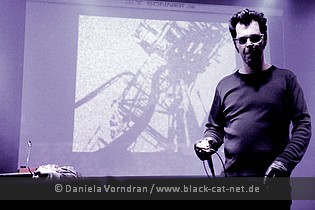 Definitely the blackest of all moods was coming up with 'Black Tie White Shirt' and I can hardly put in words how it felt listening to this song. That darkness contrary to others in music leaves no room for anything else; it is impervious so to say. With 'TV Man' also a brand new song was presented at the festival and convinced, at least me, in all regards. The song closed the set and soon we would make our way to the other stage again to see IN THE NURSERY.
Setlist
01. Chateau Des Amerois
02. Dance with Death
03. Baby Needs Crack
04. Burning man
05. Mongoloid
06. Black tie
07. Black Power
08. Blood Sweat & Tears
09. Slave Nation (Title Track of upcoming EP)
10. Dark Moon
11. No Hope No Fear
12. United Fake
---
13. Stay Alive
14. Feel The Heat
15. TV-Man (From upcoming EP)
Rating
Music: 8
Performance: 7
Sound: 8
Light: 7
Total: 7.6 / 10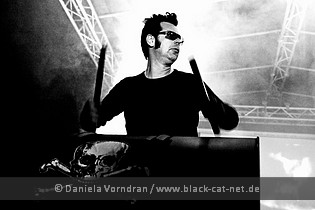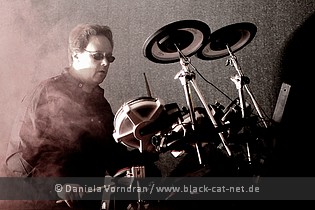 In the Nursery (Big Stage)
The roots of the family business of the twin brothers Nigel and Klive Humberstone extend back to a time when New Wave was on the lead. IN THE NURSERY started with rough and experimental tracks. Dark pathos-filled synth sounds combined with crunchy military drums and a powerful rhythm foundation made up the trademark sound. Later on, bombastic, soundtrack-like soundscapes were increasingly woven into it. The dramatic, emotional sonic pictures IN THE NURSERY is painting also roused the attention of film directors. Beginning with the mid-90s, the band composed movie scores. Also with the recent songs e.g. from their last regular studio album 'Era', IN THE NURSERY remained true to themselves. ITN are Klive Humberstone (percussions), Nigel Humberstone (keys, synths), Dolores Marguerite C (vocals) and David Electrik (percussions).
http://www.inthenursery.com/
/
http://www.myspace.com/inthenursery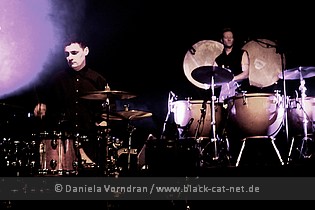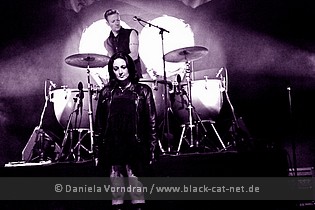 Music & Performance
In the meantime it had gotten ice cold outside and everyone around were wearing at least one jacket, contrary to the actors on stage. But I assume the lightshow produced enough warmth to compensate for that. We arrived at the stage and the band had already started playing and to what I think it was 'Rainhall' that just faded to give way to the epic 'Blueprint' with the heavy drum textures and orchestral sounds to Dolores' voice, whereas how those drum beats are created sometimes steals the show from the vocalist with me. I just find it too interesting and time and again incredible what is happening there on stage. Also heard comments of people not liking the show at all but you can't please everyone. The 'Hymn Noir' was following right up and I still can't get enough of that song like it is with 'Mystery' but I did find pleasure with the older, more post-pink related things like 'A to I' as well.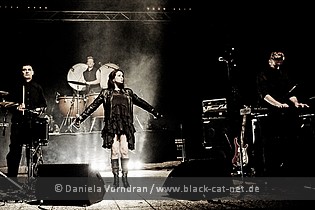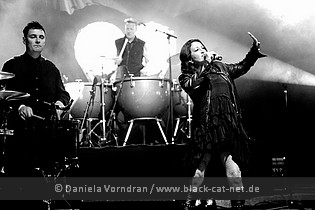 One of the songs that actually did hit with those not liking most of the rest too much was the FLESH FIELD remix of 'Au Reboirs' that effectively combines pounding electronic, acoustic drums and classical elements to a stirring mixture. No wonder they liked it. An encore had to follow after the show I predicted and I was right. One more time they came back to give us a worthy ending at the big stage for the first festival day. Again, I'm stunned.
Rating
Music: 9
Performance: 9
Sound: 8
Light: 8
Total: 8.7 / 10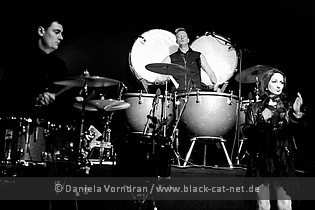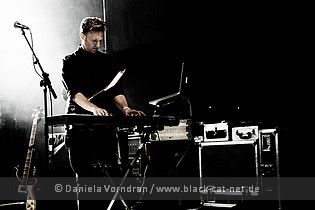 Downstairs Left (Small Stage)
DOWNSTAIRS LEFT formed in the winter of 2007. The three members have been involved in music business already before starting their new project. The EP 'Nothing But Memories' came out in 2009 and received generally positive reception within the press. The debut carries the title 'Waiting for the Golden Age' and slated for a release in late October. DOWNSTAIRS LEFT is Hayle (vocals & lyrics, composing, programming, sampling), Eld (lead guitar) and Sewin (bass).
http://www.myspace.com/downstairsleft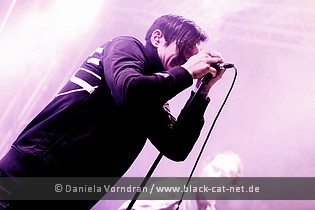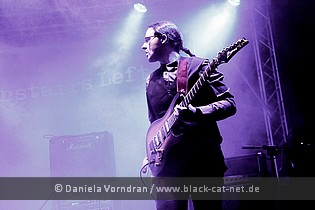 Music & Performance
The last act of today's line up was relocated to the small stage from the culture stage and were flooding the space already with an ethereal cocktail of wide synth layers reverberating vocals , bass and discreet electronic drumming. The second song also incorporated melancholy piano lines into the sound. Following the third effort we were slowly going about making our way home because a long but also musically interesting day was behind us and quite frankly, although I usually like such kind of music the music, it didn't really strike chord with me. Maybe I was just too tired already to take it in.

Rating
Music: 7
Performance: 6
Sound: 6
Light: 7
Total: 6.6 / 10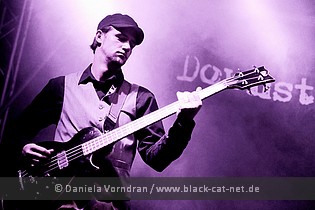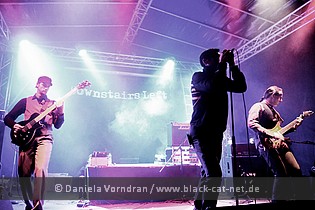 All pictures by Daniela Vorndran (
http://www.vorndranphotography.com/
/
http://www.black-cat-net.de/
/
www.myspace.com/vorndranphotography
)
{jos_sb_discuss:17}
See also (all categories):