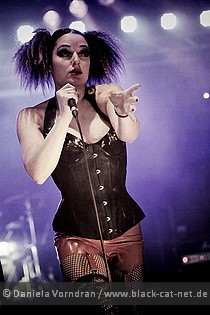 Kuturpark, Deutzen, Germany
7th to 9th September 2012
Nocturnal Culture Night 7 Day 1: KMFDM, Orange Sector, Acoustic Mode, Eric Fish & Friends, Nosferatu, A Life Divided, Dance Or Die, Maerzfeld, Coinside

It is always at the farthest end of the festival season in autumn when a little festival takes place that over the years has gained considerable recognition amongst dark music lovers: The Nocturnal Culture Night (NCN) festival, already running in its 7th edition. As every year, the festival is taking place inside the boundaries of the picturesque landscape of the culture park in a little place called Deutzen (near Leipzig).


It's not only the familiarity of the atmosphere that has shaped its reputation, moreover it is the vast assortment of bands the ncn2012 organizer come up with every year anew that differs quite a bit from the usual. This year we were blessed with perfect weather, as far as you could tell that, but the 10% of rain were already coming down on our journey to the festival.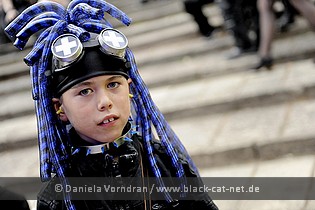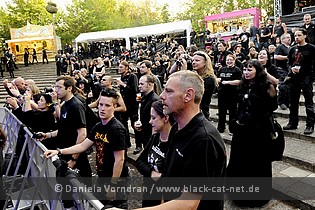 Coinside (Small Stage)
The festivals opening was made by German COINSIDE who are around already for about 20 years, dedicated to dark electronic sounds. The audience was sparsely turning up at the small stage where the two guys would soon start a set of pounding rhythms, spherical melodies and German lyrics, bursting with social critics and a voice that fits the style they're indulging in perfectly. Just doesn't fit my listening habits. For that the voice of Torsten is just too growly. I can't quite put it right. The voice is a central element for me if here is any vocal contribution. // Setlist: 01. Todsünden / 02. Sturm / 03. Jugend Marschiert / 04. Hexenhammer // Rating: 5 / 10 // www.coinside.de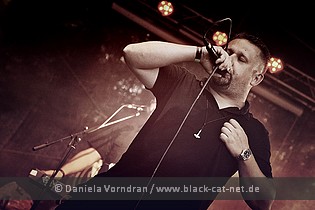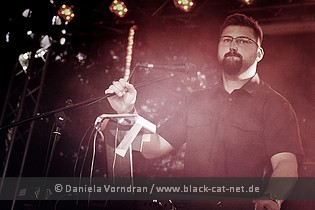 Maerzfeld (Main Stage)
MAERZFELD were to open the main stage on the first festival day and brought quite a different palette of sounds onto the festival. If I was to chose a band whose sound you can compare them to I'd name EISBRECHER amongst others with a little bit of KMFDM. The lyrics of the band were strictly kept German, something they've in common with the previous act. But let's get to the performance, shall we? Being a fully-fledged band there was a little more motion involved which made it a little more of a pleasure to watch. Though in my opinion it lacked the much needed spark that gets you hooked on a band's sound. Still it was lightly enjoyable // Setlist: 01. Vaterland / 02. Vollkommen / 03. Hübschlerin / 04. Virus (Der Gast) / 05. Still / 06. Erleuchtung //Rating: 6 / 10 // http://www.maerzfeld.de/ / http://www.facebook.com/Maerzfeld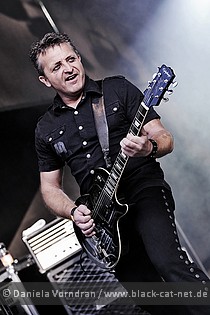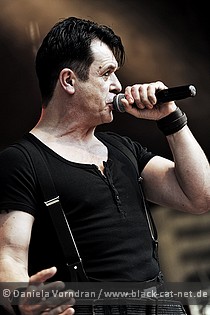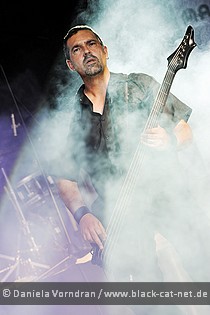 Dance Or Die (Small Stage)
With DANCE OR DIE at the small stage an icon of the dark electronic music scene was coming up next. Thus it was no wonder that the attendees count increased by the minute and that when DANCE OR DIE entered the stage some people were already celebrating. After the introduction had faded, the first song to rain down on the people was 'Dance Or Die' and its classic yet modern sound could be called an ignition. With the following 'Teenagemakeup' the show then continued and you were literally dragged into the music. The presence of the vocalist alone, his facial expressions made for an experience no one who witnessed it would soon forget. // Setlist: / 01. Intro / 02. Dance or Die / 03. Teenagemakeup / 04. Psychoburbia / 05. Sleeping in Your Grave / 06. Northern Winter / 07. Aliens Electric / 08. Time Zero / 09. Worm / 10. Fire // http://www.dance-or-die.de/ / http://www.facebook.com/pages/Dance-or-Die/117629834934544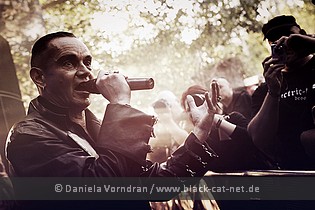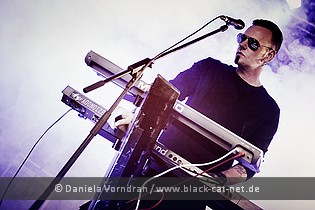 A Life Divided (Main Stage)
Actually, I was pretty much looking forward to the show of A LIFE DIVIDED. I always found their mixture of electronics and rock sound pretty intriguing. I was surely not the only one thinking that way considering the good amount of people already turning up for them. The band started their set with the energetic 'Change' and as soon as Jürgen entered, the show could really take off. 'Doesn't Count' calmed things down a bit playing with the contrasts of subdued, melodic parts and a rocking chorus.. 'Other Side' adds a little bit of desperation in the rousing main part that keeps you completely on your toes. Aside from the usual A LIFE DIVIDED had a rendition of another band's song in stock with VNV NATION's 'Perpetual' and with it managed to bring the mood up to a high. Definitely the best part of the show for me. If they were given a little more time I wouldn't have been sad. // Setlist: / 01. Change / 02. Doesn't Count / 03. Lost / 04. Other Side / 05. Words / 06. Perpetual / 07. Hey you / 08. Heart on Fire // Rating: 8 / 10 // http://www.a-life-divided.de/ / http://www.facebook.com/alifedivided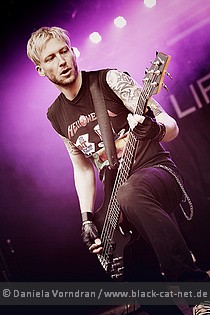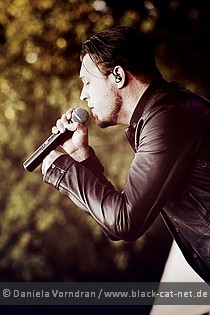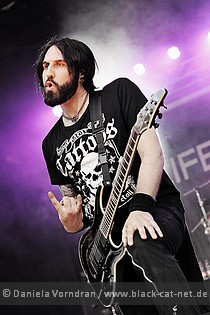 Nosferatu (Small Stage)
British NOSFERATU were the only representative of actual Goth Rock on the first festival day and a veteran of the genre at that. The band despite many line-up changes is being successful for over two decades and in 2011 released their 11th album 'Wonderland' which is was keen to hear some material from in a live setting already. The band around Louis DeWray got off gently with a track off their 1993 album 'Rise' called 'Alone', a song that remains in darkness all the time. Add to it the this time abnormally shrill vocal performance of Louis and you're right inside your own personal nightmare. The up-tempo 'Bombers' followed it right up and had a little nodding pleasure for you. Luckily, as i learned later, they actually included some of the current material in the setlist such as the driving 'Horror Holiday' or the enigmatic and bluesy 'Wonderland'. While the choice of songs was near perfect, the show itself had one or the other flaw like the vocals not being the best there could be and a bit more focusing on the task at hand wouldn't hurt next time. Seen you better guys. // Setlist: 01. Alone / 02. Bombers / 03. Black Hole / 04. Dark Angel / 05. Horror Holiday / 06. Witching Hour / 07. Wonderland / 08. Darkness Brings / 09. Wicca Man // Rating: 7 / 10 // http://officialnosferatu.co.uk/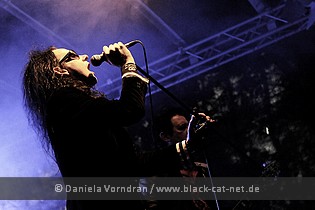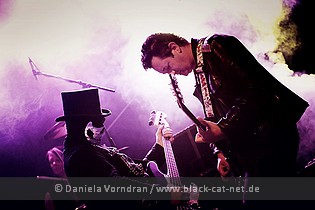 Eric Fish & Friends (Main Stage)
If by any chance you were a fan of medieval influenced music of any sorts or SUBWAY TO SALLY in particular, you weren't getting around to be at the main stage where ERIC FISH and an assortment of close musicians were about to start somewhat of a different show. By the time the show started the sun was already setting slowly and drenched the stage in the perfect mood for the acoustic session that seemed to enchant a lot of people around. The musicians definitely were skilled and seasoned in what they were doing and from a technical point of view everything was fine. I just couldn't get into as i never could get into SUBWAY TO SALLY and so we left earlier to get at east something of another promising act. // Rating: 5 / 10 // http://www.ericfish.de/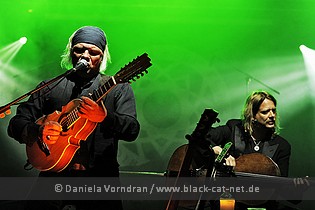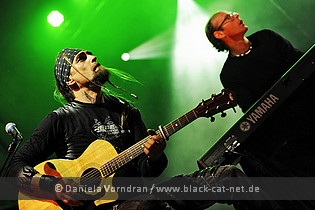 Acoustic Mode (Culture Stage)
When we arrived at the little stage that had a lovely little bonfire burning close to it, Robert and Maik's performance was already in full swing. Both are admirers of one of the most popular bands in Synth pop: DEPECHE MODE and as such were paying them tribute by playing some of their greatest hits stripped down to piano and vocals. We were there just in time to witness the last bits of 'Master & Servant'. Luckily, there were still a couple of songs to play and I have to say that 'It's No Good' and the encore 'Never Let Me Down Again' were pretty neat renditions as they were. Both thumbs up!!! // Setlist: 01. Black Celebration / 02. Enjoy The Silence / 03. The Sun & The Rainfall / 04. Policy Of Truth / 05. The Things You Said / 06. Goodnight Lovers / 07. Master & Servant / 08. It's No Good / Encore: 09. Never Let Me Down Again // Rating: 9 / 10 // https://www.facebook.com/AcousticMode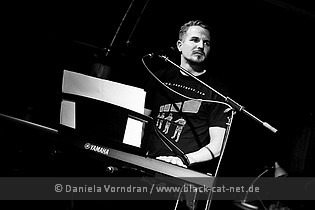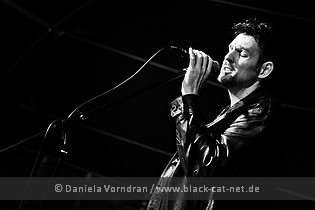 Orange Sector (Small Stage)
From the culture stage it was just a few steps to go to the small stage where everything had already been set up for the show of ORANGE SECTOR who were aiming to provide the crowd with some old-school EBM tunes that would make the adrenaline run faster and they succeeded in doing that. The minimalist nature of the music in combination with the commanding vocals caused a little riot, that is, people not being in control of themselves any longer and thus may hurt others. Seriously, why is it so hard to be a little cautious. WE were run down by a guy who didn't even bother to apologize afterwards. That and the fact that this type of EBM never was my cup of tea we left soon to relax a bit to prepare for KMFDM. // Setlist: 01. Unter Tage / 02. Krieg & Frieden / 03. Endzeit / 04. Der Maschinist / 05. John Kills / 06. I Hate You / 07. Sick.Sick.Sick / 08. RIP / 09. Tanzbefehl / 10. Arbeit ist Not / 11. Die Zukunft / 12. Für Immer / 13. Kalt wie Stahl / Encore: 14. Götter / 15. Dynamit // Rating: 5 / 10 // http://www.orange-sector.de/ / http://www.facebook.com/OrangeSector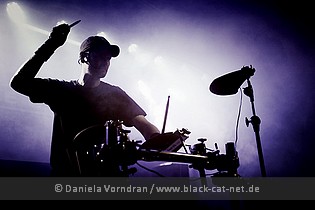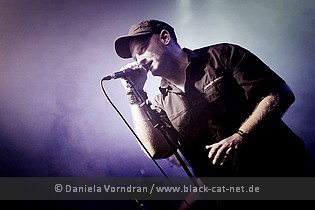 KMFDM (Main Stage)
Not the time was right to for the first festival day's finale and if by any chance you thought it would be a calm ending you were proven wrong very loudly since KMFDM have never been known for being quiet. The opening 'Krank' made very clear the marching route of this performance. As always the alternation between Sascha's rough and Lucia's bold performances would attract the attention. While we're at it, I think that the latter attracted definitely more of it, mostly with the male part of the crowd. KMFDM were playing a lot through their discography but there were set regulars like 'Bait & Switch' or 'Looking For Strange'. The reactions in the audience being rave at times an encore was mandatory and was concluded with 'D.I.Y'. One flaw of the show was clearly it sound which was never as detailed and clear as you'd expect. // Setlist: 01. Krank / 02. Amnesia / 03: Come On Go Off / 04. Bait & Switch / 05. Tohuvabohu / 06. Dystopia / 07. Potz Bltz / 08. Megalomaniac / 09. A Drug Against War / 10. Rebels In Kontrol / 11. Son Of A Gun / 12. Lynchmob / 13. Looking For Strange / 14. Free Your Hate / 15. Hau Ruck / Encore: 16. WWIII / 17. D.I.Y // Rating: 6 / 10 // http://www.kmfdm.net/ / https://www.facebook.com/officialkmfdm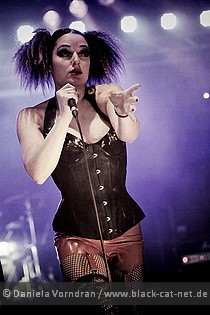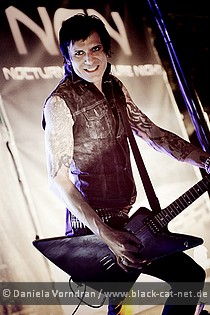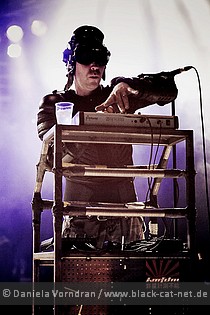 WIDUKIND were supposed to play the last show for today, actuallly. Due to sickness, however, the show was cancelled and the audience released to enjoy the aftershow party or make their ways to their resting places. Ours was a little quirky yet funny little journey but eventually were sinking into our beds to re-charge the batteries for the next day.

All pictures by Daniela Vorndran (http://www.vorndranphotography.com / http://www.black-cat-net.de/ / http://www.myspace.com/vorndranphotography / http://www.facebook.com/blackcatnet)




See also (all categories):