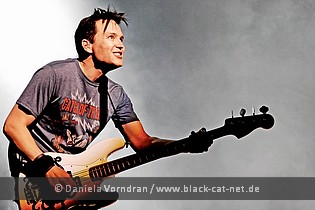 Flugplatz Borkenberge, Lüdinghausen, Germany
20th - 22nd August 2010
Area4 Festival 2010 Day 2: Blink-182, WIZO, Monster Magnet, The Sounds, Donots, All Time Low, Frank Turner, Minus The Bear, Long Distance Calling, Kylesa
Also the second festival day proved that the weather god likes the Area4. It was warm, sunny and dry. Best condition to enjoy the Saturday at the airfield with headliner BLINK-182, MONSTER MAGNET or THE SOUNDS. Having just one stage, you were able to enjoy the shows in full length without any overlapping. This is just great! Anyway, the day started with the first band KYLESA being late for about 20 minutes.
Kylesa
KYLESA was coming together in 2001. The band recorded a big part of its first album already in May of that year before having their first live show, amongst others with MASTODON. The self-titled long player had its release going down in 2002. After a series of split releases, singles and an EP, the band put out their second full-length 'To Walk a Middle Course' in 2005. Third instalment 'Time Will Fuse Its Worth' wouldn't be so long in coming and was out on Halloween of the following year. Meanwhile, the group is working on their fifth album, entitled 'Spiral Shadow' and slated for release 25th October. KYLESA is Phillip Cope (vocals, guitars), Laura Pleasants (vocals, guitars), Corey Barhorst (bass, vocals), Carl McGinley (drums, percussion) and Tyler Newberry (drums, percussion).
http://www.kylesa.com/
/
http://www.myspace.com/kylesa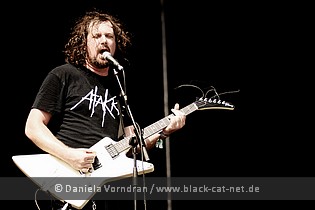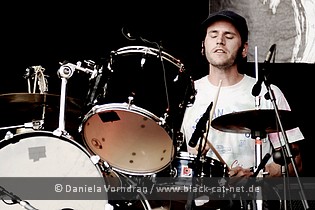 Music & Performance
So we walked out of the press area to the stage where KYLESA were supposed to play, but even 20 minutes later there was still nothing happening, really. By the time, we figured the concert might have already started and was just appearing as a sound check with an experimental character. Well, we were all completely wrong for the band then finally entered the stage to start the show, marked by screaming and growling, mostly on top of heavy rhythmic constructions that would blow the weariness out of many faces. Hard to get any of the lyrics with that vocal style and a disturbing detail, at least for me, was guitar player Laura Pleasants doing part of the scream / growl thing! Didn't impress me much all in all!
Rating
Music: 5
Performance: 6
Sound: 7
Light: - (daylight)
Total: 5.7 / 10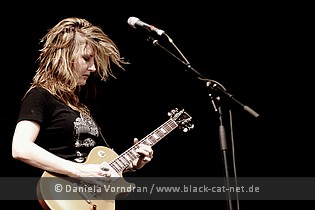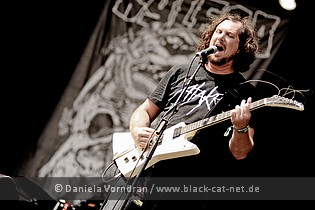 Long Distance Calling
LONG DISTANCE XALLING started their career in 2006 in Münster. In the same year, their limited demo album with the cryptic title 'DMNSTRTN' came out and it gained quite positive reactions. The debut album 'Satellite Bay' became an overall success. It was followed by a split EP with the band LEECH; they were touring with at the time. That EP was called '090208'. Their most recent album is called 'Avoid the Light' and was out in 2009. LONG DISTANCE CALLING is David Jordan (guitar), Janosch Rathmer (drums), Florian Füntmann (guitar), Jan Hoffmann (bass) and Reimut van Bonn (ambience).
http://www.longdistancecalling.de/
/
http://www.myspace.com/longdistancecalling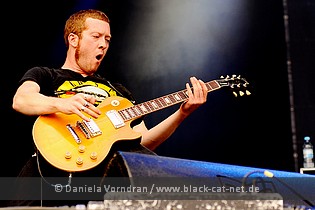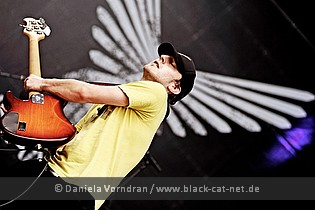 Music & Performance
Actually, THE OCEAN should be playing this slot, but their van broke down in Switzerland and LONG DISTANCE CALLING received a call in the middle of the night and became the quick replacement. I've been instantly impressed by their style. Since everything they do is instrumental, you could stop searching for a singer to complement the package and instead focus on the evolving sound structures and textures they're layering upon each other to create their dense sound. Song durations way beyond the usual borders were another test of people's ability to focus. But LONG DISTANCE CALLING admittedly made it easier for them by not delivering one static show where they would just focus on playing their instruments. Passion and joy I witnessed within their performance and the same thing made many people stay who looked like they wanted to leave before, and some it made join the crowd in front of the stage. A more than positive surprise and a good choice at that!
Rating
Music: 8
Performance: 8
Sound: 8
Light: - (daylight)
Total: 8 / 10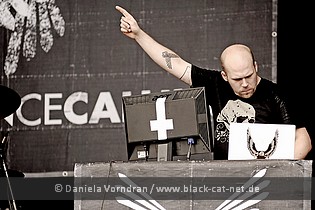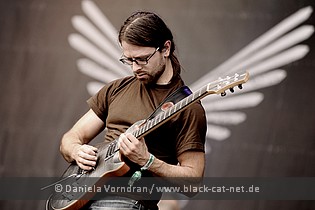 Minus The Bear
MINUS THE BEAR is in existence since 2001 and released with 'This Is What I Know About Being Gigantic' their first EP and one more should follow before the first album 'Highly Refined Pirates' would hit stores in 2002, meeting with critical acclaim just as would do the series of following full-length releases. The 2007 album 'Planet of Ice' is said to have been followed by ".the band's most intensive touring so far" 2010 saw the release of their most recent album 'OMNI'. MINUS THE BEAR are Jake Snider (guitar, lead vocals), Dave Knudson (guitar), Alex Rose (keyboards, backing vocals), Cory Murchy (bass) and Erin Tate (drums).
http://www.minusthebear.com/
/
http://www.myspace.com/minusthebear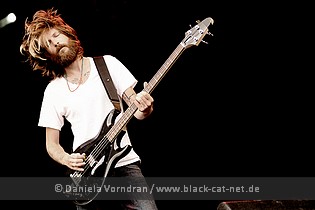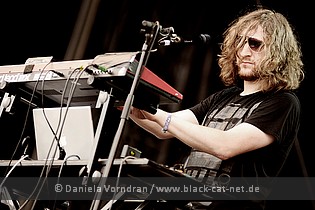 Music & Performance

A text in the program book said there were funky elements to the music of MINUS THE BEAR. When I checked them out some time before the festival it sounded much more like indie with a back door for experimentalism, but everyone perceives things differently. 'Knights' started their set with a processed sequence to which soon the rest of the instruments kicked in and the band started moving. The lads let follow a track from their new album 'Omni', called 'My Time', starting from swelling electronics and evolving to a very melodic, catchy song that visibly pleased many of the people in front of the stage, while others were just watching. But for the next song a lot of waving hands could be seen. A track with the lovely title 'Absinthe Party at the Fly Honey Warehouse' was closing the set. Not bad, really!
Rating
Music: 7
Performance: 7
Sound: 8
Light: - (daylight)
Total: 7.2 / 10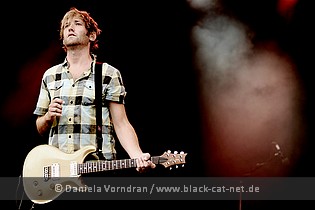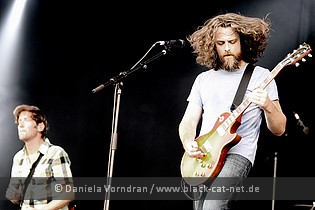 Frank Turner
FRANK TURNER started in 2001 with becoming the singer with the punk band MILLION DEAD he has released several records with. After the band had called it quits in 2005, he started pursuing a solo career and released his first album 'Sleep Is For The Week' in Great Britain to overly positive reactions in 2007, followed by 'Love, Ire & Song' in March 2008. 'Poetry of the Deed', his latest solo album, was out in September 2009.
http://www.frank-turner.com/
/
http://www.myspace.com/frankturner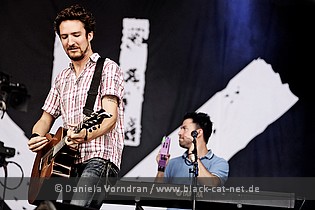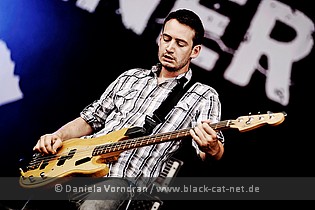 Music & Performance
FRANK TURNER's music hardly is that usual singer / songwriter stuff since it has a punk flavour to it and one crucial thing that like a spark was jumping from person to person in the big crowd in front of the stage. Hard to put it in words, but picture it like a kind of aura and happiness in his heart and face that is unbelievably strong. So he and his band got on stage and started with 'Eulogy' that first was played purely on acoustic guitar with Frank doing the powerful vocals, before the rest of the band joined in, adding a driving pace. First, the audience was still quite reserved. But with following tracks such as 'Poetry of the Deed' and 'Reasons Not to Be an Idiot' the distance was melting away and soon he had won them all over and he could ask every favour he wanted. For instance to 'Sons Of Liberty' he asked the crowd to help him doing a mutual guitar solo fuelled by the rage and anger inside them, or with 'Photosynthesis' everyone was supposed to sit down and sing.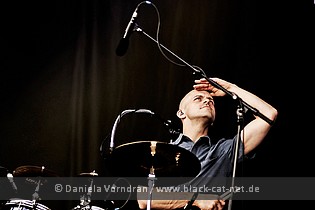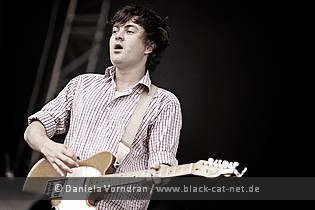 I didn't believe they'd all do it but they did and it was an incredible scenery and mood. When it was all over, screams for an encore got loud but sadly there was no time in the schedule to do that. One thing's for sure: FRANK TURNER was one of the highlights this festival day had to offer. Someone, no one had on the bill but who surprised everyone. Those are the best!
Setlist
01. Eulogy
02. Poetry of the Deed
03. Try This At Home
04. Reasons Not to be an Idiot
05. Substitute
06. Back In the Day
07. Long Live The Queen
08. I Knew Prufrock Before He Got Famous
09. I Still Believe
10. Sons of Liberty
11. The Road
12. Photosynthesis
13. The Ballad of Me and My Friends
Rating
Music: 8
Performance: 9
Sound: 8
Light: - (daylight)
Total: 8.4 / 10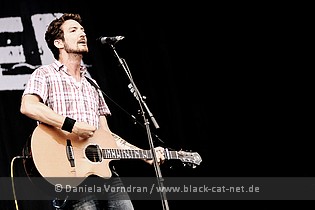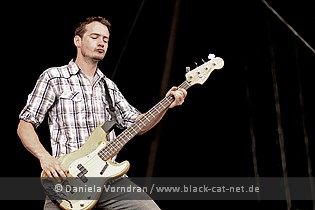 All Time Low
At first, founding a band was just for fun. Never was intended to be anything serious. But at one point, as is happening most times, the project became a whole lot more serious and composition of first own songs started going along with serious rehearsing. The first product of that work was the EP 'The Three Words to Remember in Dealing with the End' from 2004. By 2009, they've got released 3 full-length albums as well as a series of EPs and singles. Their newest release however is a recording of their unplugged session with MTV, released this year. ALL TIME LOW is Alex Gaskarth (lead vocals, rhythm guitar), Jack Barakat (lead guitar, backing vocals), Zack Merrick (bass guitar, backing vocals) and Rian Dawson (drums, percussion).
http://www.alltimelow.com/
/
http://www.myspace.com/alltimelow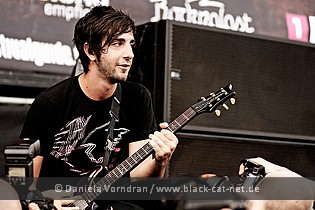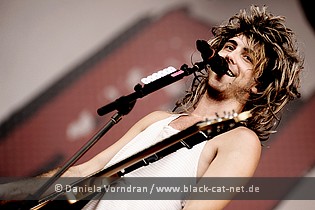 Music & Performance
Before the show I mixed them up with another band I read about, playing hardcore. But it was definitely not hardcore that was coming out the PA. Instead it was pure pop-punk like this day's headliners BLINK-182 would be playing it. Something easy digestible to have fun and throw a party to - and the band did just that. 'Damned If I Do Ya (Damned If I Don't)' started the energetic show and the guys were jumping and running around on stage and hyped up the crowd. In-between their songs, they would do jokes to raise and keep up the crowd and what could be better than using a lot of dirty ones? That always works, especially with the guys. One guy with a funny wig caught the attention of the guys at some point and the band did like it that much they wanted him to be on stage with them.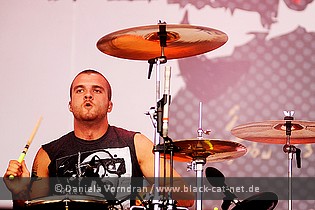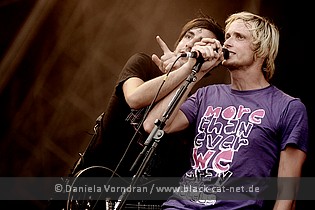 He was very self-conscious in his acting so some said it might be staged and he was actually a member of the band. I'm not sure if he was or not, but it was a funny detail of the show. The good mood didn't cease during the show to fast-paced and slower, at times melancholic songs. A solid performance, but if you were above a certain age many jokes just didn't work with you anymore.
Setlist
01. Damned If I Do Ya (Damned If I Don't)
02. Stella
03. Six Feet Under The Stars
04. Break Your Little Heart
05. A Party Song (The Walk Of Shame)
06. Jasey Rae
07. Poppin' Champagne
08. Weightless
09. Dear Maria Count Me In
Rating
Music: 7
Performance: 6
Sound: 7
Light: - (daylight)
Total: 6.7 / 10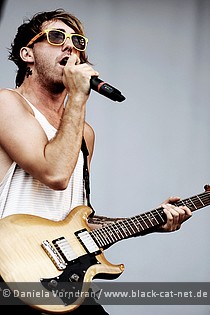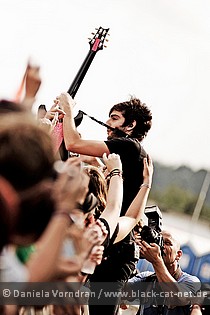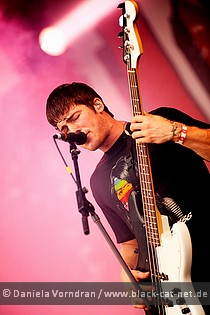 Donots
The DONOTS from Ibbenbüren came into being in 1993 and had their debut album released two years later, entitled 'Pedigree Punk'. The band name references the word "Doing nothing". Following years of hard work would pay off with the release of their third album 'Pocketrock', becoming their breakthrough and especially the single 'Whatever Happened to the 80s' became a hit. The album was followed up by a tour with American MIDTOWN through Germany, Austria and Switzerland. Following 'Amplify The Good Times' even became a major hit in Japan and led to the band's first tour over there. A wave of success they continue to ride on to the present day. Their latest album 'The Long Way Home' has come out in March. DONOTS are Ingo Knollmann (vocalist), Guido Knollmann (electric guitar, guitar, vocalist, Jan Dirk Poggemann (bass guitar, vocalist), Eike Herwig (drums) and Alex Siedenbiedel (electric guitar, guitar, vocalist).
http://www.donots.com/
/
http://www.myspace.com/donots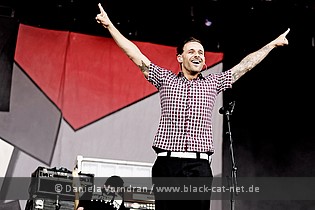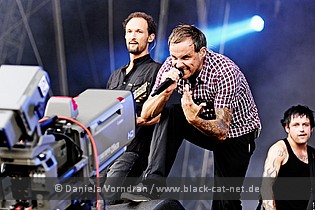 Music & Performance
Next up were German DONOTS who when entering the stage to begin were loudly welcomed by a party-ready crowd. Their intention to make it a special one was made absolutely clear already with the first song 'Calling'. They were giving it a 150% right from the start and people were following them instantly, giving their energy to show their appreciation for what the guys were doing. 'Big Mouth' picked up the pace and continued the party before 'Pick Up The Pieces' went one better. After 'Today' had served its duty, a little bit of talking was up with the band showing their huge appreciation for the town they're from. "Ibbenbüren rocks" was the catchphrase here and as if to underpin the statement, they let follow another piece off their current album 'A Long Way Home' that sounded somehow like the roughened and hardened version of a country song to me.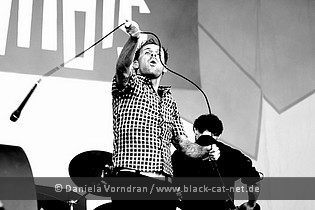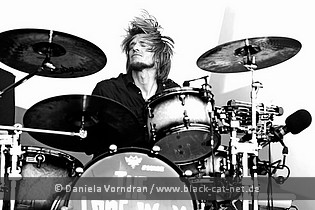 The crowd in the meantime was partying like hell and chanting "Oh Ohh Oh Oohh Ohh" with the band. "The biggest mosh pit of all times" was what they wanted from the audience and got a really big one. For one of their most famous songs 'Whatever happened to the 80s', they thought of something special to do, which was the following: Everyone was supposed to sit down, grab something near them, grass or whatever, count to 4 and while jumping up throwing in the air what they'd just grabbed. I was standing on the "sideline" while that was happening and it was simply wicked and the highlight of a show that soon came to an end with 'We're Not Gonna Take It'.
Setlist
01. Intro
02. Calling
03. Big Mouth
04. Pick Up The Pieces
05. Today
06. Dead Man Walking
07. Duck And Cover
08. Stop The Clocks
09. Whatever Happened To The 80s
10. We're Not Gonna Take It (Twisted Sister cover)
Rating
Music: 8
Performance: 9
Sound: 7
Light: - (daylight)
Total: 8.2 / 10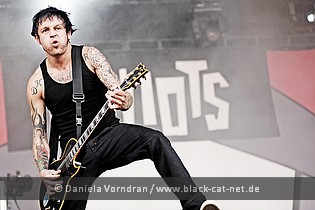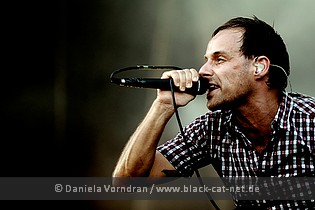 The Sounds
Felix Rodriquez and Johan Bengtsson founded the band in 1998. After drummer Fredrik Nilsson joined the band, it took a while for them to find a proper singer, which they eventually found in Maja Ivarsson who had already gathered some experience in various girl bands. On their debut 'Living in America', released in 2002, the band's sound was much more drawn to the genres New Wave and Synth Pop as it was later on their second album 'Dying To Say This To You'(2006) which is clearly more Rock oriented. In the meantime, they've got a new album out with 'Crossing the Rubicon', released in 2009. THE SOUNDS are Maja Ivarsson (vocals), Felix Rodriguez (guitar), Jesper Anderberg (keyboards, piano, guitar), Johan Bengtsson (bass) and Fredrik Nilsson (drums).
http://www.the-sounds.com/
/
http://www.myspace.com/thesounds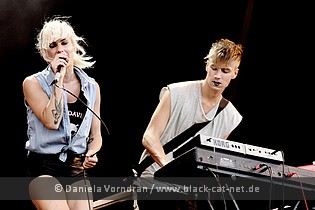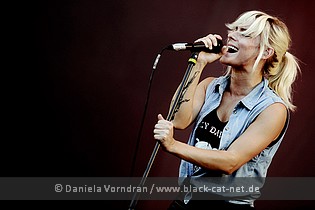 Music & Performance
I do remember very well the last time I've seen THE SOUNDS at the Area4 festival in 2008, especially for the tight pants of Maja Ivarsson and the effect it had on big parts of the male audience back then. In fact, we were wondering if she'd be wearing a similar kind of pants for this show as well, and of course she did. Also had the same effect this time, though I didn't find it very appealing but that's a different story, let's get to the music! An intro led into the first proper song 'Tony the Beat', seeing Maja already doing her best to get some action into the masses in front of the stage. The energetic 'Seven Days a Week' followed right up and slowly her efforts were paying off and the crowd got into it more. 'No One Sleeps When I'm Awake' was the next one and here, more than before in my opinion, it's gotten obvious how much the band was enjoying themselves up there.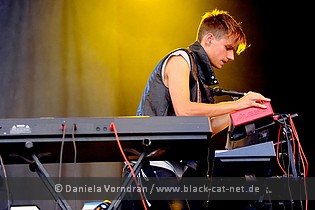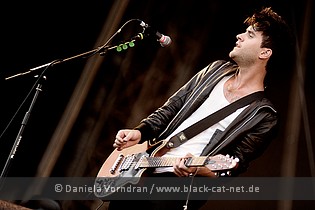 "I'm Fighting This Feeling" she was singing to 'Queen Of Apology', but down there before the stage no one was fighting anything anymore. They just let their bones fly to the beat. For the 'Beatbox', which really had an infectious groove, collective clapping was on the schedule before 'Painted By Numbers' put the emphasis back on a straight dance beat and sugar-sweet melodies. Same ingredients go for the set closer 'Ego'. Was a cool performance!
Setlist
01. Intro
02. Tony the Beat
03. Seven Days A Week
04. No One Sleeps When I'm Awake
05. Queen of Apology
06. Something to Die For
07. 4 Songs & a Fight
08. Beatbox
09. Painted By Numbers
10. Dorchester Hotel
11. Living In America
12. Ego
Rating
Music: 7
Performance: 7
Sound: 7
Light: - (daylight)
Total: 7 / 10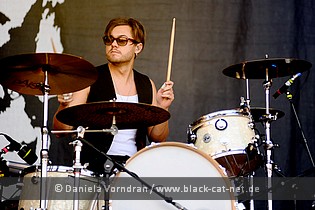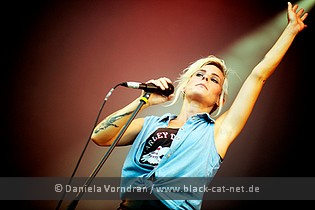 Monster Magnet
MONSTER MAGNET was founded in 1989 in New Jersey. The first EP was released on the German label Glitterhouse Records. After the success of the EP, the band switched to the US label Caroline Records who eventually released their debut 'Spine of God' which is considered the best album of the band's history by many fans. After switching labels once more in 1993, the band released the Space Rock influenced album 'Superjudge' in the same year and two years later the BLACK SABBATH inspired third album 'Dopes to Infinity' came out. The song 'Negasonic Teenage Warhead' became quite popular in the clubs. In 1998, they turned away from their psychedelic roots with the 'Powertrip' album, but with their 10th album '4-Way Diablo' (2007) they returned to those roots. The new album 'Mastermind' is announced for a release in October. MONSTER MAGNET is Dave Wyndorf (vocals, guitar), Tim Cronin (vocals), John McBain (guitar), Joe Calandra (E-bass) and Bob Pantella (drums).
http://www.monstermagnet.net/
/
http://www.myspace.com/monstermagnet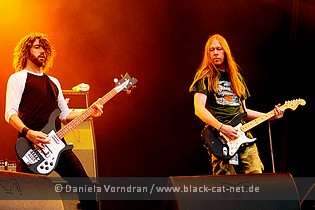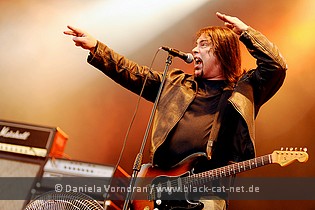 Music & Performance
Dave Wyndorf and crew would now be entering the stage and I for one, and of course many others, didn't want to miss it when that was going to happen with a classic tune, called 'Dopes To Infinity' which right away had the mood boiling with the powerful chords and voice of Dave, who's gained some weight since I last saw him in 2008. But this should be more about the music and quite a blast of that for the ears was following up with 'Crop Circle' and 'Powertrip' off the 1998 release 'Powertrip'. Wyndorf didn't move that much but as said before impressed by doing his thing on the guitar and the vocals. 'Twin Earth' went back to the second album 'Superjudge' which seemed to please a lot of people down in the crowd. The next two songs gave a hint on the upcoming new album 'Mastermind' due out in October. If the entire album is like those rock bombs, then we can surely expect something big with the record.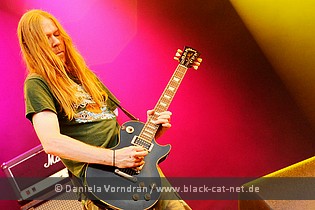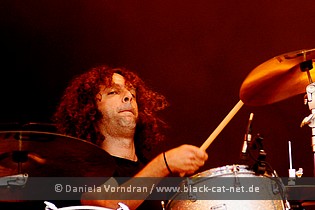 Their 1995 hit single 'Negasonic Teenage Warhead' couldn't be missed out in the set either, but the best thing has been kept for the very end of the show with 'Space Lord' that was being extended to no end with new little instrumental variations coming in to give the show a memorable ending.
Setlist
01. Dopes To Infinity
02. Crop Circle
03. Powertrip
04. Twin Earth
05. Bored with Sorcery
06. Dig that hole
07. Radiation Day
08. The Right Stuff
09. Negasonic Teenage Warhead
10. Space Lord
Rating
Music: 8
Performance: 7
Sound: 7
Light: 7
Total: 7.4 / 10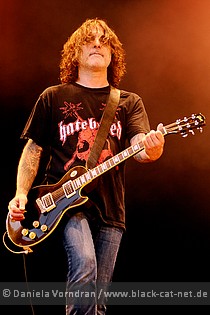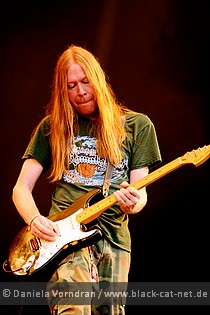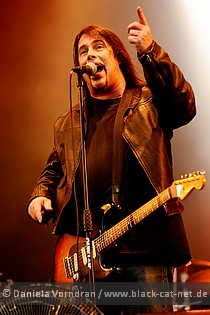 WIZO
WIZO has been formed already in 1987. Their first album 'Für'n Arsch' was released in 1991, followed by 'Bleib Tapfer' (1992) and 'UUAARRGH!' (1994), the latter one of which is still selling well to the present day, they say. Throughout their long career the band has been involved in a lot of controversies, got sued, and arrested etc. which did not at all interfere with their musical career. They were even part of the Vans Warped Tour in summer 2005, about one year after their latest album 'Anderster' and the same year they would split up. Reunited in 2009 and with an altered line-up, the band started working on a new album. WIZO is Axel Kurth (vocals, guitar), Thorsten Schwämmle (bass) and Thomas Guhl (drums).
http://www.wizo.de/
/
http://www.myspace.com/wizo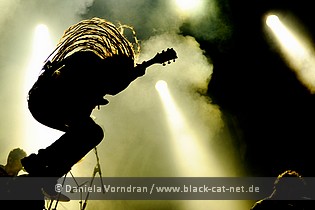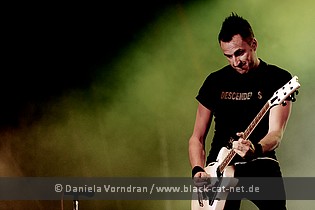 Music & Performance
The first of two "comeback" bands was coming up now with WIZO and with their performance drawing closer, there were lots of people, gathering at the stage. Maybe it was to celebrate a reunion with old heroes. Announced by an intro, the band started their show with 'Nana', a fast played punk song. A specialty of their style is that a political message is woven into many of the songs. Statements about politics were also part of the show in-between the songs by singer and front man Axel Kurth. But while some might have liked what was said I was getting bored and annoyed. It's a good thing to say you're against right-winged radicalism of any kind however here it sounded to me like they thought they were the only band in Germany standing up against it, and to repeat it over and over again is simply unnecessary.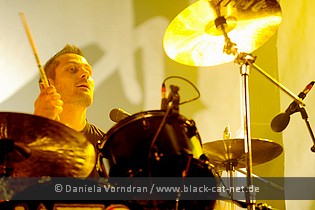 To use mostly a sanguinary language is also not the behaviour you'd expect from an adult. The musical part offered a mixed bag of songs from all parts of the bands career, including glimpses on the new album; they're currently working on like 'Scheissekotzen' and 'Königin'. The songs continued pretty much the style they were doing before. Fans probably liked it but for me it was nothing I would need to see again in the near future.
Setlist
01. Intro (Die letzte Saufonie)
02. Nana
03. Kopfschuss
04. Hey Thomas
05. Diese Welt
06. Das goldene Stück
07. Scheissekotzen
08. Kadett B
09. Tod im Freibad
10. Raum der Zeit
11. Gute Freunde
12. Königin
13. Nix & Niemand
14. Quadrat im Kreis
15. Alte Frau
---
16. Der Käfer
17. Kein Gerede
18. Die letzte Sau
Rating
Music: 5
Performance: 4
Sound: 7
Light: 7
Total: 5.3 / 10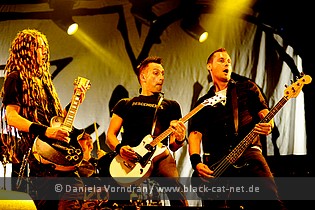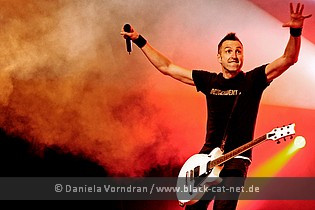 Blink-182
BLINK-182, formed in 1992 as BLINK and renamed in 1994, rose to fame in 1999 with the release of the single 'All The Small Things' and the accompanying album 'Enema Of The State', being already their third full-length until then. The album spawned two other very successful singles. The next album 'Take off Your Pants and Jacket' came out in 2001 and became their most successful to date. In 2005 and after another, self-titled, album the band members announced to send BLINK-182 into indefinite hibernation to have more time for their private lives and stuff, but also internal conflicts were reported. Anyway, BLINK-182 announced their reunion through their website in 2009, saying they were also working on a new album. BLINK-182 is Tom DeLonge (lead vocals, guitar), Mark Hoppus (lead vocals, bass) and Travis Barker (drums, percussion).
http://www.blink182.com/
/
http://www.myspace.com/blink182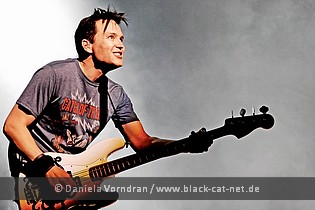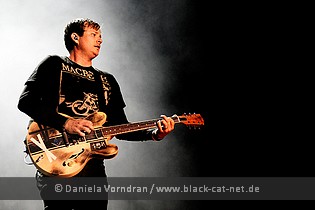 Music & Performance
The second band that came back followed right up after a little break with the headliners BLINK-182. When we were arriving at the stage, it was already hidden behind a black curtain that fell for the beginning of the show with 'Dumpweed'. To 'Feeling This', you already saw the guys jumping around like little school kids on a playground and their crowd was with them, partying and making a lot of noise, which was getting louder by degrees the more time passed. 'What's My Age Again?' was next up and actually that was a good question, because they didn't act like they were grown up, but that never was one of their strength as shown in the video clip to 'All The Small Things' you might all remember very well. 'I Miss You' calmed things quite a bit with a balladry track before 'Stay Together for the Kids' struck much darker tones.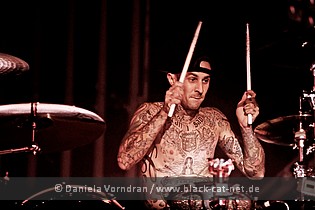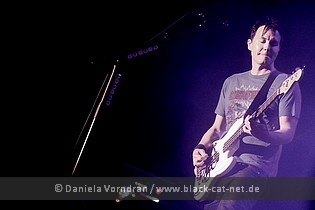 The entire set kind of was pending between faster and slower songs and even if it was better than what WIZO have delivered earlier it still wasn't extraordinary. At the end of the main set and with that kind of rave reactions it was crystal clear they'd be coming back for an encore. But they took their time and let the fans wait before doing it. For the last song 'Family Reunion', they launched a confetti cannon which we spotted already during the day and were wondering who would be using it and when. Well, we had our answer now and with that the second festival day also came to an end for us.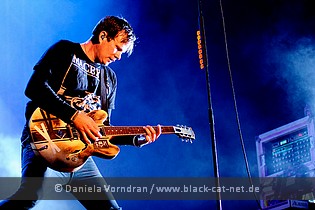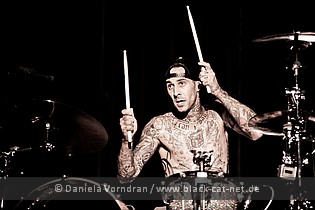 Setlist
01. Dumpweed
02. Feeling This
03. The Rock Show
04. What's My Age Again?
05. Violence
06. I Miss You
07. Stay Together For The Kids
08. Down
09. Always
10. Stockholm Syndrome
11. First Date
12. Man Overboard
13. Don't Leave Me
14. Not Now
15. All The Small Things
16. Reckless Abandon
17. Josie
18. Anthem Part Two
---
19. Drum Solo
20. Carousel
21. Dammit
22. Family Reunion
Rating
Music: 7
Performance: 5
Sound: 7
Light: 8
Total: 6.5 / 10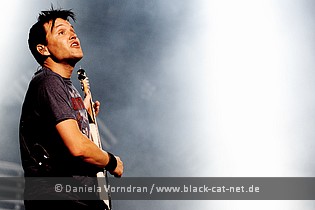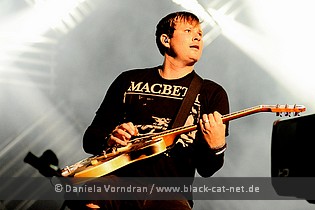 All pictures by Daniela Vorndran (
http://www.vorndranphotography.com/
/
http://www.black-cat-net.de/
/
www.myspace.com/vorndranphotography
)
Written by Daniela Vorndran (common parts) and Sebastian Huhn
{jos_sb_discuss:17}
See also (all categories):