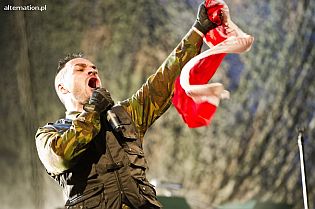 Castle, Bolkow, Poland
29th July to 1st August 2010
Castle Party: Christblood, Infinity Pain, Red Emprez, Dusk Watch, Gray/Scale, The Violet Tribe, Wieze Fabryk, Otto Dix, ¯ywio³ak, The Beauty of Gemina, Qntal, Bacio di Tosca, Deviant UK, Alec Empire, Job Karma, And One, The Proof, Noisuf-X, Faith and the Muse, Clan of Xymox
Yet another edition of Castle Party came to an end. As Auerbach once said, Music washes away from the soul the dust of everyday life. I believe the souls leaving Bolkow every year feel decently
purified
- 2010 was not an exception in this respect. The festival is developing with every subsequent year: it relates not only to the duration- from two to four festival days, but also to the quality of the bands and side program. However, with all the positive changes taking place there are two things that remain the same: first of all variety (the organizers had always been very particular about inviting the band that would break the strictly gothic mode and included the band of a different sort in a line-up - vide metal band BEHEMOT in 2010) and second of all, marvellous atmosphere making Castle Party both a great musical and social event.
http://www.castleparty.com/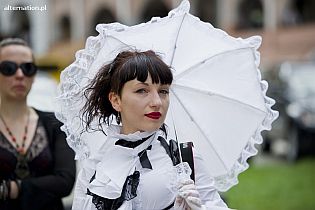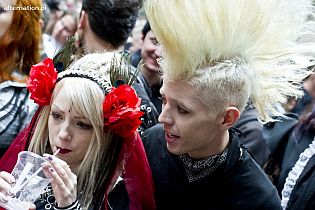 Castle Party commenced on Thursday 29th with the concerts of CHRISTBLOOD, INFINITY PAIN, RED EMPREZ and DUSK WATCH that took place in the Old Cinema. Then, on Friday, there were gigs of GRAY/SCALE, THE VIOLET TIBE, WIEZE FABRYK, OTTO DIX, ¯ywio³ak, FAITH AND THE MUSE, THE BEAUTY OF GEMINA and QNTAL at inside courtyard and a special concert of BACIO DI TOSCA in St. Hedwig's Church. On Friday night the mode was definitely along the widely understood folk lines, the music floated from stronger beats of ¯ywio³ak to ballad-like, melodious ones of FAITH AND THE MUSE or THE BEAUTY OF GEMINA. Stylish lights, the proximity of old walls, the limited space enhancing the quality of sounds plus a bit mysterious, whispering or narrated pieces built up a fantastic, slightly fabulous atmosphere.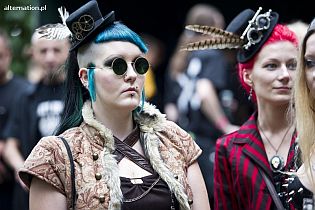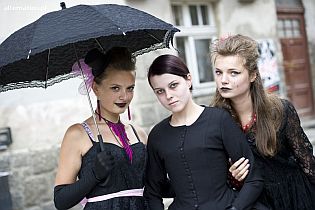 Saturday

The weather on Saturday was very sunny, so all the concerts could take place in order scheduled.


Deviant UK

Jay Smith & Co are specialists of energetic warm up, no surprise during the gig - highly dynamic and catchy melodies together with the charisma of diabolic vocalist and a decent dose of tough beat gave a perfect combination to move the audience - for the first time during the day. Combining profound elements with some dancy arrangements, DEVIANT UK stand for the perfect party killers and a mean to move during the concerts. Though in full light, it was a very good show. http://www.myspace.com/deviantuk / http://www.facebook.com/deviantuk

Setlist
01. Wreckhead
02. Raptured Saints
03. Maid of Plastic
04. Me without You
05. Timekiller
06. Access Denied
07. You will burn

Rating
Music: 9
Performance: 8
Sound: 8
Light: - (daylight)
Total: 8 / 10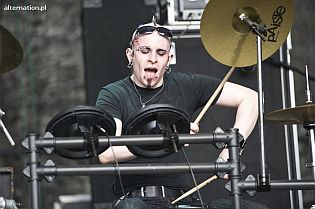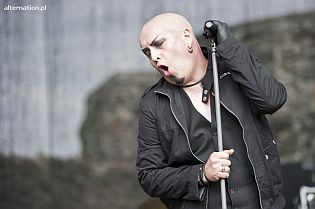 Alec Empire

ALEC EMPIRE's fan base in Poland is strong - both he himself and ATR always meet enthusiastic reception. It's definitely caused not only by a fantastic dose of deafening he serves with no let-up during an hour the concerts usually last, but also the style of scenic madness, jumps onto the audience, pogo dancing and energy he shares with the listeners. Alec and Nic Endo played brilliant show - stunning pace, wayward sonic jumps, uncontrollable melodic line, whimsical, wild arrangements, ubiquitous distortions and teasing rawness combined with ravishing dynamism plus original, scanning vocal - such a mixture leaves nobody indifferent so the audience run wild and the applause was remarkable. The wild animal escaped the cage once again and smashed the audience - bravo! http://www.alec-empire.com/

Rating
Music: 10
Performance: 10
Sound: 10
Light: - (daylight)
Total: 10 / 10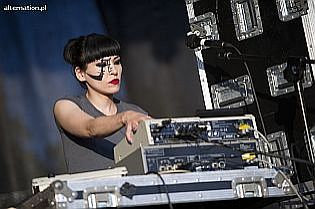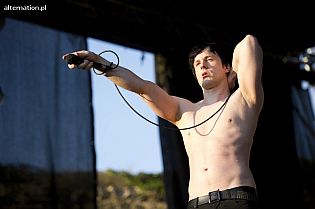 Job Karma

JOB KARMA played an absolutely magical concert. The old cinema's atmosphere is special in itself, but what was added were the frugal lights and Arek Baginski's fantastic visuals set in Beksiñski's style - attracting attention and scary at the same time. It's alike with JOB KARMA's music - hypnotic, multi-layered, easily swallowing in its internal stream, rich and beautiful, but at same time disquieting, dark and provocative, and enforcing drawing some (sombre) conclusions. The stories the image and sound tell are not optimistic, the human being turns out to be a small infinitesimal element smashed by machines, lost and aboulic. The world of JOB KARMA's music is habited by monsters created by civilization that slowly but steadily takes human souls and packs them into boxes with the label "sale". Depending on the piece the music either scares or pacifies and makes the listener stand still. Any effect remains in mind for longer even after the concert is over. Remarkable! http://jobkarma.pl/

Setlist
01. Raf
02. Brain's Processing
03. You are the Key
04. Schekle
05. Bronte
06. Hel
07. Terrorvizja
08. Hydroxizinum City

Rating
Music: 10
Performance: 10
Sound: 10
Light: 10
Total: 10 / 10


And One

The fans had been waiting for AND ONE for years and finally the gentlemen appeared in Bolkow to present their mastery and prove in person they are the party kings. I'll say one thing, the word "emotional mash" does not reflect the atmosphere of the concert, its energy, power and smoke. Steve Naghavi is the indisputable master of ceremony. The fireworks they provide, the fans' tired muscles and vocal cords prove their high class. Awesome energy, the setlist including all flag hits 'Technoman', 'Deutschmaschine', 'Sometimes', 'Military Fashion Show' 'Schwarz', 'Get you Closer', 'Kein Ende' or 'Traumfrau', Steve and Chris singing together, dancing on the stage - also with the Polish flag delivered by the fans and marvellous contact with the audience. Gentlemen come back soon as we missed at least one encore! http://www.andone.de/

Rating
Music: 10
Performance: 10
Sound: 10
Light: 10
Total: 10 / 10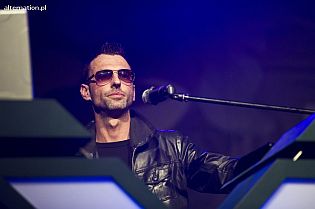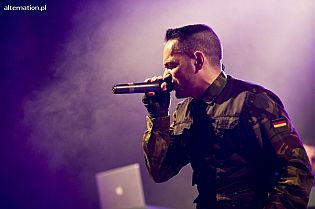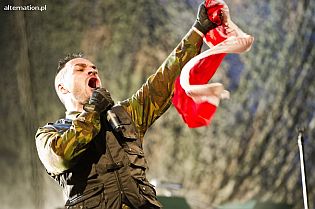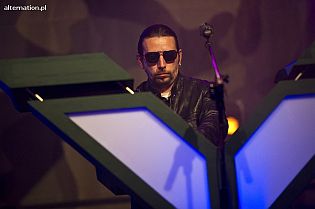 Sunday

Atmospheric, highly expressive concerts of such bands as CLAN OF XYMOX, FAITH AND THE MUSE, ANNE CLARK or the PROOF prevailed on the last day of the festival.


The Proof

Polish project THE PROOF played the impressive concert that combined drama and theatricality with moving music and lyrics. The tragic and expressive manner of the front man was extremely captivating and the music enhanced the effect. I'd like to see the club version of the concert - the props and the concepts are so atmosphere that I'm sure the separation from daylight would do it a lot of good and would add to magic and power of the spectacle. http://theproof.pl/

Setlist
01. Galeria
02. Twarz
03. Nikt
04. Usta
05. Znaki
06. Pajêczyna
07. Cover Christian Death

Rating
Music: 10
Performance: 10
Sound: 10
Light: daylight
Total: 10 / 10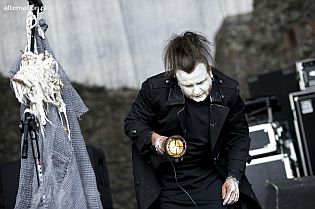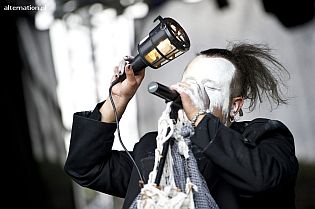 Noisuf-X

Jan L surely belongs to the top league of electro industrial party tanks so his concert was like a machine well-set to make the people move. Catchy pieces (quite a few from the new album 'Excessive Exposure') featuring distortions, loads of samples, repeating, trance, catchy sequences screamed out loud a clear message "move"! As the message was convincing enough there was not else to do but to obey. Never mind the sun and heat – the disco inferno played right alright. Great gig! http://www.myspace.com/noisufx / http://www.noisuf-x.com/

Setlist
01. Intro
02. Last Dance
03. Jezebel
04. Please Hang Up
05. Orgasm
06. Deutschland braucht Bewegung
07. Hans Dampf
08. Hit Me Hard
09. Fucking Invective
10. Beats and Bass
11. I AmWatchingYou
12. Shut Up

Rating
Music: 10
Performance: 10
Sound: 10
Light: - (daylight)
Total 10 / 10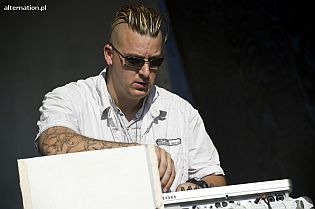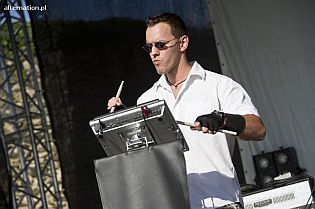 Faith and The Muse

FAITH AND THE MUSE, that played at the inside courtyard on previous day gave a visually rich concert with stunning make-ups and outfits is Asian and court style plus moving, perfectly balanced, elegant music - it all stood for a perfect scenic and musical performance. http://www.myspace.com/faithandthemuse / http://www.mercyground.com/

Rating
Music: 10
Performance: 10
Sound: 10
Light: - (daylight)
Total: 10 / 10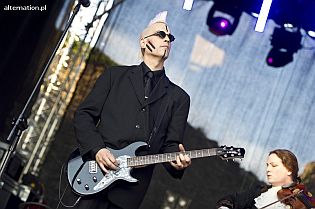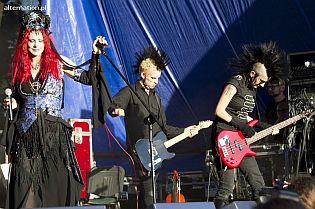 Clan of Xymox

The most beautiful concert of the festival was performed by, one could say, the regular guests of the festival, CLAN OF XYMOX. Ronny Moorings and the band like no one else spread magic from the scene and ravish the listeners with their music from the very first note. It's mostly up to Ronny whose fantastic contact with the audience is almost legendary, but also the atmosphere of each concert that is built by the light-shadow play and the music, well-known and comfy like the best cashmere shawl. Therapeutic and aesthetic effect guaranteed. 'Jasmin and Rose', 'This World', 'A Day', 'Louise', 'Emily', 'There's No Tomorrow', 'Weak in My Knees' or 'Calling You Out' presented in the sapphire lights of the scene, under the stars... I can't think of more magical moments. I can only hope the band will not linger for too long and come again soon! http://www.clanofxymox.com/

Rating
Music: 10
Performance: 10
Sound: 10
Light: 10
Total: 10 / 10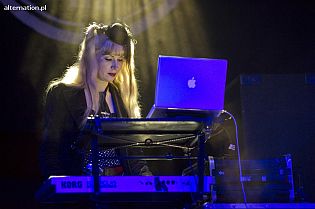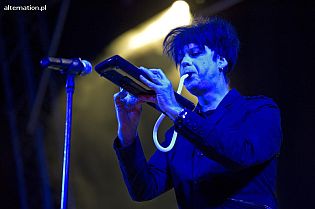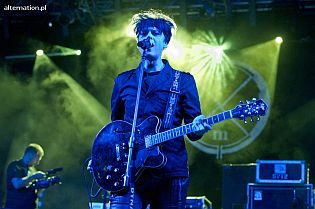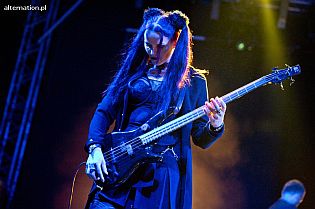 The concerts were great, the next edition is to take place from 21st to 24th July 2011 and I'm sure the line-up will be breathtaking. See you!

All pictures by Marcin "Dobermann" Pflanz (http://www.alternation.pl/)
{jos_sb_discuss:17}

See also (all categories):