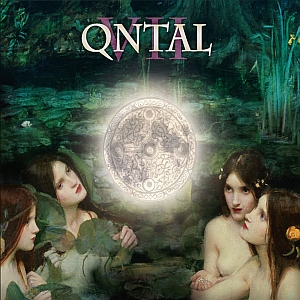 Artist: Qntal
Title: Qntal VII
Genre: Darkwave / Neofolk
Release Date: 21st November 2014
Label: Drakkar Records
Album Review

QNTAL celebrates their 25th anniversary next year and it seems like they are not going to stop their career. Which is actually good news, since they still can create beautiful music. And they proved it with their new album. With no sign of getting exhausted or frustrated the band managed to create another atmospheric record on the edge of the Medieval and Modern times.
For those who never heard QNTAL it will be enough to know that basically the band takes ancient lyrics and combines them with electronic music. If you normally skip that kind of music or even afraid of Medieval influences – you should anyway give a chance to 'Qntal VII'. This album is good for dancing. Not a club-party, but dancing like you forget yourself, dancing around the fire somewhere in the country-side or even in the forest. This music is great for relaxing and letting your imagination flow. And if you dare to follow this musical rabbit, who knows in what kind of hole you'll end up. Such compositions as 'Flaming drake', 'Tyger' or 'Flame amoureuse' would surely occupy your playlist and will always win your attention. And 'Schnee' is a haunting elegy, listening to it the listener literally can see what's going on in this story and feel him/herself a part of this sad and mighty picture.
Even if you can't properly pronounce the titles of the songs and even the band's name, and hardly would ever sing along, this album will be a great journey through time and space. Specially thank to the beautiful opera-like female vocals and choirs. Having a great singer is a half of success on the electronic scene today (and the vocalists of QNTAL deserve a lot of compliments no doubt), but it is not enough to call yourself a musician. And that is why QNTAL positively differs from most of other bands. They create incredible electronic melodies, which do have volume and its special atmosphere. Their tribal tunes call for the ancient instincts. This is a rare case as the electronic musicians focus not on the modern tendencies but follow their inner savages, which are born to destroy or at least to shake the brave new world.
Tracklist

01. Flaming drake
02. Tenacious love
03. Tyger
04. By the light of the moon
05. Blow the northerne wynd
06. Swebend
07. Frühlingslied
08. Schnee
09. In dem Begyn
10. Rossignolet
11. Flame amoureuse
12. Musa venit
13. Melos lacrimosum
14. Nox aeterna
Bonus tracks:
01. Schnee (Leon Rodt Mix)
02. Schnee (Progressive Mix)
Line-up

Michael Popp
Sigrid "Syrah" Hausen
Sarah "Mariko" Newman
Website

www.qntal.de
Cover Picture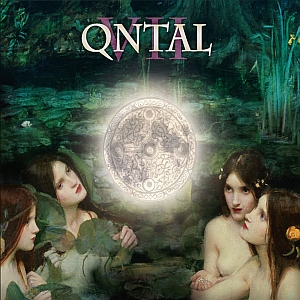 Rating

Music: 6
Sound: 8
Total: 7 / 10
See also (all categories):