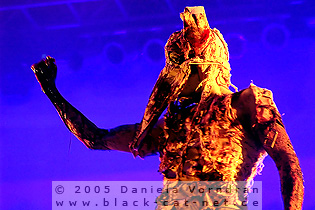 Airport Drispenstedt, Hildesheim, Germany
13th August 2005
In Mitra Medusa Inri, Klimt 1918, Osiris Taurus, Qntal, Limbogott, Potentia Animi, Negative, Leaves Eyes, Autumn, Atrocity, NFD, [SITD], The Crüxshadows, The Neon Judgement, The 69 Eyes, CombiChrist, Mesh, VNV Nation, Skinny Puppy

"Sun makes you foolish" was written on some shirts at the M´era Luna weekend in Hildesheim. About 21,000 visitors could not mourn about too much sun this year. Unfortunately it was much too wet on the Sunday and so the festival area as well as the parking lot turned into mud. Musically and visually there was a lot to explore. So you could listen to bands of all the different genres of dark music. Especially Skinny Puppy were polarising the audience with their provoking show and so mostly the old fans were excited about it. Of course there were not only the big names playing but also some newcomers like Gate or Negative. The final of the festival was presented by the Goth heroes Sisters of Mercy. Once again it was a very peaceful festival. [DV] www.meraluna.de

The Saturday started for us at short before seven when we got out of our warm beds. Half past seven we were on our way to Hildesheim where we arrived around ten. After parking the car we had a look where to get the festival bands. It was quite cold during the waiting time. Luckily it got warmer during the day and stayed dry. Everything went very smoothly and so we were in front of the main stage when the first band started.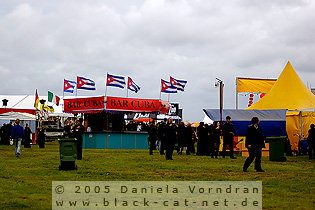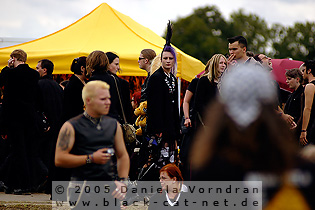 Due to the very close schedule and a lot of overlapping, for most bands we had only a few songs we could listen to. So for these bands we can only give a short impression and of course some pictures too. But anyway we have detailed reviews of the most important bands for you. [DV]
In Mitra Medusa Inri – Main Stage [DV]

In Mitra Medusa Inri
- a name of phantasm - if you want, a number of expressions. It has, however, a deeper sense, although - or even because - the members of the band, realize and express the meaning of their music in their very own way. In Greek legends, MEDUSA is described as a female monster/god, whose look lets everything become stone. With their music the band hopes to receive a similar penetrate effect at their listeners... In form of fish's head MITRA originally symbolized the hat of god Dagon. It counts as a sign of friendship. INRI is the abbreviation for Christian religion - religion need not be a given schema but may be everything - a song, a poem, a feeling. Everyone should believe in what he wants to believe - but in every way in himself as well!
http://www.inmitramedusainri.com/
In Mitra Medusa Inri
had the honour to open the festival and there were quite a few people in front of stage at that early hour. I must say that the band did a good job to catch the audience with their melodic Dark Wave which is affected by melancholic guitar and dreamy keyboard sounds.
Setlist

1. Red bursted veins
2. Disappointment Remains
3. There is no one calling
4. Sometimes
5. Darkness between Us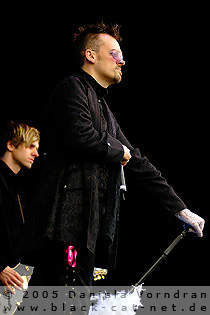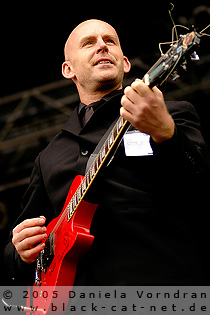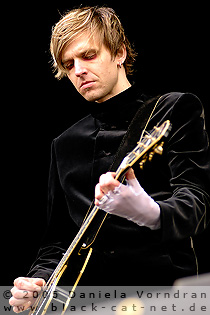 Klimt 1918 – Hangar [DV]


The band is named after the artist Gustav Klimt which died in the year 1918. If you immerse yourself in his soft-coloured paintings, if you search for the symbolic meaning behind the compositions - then you begin to understand why the Italian act
Klimt 1918
have chosen this artist and his year of death for their moniker. The musical influences combined by
Klimt 1918
are determined by the fact that they describe their artistic agenda as something beyond mere pastiche of others' works. Their songs are deeply ingrained with originality and boundless musicality even though they might remind you of such diverse artists as the
Beatles
,
Cure
,
Interpol
,
Tears for Fears
,
U2
,
The Police
or
Anathema
.
Klimt 1918
are a warm and embracing act of gothic/pop metal with dark wave undercurrents throughout their compositions. The music is simple and very 1980's new wave pop oriented, much like a darker, metal version of
The Cure
or
Depeche Mode
, blended with the gothic standards of
Katatonia
and
Opeth
. The soundscapes spread from noisy guitar sounds to sometimes Wave sounds like
Chameleons
combined with diversified drums and a solid performance.
Klimt 1918
are Marco Soellner (vocals/guitar), Alessandro Pace (guitar), Davide Pesola (bass) and Paolo Soellner (drums).
http://www.klimt1918.com/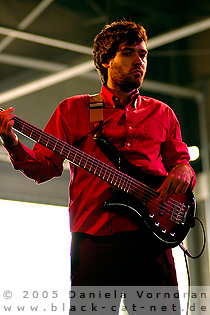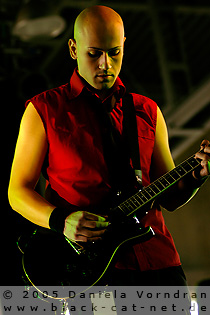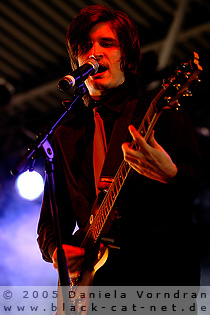 Osiris Taurus – Main Stage [DV]


Osiris Taurus'
music is a gripping synthesis of dark archaic sounds, strong rhythms, tribal drums and electro dance grooves. The bands instrumentation creates a connection between different epochs and cultures. In this endeavour the musicians make use of bagpipes, didgeridoos, flutes electric guitars and keyboards. Amira Hani's passionate singing along with Tassos Oz and Thoya's virtuously played instruments is delicately woven together with synthetic sounds to create a rich sound tapestry. Gihanna as second voice/descant complets the band line-up. The compositions draw on Celtic, Oriental, Australian and African influences.
http://www.osiris-taurus.de/
I must say that I wasn't impressed by their performance and music. The voices of singer Amira and Gihanna did not sound right and as they did not hit the notes. I don't know if it was due to bad sound or anything else. I guess it must have been the not right adjusted sound because Amira is usually doing alto. The hard guitar sounds did not really fit to the music. Later on it became a bit better as the back pipes were used. I am sure they had their fans there anyway.
Setlist

1. Intro/ Immortal Messenger
2. Second Sun
3. Ne me mori facias
4. Pontitfices Errant
5. Shamanic Dust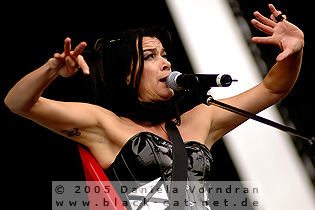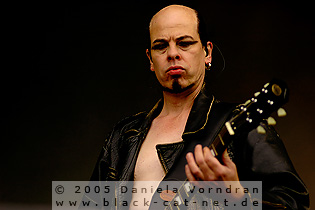 Qntal – Hangar [DV]


Michael Popp and Ernst Horn (
Deine Lakaien
) hat an idea in 1991 to combine mediaeval chants with electronic sounds. As singer only Syrah was considered who was known as leading interpreter of mediaeval music. So the trio has been founded. The name
Qntal
came from a dream Syrah had and is a word that does not exist in any language. The first album "Qntal 1" was released in autumn 1992. Especially the calm and melancholic songs impressed the listeners. After a few years it became harder for Ernst Horn to concentrate onto
Qntal
besides his work with
Deine Lakaien
. So it was time for find a replacement for him: Philipp Groth was taking over the part on the keyboards. The latest album is entitled "Qntal IV" and was released in 2005.
http://www.qntal.de/
Music

That wasn't the day for
Qntal
. They had a lot of technical problems and so the show started about 15 minutes later with Michael's words: "We're still not ready here. But we start now anyway. I hope it's ok for you." Huge applause was accompanying this statement. During the whole gig the problems continued and so you could partly only hear half of the instruments. But even though these problems they were a refreshment for the ears.


Performance
Qntal
were unfortunately set to perform in the "Hangar" which is famous for it's bad sound. And so the surrounding wasn't really fitting the music of
Qntal
. The metal surrounding did not have a nice effect to the calm show. But it was quite impressing how good and professional all the musicians were dealing with the bad conditions. So, the audience was satisfied anyway.


Setlist

1. All for One
2. Blac
3. Maiden in the Mor
4. Palästinalied
5. Amor Volat
6. Dulcis Amor
7. Flamma
Rating

Music 6
Performance 7
Sound 3
Light – no rating due to daylight
Total 6 (5.8)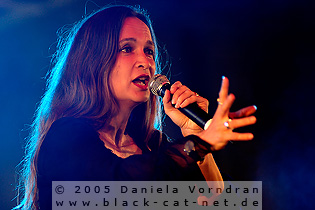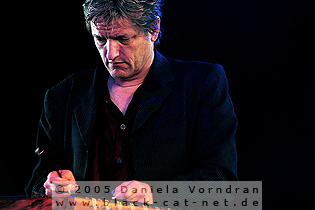 Limbogott – Main Stage [DV]


Limbogott
– what a band name. But not only the band name is quite strange but also the artist names of the band members. No idea how they came to something like that. Drugs? Crazy? Whatever. They are no newcomers… before
Limbogott
there were bands like
Catfoot
,
Rotten
Sunday
or
The Cave
where the band members gained experience. The debut album "One Minute Violence" was released in January 2005 at the label "Tiefdruck Musik" from Hamburg.
Limbogott
are Lard Mason (Voc/Prg/Synth), Limbosonic (Voc), Tim Machine (Guitar/Prg/Synth), Sprodd Kall (Guitar/Prg/Synth), TB Lemper (Prg/Synth) and H.P.Nixon (Drums).
http://www.limbogott.de/
Music

The band caught the audience from the very first chord. Harsh guitars and hard beats care for the right drive from the very beginning. Musically the band seems to be influenced by bands like
Nine Inch Nails
,
Marilyn Manson
or
Ministry
and they are mixing a bit
The Prodigy
into their sound as well. That's not revolutionary but makes fun and is very suitable to vent anger. They self call their sound "Post-Industrial-Violence-Metal" or "New Level Shit".
Performance

For their performance they love to paint their faces – not that covering like Black Metal bands and more for grinning than for frightening. Visually the two singers remind me a bit of
Slipknot
and
Korn
. The singers are also very vivid on stage, covering it from one end to the other and using the monitor speakers to stand on. The faces they make look even better in combination with the make-up. For me,
Limbogott
was the first real surprise of the day.
Setlist

01. Intro
02. Struggle
03. Rockstar dick
04. Interlude (one minute violence)
05. Stash
06. Slaves
07. Fuck inc.
08. Razormuschi
09. Interlude (mason squad)
10. Headlock
11. Slipper
12. Deep
Rating

Music 8
Performance 9
Sound 7
Light – no rating due to daylight
Total 8 (8.2)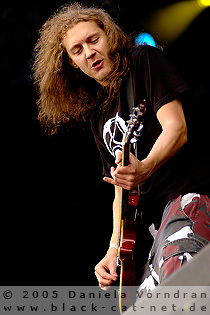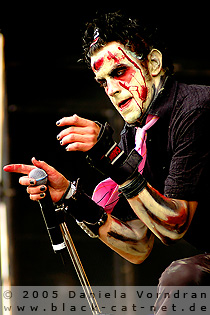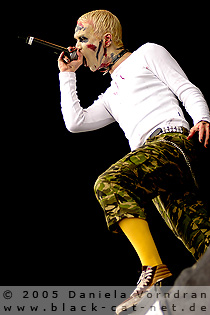 Potentia Animi – Hangar [DV]


Potentia Animi
are a mediaeval band with some humour. They were entering the stage dressed as monks in black cowls and wearing funny masks. The fraternity consists of five monks: Bruder Liebe, Bruder Nachtfraß, Bruder Schaft, Bruder Moeh and Schlafes Bruder (Bruder = brother).
Potentia Animi
is translated as "power of soul". And there brothers have soul. They come as monks but if you think you'll listen to Gregorian chants you're wrong. Mediaeval sounds are combined with waggish lyrics. So with all these elements, the performance becomes good and funny entertainment. The chants are sometimes powerful, sometimes soulful, but always with some waggishness.
http://www.potentia-animi.de/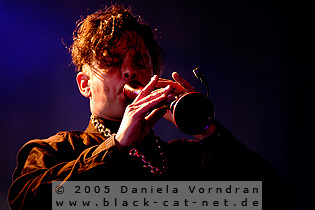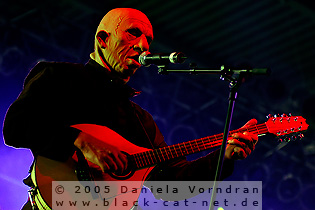 Negative – Main Stage [NK]


Some necessary facts about
Negative
: The band started as three pieces during 1997 in Tampere, Finland. Current line-up: Jonne Aaron (vocals), Larry (guitar), Christus (guitar), Antti (bass), Jay (drums) and Snack (keyboards).
Negative's
debut single "The Moment of Our Love" and first album "War of Love" has sold gold in Finland. "War of Love" was also been released in Scandinavia, Italy, Russia and Japan. The band has already played huge amount of shows in Finland and the band has performed in Japan as well. The first single "Frozen to Lose It All" from
Negative's
second album went straight to number one in the official Finnish charts. The second album "Sweet & Deceitful" was released in Germany in May 2005.
http://www.gbfam.com/negative/eng/news.php
Music

I have seen
Negative
at the Bochum Total Festival in July before, where they played their first German gig. These guys look like as they have just arrived back from the 80's and play melodic rock music. In Hildesheim they should be the first band I could see of the festival. A guy dressed like "Joker" from the Batman movie came on stage and introduced "Fucking
Negative
". When they entered the stage, I was wondering if they had toured for months, because they looked absolutely tired. Maybe they had just celebrated the night through before who knows… Nevertheless they started their rock show with power. The sound at festivals isn't always the best and at the beginning the band was louder then singer Jonne. But his great voice was coming through soon.
Performance

Unfortunately he looked a bit bored. But he was posing, shaking his ass, putting the microphone in his trousers, rolled over the ground and I'm sure the result were many, many screaming girls in the first rows. If there was somebody who didn't know them before, I guess at least their last song of the show, the big hit "Moment of Our Love", has been heard by everyone before. Even it was still very bright outside, the light show started to work because they used a lot of smoke from the back to reflect the colours of light. In September
Negative
will be back in Germany for a headliner club tour. Let's see if we can make it there too.
Setlist

1. LA Feeding Fire
2. In My Heaven
3. Locked In The Darkside
4. My My/Hey Hey
5. Neverending Parade
6. Frozen To Lose It All
7. Until You're Mine
8. Moment Of Our Love
Rating

Music 8
Performance 8
Sound 6
Light 7
Total 8 (7.6)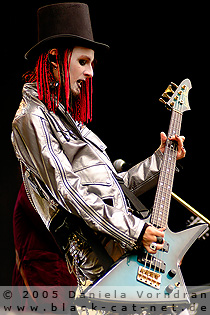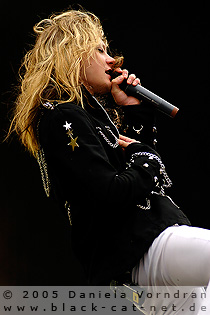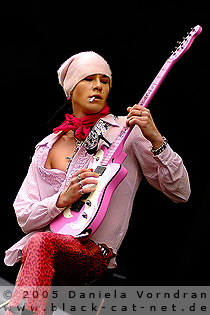 Leaves´ Eyes – Hangar [DV]


After Liv Kristine Espenæs (
Theatre of Tragedy
) and Alexander Krull (
Atrocity
) married in the year 2003, this union spilled over into a creative force with the announcement of a brand new band
Leaves´ Eyes
which was founded together with the members of
Atrocity
. The music of
Leaves´ Eyes
is based on the wonderful voice of Liv and beautiful melodic arrangements while the atmospheric songs are based on a lyrical concept in which a fascinating and mystical love story is told.
Leaves' Eyes
are: Liv Kristine Espenæs Krull (Vocals), Mathias Röderer (Guitar), Thorsten Bauer (Guitar), Chris Lukhaup (Bass), Moritz Neuner (Drums/Percussion) and Alexander Krull (Vocals, Programming).
http://
www.leaveseyes.de
/
Music

The band around the Norwegian singer Liv Kristine knows how to create intense and from time to time charming moods. Clear angelic chant is combined with stoic metal sound. Liv´s chant and the grunts of Alex alternate or sound together.


Performance

Even though Liv is the restraining part on stage, the performance is a true metal performance with grunts and head banging. Liv has her own charm and even the strong presence of Alex on stage cannot reduce it. The bad guy against the elfin. A wonderful gig ended with the single "Elegy".

Setlist

1. Intro
2. Norwegian Lovesong
3. Farewell Proud Men
4. Ocean's Way
5. Into your Light
6. The Thorn
7. Leaves' Eyes
8. Solemn Sea
9. Elegy
Rating

Music 8
Performance 7
Sound 6
Light 6
Total 7 (7.1)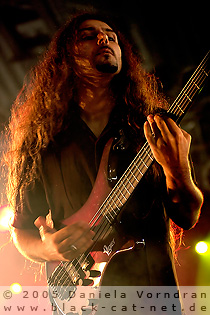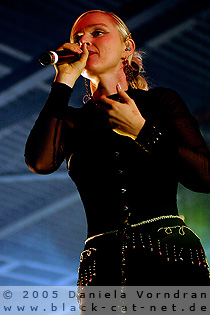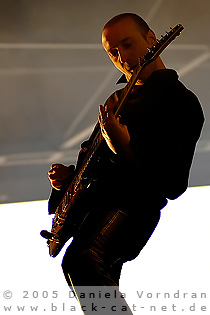 Autumn – Main Stage [DV]


Right after
Leaves´ Eyes
, or better said overlapping with them, there was time for more Metal with female voice on the main stage. Perhaps not really Metal, but something between metal and Gothic Rock. But
Autumn
are a bit different than the band before because Nienke´s voice is not that angelic but seems to me much stronger than Liv´s. With the recent album "Summer's End", the energy the band releases on stage has now been captured on CD as well. Songs are based on rhythm, string riffs and grooves. With the new album they don't abide by any boundaries between the genres. So it even contains elements of folk, nu-metal, classic and even pop.
Autumn
are Nienke de Jong (vocals), Meindert Sterk (bass & vocals), Jan Munnik (keyboards), Jan Grijpstra (drums), Mats van der Valk (guitar & flute) and Jens van der Valk (guitar & backing vocals).
http://www.autumn-band.com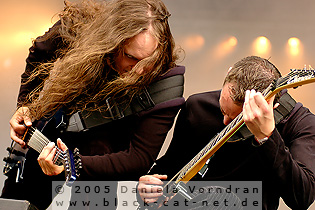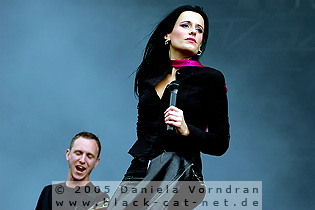 Atrocity – Hangar [DV]


Atrocity
played right after
Leaves´ Eyes
in the Hangar. So there were the same people on stage only with changed roles: Alexander was doing the lead vocals while Liv stood more in the back doing the backing vocals. But in fact
Atrocity
are much harder than
Leaves´ Eyes
presenting something between Death and Gothic Metal. The music was louder and harder, Alex was head banging like crazy behind his strange formed microphone stand while grunting into the mic.
Atrocity
were finally the last non-Electro band in the hangar that evening. The band consists of Alexander Krull (vocals), Thorsten Bauer (guitar), Mathias Röderer (guitar), Christian Lukhaup (bass) and Moritz Neuner (drums & percussion).
http://www.atrocity.de/
Setlist

1. Intro
2. Reich of Phenomena
3. Enigma
4. The Great Commandment (Camouflage Cover)
5. Seasons in Black
6. B.L.U.T.
7. Cold Black Days
8. Shout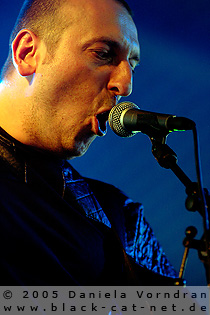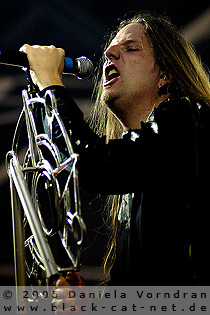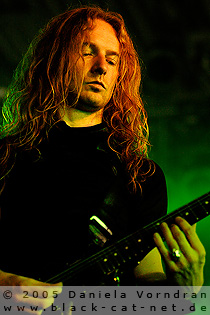 NFD – Main Stage [JU]
NFD
is a name that many people are still not familiar with. Nevertheless at least three of the five guys behind
NFD
, Peter 'Bob' White (voc, guit), Simon Rippin (dr) & Tony Pettit (bass), have a long history as members of some of the most legendary UK Goth/Rock outlets of the last 20 years! Tony Pettitt was a founder-member of the legendary Goth outfit
Fields of the Nephilim
. Simon Rippin had been a member of the Goth Rock band
The Nefilim
and also performed alongside Tony with
Fields of the Nephilim
on a Festival tour of Europe in 2000. Bob White meanwhile had been playing together with Simon in London based band
Sensorium
. The quintet is being completed by Stephen Carey (guit) and Chris Milden (guit). After a few demos and songs on compilations, an EP and the debut album "No Love Lost",
NFD
are now ready to record their second longplayer in autumn.
http://www.nfd.web.com/
Music
NFD
combine the darkness of their most obvious influence,
Fields of the Nephilim
, and similar acts like The
Sisters of Mercy
with Metal-ish heavy guitars and influences from Industrial Metal. People who expect a copy of the late
Fields of the Nephilim
because people from that band are involved in
NFD
might be a bit disappointed but luckily
NFD
have built up their own identity.
Performance

More guitar-driven than in their studio works,
NFD
did a nice performance. Their gig suffered a bit from the fact that they had to play in the afternoon during sunlight (guess darkness suits them better) and that most people came to see them because of the
Fields of the Nephilim
reference and not because they were familiar with
NFD
´s own work. Anyway,
NFD
are professionals who know to put on a good show. They threw in some
Fields
-stuff to keep up the interest and made a strong impression with their own songs. Maybe their performance was a bit too much Metal for a festival that is pretty much Goth orientated; but for a band that is basically a newcomer, despite the fact that its members look back on a long career in other bands, its been a very well received gig. It will be a long and hard road full of touring for
NFD
if they want to come anywhere near
Fields
success wise but it struck me that
NFD
gathered more fans with band shirts and so on compared to last year's gig at the Zillo Open Air. And last but not least, cheers for vocalist Peter White for doing a good job in getting the audience involved.
Rating

Music 6
Performance 8
Sound 7
Light 3
Total 6 (6.3)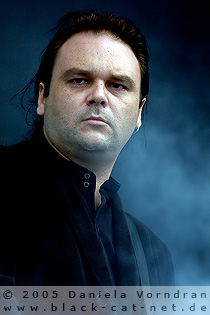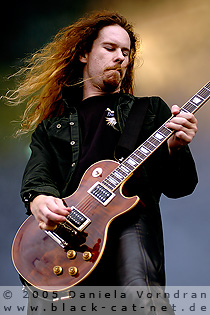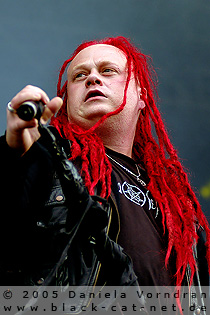 [SITD] – Hangar [JU]

There are not many bands in the recent Electro genre who can look back on such a short but successful career like
[:SITD:]
, in their early years also known as
Shadows in the Dark
. It all started in 2002 with the "Snuff EP" which included the smash hit "Snuff Machinery". The strongest qualities of
[:SITD:]
aka Carsten Jacek (voc), Tom Lesczenski (keys, programming, 2nd voice) and live-keyboarder Francesco D`Angelo seem to be cub-a-bility and an excellent reputation as a live act. All of their releases managed to climb up to the top of many many club charts around the world, especially in their home country Germany where their debut album stayed on number one of the DAC (Deutsche Alternative Charts = German Alternative Charts) for impressive five weeks. And they proved their entertaining quality through longsome touring and numerous festival gigs. 2005 saw the release of their second album called "Coded Message: 12" which developed the band's sound further and introduced more German languaged titles than before.
http://www.sitd.de/
Music
[:SITD:]
are straight into the face! They combine dark pondering beats with electronic wizardry and never forget to include a nice hook and catchiness. This is Electronic Body Music of the new century and perfect club fodder. Their lyrics though are evidence that
[:SITD:]
is not a mere dance act, they often touch upon social or rather psychological issues. First of all, the acoustics in the Hangar (second stage) at the M´era Luna are more than infamous. A muddy sound is all you can expect when you are more in the back though it's admittedly better when you're more in the front (that is, closer to the speakers).
[:SITD:]
proved their live qualities many many times but this years gig at the M´era Luna not only from the bad acoustics of the location but also from huge technical problems. To be fair, it wasn't the bands fault at all! And it was quite impressive how confident the band handled all the problems – with some tongue in cheek humour, as usual for this band.
Performance
[:SITD:]
live is all about having some fun, and the fans didn't want to let the technical problems spoil their fun, too. Several times the sound broke down but nevertheless everyone didn't stop to have a good time. Musically it was my least favourite
[:SITD:]
gig out of the 5 or 6 times I saw the band simply because of the circumstances but seeing so many people in high spirits made it up for it though. The Hangar was by the way really packed, actually more than during the gigs of some bands that played later on – another sign of
[:SITD:]`s
live reputation and ever-growing fan base. At the end of their show
[:SITD:]
had a nice surprise for everyone: Ronan Harris, mastermind of
VNV Nation
, joined Tom, Francesco and Carsten on stage to perform the
[:SITD:]
remix of
VNV Nation's
latest single, Chrome! This was unexpected, and every one knows what Mr. Harris can do to massive crowd – it felt like the roof was on fire!
Setlist

1. Wegweiser
2. Brand of Cain
3. Richtfest
4. Laughingstock
5. Relief
6. Lebensborn
7. Snuff Machinery
8. Chrome (VNV Nation Cover - SITD-Remix together with Ronan Harris of VNV Nation)
Rating

Music 7
Performance 8
Sound 4
Light 5
Total 7 (6.6)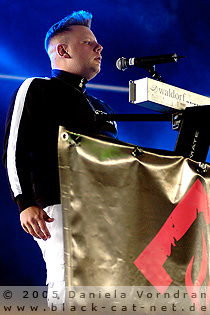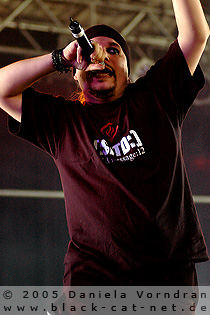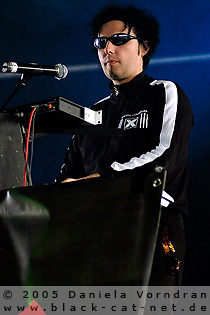 The Crüxshadows – Main Stage [NK]
One of the most popular Dark Wave bands on the planet,
The Crüxshadows
, started in the early 1990's in a little town in North Florida. Numerous line-up changes over the years have not slowed them down. Members and former members include: Rogue (vocals, song writing, programming, lyrics, keyboards, front man), Rachel McDonnell (violin and keyboards), George Bikos (guitar player), Chris Brantley (former Keyboards), Stacey Campbell (former guitar player), Sean Flanagan (former keyboard player), Tim Curry (former guitar player), Trevor Brown (former & current keyboard player- go figure?), and Kevin Page (former guitar player).
http://www.cruxshadows.com/
Music
When you have seen
The Crüxshadows
before, you know you will see a great show. Because they always play with joy and passion and you can feel that they really enjoy what they are doing. Singer Rogue started with a spoken intro "Annabel Lee" in the middle of the crowd and walked through the people on stage. The two dancers had chosen a new outfit for this performance and looked sexy as always. When Rogue was on stage they started with their latest single "Forever Last". Rachel, the female violin player, is one of the eye catchers of the show looking very pretty. She and her violin are one – she is playing so wonderful and it gives their music a special touch.
Performance
One important thing what makes them different they include the fans in the show. Rogue can't stand still on stage, he is always in move. He is walking from one side to the other, he is climbing at the stage trestle or he just goes back into the crowd, shaking hands and looking for the direct contact to the fans. During the song "Deception" he was dancing with the fans, while Rachel was playing her violin solo. You can't imagine a
The Crüxshadows
show without the great "Marilyn (my bitterness)" which they played as their last song. The fans just love this song and it will also always be my favourite song I guess. The crowd was jumping and singing and it was clear that this show was much too short.
Setlist
1. Annabel Lee
2. Forever Last
3. Tears
4. Deception
5. The Edge of the World
6. Return
7. Citadel
8. Winter born
9. Marilyn (my Bitterness)
Rating
Music 8
Performance 9
Sound 7
Light 6
Total 8 (7.9)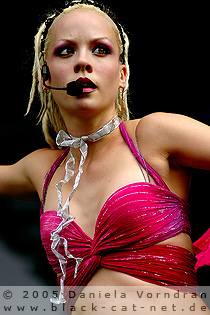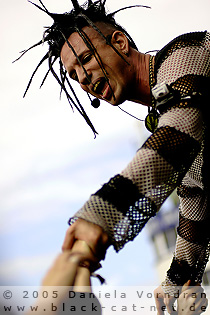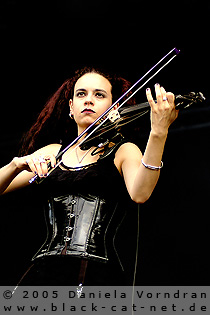 The Neon Judgement – Hangar [JU]

Another one of the old heroes of the 1980s Electronic Body Music scene:
The Neon Judgement
! It was a pleasure to see their name on the bill of the M´era Luna line-up. Together with
Trisomie 21
,
The Klinik
(both performing on Sunday) and the legend
Skinny Puppy
a quartet that attracted many old fans of the classic EBM. Of course we looked forward to see if
The Neon Judgement
are able to testify their reputation live on stage.
http://neon.grmbl.com/TNJ
Music

Since the early eighties, the two Belgians TB Frank and Dirk Da Davo have been the creative forces that have made
The Neon Judgement
a household name in circles where musical narrow-mindedness is not considered a bonus. In the 1980s it was
The Neon Judgement
who combined dark electronics with influences from New Wave and Post Punk. Especially their early releases display a Lo-Fi sound that has its certain charm. "TV Treated" is the most memorable song from that period. In 1988 the "This Is Electronic Body Music" compilation caused a stir, and of course it featured
The Neon Judgement
with "Chinese Black", their most popular song.
Performance
The Neon Judgement
have some great tunes but one thing must be stated: They are boring to watch live. There were just two men in their late forties standing on stage and playing their instruments. Hm, not quite the most spectacular sight I have seen on a concert stage! But one could argue that it's the music which counts. And the music was like a trip into past and nevertheless quite exciting!
The Neon Judgements
sound is hardly what is considered to be "EBM" these days but especially with songs like "Factory Walk" and "TV Treated" it became clear where this genre has some of its roots. The setlist concentrated on the first period of the band with all the classics, although
The Neon Judgement
released a fistful of CDs during the 1990s too (which were indeed rather mediocre, to be honest).
The Neon Judgement
attracted a good crowd but the Hangar of the M´era Luna was far from being as crowded as when younger acts like
[:SITD:]
or
Flesh Field
played there.
Setlist

01. Nion Nion
02. I wish I could
03. Tomorrow in the papers
04. Miss Brown
05. Too cold to breathe
06. Chinese Black
07. Fashion Party
08. TV Treated
09. Factory Walk
10. Concrete 1 - 'NY stoney'
11. Concrete 2 -'Feels so strong'
Rating

Music 7
Performance 4
Sound 5
Light 5
Total 6 (5.5)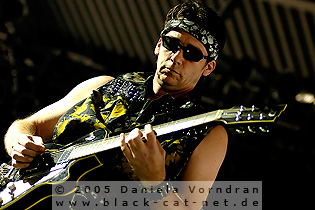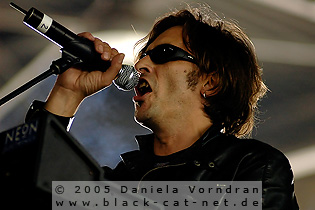 The 69 Eyes – Main Stage [DV]
Mainly at the same time
The Neon Judgement
were playing in the Hangar, the "Helsinki Vampires" entered the main stage. And again it was time for fulfilling the perfect Gothic Rock clichés. The horror flavoured Glam-Rock band was founded several years ago in 1990 and released their latest album "Devils" in Autumn 2004. The 69 Eyes are Jyrki 69 (vocals), Timo-Timo (guitar), Bazie (Guitar), Jussi 69 (drums) and Archzie (bass).
http://69eyes.poko.fi/
Like we knew it from their tour, they started with "Devils" and so you got the right impression about their music from the very start. Jyrki has a charismatic voice indeed. But more to mention is his attitude posing for the audience and throwing away the microphone stand several times. To underline is also the performance of Jussi behind his drums which is very wild and passionate. The presented set contained all the hits. So the audience could rock to "Gothic Girl" (where to play this song if not here?), "Lost Boys" or "Brandon Lee". Once again I had unfortunately only time for a few songs before I had to run back to the hangar where the next band was waiting.
Setlist
01. Devils
02. Crashing High
03. The Chair
04. Don't Turn Your Back.....
05. Gothic Girl
06. Feel Berlin
07. Sister of Charity
08. Framed in Blood
09. Dance D´amour
10. Lost Boys
11. Brandon Lee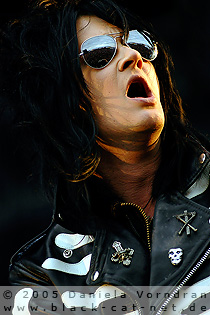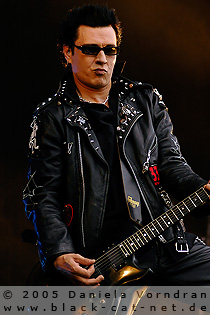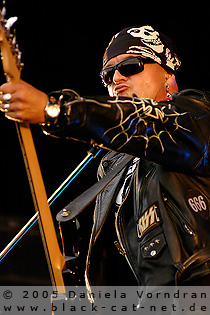 CombiChrist – Hangar [DV]
In Summer 2003,
Icon of Coil
front man Andy LaPlegua brought you his new electro / industrial project called
CombiChrist
. In February 2005, the second full-length album "Everybody Hates You" was not only released by Out Of Line, but USA's Metropolis Records as well. This new hard-hitting album takes you in a new direction: TBM | Techno Body Music: A journey through hell and high water, through the eyes of a serial killer, sex, violence and plenty of Jack Daniels on ice.
http://www.combichrist.com/
MusicCombiChrist
were hard, really hard. They started the show with "This shit will fuck you up" where the audience joined into the refrain during the beat breaks and shouted out "This shit will fuck you up". Combining Electronic Body Music with Techno sounds, they created something new in the field of Industrial Music. From the very beginning it was sure that people were here to dance. And first time today the sound was ok and no technical problems occurred.
Performance
The three guys on stage looked quite scary with their painted faces. While the keyboarders only had black marks in their face, Andy painted it white with black and some artificial blood. The scary look was copied from some people in the audience; so you could see one keeping up a bloodied chain saw. Later on there came two female dancers on stage… first time I saw that with
CombiChrist
. The light show underlined the hard sound; a lot of strobe effects and smoke were used. Highlight of the show was probably when Mark Jackson (
VNV Nation
; he watched at the show a while before) and Johan van Roy (Suicide Commando) entered the stage to perform the song "Like to thank my buddies" together.
Rating
Music 8
Performance 9
Sound 7
Light 7
Total 8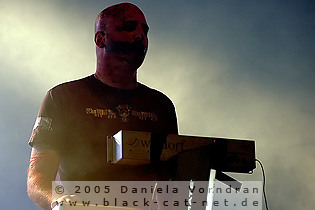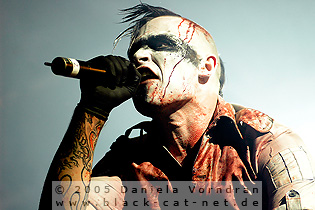 Mesh – Hangar [NK]

Mesh
are Mark Hockings, Neil Taylor and Richard Silverthorn from Bristol (England). The trademark of the band is a huge variety of sound which they create with synthesizers in combination with acoustic instruments.
http://www.mesh.co.uk/
Music
They don't look like a typical Synth-Pop band. If you would guess their music just because of their clothes; I'm sure many people would say Rap or Hip Hop. Totally wrong! Once again they played a setlist full of their wonderful, melodic and somehow romantic synth songs. The biggest surprise was the song "Waves", which they don't play very often. They produced this song years ago with
Mark Oh
. Yes,
Mark Oh
, one of Germany's famous and successful techno songwriters in the 90's. Thanks god
Mesh
didn't release any techno song.
Performance
For their show they used a big screen on stage, where you could see scenes from their videos. Many people were reminded by this of a
Depeche Mode
show and all I can do is to repeat Steve Naghavi from
And One
, who once said: Aren't we all
Depeche Mode
fans?!
Mesh
played two new songs of their forthcoming yet untitled album: "Step By Step" and "Open Up The Ground". If we can believe Mark's words, it will be released still this year. We will be waiting!!!
Setlist
01. "Firefly"-Intro
02. From this height
03. Trust you
04. Little Missile
05. The trouble we're in
06. Not prepared
07. My saddest day
08. Step by Step
09. Friends like these
10. Waves
11. Open up the ground
12. Scares me
13. Leave you nothing
Rating
Music 8
Performance 8
Sound 6
Light 7
Total 8 (7.6)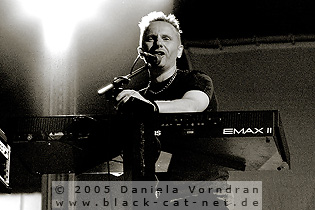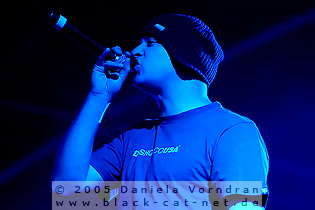 VNV Nation – Main Stage [JU]
Ronan Harris and Mark Jackson aka
VNV Nation
are one of the most successful bands of modern electronic music. "Matter & Form", their most recent album released earlier this year, entered sales charts and club charts likewise. Of course
VNV Nation
were one of the main acts at the M´era Luna festival and co-headlined the Saturday night together with Canadian Industrial legend
Skinny Puppy
.
http://www.vnvnation.com/
Music

Actually you don't have to introduce the music of
VNV Nation
. Anyone with the slightest interest in Electro & Goth knows their hits like "Darkangel", "Epicentre", "Honour"; "Standing" and many more.
VNV Nation
have been often criticised for using the same patterns and schemes in their songs again and again. Apart from the fact this accuse applies, at best, only to their well-known club hits and not to all of their material,
VNV
really managed to break in to new territory with their new album "Matter & Form". The first single off this album, "Chrome", is the best example for this with its sampled guitars and very rough approach. What has always attracted me most about
VNV Nation
are the excellent and very thoughtful lyrics – I'm quite surprised that their lyrics do not get more attention and critical acclaim as they are the best among the Electro genre – and the live presence of the charismatic Ronan Harris.
Performance

When you meet Mr. Harris in persona he is like the guy next door, a very friendly and humorous little Irishman with an infamous little pooch, someone you would like to take to the next pub to have a few beers. But just put this man on a stage! If you like
VNV´s
music or not, you will have to admit that this man is full of passion, power and charisma. And very entertaining, last but not least due to his sense of humour and (self-) irony which crops up every now and then during
VNV´s
shows. But
VNV Nation
have also more serious matters and attitudes they like to transport with their music – which became quite clear when during the intro of their show a big "I Hate War" flaunted on all screens on stage.
Since the start of the Formation 2005 tour, the tour which goes along with the release of the album "Matter & Form", there is one new element in the
VNV
live show, or rather two new elements: the use of two extra live keyboarders – Kolja Trelle aka Soman (who also did support
VNV
on their tour) and Vasi from the no more existing band
NamNamBulu
! This really enhances
VNV Nations
live show, while on their previous shows they always performed twosome, with Mark doing drums and percussion and Ronan running around on stage and singing. The intro was followed by a surprising "Honour 2003" in its F.D.R. version and a good mix of old and new hits. So, business as usual in this regard but a
VNV
show at a Saturday night in front of huge crowd is not the normal routine but great fun!
Setlist
01. Matter & Form Intro
02. Honour 2003
03. Epicentre
04. Chrome
05. Entropy
06. Legion
07. Standing
08. Homeward
09. Joy
10. Dark Angel
11. Perpetual
-----
12. Beloved
13. Electronaut
Rating
Music 7
Performance 8
Sound 8
Light 8
Total 8 (7.6)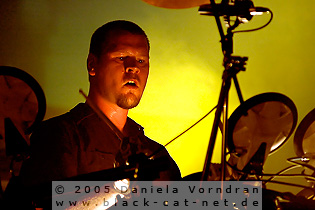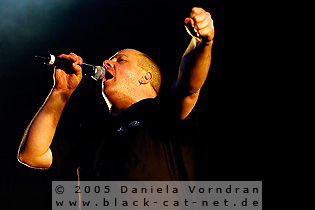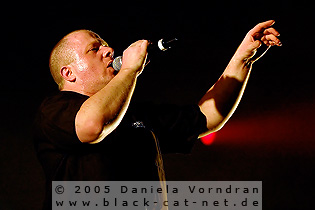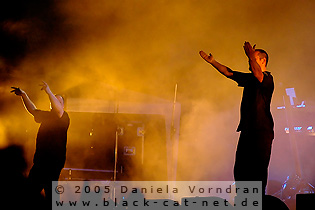 Skinny Puppy – Main Stage [JU]

This band is a legend and deservedly headlined the Saturday night at this year's M´era Luna festival. Full stop. Even though most of the youngsters at an occasion like M´era Luna may be not too familiar with the Canadian outlet's music and even though the days when songs like "Assimilate" or "Smothered Hope" were massive club hits among the Goth/EBM scene just as today
VNV Nation's
"Epicentre" or
Das Ich´s
"Destillat" for example.
Skinny Puppy
were in many ways the most important band of the whole weekend.
http://www.skinnypuppy.com/
Music

One might have a hard time to describe
Skinny Puppy's
music but fortunately there's no need to describe their sound. Either you already have an idea or you should rush to your local record dealer to buy some stuff. Since their foundation in the early 1980s,
Skinny Puppy
managed to become one of the most influential bands of EBM and Industrial, the scene which they are mostly associated with, and in the whole genre of electronic music for many people their name is up there with the likes of
Kraftwerk
,
Tangerine Dream
, or
Throbbing Gristle
.
Skinny Puppy's
early releases from 1984s "Remission" to 1987s "Cleanse Fold And Manipulate" were groundbreaking, and with 1988s "VIVIsect VI"
Skinny Puppy
even managed to invade yet another musical dimension. Many younger bands tried to reproduce and emulate the sound of early
Skinny Puppy
but most of them obviously did not understand
Skinny Puppy's
attitude towards music. The music of Cevin Key (key, dr, guit), Dwayne Goettel (keys – R.I.P.) and vocalist Nivek Ogre is harsh and dark, but not for its own sake.
Skinny Puppy
is about exploring new musical ground and breaking rules – even those which were set up by them selves, as they evidenced once again with last year's album "The Greater Wrong of The Right". This was the first release since 1996s "The Process"-album and since the tragic death of Dwayne Goettel and the first since the surprising and unexpected comeback show of
Skinny Puppy
in 2000.
Skinny Puppy
do not have only a musical attitude but also transport political and social attitudes through their lyrics and music. The band has engaged in animal rights affairs, made political statements through their music (most clearly with their latest album) and always wanted to explore the darker sides of society and human psyche.
Skinny Puppy
live has a reputation as a very intense and challenging experience, last but not least due to the fact that they enforce the atmosphere of their music by impressive and sometimes shocking visuals and effects. And after all, they have one of the best front man around, Nivek Ogre.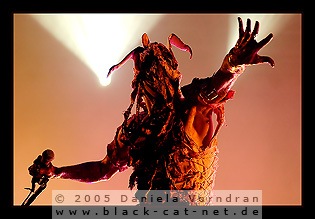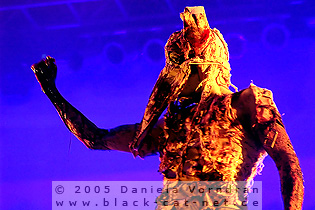 Performance

Compared to their shows 2004 and especially 2000,
Skinny Puppy
offered this year a rather reduced show, at least for their own measures. There was one big but simple video screen and only a few extras on stage besides the drum kit and Cevin Key's huge tower of synths and computers. The
Skinny Puppy
2005 show started with a shortened, instrumental version of "Rain", a track off the album "Rabies" (1989), with infixed excerpts of a speech by George W. Bush - a good sign where the following trip was going. In the past,
Skinny Puppy
often shocked with videos of tortured animals to open people's eyes about the issue of animal experiments and animal rights. Since last years album "The Greater Wrong Of The Right" their message, and show, is more political. Well, they don't quite like the present US government and its president, to say the least.
The atmosphere was pretty intense from the start. The fans, some of them travelled from all over Europe to see
"Skuppy"
, were thrilled when singer Ogre entered the stage with his birdlike mask (by they way inspired by historic masks which people who were infected with pestilence, the Black Death, in 14th century). With "Tormentor" they performed another pretty old track, followed by the only two songs off their 2004 album. Despite that there were less visuals and effects than on the last tours (but still more than most other bands have) the show was awe-inspiring. The reduced show gave Ogre more space to evolve and display his abilities as a front man and, if I may say so, as an actor. His stage personality is immense and he perfectly embodies the songs. "Gods Gift (Maggot)" introduced the usage of fake blood on stage and it wasn't the last time that Ogre covered himself (and the first rows as well as the photographers in the pit) with strange material. ;-) All in all
Skinny Puppy
played songs that concentrated on Material from "Rabies" and "Too Dark Park" and the harsher, noisy songs. Unfortunately many casual fans and people who are not that familiar with the band's material left during the gig so it was less packed in the back; still approx. 10,000 people who watched the show! The sound was excellent and the show lights made up for the fact that a few songs were not accompanied by videos. For the final they seemed to make a concession to the fact that this was a festival – they played the classic "Smothered Hope", which hasn't been performed before on the European tour and which caused a furor among the audience.
Skinny Puppy
returned for a two-song encore featuring the rare "Rodent" and another one of their better-known singles, "Testure".
Setlist

01. Rain (intro)
02. Tormentor
03. I'mmortal
04. Pro-Test
05. Curcible
06. God's Gift (Maggot)
07. VX Gas Attack
08. Worlock
09. (Deep down) Trauma Hounds
10. Hexonxonx
11. Tin Omen
12. Spasmolytic
13. Hardset Head
14. Smothered Hope
----------------------------
15. Rodent
16. Testure
Rating

Music 10
Performance 10
Sound 10
Light 9
Total 10 (9.9)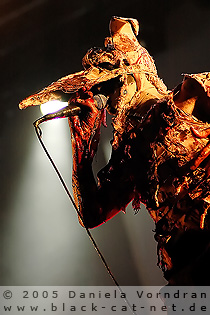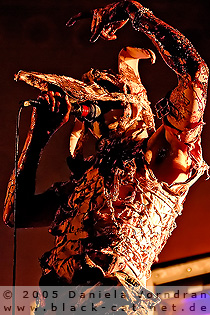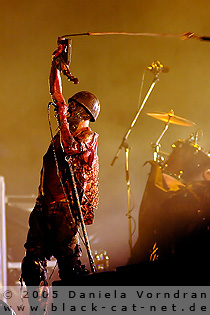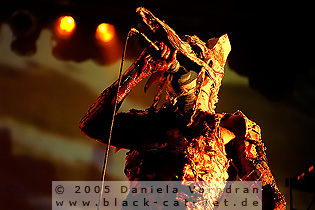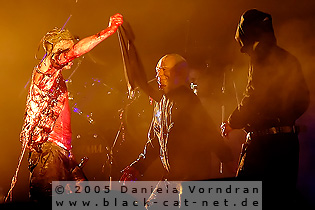 Reviews:
DV: Daniela Vorndran
JU: Jörg Uhlenbruch
NK: Nicole Kizina
Pictures:

Daniela Vorndran
We want to thank all the bands for their music and their support sending us setlists etc.
More pics on
Black-Cat-Net
To DAY 2
See also (all categories):