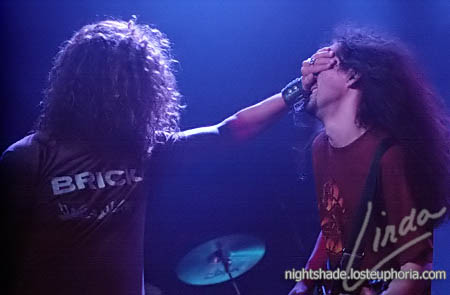 Summer Darkness, Utrecht, the Netherlands
August 14th 2005
Day 3: Syrian, Morning, Unter Null, Autumn, Crüxshadows, Asrai, Glis, Therion

The last day of this three day lgothic lifestyle event starts off for us with bands in Ekko, a small venue on the western side of the town's center, where the metal bands take their time to perform. At Tivoli de Helling, the side venue of the main Tivoli building the fans start entering the building for the cyber bands of this day. The weather seems nice when we start his day, a nice start after all the rain of the last few days. Finally all the make-up won't wash off all the time when moving to another venue.
Syrian (by EE)
We had to miss The Azoic on day 2 due to less fortunate planning of the time schedule, so we had no way of checking if Syrian was anything like them as the program told us. At least we know Syrian is playing future/electropop as we could see in the Helling which was only filled with a handful of people. Most of which were dancing to the melodious tunes of this duo, a nice quiet start to an afternoon with mainly electronic music.

Music
Syrian is as simple as bands can get; a singer and a guy behind the keys. The band makes synthpop music that is mainly carried by the keys played by Lorenzo (aka Voyager), while the vocals express the band's feelings and emotions about a variety of subjects. It is nice dance music and that's basically what the crowd is doing, vocals are nothing special and the synths just sound as they should do, but nothing special there, just plain dance music. The sound was well balanced, with the emphasis on the keys and the vocals floating between them. Not too loud, just a nice ambient sounds flying through the venue.

Performance
Don't throw away that old 70's training jacket, add some silver patches on it, wear a pair of PVC pants and you're halfway there. Complete your outfit with some cool modern sport sunglasses and put on your laser enriched glove, you should now look like the guys of Syrian. Although they tried to look good in their outfits, moving their heads from side to side while bobbing to the beat of the music, there is hardly anything that looks like a real performance. Both band members are rather static and except for the magical laser glove worn by singer Andy (aka Andylab) all the movement on stage has to come from the moving lights. Nothing serious though because after all the audience is dancing and not really paying attention to the stage.

Setlist
01. The Beginning of the End (intro)
02. Enforcer
03. No Atmosphere
04. Cosmic Gate (First Portal Version)
05. Vega Velocity
06. Empire of the Sands
07. Wasted Years
08. Space Overdrive
09. Now is Forever
10. She is the Dark
11. Future Storm

Rating
Music: 7
Performance: 6
Sound: 7
Light: 7
Total: 7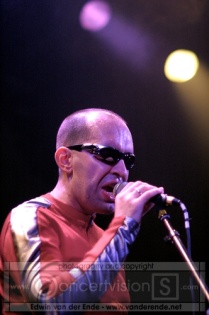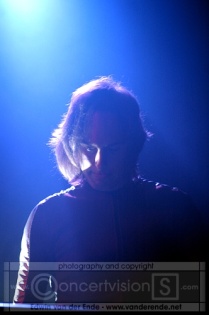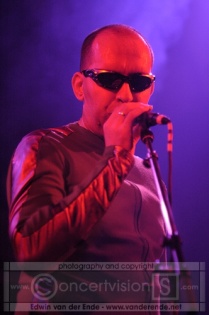 Morning
(by RG)
Morning had the honour of opening at Tivoli today. They have been founded 5 years ago and it seems they are ready for a break through now. In the autumn of this year their debut album 'Hour of Joy' will come out.

Music
Today Morning introduced us to many new songs of their upcoming album. In these new songs the keys seem to have a more prominent position. The reach of Saskia's voice can really differ, at times it just does not reach the audience while when she hits some raw notes it does for that sounds great. At one point during the show Saskia sung very soft while the band was playing some heavy tunes, this was a strong contrast. The sound during the performance was in balance although sometimes Saskia could have been tuned in a bit louder.

Performance
There was red front light during the entire performance; the rest of the lights behind this sea of red light hardly had any effect anymore. The band seems very concentrated, they probably want to leave a really good impression because of their upcoming album. Well not all are concentrated for Pol (bass) seems to be following a fly around, he does not seem to realise he is on a stage with people watching him. All in all they did seem to have fun, Saskia has a very warm smile and makes the rest of the guy laugh.

Rating
Music 7
Performance 7
Light 5
Sound 7
Total 7 (6,7)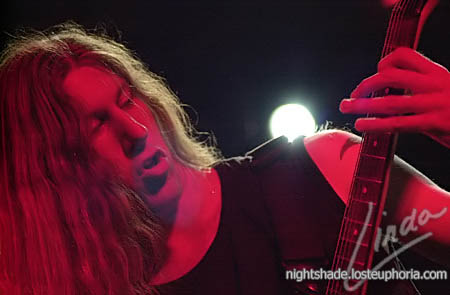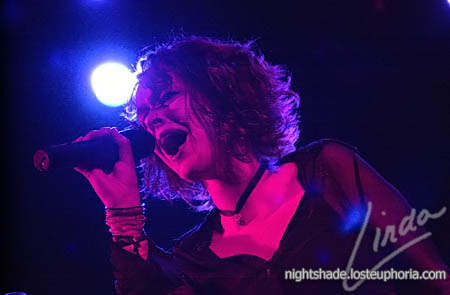 Unter Null (by EE)
On her website they wonder is Erica Dunham could have been the female version of the devil, and I can say she sure puts a lot of effort into behaving like one. She's angry, no pissed off, and she'll show it to the audience. Erica is claimed to have set the attack on the male-dominated world, is she actually having any success in achieving that?

Music
Ok, Erica is angry, and to express this, her voice is totally distorted and altered. Somehow she's trying to reach the same sound as Suicide Commando's Johan van Roy, both with her voice as well as her music. Is this to show us that women can sound as mean and bad as men do? Electronic gadgets to prove her right don't do it, this is nothing new, nothing original and nothing we need. The sound is harsh, loud and absolutely not nice to listen to. It's a bit of a mess once it reaches your ear. Too much information on the same wavelength means no sounds come out the way they should.

Performance
Scream and shout, walk around on stage like a furious madwoman wearing a skirt and top. Her hair is short and 'red' at least that's what it looks like stage lights. In the background we see a guy standing behind his keyboard but the amount of movements he makes during play makes it look like most of the sound is coming from the black box after all. With mainly red light on stage and some additional blue and white all the attention is focussed on Erica who is trying to intimidate the audience but seems to be unsuccessful. Maybe due to this she decides to go off stage after only 30 mins, thank you we love you thank you goodbye... not!

Rating
Music: 5
Performance: 3
Sound: 5
Light: 6
Total: 4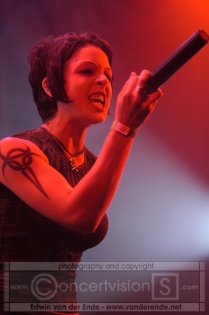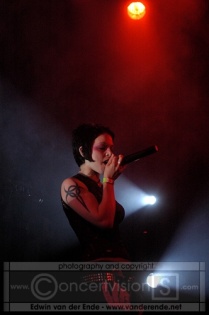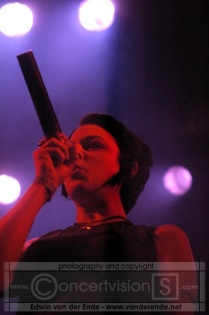 Autumn
(by RG)
I have seen Autumn many times before and they usually did not convince me until the last two performances I saw. Suddenly I seemed the have gotten what everybody was so enthusiastic about so today I was also looking forward to seeing them.

Music
From the first song on the audience was taken along with Autumn on their journey. Especially 'silent madness' was very powerful, it seemed as though Nienke was singing right from the depths of her soul. She announced that she sung without in-ears , well maybe she should do that more often for she sounded powerful. Meindert provided some deep dark grunts. Apart from a squeak here and there the sounds was good although just as with Morning the vocals could have been tuned in a bit louder.

Performance
Just like her singing Nienke was powerful in her performance, here movements were full of spice and agression. She had leather pants on with a black blouse and a pink tie. The rest of the band seemed to have a good time too. But tonight they were just support for Nienke for she ruled the stage. Unfortunately the colour of her tie was lost in the constant red front light. Luckily sometimes spots were used to light Nienke and Meindert.
Rating
Music 7
Performance 7
Light 6
Sound 7
Total 7 (6,9)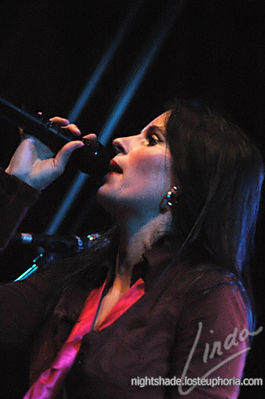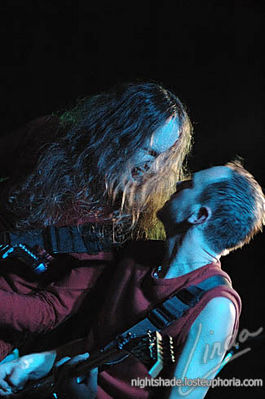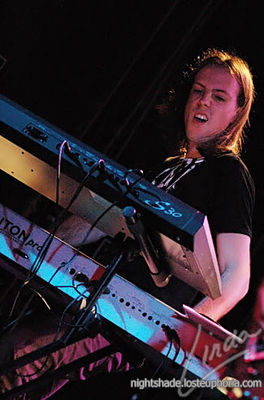 Crüxshadows
(by EE)
The venue filled up quickly when it was about time for the Crüxshadows to hit the stage. This band is popular and this show proved why. The band has a long history and quite a bit of records, their last release is a dvd/cd called 'Shadowbox' which holds a full concert recording and music videos including the one where singer Rogue is singing with the Dutch gothic band The Dreamside that played at Summer Darkness on Friday. The very popular darkwave band slowly enters the stage, there is still no sign of Rogue when the music starts…

Music
The concert kicks of with the Edgar Allen Poe poem Annabel Lee which is performed by Rogue while moving around in the audience, just halfway down the song he climbs on stage to the surprise of many who didn't see him yet. During the next song all of the band starts to break loose, with Rachel McDonnell on violin, George Bikos on guitar, Trevor Brown on keys, Rogue is surrounded by very capable people who provide the vibrant music that goes with his voice, vocals are further enriched by 2 backing vocalists Jessica and Sarah who also do quite a bit of dancing. The setlist is mainly a cross section of their work and gets the audience in a celebrating mood. Sound levels during the show were good, the vocals of Rogue were very clear and the violin got the attention it needed in their music. Just the backing vocals were kind of hard to hear, nothing serious though.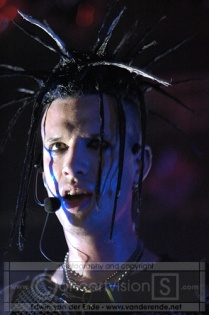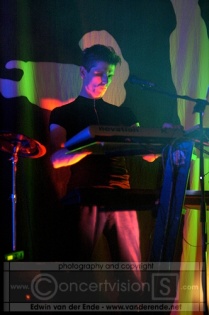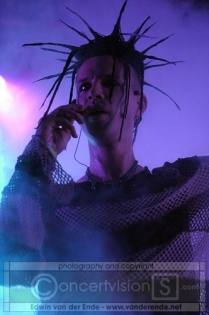 Performance
This is where the band excels, it's the whole concept they have in mind that makes it special. Rogue is all over the place trying to make close personal contact with his fans. With his headset mic he's able to move around on stage dancing with big arm movements or get up close and personal with any of the fans in the front row while kneeled down on stage. Not forgetting the rest of the audience he jumps off stage 3 times to walk around the audience and even dancing with one of the fans while singing his song. The fact that he took a stool and placed it in the middle of the audience to stand on it and sing only added to the intimate feel of the show. The small stage didn't provide enough room for the entire band to move around, the dancers were forced to stay at the sides and only Rachel could move forward with her violin at times. The band use innovative LED panels to light the band from the sides which produced a high power floodlight that could change colours rapidly. Further the band used some handheld touches with which Rogue and both dancers used to do a sort of 'light sabre' dance. The rest of the light was a mix of various colours while the moving heads in the back provided some extra animation to the already extremely lively performance. When the band had finished their concert Rogue just couldn't leave, sticking around with his fans till long after the next band had started.

Setlist
00. Annabelle Lee (Edgar Allen Poe poem)
01. Forever-last
02. Tears
03. Deception
04. Eurydice (Don't Follow)
05. The Edge of the World
06. Return (Coming Home)
07. Citadel
08. Winterborn


Rating
Music: 9
Performance: 10
Sound: 8
Light: 8
Total: 9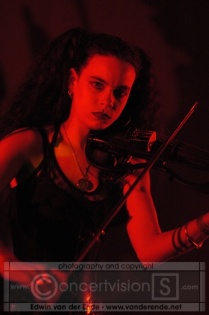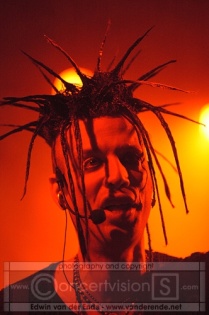 Asrai (by Linda Aarts)
Asrai is a band which has been living for a while already. Since 1988 the band exists, but not in the current line-up. Their second full length album, 'Touch in the Dark' was recorded last year. I have to admit I'm not really familiar with their music because it's not really my genre, but I was curious about Asrai. I've seen them only once a long time ago and besides the singer Margriet I didn't think the rest had much of stage performing in them.


Music
The sound was better than with the previous bands, but the exceptional vocals of Margriet brought an extra dimension to the music. She is very skilled in bringing her emotions out so everybody can see what she feels by singing her lyrics. Both guitar players were tight as well. Asrai took their chance to impress me. It's not really my kind of music but the band managed to touch me, nevertheless.
The balance in the sound was, however, a bit off. I barely heard the keys which do add something to the music, and it was a pity we couldn't hear them.


Performance
It was a pity the stage was covered in dark most of the time. Lights were few and although red front light isn't everything, no front lights at all make it even worse. The guitar players moved around at the stage, the vocalist expressed her lyrics by making gestures with her arms and the emotions could be read from her face -- when there were some lights to show it. Still, except from singer Magriet, I think the rest of the band has a lot to learn when it comes to a dynamic stage presentation. But there is time to learn.


Rating
Music 7
Performance 6
Light 5
Sound 6
Total 6 (6,1)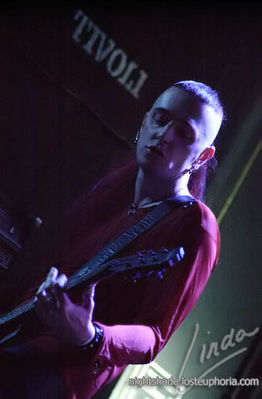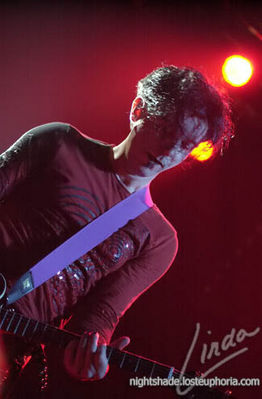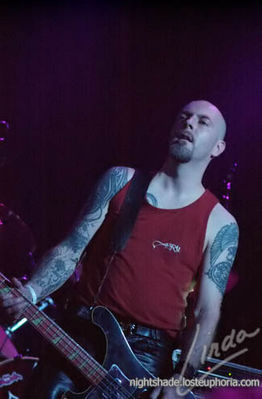 Glis (by EE)
Darkelectro and powernoise are some words to describe the music of Shaun Frandsen's Glis. The American has left most of his danceable 80's music behind and released a new cd 'Nemesis' which features the rough voice of Front 242's JL Demeyer, who happens to show up live as well

Music
Harsh voice with quite a bit of power on one side exchanged with some softer parts. Music that is a mix between EBM and industrial to go with the vocals is what you get when Glis is playing. This however can't just keep the audience's attention, as it also fails to capture me. Most people leave after the Crüxshadows to see Therion in Tivoli, no JL Demeyer can change much about this. The sound during the gig was pretty decent, not too loud but still loud enough to match the musical style.

Performance
Shaun is walking up and down on stage often looking up when singing or screaming his lungs out. When he first appears on stage it turns out he and Erika Dunham (Unter Null) have switched places, another guy on keyboards is added to make the picture complete. The mostly red light illuminates the stage while white moving heads try to give the show some exciting elements, but it didn't work for most of the audience, they've left the building.

Rating
Music: 6
Performance: 6
Sound: 7
Light: 6
Total: 6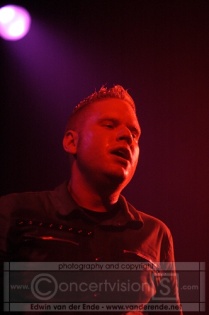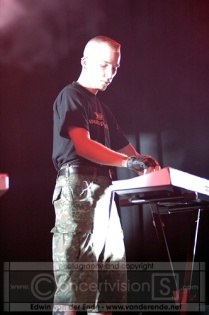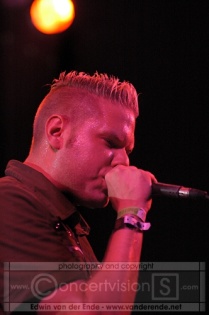 Therion (by Silvia Deurwaarder)
They are the headliner of the Sunday evening and for many people a reason to come to the Summer Darkness festival. The band around Christofer Johnsson, became an icon and with their mix between metal, classical arrangements and heavy guitars Therion has a strong fan base from all kinds of scenes.

Music
Tivoli, Oude Gracht, is well-known about their sound quality and this evening the sound is perfect as well. Personally I think it is a bit too loud, but there is a good balance between the vocals, guitars and drums. I was a bit sceptic about the quality of this formation, because at Graspop two years ago the show wasn't that good. This time they kick off with 'Uthark Runa' from the last double record. Live those songs are more powerful and alive, due to the vocalist who is a strong singer. With his powermetal voice he gives more dimensions to the songs. The female vocals are strong, pure and dynamic.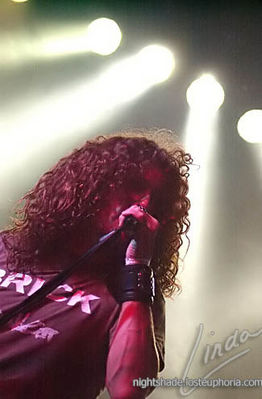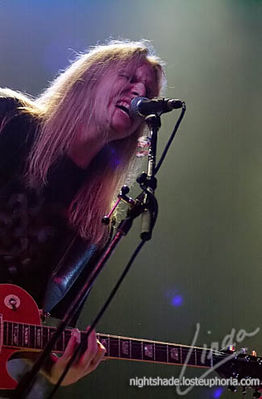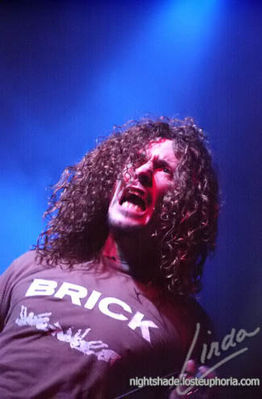 Performance
The keyword is dynamic. Everyone on stage is professional, high quality and knows how to make a good show. Christopher has a big smile on his face when everyone is singing along during 'Rise of Sodom and Gomorrah' (one of the classical songs on the record 'Vovin'). He even tries to sing a bit together with Mats Levén, the curly singer, who moves a lot. It is amazing to see him headbanging, walking and even sing clear in the high and low parts. The female vocalist is as static as always, but it is forgiven because of her real opera voice. They act like one, united and there is a good chemistry. The lights are mainly from the back, reds en blues combined with some white spots for the accents, but this doesn't make the show any less impressive. Are they finally going to be a real band? Who knows what the future will bring.

Setlist
01. The Blood of Kingu
02. Uthark Runa
03. Invocation of Naamah
04. Typhon
05. Riders of Theli
06. Seven secrets of the Sphinx
07. Asgård
08. Rise of Sodom and Gomorrah
09. The Khlysti Evangelist
10. Wine of Aluqah
11. The invincible
12. In remembrance
13. Cults of the shadow
14. To mega Therion
15. Melez
16. Iron Fist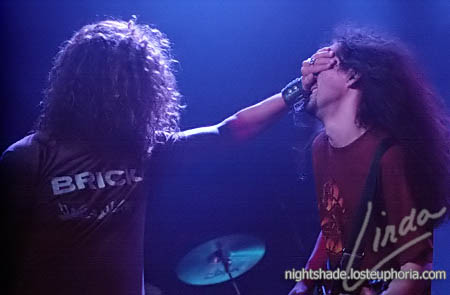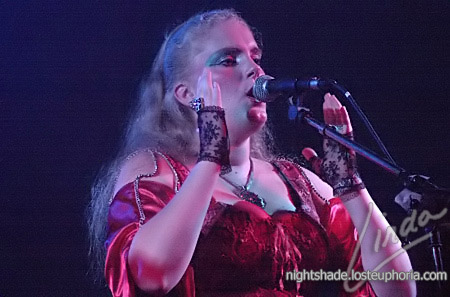 Rating
Music: 8
Performance: 9
Sound: 7
Light: 7
Total: 8 (8,2)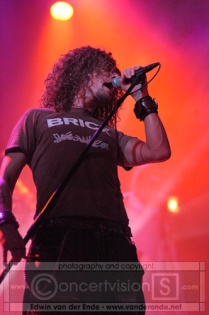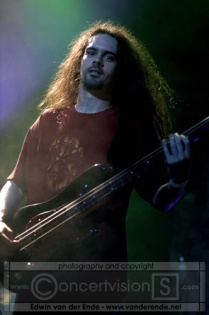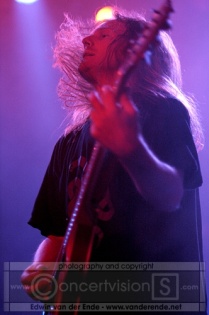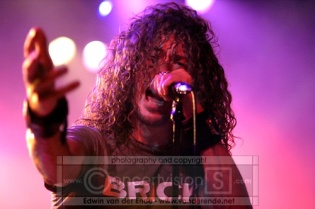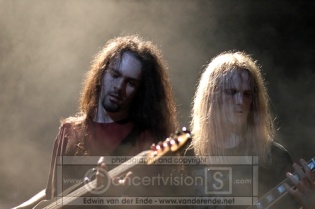 See also (all categories):