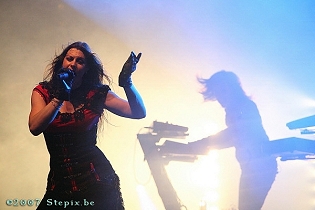 Château de la Princesse d'Arenberg, Raismes, France
8th-9th September 2007
Raismes Fest 10 - Day 2: Therion, After Forever, Gotthard, Misanthrope, Seraphim, Koritni, Syrens Call, Amphithryon, Shannon, Ufych Sormeer, Outcast, Xianosys, Lethal Mind
After a long but great first day of eclectic rock and metal music, we were eager to see another impressive and varied list of 13 rock & metal bands. The day started at 13h30, under a fragile September sunshine, but, although the sky was covered from time to time, we were saved from the showers.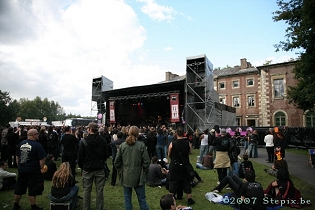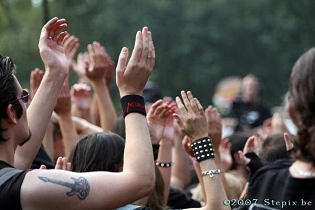 The audience seemed a bit different than the day before; somehow more older people but still very diverse at the image of the billboard of the festival. The concept was the same as on day 1: on a small stage, local bands get 25 minutes play time while the more famous bands switch on the main stage.
Lethal Mind (F) - Small stage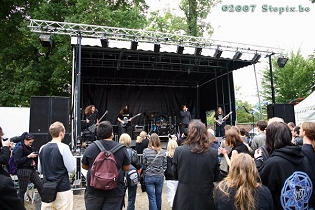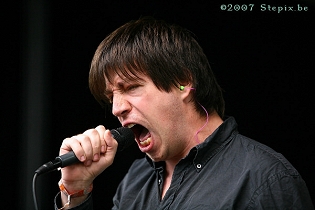 Music & Performance
The opening of the Sunday was right away much more heavy than the Saturday with this thrash metal band. The style is intense with good rythm and variations in the melody and nice guitar soli. They have a relatively good presence on stage.
Rating
Music 7
Performance 7
Sound 6
Light - (daylight)
Total 6,7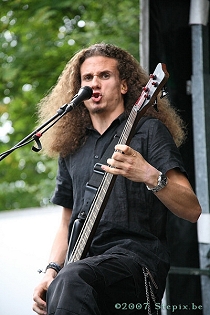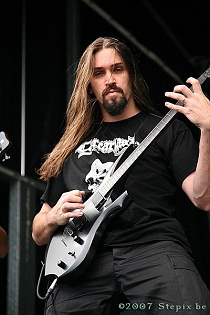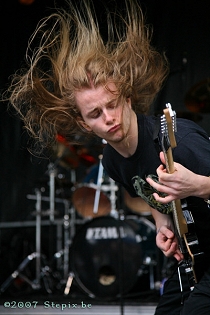 Syrens Call (F) - Main stage
The first band to play on the mains stage was the local female fronted heavy prog metal band, Syrens Call, playing at the Raismes Festival for the third time. The band has been around for a while. In May they actually gave a special concert for their tenth anniversary, which served also for the recording of a DVD to be expected in 2008. They have released three albums. Power, Melody and Emotion best summarize the musical universe of Syrens Call. Line up: Soraya Hostens (vocals), Stéphane Thuriot (guitar), Thibaut Coisne (guitar), Sébastien Paul (drums), Eric Serre (bass) and Frank Manier (keyboards).
http://www.myspace.com/syrenscall
http://www.syrenscall.com/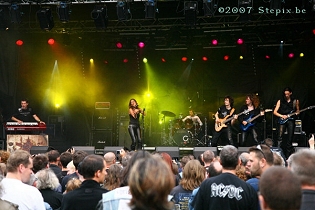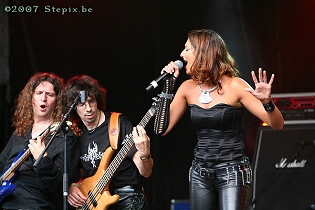 Music & Performance
The band had only 30 minutes play time and decided to play three songs of their second album and only two from the last one. The interpretation of the first three songs is different than on the album as Soraya joined the band after the recording of the album. But the beautiful frontwoman has a clear and warm voice fitting very well with the powerful melodic music of Syrens call. She has also a good presence on stage, seeking contact and communicating with her audience. The guitar soli of self-made talented musician Thibaut are remarkable. Also the keyboards of Frank are strongly present, straight from the beginning on the intro of "Fears and Hopes" which sounds very Nightwishian. Considering the short playing time, it was a bit of a surprise that the sextet chose to interpret their rock cover of Enjoy the Silence, yet a great interpretation of this song of Depeche Mode. On the other hand, Run and Fall, the opening track of their latest album was a great choice for the conclusion. Syrens Call is always a nice musical moment, with melodic and catchy songs. It was probably the most mellow atmosphere of this Sunday, yet a great opening of the main stage.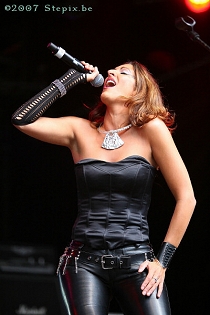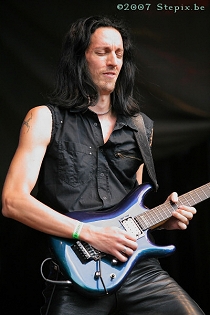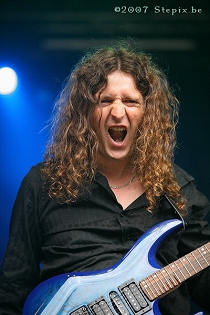 Setlist
1. Fears and Hopes
2. Legasea
3. The start of a new story
4. Enjoy the silence
5. Run and fall
Rating
Music 8
Performance 8
Sound 8
Light - (daylight)
Total 8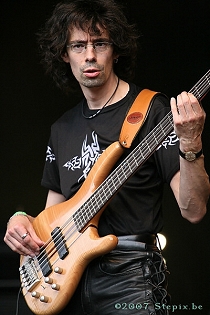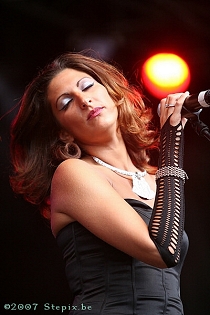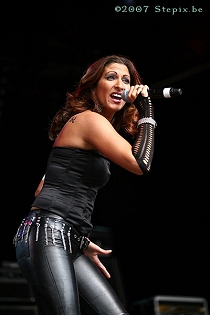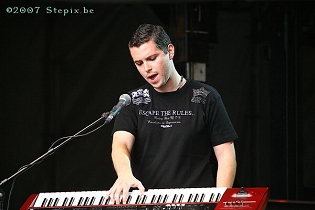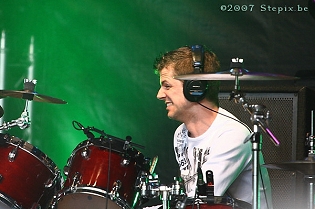 Xianosys (F) - Small stage

This French modern metal band was created in 2004 and has recorded a 3-titles demo CD. On their well designed website, you can read the futuristic story of Xian created to tell the true story of the destroyed humans... The atmosphere sounds a bit like in The Matrix.
http://www.myspace.com/xianosys
http://www.xianosys.com/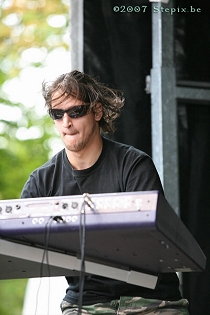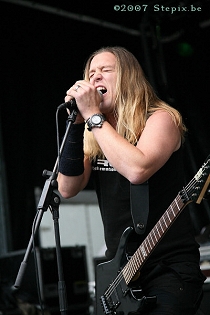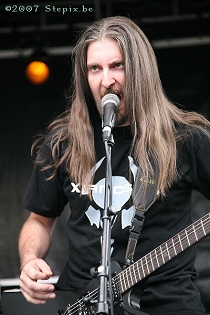 Music & Performance
The music of Xianosys is very powerful, heavy and intense, yet melodic, with a strong presence of the three guitars and the bass in the sound. Agressive metal riffs, a powerful voice, heavy basses, atmospheric keys; overall, a good show, raising a bit more the adrenaline level of the audience.
Rating
Music 7
Performance 6
Sound 7
Light - (daylight)
Total 7,3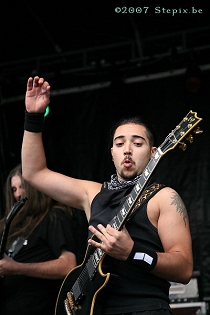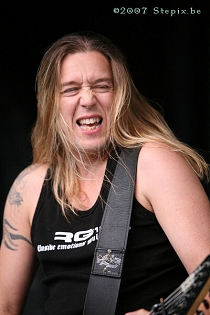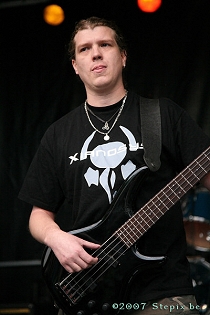 Koritni cover Guns'n'Roses (AUS) - Main stage


The Australia rock band Koritni were back for the second day on the main stage, but this time to play a full cover of Guns 'n' Roses. Line up: Lex Koritni (vocals), Eddy Santacreu (guitars), Luke Cuerden (guitars), D. Matt Hunter (bass), Chris Brown (drums).
http://www.koritni.com/
http://www.myspace.com/koritni
Music & Performance
Besides providing an excellent interpretation of the heavy metal legend, Koritni gave again a great rock show with a a good presence on stage.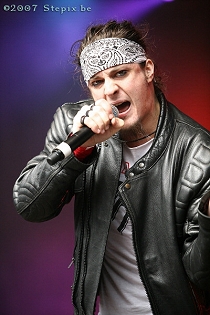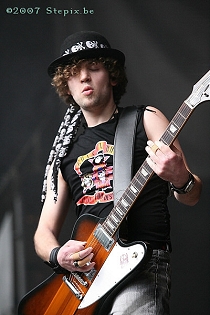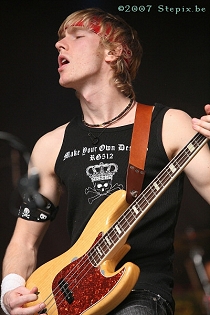 Setlist
1. Welcome to the Jungle
2. You could be mine
3. Mr Brownstone
4. Sweet Child of Mine
5. Nightrain
6. Paeadise City
7. Nice Boys
Rating
Music 9
Performance 8
Sound 8
Light - (daylight)
Total 8,3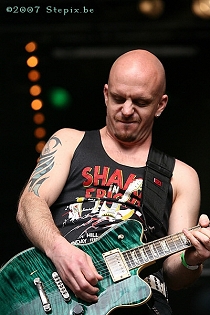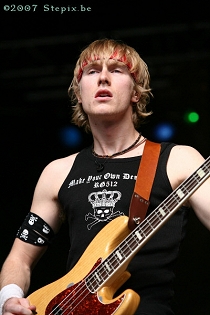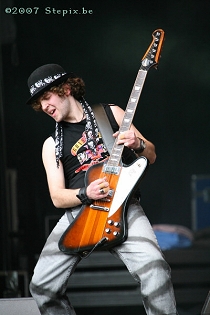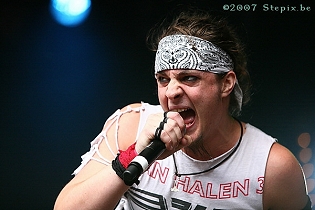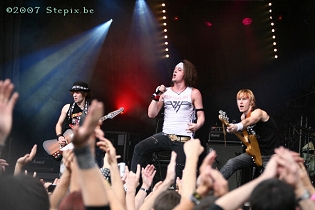 Outcast (F) - Small stage


The death metal band orginating from Paris was initially created in 1998 under the name Overlander and renamed Outcast in 2002. They released their first album in 2005 and plan to release a new album end 2007. Outcast combines the power of Swedish Thrash Metal with the intensity of Death Metal.
http://www.myspace.com/outcastband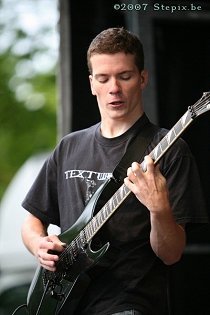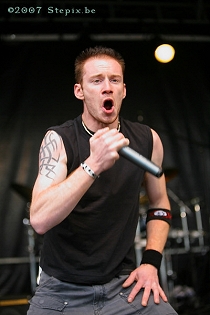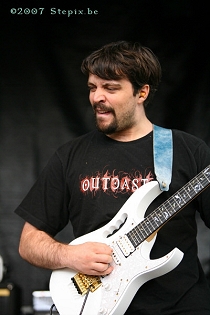 Music & Performance
Outcast plays havy thrash sounds with hardcore vocals, but lacks orginality. No much action on stage.
Rating
Music 6
Performance 6
Sound 6
Light - (daylight)
Total 6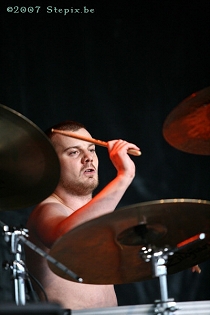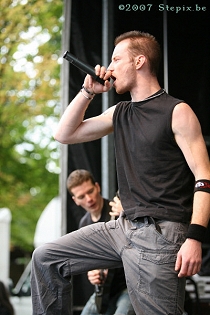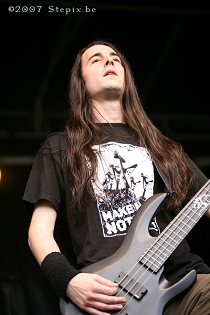 Seraphim (Taiwan) - Main stage
Seraphim is a female fronted melodic power metal band coming from Taiwan and quite popular in their country. They were formed in 2001 and released three albums. Their fourth album has been released in Chinese and will be translated soon. They were touring in Europe and managed by the organizers of the Metal Female Voices Festival. It is not a coincidence that the band members were wearing the shirt of the Belgian festival. Line-up: Quinn (vocals), Kessier (lead guitar & vocals), Van (drums), Trevor X, (rhythm guitar), Michael (guest bass).
http://www.myspace.com/theofficialseraphim
http://www.seraphim-metal.com/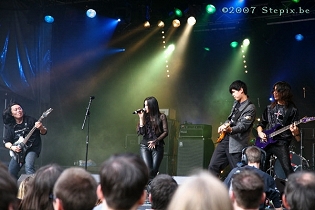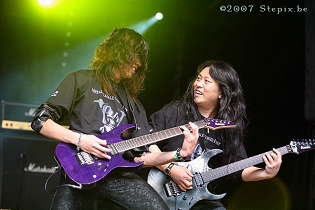 Music & Performance
When they arrived on stage, Seraphim received a warm welcome from the audience and started with a powerful song from their second album, The Equal Spirit. Then they played five titles of their soon to be released new album, Rising, and one title of their third album, Ai. The frontwoman, Quinn, is very charming and has a very soft voice. Unfortunately the level of the voice was too low and the the rythms too high, which negatively impacted the performance of the quintet. We learned later that the band actually did not do any sound check before starting to play. The opinion of the audience seemed to be divided.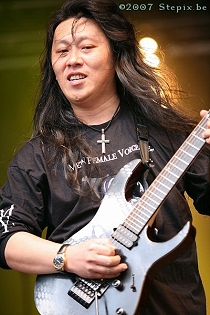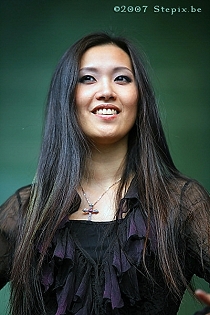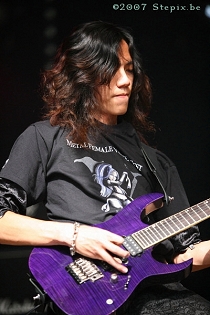 Setlist
1. Song Of Death (The Equal Spirit)
2. Innocent Endless Hope (Rising)
3. Beautiful New World (Rising)
4. Permanence (Rising)
5. Springwind (Rising)
6. Resurrect (Ai)
7. Time (Rising)
Rating
Music 7
Performance 7
Sound 5
Light - (daylight)
Total 6,3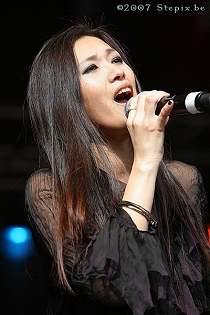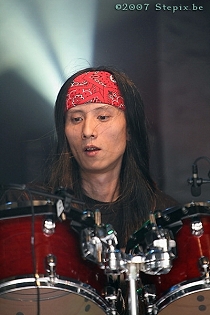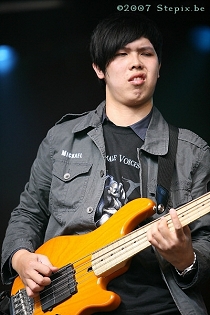 Ufych Sormeer (F) - Small stage

Ufych Sormeer was founded in 1997 in the North of France, starting to play covers of Metallica, Slayer, ... They released their first own album in 1999, later followed by two others in 2005 and 2006. Their style is mainly heavy metal tainted with symphonic black metal influences. Over the years the band has grown in sophistication and originality.
http://www.myspace.com/ufychsormeerofficial
http://ufych.sormeer.free.fr/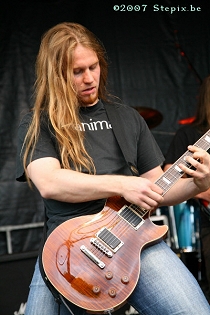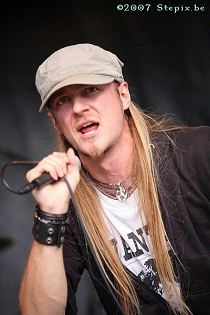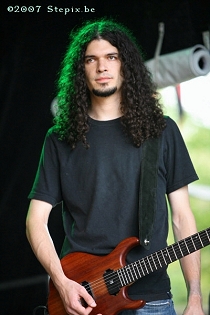 Music & Performance
A good heavy metal performance, without too much pretention. The only movements on stage are performed by the singer.
Rating
Music 7
Performance 7
Sound 7
Light - (daylight)
Total 7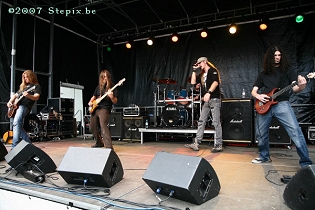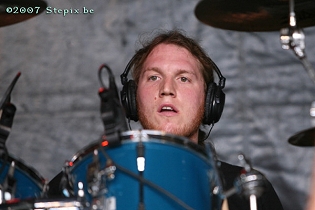 Misanthrope (F) - Main stage

Misanthrope is an extreme metal French band founded in 1989. The quattuor has been very active and built a stong reputation in France, with seven album released and a new concept album announced for January 2008. Line up: S.A.S de l'Argilière (vocals), Anthony Scemama (guitars & keyboards), Jean-Jacques Moréac (bass & keyboards), Gaël Féret (drums).
http://www.myspace.com/misanthropeofficial
http://www.misanthrope-metal.com/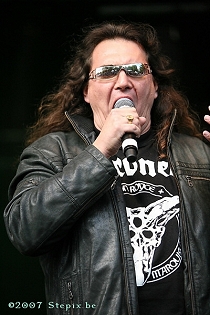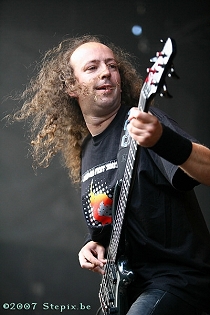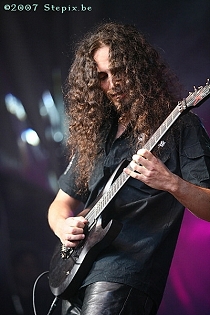 Music & Performance
Misanthrope sounds like old school harcore French metal, with French lyrics. The charismatic singer has a very strong voice and is interacting a lot with the audience, even pouring Champagne on them at the end of the show! After the first song there were some technical problems with the drums which allowed Jean-Jacques Moréac to improvise a fantastic bass solo. It was excellent as confirmed by the warm applause from the audience.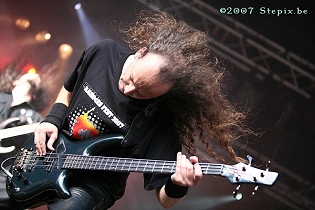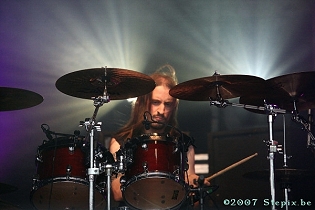 Setlist
1. Eden Massacre
2. Bass solo
3. Le Haras d'Amazones
4. Conversation Métapsychique
5. Misanthrope Necromancer
6. Théologie du Misanthrope
7. Les Empereurs du Néant
8. Inspiration
9. Bâtisseur de Cathédrales
Rating
Music 8
Performance 9
Sound 7
Light - (daylight)
Total 8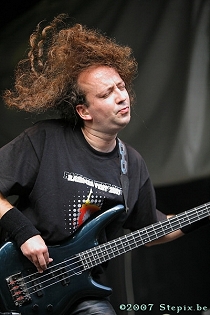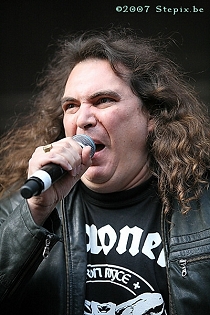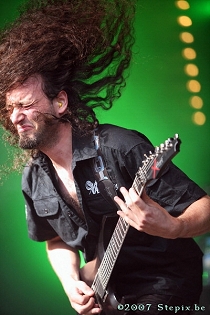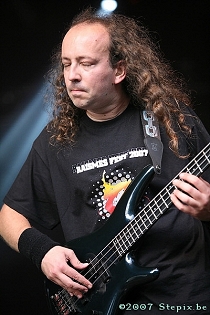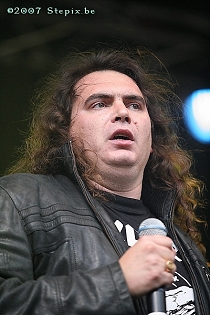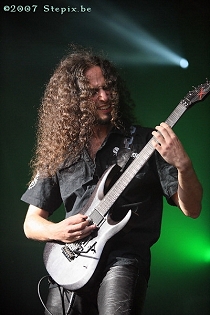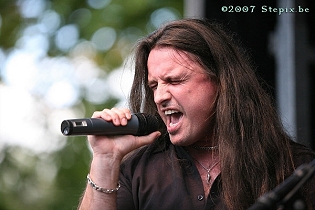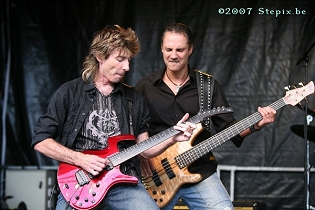 Music & Performance
Shannon plays an easy listening classic hard rock. The sympathic singer has a clear and warm voice. Their style of music perfectly introduces the next band of the main stage.
Rating
Music 7
Performance 7
Sound 7
Light - (daylight)
Total 7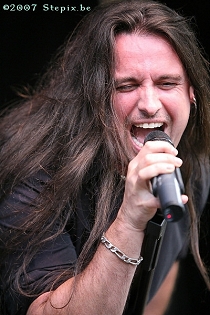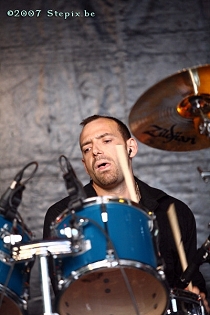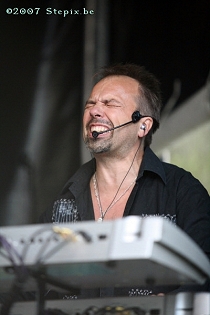 Gotthard (CH) - Main stage


Gotthard is a confirmed Swiss hard rock band founded in 1990 and famous in their home country since the release of their first album in 1992. They have released not less than 12 albums in 15 years of career. Gotthard is one of the rare bands who has kept its original line up: Steve Lee (vocals), Leo Leoni (guitars), Freddy Scherer (guitars, since 2004), Marc Lynn (bass), Hena Habegger (drums), Nicolo Fragile (keyboard).
http://www.myspace.com/gotthard
http://www.gotthard.com/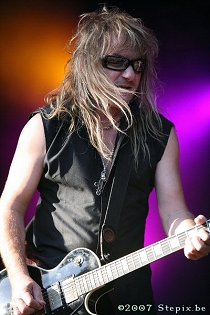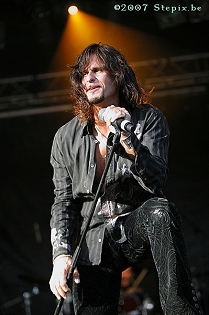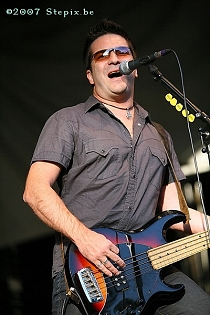 Music & Performance
Gotthard gave an excellent energic hard rock show mainly based on their new album Domino Effect. A lot of movement on stage and contact with the audience. Leo Leoni also played some amazing "acrobatic guitar", playing the guitar while holding it on his back!
Rating
Music 8
Performance 9
Sound 9
Light - (daylight)
Total 8,7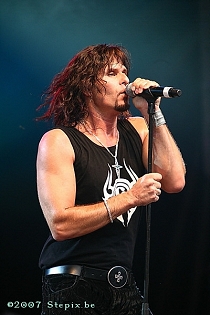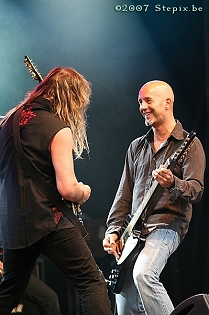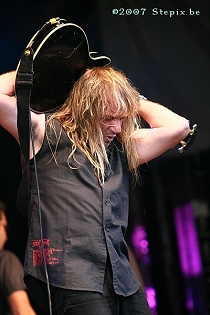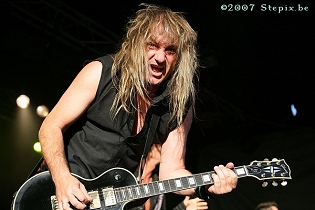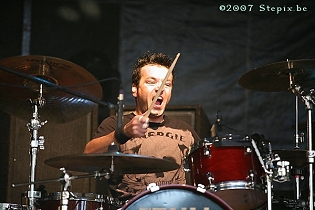 Amphitryon (F) - Small stage

The headliner of the small stage is the most amazing discovery of this edition of the Raismes Fest. The band released their first demo album in 2002 and a first full album, Sumphokéras, in 2007. They have a style which is definitely metal, but unique and difficult to categorize. Amphitryon is a name inspired from the Greek mythology and that gives an idea of the universe of Amphitryon. It's more than music, it is a whole mythic journey. I would qualify the style as experimental or avant-garde atmospheric and lyrical death metal. For those who like comparisons, one can situate their style somewhere in an area between Haggard and Helium Vola.
Line up: Laurent Desvignes (death voices, vocals, guitar), Sarah Barisèle (vocals), Matthieu Scarpa (vocals, guitar), Barbara Haigneré (vocals, flute), Gianni Leone (vocals, bass), Christophe Demazeux (drums).
http://www.myspace.com/sumphokeras
http://www.amphitryon-music.com/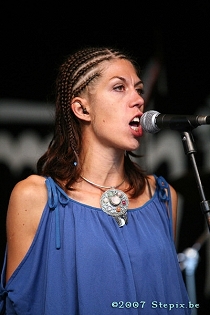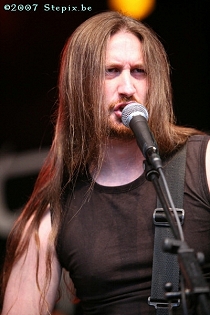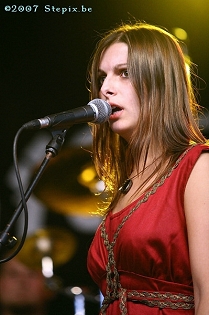 Music & Performance
25 minutes for an experimental band like of Amphitryon seemed a bit short to convince the audience. I had also listened to the samples on their MySpace and seen the complexity of the arrangements and multiple voices, I was eager to see what this would give on stage. I was actually very postively surprised. First, the band would not want to suffer from technical problems and did a thoroughful sound check, using all the time at their disposal to prepare their show. The result was amazing and enchanting with a live quality almost equivalent to studio recording. The stage arrangement was also neat, with a nice backdrop featuring the unique character font of Amphytrion and the position of the two female singers on stage, dressed like Greek priestresses, with a beautiful respectively red and blue dress. Some would argue that were looking sad and were not having fun on stage, but that's probably part of the scenario. Laurent Desvignes was standing in the middle, screaming his angry incatations. Thumbs up for Amphytrion! A few days after their performance, the band was proud to announce they had received the greetings and compliments from Thomas Vikström, singer of Therion.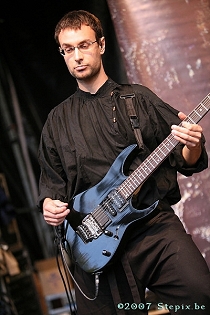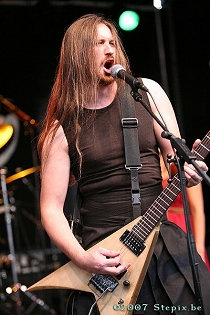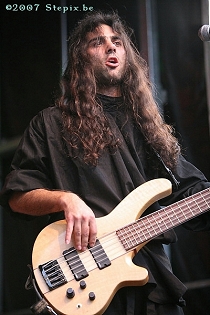 Setlist
1. Archéia
2. Theocracy
3. Paths of dementia
4. Pantheon
5. Phthonèros daimon
Rating
Music 9
Performance 9
Sound 9
Light - (daylight)
Total 9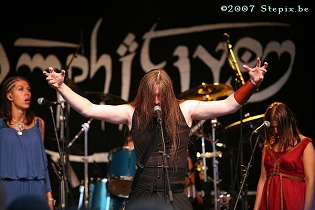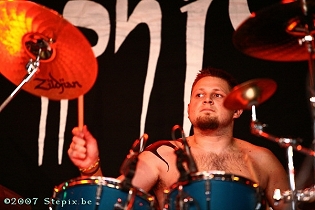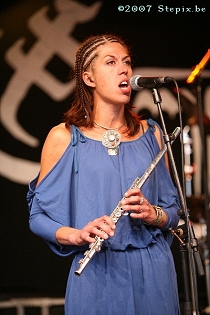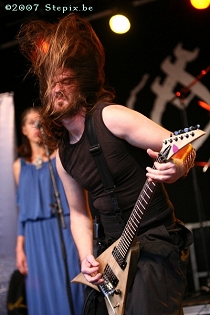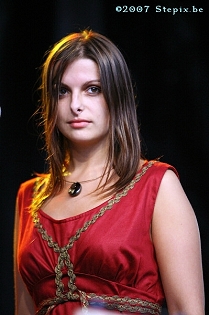 After Forever (NL) - Main stage


Do we have to introduce After Forever? This famous Dutch metal band was incepted in 1995 and released their first album in 1997. After Forever is also the name of their fifth album released in 2007 and named so because it contains all musical ingredients of the band. "This album is a great summation of everything we have done," says guitarist Sander Gommans. "You can hear the energy of Prison of Desire, the melancholy of Decipher, the progressive approach of Invisible Circles and the more catchy elements of Remagine. You can't get more After Forever than that." What else to add? After Forever has really innovated in the metal scene creating a unique style by mixing rock, death metal and classical elements, with the wonderful classical voice and energy of Floor Janssen. With this new album, the first being recorded under the Nuclear Blast label, the Dutch metal sextet is really taking off. The band was coming at the Raismes Fest well prepared as they were at the beginning of a long European tour to be followed by an American tour. Line up: Sander Gommans (Death vocals, guitar), Floor Jansen (vocals), Bas Maas (guitar), Joost Van Den Broek (keyboards), André Borgman (drums), Luuk Van Gerven (bass).
http://www.myspace.com/afterforever
http://www.afterforever.com/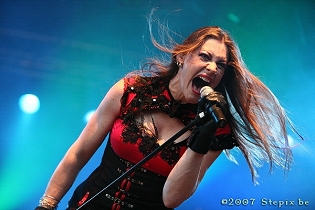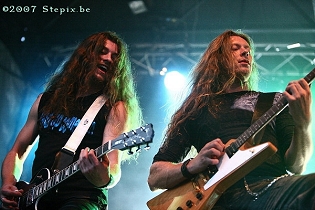 Music & Performance
The band was introduced by the speaker as what we do best on the metal scene of The Netherlands, together with Within Temptation, but they got the best front woman... The audience seemed to agree with this statement and gave the sextet a very warm welcome. After Forever gave in return a wonderful relentless show full of energy, alterning songs of their new album with songs of their previous albums. Everything flowing so smoothly and naturally, demonstrating that the early songs and the style of the Dutch band is not aging and the result of several years of musical research and experimentation. It was an After Forever in really great shape that night, at the highest of their career so far, but probably not yet at their apogea. The future sounds promising.
Rating
Music 10
Performance 10
Sound 10
Light 9
Total 9,8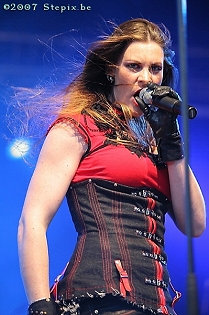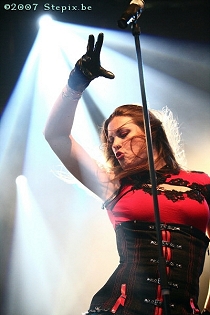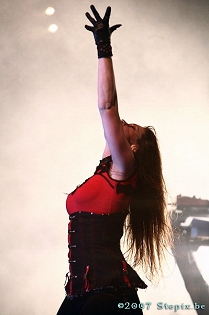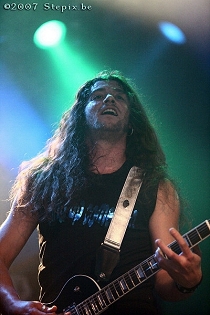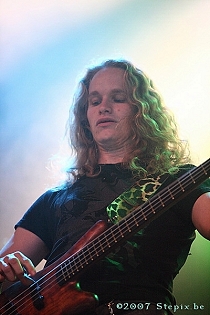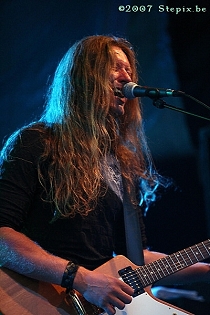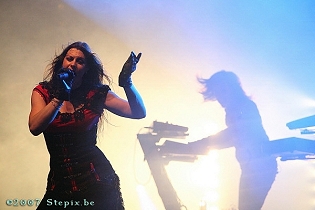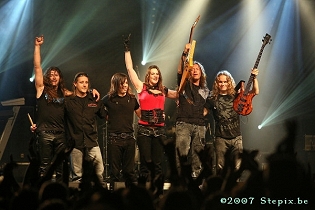 Therion (SWE) - Main stage

The headliner of the Raismes Festival was the Swedish monster of symphonic death metal, Therion, founded in 1988 and originally named Megatherion, the name being inspired by the album To Mega Therion released by the Swiss Celtic Frost in 1985. Over the years the band has evolved from death metal to a more heavy metal, gothic, symphonic and progressive rock style. The band was here to present their last album, Gothic Kabbalah, released in 2007. They also played songs from the previous albums, those recorded since 1996 under the label Nuclear Blast, year that marked a big change in the line-up and the style of the band, still lead by its founder Chris Johnsson but taking the more symphonic orientation as we know today and paving the way to success. Line up: Christofer Johnsson (Guitar, Keyboards, Organs), Kristian Niemann (Lead & Rhythm Guitars, Keyboards), Johan Niemann (Bass, Guitar, Acoustic Guitar), Petter Karlsson (Drums, Guitar, Keyboards, Solo/Choral Vocals, Percussion). Touring singers: Thomas Vikström, Snowy Shaw, Lori Lewis, Katarina Lilja.
http://www.myspace.com/therion
http://www.megatherion.com/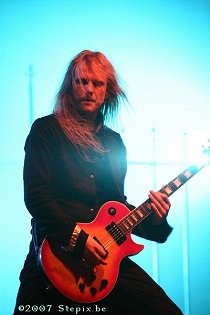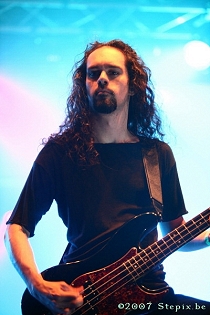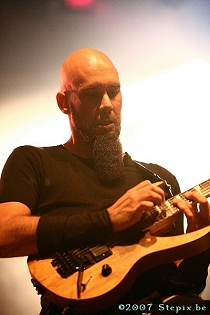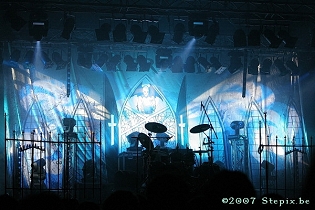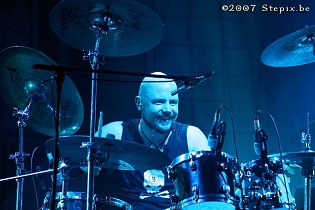 Music & Performance
The show started with about 45 minutes delay and the performance was interrupted three times due to power problems... This did not destabilize the performers who skillfully improvised with a touch of humour. However, as a consequence, the band probably had to shorten a bit the set list and there was no encore. This being said, it does not affect at all the quality of the performance of the artists. The decor was simple, but nice and convenient: a big backdrop occupying the full back wall of the stage representing a church door and stained-glass windows and, on the sides, metal fences with spikes. The atmosphere was defintely gothic! The scene was set for the eight artists to evolve on stage like actors and giving a great performance in the style of the true metal opera. That is the impression left from this performance. Although the songs are from different albums, they all seemed to tie naturally together in a consitent way, with the four singers switching on the stage, sometimes singing in solo, the others providing the choir behind the fences, and sometimes singing in duo or even in quattuor. A beautiful lightshow intelligently orchestrated completed this grandiose operatic atmosphere. Some people in the audience said they had seen Therion earlier in the Summer at the Hellfest and were a bit disappointed, but not this time, the show was a big success!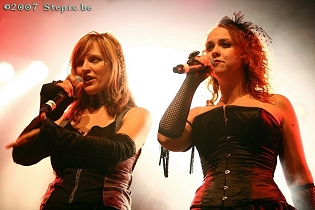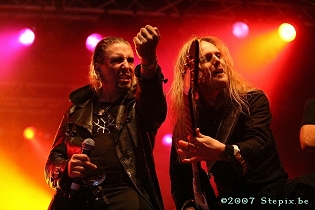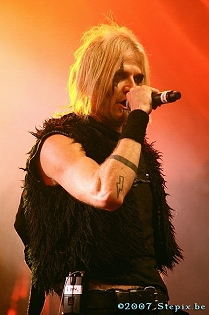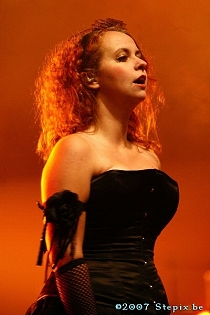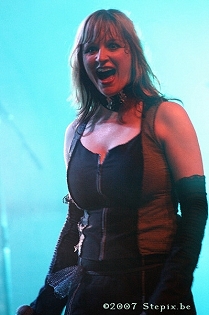 Setlist
01. Der Mitternacht Löwe (Gothic Kabbalah - 2007)
02. Schwarzalbenheim (Secret of the Runes - 2001)
03. Blood of Kingu (Sirius B - 2004)
04. The Falling Stone (Gothic Kabbalah - 2007)
05. An Arrow from the Sun (Lermuria - 2004)
06. Wine of Aluqah (Vovin -1998)
07. The Perennial Sophia (Gothic Kabbalah - 2007)
08. Son of the Sun (Sirius B - 2004)
09. Son of the Staves of Time (Gothic Kabbalah - 2007)
10. Seven secrets of the sphinx (Deggial - 2000)
11. Tuna 1613 (Gothic Kabbalah - 2007)
12. Muspelheim (Secret of the Runes - 2001)
13. Rise of Sodom and Gomorrah (Vovin - 1998)
14. Ginnungagap (Secret of the Runes - 2001)
15. Cults of the Shadow (Theli - 1996)
16. To Mega Therion (Theli - 1996)
Rating
Music 10
Performance 10
Sound 9
Light 10
Total 9,8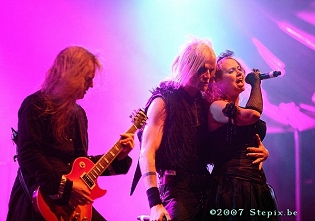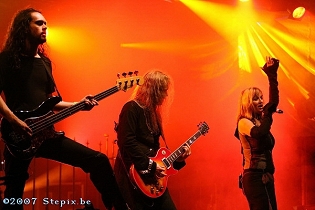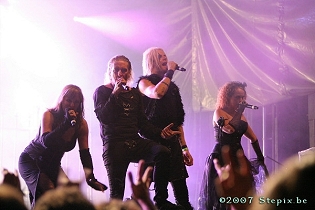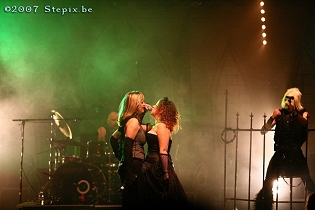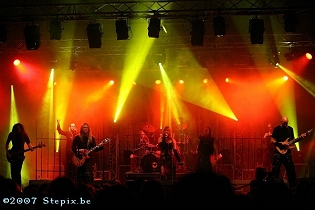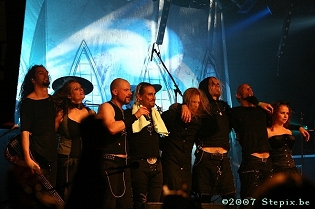 This concluded the 2007 edition of the Raismes Festival, which was overall a big success, offering a wide diversity of rock and metal shows. The Saturday was marked with more harcode bands on one hand and more progressive rock bands on the other end, while on the Sunday the stages were occupied by more old school heavy metal bands and more modern death/symphonic metal bands on the other side. With such a variety in styles, you definitely have to go at the Raismes Fest with an open mind, because you will always discover new things and sometimes things you may like less, but that is the original intent of the organizers, and, once again, they managed to execute their strategy. The 2008 edition is programmed to take place on 13th and 14th September. Stay tuned as the bill is building up!
http://www.raismesfest.fr/
http://www.myspace.com/raismesfest
{jos_sb_discuss:18}

See also (all categories):