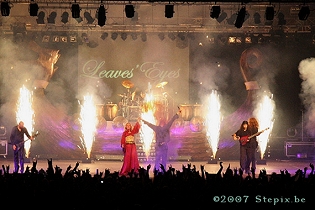 Wieze, Oktoberhallen, Belgium
20th of October 2007
Day 2: Leaves' Eyes, Epica, Sirenia, Flowing Tears, Elis, Delain, Seraphim, Battlelore, Draconian, Distorted, Interria, Valkyre
After a night of some heavy chicks it was time for a long day of female fronted metal. Starting out with an early show of Valkyre and ending with the DVD show of Leaves' Eyes "En Saga I Belgia". It was promising to be a long but very entertaining day. The 3.500 fans of female fronted bands would not be disappointed!
http://www.metalfemalevoicesfest.be/
/
http://www.myspace.com/mfvf
Valkyre

Valkyre has been founded at the end of 2005. With seven musicians it is quite a large band. Not only the usual instruments such as guitars and keyboard but also a violin belongs to their instrumentation. At this festival they released their second demo: 'Consolamentum'. It sold out completely so that is a great sign, especially if you are the first band of the day! Next step, a recorddeal.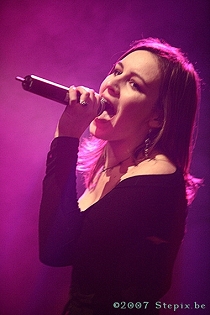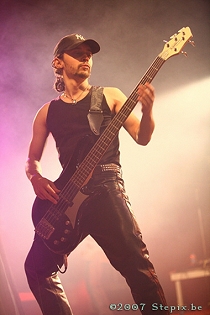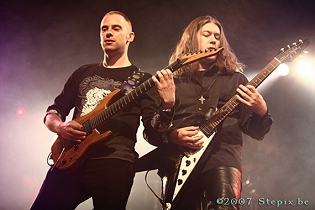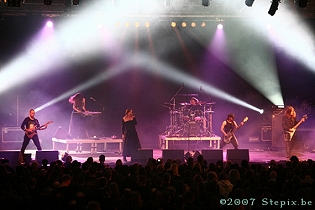 Interria


After Dying Tears died, Interria was founded in 2005. This French band uses French lyrics most of the time. Very daring I would say. It might limit your market. In June 2006 they release their first demo and who knows what the future might bring. If you want to find out more check out:
http://www.interria.net/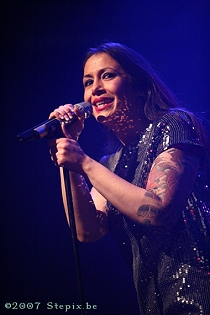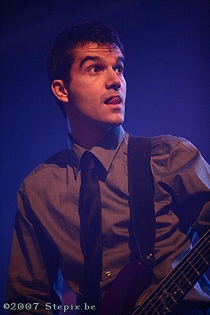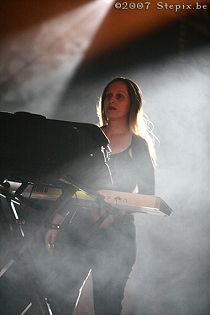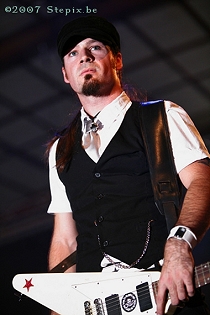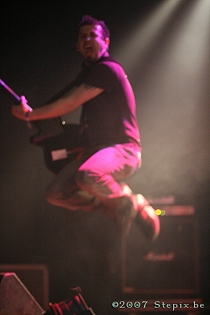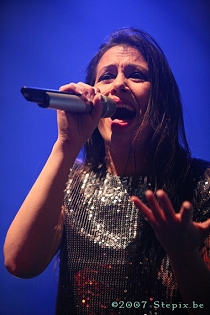 Distorted


With their recent signing to Candlelight records and a show at this festival Distorted is finally getting some deserved attention in this part of the world. In their homecounty of Israel they are already a household name, as they have been around since 1996 (2000 in current line-up) and have shared the stage with both local and international acts.They will start recording their second album towards the end of this year/ beginning of 2008.
http://www.distortedband.com
/
http://www.myspace.com/distortedband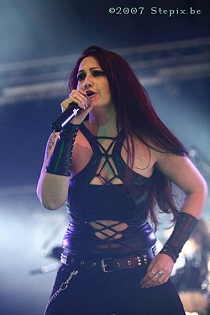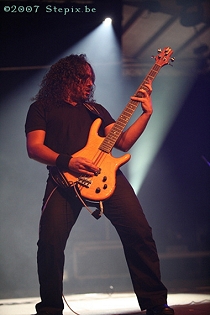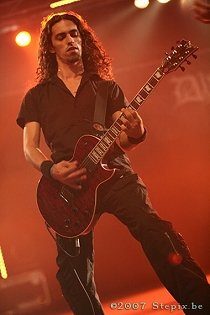 Music and performance
Many mistake 'female fronted metal 'to be synonymous for 'gothic metal'. When you take a look at today's bill, you can see how you could easily be tricked into thinking this is true. So for this festival day it is up to Miri and her band to show that a band fronted by a woman can also handle the more brutal sides of metal. Distorted play a mixture of progressive and melodic death metal with some Middle Eastern influences, that can mainly be found in the vocal parts.
The show kicks off with a good deal of energy right away and you can see when you look around in the audience that this is not what people had expected. It is obvious Distorted already have quite some experience, because they handle the large stage well. Front woman Miri is looking confident and attracts a lot of interest from the male part of the audience with her outfit, good looks and long red hair. Her clean vocals are joined by guitarist Raffis' guttural sounds in many songs, but there is also more than enough opportunity to enjoy some heavy guitar riffs from Raffi and the others because some songs have long instrumental parts. When they get to the end of the set they get a well deserved applause from the crowd. Afterwards a lot of people told me that they were pleasantly surprised by this band. To those who missed their performance I would say; go check them out at their website and hopefully somewhere on the road next year.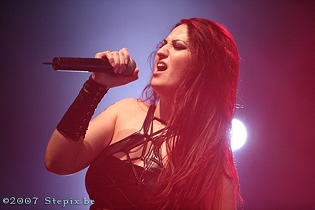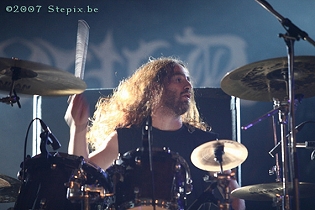 Setlist
01. Intro
02. In Your Light
03. Children of Fall
04. Memorial
05. Flesh and Blood
06. Illusive
07. Redemption

Rating
Music: 8
Performance: 8
Sound: 7
Light: 7
Total: 8 (7,7)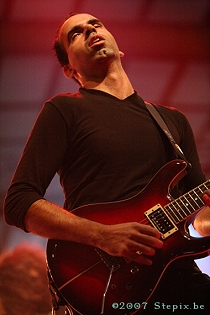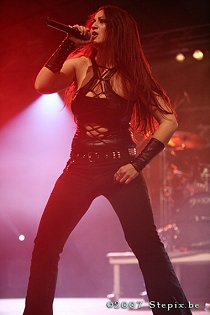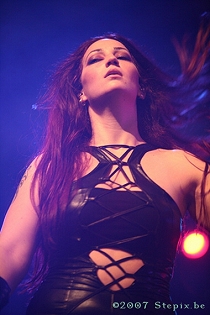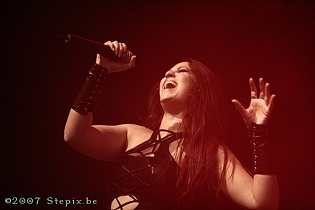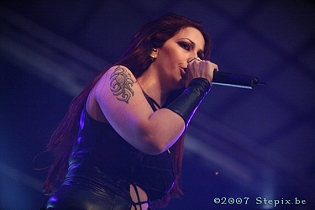 Draconian


Draconian has been around for a while now. They started in 1994. Their most recent album is 'The Burning Halo' which has been recorded in their own studios and released in by Napalm Records in September 2006. Draconian is from Sweden, which proves again that metal is to be found everywhere!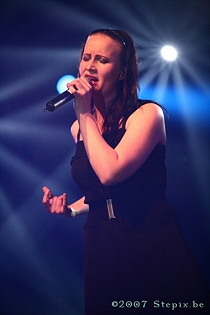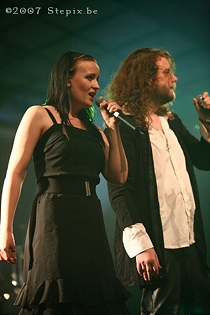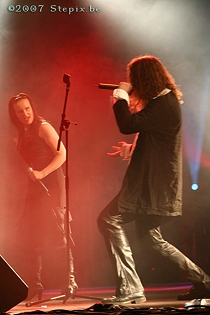 Music and performance

First of all a compliment about their backdrop, great choice of writing. The grunts are ok but when combined with the female vocals they are too loud. The female vocals are lost. There is little power in the female vocals and it is not a very pleasant voice to the ears. The lyrics are inaudible. It is a bit dull, not much variety. Draconian has a doom sound, which doesn't help when it comes to holding the attention of their audience. The guitarists are doing their own thing but seem to be enjoying themselves. The singer does some kind of robotic movements, they don't seem very natural.
Rating
Music: 5
Performance: 4
Sound: 7
Light: 6
Total: 5 (5,1)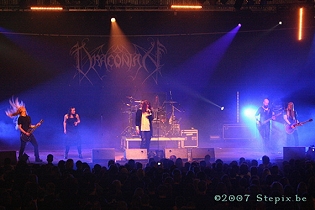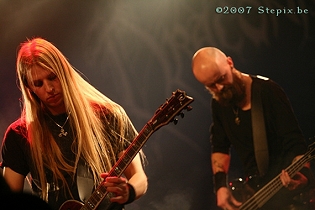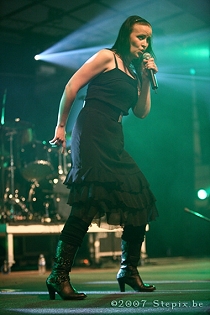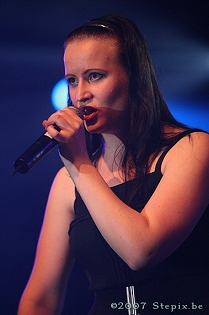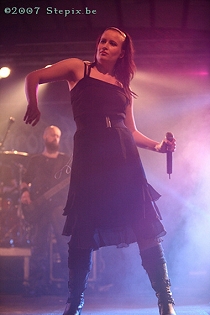 Battlelore


All the way from Finland Battlelore came to Belgium to play for us. Again a large band of no less then seven members. Batllelore was founded in 1999 and they released their first promo that very year. By now they have released 4 albums, a DVD and two promos. Their latest album is called 'Evernight'.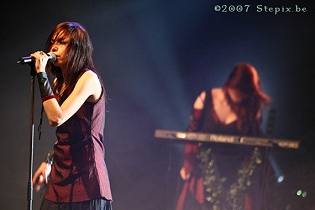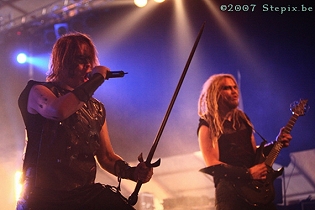 Music & Performance
Covered in blood and dirt, dressed like true warriors Battlelore took the stage. Their male vocalist Tomi was holding a large battle sword while singing. They started the show with Ocean's Elysium of their new album. Their female vocalist Kaisa has a very soft voice which matches her tiny persona, there is little vocal power in her voice. Tomi's grunts are audible but not understandable. The second song we were treated to was 'Into The New World' also from 'Evernight'. The sound mix was not that great, every instrument and sound had the same volume. Even though the sound might not be perfect they stand for what they do and that shows. Their enthusiasm comes across to the audience. As true warriors they sang about sex, food and beer! They bring a great atmosphere.
Rating
Music: 6
Performance: 7
Sound: 5
Light: 6
Total: 6 (6,3)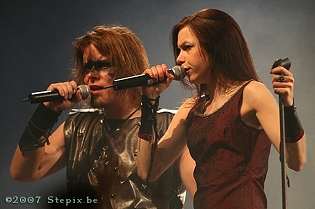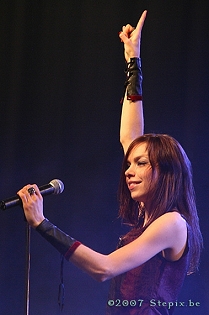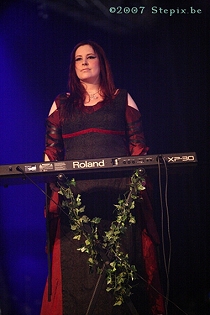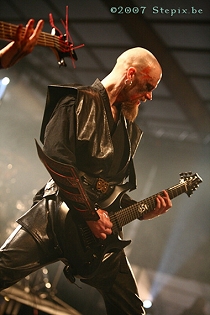 Seraphim


This power metal band came from far far away, Taiwan. Founded in 2001 they are a young band. They have released 4 albums so they are quite productive. Each album is published in a Chinese and an English edition. Their latest album is Rising.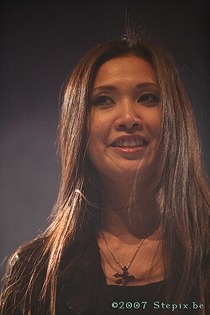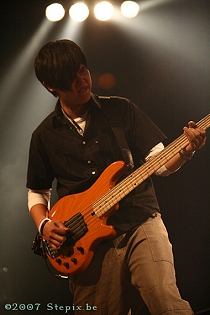 Music and performance
This band named after a beast in the bible sounds ok, musically. The soprano/operatic vocals are not that great, there is little power. When she speaks to the audience, she has great power in her voice but she does not use that while singing. It is a shame that the grunts (which sound good) are only on tape. It seems as if the music of the band and the vocals of Quinn are performed separately, they don't listen to each other. Their stage presence is enthusiastic, it shows that they are glad to be here.
Rating
Music: 6
Performance: 6
Sound: 6
Light: 6
Total: 6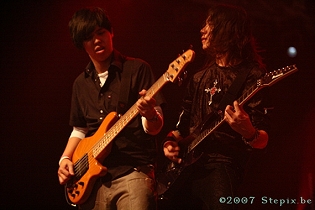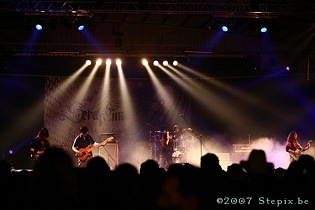 Delain


Delain released a promo in 2002. In 2005 they were contracted by Roadrunner Records and started recording their first album 'Lucidity' which has now been released and is doing very well. They have had a lot of help on their album form musicians such as Ad Sluijter, Jan Yrlund, Sharon den Adel and Liv Kristine to name a few. Now they have to do it on their own, and they are doing a good job.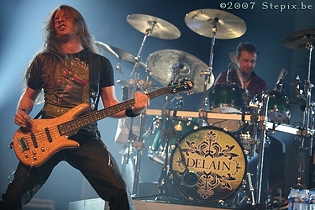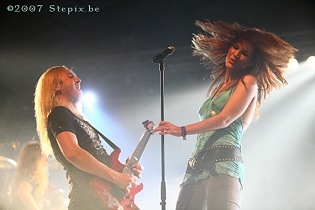 Music and performance
In the beginning of the show the vocals were some times lost in the mix which was a pity. Charlotte seems to have learned to let go. Not sing every note as it is written but truly feel the song and that is a great improvement. The band as a whole had grown very much since their first performance. Then they were just another metal band with female vocals and now they are a very powerful new sound in the scene. The audience loved them as well, clapping and even singing along. It was a great performance. Of course their single 'Frozen' was performed but of course al the other songs of their album as well.
Rating
Music: 8
Performance: 8
Sound: 7
Light: 7
Total: 8 (7,7)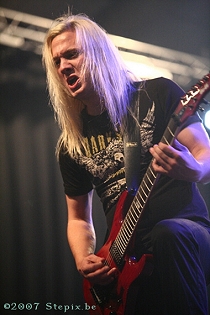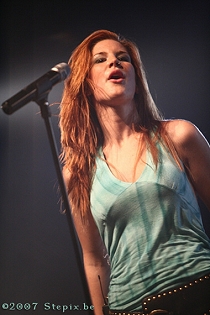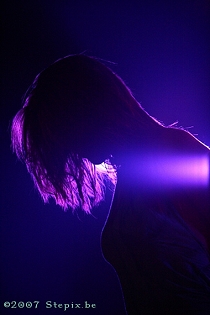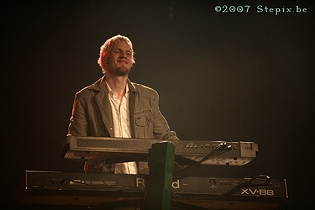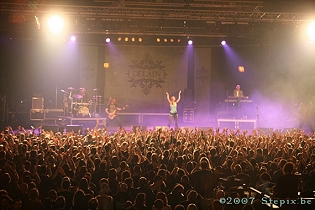 Elis


Elis was awaited with anticipation by many. How would it be to hear them with the new vocalist? It was great that they were here this year since last year they lost their singer Sabine. It seems that the hurt has given them new power and intensity to this band. They have completed the album Griefshire without Sabine, to honour her because she considered this her baby. Of course there was a song dedicated to her in this performance, making the entire audience scream as loud as they can just so Sabine could hear she is not forgotten.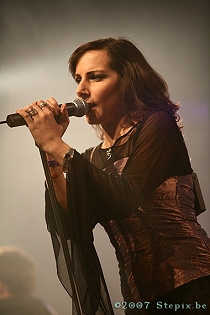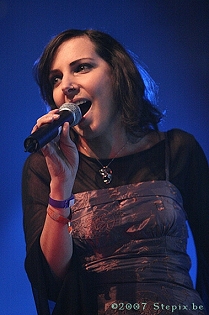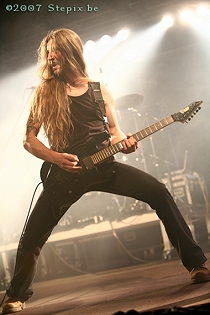 Music and performance
At the start of the show there was too much smoke, you could hardly see the band or what image is supposed to be seen on their front drops. The new singer is called Sandra Schleret and she is not new in the metal scene; she was indeed previously singer of Dreams of Sanity, Siegfried and Soulside. One of her hobbies is belly dancing and that shows; she dances across the stage. She has a good voice with some very nice twists to it. This is no regular sound, but a new sound. We were treated to many songs of the new album such as 'Phoenix From The Ashes'. The light of the show is adapted to the atmosphere of the songs, well done. All in all I believe they could not have hoped for a better show at Metal Female Voices Fest this year.
Rating
Music: 7
Performance: 7
Sound: 7
Light: 8
Total: 7 (7,2)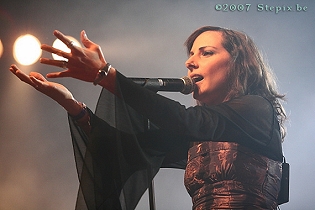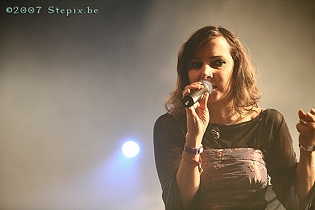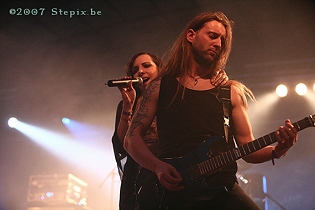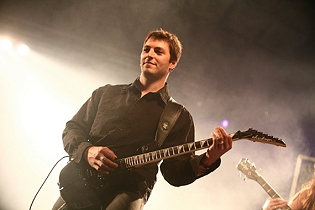 Flowing Tears


5 studio albums, one EP and a live album which was released this year Flowing Tears was of course one of the bands performing at MFVF this year in Wieze. Being from Germany this band again adds to the wide variety of countries from which bands have come to perform.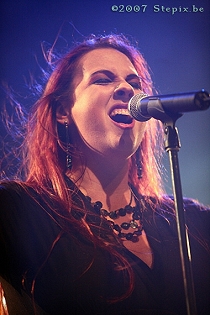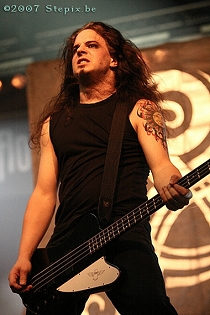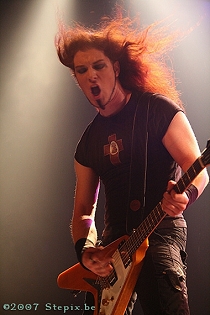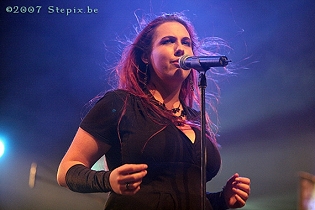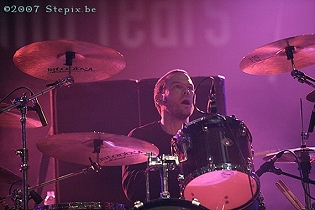 Sirenia


The beginning of this century seems to have been productive in creating metal bands for this festival. Sirenia was founded in 2001, in Norway. A mixture of symphonic, gothic, death and black metal. Monika Pedersen has been their leading lady for 2 years now. They have just released their fourth album 'Nine Destinies and a Downfall'.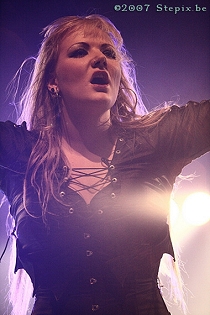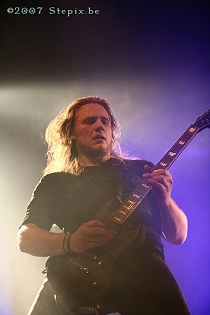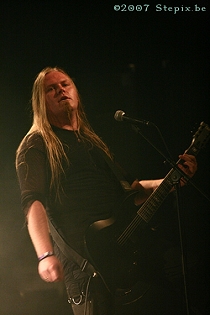 Music and performance
Sirenia gave a very energetic performance thought they were guided by a very basic lightshow. They started with 'Euphoria' of the album 'An Elixer for Existance'. We were also treated to many songs from the new album such as 'The Other Side' (a song which is very pleasant to hear) and 'Downfall' in which female vocals had a much bigger part. Older songs are often more ruled by the male grunts of Morten Veland. Even though the stage seemed empty with only three people walking around Monika knows how to use the stage and covers every inch of it. It is nice that the lyrics are audible when she sings. Monika has a good voice, she uses a lot of vibrato though.
Rating
Music: 7
Performance: 7
Sound: 7
Light: 6
Total: 7 (6,9)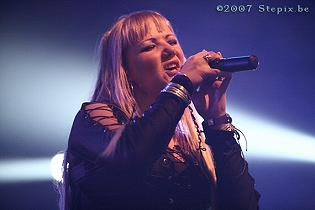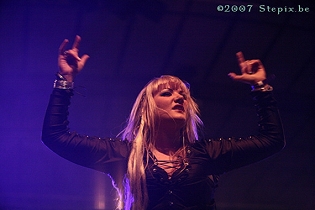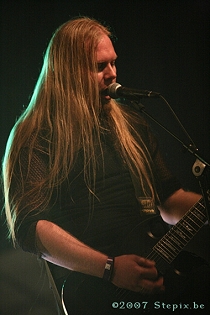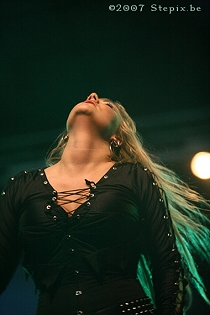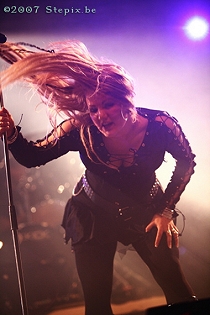 Epica


It is great to see a Dutch band as one of the lasts bands at such a great festival. There were many members of the audience who believed Epica to be the headliner of this festival. After their show many left the venue (they missed out though). The show of Epica sounded promising, they were bringing pyro to the stage! Which is always fun.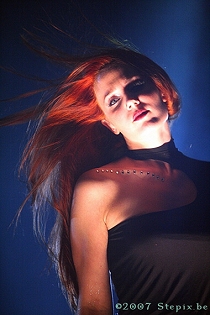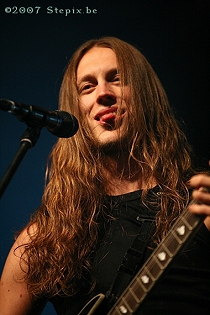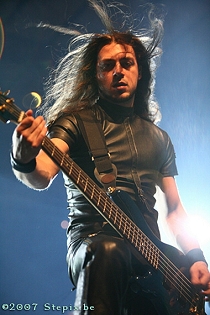 Music and performance
When walking past the stage to see the show hearing 'Indigo' playing, a shiver went down my spine, what a buzz. Excitement was in the air for sure. Epica started with flames and bangs, a banging start so to say. The band was obviously excited and they performed a great show. Simone went off stage for the instrumental parts, giving the band space to show off. At first they followed the songs of the album but there was space for some older songs as well, such as 'Quietus'. Every song was welcomed with loud cheers. There was an extra stage on stage, with both drums and keys on it and a little space in the middle for either Simone or one of the guitarists to stand on. We were treated to bangs, sparkles, flames, clouds of smoke shooting from the stage. It was a very energetic and powerful show which was thoroughly enjoyed by the audience. The show ended with 'Consign to Oblivion' and this finished with a very large blast and white paper shreds flying out over the audience, which is always a wonderful sight. Everybody who left after this show left very happy, but there was more to come this evening.
Rating
Music: 9
Performance: 8
Sound: 7
Light: 7
Total: 8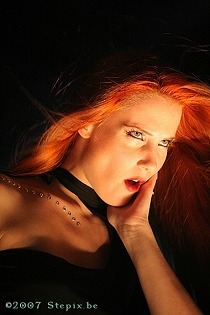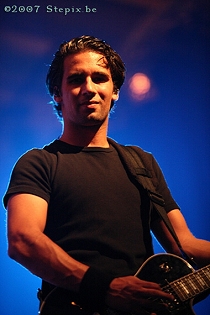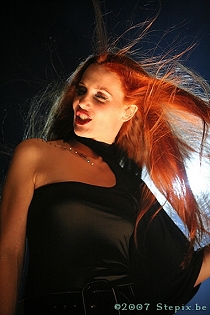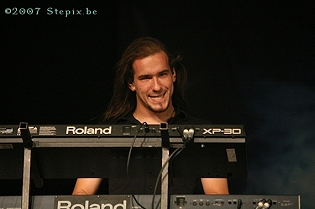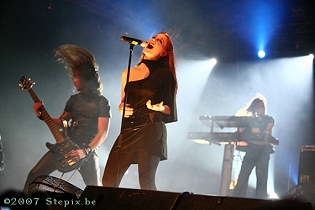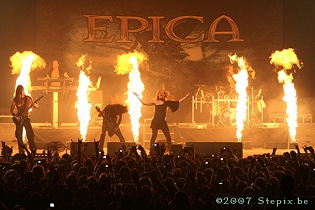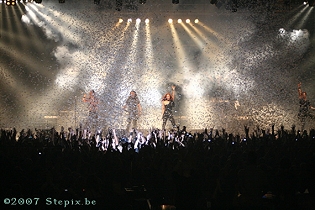 Leaves' Eyes


Leaves' Eyes was the headliner of the day. Many had been waiting full of anxiety to see the ship… They were going to record a DVD this evening and the stage was to be filled by a Viking ship. It was a shame that many had left after Epica. Some people considered Epica the headliner of today but after seeing this performance of Leaves' Eyes I am sure that they were the headliner, and a great one for sure!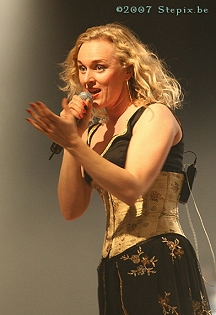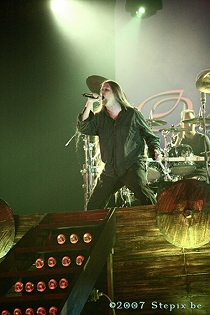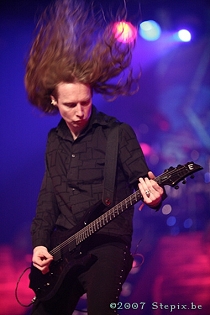 Music and performance
The show started a bit late and the audience was impatient. They were ready for this promising show to start. Then the intro of the 'Vinland Saga' started. The curtain had dropped and the great ship was to be seen. It was quite the impressive sight! A huge Viking ship, with its large dragon head and curly tail. There were stairs from the ship to the stage. Behind the ship there was a projection screen. Blue light was directed at the ship, almost making it sail. A large bang of sparkles opened the show and 'Farewell Proud Men' started. During many songs there were projections on the screen behind the ship such as parts of Leaves' Eyes video's and images of Vikings, war and new land. First we saw the proud men sailing for new land. Their journey, you can see the ship sail the great see. And in the end this of course leads to 'New Found Land'. There was a lot of pyro. For instance during 'The Crossing' there were huge steam cannons. Liv has changed her outfit several times during the performance looking great every time. She has her own style of clothing and that is great, it shows her personality.
Several songs were performed with acoustic guitars, which stood at the front of the stage. During 'The Thorn' Liv sat down on the stairs leading up to the ship. She was guided by the two acoustic guitars and even a cello. After this it was time for the musicians to own the stage while Liv was back stage for another change of clothes. She came back to sing one of her favorite songs 'For Amelie'. Her first dress was exchanged for a blue dress. During 'Skraelings' it was time for Alexander to dress up, he arrived on the ship with a shining helmet and a large sword. Which man wouldn't love to do that at least once? It was very clear that the band was loving this. When the colored sparkles shot out of the floor during ' New Found Land' you could see them shine with enthusiasm. 'Leaves' Eyes' provided a moment to catch your breath, and then you'd loose it at the sight of the snow coming from two machines at the top of the stage. A magical sight. 'Lyset' was enhanced by four extra drums on top of the ship. The final dress of Liv was her famous red dress. She dedicated the final song to us, the audience. 'Elegy' brought the grand finale of this show. Sparkles all over the place and on top of that, silver papers blown all over the audience. During the outro the audience never stopped screaming and shouting and applauding. It was a great show and left the audience with enough energy for the ride home!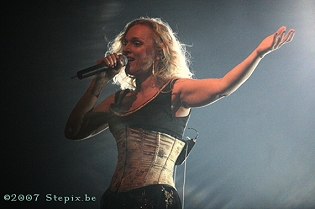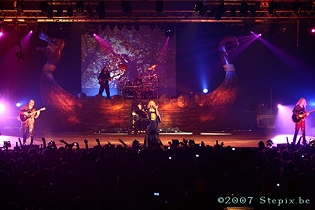 Setlist
01. Intro Vinland Saga
02. Farewell Proud Men
03. Ocean's Way
04. The Crossing
05. Into Your Light
06. The Thorn
07. Mourning Tree
08. For Amelie
09. Skreaelings
10. Temptation
11. Tale of the Seamaid
12. New Found Land
13. Leaves' Eyes
14. Solemn Sea
15. Intro Lovelorn
16. Norwegian Lovesong
17. Lyset
18. Legend Land
19. Elegy
20. Outro Mot Fjerne Land
Rating
Music: 8
Performance: 9
Sound: 8
Light: 8
Total: 8 (8,4)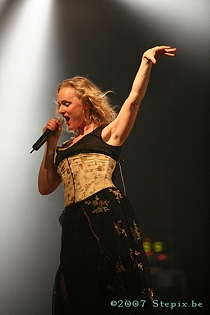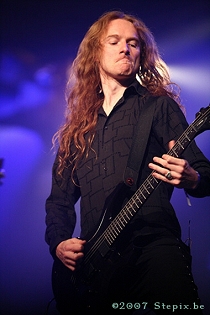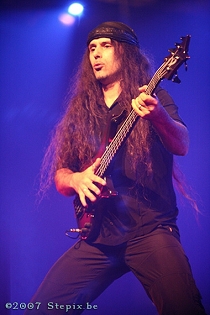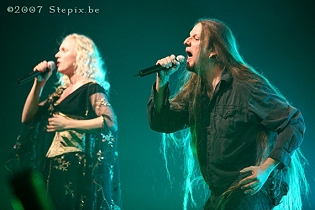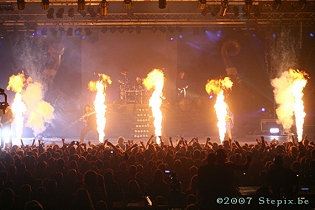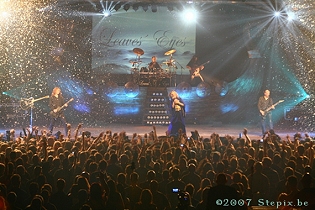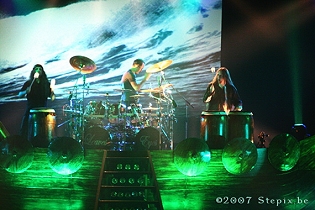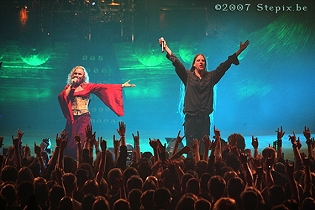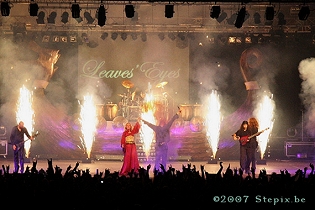 Photography by Stéphane Odent (
www.stepix.be
)
More pictures
here

Review Day 1
{jos_sb_discuss:18}
See also (all categories):