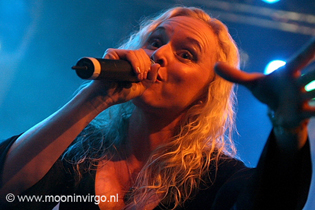 Bibelot, Dordrecht, The Netherlands
19th November 2009
Beauty And The Beast tour - Leaves' Eyes, Sirenia, Atrocity, Stream Of Passion, Elis
A memorable concert is not always the one with the perfect sound, having the best setlist, or dynamic performance. These elements are important, but there is one thing what makes people remind it after years: the emotions, having an intense bad or good experience. This evening will always be the one where Liv Kristine defeats her voice problems! Just that simple fact makes it for every visitor that night, an unbelievable experience. The happiness, relief, and surprise are in the air. All the bands are more than convincing, a very successful tour for everyone!
Elis
Their new album 'Catharis' is released in November and it is the first album with vocalist Sandra Schleret. A very personal album to her and shows a more mature sound of the band. Elis is coming from Lichtenstein, and since their beginning a band with a very dark gothic-metal sound.
http://www.elis.li/site/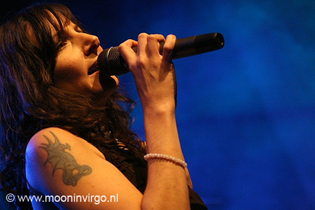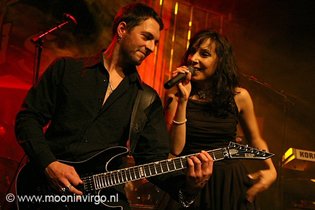 Music & Performance

Performing in an old church is a perfect entourage for gothic-metal: with a dome vault above the stage and surrounded by white pillars. It is one of the best stages from the Dutch part of the tour. It is a huge venue, very high and long. The more the surprise when the stage is not that high, but very deep. Elis has profit of this construction. The crowd is gathered in the front between the pillars and Sandra easily has interaction with the audience. She bends forward, moving her hands and is seen even by the ones who are making their entrance. The crowd is singing along, and they get a lot of response. The people are giving them the 'benefit of the doubt' because for many of them it is a first acquaintance. The sound is much better than before and that is essential for their dynamic set-list. 'Show Me The Way' is one of the most successful singles of the band. After the previous vocalist Sabine passed away too early, a whole media circus started around the band. With retrieved energy they started a whole new chapter. It is good to see that the audience appreciate this special song in the set-list, and reward Elis with a big applause.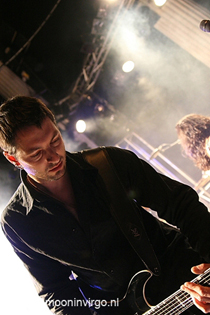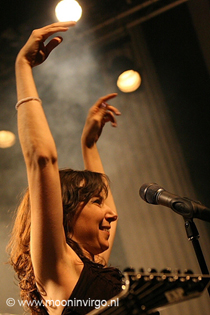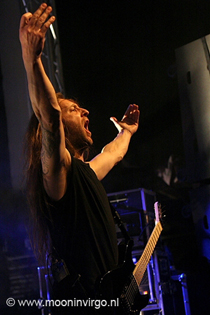 The guitar sound of the band is quite heavy, and Sandra wins a lot of admiration when she shows her strength during the very high melody-lines, and runs around on stage: like it is nothing! Musical stars know how hart it is to dance and sing at the same time. The other men on stage are also moving easily, but not automatically. They have fun and share that with the audience. Sometimes the crowd is a bit silent during the new songs, but they are not talking though the songs or being bored. For an opener of the evening that is also a big victory. In compare with many bands Elis has a original sound: heavy guitars and drums in a very technical setting and on top Sandra Schleret the real eye-catcher of the band. With her strength in the low and higher parts she is a real 'beauty' on stage this evening. Afterwards there was a very open and intense interview with her, and all together is makes it again a special night. Also because of the fact that the Bibelot crew is very professional and there is a lot of space for the bands this time. How different will it be in Biebob (BE) the day after. But both have their own charisma, that is for sure!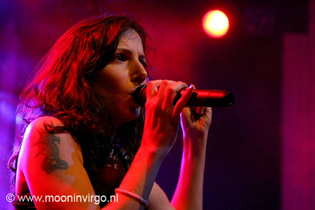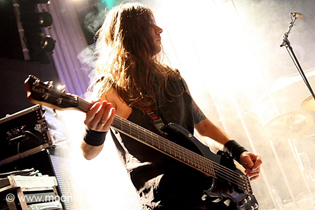 The last song of the evening is 'Firefly' from the new record. Sandra says about it: "
Here is my favourite song of the new album, I hope you will like it as much as I do!
" A groovy sound is the result, where Elis for the last time gives all their energy. Sad enough the band couldn't sell their new album yet, due to logistical problems. But I am sure that after this tour, many people will respect them more and won the audience. Hopefully they come back for an own club tour to promote their new album better! Live tour video from 'Der Letzte Tag':
http://www.youtube.com/watch?v=iwMyB86T-C8
Rating
Music: 8.5
Performance: 9
Sound: 8.0
Light: 7.5
Total: 9.0 / 10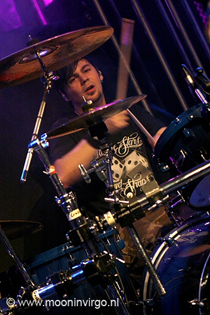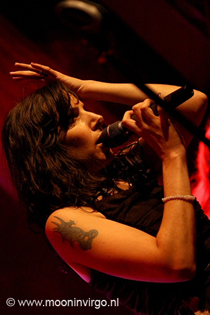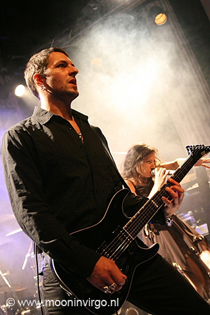 Stream Of Passion
The second album of the Dutch band 'The Flame Within' (2009) is recorded with a different line-up, but mastermind Marcela Bovio collected some very strong musicians around her. A band with a female vocalist and a strong progressive sound: an interesting combination.
http://www.streamofpassion.com/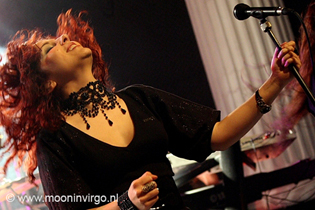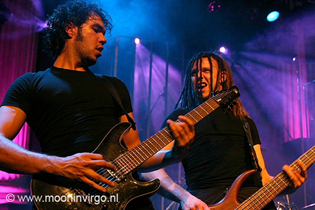 Music & Performance
Stream Of Passion has a strong reputation in The Netherlands since their start in 2005. At that time Arjen Lucassen (Ayreon, Star One) and Marcelo Bovio (songwriter, singer, violist) formed the band and toured on many summer festivals in 2006. When Arjen and others decide to leave the band (he started with a new Ayreon album again and was no longer able to play the guitars on stage), many fans had their doubts about the future of this band. The sceptical ones among us can be convinced: the band perfectly can stand on their own feet. They are challeging the whole Dutch gothic-metal scene to dare mix female vocals with such a strong progressive sound. 'The Flame Within' is for sure an album what writes history for that reasons. It brings something new and refreshing, what is very rare nowadays where many gothic orientated bands discovered new paths. No wonder that they surprised everyone on the Belgium Metal Female Voices Fest a few months ago.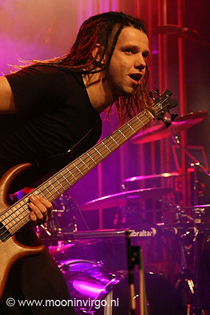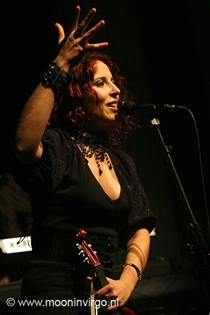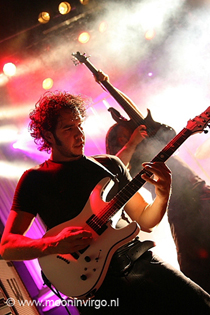 On this tour they are the most dynamic formation and most of all acting like it doesn't take any efforts. Opener 'Passion' reminds us of the old times, but in this new formation it is an explosion of energy. In this case it is a pity that the stage is not higher, because I bet the people in the back couldn't see how much interaction is there among the members. Also it is totally new experience to be so close on the artist's skin. The band is eager to present their new album and assign tons of energy to the audience. Live video 'In The End' single:
http://www.youtube.com/watch?v=VzOq4wBSTys
. Luckily there is more space for Jeffrey Revet to be seen, bringing a real organic and fragile piano sound. Again a bit hidden behind his drum-kit Martijn Peters is sharing in the adrenaline vibe, but all the attention goes to Marcela. She is an amazing vocalist, and she is blowing away everyone night after night.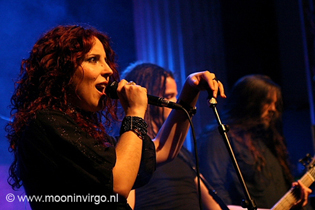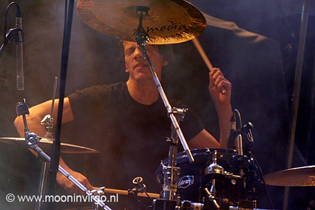 In compare with other bands this evening, the other members dare to grab their moment. Like Johan van Stratum (bass) and guitarist Stephan Schultz, running around and moving a lot to bring the whole show to a higher level. In Bibelot the band can be proud: they left the audience amazed behind, full of adrenaline. Yes their reputation will grow very fast, that is for sure with so much talent in one band! Part 3 from their tour diary:
http://www.youtube.com/watch?v=dverH0gRnS8
Rating
Music: 9.5
Performance: 9.5
Sound: 8.5
Light: 8.0
Total: 9.8/ 10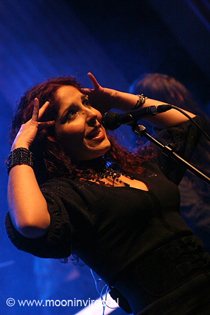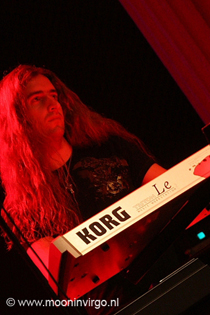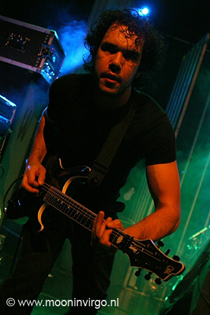 Atrocity


German formation Atrocity, started in the eighties with a technical death metal sound. In 2008 the band releases 'Werk 80 II' a follow-up from their cover album 'Werk 80 I' (1997). A band with a very wide background and a weakness for '80 hits.
http://www.atrocity.de/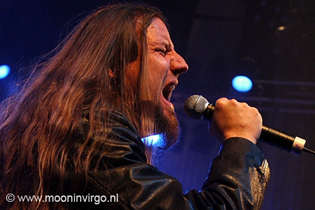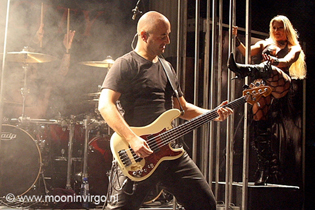 Are eighties songs mixable into a strong metal sound? Atrocity proved with their two cover albums that it is possible in a very original way. The German band is a bit a chameleon, changing colours when they want to. From technical death metal to eighties covers, that is a huge step. "The motivation is mainly having fun and walk new paths" explains vocalist Alexander Krull before they have to go on stage. Mathias Röderer (guitarist) is very modest, but is responsible for the dynamic guitar sound and song writing. He is honest about the fact that it is heavy to perform in two bands each night. They did it before back in 2004 when Leaves' Eyes released 'Lovelorn' but that was less intense than this package. Their show is grand with dancers on stage. In Bibelot for the first time cages are used and that makes it more complete!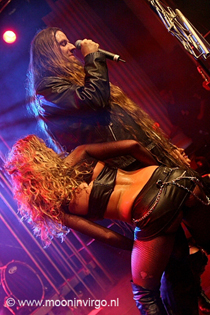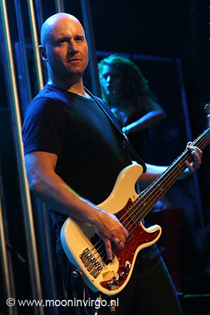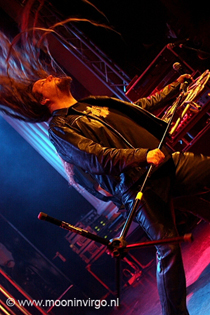 Alexander Krull is a natural performer and with his enthusiasm the audience easily screams for him, and he asks that more often! 'Tainted Love' has a lot of power on stage, especially because the whole band is moving around a lot. Including drummer Seven who is new in this band. 'Locked' in between two cages, still getting the attention and showing all this drum tricks. In the front Alexander is screaming a lot to warm up the audience, and it helps because many people are moving and singing along on 'Fade To Grey.' Also it is the most heavy and raw sound from all the songs from Atrocity that evening. The frontman impresses everyone with his long hair, headbanging faster and faster. Oliver Holzwarth (Tarja Turunen, Blind Guardian) replaces bassist Alla on this tour and he does a great job. He is well respected and also very talented. In Bibelot he shows that he can be a real performer: standing in the front, having interaction with the crowd and sharing the fun with the other Atrocity members.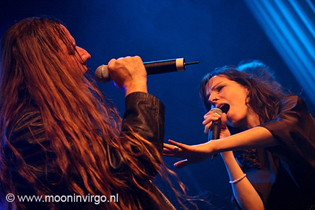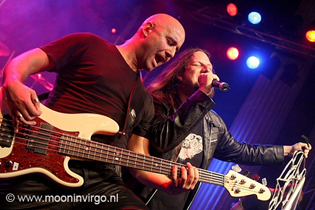 Normally Liv Kristine is doing backing vocals and the duets with Alexander on stage. She decided that for a headliner artist it look a bit strange to enter the stage during a support act. Sandra Schleret from Elis replaces her in the duet 'The Sun Always Shine On TV.' She is also more used to work with these men and it is really sweet to have the tall long mr.Krull next to such a fragile, sweet woman. She has a totally own sound and the audience is screaming for her. When the last song 'Shout' sets in, the energy is in the air. Atrocity is very much alive, and we can expect a lot of them in the future. Next year the band has his twentieth anniversary and will celebrate that with a special show on Wacken Open Air, Germany. Live video 'Tainted Love':
http://www.youtube.com/watch?v=oOftmocml8Q
Rating
Music: 8.5
Performance: 9.0
Sound: 8.5
Light: 8.0
Total: 9.3/ 10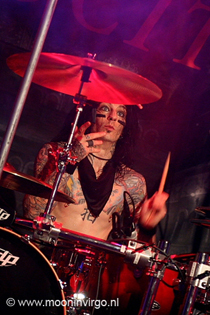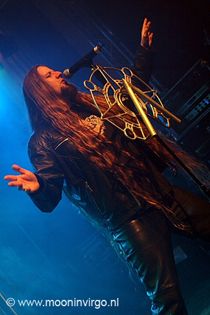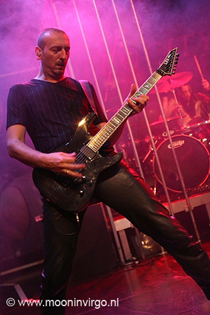 Sirenia
Norwegian gothic-metal band founded by Morten Veland (former Tristania). The fifth album 'The 13 Th Floor' (2009) introduces the new female vocalist Ailyn, still having classical arrangements, mixed with metal. Over the years the band developed a bombastic, catchy sound.
http://www.mortenveland.com/sirenia/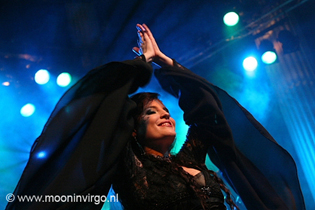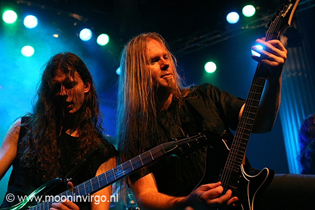 What started as a new band from Morten Veland, is grown into a worldwide success. He has such a unique way of writing songs still holding on to the traditional gothic-metal concept. Unite classical influences like Latin choirs, bombastic arrangements with heavy metal guitars. Don't forget the high female vocalist and the whole concept is complete. It sounds much easier then it is. With all those bands trying to be different, Sirenia is still there after many line-up changes. Only that deservers some respect, but with their last album 'The 13The Floor' it is the key for a bigger audience, and more commercialised success. Tonight in Bibelot there is still a strong fan base, singing alone and being very supportive. Such a difference in compare with Zaandam.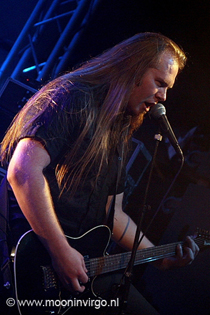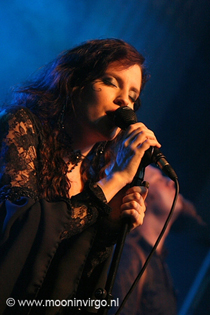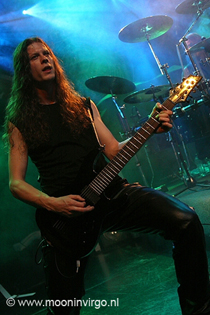 Opener 'The Path To Decay' is catchy and is a perfect example from the new Sirenia sound. Ailyn easily grabs the attention with her soft voice and it suits very well with the less dark atmosphere nowadays. Sirenia is lighter, dynamic and grown into a very interesting band. The line-up changes were on first sight not comfortable, but it game with new inspiration and on stage there is more interaction. Ailyn is more serious, and has a natural charisma what fits better to the bands than the previous vocalists. Maybe you have to give it some time, but also the older songs are very well interpreted by her, like on ' My Mind's Eye.' The duet's between grunter Morten and the female vocals are very dynamic like on the older songs. Morten proves again that he is a great songwriter and a good musician. Also the catchy guitar solo's are a real eye-catcher, also the result of the line-up changes. In this setting Sirenia suprises the crowd and that is a good result of this tour package: the fact that new people will like the music and discover new bands.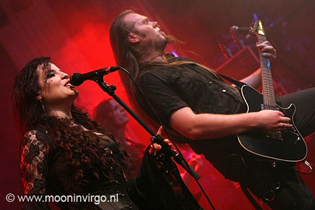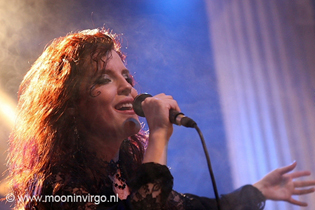 Each night the show is more dynamic, the songs are more and more under their skin and it is amazing to be an eye-witness of that. They definitely surprised me the most in Biebob (BE) the day after Bibelot. Where many fans are giving them such a nice welcome. A weak point is still the soft sound of the choirs, but tonight it fills the air in Bibelot. Such a excessive setting, and maybe that is why it is their best performance so far. Sirenia has a lot of experience although Ailyn is new, but they are full of positive energy to make something of this tour. They have fun on stage, appreciating the reaction of the fans and enjoying it. And with such a great setlist from new and old songs everyone is pleased. Ailyn did what nobody expected: she managed to win everyone's hart, by being so open with her big smile and natural way of interaction with the audience. Sirenia is back: strong, confident and with a new sound! Live video from 'The Seventh Summer '
http://www.youtube.com/watch?v=kLBGFuEV_wQ

Rating
Music: 9.0
Performance: 9.3
Sound: 7.5
Light: 8.0
Total: 9.5 / 10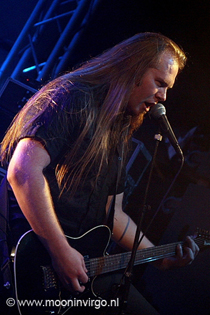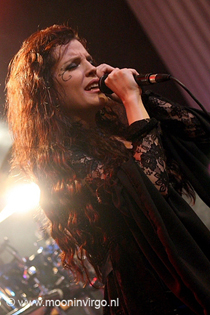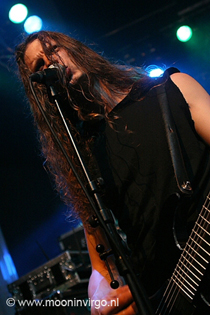 Leaves' Eyes
Norwegian, German band Leaves' Eyes is formed by vocalist Liv Kristine and her husband Alexander Krull. 'Njord'(2009) is their most bombastic and mature album, bringing you symphonic metal with a strong female vocalist. The lyrics are related to Norwegian sagas and the Celtic history.
http://www.leaveseyes.de/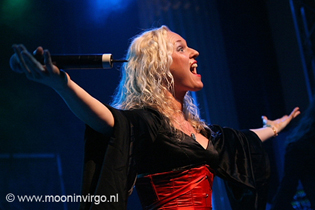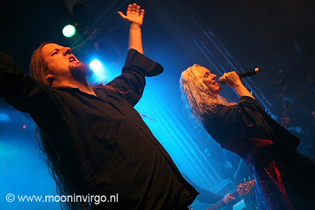 When the Dutch part of the tour started in Sneek, Liv Kristine had a lot of voice problems. It always will stay in my mind how much strength she showed, supported by the fans and managed to create an intense evening. Astonishment is there, when she is able to give a statement about her illness to me, before the show in Bibelot. It made me so happy to know that it went better and not worse (what was the biggest fear of everyone). People are excited, and when the first tone of 'Njord' sets in Leaves'Eyes is welcomed by a screaming, delirious crowd. The song is the title track and opener of the new album. Also live it has everything what Leaves' Eyes represent nowadays. It grabs you, makes you shiver full of energy. Liv Kristine shows a different side of her: a bombastic, opera voice and still having such a sweet intonation. The melody is catchy, full of dynamic guitar and bass lines with a groovy drum sound.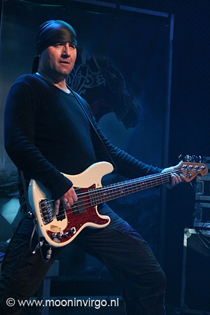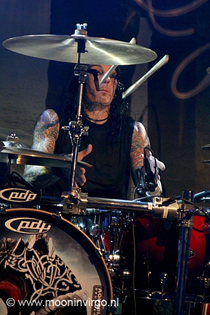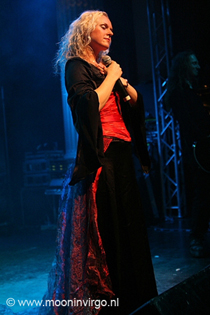 The moment when the diva reaches the high parts very high and clear, the excitement sets in. Such a relief when the front woman confirms the good news: "
I am so happy! Finally I have my voice back!
" The single 'My Destiny' can count on some good response from the audience and fits very well with some older well known songs like 'Farewell Proud Men.' For days Alexander took care of Liv Kristine: bringing her tea on stage, made her stay in her hotel and she had to leave straight after the show. How beautiful is the result when especially this evening, on the last Dutch show, Liv Kristine has the control back over her voice. The whole band is suddenly full of energy and adrenaline. Together with the big smile from her, you feel the special vibe of this memorable evening.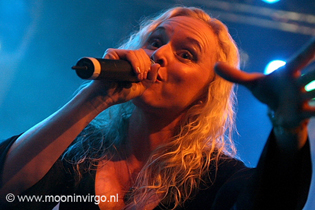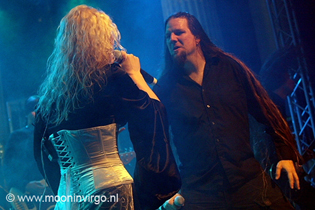 The acoustic part of the set is a real 'present' to the audience: creating a very cosy atmosphere, performing 'Irish Rain' in a very interesting setting. Drummer Seven starts the rhythm, Alexander Krull sets in with a tambourine and the acoustic guitars enforces silence. And there it is: the soft, sweet and pure voice of Liv Kristine. She knows how to tell a story not only by emotional intensity, but also to believe in it. Leaves 'Eyes is a master in creating a different world where nature comes alive. Also Oliver, replacing Alla on the bass, fits very well in this atmosphere. He is down to earth, having a strong devotion to the music and enjoying every second of the show.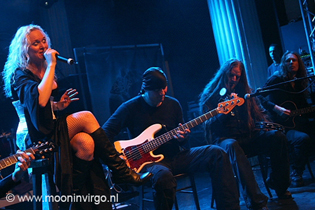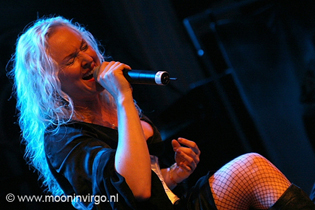 With this 'little' song the band shows that they are capable of more than catchy metal shows. They transform it easily into something fragile and that shows talent, experience and most of all the will to walk new creative paths. Also live this new album is more than a success: people will remember it. Tonight Leaves' Eyes performed a perfect gig, and the expectation rises. Luckily they come back to support Kamelot, because we are not ready to say goodbye yet. Over the years the band is grown so much, and on this tour it overwhelms everyone. The 'Beauty And The Beast' tour is officially a big success for all bands and most of all to Liv Kristine. Like her beloved saga's she had hard times, but there was a sweet ending. History is written by this charming diva! Live video 'Irish Rain':
http://www.youtube.com/watch?v=COHiy7qYSYc
Rating
Music: 10
Performance: 10
Sound: 9.0
Light: 9.0
Total: 10 / 10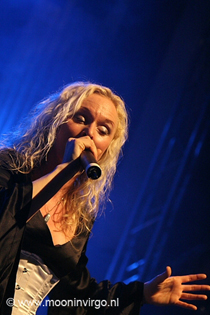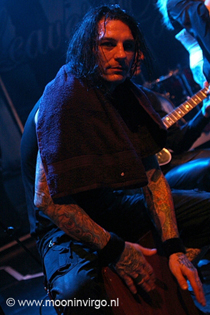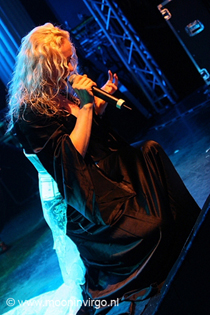 thank word to: Napalm Records team, all the bands, and local crew.
More photo's on:
http://www.mooninvirgo.nl/
- copyright protected.
{jos_sb_discuss:17}
See also (all categories):