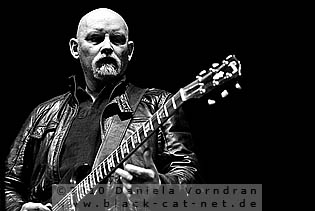 Leipzig, Germany
21st - 25th May 2010
Wave Gotik Treffen Day 1 and Warm-Up: Electro All Stars, Insomnium, Beloved Enemy, The Pussybats, Nahemah, Oberer Totpunkt, Dark Diamonds, Samsas Traum, Orgonautic, NoyceTM, Crematory, Slave Republic, Leaves' Eyes, Leichtmatrose, Brendan Perry

Like every year on Whitsun, Gothic people from all over the world came together in Leipzig / Germany to celebrate the Wave-Gotik-Treffen, this time already for the 19th time from 21st to 24th May. Since many years, the Treffen is celebrated as a THE international gathering of the "dark family". It is the biggest gathering of its kind worldwide.
All over the city, there were nearly 200 bands and solo artists performing covering the whole wide range of Gothic music: from Electro-Pop to Goth-Metal, from EBM to Neofolk, from medieval music to Industrial. The concerts and events took place at about 40 venues spread over whole Leipzig, for instance in the vaults of the Moritzbastei, in the splendid neo-antique cupola hall of the Volkspalast, in the green round of the open air Parkbühne, as well as in large concert halls. Traditionally, the crazy Gothic converts are contrasted by including some of the finest classical music in the program as well. This year WGT guests could listen to bombastic Wagner sounds in an old industrial hall or to the moving tunes of Mozart's requiem in the impressive crypt of the Völkerschlachtdenkmal (Europe's biggest monument). Even Leipzig's Opera house was booked for a Stravinsky ballet evening, for Adolphe Adam's enchanting romantic ballet Giselle and for Verdi's tragic masterpiece La Traviata. Since we were only three people reporting from the festival, we could only cover a little part of the presented concerts or other activities.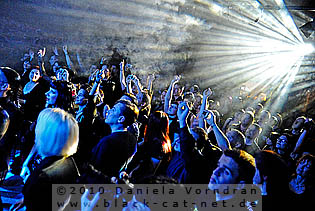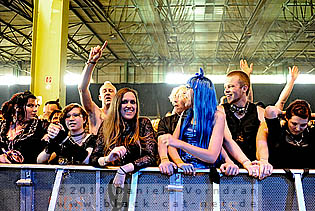 Electro All Stars - WGT-Pre-Opening Party at Moritzbastei on 20th May [Daniela Vorndran]

Usually arriving on the festival Friday, I decided to come to Leipzig already on Thursday this year to start the festival much more relaxed and with the Pre-Opening party on Thursday night at the Moritzbastei. For the second time, the evening should include the Electro All Stars performance, also called "EBM Karaoke" by some people. Joining in at this second edition were: Sven Friedrich (Zeraphine, Solar Fake), Torben Wendt (Diorama), Boris May (Klangstabil), Dejan Samardzic (Haujobb), Krischan (Rotersand), Kolja Trelle (Soman), Chris and Dr. Molle (1979), Canay (Scarecrow, Polecat, Steinkind Live Member) and Scary72 (Scarecrow).
http://www.myspace.com/elektroallstars
The evening started pretty relaxed with meeting friends, having some food and drinks along with nice chats with beloved friends. Finally at around 22:30 it was time for the "Karaoke Show" to start. There was a lot of fun and smiling on and in front of stage. People were so excited. And let me tell you, it was a great show. Cover versions of lesser known sings but also of big hits like DEPECHE MODE's 'In your Room' or WHITE LIES were presented. Outstanding i.e. were the cover versions of THE SMITHS 'How Soon Is Now' by Sven Friedrich, 'West End Girls' from PET SHOP BOYS presented by Torben on Keys and Boris on vocals as well as PETER SCHILLING's 'Major Tom' sung by Torben and having Boris on keys this time. After the live show, there was party on all areas of the Moritzbastei presenting all kinds of dark music. Just a perfect start into the weekend!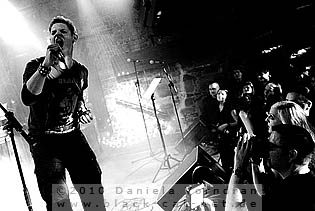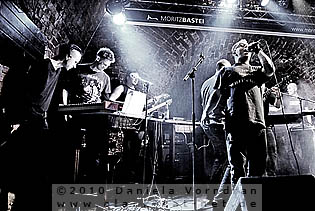 Friday for me started with a nice breakfast at my hotel. Then it was time to get my photo permission at the press office at Agra. Security there was very nice and helpful. Anything went quick, even our pictures for the pass were lost in space, and due to the nice weather and the time I still had until the first show was going to start, I decided to visit the Völkerschlachtdenkmal which is quite impressive and always good for some pics. Incidentally I met some friends there what made the afternoon even better. Finally it was time to go to the Kohlrabizirkus, where the first show on my list, ALIGHT, was scheduled. Arriving there I learned that the band had to cancel the show due to illness. After a while, also our reporter Anne arrived that and so, we killed time until second band, INSOMNIUM from Finland, started.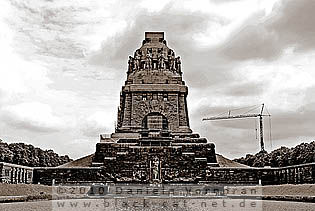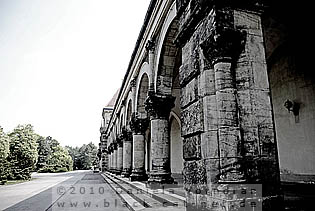 Insomnium - Kohlrabizirkus [Anne Kuhfuß]

INSOMNIUM is a Finnish melodic death metal band from Joensuu. They are influenced by doom metal, playing songs about sorrow, death, loss, and mourning. They also incorporate elements of Nordic / Norse folk music and symphonic music into their sound. The name "Insomnium" means "nightmare" in Latin, and was also the name for a category of religious visions in the Greek, Roman, and Medieval Christian periods. Since their inception, INSOMNIUM has steadily evolved their style of music. Their melodies are highly melancholic, and their overall sound is much darker. The band's lyrics tend to be influenced (and occasionally taken) from classic poets like Hölderlin, Edgar Allan Poe, Finnish classic Eino Leino and other literature. http://www.insomnium.net/ / http://www.myspace.com/insomniumband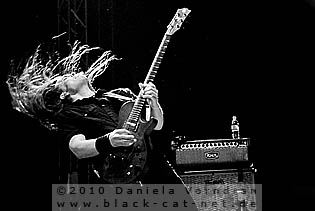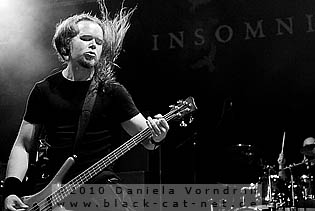 Music & Performance

The very first band to start the day at the Kohlrabizirkus was INSOMNIUM. Due to illness, ALIGHT from Italy had to cancel their gig on the last minute and the audience wasn't informed until they reached the place of event, so we got some extra time for anticipation. After the obligatory intro track, they opened with 'Down with the Sun' from their recent release 'Across the Dark' which dominated the set with 5 out of 9 songs. I never experienced an opening band having such a great sound like INSOMNIUM. Everything was well balanced from the beginning. The guitars were heavy and clearly to distinguish and they even used a trigger for a tight, punching drum sound. Performance-wise there was nothing unforeseen going on, as expected from a melodic death metal band: musicians playing their instruments and lots of circling hair - but the terms "melodic death metal" doesn't really do justice to their music which can be described as hard, but very playful as well as atmospheric and sometimes even reminded me of AMON AMARTH in their more epic tracks. What a pity they were scheduled this early while playing on a metal festival they easily could have got a headliner position. Nonetheless the front of house was rather crowded, a lot of people joined in head banging and no one was offended that vocalist Niilo Sevänen called the WGT "festival" or just "Wave-Gothic".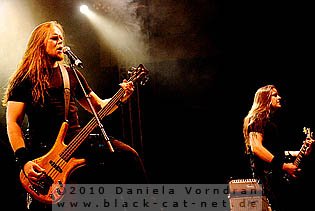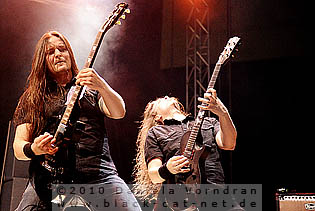 Setlist

01. Intro
02. Down With the Sun
03. The Killjoy
04. Where the Last Wave Broke
06. The Harrowing Years
07. The Gate
08. Mortal Share
09. Lay of the Autumn
10. Weighed Down With Sorrow
Rating

Music: 9
Performance: 8
Sound: 10
Light: 8
Total: 8.7 / 10

Beloved Enemy - Kohlrabizirkus [Anne Kuhfuß]

BELOVED ENEMY was founded by Peter Kafka in 2006. After being in the band FIDDLER'S GREEN for 15 years, he wrote new songs for which he still needed a singer. During a karaoke-evening in Nuremberg, he had found the perfect singer, Ski-King "Dead L-Vis", for his project. During the next time, the rest of the line-up joined the band. Up to now, they have released 'Enemy Mine' (Twilight Label).
http://www.belovedenemy.com/
/
http://www.myspace.com/belovedenemy666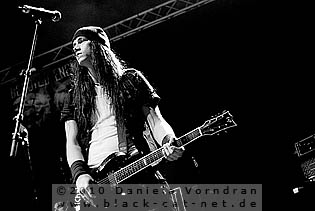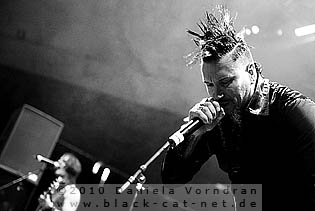 Music & Performance

I just praised the sound INSOMNIUM and in a breath I ask myself how much the sound can be fucked up from one band to the other. To be fair, I don't think the sound technician is to blame on the major misery but the band itself. The lead guitar had so much gain and was therefore so loud and crunchy that the rhythm guitar was almost redundant. In addition to that there was nothing more to hear from a triggered kick drum, leaving a muddy mess in the background. And I couldn't get rid of the feeling that there was something un-tight going on in the whole rhythm section, but that can only be a feeling. If that wasn't enough singer "Ski-King" performed something between Jyrki 69 (THE 69 EYES) and a wannabe Elvis Presley, but doing that he sounded so unnatural and forced. The performance ignored, even the songs itself were nothing more than mediocre. To save us from further unpleasant experience and the look of the King's undressed upper body, we soon left the band to the rest of the audience.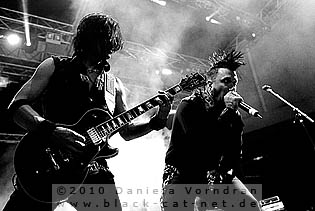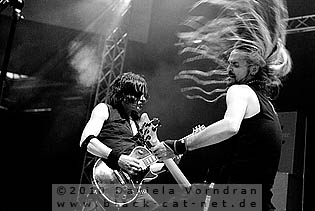 Setlist

01. Intro
02. Drowning
03. Enemy Mine
04. Die Alone
05. The Other Side
06. The Others
07. Fuck Me Back To Life
08. Virus Undead
09. Thank You for the Pain
Rating

Music: 5
Performance: 8
Sound: 4
Light: 8
Total: 6.2 / 10

The Pussybats - Werk II [Daniela Vorndran]

I just too pics of BELOVED ENEMY, but had not much time for watching the show since it was already time to leave to Werk II where THE PUSSYBATS already where playing when I arrived at the venue. The rather short history of the band, with the motto "Sex, Blood & Goth'n'Roll", so far includes the winning of the 'Battle of the Bands' contest on 2006, songs on various compilations like on 'Aderlass Vol.5; or on collections by the Orkus or Sonic Seducer magazines just to name a few; as well as a considerable mount of concerts in Germany, Austria or the Netherlands. In June, the band entered the studio to start the works for their debut album 'Famous Last Songs', produced by Chai Deveraux (JESUS ON EXTASY) and released in January 2009. Currently the band is working on the follow-up which is due for release in summer 2010. THE PUSSYBATS are Sid van Sin (vocals), Roy Rock (guitar), Marple 8 (bass / gore) and Mike Night (drums).
http://www.thepussybats.com/
/
http://www.myspace.com/thepussybats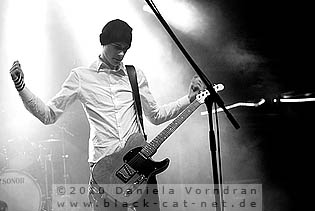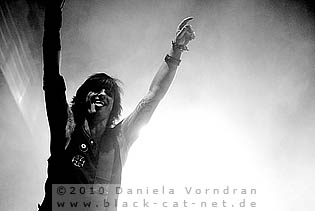 Music & Performance

When I saw the band for the first time at the Nocturnal Culture Night festival playing in bright sun light, I saw a show that was much cliché laden. So, let's see how the band did this time. Well, I was surprised in a positive way since the band moved forward finding its own style. Even though Marple 8 was still good for lots of posing, anything else starting with the band's outfit was much less cliché laden than when I saw them for the first time. And still I liked the good old Goth Rock and singer Sid's dark charismatic voice. So, good impression made with the WGT performance! Just a little disappointment was the poor light show, was is because they were the first band at the venue? Too sad since there was enough equipment to make something better out off it.
Setlist

01. Red Nose
02. Scary Fairy
03. Tunes 4 Tragedy
04. Your Woman
05. 15x60
06. Crimson Girl
07. Banshees
08. Revolution
Rating

Music: 8
Performance: 8
Sound: 7
Light: 5
Total: 7.4 / 10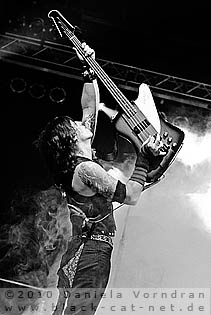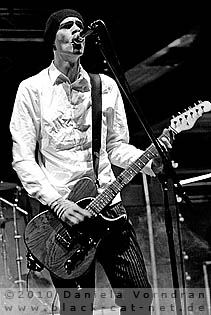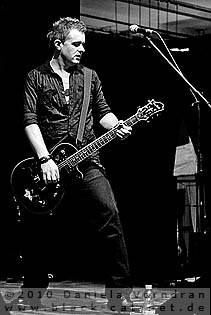 Nahemah - Kohlrabizirkus [Anne Kuhfuß]

NAHEMAH was formed in 1997 in Alicante, Spain. In 1999, their debut album, 'Edens in Communion', was independently released. In 2001, being signed to Iberian Moon Records, NAHEMAH released their second album 'Chrysalis'. The album received positive feedback and was re-released by Concreto Records. During 2003, NAHEMAH recorded an EP titled 'The Last Human' which was never released. Following the recording of the unreleased EP, the band had line-up problems. Between 2003 and 2005, the band was putting together their third studio album, 'The Second Philosophy'. That album would see a release in 2007 via Lifeforce Records, a label which they were signed to in August 2006. NAHEMAH are currently in the process of recording a fourth studio album.
http://www.nahemahband.com/
/
http://www.myspace.com/nahemahband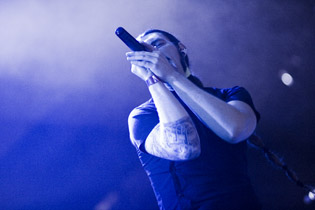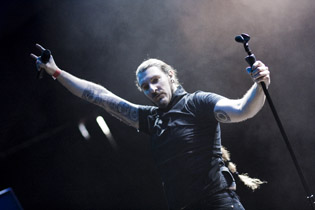 Music & Performance

We all know the world is unfair. Even in Leipzig. I have no other theory to explain why such an overrated band like BELOVED ENEMY can gather masses of people in front of the stage and NAHEMAH have to struggle to fill the first four rows, leaving out the ones who loosely stood around. I blame it on the missing fame. Anyhow the music was great. NAHEMAH sounded like the less Viking-ish, effect-driven brother of ENSLAVED and recent VINTERSORG with a solid portion of blackness floating above all the progressivity. I admit it's not the music for anyone's taste. No easy listening here, but it doesn't claim to be. Therefore, the level of performance on the stage was quite low, but maybe could have been raised if singer Pablo wore his hair open while head banging. Since they hail from Spain I didn't expect the grim- and coldness Norwegian black metal bands bring, but NAHEMAH were the first band explicitly request the audience "to feel the passion and the love" of their tunes. Anyway, if you enjoy the mentioned bands above and didn't make it the concert, check out their music and you won't be disappointed.
Setlist

01. Much Us
02. Labyrinthine Straight Ways
03. Nothing
04. The Perfect Depth
05. Under The Mourning Rays
06. Smoke's Men
07. The Trip
Rating

Music: 9
Performance: 8
Sound: 8
Light: 7
Total: 8.3 / 10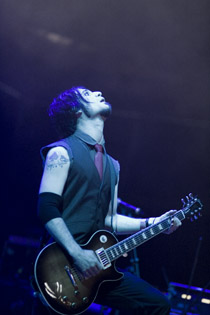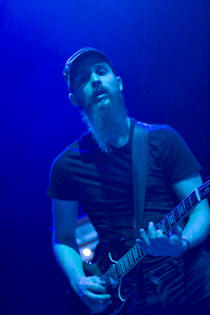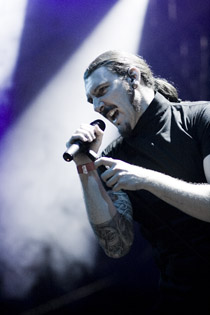 Oberer Totpunkt - Werk II [Daniela Vorndran]

My second band at the Werk II and the first one I needed to catch up was OBERER TOTPUNKT (Top Dead Centre). The German trio entered the dark music scene in 2007 with their debut album '10 Grad vor OT' and surprised both critics and music addicts with their unconventional musical approach. With 'Erde Ruft', the project has released their second album in 2009 on Danse Macabre. It won't take long until their fans were getting new stuff as the new record 'Stiller Zoo' has been released on 21st May. OBERER TOTPUNKT on stage at WGT was Bettina Bormann (vocals), David Nesselhauf (contrabass), Michael Krüger (drums), Gunther Laudahn (choir / harp), Tim Karweick (choir), Angelus, Puppenformat-C & Kansas (choir & performance).
http://totpunkt.com/
/
http://www.myspace.com/totpunkt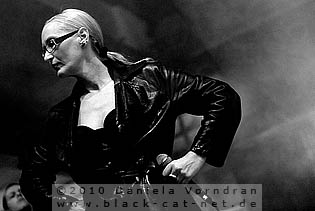 Music & Performance

Well, that was something for a change! I did not know what to expect and a spoken word performance is surely not easy. But the show of OBERER TOTPUNKT was really impressive. Not only that the band line-up on stage consists of vocalist, drummer, contrabass player and two people presenting the choir, no, there are also several more people involved into the overall performance. First, we had only a girl on stage in white dress playing with a glass ball. Then, the rest of the band entered the stage and together with a weird harp performance, this was a strange start of the show. But the band managed pretty well to attract the attention of the audience and I was especially impressed by Bettina's spoken word chant. It was incredible that she did not make a single mistake when reciting the huge amount of text in a quite fast way. Impressive!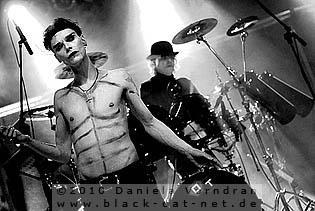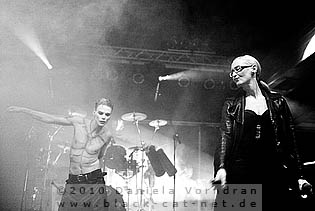 Setlist

01. Staub
02. Blutmond
03. Schlacht
04. Imperator
05. Hamburg
06. Teufels Lehrerin
07. Die Vogelhochzeit
08. Zorn des Drachen
09. Gevatter Tod
10. Paul ist tot
Rating

Music: 8
Performance: 9
Sound: 7
Light: 7
Total: 8 / 10

Dark Diamonds - Werk II [Daniela Vorndran]

The band with the name DARK DIAMONDS started back in 2006. In 2009 the band turned quite some heads on critics, and on sides of music lovers with the release of their blasting debut 'Gift'. Rumours have it the five-piece is already experimenting in their laboratories to create stuff for their sophomore. DARK DIAMONDS are Jens Wagner (vocals), Isabel Dietzer (keys), Florian Riederer (guitar), Simon Sanchez (drums, production) and Tyrae (vocals).
http://www.dark-diamonds.com/
/
http://www.myspace.com/dark-diamonds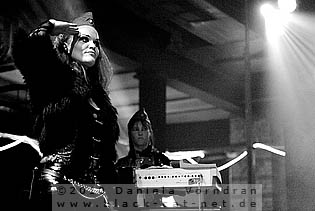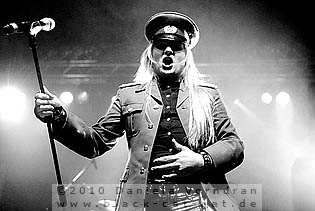 Music & Performance

From the artsy performance of OBERER TOTPUNKT to something really different, the expressive and a little bit militaristic show of label mates (both are signed to Danse Macabre Records) DARK DIAMONDS. Musically, we got a mixture of pushing electronic beats and harsher guitar parts. Also the voice of singer Jens is quite convenient. Just I had the impression that Tyrae's voice was a little out of tune during the show. Different to the two previous bands, we now got a quite impressive light show supporting the fast performance especially of singer Jens in a very good way. The band presented, except the last song 'Elefantenmensch which seemed to be a new song', only pieces from their debut work 'Gift' released in 2009. Right after the show I had to rush over to the Moritzbastei.
Setlist

01. Intro
02. Böse Träume
03. Kollektiv
04. Tief in dir
05. Herz brennt
06. Der Weg
07. Stirb
08. Das Gift
09. Elefantenmensch
Rating

Music: 6
Performance: 7
Sound: 7
Light: 8
Total: 6.7 / 10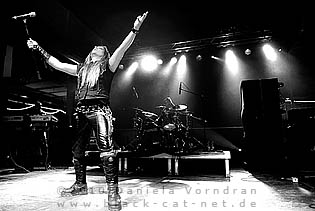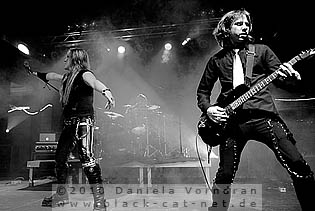 Samsas Traum - Agra [Anne Kuhfuß]

For 13 years now, SAMSAS TRAUM has enriched the Gothic community with its unique music as well as with their controversial lyrics and attitude, promoting a vegan lifestyle and misanthropy. Their recent album 'Vernunft Ist Nichts - Gefühl Ist Alles' was released on 26th March 2010 and proves that SAMSAS TRAUM is not yet ready to stop re-inventing themselves. The only constant member and mastermind behind SAMSAS TRAUM is Alexander Kaschte. And his is yet back again to entertain the gothic crowd at the WGT 2010!
http://samsas-traum.com/
/
http://www.myspace.com/samsastraum
Music & Performance

Alexander Kaschte (vocals) entered the stage and I was completely shocked by his appearance. His hair seemed to be shorter and was pulled back in a messy ponytail. His outfit was almost frightening for the dark-dressed people in the audience. He wore light jeans and a bright green T-Shirt which irritated me a bit since I saw his show back in 2008 where he performed almost without light and appeared pretty sinister. Also his mood was quite shocking to me; he was in such a good mood that he even challenged the people to jump and dance around with him, even during the parts where normally one would bang his head. I almost wanted to jump on stage and ask him what was wrong with him. But well, after his short excursion into black metal, he seems to be back his colourful and bright world where people don't eat meat and don't dare to put blood on their bodies.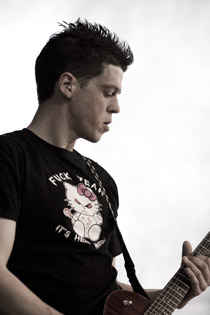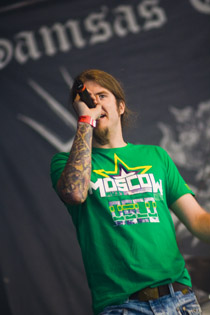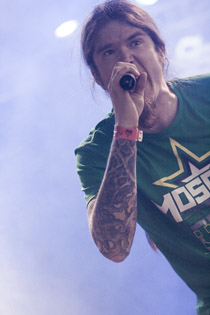 Musically, he probably pleased everybody in the room with the setlist that was played that evening. With songs like 'Ein Name im Kristall', 'Stromausfall im Herzspital', 'Für Immer' and 'Heiliges Herz', he covered all his albums and gave a wide variety of songs. You could say that he played a best-of show Friday night which was good for the fans on the one hand and a pretty good chance for people to get to know the band on the other. To my surprise (well, kind of), he asked the audience to do a wall of death and a circle pit. I think, it doesn't really match SAMSAS TRAUM ("We are not at a HEAVEN SHALL BURN concert!" was said next to me) and it definitely doesn't match the Goths. It was actually quite pathetic in my eyes. Next time, don't do it, Alex. Sound-wise, the only thing that can be criticized is the base drum which was too quiet. And of course, he didn't hit all his notes but this is something one should reckon when visiting a SAMSAS TRAUM concert.
Rating

Music: 8
Performance: 7
Sound: 8
Light: 7
Total: 7.6 / 10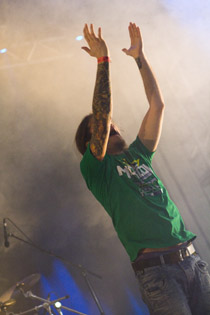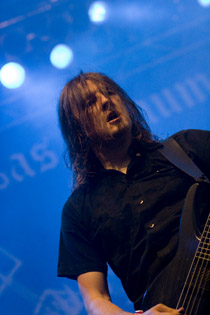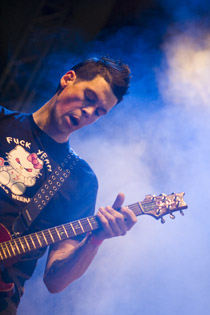 Orgonautic - Moritzbastei [Daniela Vorndran]

The German project came into being in 2004, founded by two individuals, active in a series of artistic involvements together already. First physical releases were the strictly limited EPs 'Ignition' and 'Liftoff', both released around 2004 and 2005, as well as the full-length album 'Lagrange Point' in 2007. Following up in 2008 was an online-only release called 'The Moebius Strategy'. Their most recent achievement is called 'Full Circle' and came out in May 2009. The project also has presented the ambitious material live on various occasions since its inception, latest one surely being their performance at Wave Gotik Treffen in 2010. ORGONAUTIC is Christian "CHP" Preunkert (music, production) and Alexander Nym (spoken words, graphic appearance). http://www.orgonautic.net/ / http://www.myspace.com/orgonautic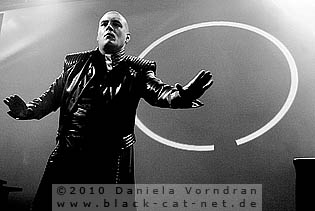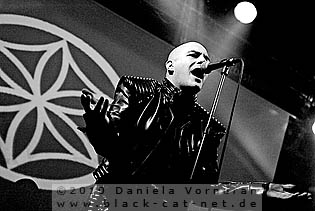 Music & Performance

I was earlier at the venue than expected and so it happened that I caught a part of ORGONAUTIC's performance as well. When I entered the concert hall, the show was already running. It was a quite simple show presenting two people on stage in front of some background projections. Alexander still was quite impressive in his appearance, tall with a dark leather coat spitting the words into the audience. Besides several songs from the already released albums, the band also presented brand-new and yet unreleased songs like 'Feed the Demon' that will not see any physical release at all but be only available as MP3 download on the band's website. Furthermore, there were the new tracks 'Uranus', 'Saturn', 'Mars' and 'Luna' featured at the show which are only available at the EP 'Celestial Bodies' released on 21st May 2010 and that was available at the WGT.
Setlist

01. Feed the Demon
02. Uranus
03. Saturn
04. Mars
05. Luna
06. Epsilon
07. Isis/Osiris 2k10
08. Beast
09. Open
Rating

Music: 7
Performance: 7
Sound: 7
Light: 6
Total: 6.9 / 10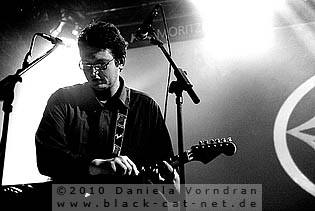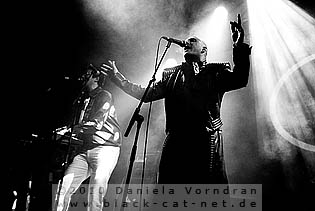 NoyceTM - Moritzbastei [Daniela Vorndran]

NOYCE TM started in 1998 and already the first EP 'Panique', produced with Olaf Wollschläger, and especially the title-giving track became an evergreen in the clubs and still is. In 1999, they've been invited by VNV NATION whom they'd met on the Black Easter Festival in Gent to support them on their "Empires Tour" and right in time for the tour start the first concept album 'The White Room' was released in September 1999 followed by the 'White Noise' EP intended to close the gap between 'The White Room' and the upcoming album 'Coma' but due to several circumstances the gap was longer than planned and it wasn't until 2006 that the German Electro pop project returned with 'Coma'. It was an impressive comeback celebrated by music critics followed by the 'Our World in Coma' EP in May 2007. After several push backs the third album 'Un:Welt' - again a conceptual work - was unleashed on 27th March 2009. In September of the same year it was announced that drummer Krupatz had left the band. NOYCE TM is Florian Schäfer (vocals, lyrics, arrangements), Oliver Götz (production, synths, arrangement) and Oliver Poshmann (synths, musical saw, bass).
http://www.noycetm.de/
/
http://www.myspace.com/noycetm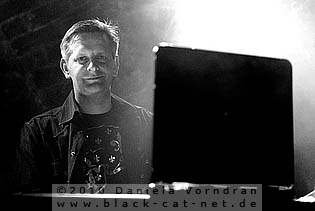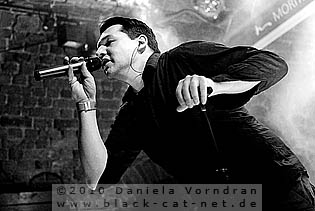 Music & Performance

NOYCE TM were surely one of THE bands of the evening I was really eager to see. Already on their tour with DIARY OF DREAMS two years ago they impressed with their show and music. Now, the line-up was different and it was kind of sad that Krupatz on drums was not with the band anymore. But on the other hand I was curious to see show the singing saw of Poshmann would fit into the set. The stage setup was pretty easy, keyboards for Poshmann and Götz in the back on both sides and Florian's microphone in the middle. Besides a chair and the singing saw was placed. Much to my pleasure, the band also brought the cool lights they already used during the DIARY OF DREAMS tour which gave some cool effects when cutting through the smoke. The room no was very crowded and right from the start of 'The last Effort' people were in dancing mode. Anyone had a lot of fun, especially the official NOYCE TM support team made a lot of noise. Happy faces on stage prove that the band really enjoyed the show.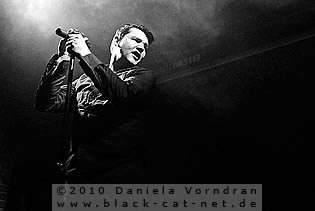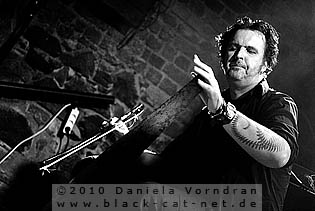 The setlist was pretty well chosen and made the concert never getting boring. When the main set was over, people were loudly yelling for encore which was given with the first real club hit 'Panique'. Great! After the show, you could spot the band members in the yard of the Moritzbastei where you had the chance to personally get in touch with them.
Setlist

01. The last effort
02. Headland
03. Tagwerk
04. Sleepwalker
05. Coma
06. Our world
07. Inschallah
08. This world
09. Year 03
---
10. Panique
Rating

Music: 9
Performance: 9
Sound: 8
Light: 8
Total: 8.7 / 10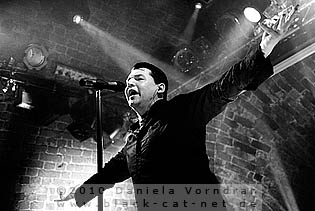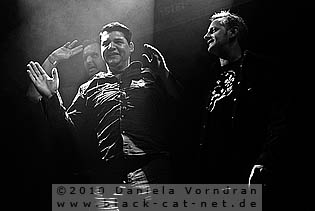 Crematory - Kohlrabizirkus [Anne Kuhfuß]

CREMATORY received its earliest recognition in the mid-1990s by touring with MY DYING BRIDE, TIAMAT and ATROCITY. Much like the latter two groups, the band had begun as traditional death metal, then evolved with an industrial music and gothic metal musical direction on later albums. The band would receive heavy rotation on MTV Germany, and would also make appearances at various extreme metal festivals, including Germany's Wacken Open Air in the years 1996, 1998, 1999, 2001 and 2008, in addition to inclusion on Nuclear Blast compilation samplers. The band re-signed to Massacre Records in 2006 after a 10 year stint with Nuclear Blast; Massacre had been the band's first label. Active for almost 20 years (with a brief split between 2001 and 2003) they are among one of Europe's longest running bands affiliated with the gothic metal genre. http://www.crematory.de/ / http://www.myspace.com/crematorymusic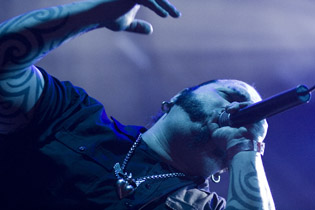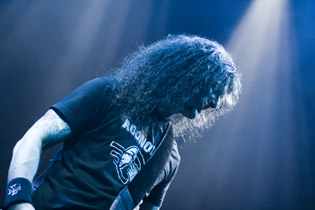 Music & Performance

The last time I saw CREMATORY was in 2007 and I was already convinced by then back then. So, this year, I was really looking forward for the band to play at the Kohlrabizirkus. And I wasn't disappointed with what I saw. The band was in a real good shape and had a lot of fun on stage. Gerhard "Felix" Stass (vocals) entertained the audience with his "Alright!" after every song and with his funny but almost always pretty senseless announcements. 'The Fallen', 'Tears of Time', 'Sense of Time' and 'Black Celebration' (which seemed pretty suitable for the occasion) were only a couple of songs from a great setlist which knew how to get the people respectively their heads going. The band also remembered the recently deceased musicians Ronnie James Dio and Peter Steele which was really nice but the choice of the following song was rather unfortunate. Next, they played 'Höllenbrand' ('Hellfire') and somehow, it was pretty ironic but the people in the audience received it as a joke. All in all, CREMATORY showed their long experience and delivered a great concert that Friday night. I think, everyone was happy with the performance!
Rating

Music: 9
Performance: 10
Sound: 9
Light: 8
Total: 9.2 / 10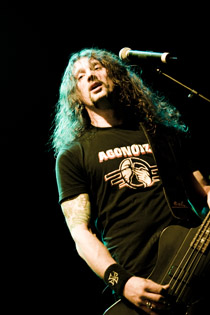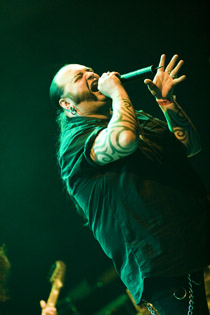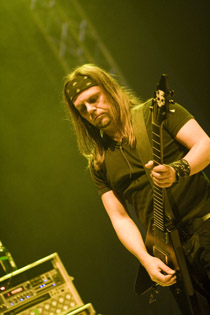 Slave Republic - Moritzbastei [Daniela Vorndran]

The seeds of what would be growing up to the duo SLAVE REPUBLIC in the end have been sown many years ago as a four-piece centring on New Wave music. The next thing heard is that the quarter has become a duo and now is focusing on what they're calling Alternative Pop. This is a stylistic description obviously making some people at the Accession Records office prick up their ears. The end of the story we now have with SLAVE REPUBLIC being the newest signing to the label and that they released the duo's debut album 'Electric One' on 12th March. SLAVE REPUBLIC is Alec Fu & Alex Alice. http://www.slave-republic.com/ / http://www.myspace.com/slaverepublic

Music & Performance

From the already well-known NOYCE TM to a rather unknown band so far, SLAVE REPUBLIC, which just released their debut album a few weeks ago. I must admit that I am a huge fan of the album and so, I was really sad I could not catch up a live show of the band so far when they were touring together with DE/VISION. But now my time had come! Finally!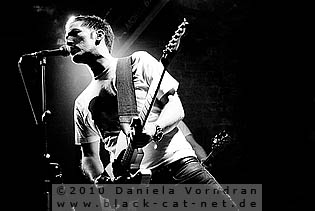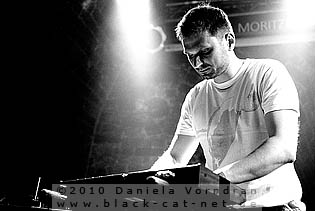 Alec and Alex entered the stage very un-Goth in light shirts. But let me tell you, outfit does not matter! The show started right in the same order as on the album with 'The Driver' - my favourite car driving song btw. - followed by 'Hadron Collider' and 'Number 3' where Alec took over also the female chant, quite well I might add. With 'Electric' another favourite of mine followed. Even though the hall was not was crowded as during NOYCE TM, SLAVE REPUBLIC could convince the attendees with their show that ended with 'My Maker' of which there is also a HAUJOBB remix available on CD.

Setlist

01. The Driver
02. Hadron Collider
03. Number 3
04. Electric
05. Less of me
06. Minimum Regret
07. Choking Drowning
08. Truth or Dare
09. My Maker
Rating

Music: 9
Performance: 8
Sound: 8
Light: 8
Total: 8.4 / 10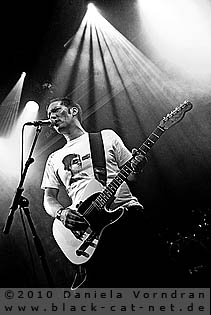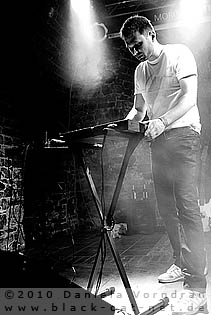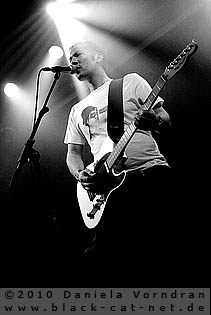 Leaves' Eyes - Kohlrabizirkus [Anne Kuhfuß]

LEAVES' EYES is a German-Norwegian Gothic / Symphonic metal band from Stavanger, Norway and Ludwigsburg, Germany. The band was formed in 2003 by Liv Kristine, the former lead singer of THEATRE OF TRAGEDY and the entire line-up of ATROCITY shortly before Liv Kristine left THEATRE OF TRAGEDY. To date, the band has released three studio albums, a single, three EPs, and one live album and DVD.
http://www.leaveseyes.com/
/
http://www.myspace.com/leaveseyespage
Music & Performance

The last time I saw Liv Kristin perform was at the Rock Harz Festival in 2008 where she supported ATROCITY. Back then, I almost hated her voice since she didn't quite hit a tone during her singing. So, I was anxious to see how she would perform that night. One after another, the band entered the stage and the audience freaked out. Liv Kristin was last and began the concert with her voice. And this time, she convinced me! The sound from the band matched her voice beautifully.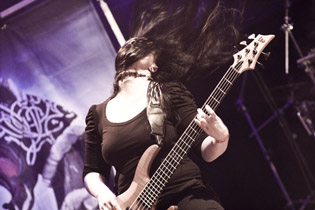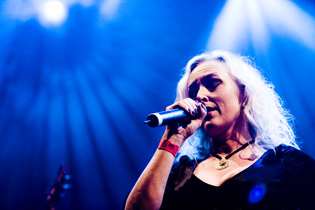 But there is one thing I still don't understand: Why do they have Alexander Krull in the band? His vocals are redundant and he just doesn't fit in the concept of the band. He only "screams" 3 or 4 words and is quiet again. It is more interruptive than supportive. But well, he is her husband and she sings in his band, too. So this is probably the reason why he is still in the band. And he isn't that bad looking either. The sound during the show was good but unfortunately her performance wasn't. It was too over-the-top at some times. She kneeled down in front of Alex, stretched her arm out and sang like she was so in love with him. And after every song, she kneeled down as well in front of the audience. If you ask me, this is a little too much, even for a female-fronted metal band.

Setlist

01. Intro + Njord
02. My Destiny
03. Emerald Island
04. Farewell Proud Men
05. Take the Devil In Me
06. Solemn Sea
07. At Heaven's End
08. Northbound
09. Ragnarok
10. Elegy
11. Frøya's Theme
12. Outro + Nine Wave Maidens
Rating

Music: 7
Performance: 7
Sound: 9
Light: 9
Total: 7.6 / 10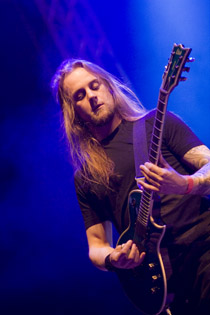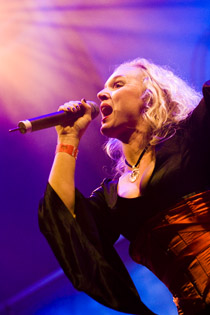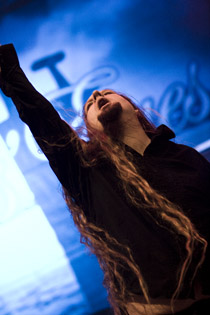 Leichtmatrose - Moritzbastei [Daniela Vorndran]

Hardly more than two weeks after he set up a presence at the popular social networking platform MySpace, LEICHTMATROSE aka Andreas Stitz was discovered by German musician Joachim Witt, who became his mentor and manager eventually. The first result of that collaboration was the single 'Sexi ist tot' with which he could garner more than just a little success and 3 months later in April 2009, the debut album 'Gestrandet' was released and if you take the time to browse through the reviews you'll see they're generally positive. LEICHTMATROSE is Andreas Stitz (words, melodies, lyrics), Dorian E. (backing vocals), Kay Lehmkuhl (guitar), Jan Richter (guitar) and Carsten Klick (drums).
http://www.leichtmatrose.com/
/
http://www.myspace.com/derleichtmatrose
Music & Performance

With LEICHTMATROSE, another pretty much un-Goth band was up on stage at the Moritzbastei. The stage setup was pretty cosy with a red chain of lights around Andreas' microphone stand and a lampion on the microphone of female backing singer and dancer Katrin Banse. The dark familiar surrounding of the Moritzbastei fitted much better to the show than last time when I saw the band opening the main Stage at M'era Luna festival. Also, this time the set was twice as long presenting songs from the debut album 'Getrandet' only.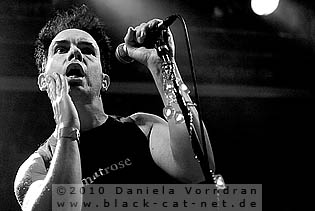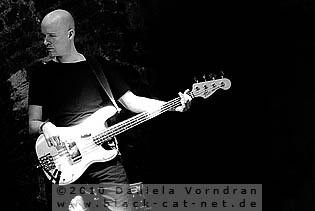 Andreas' songs are poppy, but anything else than simple. Instead, the lyrics are very much thought provoking. With the debut, LEICHTMATROSE impressed not only critics and so I did not wonder that the hall was now really crowded since a lot of people wanted to see the show. And no one was disappointed. Sadly, I could not see the whole show since the Midnight Special at the Agra was waiting for me…

Setlist

01. Der Mond trägt ein trauriges Gesicht
02. Leichtmatrosen habens schwer
03. In Wahrheit gelogen
04. Der einsame Astronaut
05. Sexi ist tot
06. Studentenfutter
07. Junge von nebenan
08. Herztransplantation
09. Vom Esel im Galopp verloren
10. Der letzte Zug
Rating

Music: 8
Performance: 9
Sound: 8
Light: 6
Total: 8 / 10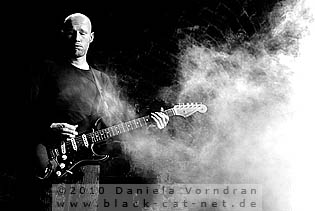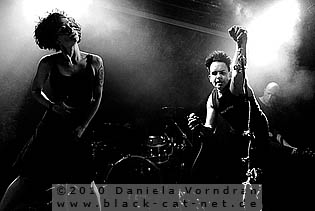 Brendan Perry - Agra [Carsten Leopold]

If one's looking at his later and everlasting efforts as one half of DEAD CAN DANCE, it's hard to believe that BRENDAN PERRY actually started in a Punk band called THE SCAVENGERS back in 1977. With DEAD CAN DANCE he released a total of 8 impressive albums. Just 1 year after DEAD CAN DANCE had ceased to exist; he released his first solo album 'Eye of the Hunter' and contributed to various compilations. His new album by the name of 'Ark' will be released at the beginning of June.
http://www.brendan-perry.com/
/
http://www.myspace.com/brendanperry
Music & Performance

Friday after midnight, a big part of the Goths in Leipzig already had entered the dance floors or their beds but in the main venue, the Agra hall, the stage was ready for the midnight special. BRENDAN PERRY, better known as the male part of the legendary Gothic band DEAD CAN DANCE, entered the stage with his live band and started his show.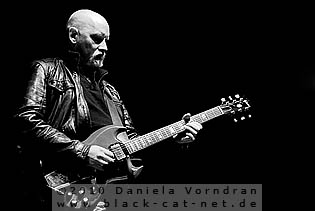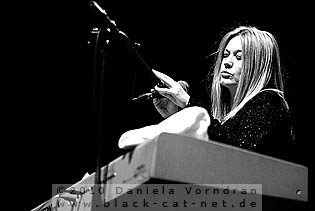 BRENDAN PERRY bewitched the crowd with his distinctive soulful voice and the whole venue was pleased by the show. Several times it seemed they had some problems with the monitor sound on stage but the sound of the PA within the whole venue was great, not too usual in the Agra. The show ran about 90 minutes and in spite of the late hour it was a great concert experience with this legend of the Gothic music scene who also played the new up-tempo song 'Tree of Life' in Leipzig in-between 'This Boy' and 'You Never Loved This City'. After about 75, the main set was finished with the song 'Spirit' and the musicians left the stage, but they came back for an encore, 'Severance', after a short break before they finally left the stage.
Rating

Music: 8
Performance: 8
Sound: 9
Light: 7
Total: 8 / 10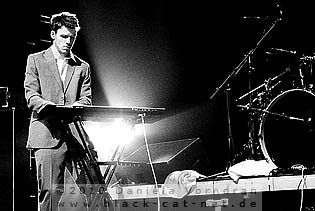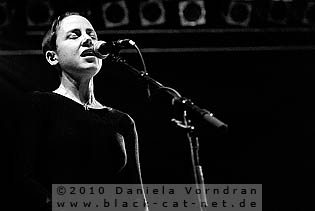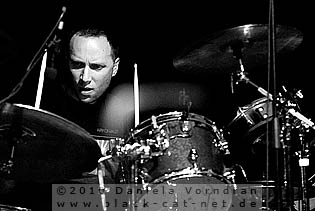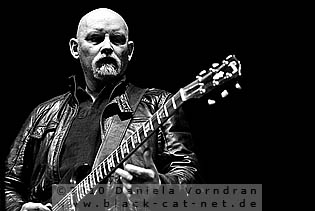 All pictures by Daniela Vorndran (Insomnium, Beloved Enemy, The Pussybats, Oberer Totpunkt, Dark Diamonds, Orgonautic, NoyceTM, Slave Republic, Leichtmatrose, Brendan Perry -
http://www.vorndranphotography.com/
/
http://www.black-cat-net.de/
/
www.myspace.com/vorndranphotography
) and Anne Kuhfuß (Nahemah, Samsas Traum, Crematory, Leaves' Eyes)
Written by Daniela Vorndran, Carsten Leopold and Anne Kuhfuß
{jos_sb_discuss:18}
See also (all categories):