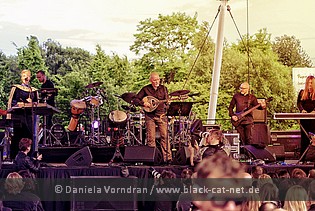 Amphitheater, Gelsenkirchen, Germany
21st June 2013
Dead Can Dance & David Kuckhermann

When DEAD CAN DANCE visited us last time in October, for the first time after seven years with the new album 'Anastasis', the first one after 16 years, the announcement of the tour alone was causing sheer excitement. Within a glimpse, all five shows were sold-out. And any single show was a revelation. As if they never had a break, Lisa Gerrard and Brendan Perry were performing on stage. And now, they are back in Germany again!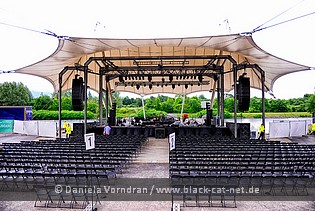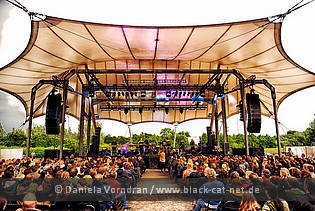 Last year, far too few fans had the chance to see a DEAD CAN DANCE show. Now, the British-Australian duo and its fantastic band is back in German summer for a few selected open air shows at unique locations to present their extraordinary music… in front of the little castle in Dresden's Great Garden, at the medieval Zitadelle Spandau in Berlin, at the Hamburg Stadtpark or at the Amphi Theater in Gelsenkirchen. We were now welcomed to the wonderful Amphi Theater. The day and night before the show, there were heavy thunderstorms in the region, many streets and cellars were flooded, cables on the railway tracks destroyed, trees were falling or losing their branches. The happier we were that on the concert evening, the rain finally had stopped, even though several times the sky looked dangerous, and we had a wonderful and dry concert.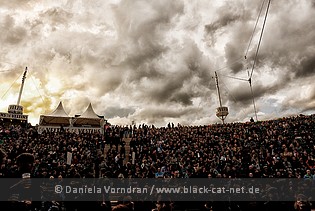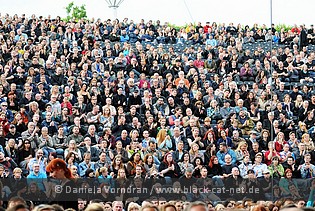 David Kuckhermann

Already like in autumn, DAVID KUCKHERMANN, who is also member of DAD CAN DANCE's band, was opening the evening. When he entered the stage, we were quite surprised. It was just fifteen past seven and not so many people had entered the theatre so far. He was presenting just four songs, played on two unusual instruments. One was the handpan and the other some kind of oriental tambourine. David Kuckhermann is percussionist and musician par excellence. As his biography says, he "created his personal style, incorporating techniques and rhythms from the handdrumming traditions of Iran, India, Egypt, Europe, Turkey and Africa." He was all alone on stage, playing the handpan – which was invented in Switzerland about 11 years ago – perfectly and received quite some applause after his short performance. http://www.framedrums.net / https://www.facebook.com/pages/David-Kuckhermann/144343685654018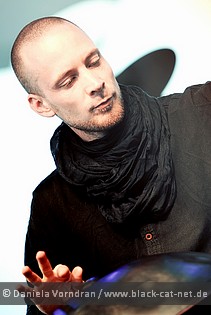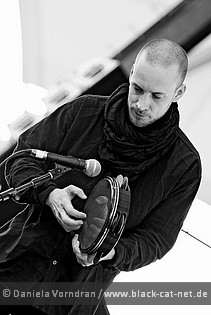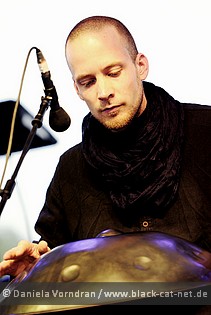 Dead Can Dance

DEAD CAN DANCE (DCD) surely don't need a big introduction. Anyway for those who are not familiar with the band, a few facts: The ethereal neoclassical world music duo formed in Melbourne, Australia, in August 1981 with mainstays Lisa Gerrard and Brendan Perry. Relocating to London on 1982, the band disbanded in 1998, but reunited temporarily for a world tour in 2005. Silent for many years again, the band came back with a new album, 'Anastasis', in August 2012, embarking to a world tour soon after. DEAD CAN DANCE, consisting of Lisa and Brendan, were on stage accompanied by their fabulous live band with percussionist David Kuckhermann, drummer Dan Gresson, Jules Maxwell and Astrid Williamson on keys, latter one delivering fabulous backing vocals as well, and last but not least bassist Richard Yale. http://www.deadcandance.com / https://www.facebook.com/DeadCanDanceOfficial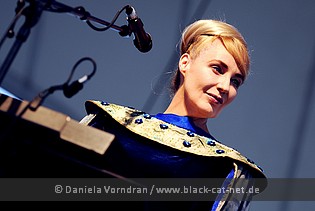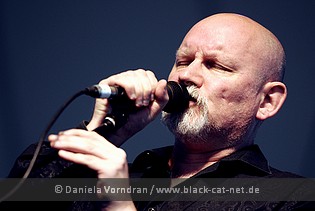 Music & Performance
Having seen the band last autumn at the philharmonic hall in Cologne, which was quite a special location, I was very curious about the band performing in another fantastic location, the amphitheatre in Gelsenkirchen, right on a channel where every now and then ships were coming along behind the stage. Compared to the last show I've seen, the setlist had changed a little – and was a little shorter. But there was one similarity: the show was absolutely amazing, vocals of both artists were brilliant and the sound, even though it was really windy, was fantastic and clear. Again, the songs were causing so many emotions, starting from light shivers to heavy goose bumps. Last time in Cologne, we were delivered a fantastic light show. Sadly this was missing this time a little. No fault of the band, it was simply too bright still when the band was playing and there was no curtain in the back of stage since it was simply too windy.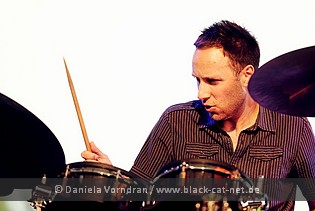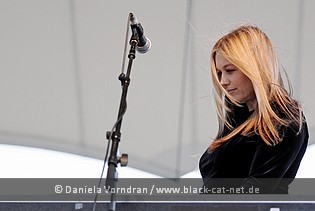 The venue was not completely sold-out, maybe the spark of this special thing after long abstinence was gone, but when Lisa and Brendan accompanied by their band entered the stage, they were welcomed with thundering applause anyway. Just like in autumn, the show started with the opener of their current album, 'Children of the Sun' and right from the start, Perry's voice was sending shivers down your spine. His voice is really amazing with so much power but still rich in emotions. DEAD CAN DANCE is a neoclassical-ethereal band extraordinaire with no single low in the musical and vocal performance of Lisa and Brendan as well as their band, who did an amazing job. Anyone was fully concentrated on their instruments drawing an audio painting par excellence.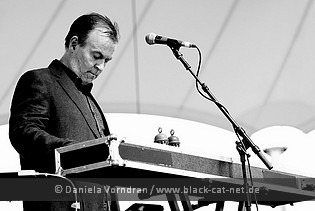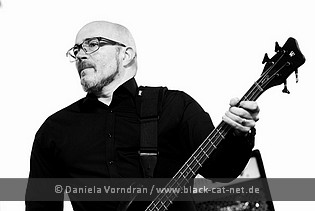 The set was well chosen and new songs alternated with some old gems. Next one in the set was 'Agape' with a haunting middle-eastern intro. This time it was Lisa, dressed like a queen, who impressed with her wide vocal range. 'Sanvean', following a little later in the set, was just like in autumn one of my personal favourites. It was performed by Lisa alone based on keyboard sound and extensive synth layers. What a most beautiful and haunting piece of music it is, with its powerfully gorgeous falsetto and gentle refrain. But there were more highlights in the show, like 'Opium', demanding lots of concentration from Brendan, or menacing, hypnotic 'Cantara' towards the end of the set, not being playing in autumn and so, most enjoying for me. With 'All in Good Times', sung by Brendan alone, the band said goodbye, accompanied by long-lasting thunderous applause and standing ovations.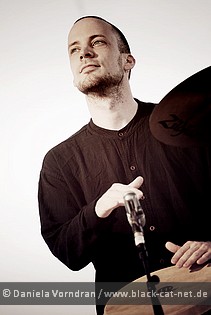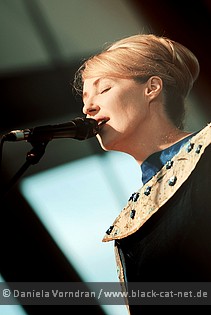 The encore bloc was opened by Brendan again with 'The Ubiquitous Mr. Lovegrove' and its fantastic percussion play. Plucking 'Dreams Made Flesh', a THIS MORTAL COIL cover, saw Lisa joining the band on stage as well. Slowly, TIM BUCKLEY cover 'Song to the Siren', wonderfully sung, was leading towards the end. The final of the show then came with the 'Return of the She-King' from the band's latest album, just closing the circle. With standing ovations, the band was rewarded at the end, and of course there were once more flowers for the great lady in stage, Lisa Gerrard. Once more, DEAD CAN DANCE offered a fantastic show when everything was just perfect. Now we can only hope for more new material and more tours following afterwards.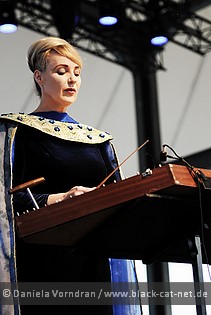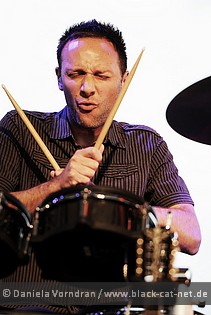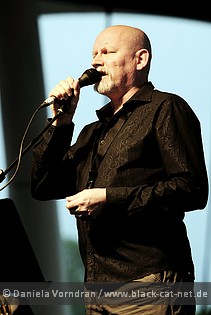 Setlist
01. Children of the Sun
02. Agape
03. Rakim
04. Kiko
05. Amnesia
06. Sanvean
07. Black Sun
08. Nierika
09. Opium
10. The Host of Seraphim
11. Ime Prezakias
12. Cantara
13. All in Good Time
---
14. The Ubiquitous Mr. Lovegrove
15. Dreams Made Flesh (This Mortal Coil cover)
16. Song to the Siren (Tim Buckley cover)
17. Return of the She-King

Rating
Music: 10
Performance: 9
Sound: 9
Light: - (daylight)
Total: 9.5 / 10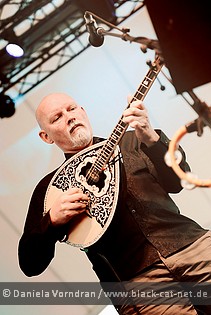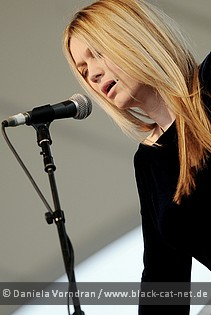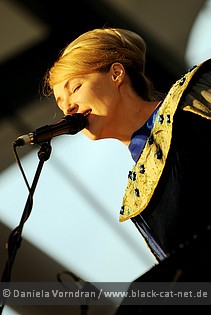 All pictures by Daniela Vorndran (http://www.vorndranphotography.com / http://www.black-cat-net.de/ / http://www.myspace.com/vorndranphotography / http://www.facebook.com/blackcatnet)



See also (all categories):