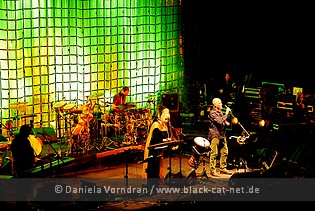 Philharmonie, Cologne, Germany
8th October 2012
Dead Can Dance & David Kuckhermann

The sensation was perfect when DEAD CAN DANCE announced a European Tour after it remained silent around the band after their tour in 2005. As you can imagine, as soon as pre-sales started, most dates were sold-out within a few days or even hours. And so was the Cologne show. Having seen Lisa Gerrard and Brendan Perry only during solo shows, I was really looking forward to finally see them together as DEAD CAN DANCE on stage.



David Kuckhermann

Not announced before, I was quite surprised to see a support act at all this evening. But this support was chosen well. David Kuckhermann, also part of the DEAD CAN DANCE ensemble later, is percussionist and musician par excellence. As his biography says, he "created his personal style, incorporating techniques and rhythms from the handdrumming traditions of Iran, India, Egypt, Europe, Turkey and Africa." First alone on stage, playing the handpan – which was invented in Switzerland about 11 years ago – perfectly, he was joined by a partner supporting him on the strangest instruments. During his 30 minutes he just had time for five pieces, i.e. 'Khubananukh' about Thailand's ghosts or 'Inflected Inception' ending the set. http://www.framedrums.net / https://www.facebook.com/pages/David-Kuckhermann/144343685654018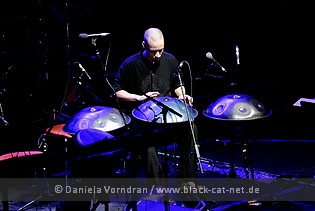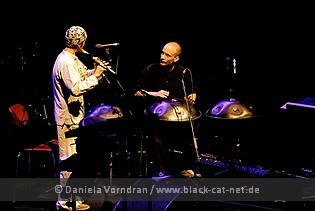 Dead Can Dance

DEAD CAN DANCE (DCD) surely don't need a big introduction. Anyway for those who are not familiar with the band, a few facts. The ethereal neoclassical world music duo formed in Melbourne, Australia, in August 1981 with mainstays Lisa Gerrard and Brendan Perry. Relocating to London on 1982, the band disbanded in 1998, but reunited temporarily for a world tour in 2005. Silent for many years again, the band came back with a new album, 'Anastasis', in August 2012, embarking to a world tour soon after. http://www.deadcandance.com / https://www.facebook.com/DeadCanDanceOfficial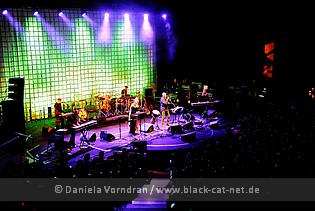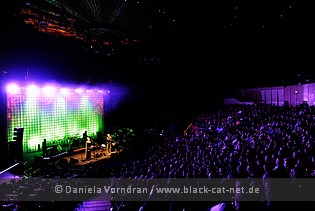 Music & Performance
I waited long, very long for the chance to finally see DEAD CAN DANCE love on stage after missing the latest possibility in 2005. I saw Lisa as well as Brendan solo and both were amazing. How must it be when they are finally reunited? And let me just tell you one thing… it was amazing! Words are not enough to describe the emotions during the shows, starting from light shivers to heavy goose bumps. End even though there was a certain distance during the show between Lisa and Brendan, it still was guiding you to another world, far away from your daily business. As location, the band chose the Philharmonic Hall in Cologne with wonderful view onto stage and extraordinary sound. As visual effects, DCD did not need much since the main attraction was the sound anyway. But there was a curtain with LEDs in the back of stage and perfectly arranged light, drawing i.e. a bright shining sun onto the wall.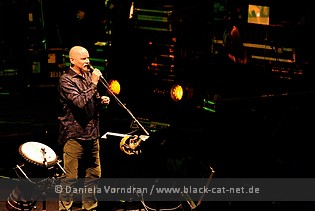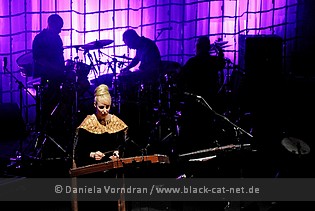 The sold-out hall was packed and when finally the band entered the stage, Lisa and Brendan accompanied by their band (percussionist David Kuckhermann, drummer Dan Gresson, Jules Maxwell andAstrid Williamson on keys, latter one delivering fabulous backing vocals as well, and last but not least bassist Richard Yale), they were welcomed by thundering applause. The show started with the opener of their current album 'Children of the Sun' and 'Anabasis', also from the latest record. In the curse of the set, the whole album would be played showing how important this release must be. Vocally, Lisa and Brendan alternated mostly, there were just a few songs they really sang together. DCD are really a neoclassical-ethereal band extraordinaire. Musically and vocally, there was not a single low in the performance of Lisa and Brendan. Also the backing band did an amazing job, drawing an audio painting par excellence.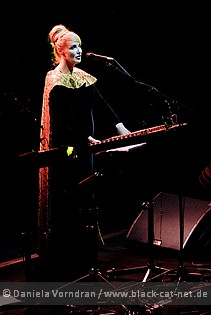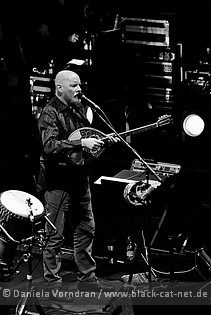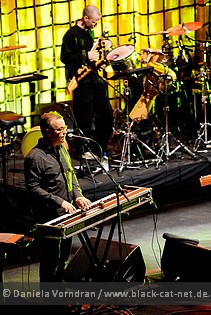 From the beginning to the end I was excited. Well chosen set, alternating between old and new, male and female vocals while the main protagonists were playing various instruments showing their unbelievable talent. One of the highlights for me was 'Sanvean' being performed by Lisa alone based on keyboard sound and extensive synth layers. Wonderful! With 'All in Good Times', sung by Brendan alone, the band said goodbye for the first time, accompanied by long-lasting thunderous applause and standing ovations while the DCD logo was glowing in the background. Loud screams, clapping and lots of noise brought them back being welcomed loudly. Brendan started the encore bloc with 'The Ubiquitous Mr. Lovegrove' before Lisa finally was back on stage as well for 'Dreams made Flesh'.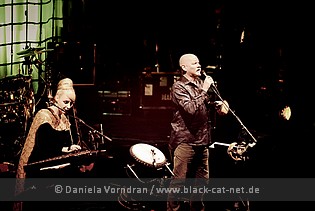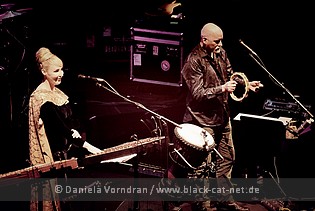 When the band bowed for the audience and said goodbye again you could think this was the final of the show. But of course not. The band had some more songs to offer. Tim Buckley's 'Song tot he Siren' made the beginning. When the bend finally left after 'Return oft he She-King' (what Lisa surely is) and another encore, standing ovations and applause seemed endless. People were so thankful for the show, giving flowers and presents to the band while extending their applause still. So what's left to say at the end? You cannot really describe this show… you just need to see it get yourself carried far away…

Setlist
01. Children of the Sun
02. Anabasis
03. Rakim
04. Kiko
05. Lamma Bada
06. Agape
07. Amnesia
08. Sanvean
09. Nierika
10. Opium
11. The Host of Seraphim
12. Ime Prezakias
13. Now We Are Free
14. All in Good Time
---
15. The Ubiquitous Mr. Lovegrove
16. Dreams Made Flesh
---
17. Song to the Siren (Tim Buckley cover)
18. Return of the She-King
---
19. Wandering Star

Rating
Music: 10
Performance: 9
Sound: 10
Light: 10
Total: 9.8 / 10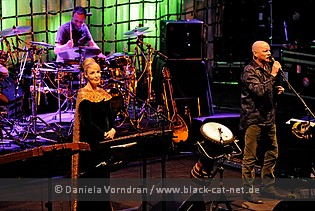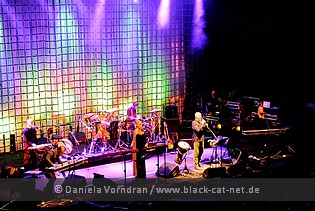 All pictures by Daniela Vorndran (http://www.vorndranphotography.com / http://www.black-cat-net.de/ / http://www.myspace.com/vorndranphotography / http://www.facebook.com/blackcatnet)



See also (all categories):