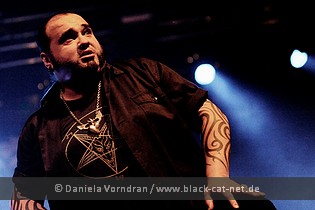 Flughafen Drispenstedt, Hildesheim, Germany
7th & 8th August 2010
M'era Luna 2010 Day 1 Hangar Stage: Crematory, Eluveitie, Rotersand, Das Ich, Brendan Perry, Faith And The Muse, Illuminate, Ignis Fatuu, Leandra, Sons Of Seasons

The Hangar program of the first festival day was more guitar influenced. Just ROTERSAND and DAS ICH were holding the electronic flag high. With FAITH AND THE MUSE and BRENDAN PERRY, the Hangar also had two high-class bands to offer. QNTAL, who also were planned for the Hangar, had to cancel on short notice and IGNIS FATUU filled the gap. As always, the Hangar was a bit problematic; during several bands it could not take the crowds wanting to see the show. So, during ROTERSAND and DAS ICH, lots of people did not get admission to the hall anymore because it was already too crowded…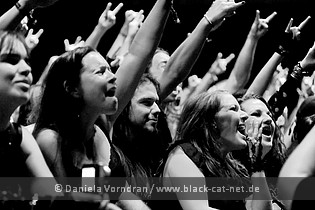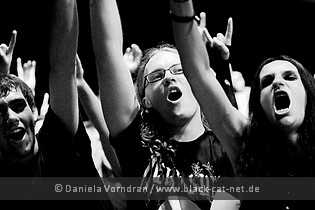 Sons Of Seasons (Sebastian Huhn)
SONS OF SEASONS are a band, founded by KAMELOT member Oliver Palotai in 2007. By summer the line-up for a real band was completed with singer Tijs Vanneste, leaving the band shortly afterwards and getting replaced by Henning Basse. End of April 2009, the debut album 'Gods of Vermin' was released and in autumn of the same year the band went on tour with EPICA. SONS OF SEASONS are Henning Basse (vocals), Oliver Palotai (keys, guitar), Jürgen Steinmetz (bass), Pepe Pierez (guitar) and Daniel Schild (drums).
http://www.myspace.com/sonsofseasons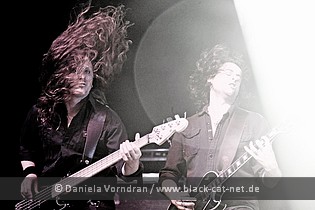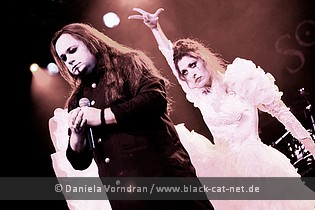 Music & Performance
Still not really on top following a night of little sleep I headed to the hangar stage to see my first band of the day with Oliver Palotai's SONS OF SEASONS. The classically inspired intro sequence was accompanied by a theatrical performance of a woman in a bride's dress dancing around, who would be reappearing later to interact with the singer. The first proper track blasted out the PA with typical Metal force, coupled with classical embellishments. Nothing extraordinary actually but well-produced with a clear sound which wasn't always the case with the hangar stage that day! The crowd, gathering there at this early hour already still needed some time to get warm with the music, but once that happened they unbent and were responsive if animated by singer Henning Basse. The debut album's title track 'Gods of Vermin' then sent everyone into a contrast bath with softer and harder parts before 'Fallen Family' flooded the room. Couldn't say that I was too impressed but tastes vary.
Rating
Music: 6
Performance: 6
Sound: 8
Light: 6
Total: 6.6 / 10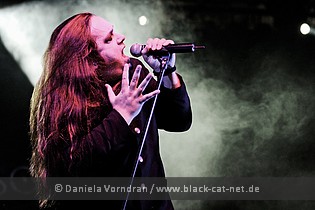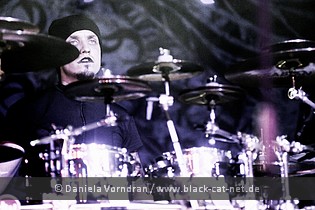 Leandra (Sebastian Huhn)
She's already known under the name Ophelia Dax in the electronic / rock band JESUS ON EXTASY, where she's playing the keys. On the "Weiße Reise"-tour of LETZTE INSTANZ, beginning of 2008, she already presented some songs live only with the piano. Then, on 22nd 2008 February she debuted with her album 'Metamorphine' on Drakkar Entertainment and gathered lots of positive critics with it.
http://www.leandrasphere.de/
/
http://www.myspace.com/leandrasphere
Music & Performance
I didn't get the chance this far to see LEANDRA live and so I was looking forward to this performance a lot and also was hoping to maybe get to hear some new material, which didn't happen but that's not necessarily a bad thing. Let's start with the show, introduced by an intro with the protagonists entering the stage and starting the set with 'Tyberi Folla', performed in a fantasy language whose expression is beyond the usual phonetics. You don't need to particularly understand the words itself for they are supposed to wake the feelings that will help you to get what it's about. As the next track, 'Noisy Awareness' was chosen after a little technical glitch had been solved, and this time it was English-tongued as were the other songs. But would really like to hear more with the other language which is absolutely fascinating in my opinion!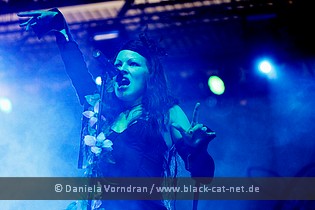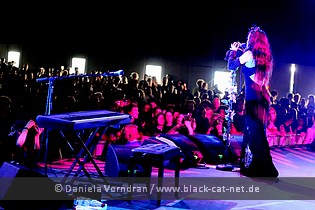 As fascinating as her voice is with a distinctive timbre! 'The Art of Dreaming' was up next. On the album it is a duet with Sven Friedrich. Would have been cool to have him on stage here as well, but the song didn't lose due to him not being present. Haven't heard the album in a while but I think it was 'Lullaby' with every cool drum accentuation I heard before I had to leave already. I really enjoyed that show and would love to see her and the band live again soon, and also the audience seemed to have enjoyed it. At least I didn't get to hear any complaints.
Setlist

01. Tyberi Folla
02. Noisy Awareness
03. The Art of Dreaming
04. Naked Eyes
05. Lullaby
06. Angeldaemon
07. Son of Venus
08. Lie To Me
Rating
Music: 8
Performance: 8
Sound: 7
Light: 7
Total: 7.7 / 10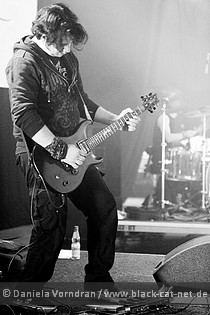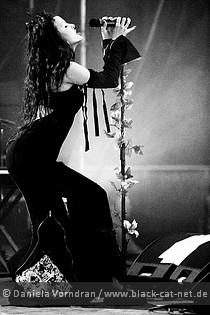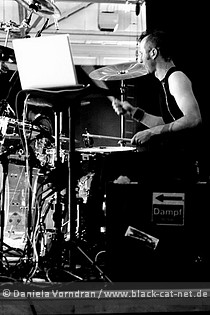 Ignis Fatuu (Sebastian Huhn)
The band was brought to life in 2004 with a three-piece line-up, later on expanded with two additional members. A 5 track demo recording hit in 2007, followed by a performance at Festival-Medieval one year later! The first album by the title 'Es Werde Licht' has been released in 2009. IGNIS FATUU is Alexander (vocals, guitar), Irene (vocals, bagpipes, flute), Alex (violin, bagpipes, hurdy-gurdy), Volker (bass) and Robert (drums, percussion).
http://www.ignisfatuu.de/
/
http://www.myspace.com/ignisfatuu
Music & Performance
Actually, QNTAL were supposed to play at this point, but they had to cancel their show on short notice due to a health issue of one of the members. IGNIS FATUU now was the one to fill in for them and did that after the introduction with the first proper track 'Nordwind' in a crowded hangar. Seemed like also many fans of them were here! 'Nordwind' cut through the hangar with hard metal riffs and amongst others also a gentle-sounding flute. No warming up needed for the audience, who got instantly carried away by the music and partied along happily.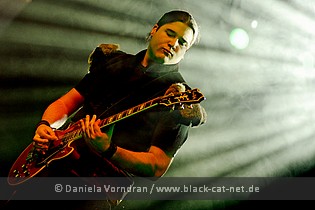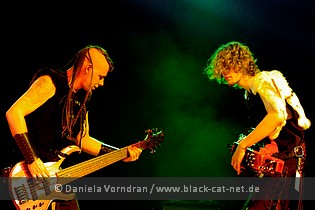 The next one 'Die Flucht' propelled forth at a much more driving pace and had a catchy chorus for the people in stock, as well as erratic violin play. The mood remained at a high and would also do with the following 'Spielmann' and 'Illusion' with its bagpipe melodies. As much as the crowd had their fun with the band, the band had theirs and hardly ever stood still with Alexander pushing the crowd mostly. The set closed under applause with 'Wächter der Nacht'. Even though the medieval genre is definitely not my favourite one, the performance was good and the people loved it.
Setlist
01. Intro
02. Nordwind
03. Auf der Flucht
04. Spielmann
05. Illusion
06. Drachenreiter
07. Hochmut
08. Frühlingsreigen
09. Wächter der Nacht
Rating
Music: 5
Performance: 7
Sound: 6
Light: 6
Total: 5.9 / 10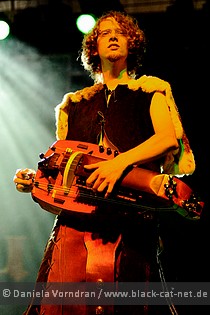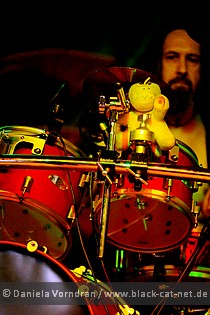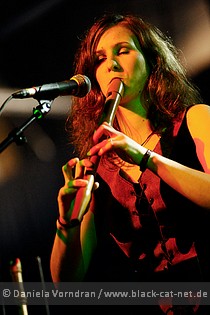 Illuminate (J. "Niggels" Uhlenbruch)
The German Gothic project ILLUMINATE (by the way pronounced the Latin way, not the English one) was started in the early 1990s by Johannes Berthold, who also takes credit for most of the production and the instruments on ILLUMINATE's studio works. Johannes Berthold's brainchild is one of the more popular acts of the German Gothic scene and was called by a leading German scene magazine "the dark-romantic band number one". The year 1996 saw the release of the debut album `Verfall´, followed by the album `Erinnerungen´ as soon as August 1997. Since then ILLUMINATE released ten further albums, with `Ohne Worte´ from 2009 being the latest one. ILLUMINATE is probably just another band of the scene which you either love or hate.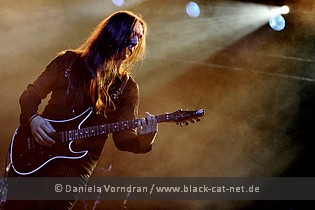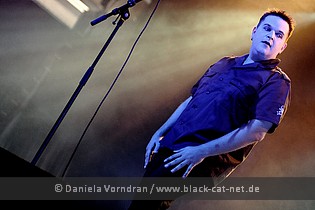 While the fans totally adore Johannes Berthold's works, the rest of the scene rather smiles at the band or even look down on them for being sappy, simple and overly sentimental. On stage ILLUMINATE work as a full band, completed by Sylvia Berthold (vocals), Jörn Langenfeld (guitars, bass), and Johannes Knees (keyboards).
http://www.illuminate.de/
Music & Performance

At the hangar stage of M'era Luna, ILLUMINATE met a good crowd in terms of numbers and started their show with a pretty rocking number. At the end of the day the performance was a lot rockier than some people might have expected but Johannes Berthold didn't forget about the more balladry stuff with piano hooks as the key melody lines. There were some die-hard fans who were more than obviously absolutely into it but also a lot of people who want to get to know the band. Maybe some of them left soon, because ILLUMINATE always seems to divide opinions into two.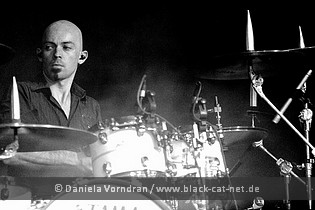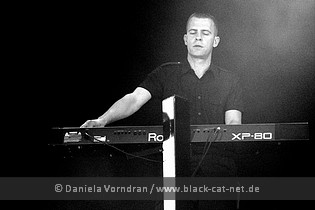 I'm afraid I'm rather among those who are not too keen on ILLUMINATE's music, and the gig just confirmed that. A solid performance but what fans would call emotional, poetic and meaningful appears to me just as being pretty cheesy and kitsch. This is in particular true for the lyrics, which seem to me rather immature and teary, and I'm not sure if they have the poetic quality which the fans attest them. But I'm happy for ILLUMINATE that they got a good feedback at their third M'era Luna appearance after 2000 and 2003. And during the gig I got the idea that ILLUMINATE would make a wonderful support band for UNHEILIG - I'm just not sure if I'd attend such a show!
Rating

Music: 5
Performance: 6
Sound: 7
Light: 7
Total: 5.9 / 10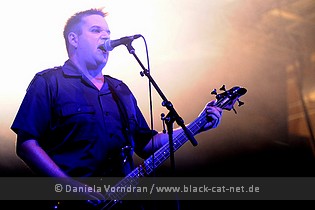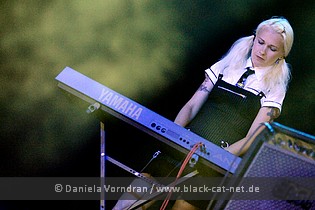 Faith And The Muse (J. "Niggels" Uhlenbruch)
2009 marked the 15-year anniversary of William Faith and Monica Richards' project FAITH & THE MUSE. They celebrate the event with the ambitious album ':ankoku butoh:' - the first one in six years - and a long world tour. Summer 2010 sees FAITH & THE MUSE touring Europe, and after an impressive gig at the Belgian Gothic Festival it was time for a stop at the M'era Luna in Germany. The FAITH & THE MUSE world tour entourage is Paul Mercer (viola), Julia Cooke (taiko drums), Steven James (guitar), Marzia Rangel (bass, violoncello), Geoff Bruce (drums), and of course Monica Richards (vocals, instruments) and William Faith (various instruments, vocals).
http://mercyground.com/
/
http://www.myspace.com/faithandthemuse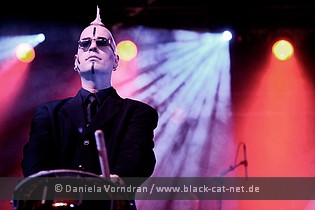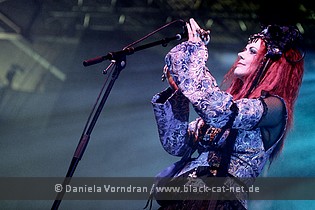 Music & Performance

Technical things can be tricky at the M'era Luna, in particular at the hangar stage, so while the fans gathered we first of all witnessed a long sound check by the band to iron out all potential problems before the show starts. After all FAITH AND THE MUSE is no Electro act which basically needs some USB ports but a fully-fledged 7-piece band with lots of drums, timbales, violins and guitars on stage. Unfortunately this meant that FAITH AND THE MUSE started with a delay but all the effort (and waiting) was worth it! Big loud drumming by six of the band members (Richards would join them later) announced the kick-off of the performance, and this looked and sounded truly impressive. At least where we stood the sound was crystal clear but at the M'era Luna it's common knowledge that the acoustics at the hangar are rather bad and muddled in the back. Anyway, after the opening track ´Bushido` Monica Richards entered the stage to a roaring applause and to add her fairy-like vocals to the banging, penetrative and yet alluring soundscape of FAITH AND THE MUSE. The first half of the show was dominated by material from the last album but later the band also threw in the odd classic.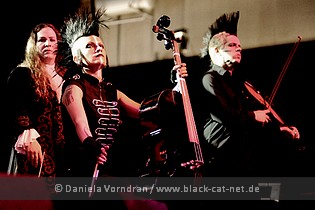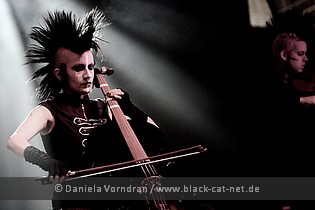 The show did not just sound impressive but also looked great, with the musicians changing places and instruments frequently and the witch-like appearance of Monica Richards as the centre point. William Faith took over vocal duties for the more guitar-driven Gothic Rock songs - and it was curiosity by the way that it took almost 30 minutes into the show before you could actually hear a classic Gothic guitar. Before that, the mohwaked and leather-clad musicians played mostly drums, percussion, violins and cellos. What FAITH AND THE MUSE has to offer on their current tour is equally uncommon, elaborate and spectacular. It's great to see artists stepping out of the usual ways and to spare no effort to deliver a show exactly the way they created it in their minds before. And it's even greater to see such artists reaping the fruits of all their great efforts and their visions, as FAITH AND THE MUSE left the stage to a roaring applause. There was only one downside to their M'era Luna performance - it was too short!
Setlist

01. Harai
02. Bushido
03. Battle Hymn
04. Cantus
05. Blessed
06. Scars Flown Proud
07. The Trauma Coil
Rating
Music: 9
Performance: 10
Sound: 8
Light: 8
Total: 9 / 10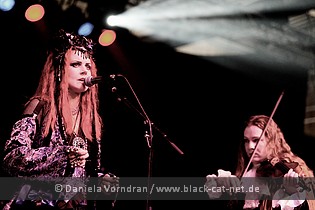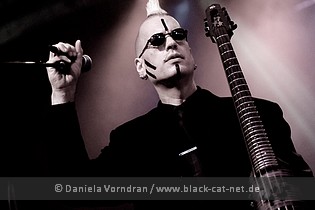 Brendan Perry (Sebastian Huhn)
If one's looking at his later and everlasting efforts as one half of DEAD CAN DANCE, it's hard to believe that BRENDAN PERRY actually started in a Punk band called THE SCAVENGERS back in 1977. With DEAD CAN DANCE he released a total of 8 impressive albums. Just 1 year after DEAD CAN DANCE had ceased to exist; he released his first solo album 'Eye of the Hunter' and contributed to various compilations. His new album by the name of 'Ark' has been released at the beginning of June.
http://www.brendan-perry.com/
/
http://www.myspace.com/brendanperry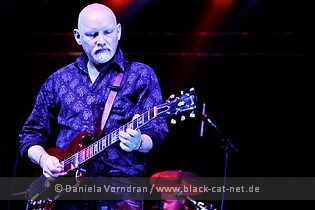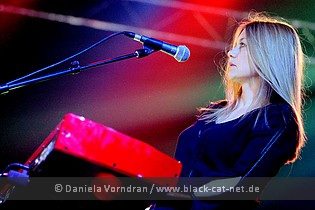 Music & Performance
I so fell in love with Brendan's new album 'Ark' which raised my excitement to finally see this icon live even more! But I and many others had to wait a little longer than expected. When the show was supposed to start they were still doing the sound check. The show eventually kicked off with a delay of 15 minutes. But as soon as the first mesmerizing chords of the opener 'The Golden Rule' sounded and the first lines were sung with this incredible voice, you could easily forgive everything. You simply got intrigued by the sublime aura this man radiates, a phenomenon I experienced with LISA GERRARD last year. Also, the overall sound was close to being perfect and I suppose that was another reason for the delay. The next track upped the ante regarding the tempo; fairly rocked to be honest, carried by crystal clear drum beats. FAITH AND THE MUSE obviously didn't want to miss that show either and at some point you could see half of the band entering the photo pit.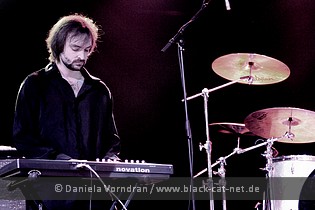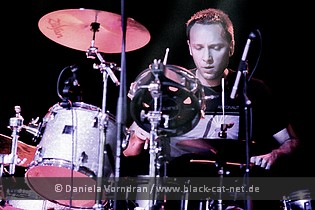 The set continued with the immersive textures of 'Tree of Life' and…did I mention how amazing it was already. Right, back to the song, which you could sink in completely, letting your thoughts drift away and get heavy goose bumps by this vocal performance! Sadly, when Brendan announced 'Wintersun', one of my favourites on the new album, I had to leave the scenery. I couldn't see the full show but even if you only were catching a glimpse of it you wouldn't soon forget. I'm sincerely hoping I will get another chance to catch him live one day.
Rating
Music: 9
Performance: 9
Sound: 9
Light: 8
Total: 8.9 / 10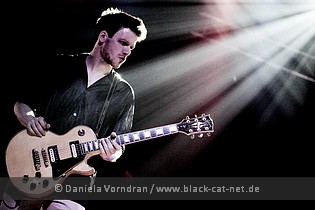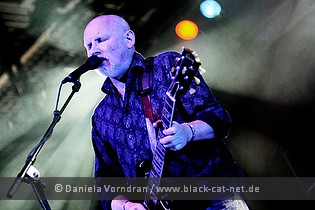 Das Ich (Sebastian Huhn)
The band around Bruno Kramm and Stefan Ackermann is one of the biggest exceptions in the German - and also in the International - music scene and since the early 90s also belongs to the most important bands of the Gothic Scene in Germany. Despite them only singing in German, they play gigs all over Europe and America. Hits like 'Gottes Tod' are guarantors for full clubs since they've been released but they're not only able to fill clubs, they cause you to think with the Stefan's spit-out penetrating lyrics and challenge with their demanding compositions, blending, neo-classic, avant-garde and playful electronics to a matchless mixture. The latest release was the 'Kannibale' EP in 2008. A re-release of 'Die Propheten' took place in 2009 and the new album 'Koma' is finally being released in this year's September. DAS ICH is Bruno Kramm (music & backing vocals) and Stefan Ackermann (lyrics and vocals), keyboarder Marty Söffker and a live drummer.
http://www.dasich.de/
/
http://www.myspace.com/dasich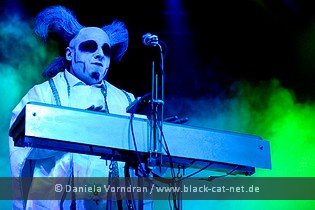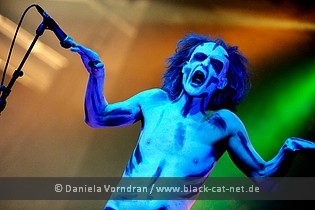 Music & Performance
Finally I got to see this formation as well. Everything was set already when I took "my" spot inside the hangar and soon the band would be taking the stage and get the balls rolling with the industrial-tinged 'Kannibale' that got a rather organic painting with the additional live drums. Sound wasn't as clear here as experienced with other bands before. A pity with the detailed sound DAS ICH actually has. "The Pope" Bruno Kramm rocked to the beats at his special keyboard construction. But Stefan Ackermann's performance, who's known for letting the devil out on stage, looked a little tamed to me. The explanation was following later with him saying he's got a broken rib. Not sure if I would go on stage with such an injury at all. With the next song 'Kain Und Abel', we went straight back in time to the early days, frenetically welcomed by the crowd. Even though Stefan was handicapped, it didn't keep him from jumping around or making those at times frightening grimaces to songs like the following 'Engel' or 'Schwarzes Gift'. Saw him several times how he was holding his obviously aching rib while jumping. Anyway, with the pumping 'Uterus', some club fodder was following before one of the band's most catchy and poppy efforts 'Das Dunkle Land' was performed.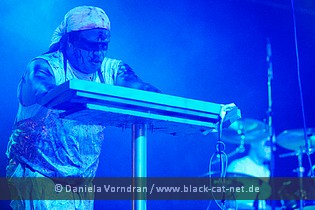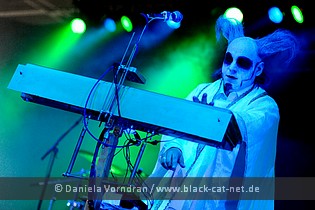 Reminded me of how I saw it being performed by VIC ANSELMO just a few weeks back. One righteously asked question "When Is the world getting to live if we never leave?' was asked with the following 'Atemlos'. But 'Gottes Tod' came up with the real highlight of the gig: The collaboration with FAITH AND THE MUSE who added some additional textures and gave the song a little more punch and dynamics with that and made the audience dance, just as their classic club anthem and set closer 'Destillat'. I was expecting a little more from this gig however. Maybe it was the fact that Stefan wasn't in top shape that curbed my enthusiasm quite a bit. The audience however went crazy to the show which was still above average but as said before not as good as I expected it to be.
Setlist
01. Kannibale
02. Kain Und Abel
03. Engel
04. Schwarzes Gift
05. Uterus
06. Das Dunkle Land
07. Atemlos
08. Kindgott
09. Gottes Tod
10. Destillat
Rating
Music: 7
Performance: 6
Sound: 6
Light: 7
Total: 6.6 / 10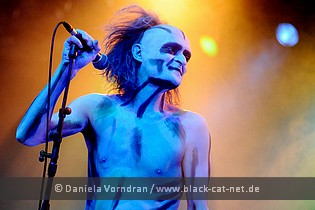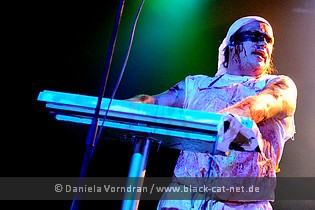 Rotersand (Sebastian Huhn)
ROTERSAND is a German Electro band the producer Gun and THE FAIR SEX-member Rasc formed in 2002. They had met due their collaborations on various projects and then emerged the band's sound by connecting brute beats to playful electronic sounds. While being on "Legends United Tour" in 2002, they were completed by the Techno producer Krischan E. Wesenberg who became the third man of ROTERSAND. In 2003, the threesome released the EP `Merging Oceans´ that straight entered the German Alternative Charts. Meanwhile, ROTERSAND can look back on three successful albums and many live performances that attracted a big following. The latest planned release will be the 'Waiting To Be Born' EP;; slated for a release in September 2010. ROTERSAND is Rasc, Gun and Krischan.
http://www.myspace.com/rotersand
/
http://www.rotersand.net/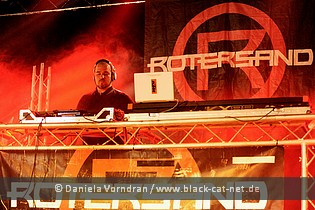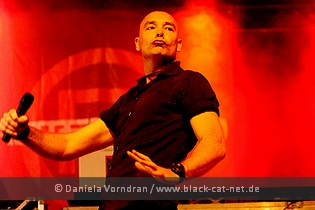 Music & Performance
With ROTERSAND up on schedule now, the hangar would be getting a fair doze of well-conceived electro beats and since all electro heads knew that, the venue was packed accordingly. 'Bastards Screaming' would make the start and right away Rasc was dancing over the stage with a happy face that somehow never fails to infect a crowd. With the next song, the trio passionately sent out an 'Electronic World Transmission' into the masses which was understood and transformed into dancing moves right away. The guys have a new single coming up in September with 'Waiting to Be Born'. Rasc has once called it his favourite song and I think I know the reason. 'Almost Violent' and 'Dare to Live' gave the crowd a non-stop carpet out of blistering dance beats to party to. The song that started it all followed now with the anthem 'Merging Oceans' and suddenly you could see lots of hands waving. A favourite, and not only one of mine, 'Lost' was coming up now and conquered everyone by storm as far as I could see. Afterwards, ROTERSAND forcefully declared the 'War on Error' with Gun at some point doing a spoken-word like a very passionate host or a motivator.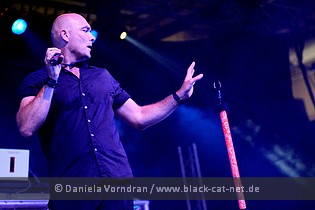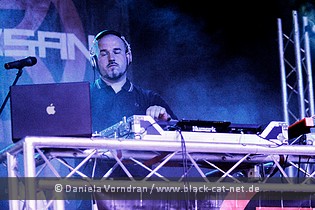 A song that can't be missed in any ROTERSAND set was 'Exterminate, Annihilate, Destroy', announced with one simple question "Are you ready for the final extermination?" Well, they were ready, but rather to dance to the heavy beats that would be following. The last act was made with 'Undone' and Gun's epic piano play. As soon as the last beats faded, loud cheers broke and soon you could see people with happy faces leaving the hangar. Good performance as usual but with no surprises whatsoever.

Setlist
01. Bastards Screaming
02. Electronic World Transmission
03. Waiting to be born
04. Almost Violent
05. Dare to live
06. Merging Oceans
07. Lost
08. War on Error
09. Exterminate Annihilate Destroy
10. Undone
Rating
Music: 7
Performance: 7
Sound: 7
Light: 7
Total: 7 / 10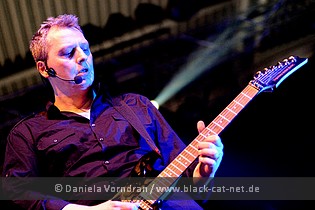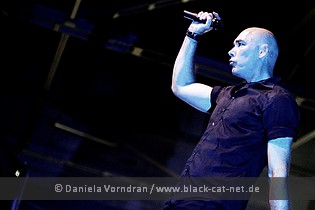 Eluveitie (Sebastian Huhn + Terrorverlag)
Foundation of ELUVEITIE took place in 2002 an din October of the following year, the first MCD with the title 'Vên' came out,  met with generally positive reception which contributed to the decision of making this project a real band. The band soon started playing live shows and in 2006 released their first studio album 'Spirit'. The second album 'Slania' followed it up in 2008. 'Evocation I - The Arcane Dominion' was the band's first pure acoustic album' and as the title indicates only the first part of a series. The latest album 'Everything Remains (as It Never Was)' is out since this year's January.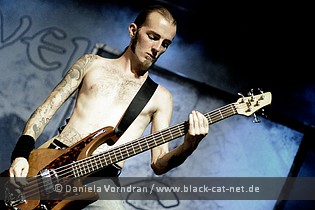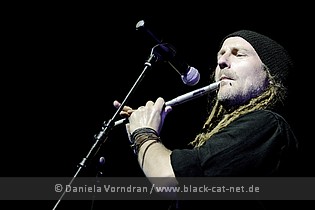 ELUVEITIE is Chrigel Glanzmann (vocals, mandola, whistles, pipes, gaita, acoustic guitar, bodhrán), Meri Tadic (violin, vocals), Merlin Sutter (drums), Siméon Koch (lead guitar), Ivo Henzi (rhythm guitar), Anna Murphy (hurdy-gurdy, vocals), Kay Brem (bass guitar) and Päde Kistler (bagpipes, whistles).
http://www.eluveitie.ch/
/
http://www.myspace.com/eluveitie
Music & Performance
About half an hour before Der Graf would be taking the stage with UNHEILIG, the Celtic folk metal group ELUVEITIE from Switzerland started their show inside a full hangar. An astonishing fact considering the famous contestant at the main stage!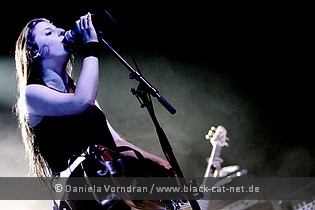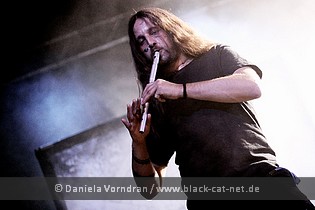 Even though I hadn't heard of them before this show, there were apparently a lot of fans since the screaming was incredibly loud when singer Chrigel was asking if it's true people at the festival would like some Celtic folklore music. I think that was before the second track of the set 'Thousandfold' made the audience go wild. Also in the further course of the concert, you wouldn't have to regret staying indoors with the Swiss band continuously managing to entertain everyone very well. Something you couldn't say about every metal formation playing on a Goth festival. Astonishingly enough, they even pulled the trick to animate the attending crowd to form a circle pit and a wall of death. Almost redundant to say they were bid farewell with tumultuous applause.
Rating
Music: 7
Performance: 8
Sound: 6
Light: 6
Total: 7 / 10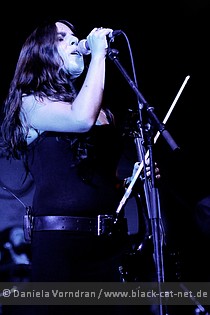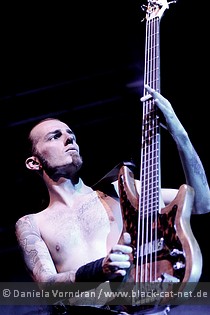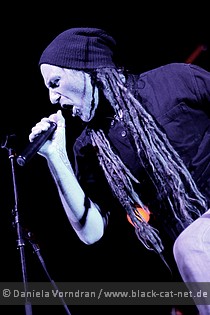 Crematory (Sebastian Huhn)
After the foundation of the band in 1991, and with the addition of two further musicians to the line-up, CREMATORY recorded their first self-titled demo: according to the band it has sold about 1,500 times. In the meantime, the former bassist left the line-up and joined another band, but they quickly found a new one and could start working on their debut 'Transmigration', released in 1993 after which he already left the band again to be finally replaced by a fixed bass player. With the following albums 'Just Dreaming' (1994) and 'Illusion' (1995) they moved further away from the Death Metal what made the band more popular. Many of the following albums would hit the German album charts such as 'Awake' (1997) or 'Act 7' (1999). Their most recent album is called 'Infinity' and was released in January. CREMATORY is Gerhard Stass (vocals), Matthias Hechtler (guitar, vocals), Harald Heine (bass), Katrin Jülich (keys) and Markus Jülich (drums).
http://www.crematory.de/
/
http://www.myspace.com/crematorymusic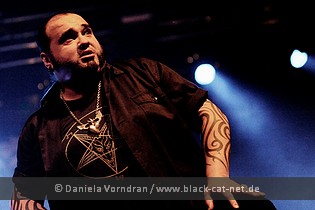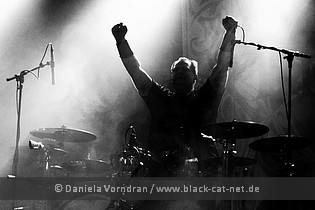 Music & Performance
Meanwhile it'd gotten darker over the festival grounds and especially inside the hangar, where CREMATORY would soon be ending the day with some hard metal beats. The only light inside the hangar came from the stage which at times made it hard to put down any notes. Anyway, the show started with a spoken introduction the band was entering the stage to. Then, the brachial 'A Story About…' really opened the set and front man Felix growled out the lyrics at full capacity. Someone told me that it was just the kind of vocals you expected by only looking at him. The mood after this long day was excellent and as far as you could judge in this dim light there were a lot of people dancing or head banging. Also they were screaming loud as hell, once Felix asked if they still were doing alright. 'Pray' kicked off slow with down-tuned guitars, then gained momentum in the chorus that came up with growls and alternating clean vocals.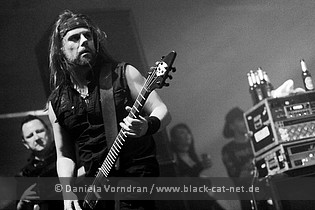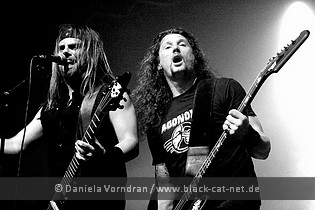 'Infinity', from the eponymous new album, had a few tempo changes in stock for us beyond the typical, while 'Höllenbrand' caused some wild action on the darkly illuminated stage. 'Tears of Time' revealed melancholy feelings as the innermost core under the hardened surface. 'Out Of Mind' on the other hand utilized punchy riffs and fast drum beats to get some necks aching. I wouldn't say that it was bad show. Just couldn't get full into it anymore at this point with all my bones aching and me being deadly tired from the day behind me.

Rating
Music: 7
Performance: 6
Sound:  6
Light: 7
Total: 6.6 / 10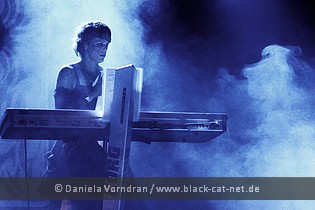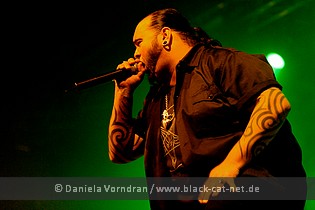 All pictures by Daniela Vorndran (
http://www.vorndranphotography.com/
/
http://www.black-cat-net.de/
/
www.myspace.com/vorndranphotography
)
Written by Daniela Vorndran (common parts), J. "Niggels" Uhlenbruch and Sebastian Huhn. ELUVEITIE in collaboration with Terrorverlag
{jos_sb_discuss:17}
See also (all categories):