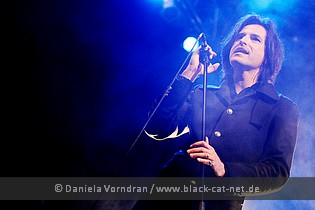 Leipzig, Germany
9th to 13th June 2011
Wave Gotik Treffen Day 1: Special Opening event at Agra with Das Ich, Sweet William, Henke presenting Goethes Erben, Age of Heaven, The Eternal Afflict & Love like Blood; Warm-up Party with Elektro-All-Stars

Twenty years ago, two Gothic people from Leipzig had an unusual idea: They didn't want to create yet another dark music festival but rather a supra-regional gathering of like-minded fellows for relaxed meeting, chatting and celebrating. When in 1992 the 1st Wave-Gotik-Treffen took place in 1992 at the edge of Leipzig with about 2,000 visitors and just a handful of bands, it is unlikely that anyone imagined that within a few years the WGT would become the largest meeting of Gothic people in the world, taking possession of a whole city every year at Whitsun. Now the WGT celebrated its 20th annual occurrence with a lot of special concerts and a great opening night already on Thursday evening.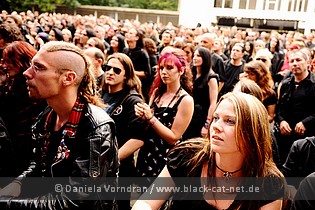 From June 9th to 13th 20,000 Gothics from all over the world were coming together again in Leipzig to celebrate the Wave-Gotik-Treffen as THE international gathering of the dark family. All over the city there were hundreds of bands performing, projects and single artists covering the whole wide range of Gothic music: from Electro-Pop to Goth-Metal, from EBM to Neofolk, from medieval music to Industrial. The concerts and events took place at more than 30 venues spread throughout Leipzig, for instance in the vaults of the Moritzbastei, in the splendid neo-antique cupola hall of the Pantheon (the former Volkspalast), in the green round of the open-air Parkbühne, as well as in large concert halls. Traditionally, the crazy Gothic concerts were contrasted by including some beautiful classical music in the program as well. There was even a ballet evening accompanied by Mozart choirs and Richard Strauss' dramatic opera Elektra at Leipzig's Opera House.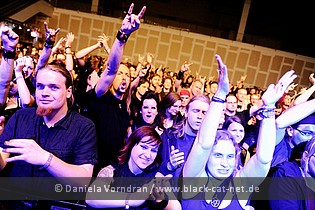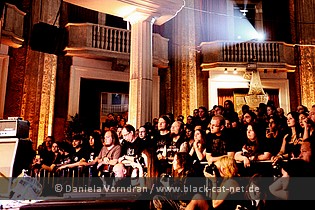 From its beginning the Wave-Gotik-Treffen has been much more than a music festival: its guests are stepping back to the romantic atmosphere of ancient times at the medieval market place, the pagan village. The WGT also offered authors reading, unusual theatre and cinematic performances as well as a big live action role play. One of Leipzig's most beautiful cafes with an outstanding historical interior had the daily setting of an opulent brunch meal accompanied by live chamber music. People in historic clothing were gathering in the park for a Victorian Picnic. For four days, a large hall on at the Agra Messepark was turning into the biggest Gothic-wares marketplace in the world. In countless clubs DJs from all over the world invited you to dance until dawn. There was also be a large fetish party where entrance is only possible by following a strict voluptuous dress code. Entrance to the huge fine arts museum with its important collection of painting, graphic art and sculpture was again free for WGT-guests.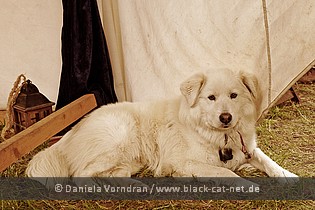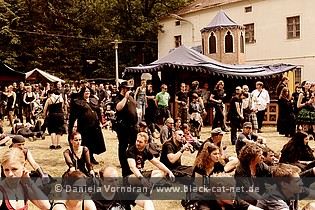 So, as you see, there were not only a lot of concerts happening but also a lot of other possibilities to spend your time during the WGT in Leipzig.


Grand Opening Night - Agra [Daniela Vorndran]

To celebrate the 20th WGT adequately, there was a grand opening show on Thursday night (June 9th) featuring most of the bands that played at the 1st WGT in 1992, among them the veterans of Gothic rock LOVE LIKE BLOOD with their final show and only concert since 1999. Opening act of the evening were DAS ICH, who came under very bad circumstances. Singer Stefan Ackerman is really sick being hospitalized and it was uncertain, if the band would perform at all. But they came since Stefan wanted them to play. They shortened their set and were inviting guest singers to take over Stefan's part. Those guests were Vic Anselmo and Myk Jung (The Fair Sex) who did a pretty good job after having not much time to learn the lyrics. Our best wishes go to Stefan. Get well soon!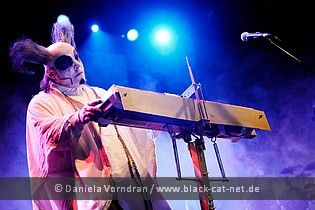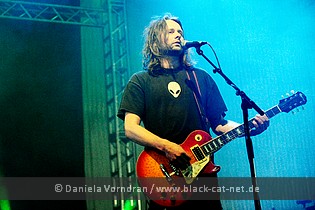 But there were five more bands playing that evening. After DAS ICH, German band SWEET WILLIAM followed, already founded in 1986, and presenting a musical mixture between Punk, Goth Rock, New Wave, Psychedelic and Electro Rock. In April 2010, the band released a new album, 'Brighter than the Sun', on French label d-monic. Next on stage was HENKE presenting songs of his project GOETHES ERBEN which he founded together with Peter Seipt in 1989. The bands counts as one of the shaping formations of the Dark-Wave and Gothic scene. And so, they got a good response to their show Following HENKE were Leipzig based Goth-Rock band AGE OF HEAVEN, reminding of SISTERS OF MERCY and FIELDS OF THE NEPHILIM with their sound. THE ETERNAL AFFLICT from Essen were presenting a mix of Dark-Wave, Electro, Techno and Rock elements in their WGT show. Their probably biggest hit 'San Diego' was presented as an encore.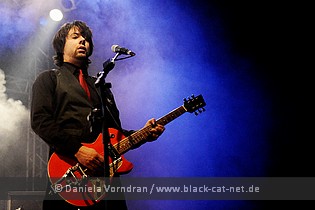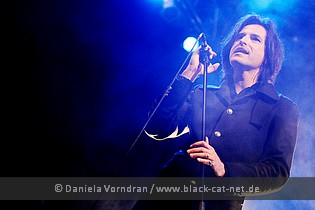 Last but not least, German LOVE LIKE BLOOD were closing the night at Agra. With their mix of Gothic Rock and Gothic Metal, the band is one of the biggest stars in German Goth scene. For their farewell-show, a lot of fans gathered in front of stage to experience and extraordinary show.


Electro All Stars - WGT-Pre-Opening Party at Moritzbastei [Daniela Vorndran]

While at the Agra the big opening night was taking place, the Moritzbastei was again home of the Elektro-All-Stars, like in the past two years. Even though there was that event at Agra, a lot of people gathered at Moritzbastei for the Pre-Opening including the Elektro-All-Stars performance, also called "EBM Karaoke". Joining in at this second edition were: Andy (Xotox), Sven Friedrich (Zeraphine, Solar Fake), Boris May (Klangstabil), Torben Wendt (Diorama), Dejan Samardzic (Haujobb), Daniel Myer (Haujobb, Covenant, Destroid, Architect…), Daniel Jonasson (Dupont), Kolja Trelle (Soman), Oliver Taranczewski (Yavin4), Chris aka Kermit (1979) and Dr. Molle (1979). http://www.myspace.com/elektroallstars / https://www.facebook.com/ElekroAllStars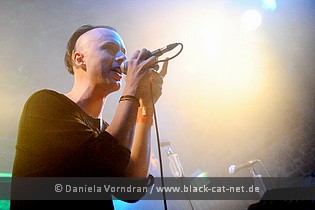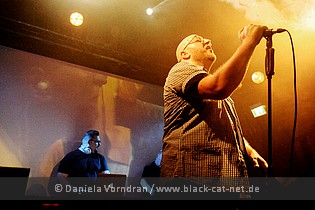 After I was attending the first two shows at Agra, I switched to Moritzbastei. The evening started pretty relaxed with having nice chats with beloved friends. Finally at around 22:10 it was time for the "Karaoke Show" to start. Again, it was big fun seeing the participating artists covering songs of other bands. And there was a huge variety in styles and genres the chosen songs belong to. After a pure electronic song (VNV Nation's Electronaut) presented by Kermit and Dr. Molle, Daniel Myer joined in, Kermit took over the microphone to present KILLERS' 'Human' followed by Sven Friedrich presenting a wonderful version of TALK TALK's 'Such a Shame'. AND ONE's 'Sometimes' was next, sung by Daniel Myer. Kermit's version of VISAGE's 'Fade to Grey' was a bit bumpy in its vocal performance. That was really like in a Karaoke bar!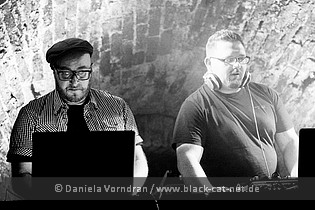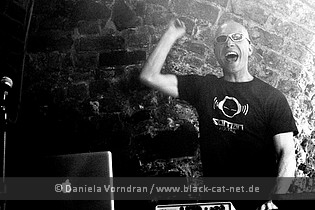 'Mad World', one of the most covered songs originally sung by TEARS FOR FEARS, was beautifully presented by Boris May and Torben Wendt (vocals), touching in its end performed on piano by Torben. Surely one of the musical highlights. Another one was the absolutely great performance of Andy (Xotox) presenting 'Fütter mein Ego' by EINSTÜRZENDE NEUBAUTEN. Amazing! Kermit was following with another song, DIVE's 'Snakedressed' and with that song, his vocal performance was much better. He just acted like Dirk Ivens on stage. Great! Totally without vocals came the FATBOY SLIM song 'Funk Soul Brother' were people were shouting out that line. That was made for party! Totally instrumental came also HUMAN LEAGUES 'Love Action' presented by Kolja.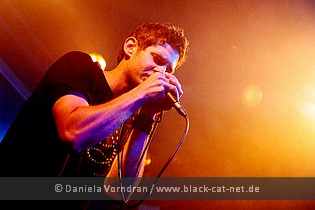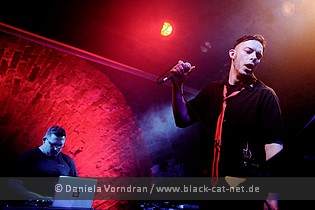 When Daniel Myer entered the stage afterwards, he said it would be getting more complicated now. The song he presented now is originally sung by a little Swedish lady. Following was a great version of ROBYN's 'Dancing on my own'. At the end, he suggested that "next time, we're gonna invite ROBYN". Next songs up on the list were EDITORS' 'Papillion' sung by Sven Friedrich and DEPECHE MODE's 'Behind the Wheel' performed by Daniel Myer. The, time came for something less serious, the 'Ghostbusters' theme song presented by Boris and underlined with movie scenes on a video screen. The "Rocky" fanfare introduced SURVIVOR's 'Eyes of the Tiger' sung by Daniel and also being supported by the adequate video scenes. Some electronic variations and improvisations were leading over to DAFT PUNK's 'Around the World', followed by the "Miami Vice" theme and HAROLD FALTERMEYER's 'Axel F' used in the movie "Beverly Hills Cop".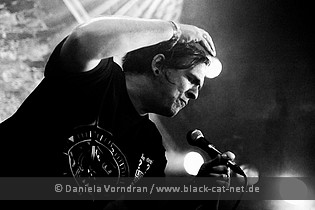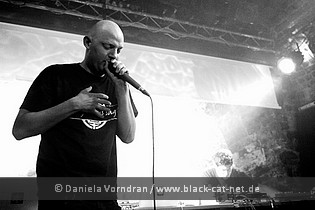 Next song was custom-made for Boris May who performed PURPLE SCHULZ' 'Sehnsucht' accompanied by Torben on electronics. Amazing how he spit out the lyrics! "Ich will nur weg, ganz weit weg, ich will raus!" Then, both musicians changed roles and Torben presented NEW ORDER's 'True Faith'. At the end, we got a special song presented by Daniel Myer and Daniel Jonasson: ERASURE's 'Little Respect'. Originally it was planned that a third Daniel (Daniel Graves of AESTHETIC PERFECTION) would join in, but he did not make it. Anyway, it was really funny and an amazing evening found its end. The great performance attracted not only a lot of fans having fun and celebrating, but also some VIPs, like COVENANT's Eskil Simonsson obviously enjoying the evening.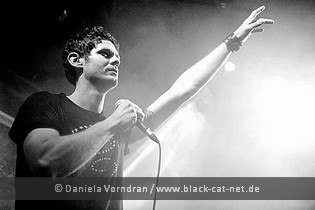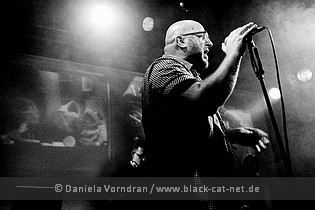 After the live show, there was party on all areas of the Moritzbastei presenting all kinds of dark music. No party for me since I went back to Agra to see at least LOVE LIKE BLOOD performing there.

Pictures by Daniela Vorndran (Das Ich, Sweet William, Love Like Blood, Elektro-All-Stars - http://www.vorndranphotography.com / http://www.black-cat-net.de/ / www.myspace.com/vorndranphotography / www.facebook.com/blackcatnet)



See also (all categories):