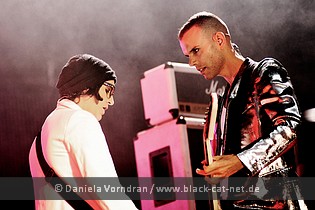 Flughafen Drispenstedt, Hildesheim, Germany
7th & 8th August 2010
M'era Luna 2010 Day 2 Main Stage: Placebo, In Extremo, Editors, The 69 Eyes, Saltatio Mortis, Zeraphine, Hanzel und Gretyl, Punish Yourself, The Other, Expatriate

After an extensive breakfast, I made my way back from the hotel to the festival ground for some extraordinary bands scheduled for that day. I was of course looking forward to see PLACEBO headlining the main stage but there was much more to offer, in parts pretty uncommon bands most attendees probably did not even heard of, namely PUNISH YOURSELF or HANZEL UND GRETYL. Pretty weird stuff! With EDITORS, the festival had another favourite of mine to offer. The day started with EXPATRIATE, a band I already knew from the last PLACEBO tour and that impressed me pretty much…



Expatriate (Sebastian Huhn)

EXPATRIATE took shape back in 2005 with Chris Kollias and Ben King discovering their similar musical tastes. A friend of Kollias was added and soon they were working on the first songs for their new band. Those first songs made the 5-track EP 'Lovers le Strange'. Singles spawned from the EP exposed them to public attention and led to first national gigs. Chance had it they met Jim Kerre of SIMPLE MINDS, who would go on to invite them to take the support slot of their Australian tour leg. Their debut album 'In The Midst Of This' followed in April 2007. EXPATRIATE is Ben King (vocals, guitar), Chris Kollias (drums), Damian Press (keyboards, guitars, engineering) and David Molland (bass). http://www.expatriateband.com/ / http://www.myspace.com/expatriateband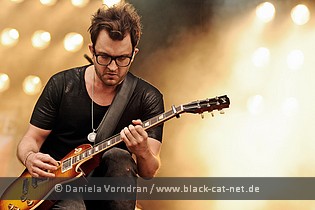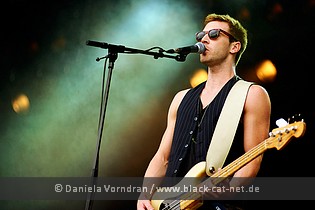 Music & Performance
About one year ago, I've seen them supporting another band on their tour in Germany and there I got really impressed by the Australian band who opened the Sunday at the main stage under cloudy skies. 'Blackbird' was the first song they would play for the audience. To an audience that most likely didn't know what to expect but got positively surprised by the vibe and the inherent melancholia of this song, developing an insane drive within the chorus with the band giving away the control to the rhythm. 'Shooting Star' was up next, opening with some little fuzzy indie chords until a slowly pounding rhythm kicked in. "Take this Love / Take It To The Streets…" Great to sing along, but somehow covered with a dark coat. Third track within the short set was 'Get Out, Give In', much more pushing than before. Right in time before the new song 'School', and supposedly the last one in the short set, we got blessed with a little rain shower. Unfortunately, I couldn't stay for the entirety of the song since EYES SHUT TIGHT was to start their show at the hangar stage soon. It was a great musical start of the day with EXPATRIATE. Hope to see them again somewhere soon.

Setlist
01. Blackbird
02. Shooting Star
03. Get Out, Give In
04. School (New Song)

Rating
Music: 8
Performance: 8
Sound: 8
Light: - (daylight)
Total: 8 / 10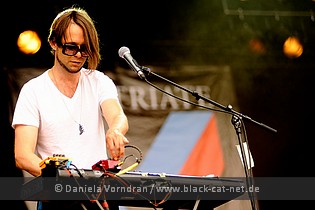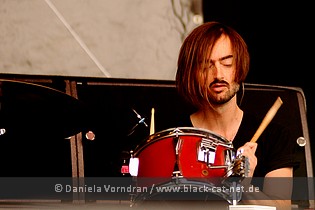 The Other (Sebastian Huhn)

The band was founded in 2002. All the band members have been active musicians before. Since 1999 they were known as THE MISFITS cover band GHOULS. They could quickly build up a reputation with their creepy outfits, inspired by old horror movies. Following their debut release 'They're Alive' in 2004 they went on tour with Misfits, Wednesday 13 or Balzac and in 2006, with the second album 'We are who we Eat' they strengthened their status. In 2007 the band toured the US for the first time and their first comic was published as well. In this year's May, the third album 'The Place to Bleed' has seen the light of day and proved to be a major improvement in the band's sound. THE OTHER is Rod Usher (vocals), Sarge von Rock (guitar), Migore Drake (bass) and Dr. Caligari (drums). http://www.theother.de/ / http://www.myspace.com/theother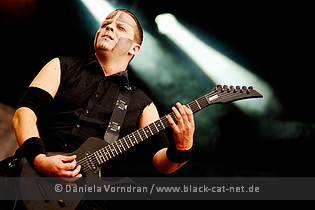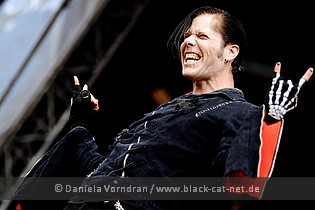 Music & Performance
If you were up for a little bit of rocking horror, the place to be now was the main stage with German THE OTHER kicking off their set with the introduction 'New Blood' before 'Back To The Cemetery' took the audience on a galloping ride with lots of opportunities to shake off the last remaining bits of weariness. In the meantime, the typically dressed and painted band put steam into their performance. 'Der Tod Steht Dir Gut' continued in the same wake and had more and more people inside the grown audience move. Following 'Lovers Lane' and even more 'Beware Of Ghouls' were audience favourites and the people knew the lyrics inside-out. Even though it was still quite bright at this time of the day, the band now were bringing their crowd darkness with 'In The Dead Of Night'. 'The Lovesick Mind' with its much present bass hums first reminded a lot of the post-punk era; then exploded into rock territory eventually. Nice show, though it couldn't keep up with what EXPATRIATE delivered before them.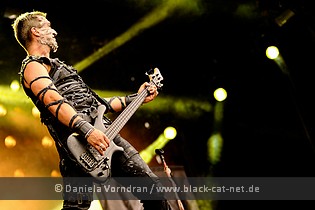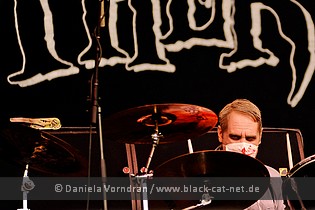 Setlist
01. New Blood (Intro)
02. Back To The Cemetery
03. Der Tod steht dir gut
04. Lovers Lane
05. Beware of Ghouls
06. In the Dead of Night
07. The Lovesick Mind
08. Hier kommt die Dunkelheit

Rating
Music: 6
Performance: 6
Sound: 7
Light: - (daylight)
Total: 6.2 / 10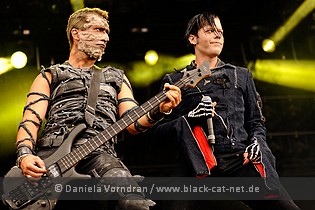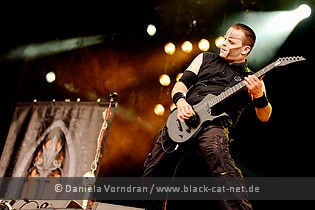 Punish Yourself (J. "Niggels" Uhlenbruch)

The French Cyber-Punk band PUNISH YOURSELF from Toulouse is still rather unknown outside France but already released seven albums, plus a live album and compilations of early demo material. The band describes their own music as "Ministry fucking with the Lords Of Acid" but that's not even half of the truth. In fact PUNISH YOURSELF created their own universe, which is full of musical madness, dark glamour, fun, trash and insanity. They definitely have a strong Punk attitude, combined with Industrial elements, speeded Glam Rock, a Batcave & Wave flavour and hardcore Electro. PUNISH YOURSELF are vocalist Vincent Villalon aka "vx69", MissZ (guitars, percussion, background vocals), guitarist Pierre-Laurent Clément aka P.RLOX, and drummer X.av. http://www.punishyourself.free.fr/ / www.myspace.com/punishyourself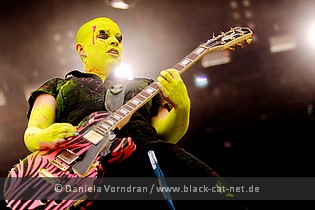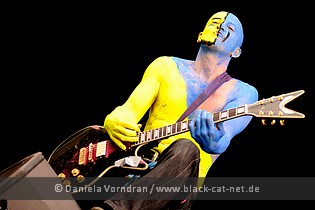 Music & Performance
Three years ago I had my first encounter with PUNISH YOURSELF at the Gothic Festival in Belgium, and back then they just blew me away! While that was an indoor show - ideal for PUNISH YOURSELF's freak show which involves a lot of glow-in-the-dark body paintings and black light - I wondered before the M'era Luna how on earth such a show will come across on the main stage in daylight. Well, the freaky Frenchmen passed the test with summa cum laude! Maybe the trick was to put on extra-shiny neon body paintings for the sunlight, maybe it was bringing performance artist MCC (full with the brightest neon-green body paint I've ever seen on a living person!) who delivers some extra show effects. Maybe it was just PUNISH YOURSELF's crazy music mix which is almost Gabba-style Electro in one second and high-speed Punk in the next. The band played with a lot of energy and enthusiasm, and shouter Vincent Villalon hold true to the band's motto "Not hiding - providing!" Even without their usual stage setup and light show PUNISH YOURSELF did provide and played a short but powerful set with tried-and-tested songs like ´Mothra Lady`, ´See Ya Later Alligator` or ´Suck My TV`.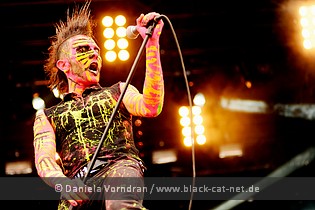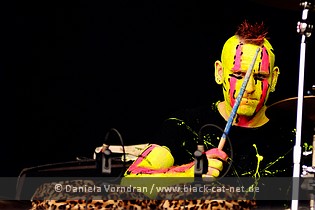 Performer MCC, who entertained us with swirling orange ribbons and a cheeky gay leather-fetish dance before, entered the stage with a big aflame pinwheel for the grand finale of ´This Is My Body This Is My Gazoline`, always running danger to inflame singer Villalon. Pure madness, and some people probably left the festival ground with a big "what the f*ck?" in their minds. But I'm sure much more people are new PUNISH YOURSELF fans now, as it got fuller and fuller in front of the stage during the show. And after all, PUNISH YOURSELF simply kicked serious ass!

Setlist
01. ...than a thousand suns (intro)
02. Shiva Only Is God
03. Suck My TV
04. Zmeya
05. Mothra Lady
06. See Ya Later Alligator
07. Las Vegas 2060's
08. This is my body this is my Gazoline

Rating
Music: 8
Performance: 9
Sound: 8
Light: (daylight)
Total: 8.4 / 10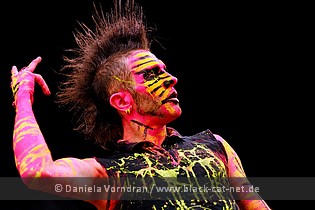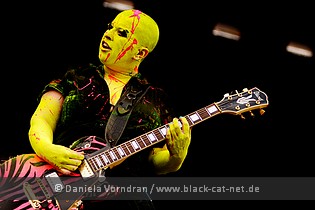 Hanzel Und Gretyl (J. "Niggels" Uhlenbruch)

The New York-based HANZEL UND GRETYL started in 1993 as an Electro / Industrial duo. After signing to Energy Records they released their debut 'Ausgeflippt' in 1995, which featured a pretty diverse mix of styles and lyrics in not less than five languages. After another album and support tours for acts like MARILYN MANSON, PRONG and RAMMSTEIN, the duo was forced to make a longer break due to legal disputes with their label. The album 'Oz Faktor' was produced in this period but never saw a release. A new contract with Metropolis Records in 2002 meant a new start for HANZEL UND GRETYL and a significant change in style with a much more Metal-driven sound and an inflated, satirical focus on everything Germanic. The titles of their Metropolis releases ´Über Alles` (2003), ´Scheissmessiah` (2004), ´Oktötenfest 2006` (2006) and ´2012: Zwanzig Zwölf` (2008) speak volumes here. HANZEL UND GRETYL are Kaizer Von Loopy (vocals, bass guitar, programming), Vas Kallas (vocals, guitar) and Chris Kling (drums). http://www.hanzelundgretyl.com/ / www.myspace.com/hanzelundgretyl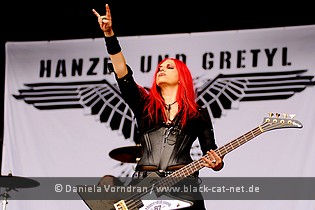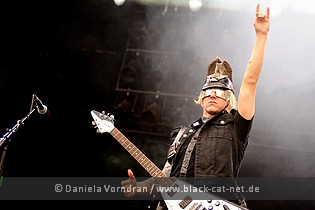 Music & Performance
From PUNISH YOURSELF's madness to manic satire with HANZEL UND GRETYL! While Chris Kling concentrated on what a drummer does best (yes, that's drumming!), Kaizer Von Loopy and in particular Vas Kallas were ready to grab any stereotype about Germany to make excessive use of it. And to make it even crazier, Kaizer didn't hesitate to display the most insane stage behaviour on the edge of mere silliness. Wearing a German spiked helmet with a plastic eagle on top, black knee-socks and black shorts he made clear that he was ready to ridicule himself, and all the German clichés Americans might have. Including pseudo-German lyrics which are hardly more than a compilation of catch phrases, as song titles like ´Ich bin über alles` or ´Fikk dich mit Fire` demonstrate nicely. Beer is of course a major stereotype about German culture, so of course there was lot of beer on stage, either canned or in big glass mugs. Kaizer drank some of it but most of it was spilled over the stage, over his guitar, over his head and over his body. Oh, and by the way, spilling lots of beer over the guitar raises the question how much of the music is actually playback - especially when our dear protagonist uses both hands for his individual beer treatment while you can still hear the guitar! Anyway, when you think of German stereotypes not only beer will come to mind, all sorts of Nazi stuff might pop up as well. HANZEL UND GRETYL pick them without thinking twice, as the modified Reichsadler on the stage backdrop and song titles like ´Third Reich from the Sun` or ´SS Death Star Supergalactik` proved. Of course it's all just satire and persiflage but perhaps it works better in front of an American crowd than in front of German krauts.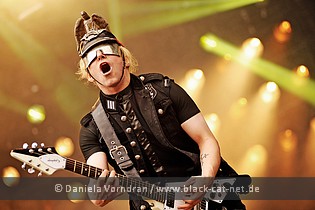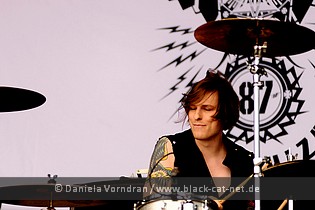 HANZEL UND GRETYL met a pretty large audience at the M'era Luna, considering it was still lunch time, and many people clearly loved the crazy, mindless yet satiric show of the New York band. But not everybody got the joke - that the festival promoters denied to sell certain HANZEL UND GRETYL shirts at their merchandise stalls because of the SS skulls on the items is just a hint here. After the gig there were also discussions among the festival attendees, which still continue in the internet, and while some saw HANZEL UND GRETYL as one of the weekend's highlights some others didn't like it all. I'm sure it wasn't HANZEL UND GRETYL's goal to please everybody, anyway. And they surely delivered the craziest and most lunatic performance of the festival, which is quite an achievement when a band like PUNISH YOURSELF is also on the bill! But while the French band put on a manic but clever show with a lot of finesse, HANZEL UND GRETYL seemed to be rather crackbrained. I enjoyed both shows, but if you ask me PUNISH YOURSELF nevertheless wins hands down in direct comparison.

Setlist
01. Overture
02. Number 1 in Deutschland
03. Fikk Dich Mit Fire
04. Disko Fire Scheiss Messiah
05. Das Boot
06. Third Reich from the Sun
07. SS Death Star Supergalactik
08. Ich Bin über Alles
09. Sternkrieg
10. Fukken über Death Party

Rating
Music: 6
Performance: 8
Sound: 8
Light: (daylight)
Total: 7.3 / 10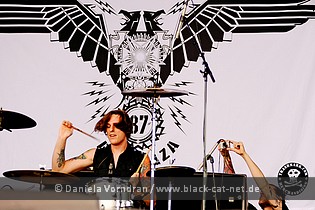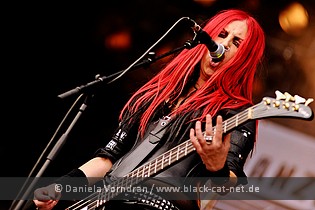 Zeraphine (Sebastian Huhn)

ZERAPHINE has been formed by Norman Selbig and Sven Friedrich after their former band DREADFUL SHADOWS quit in 2000. Together with producer Tommy Hein, the first album 'Kalte Sonne' was recorded and then released in 2002. It was completely sung in German, contrary to second album 'Traumaworld' comprising of mixed German and English lyrics and a nice cover of the DEPECHE MODE track 'In Your Room'. The third album 'Blind Camera', released in 2005, left confided territory and turned to heavier guitar riffs and harder arrangements, still the dominating factor was Sven's charismatic voice. Their fourth and current album 'Still' was the first album, release by their own label, which the band founded after their previous record deal ended. 'Whiteout' is the name of ZERAPHINE's comeback album, released in June 2010. ZERAPHINE is Sven Friedrich (vocals), Norman Selbig (guitar), Manuel Senger (guitar), Michael Nepp (bass) and Marcellus Puhlemann (drums). http://www.zeraphine.de/ / http://www.myspace.com/zeraphine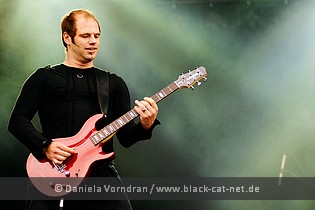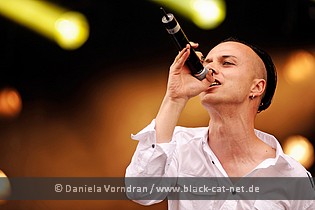 Music & Performance
The prospects of a ZERAPHINE gig lured a big crowd to the main stage, where the intro off the new album soon was prelude of the show's start and the march in of the band. Just as on the new album the track was segueing over into the harsh 'Lieber Allein', by ZERAPHINE standards a very experimental piece, with plenty of distortion and lively drums injected. With the second track 'Out of Sight' starting, everything became much speedier, though the stage action quite remained the same. Sven was moving forwards adjacent to the microphone, even if he did it more enthusiastic in my opinion, and the rest of the band enjoyed themselves as usual. The set travelled back to the second album with one of the 'Traumaworld' hits 'No Tears' before with 'Die Wirklichkeit' a classic from the debut album was presented. The definite mood peak was reached with 'Be My Rain' so that the rather calm 'Whiteout' was the perfect thing to catch the breath. Again a solid show!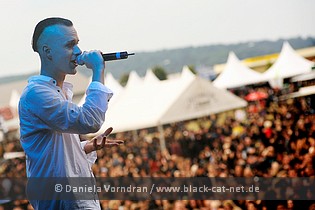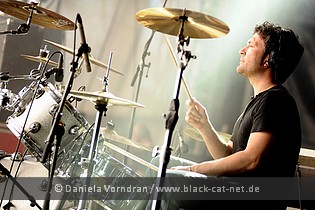 Setlist
01. Intro
02. Lieber Allein
03. Out Of Sight
04. No Tears
05. I Will Be There
06. Die Wirklichkeit
07. Rain Falls
08. The Stream
09. Be My Rain
10. Whiteout

Rating
Music: 7
Performance: 7
Sound: 7
Light: - (daylight)
Total: 7 / 10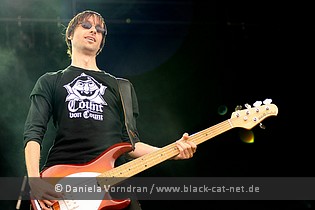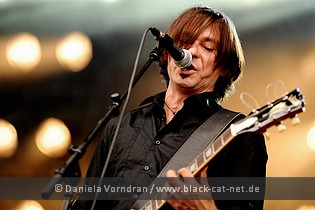 Saltatio Mortis (Sebastian Huhn)

SALTATIO MORTIS is one of the many (and popular) German Medieval Metal bands, and they are surely among the leading bands of this genre. SALTATIO MORTIS define their style as "medieval Punk" though, to differentiate from the rest of the genre. Their name is by the way Latin and means "dance of death". Formed in 2000, it was SALTATIO MORTIS' second album 'Das zweite Gesicht' (2001) that was causing a wave of popularity that spread even beyond the boundaries of the medieval genre and people would name them in one breath with big names such as IN EXTREMO or SUBWAY TO SALLY. For a certain period of time, the band was incorporating synthesizer sounds into their music; but has abandoned those elements later to veer into more rock oriented territory with older tracks now being performed in the new sound as well. In October 2006, it was announced that four members of the band would leave the line-up, luckily for the band they quickly found some new minstrels. After the line-up changes, SALATIO MORTIS pushed their popularity with the album 'Aus der Asche' in 2007. Last year the band released 'Wer Wind Saet', to many fans their best album to date and actually a Top 10 hit in Germany, followed by the live album 'Manufactum II' this summer.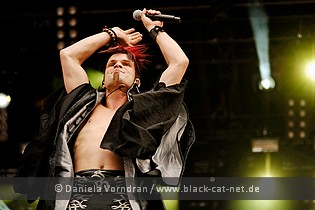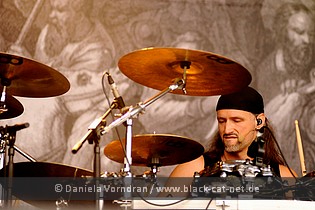 SALTATIO MORTIS is Alea der Bescheidene (vocals, bagpipes, shawm), Falk Irmenfried von Hasen-Mümmelstein (bagpipes, shawm), Lasterbalk der Lästerliche (drums, percussion), Magister Flux (modern equipment), El Silbador (bagpipe, shawm, flute), Mik el Angelo (guitars, flute, cittern), and Bruder Frank (bass). http://www.saltatio-mortis.com/ / http://www.myspace.com/mittelalterpunk

Music & Performance
A few months back when SALTATIO MORTIS played at the Blackfield festival, I thought I should just give them a shot due to positive comments, even by people not connected to the medieval scene at all usually. Me being not exactly the medieval type either, even if it's Medieval Rock had quite a blast and was impressed by the way they were doing things. So I was kind of looking forward to this performance, which should take place under good weather circumstances. No rain shower in sight at this point. The mood in the pretty big crowd was accordingly good and when the first chords had just left their instruments and whirlwind Alea had entered the stage as the last one of the minstrels, all hands went straight up to swing to the rhythm or clap along. 'Worte', embraced with tumultuous screams, caused the people to raise their fists as they were told. After 'Uns Gehört die Welt' had rolled over the audience, they were asked to raise their hands, grab their neighbour's and put them on each other's shoulder to jump all together. Amazing how well that went, actually!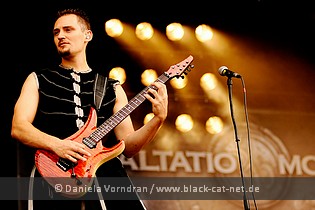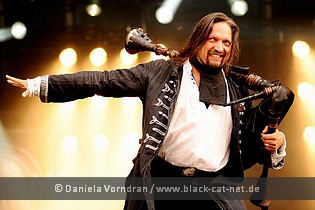 Before 'Wir Säen den Wind' started, Alea wanted the crowd to split up, so there would be a corridor for him to walk through with his flag and as soon as someone's passed by the flag they were supposed to close the corridor behind them quickly. For that to unfold its full effect you would have to watch it from above. Looked amazing at Blackfield festival and even though I had no chance to watch it from above this time, it was still a incredible and the fans had enormous fun, visibly and audibly. Afterwards, some fiery bits were unleashed with 'Prometeheus' with parts of the lyrics sung in turns by the crowd and Alea. The guys didn't leave the stage to elicit the oath of the minstrels 'Spielmannsschwur' from their following which became a big party as expected. You can say what you want about medieval music, you can say it's not your cup of tea or anything, but one thing must be acknowledged. They're doing their best to give their people a good time and SALTATIO MORTIS even accomplish the feat to appeal to people from outside their scene. Great show and a great band!!!

Setlist
01. Rastlos
02. Tritt ein
03. Worte
04. Uns gehört die Welt
05. Koma
06. Wir säen den Wind
07. Prometheus
08. Falsche Freunde
09. Spielmannsschwur

Rating
Music: 8
Performance: 9
Sound: 8
Light: - (daylight)
Total: 8.4 / 10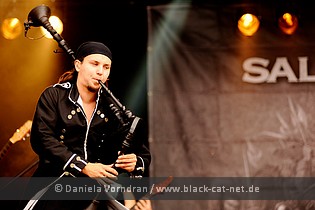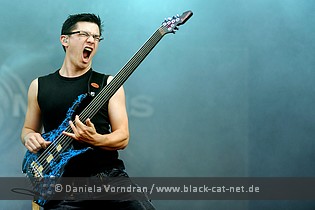 The 69 Eyes (J. "Niggels" Uhlenbruch)

Gothic Glam Metal band THE 69 EYES from Finland are already well-known guests at the M'era Luna. They appeared at the first edition of this festival in the year 2000 and have become regulars in the M'era Luna running order since then. At that time THE 69 EYES already had a ten-year career behind them and were about to release their critically acclaimed album ´Blessed Be, `which marked their first top ten success in their home country. Since then, THE 69 EYES became a Gold selling act signed to EMI Finland with Nuclear Blast as their distributor in mainland Europe, Ireland and the UK. Initially, THE 69 EYES' musical style was rather Glam Rock and Hard Rock in the vain of MÖTLEY CRÜE and HANOI ROCKS but with the album ´Wasting The Dawn` (1999) they introduced Gothic Rock and influences of bands like THE MISSION, THE SISTERS OF MERCY or TYPE O'NEGATIVE.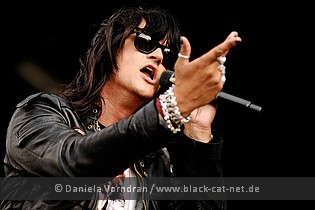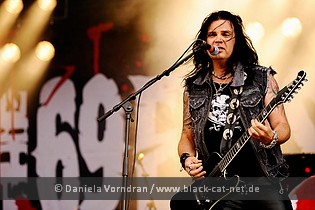 The style of THE 69 EYES is often described as Goth'n'Roll, and the band members often call themselves the "Helsinki Vampires". A lot of glam and gloom, and if ELVIS and GARY GLITTER were Goths of today they'd probably be in this band. THE 69 EYES is Jussi 69 (drums), Archzie (bass), Jyrki 69 (vocals), Bazie (lead guitar), and Timo-Timo (guitar). http://www.69eyes.com/ / http://www.myspace.com/theofficial69eyes

Music & Performance
Business as usual, though with more and bigger backdrops! THE 69 EYES are probably the band with the most appearances at the M'era Luna, with their 2010 gig being their sixth altogether at this festival. Ten years after their M'era Luna debut the band surely still knows how to put on a solid Rock show but it lacks freshness and the taste of the new, especially for regular M'era Luna attendees. Maybe that's simply the way things are for bands with a long career behind them. THE 69 EYES played it safe at the M'era Luna and presented a best of set with well-known hits like ´Gothic Girl` (back in the day a top 10 single in Finland!), ´The Chair`, ´Dead Girls Are Easy` or ´Lost Boys`.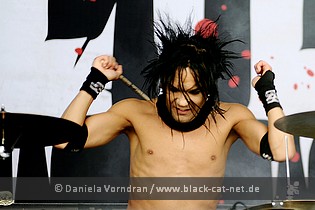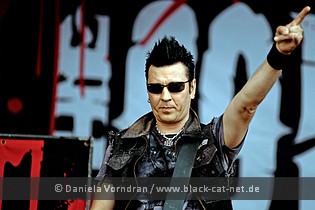 For a Rock'n'Roll show the leather-clad band was pretty static on stage but the fans enjoyed it anyway because they got exactly what they wanted. No surprises in store but who'd have expected them, anyway? THE 69 EYES know how to write a hymnal Rock song with a dark touch, and Jyrki does have a charismatic voice. So, business as usual in the world of THE 69 EYES meaning in their world that everything is fine…

Setlist
01. Framed in Blood
02. Never Say Die
03. Gothic Girl
04. Susperia Snow White
05. Wasting the Dawn
06. Feel Berlin
07. Kiss me undead
08. The Chair
09. Dead Girls Are Easy
10. Brandon Lee
11. Lost Boys

Rating
Music: 7
Performance: 7
Sound: 7
Light: (daylight)
Total: 7 / 10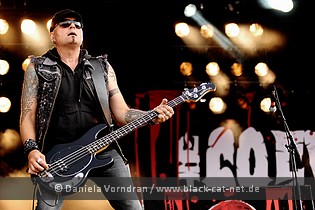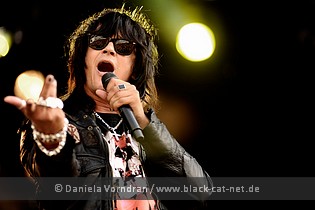 Editors (J. "Niggels" Uhlenbruch)

Formed in Birmingham in 2002, EDITORS have made quite a career since their debut album ´The Back Room` in 2005. While they were accused in their early days to ride on the success of bands like INTERPOL, EDITORS shaped their very own profile since then and became a Platinum-awarded band with various top 10 hits in the UK. After two million-selling and critically acclaimed albums, EDITORS took every risk and made a radical change with their third album ´In This Light and on This Evening`, released in 2009. The album, produced by former DEPECHE MODE and U2 producer Flood, has a much more synthetic but yet raw appeal than the previous material. Although the album debuted at number one in the British charts, at first many old fans had massive problems with this change of style. But in the end critics and fans alike praised and admired EDITORS for this successful act of bravery. EDITORS are Tom Smith (lead vocals, rhythm guitar, piano), Chris Urbanowicz (lead guitar, synthesizer), Russell Leetch (bass guitar, backing vocals) and Ed Lay (drums, percussion). http://www.editorsofficial.com/ / www.myspace.com/editorsmusic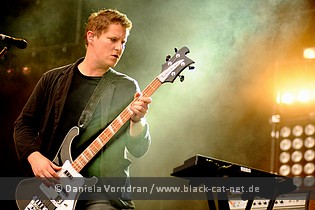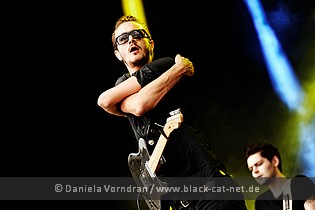 Music & Performance
EDITORS were together with PLACEBO the rather "un-Goth" band of this year's M'era Luna. Over the last few years the promoters tried to bill some (successful) bands from outside the scene to attract a broader audience but carefully picked bands who are namely from other genres but nevertheless popular among the Goth crowd. Last year it was THE PRODIGY, this year PLACEBO and EDITORS fulfilled this part. If you think about it, it makes sense to invite these bands. EDITORS for example are often compared with bands like JOY DIVISION or ECHO & THE BUNNYMEN, bands which played a big role in the 1980s when the dark scene emerged from Post-Punk and New Wave. And EDITORS' dark and melancholic Indie Rock does appeal to a lot of the M'era Luna attendees, as the huge crowd in front of the stage proved when Tom Smith & Co. entered the main stage in simple but elegant black wear.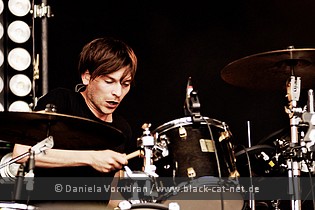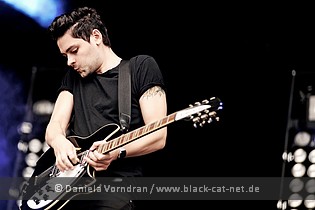 Opening with the title track of their last album ´In This Light and on This Evening`, EDITORS were about to perform a set with a well-balanced mix of songs from all three albums. I had the feeling that EDITORS were a little unsure what to expect from this event and it's - in EDITORS' terms - rather unusual audience. But the very warm welcome they received allayed all doubts the band might have had. In fact I heard (and read) from many people that they truly look forward to EDITORS' gig and that it'd be one of the highlights of the festival for them. So it was easy for the Birmingham band to win over the crowd, and with the charismatic voice of Tom Smith and brilliant songs like ´The Racing Rats', ´Smokers Outside The Hospital Doors` or the epic and complex ´Eat Raw Meat = Blood Drool`, this was really no surprise. Interestingly EDITORS did not perform 'You Don't Know Love`, one of the hit singles from the last album, but to the delight of many, Tom Smith performed the new piano ballad ´No Sound But The Wind` taken from the soundtrack of the latest ´Twilight` movie 'New Moon'. EDITORS' show was simple and pure, no fancy effects and no big light show. It was all about music, and damn good music!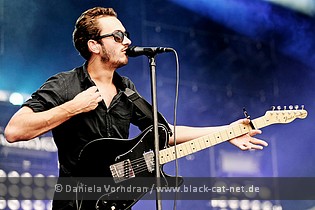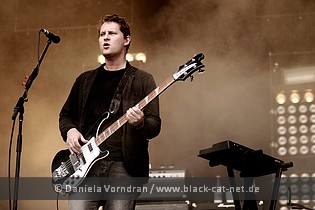 The funny things is that certain M'era Luna bands claim to be Goth but in the end their music is nothing but Pop - often even Pop of the rather simplistic, cheesy and touchy-feely sort. EDITORS want to be Pop but in the end their melancholic but energy-driven anthems have so much more to do with what this scene is (or once was) all about than the aforementioned. Great band, great gig!

Setlist
01. In This Light And On This Evening
02. An End Has A Start
03. Bones
04. Bullets
05. Eat Raw Meat = Blood Drool
06. Blood
07. Munich
08. The Racing Rats
09. Smokers Outside The Hospital Doors
10. No Sound But The Wind
11. Bricks And Mortar
12. Papillon

Rating
Music: 9
Performance: 9
Sound: 8
Light: (daylight)
Total: 8.8 / 10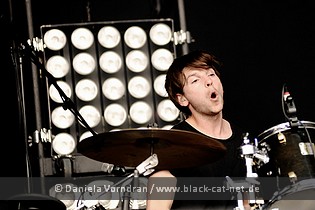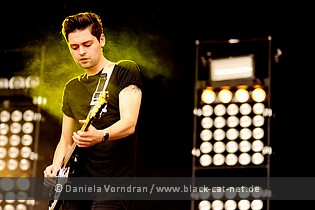 In Extremo (Sebastian Huhn)

Actually, the German Medieval Rock band IN EXTREMO was a fusion of a nameless medieval music playing formation and a Rock band. Firstly, the two formations played separately, but in 1995 the front man "Das Letzte Einhorn" (aka Michael Robert Rhein) suggested the unifying name IN EXTREMO. Finally in 1997, one of the most popular German Alternative bands was born. The career was started with appearances at medieval markets and the first nameless album in 1996. Within some years, the band's style got harder by the usage of more guitars and drums. Nevertheless, the old-fashioned instruments such as bagpipe and shawm still played an important role. Thus, IN EXTREMO was able to attract not only the fans of medieval music, but also listeners of guitar-driven Hard Rock.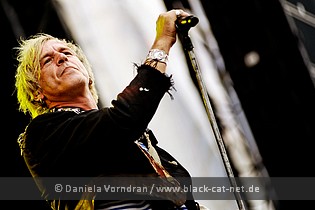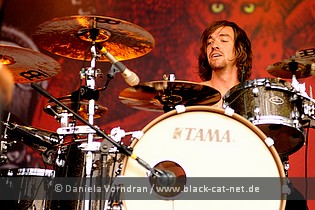 The commercially most successful eighth long-player `Sängerkrieg´ (2008) even reached the top of the German charts. Moreover, Das Letzte Einhorn, Van Lange, Der Morgenstern, Die Lutter, Dr. Pymonte, Flex der Biegsame and Yellow Pfeiffer have a good reputation for being an amazing live band. http://www.inextremo.de/ / http://www.myspace.com/officialinextremo

Music & Performance
As told above, they do have a good live reputation. So the question was if I would feel the same way. The other attendees obviously did already and it's a big understatement to call the grounds crowded, for so many had rushed to the main stage you had to go a long way to get around them. I was actually not that close to the stage but when the fire pillars went up with the powerful beginning of 'Erdbeermund', I still could feel the heat. Wouldn't want to picture how it feels if you're right in front of the stage. The heat was all the more present on stage, that is, the heat of the battle for the band had geared up just as well and met with a happy audience who gladly took what charismatic front man Micha Rein told them in the further course of the show.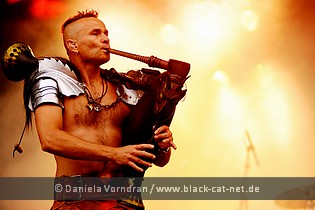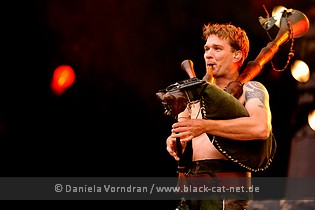 The next crowd pleaser came up with 'Liam' and an impressing performance on the pipes within the chorus part. The very metal-laden 'Vollmond' shook some heads and 'Sängerkrieg' animated to do the "Oh, oh oh, oh oh, oh, ohhhhh" on request of the front wizard. Again and again the impressing fire fingers lit up and catered for content faces. But a band like IN EXTREMO doesn't actually need such eye-candy to distract from a rather poor show like others do. When you see them acting on stage, you see there's heartfelt passion for the music, fun being on stage and to have a huge audience to play for. They do not take it for granted and that's what makes them appealing. Songs like 'Mein Rasend Herz' and 'Küss Mich' burst with energy and stretched everyone nearly to the limit before the last bits were consumed for a song to life 'Auf's Leben', which meant for IN EXTREMO to say goodbye and leave the stage afterwards, accompanied by roaring fans.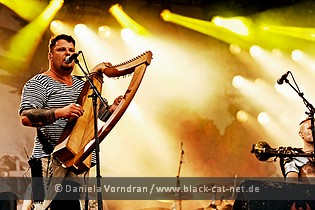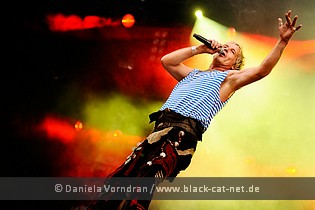 Setlist
01. Erdbeermund
02. Poc Vecem
03. Liam
04. Frei zu sein
05. Vollmond
06. Merseburger 2
07. Sängerkrieg
08. Flaschenpost
09. In diesem Licht
10. Mein Rasend Herz
11. Küss mich
12. Auf's Leben

Rating
Music: 7
Performance: 8
Sound: 7
Light: 8
Total: 7.5 / 10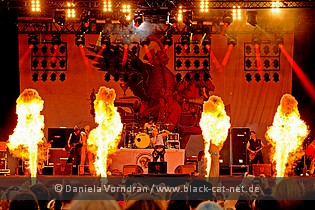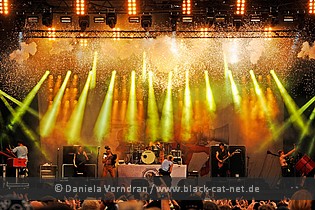 Placebo (J. "Niggels" Uhlenbruch)

It was time for global superstars now at the M'era Luna! And for PLACEBO it was already the second time to play at one of Europe's biggest Gothic events. In 2003, Brian Molko and his band were already quite big and enjoyed mainstream success but somehow they were still seen as an Indie Rock act. In 2010, they have long since been true global players of the Pop circus, and in 2009 they embarked on successful world tour with their album ´Battle For The Sun`. The summer of 2010 saw PLACEBO coming back for more with a couple of festival gigs, including the headlining spot of the M'era Luna. PLACEBO is Brian Molko (lead vocals, guitar), Stefan Olsdal (bass, guitar, keyboards, backing vocals), and Steve Forrest (drums, percussion, backing vocals). http://www.placeboworld.co.uk/ / http://www.myspace.com/placebo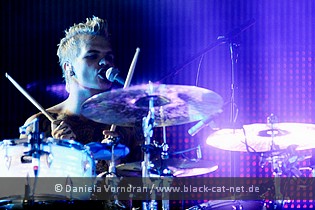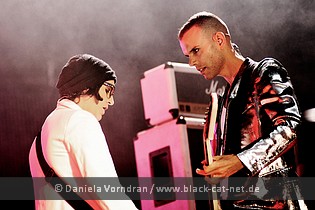 Music & Performance
Before PLACEBO even started the huge LED screens in the back of the stage were quite striking. Superstars bring super effects! But in the end all that counts is the music itself, and to hear PLACEBO's music there were quite a few people in the crowd who apparently only came to see Brian Molko, Stefan Olsdal, Steve Forrest and their band. Live on stage the band is completed by Bill Lloyd (bass guitar, keyboards, piano), Fiona Brice (electric violin, keyboards, Theremin, percussion, backing vocals), and Nick Gavrilovic (keyboards, guitar, lap steel, backing vocals). Working as a trio in the studio, PLACEBO need additional musicians to realize their sound live, as the music has become a lot richer and fuller for quite a while now. But PLACEBO started their gig with their breakthrough single ´Nancy Boy` from 1997, a raw piece of music which I didn't expect to hear at all, to be honest.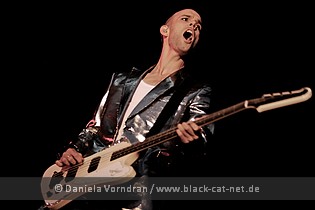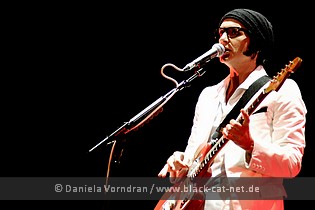 So I was pleased with the opener, but Brian Molko obviously was decidedly not pleased with something. After just a few moments on stage, he kicked the camera dolly of the Crazy Clip TV team (who filmed most of the festival) so hard that it fell from stage. What a diva! After that he welcomed the audience in German, and added "we're coming in peace, yes?" PLACEBO decided to give a rest to many old faves with their ´Battle For The Sun` tour, and while the bulk of their M'era Luna set was from the last album they thankfully threw in some of the good old classics. Apart from the surprising opener the fans got to hear stuff like ´Every You Every Me`, ´Song To Say Goodbye`, and ´Meds`. The LED screens did their job and the stage was full of flashing colours, reflecting in the band's white and silvery outfits. Quite a change to all the black of this weekend! While the band performed well one of the few nuisances of the M'era Luna came through again - sound problems! Maybe this time it was just the heavy wind but on the other hand it was surely not a first that the technical team of the festival have a hard time to get the sound and the mix right!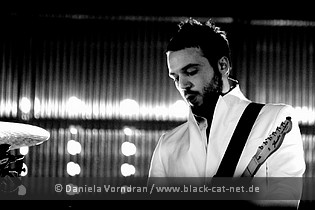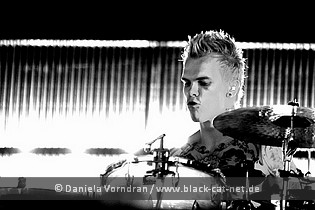 Anyway, PLACEBO got the crowd going and `The Bitter End`, arguably the band's biggest hit to date, was not the end at all as PLACEBO came back for a three-song encore, including the 1999 classic ´Taste In Men` as the traditional closer of a PLACEBO show.

Setlist
01. Nancy Boy
02. Ashtray Heart
03. Battle For The Sun
04. Soulmates
05. Every You Every Me
06. Breathe Underwater
07. The Never-Ending Why
08. Scared Of Girls
09. Kitty Litter
10. All Apologies (Nirvana cover)
11. Meds
12. Song To Say Goodbye
13. The Bitter End
---
14. Trigger Happy Hands
15. Infra-red
16. Taste In Men

Rating
Music: 8
Performance: 8
Sound: 7
Light: 9
Total: 8 / 10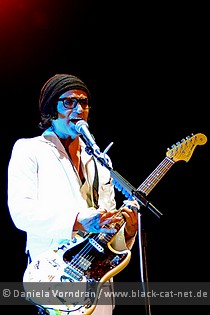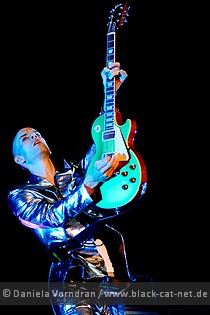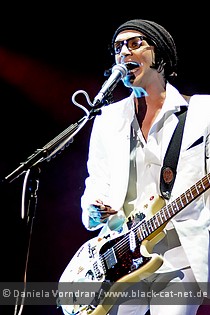 With the PLCEBO show, my (the photographer's) festival ended since I had to work the other day and had to drive back home at night. So, accompanied with PLACEBO's sounds, I left the festival ground with aching muscles and bones but lots of great memories being sure to be back the next year again…

All pictures by Daniela Vorndran (http://www.vorndranphotography.com/ / http://www.black-cat-net.de/ / www.myspace.com/vorndranphotography)
Written by Daniela Vorndran (common parts), J. "Niggels" Uhlenbruch and Sebastian Huhn
{jos_sb_discuss:17}


See also (all categories):