Dynamo, Zurich, Switzerland
21st September 2013
Qntal & Zeraphine

Nestled by the banks of the river in Zurich, the Dynamo Club was the venue for this somewhat unusual pairing of bands, although the congregated darkly-clad appeared to be happily here for both.



Zeraphine

First up, ZERAPHINE, the Berlin based band created by former DREADFUL SHADOWS frontman Sven Friedrich, a man who also busies himself with popular electronic project SOLAR FAKE. He arrives onstage in a seemingly excellent mood, despite, we are told, having a cold. His bunged-up nose isn't the problem though. Despite a bouncy start from the band, and an enthusiastic welcome from the crowd, the vocals are low in the mix and Sven, despite his best efforts, starts to look slightly lost. Lower register songs like 'Fang Mich' for example, sound almost instrumental at times, a shame as there are some good melodies at play in ZERAPHINE songs, if only you could hear them. As a rock-band, the dynamics of loud and soft and hefty chorus are all in the right places, and the band look good as a whole, Ronnie Wood and one of The Bee-Gees seemingly on bass and guitar duties. And Sven is a cracking frontman. He's lithe and lively, he can pout and do the moody stare as well as anyone in the business, and the set is tight and professional. It does go on a bit though. Perhaps here is the other problem.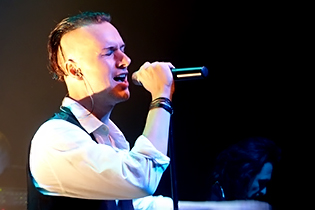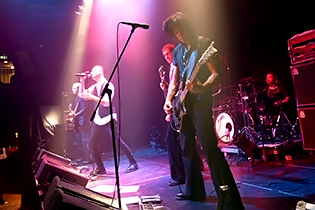 Once past the hour mark, you can't help the feeling that ZERAPHINE lack the variation to pull off a long set without it all sounding a bit samey. Throwing in a couple of unusual cover-versions helps to some extent. 'Try' by PINK, someone rarely covered by bands beloved of Goth-Rock one suspects, is given a new twist, slightly stodgy but a brave attempt, and it certainly shakes the crowd up a bit. U2's 'New Year's Day' however should be left well alone. The passionate battle cry of Bono and rousing chorus of the original is hard to match, and mumbling along to it like a grumpy Eldritch just illustrates the limitations of the vocalist. The guitar solo was all over the place too. Come on guys, leave this one out yes? And as things slightly limp towards the end, an ill-advised attempt to get people to join a sing-along also falls flat on its arse. Luckily, the crowd are good natured and welcome the band back onstage for a two song encore that goes a long way to restoring things to how they should be. On the whole, they just about pull it off, and the crowd seem nicely warmed up by the time QNTAL arrive on stage. http://www.zeraphine.de / https://www.facebook.com/ZeraphineBand

Rating
Music: 6.5
Sound: 5.5
Total: 6 / 10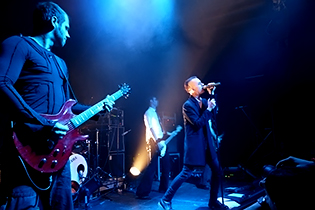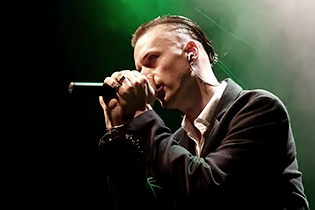 Qntal

There's age and wisdom and grace oozing from every pore of calm, stately QNTAL mainstay Michael Popp as he assembles the considerable musical instrument arsenal that makes up the band's electro-medieval sound. There's somewhat of a wait in fact, as he will not be hurried. But no matter. Once ready, and with the arrival of Syrah, who seems to float onto the stage, bathed in ghostly blue light, 'Translucida' bursts into glorious life, and it's obvious we are in capable hands. The music is gorgeous, the singing excellent, and the familiarity of the song never works against it. They could play it all night long in my book and no-one would tire of it. The lighting is not so good however. The same blue light, with nothing else, soon renders everything one-dimensional, music this atmospheric and evocative surely deserving something a bit more creative and, well, evocative. It gets better later, but never does the band justice. A shame.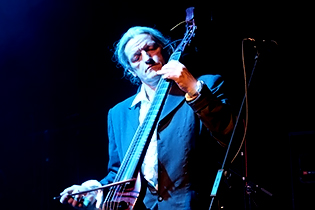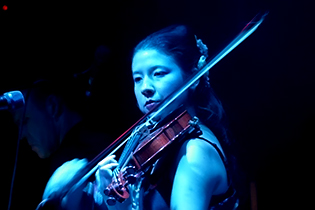 'Dulcis Amore' has the crowd swaying and waving their arms and by 'Glacies' Syrah is suggesting we might all like to dance to this one. The song is a real classic, yes, but that complex beat is hardly the easiest to make shapes to. Still, this doesn't phase the crowd, who are beginning to dance to absolutely anything, and Syrah is clearly enjoying this. There's plenty of fairy-hand dancing on stage too, though thankfully not by Mr Popp, although he too lets the odd smile crack his studious face. There's a real sense of celebration going on throughout, the patient twists and turns of the music, the frequent use of different instruments, the talking between songs, it all adds up to a proper show, assured and organic. Vocally, it's wonderful, the interplay between Syrah and violinist Mariko note-perfect, and only briefly on 'Departir' do the top notes pose a slight challenge.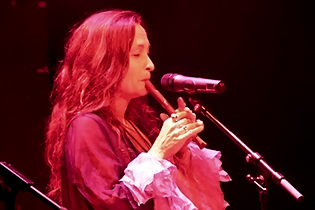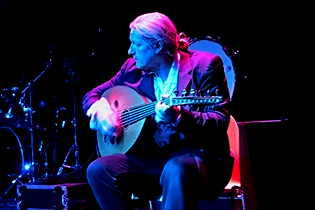 But there's a lot of them, so let's be forgiving here. And as Michael Popp plucks another bizarrely shaped instrument from the rack, he watches over everything like some proud father, happy to sit at the side and enjoy what he's helped create. 'Sumer' and 'Nihil' are both ethereal and powerful, the swell and sway filling the air and creeping into the mind, music to close the eyes to, allowing yourself to be transported to places unknown, at some time in some distant past. Magical stuff. Towards the end of the set, there's feverish dancing going on, and a huge reception for 'Ad Mortem Festinamus', from their debut album. This ferocious, tribal thump of a song is so at odds with the earlier, woozy haze of elegance and glamour, that you realise just what a cleverly constructed set this is.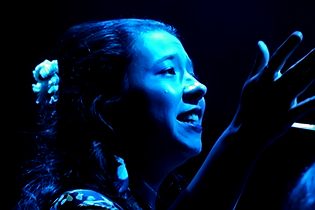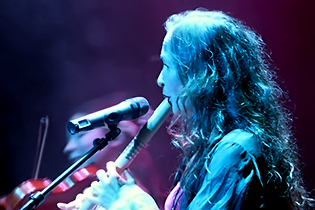 Everything has been building up to this point, lulling and teasing the crowd, then persuading movement, dance, involvement, and eventually throwing them into a final maelstrom, leaving everyone exhausted, but deliriously happy. How did they do that? Gnarly old Father Popp just smiles to himself. He knows. Clever bugger. QNTAL then, continue their journey, sweeping into venues and casting spells, and then sweeping out again, and tonight was no exception. Thoroughly enjoyable, long may they charm us, late into the night. http://www.qntal.de / https://www.facebook.com/qntalmusic

Rating
Music: 9
Sound: 8
Total: 8.5 / 10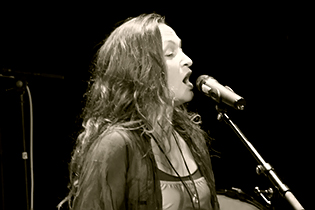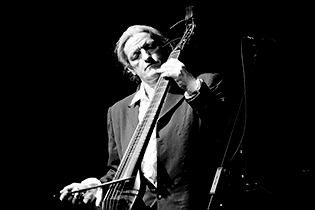 All pictures by Stephen Kennedy



See also (all categories):