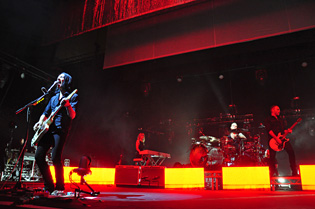 Olympiahalle, Munich, Germany
19th November 2013
Placebo & Toy

Since a while I had heard nothing of PLACEBO It was silent around the band for quite a while. But then the band was back with a new album, 'Loud Like Love', and yet a new tour accompanying the album released. A few shows in Germany were scheduled, one of them at the Olympic hall in Munich...



Toy

TOY is an Indie and psychedelic rock band which was founded in 2010 in London / Great Britain. The style of their music is a mixture of psychedelic rock, herbal rock and post punk is according to own information, influenced by the British band THE HORRORS. In the meantime, the band supported already bands like THE VACCINES or THE HEARTBREAKERS on their tours and played at some festivals. In 2012, their first, self-titled album was released. Their current album, 'Join The Dots', followed this year. www.toy-band.com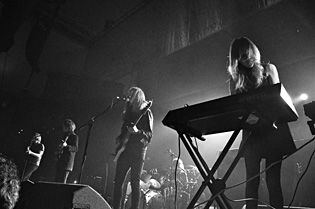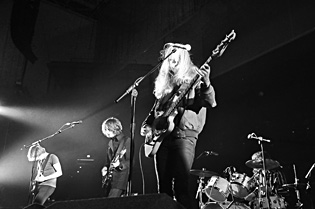 Music & Performance
Shortly after 8:00 PM the band entered the stage of a still quite empty Olympic hall. Covered in nearly complete darkness, singer and guitarist Tom Dougall, guitarist Dominic O'Dair, bassist Maxim Barron, drummer Charlie Salvidge and keyboarder Alejandra Diez appeared on stage. Unfortunately, their appearance was not quite persuasive. The audience preferred to talk to each other and obviously anyone was waiting just for the following band. The songs of TOY carried away virtually nobody, sounded quite similar and on the stage nothing generally happened. Hence, it was also not surprising that the band was dismissed after their temperate presentation with only few applause and attention. Still nice that such a young band got the chance to tour with such a band like PLACEBO, but this was probably not their evening...

Setlist
01. Left Myself Behind
02. As We Turn
03. Kopter
04. Endlessly
05. Motoring
06. Heart Skips
07. Join The Dots

Rating
Music: 5
Performance: 5
Sound: 6
Light: 3
Total: 4.8 / 10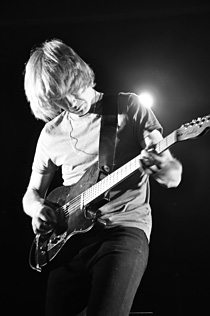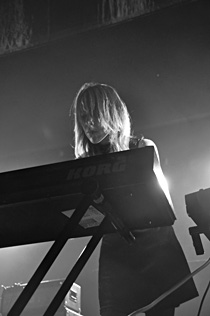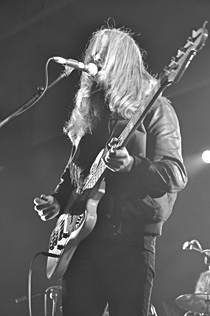 Placebo

PLACEBO is an Alternative Rock band which was founded in 1994 in London/ Great Britain. Up to now the band sold worldwide more than 12 million albums. To many, PLACEBO might be best known for the song 'Every Me Every You' which appeared on the soundtrack to the film 'Ice-cold Angel'. Since their foundation they already accompanied U2 on their tour, worked together, e.g., with David Bowie and published, in the meantime, seven studio albums. Their latest album 'Loud Like Love' was released in September 2013 and reached place three of the German Charts. Their most successful album up to now was the in 2009 released 'Battle For The Sun ', which reached place one in several countries including Germany. www.placeboworld.co.uk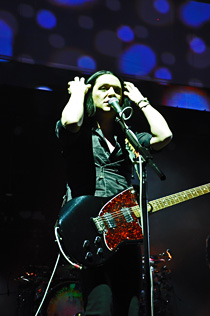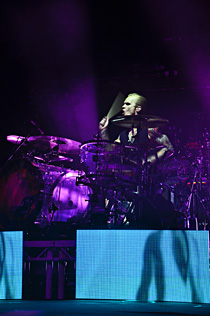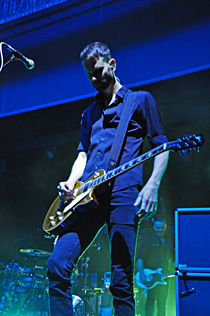 Music & Performance
Then, finally, after adequate rebuilding break they appeared on stage: The androgynous looking singer and guitarist Brian Molko, bassist and guitarist Stefan Olsdal, drummer Steve Forrest and their additional live crew. The light was excellent and the audience worked as if it had awoken from the long sleep! Although the first song 'B3' was not really an excellent entrance. During the two-hour show the band gave everything, played, except three songs, the complete new album. Indeed, one could clearly feel that the fans liked the older songs as for example 'Blind', 'Meds', Special K' or also 'Every Me Every You' still best of all. The mood reached one highlight after the other. Nearly 8,000 present fans as well as the band gave everything.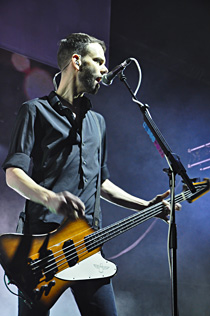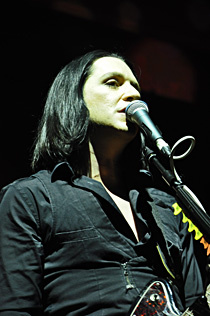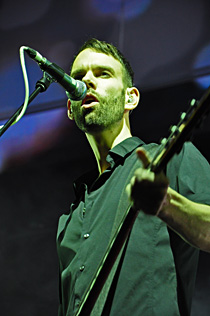 The succinct, demanding voice of Brian Molko and the typical PLACEBO guitar mood inspired everybody. When it comes to audience interaction, Brian lost not a lot of words during the whole concert, but no one really cared about it. At the end, there were another four additions, inclusive 'Infra Red', before the band left - too fast - under never-ending applause. A perfect concert of PLACEBO, any time with pleasure again. Pity was only the moderate support and that there were so less people.

Setlist
01. B3
02. For What It's Worth
03. Loud Like Love
04. 20 Years
05. Every Me Every You
06. Too Many Friends
07. Scene Of The Crime
08. A Million Little Pieces
09. Speak In Tongues
10. Rob The Bank
11. Purify
12. Space Monkey
13. Blind
14. Exit Wounds
15. Meds
16. Song To Say Goodbye
17. Special K
18. Bitter End
---
19. Teenage Angst
20. Running Up That Hill
21. Post Blue
22. Infra Red

Rating
Music: 9
Performance: 9
Sound: 9
Light: 8
Total: 8.8 / 10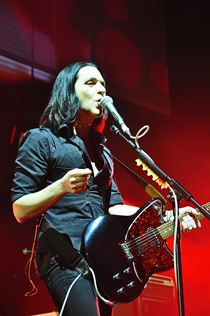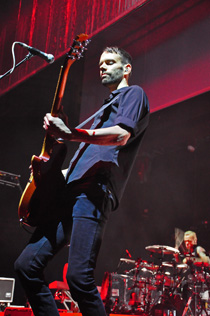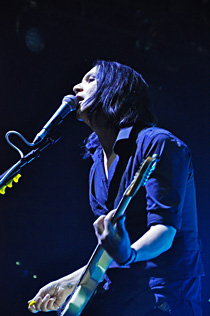 All pictures by Erika Knepper (This email address is being protected from spambots. You need JavaScript enabled to view it., www.facebook.com/erikaknepper)



See also (all categories):