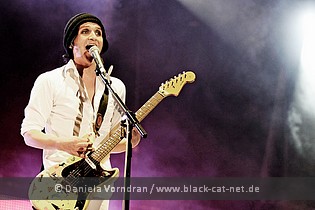 Flugplatz Borkenberge, Lüdinghausen, Germany
20th - 22nd August 2010
Area4 Festival 2010 Day 1: Placebo, Queens Of The Stone Age, Editors, Bela B y Los Helmstedt, Biffy Clyro, Thrice, Alain Johannes
Already for the fifth time, the Area4 Festival opened its gates, for the fourth time now at the Airfield Borkenberge. Steadily grown over the years, the event welcomed about 23,000 guests at the 2010 edition. Just like in the previous years, perfect festival weather (at least during the first two days) with sun, a few clouds and temperatures around 25°C awaited the fans, most of them already arriving on Thursday to occupy the camp ground and have their very own pre-party. The festival Friday offered a great line-up, at least in my opinion, with PLACEBO, QUEENS OF THE STONE AGE, my favourite EDITORS or BELA B.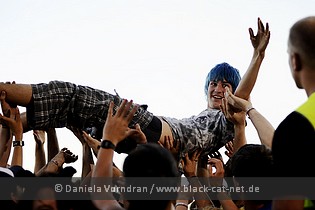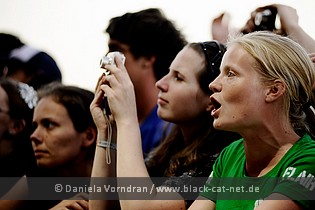 Alain Johannes


ALAIN JOHANNES is most notable for being a founding member of the band ELEVEN. Besides his role with the band, he's been collaborating with such artists as QUEENS OF THE STONE AGE or CHRIS CORNELL. In 2009, he became a member of the super group THEM CROOKED VULTURES who released their first album the same year. He's exclusively accompanying them on live dates, though. http://www.myspace.com/alainjohannes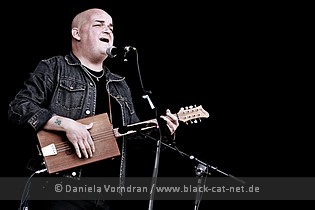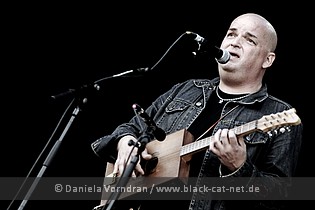 Music & Performance
Bright sunshine, the beginning of a rock festival and a guy with an acoustic set opening the first festival day. Now tell me what's not fitting the picture here? We all know the answer. It's not even that ALAIN JOHANNES would've done a bad job at all. Seldom have I seen someone handling an acoustic guitar with dexterity like that, actually and he did quite a job as vocalist too, actually. Yet there wasn't happening anything during the set he did at the Area4 festival. He did not move that much and at this time of the day no light show could take effect just as well. The music met with some positive response from the crowd anyway. So it was technically brilliant but not the best choice for an opener of a rock festival in my opinion.

Rating
Music: 7
Performance: 4
Sound: 8
Light: - (daylight)
Total: 6.1 / 10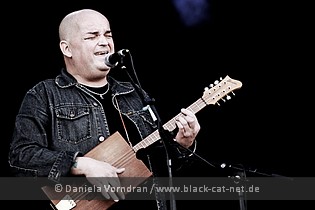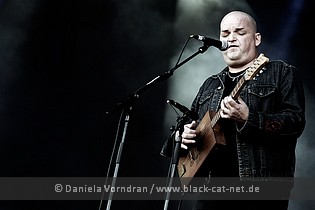 Thrice

Post-Hardcore outfit THRICE formed with their founding members still being in their teens in 1998. The debut EP 'First Impressions' was completed within incredible two days. The first album 'Identity Crises' hit the streets in the beginnings of 2000 and became an unexpected big success and opened many doors for the band. But first with their second album 'The Illusion Of Safety', released in February 2002, the major labels stated interest, which eventually resulted in the band signing with Island Records. Their 2003 major label debut 'The Artist In The Ambulance' became a major hit for the band. Then a break came with the band opting rather to follow their artistic urge, instead of keeping an eye on commercial success. The following album 'Vheissu' was only the first step into that direction. The path was explored further with the conceptual EP cycle 'The Alchemy Index'. Each of the four records represents one of the four elements. The latest album 'Beggars' was published in 2009. THRICE is Dustin Kensrue (lead vocals, guitar), Teppei Teranishi (guitar, keyboards, backing vocals), Eddie Breckenridge (bass, backing vocals) and Riley Breckenridge (drums, percussion). http://www.thrice.net/ / http://www.myspace.com/thrice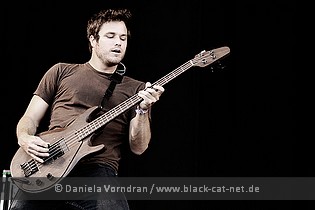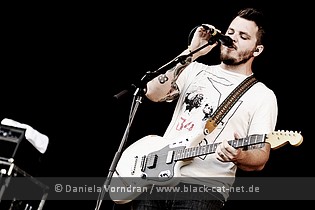 Music & Performance
I've been looking forward to that a lot actually. Read a lot about them and gave a couple songs a few test-listening sessions and I liked it. THRICE were kicking it off with 'All The World Is Mad' off their recent album 'Beggars' and that was the action I wanted to see on stage. With the first kick of the drum, the band had it going with their ambitious but catchy rock tune. 'The Weight' picked up from there and made the heads swing a bit. If you took a look at the audience now there was much more appreciation amongst them than before with the opener; deserved appreciation I might add. The music had more of an art rock feel to it, mostly clean vocals but with little connotations to hardcore with a few screaming vocals to 'Silhouette' for instance. 'The Earth Will Shake' was literally a heavy composition with massive, creeping rhythms and hard metal riffs, but intense as hell and mood-wise contrasting the bright weather.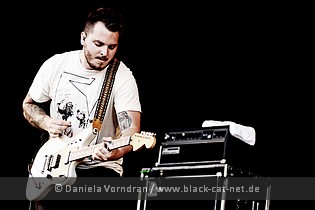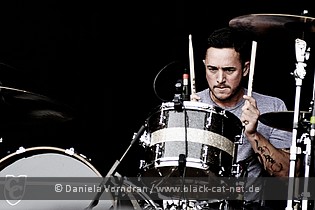 The set got wrapped up with a cool cover of THE BEATLES' 'Helter Skelter', but more importantly with the title track off their 'Beggars' album, a somehow oppressing but all the more impressing closer. They sure have won over a couple new fans that day and I might as well become one after I checked out their discography more.

Setlist
01. All The World Is Mad
02. The Weight
03. Silhouette
04. Of Dust and Nations
05. The Earth Will Shake
06. The Messenger
07. In Exile
08. Helter Skelter (The Beatles cover)
09. Beggars

Rating
Music: 8
Performance: 8
Sound: 8
Light: - (daylight)
Total: 8 / 10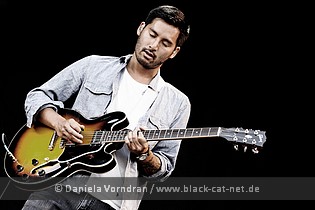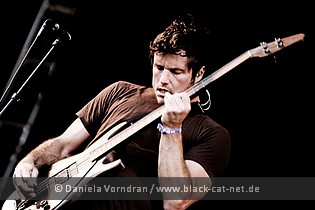 Biffy Clyro

A band from the later 90s is the Scottish ensemble BIFFY CLYRO. Singer and Guitarist Simon Neil once said that the band name came from a biro-pen he had in school with a picture of Cliff Richard on it. Jestingly they called it Cliffy-Biro. BIFFY's sound is characterised by a heavy but melodic mixture of guitar, bass and drums, with all three band members contributing to vocals. They are known for complex and interwoven guitar picks, strums and melodies that change many times within each track. Since the very first album 'Blackened Sky' from 2001, the band could expand their following with every new release and relentless touring, but significant for their commercial success was the 2007 release 'Puzzle' because it is said to be more accessible than the previous works. 'Only Revolutions' followed it up in 2009. BIFFY CLYRO is Simon Neil (vocals, guitar), James Johnston (bass, vocals) and Ben Johnston (drums, vocals). http://www.biffyclyro.com/ / http://www.myspace.com/biffyclyro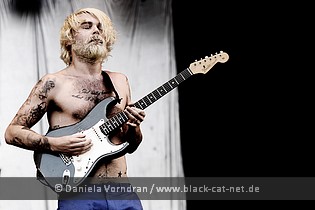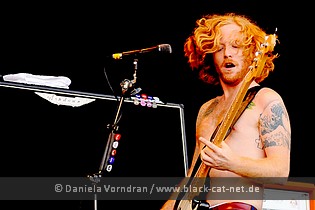 Music & Performance
When BIFFY CLYRO walked up the stage at the Coca Cola Soundwave tent two years ago the blue pants of Simon Neil were an attraction apart from the musical qualities of the band. This time you had to look at least twice to recognize this man with the long hair and the thick beard whose eyes were radiating a fiery glance of passion. Following a much too long intro from tape, the guys were storming the stage and Simon started playing guitar as if chased by the devil himself to the opening 'That Golden Rule'. We went on full-speed into 'Living Is A Problem Because Everything Dies'. Who could still stand and not dance to that either had an impressive self-mastery or was simply idle! But for 'Who's Got A Match' they all could raise their voices, sing along and set up a great mood that would last for the entirety of the set - just to mention it. A serene folk-piece found its way into the show just as an indie-tinged cut as 'Many of Horror' and gave insight into the variety of the agile troop on stage that made time fly with their entertaining performance.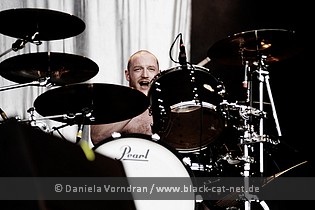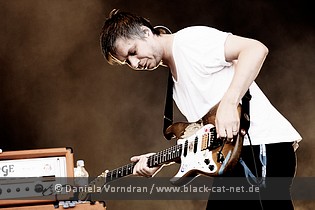 Setlist
01. Intro
02. That Golden Rule
03. Living Is A Problem Because Everything Dies
04. Bubbles
05. Who's Got A Match?
06. God & Satan
07. Mountains
08. Born On A Horse
09. Shock Shock
10. Many Of Horror
11. The Captain

Rating
Music: 8
Performance: 8
Sound: 8
Light: - (daylight)
Total: 8 / 10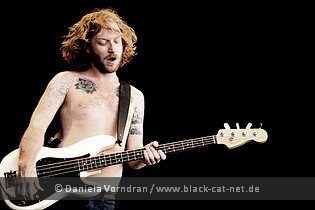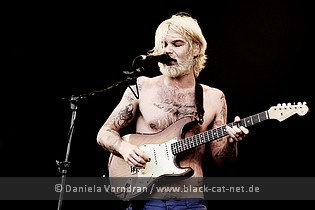 Bela B y Los Helmstedt

The name Bela B. surely is familiar to those having a penchant for the German Punk Rock. He's the drumming part of renowned DIE ÄRZTE. But for several years he's pursuing a successful solo career as well, having released his first solo album 'Bingo' in 2006 to considerable success, followed by live shows at Rock am Ring and Rock im Park. The second album followed 3 years later with 'Code B'. What that has got to do with Los Helmstedt? That's the name of the band, accompanying him on his live forays. BELA B. Y LOS HELMSTEDT is Bela B. (vocals, guitar), Olsen Involtini (backing vocals, guitar, keys), Ina Paule Klink (vocals, keys), Holly Burnette (bass), Gary Schmalzl (guitar) and Danny Young (vocals, drums). http://www.myspace.com/belabmyspace / http://www.myspace.com/loshelmstedt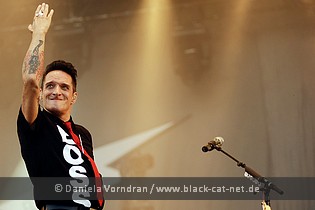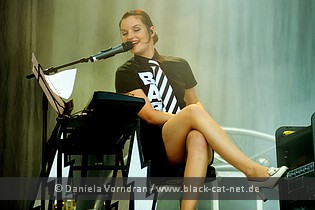 Music & Performance
From one to the next entertaining part of the day with BELA B. and his band LOS HELMSTEDT. First thing you recognized when the band entered the stage were their shirts with their "job description" printed on them in big white letters. The only woman had the word "Babe" and Bela himself, who appeared as the last one, of course was named "Boss". The cheers came instantly and the audience was with him right away when the headliner of the hearts started the show with 'Gitarre runter' and demonstrated an awesome fun being the front man and centre of attention. For the next cut, he got the people to clap the rhythm with their hands and as 'Versuchs doch mal mit mir' had ended they were shouting his name which he visibly enjoyed. 'Geburtstagsleid' already had a circle pit. Later on to '1.2.3.4', a little audience singing game followed and the people were extremely responsive, which Bela commented with "You're the butter in my heart's pan" and before he did a dance with his partner in crime Ina on the track.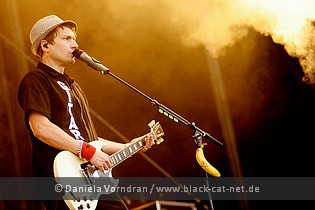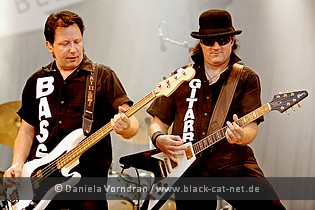 With 'Altes Arschloch Liebe' came the bigger brother of the circle pit from before and with 'Money' also a little English. 'Tag mit Schutzumschlag' marked the end of a set that had fun, good music and witty lyrics to offer. The band had fun because the audience were in a good temper and vice versa.

Setlist
01. Gitarre runter
02. Versuchs doch mal mit mir
03. Geburtstagsleid
04. Schwarz/Weiß
05. Ninjababypowpow
06. 1.2.3.4
07. Altes Arschloch Liebe
08. Traumfrau
09. Money
10. In diesem Leben nicht
11. Tag mit Schutzumschlag

Rating
Music: 7
Performance: 8
Sound: 7
Light: - (daylight)
Total: 7.4 / 10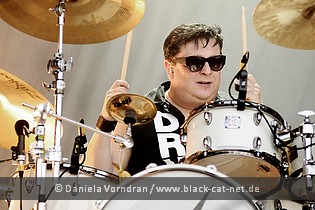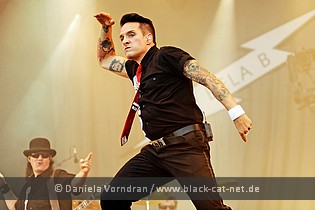 Editors

EDITORS are a studied four-piece hailing from England's agrarian periphery. The band's name came about upon signing their first label deal with Kitchenwave Records in October 2004 after operating under the moniker of SNOWFIELD. The limited debut single 'Bullets' saw the light of day in January 2005 and sold out on the day of release. The full-length 'The Back Room' followed summer of the same year, went platinum eventually and also became an incredible critical success. The band released their second album 'An End Has a Start' in June 2007. The album went straight to #1 of the UK album's chart. After the album's release, the band played a couple big festivals such as Glastonbury and Pukkelpop, as well as their first tour dates in Australia and New Zealand. Many other dates covering the US, Canada and Europe would follow. The third album 'In This Light and on this Evening', released in October, sees the band exploring a much more synthetic and rawer sound than on their previous releases. EDITORS are Tom Smith (vocals, guitar), Chris Urbanowicz (guitar), Russell Leetch (bass) and Ed Lay (drums). http://www.editorsofficial.com/ / http://www.myspace.com/editorsmusic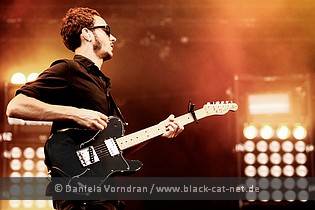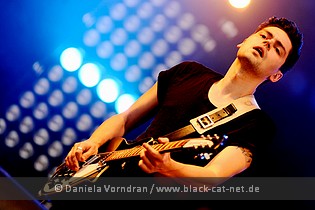 Music & Performance
It's been hardly two weeks since the EDITORS show at the rather Goth oriented M'era Luna festival in Hildesheim, and since that one was a blast you could have high expectations for this one as well. The show commenced rather typical with 'In This Light and on This Evening' which is as you might know a rather calm effort up to a certain point. But when that point was reached, and the rock part started, fire pillars went up on stage. No one expected something like that to happen at an EDITORS show to be honest and in the photo pit that must've catered for one or the other surprise as well. 'An End Has a Start' was up next and had Tom Smith doing great gestures to deliver the visual counterpart to his lyrics. But he's not the only one you should keep your eyes on. Everyone in the band hardly ever remains at the same place for a long time. 'Bones' and 'Bullets' were getting us deeper into the show and Tom found increasingly more pleasure in moving. It always seems like he's getting more energy the more time passes. The grooving 'Eat Raw Meat=Blood Drool' caused a lot of dancing people before the band literally exploded on 'Blood'. A huge clapping orgy followed on the great 'Munich'. A song you can't hear often enough if you ask me.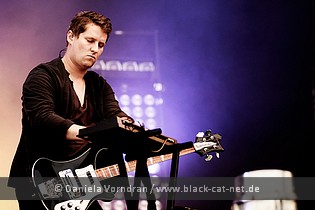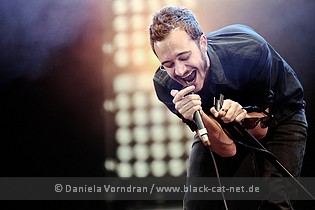 'Smokers outside the Hospital Doors' let us indulge in great melodies and vocals and came up with a few backing vocals on the part where the choir is used to come in within the song. 'Bricks And Mortar', which was not a favourite of mine right from the start, works much better live and the reactions of the crowd proved that. The only think that could end this set properly was 'Papillion' and it came along with another little pyro section before the fans could give the band a loud goodbye with thundering and deserved applause.

Setlist
01. In This Light and On This Evening
02. An End Has A Start
03. Bones
04. Bullets
05. Eat Raw Meat = Blood Drool
06. All Sparks
07. Blood
08. Munich
09. The Racing Rats
10. Smokers outside the Hospital Doors
11. Bricks and Mortar
12. Papillon

Rating
Music: 9
Performance: 9
Sound: 9
Light: 7
Total: 8.7 / 10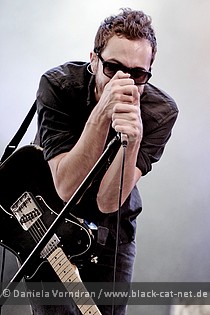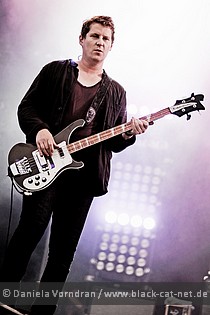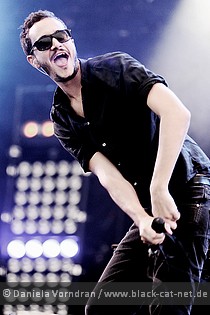 Queens of the Stone Age

After KYUSS had broken up in 1996 and he had played in one or the other band, Josh Homme began to realize the only thing that could really make him happy was an own new band, so he founded GAMMA RAY in 1997, renamed to QUEENS OF THE STONE AGE eventually because there's already German band called GAMA RAY. 1998 saw the release of the self-titled debut album to rave reception, followed by a long lasting tour around the world. 2000 then brought the successful 'Rated R', which has seen a re-release as a special edition in 2010 by the way. Following 'Songs for the Deaf' also gained major attention and was certified gold. 'Era Vulgaris' is their latest studio release as of yet. There was talk about a new album already but nothing concrete has surfaced. QUEENS OF THE STONE AGE are Josh Homme (lead vocals, guitars), Troy Van Leeuwen (guitar), Joey Castillo (drums), Michel Shuman (bass) and Dean Fertita (keys, backing vocals, percussions). http://www.qotsa.com/ / http://www.myspace.com/queensofthestoneage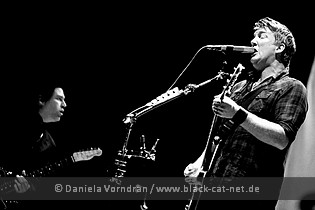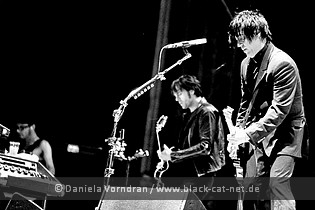 Music & Performance
If QUEENS OF THE STONE AGE will be remembered for one thing at the Area4, except their musical qualities, and then it's them being loud; extremely loud, actually so that some had to leave even with their earplugs in, because they couldn't bear it. Even if you were standing farther away it still was an extremely high volume. Many times it was barely possible to hear Josh Homme's vocals clearly. The musical part however was absolutely flawless, starting off with the 'Misfit Love' and a high amount of stunning guitar experimentalism, but instead they didn't move a lot on stage during the gig. Anyway, the extreme booming continued with the following 'Sick, Sick, Sick' and already there the audience was lying to the band's feet, going with the rhythm and having their fun. The pretty erratic 'Feel Good Hit of the Summer' catered for twitching bodies, while 'The Lost Art Of Keeping A Secret' kept it comparatively calm but got much darker and heavier in tone at the same time. A little blues had an appearance with the melodic 'Burn the Witch'. But 'Battery Acid' just kicked ass again with dry riffs and bass lines.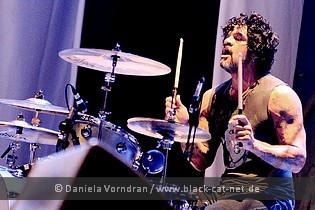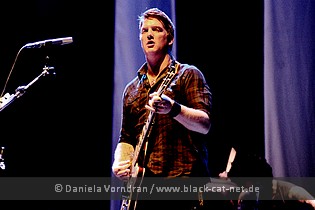 The show went by with nothing extraordinary happening on stage, but it gave everyone, including me, the feeling of having just enjoyed, the feeling of having just witnessed something huge. But for the next time please choose for a lower volume. [photographer's remark: taking pics was only allowed during first 2 songs from the sides of the security pit]

Setlist
01. Misfit Love
02. Sick, Sick, Sick
03. Feel Good Hit of the Summer
04. The Lost Art of Keeping a Secret
05. I Think I Lost My Headache
06. Burn the Witch
07. Battery Acid
08. Make It Wit Chu
09. Little Sister
10. Monsters in the Parasol
11. 3's & 7's
12. Go With the Flow
13. No One Knows
14. A Song for the Dead

Rating
Music: 9
Performance: 6
Sound: 7
Light: 7
Total: 7.5 / 10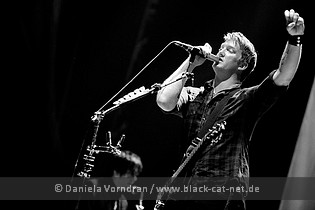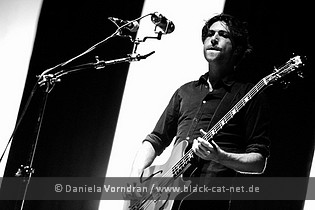 Placebo

PLACEBO's rise has been steady, cultish explosion. And while their British invasion has flown quietly under the radar, their rise has been nothing short of astronomical. In 2000 their third album 'Black Market Music' sold one million copies and hit number one across Europe. In 2003 'Sleeping with Ghosts' topped that selling 1.5 million albums, going top ten in twenty countries and saw the boys playing to 18,000 at the Bercy in Paris. Six years later they're still out there and in the meantime have released another successful album with 'Meds' (2006). Having enriched their line-up with a new drummer, the band recorded the follow-up 'Battle for the Sun'; released in June 2009 spawning the two singles 'For What It's Worth' and 'Ashtray Heart'. PLACEBO is Brian Molko (vocals, guitar, keys), Stefan Olsdal (bass, guitar, keys) and Steve Forrest (drums). http://www.placeboworld.co.uk/ / http://www.myspace.com/placebo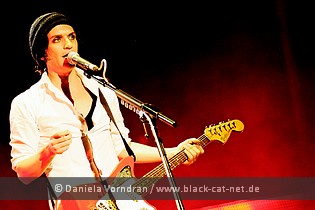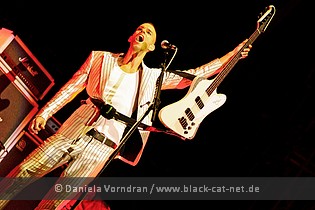 Music & Performance
Last time for me was rather about hearing than actually seeing PLACEBO at all, because the space in front of the stage was that much crowded you couldn't get a decent spot to really catch something of the show, and the fact that it was time to leave early back then didn't help much either. But luckily we got a second chance and when the first notes of 'Nancy Boy' started the show and the band appeared on stage, a secure spot was found for the time being. Next followed 'Ashtray Heart' and the party got started right away here with many people dancing along. Afterwards, Brian tested his language skills with the audience and introduced them in German raising some wide grins. But kudos for doing it anyway! German's not easy if it's not your native language. For the next songs we chose for a spot farther away from the stage, but with a total view on the events on there and with the light show and backdrop in full effect it made an awesome picture.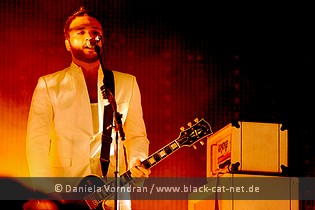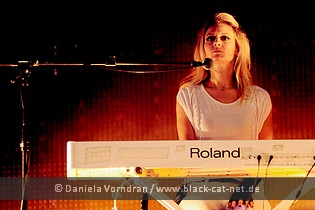 A dynamic drum part introduced 'Battle for the Sun' and the impression it made with the song getting performed in the dark and Brian singing "I Will Battle for the Sun" was amazing. The touching 'Soulmates' preceded the strong 'Bionic', which had a very cool bass line. But 'Bionic' could be as strong as it wanted, it couldn't stand the slightest chance against 'Every You Every Me', insanely celebrated and welcomed with deafening cheers from the audience. 'Special Needs' and 'Breathe Underwater' followed it up before with 'The Never-Ending Why' the next crowd pleaser pushed the mood to a preliminary peak. With 'Bright Lights' followed a current song before the journey went back to the previous album with 'Meds'. Some time into the set we recognized there was also a woman on stage doing the keys. The NIRVANA cover 'All Apologies' and the 'Song To Say Goodbye' were bringing us closer and closer to the end of the set.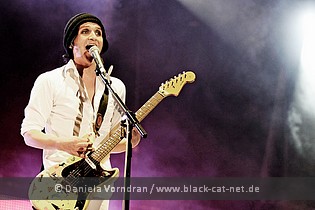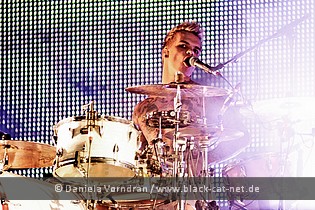 They couldn't have chosen a more fitting title than 'The Bitter End' to close the set. That it didn't mean the end of the show was already there, because people wanted more and were rewarded with a 3-piece encore, ending with 'Taste in Men'. The band showed joy of playing during the show, but for my tastes still could have moved a lot more. Apart from that I was just happy having seen them finally, really. Worthy closing of the first day!

Setlist
01. Nancy Boy
02. Ashtray Heart
03. Battle For The Sun
04. Soulmates
05. Bionic
06. Every You Every Me
07. Special Needs
08. Breathe Underwater
09. The Never-Ending Why
10. Bright Lights
11. Meds
12. Teenage Angst
13. All Apologies (Nirvana cover)
14. Song To Say Goodbye
15. The Bitter End
---
16. Trigger Happy Hands (planned but not played)
17. Post Blue
18. Infra-red
19. Taste In Men

Rating
Music: 9
Performance: 9
Sound: 9
Light: 9
Total: 9 / 10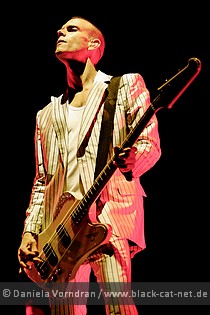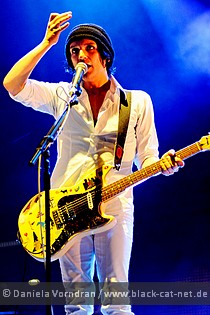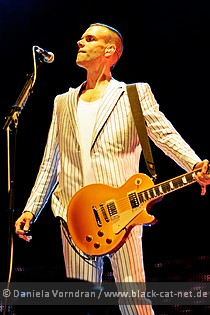 All pictures by Daniela Vorndran (http://www.vorndranphotography.com/ / http://www.black-cat-net.de/ / www.myspace.com/vorndranphotography)
Written by Daniela Vorndran (common parts) and Sebastian Huhn
{jos_sb_discuss:17}

See also (all categories):