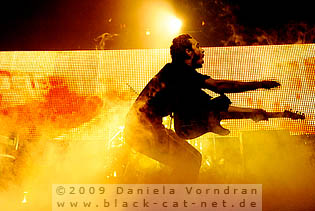 Ringlokschuppen, Bielefeld, Germany
20th November 2009
Editors, The Maccabees, Wintersleep
It's not so long ago that I discovered EDITORS for myself, but I quickly feel in love with their way of doing things and the extraordinary voice of Tom Smith, so it was absolutely clear to me that I wanted to attend one of the shows, and Bielefeld would be the place. What a debut.
Wintersleep
Canadian outfit WINTERSLEEP has formed in 2001. 2003 would see the release of their self-titled debut album on Dependent Music. Two years later, after the release of the band's sophomore, they would spent a long time touring Canada, the US and Europe before returning to their native. It didn't take long for them then to start working on their third strike already, the album that is known now as 'Welcome to the Nightsky'. The record has received overwhelming critical acclaim. Along with JOEL PLASKETT, WINTERSLEEP was selected as one of the opening acts for PAUL MCCARTNEY's concert at Halifax Common on 11th July. Currently, they're working on their fourth, yet untitled album. WINTERSLEEP is Paul Murphy (guitar, vocals), Mike Bigelow (bass guitar), Tim D'Eon (guitar, keyboards) Jon Samuel (keyboards, backing vocals, guitar) and Loel Campbell (drums).
http://www.wintersleep.com/
/
http://www.myspace.com/wintersleep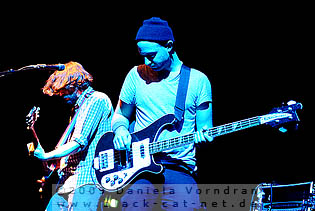 Music & Performance
I had no idea what was coming up now with WINTERSLEEP. The name just didn't cross my path as of yet and then such a surprise. The five-piece took positions and started right away with a strike for the legs with the upbeat 'Archaeologists' and a melancholic flavour. Next one threw a little progressiveness into the ring as well with one a little uncommon time signature and complex manner in contrast to Paul Murphy's brittle, bell-like vocals. He always was sunken deep into the songs, it seemed. No matter if he was rocking along, kicking down a synth in the course of it or standing behind the microphone. Following the gospel-like 'Weighty Ghost' was the wry 'Murderer' starting out as instrumental jam session, which the band had an awesome fun to perform, developing into an anthemic cut before 'Search Party' struck calmer, ethereal tones and raised plaintive sound walls. A song, supposedly 10 minutes long and full of arpeggios and vital trickery ended the set. The audience, even if they had come for the EDITORS alone, rewarded the band with warm applause to every song. It's always an ungrateful job to be the opener but WINTERSLEEP mastered it very well.
Rating
Music: 8
Performance: 8
Sound: 7
Light: 7
Total: 7.7 / 10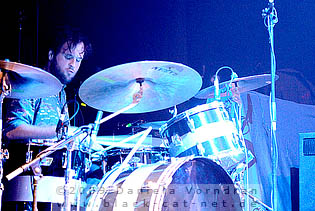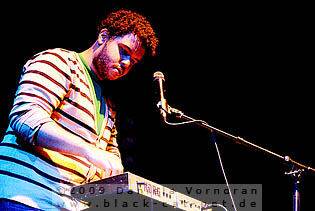 The Maccabees
THE MACCABEES came to life in 2004and one year later already released their first single, which received some airplay on a well-known British radio station, but didn't gain much attention. That first came with the second single 'Latchmere' and eventually led to them signing a record deal and releasing their debut 'Colour It' in 2007. Following this were a tour through the US with BLOC PARTY and one through the UK. 'Wall of Arms', their second and current album, hit shelves in this year's May to positive reviews from the press and fans. THE MACCABEES are Orlando Weeks (vocals & guitar), Hugo White (guitar), Felix White (backing vocals & guitar), Rupert Jarvis (bass) and Sam Doyle (drums).
http://www.themaccabees.co.uk/
/
http://www.myspace.com/themaccabees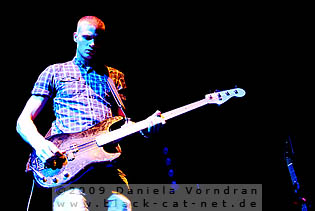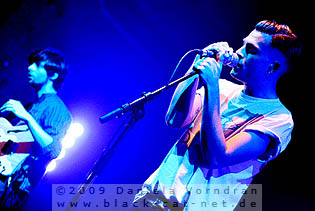 Music & Performance
Evening's next act came out of the EDITORS' neighbourhood so to say. Unlike their Canadian tour mates, they set on a more earthly, powerful and very rhythm driven style of indie rock that had no other intention than getting everyone out of their personal hibernation in no time. The rattling 'No Kind Words' was the choice for opening the set and you could see and feel the band's dedication, how they bowed to the rhythmic arrays fired towards them and the audience by Sam Doyle. Another characteristic of their music is the shimmering, ringing, delicately melodic yet powerful guitar work, which came to show best during the title track of their newest album 'Wall of Arms' or 'Young Lions', a song they dedicated to the EDITORS, switching between those two states over and over again.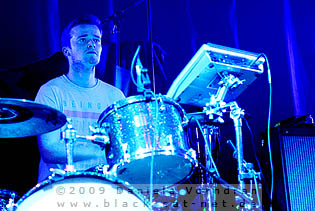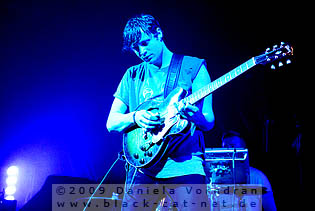 Not just a few people around got infected by the music and enjoyed themselves to the chords, and more than once an applause could be heard after a song had ended. A band in top form and an entertaining performance!
Setlist

01. No kind Words
02. One Hand holding
03. Wall of Arms
04. Dinosaurs
05. Can you give it
06. Young Lions
07. Because
08. William Powers
09. Love you better
Rating
Music: 6.5
Performance: 8
Sound: 7
Light: 7
Total: 7.1 / 10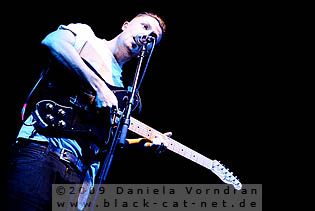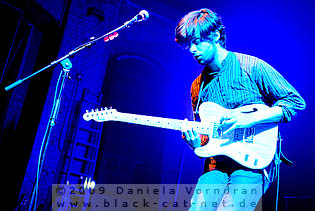 Editors
EDITORS are a studied four-piece hailing from England's agrarian periphery. The band' s name came bout upon signing their first label deal with Kitchenwave Records in October 2004 after operating under the moniker of SNOWFIELD. The limited debut single 'Bullets' saw the light of day in January 2005 and sold out on the day of release. The full-length 'The Back Room' followed summer of the same year, went platinum eventually and also became an incredible critical success. The band released their second album 'An End Has A Start' in June 2007. The album went straight to #1 of the UK album's chart. After the album's release, the band played a couple big festivals such as Glastonbury and Pukkelpop, as well as their first tour dates in Australia and New Zealand. Many other dates covering the US, Canada and Europe would follow. The third album 'In This Light and on this Evening', released in October, sees the band exploring a much more synthetic and rawer sound than on their previous releases. EDITORS are Tom Smith (vocals, guitar), Chris Urbanowicz (guitar), Russell Leetch (bass) and Ed Lay (drums).
http://www.editorsofficial.com/
/
http://www.myspace.com/editorsmusic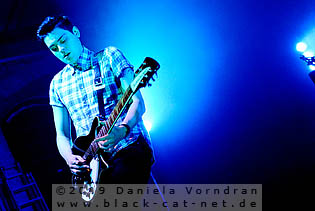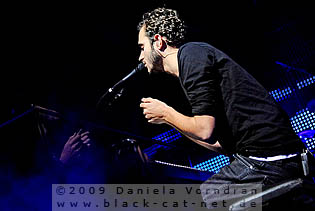 Music & Performance
The room got packed during the time the changeover went down and you had to be lucky and fast to still find a place with a clear view on stage. As soon as the shapes of the band members and especially of Tom Smith took shape on stage, the audience was all riled up for the show and cheered loudly after the distinctive synth line of 'In This Light and on this Evening' opened the show. Tom sat down at the piano and sonorously intonated the lines of the soundtrack-like piece: That was before he jumped up like following an inner urge, grabbing the guitar and racing over the stage to the distorted guitar and drum inferno. A hymn followed right up with the second album's title track 'An End Has A Start', seeing the audience sharing the vocal duties with Tom and creating an amazing atmosphere. 'Bullets', going back in time to the first album, would follow suit until another song from the new album came up with 'You don't know Love'.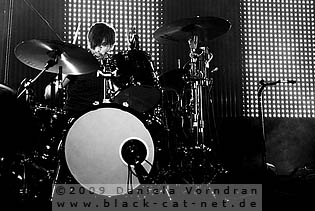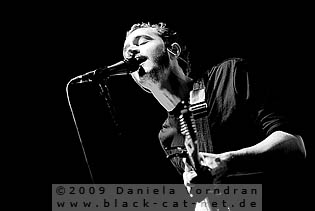 At first it seemed there's been no change compared to the studio version, but halfway through the song with the distinctive guitar motive emerging, acoustic drums were added, giving it a rather organic note. 'Bones' and 'The Racing Rats' followed, the latter one with Tom playing the piano instead of moving much as he used to with the previous tunes. 'The Boxer' wouldn't give him a chance to do that either, but instead he'd deliver awe-inspiring vocals to the track, equipped with fresh synth drum sounds and additional acoustic counterpart. Stars were sparkling in the background all the time through the song, projected on a glass wall from behind the stage. Right in time for 'Blood', the stage got drenched in red lights. The entire band got into action just like the audience which made it a rousing experience. Later, Tom showed his talent of working with mimics and gestures on the extroverted 'Eat Raw Meat = Blood Drool', which has an awesome groove and catchy chorus by the way.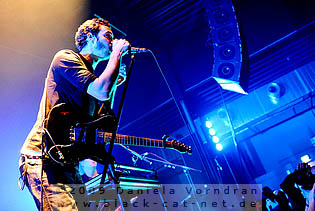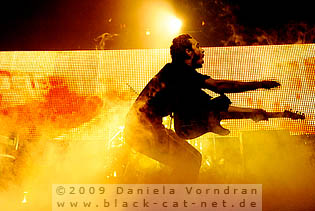 The introverted counterpart was 'Fall', a song where you automatically focus on taking in the mood and atmosphere surrounding that gem. Every show must have an end; this one's was called 'Bricks & Mortar'. That song was made for playing live and the band, as well as audience had visibly fun with it. Of course it was only the end of the main set, since an encore followed barely a minute later with 'Walk the Fleet Road' for starters, culminating in a stunning performance of 'Papillion'. That was me writing about my first EDITORS concert and it surely won't be the last. Simply great!
Setlist
01. In this Light and on this Evening
02. An End has a Start
03. Bullets
04. You Don't Know Love
05. Bones
06. The Racing Rats
07. The Boxer
08. Blood
09. Escape the Nest
10. Like Treasure
11. The Big Exit
12. Eat Raw Meat = Blood Drool
13. Fall
14. You Are Fading
15. Smokers outside the Hospital Doors
16. Bricks & Mortar
---
17. Walk the Fleet Road
18. Munich
19. Papillion
20. Fingers in the Factories
Rating
Music: 9
Performance: 9
Sound: 8
Light: 9
Total: 8.9 / 10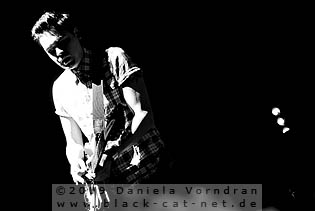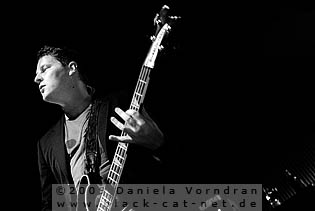 All pictures by Daniela Vorndran (
http://www.vorndranphotography.com/
/
http://www.black-cat-net.de/
/
www.myspace.com/vorndranphotography
)
{jos_sb_discuss:17}
See also (all categories):