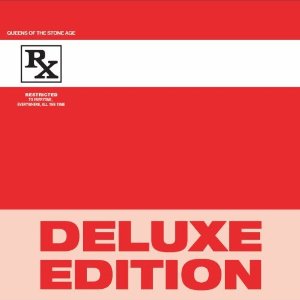 Artist: Queens of the Stone Age
Title: Rated R (Deluxe Edition)
Genre: Groove Rock
Release Date: 6th August 2010
Label: Interscope / Universal
Album Review

'Rated R' was the first album that got QUEENS OF THE STONE AGE (QOTSA) some heavy notice. With hits like 'The Lost Art Of Keeping A Secret', a distinct guitar sound, and the controversial drug themed lyrics, the band certainly had made a name for itself. Now, many years later since its release in 2000, the band decided to re-release it again in a shiny red cover instead of blue and upping the mockery of the rating to X instead of R. The original eleven tracks are still all the same with no change in quality. However, there is second disc that provides plenty of bonus material that makes this album worth picking up.
For those who aren't used to QOTSA, they are best known for their fuzzy, raw guitar sound. Josh Homme's vocals are pretty unique too in their stoner groove rock tone, but it is mostly the guitar that gives the band its significance. 'Rated R' is a much more "lo-fi" album compared to their more recent work, but the sound is still there. The shock value revolving around sex and drugs also began here with big time hits such as 'Feel Good Hit Of The Summer' which features the repeated words, "Nictone, vicadin, marijuana, extasy, and alcohol…" or the controversial "older men lusting after younger girls" theme with the track 'Quick And To The Pointless'. There's also some slower, more groove oriented songs such as 'Autopilot' where QOTSA perform in a much more mellow fashion, but still unleash that harsh distorted guitar sound. And who could forget the lengthy closer which seems to be a staple for them with a random bugle section?
That's how the original goes. As for the deluxe version, fans who already have the original will probably want this anyway. It sports a great length of tracks on the second disc that are just as good as the first, if not better. There are a few live repeats of tracks from the first disc that don't vary much from the studio version but there's lots of B-side material to go around. 'Ode To Clarissa' is probably the most sought and sounds like a more hard rock version of QOTSA without forsaking that grungy sound that 'Rated R' was so good at creating. Then there's the epic 'You Can't Quit Me Baby' which keeps with the raw, random psychedelic vibe. The other new tracks sound a lot fresher, like they came off of 'Lullabies To Paralyze'. 'You're So Vague' is a parody off the track 'You're So Vain' by Carly Simon. 'Never Say Never' is from the Punisher Soundtrack, and then 'Avon' is just another great groove rock number with some catchy guitar.
QOTSA have done well by basically almost creating another album. It is like a "collection of hits and rarities" that all fans would appreciate, rather than re-releasing the album with just one or two tracks that hardly make a difference to the original. Lots of the B-sides are worth checking out, and for those who haven't picked up the original are basically in for a bonus as they get the original 'Rated R' for free! QOTSA are definitely worth checking out for fans of alternative rock with a thick, distorted sound and lyrics not afraid to overstep boundaries.
Tracklist

Disc 1
01. Feel Good Hit Of The Summer (2:43)
02. The Lost Art Of Keeping A Secret (3:36)
03. Leg Of Lamb (2:48)
04. Auto Pilot (4:01)
05. Better Living Through Chemistry (5:49)
06. Monsters In The Parasol (3:27)
07. Quick And To The Pointless (1:42)
08. In The Fade/ Feel Good Hit Of The Summer (4:25)
09. Tension Head (2:52)
10. Lightning Song (2:07)
11. I Think I Lost My Headache (8:40)
Disc 2

01. Ode To Clarissa (2:40)
02. You're So Vague (3:40)
03. Never Say Never (4:22)
04. Who'll Be The Next In Line (2:29)
05. Born To Hula (5:53)
06. Monsters In The Parasol (Live in Seattle/ 2000) (3:33)
07. Feel Good Hit Of The Summer ((Live at Reading/ 2000) (3:00)
08. Regular John (5:13)
09. Avon (3:24)
10. Quick And To The Pointless (Live at Reading/ 2000) (2:34)
11. Better Living Through Chemistry (Live at Reading/ 2000) (5:20)
12. Ode To Clarissa (Live at Reading/ 2000) (2:52)
13. The Lost Art Of Keeping A Secret (Live at Reading/ 2000) (3:33)
14. You Can't Quit Me Baby (10:38)
15. Millionaire (4:38)
Line-up (CD)

Joshua Homme- vocals, guitars
Nick Olivieri- bass
Dave Catching- electric piano/ guitars
Gene Trautman- drums
Website

http://www.qotsa.com/
Cover Picture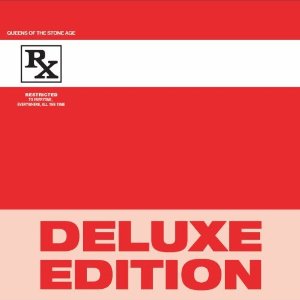 Rating

Sound: 9
Music: 9
Total: 9 / 10
{jos_sb_discuss:19}
See also (all categories):