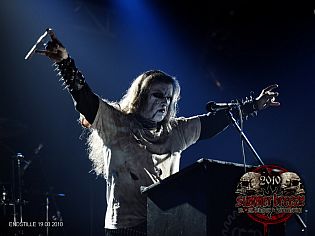 Flugplatz des Aeroclubs Dinkelsbühl, Dinkelsbühl, Germany
18th of August 2010 - 21st of August 2010
Summer Breeze Open Air - Day 2: Insomnium, Swallow the Sun, Triptykon, Endstille

Due to several reasons, I had to skip the first day of this festival and arrived on Thursday at around 5pm. On Wednesday, the first bands had the chance to play in the tent (=party stage) and also a newcomer contest was held. This year's edition was long ahead sold out and only some day-tickets were available, so around 30,000 metal heads gathered in southern Germany to watch bands from all sorts of metal. After having gotten an overview over the area and the camp ground, I went to the party stage for watching the first bands.
Insomnium

INSOMNIUM is a Finnish Melodic Death Metal band, who found their beginning in 1997. Until now, they have released four full length records, among those pieces such as 'Since the Day it all Came Down' (2004) and 'Across the dark' (2009). From a musical point of view, the band may be assembled to bands like AT THE GATES or DARK TRANQUILLITY; lyrically, they are setting different pieces of world literature into music.
www.myspace.com/insomniumband
/
http://www.insomnium.net/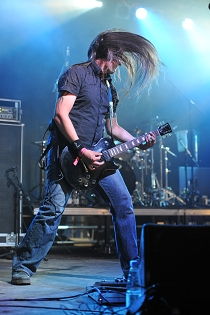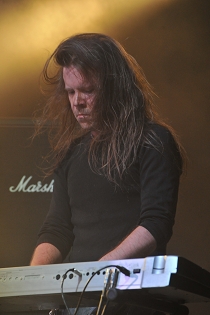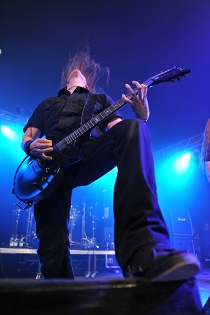 Music & Performance

This band really presented a nice start into a festival - their mixture of heavier and darker elements worked well on the audience, who reacted pretty enthusiastically. The members were performing encouraged and professional, yet without drowning in routine. A nice atmosphere was created and they also remarked a nice start into the dark evening. Unfortunately, the sound appeared to be quite undifferentiated, which made the viewers miss some aspects of the music. Yet, songs like 'Equivalence', 'The Gale' or 'Drawn to Black' had their effects.
Setlist

01. Equivalence
02. Down With The Sun
03. Where The Last Wave Broke
04. The Harrowing Years
05. The Killjoy
06. The Gale
07. The Mortal Share
08. Weighed Down With Sorrow
Rating

Music: 7
Performance: 8
Sound: 6
Light: 7
Total: 7.2 /10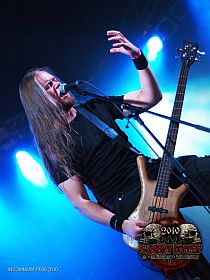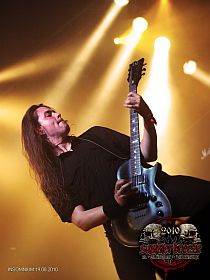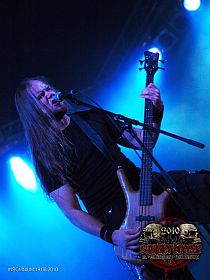 Swallow The Sun

In the year of 2000, the Finnish melodic death / doom metal band SWALLOW THE SUN found its beginning. In 2003, the band released its first record 'The Morning Never Came' after a demo in 2001. Ever since, they have started to establish themselves outside their home country, due to supporting APOCALYPTICA. Their latest record 'New Moon' was put on sale in 2009.
http://www.swallowthesun.net/
/
http://www.myspace.com/swallowthesundoom
Music & Performance

After INSOMNIUM, quite a lot of people stayed in the tent to watch this band. I used the chance and made my way up to the front, at first being in the third and later on in the first row. This of course allowed me a good perspective and the possibility fully to enjoy the slower yet very intense show of SWALLOW THE SUN. The rather doom-orientated and dark music was not too catchy, but a very intense and atmospheric experience.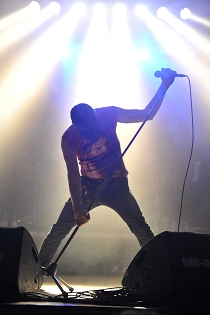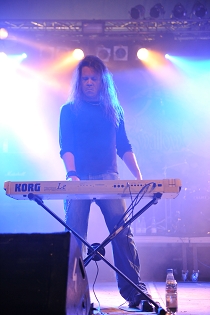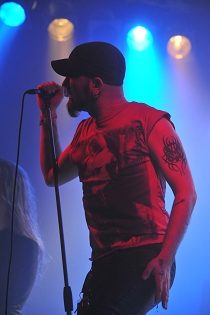 You probably have to cope a bit with the music to get all aspects, so a festival gig with about 35 minutes (since they had to cut short their set a bit, to the dismay of the singer) is only a little foretaste. Yet, they really made me want to check out some more of their stuff. Also, the interaction between band and audience carried a quite nice anecdote: the song 'New Moon' was introduced as not carrying any resemblances with any "vampire shit".
Setlist

01. These Woods Breathe Evil
02. Falling World
03. These Hours of Despair
04. Sleepless Swans
05. Don't Fall Asleep
06. Plague of Butterflies
07. New Moon
08. Swallow
Rating

Music: 8
Performance: 8
Sound: 7
Light: 7
Total: 7.7 /10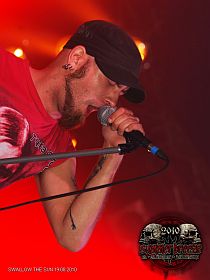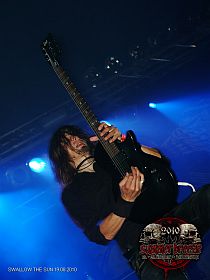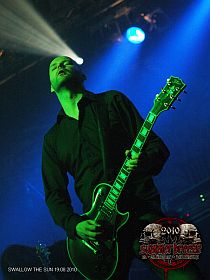 Triptykon

As CELTIC FROST arose from HELLHAMMER's ashes, so arises TRIPTYKON from CELTIC FROST's ashes. After the end of CELTIC FROST, Tom Fischer resolved to establish what was to be a temporary substitute project designed to develop, record, and perform the music and lyrics he envisioned for the projected album. Soon, TRIPTYKON was born and after several demos, in March 2010 'Eparistera Daimones' was released. Considering the background, it appears to be logical that it depicts the direct and musical successor of CELTIC FROST's masterpiece 'Monotheist' (2006).
http://www.triptykon.net/
/
http://www.myspace.com/triptykonofficial
Music & Performance

Being in the first row for this band I had been looking forward to so much was really worth it. Although the sound-check took a while (also due to a microphone, which send little electro shocks), the band did not have to cut short their set and even played a bit longer.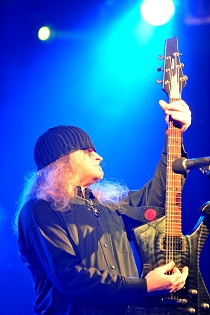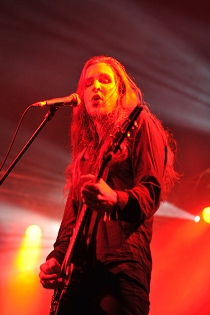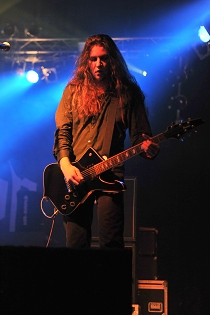 The atmosphere which was conveyed by the band around Tom Warrior was truly amazing (even though the sound could have been better, since some aspects of the music got a bit lost). I especially enjoyed that songs of Celtic Frost were played, but also the two long songs from 'Eparisterea Daimones' ('Goetia' and 'The Prolonging') did not rank behind those classics. Without losing much words, Tom had the audience under his control (at least the front, were many people wearing CELTIC FROST or even HELLHAMMER Shirts had already gathered). Already one of my definite highlights for this festival!
Setlist

01. Crucifixion (Intro)
02. Procreation of the Wicked
03. Goetia
04. Circle of the Tyrants
05. Babylon Fell
06. The Prolonging
Rating

Music: 10
Performance: 10
Sound: 7
Light: 8
Total: 9.3 / 10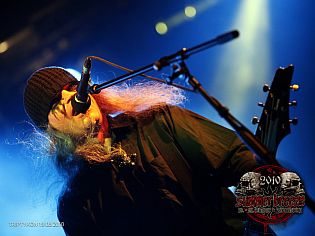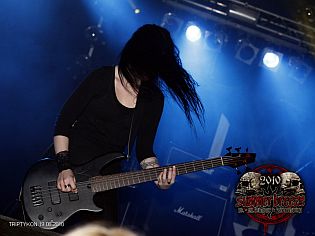 Endstille

ENDSTILLE is surely one of Germany's mostly known and discussed Black Metal acts. Personally, they describe their music as "ugliest aggressive black metal with the fire-speed of an MG42 and the power of heavy ship-artillery". It has often been debated if the band is right-winged, due to lyrical occupation with war weapons and other things, but this has been heavily denied by the band. Albums such as 'Frühlingserwachen' (2004) or the latest 'Verführer' (2009) surely serve fast and tough-minded black metal.
http://www.endstille.com/
/
http://www.myspace.com/endstilleband
Music & Performance

ENDSTILLE are surely not a suitable band to listen to for people not liking black metal. The fast music may often be understood as noise only. Personally, I think they are ok on CD, but having seen them for the second time (this time with their new singer), they again disappointed me.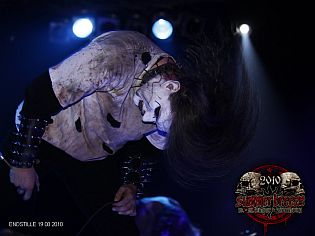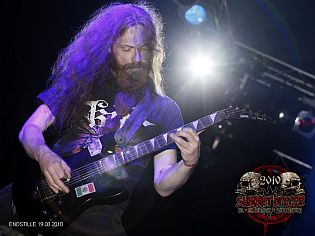 Firstly, the singer acted as though being a priest or something like this. Yet, his voice and the general sound did not manage to convey enough evilness and darkness as supposed to be. Of course, the usual classics as 'Frühlingserwachen' or 'Endstilles Reich' were played, pleasing the usual fans.
Setlist

01. Dominanz
02. Endstilles Reich
03. Biblist Burner
04.Ripping Angelflesh
05. Conquest is Atheism
06. Depressive/Abstract/Banished/Despised
07.Frühlingserwachen
08. Bastard
09. Navigator
Rating

Music: 7.5
Performance: 7
Sound: 6
Light: 8
Total: 7.3 / 10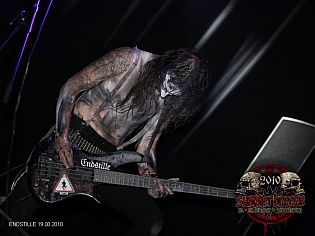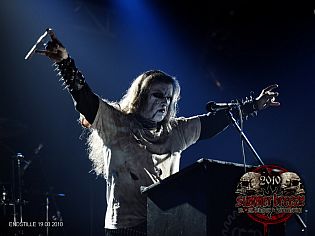 All pictures by Pierre Lehman and curtsey & copyright Summer Breeze Festival
{jos_sb_discuss:17}
See also (all categories):