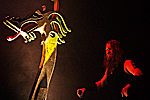 Dinkelsbühl, Germany
16th August to 18th August 2007
Summer Breeze Open Air - Day 1: BRESCHDLENG, JUSTICE, LACRIMAS PROFUNDERE, AFTER FOREVER, DORO, NEVERMORE, TANZWUT, AMON AMARTH, DORNENREICH
This August, the Summer Breeze Open Air in the south of Germany, a festival well-known to all the Metal fans out there, still by far not as big as Wacken for example, but rather nice and straightforward, has celebrated its 10th anniversary. For the second year now it took place on a small airfield near the village of Dinkelsbühl. The journey there without any car was pretty hard, but we rejoiced in not being controlled like the drivers. Every car had to queue up and the securities did check them all. Only every sixth group of walkers was controlled on weapons and glass.

Summer Breeze, Pre-Party and Newcomer Contest, 15th August 2007

Finding a space to camp was easy on Wednesday because of the lack of people. But there were some guys who reserved really big areas for their buddies. So after the choice of the right place and the building-up of the tent we went to the first band which was playing in the Party tent, directly near us, BRESCHDLENG. On Wednesday there was a newcomer contest taking place in the Party tent, featuring the likes of BRESCHDLENG, UNBLEST, MIGHT OF LILITH, STITCH, KARMA CONNECT and LAST ONE DYING. In the end, STITCH were the lucky winners! They were to be Thursday's openers on the Pain stage. After the contest, JUSTICE, POWERWOLF and IMPIOUS continued entertaining the visitors of the Party tent.
BRESCHDLENG [D], Party Tent, 16.00-16.25

Music & Performance

Some visitors were confused about this Swabian Hardcore and Crossover band in Bavaria, who played songs like 'Psychedelic Roschdbrohdah', which is a typical Swabian food. All their lyrics are in the Swabian dialect, which is pretty hard to understand for all not Swabians. Ok, enough from that region. Even if there were just a few people, the band animated the crowd and the Swabians were enthused. The show wasn't important, the music was exotic enough.
Rating

Music: 6
Performance: 5
Sound: 3
Light: daylight
Total: 5.2
JUSTICE [D], Party Tent, 20.00-24.00

Music & Performance:

The group from Franconia originally started as a cover band. JUSTICE's repertoire reaches from IRON MAIDEN over SLAYER to SLIPKNOT; just mainstream Metal, something for everybody. They had to play 4 hours with breaks, but after the first song the 5 guys decided to ignore the breaks and to play on. Michael 'Mitch' Schmitt's (singer) voice bear up three hours of singing, screaming and growling and you could hear in the end the results of this singing marathon. All in all JUSTICE really is good party and nice Metal cover band.
Rating

Music: 5
Performance: 7
Sound: 5
Light: 5
Total: 5.6
Summer Breeze, Day 1, 16th August 2007

Rain and stormy weather in the morning, what a day! So first we needed a coffee and a beer to wake up and so the fight with the mud began. Waking up in the morning at 5 o'clock is only funny if you eat popcorn and watch people while they try to escape the mud holes with their cars. It was the first day with bands on the festival area and we wanted to test how it is to go trough the normal security controls. We have to say that the securities were stressed out and a bit unfriendly. Actually you were allowed to take every drink in the permitted bin with you but, nobody knows why, the securities forbade alcohol, and you had to drink it or throw it away. Apart from this fact they didn't control you really, just a short touch at the booty, and that was it. So some people were not feeling comfortable and safe.
LACRIMAS PROFUNDERE [D], Pain Stage, 15.15-15.50

In the year 1993, Oliver Nikolas Schmid from Waging am See (Germany) has originated the band LACRIMAS PROFUNDERE; a short time after this, his brother Christopher joined the band as a vocalist. Their first album, '...And the Wings embraced us', appeared two years later. The years following the band's foundation saw numerous line-up changes, the latest one being Christopher leaving and being replaced by Rob Vitacca just a few weeks ago. In 1999 they got signed by Napalm Records/SPV. In their own words, they want to make rock music in between melancholy, hope, anger and aggression. They try to fulfil this credo with a mixture of Gothic Metal and Dark Rock. Their latest release is the album 'Filthy Notes for Frozen Hearts' which appeared last year via Napalm Records. Line-up: Rob Vitacca (vocals), Oliver Nikolas Schmid (guitars), Tony Berger (guitars), Daniel Lechner (bass), Christian Steiner (keyboards) and Willi Wurm (drums).
http://www.lacrimas.com
Music & Performance

From far away we were wondering why the SISTERS OF MERCY were playing on the SB, but then we saw that it was LACRIMAS PROFUNDERE. The impression disappeared close-by the band. The band from Bavaria plays Dark Rock/Gothic Metal with very catchy melodies and the typical lyrics about love and death. But we have to say that it sounded a bit different from the latest other festival concerts. To their defence we must say that we only could really see the last five minutes because of the problems with the beverages controls.
Setlist

01. My Velvet Little Darkness
02. To Love Her on Knees
03. Should
04. Amber Girl
05. Sweet Caroline
06. My Mescaline
07. For Bad Times
08. Again it's over
09. Sarah Lou
10. Ave End
Rating

Music: 7
Performance: 7
Sound: 6
Light: daylight
Total: 6.8
AFTER FOREVER [NL], Main Stage, 15.55-16.30

Music & Performance

They are well known in Benelux, but the real success beyond their home is still waiting for the Symphonic Metal band AFTER FOREVER. There are some songs on the last album, 'After Forever', which are sung by Floor Jansen (singer) together with Doro Pesch or Jeff Waters (ANNIHILATOR). So we shouldn't have been surprised that, as they started playing 'Who I Am', Doro jumped onto the stage and started singing with Floor, but we were. It was a good show and Doro's entrance was a nice surprise.
Rating

Music: 8
Performance: 8
Sound: 7
Light: daylight
Total: 7.8
DORO [D], Main Stage, 19.00-20.00
You surely do not have to introduce Doro Pesch. Germany's most successful hard rock lady, born in Düsseldorf, started her career in 1980 as a vocalist in a band called SNAKEBITE. A few years later she changed to WARLOCK whose debut 'Burning the Witches' (Mausoleum) was well received by critics and audience. In 1986, WARLOCK released their greatest commercial success, the album 'True as Steel'. In the following, they played the 'Monsters of Rock' festival in Donington, Doro being the first female vocalist to appear on this event. Due to legal factionalism concerning the name WARLOCK the band was renamed. 'Force Majeure' from 1989 is their first release as DORO. After some line-up changes, the band developed more and more to a solo project. Till the present day DORO has published several successful studio albums, the latest being last year's release 'Warrior Soul' (AFM Records). Line-up: Doro Pesch (vocals), Joe Taylor (guitar), Oliver Palotai (guitar/keyboards), Nick Douglas (bass) and Johnny Dee (drums).
http://www.doropesch.com
/
http://www.doro.de
Music & Performance

Our first thought was, who is this little girl on the stage?! But then the voice, it was Doro Pesch. First, the younger visitors were sceptic, and later most of them were singing, dancing and banging. There was also a large following that made vibes and Doro knew how to animate the rest with her songs and her performance. It was her first show at Summer Breeze and she surely showed up with her legendary tiny leather outfits. The repertoire contained ballads like 'Für Immer', but also the harder stuff.
Rating

Music: 9
Performance: 8
Sound: 9
Light: daylight
Total: 8.7
NEVERMORE [USA], Main Stage, 20.55-21.55 [Ruth Gräbeldinger]
The Metal band NEVERMORE from Seattle, USA, has emerged from the remains of the American Power Metal band SANCTUARY in 1991. Their self-titled debut album appeared in 1995 via Century Media. They have been on tour with numerous well-known Metal acts and enjoy the reputation of being a very good live band. Their latest output is the 2005 full length album 'This Godless Endeavour' (Century). NEVERMORE are: Warrel Dane (vocals), Jeff Loomis (lead, rhythm and acoustic guitars), Steve Smyth (lead, rhythm and acoustic guitars), Jim Sheppard (bass) and Van Williams (drums).
http://www.nevermore.tv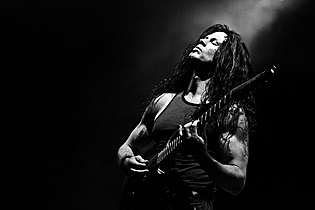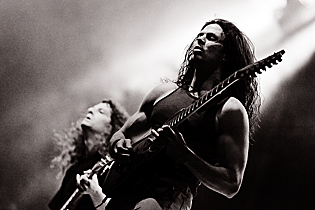 Music & Performance

I had just arrived at the Summer Breeze festival area, put up my tent in a hurry, and looked thankfully at the bright evening sky, which promised nice weather, when NEVERMORE entered the Main Stage - they were my first Summer Breeze band this year. Their musical style is difficult to label; they surely play Metal, somewhere between Thrash, Power and Progressive. As most of the time in the evening, the band had not very much of a light show on stage, but with this group and their songs this kind of fitted: gloomy, red light and their energetic, sometimes sad songs.
Rating

Music: 7
Performance: 7
Sound: 6
Light: 4
Total: 6.4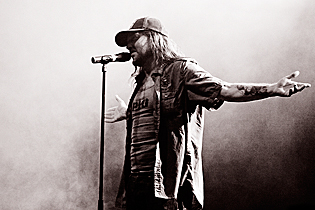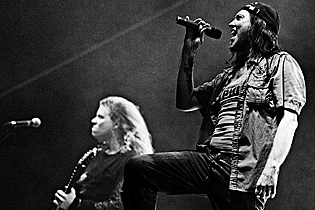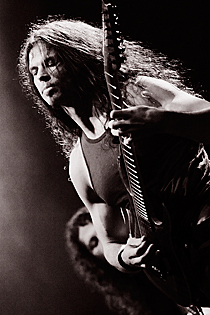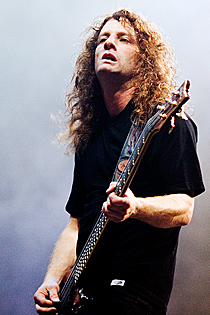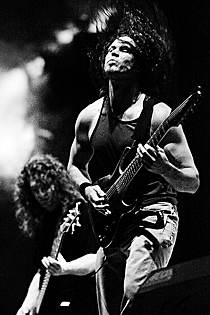 TANZWUT [D], Pain Stage, 22.00-22.45
Music & Performance

This side project of CORVUS CORAX musicians (medieval music) convinces with its diversity of musical styles. From medieval lyrics over Goth Metal and Dark Pop up to some kind of circus music everything is contained. Most of the songs played were from the latest album 'Schattenreiter' but they played also some old stuff. The audience enjoyed the music; they did pogo and danced because of the really fast beats. The show and the costumes were extraordinary; they looked a bit like cyber knights from the future.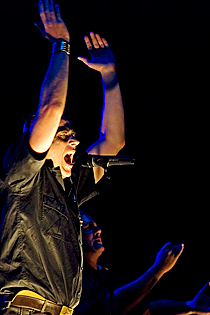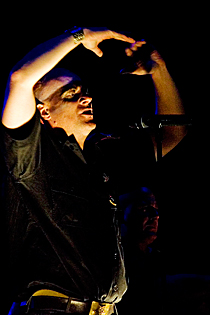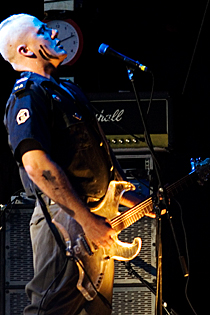 Rating

Music: 9
Performance: 9
Sound: 7
Light: 8
Total: 8.6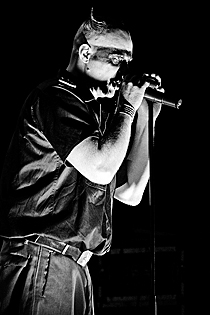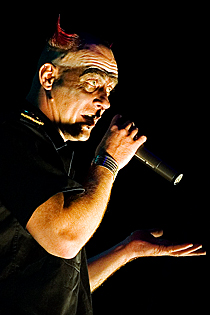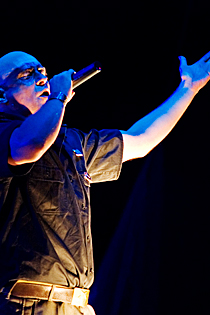 AMON AMARTH [S], Main Stage, 22.50-00.05
Music & Performance

They were the most wanted band on the Summer Breeze band wish-list and their last album 'With Oden on our Side' reached place 21 of the album charts. The show had some highlights like a Viking dragonhead boat built up on the stage, some fierce warriors fighting there from time to time and sparkles or some other pyrotechnical things but except from this it was non-stop banging. The audience was mixed up, there were 40ty year old parents with their children or young teens, but all had one in common, some wilder, some less, they all were banging with the music, up to the last ranks. The music seemed to be more melodic then before and AMON AMARTH was the first band who was loud enough to hear them on the whole festival area; that was great.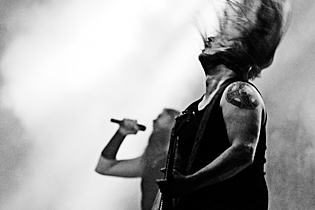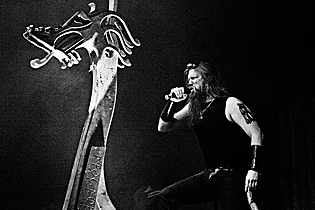 Setlist

01. Vallhall Awaits Me
02. Runes To My Memory
03. Cry Of The Black Birds
04. Asator
05. Pursuit Of Vikings
06. Fate Of Norns
07. Without Fear
08. With Oden On Our Side
09. Where Silent Gods Stand Guard
10. Ancient Sign Of Coming Storm
11. Victorious March
12. Death In Fire
Rating

Music: 9
Performance: 7
Sound: 10
Light: 8
Total: 8.4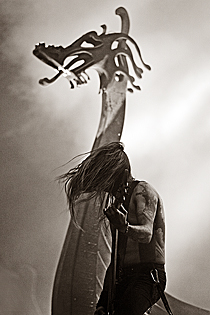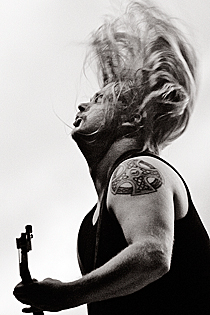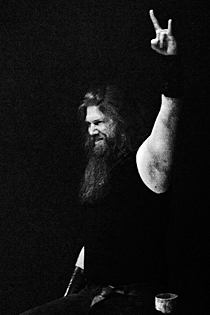 DORNENREICH [A], Pain Stage, 00.10-01.00 [Ruth Gräbeldinger]
The Austrian band DORNENREICH has been founded in 1995 by Thomas 'Valñes' (formerly DUNKELKIND) Stock; in the year following Jochen 'Eviga' Stock joined him. In 1997, the line-up was completed with Moritz 'Gilvan' Neuner (also ABIGOR, GRAVEWORM), who left the band after their third regular album 'Her von welken Nächten' (Prophecy, 2001). Their next output 'Hexenwind' (2005) also meant 'Valñes' exit from the band; he wanted to concentrate on his own project EYAS. Today, DORNENREICH consists of Eviga and Thomas 'Inve' Riesner (since 2006), who already played the violin on the 'Her von..' album. Latest news from the band are their 2006 release 'Durch den Traum' and various live activities, among others they played this year's Wave Gotik Treffen with an acoustic set and the Summer Breeze (luckily with a Metal set).
http://www.dornenreich.com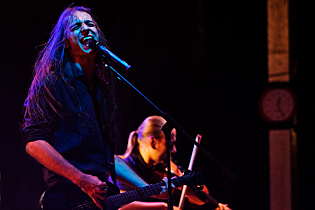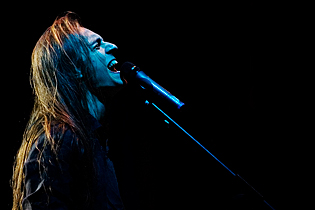 Music & Performance

DORNENREICH is one of my favourite bands, and as I simply love most of their songs, I surely am not the most objective person when it comes to them. Since their debut demo 'Mein Flügelschlag' and their first regular album 'Nicht um zu sterben', they have lived through enormous changes in musical style. Starting out as a melodic Black Metal band, they included various influences into their sound, be it from other Metal genres or Neo Folk, and nowadays their style is not very easy to give a name. Since 'Hexenwind' their sound has become very calm and pure, acoustic guitars and violins, whispering, screaming - as always taking the listener to a journey to different worlds and his own inner feelings. Seeing them live was just great, especially as they played their older stuff, in fact songs from the 'Her von welken Nächten' album without exception, which was a surprise, as I had hoped to hear some from 'Bitter ist's dem Tod zu dienen' or even older ones also. So we listened to the wonderful 'Schwarz schaut tiefsten Lichterglanz' as well as the sad and at the same time hopeful 'Trauerbrandung'; they nearly played the whole album except for the calm songs.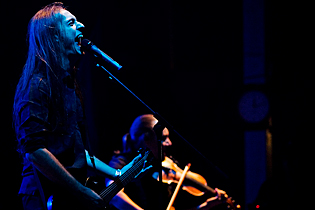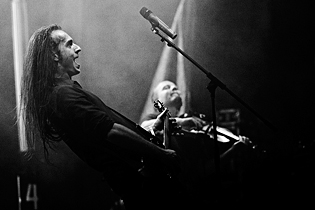 In the beginning of their set they had some sound problems, the vocals and Inve's violin were nearly not audible, but during the set these were luckily eliminated. As with most bands, their songs sound different when being played live on stage, less clean, but rawer, more honest and even more fitting DORNENREICH's spirit. Eviga stood there screaming his lungs out and whispering hauntingly, accompanied by Inve on his violin and Gilvan on drums and some special guests like Thomas Schwadorf (EMPYRIUM, THE VISION BLEAK) on the bass. There seemed to be many devoted DORNENREICH fans this evening, as they were called back on stage two times, and at least played one encore. In the end, I was incredibly happy to have been there, and I guess I was not the only one.
Rating

Music: 10
Performance: 8
Sound: 7
Light: 7
Total: 8.5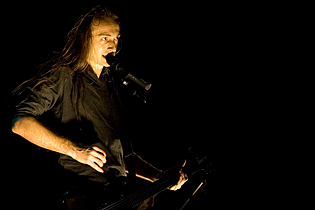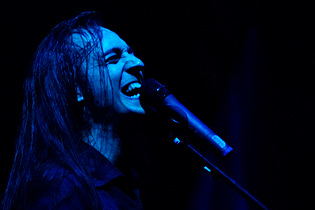 Written by Stefanie Unterricker und Florian Tatzel except separately mentioned
All pics by Ruth Gräbeldinger
{jos_sb_discuss:18}
See also (all categories):