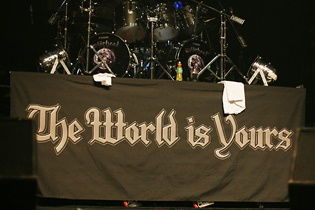 Philipshalle, Düsseldorf, Germany
30th November 2010
Motörhead, Doro, Grand Magus

The degrees are dropping rapidly these days, but for us it's still no rest for the wicked and on this freezing cold Tuesday MOTÖRHEAD was up on our schedule and fans from near and far had come to Düsseldorf to see the veteran formation playing. They'd be supported on their tour by DORO and GRAND MAGUS.



Grand Magus


GRAND MAGUS was founded in 1996 under the name SMAK. First demos surface around the beginning of the new millennium and lead to a first label contract. In 2001 a split-EP by the name of 'It's over' is released together with SPIRITUAL BEGGARS. That same year sees the release of the eponymous debut album that gained the band positive critics just like the following albums would do of which the band has released 4 to the present day. Newest one is called 'Hammer Of The North' and came out this year. GRAND MAGUS is Janne "JB" Christoffersson (lead vocals, guitar), Fox (bass, backing vocals) and SEB (drums). http://www.grandmagus.com/ / http://www.myspace.com/grandmagusrocks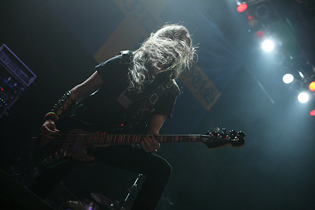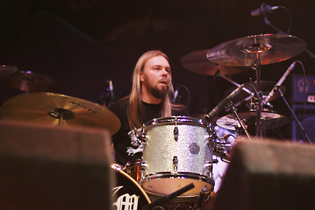 Music & Performance
GRAND MAGUS I hadn't heard nor seen anything of up until now other than the two later acts and I should be in for quite a surprise. Shortly after entering the stage, decorated with a special Swedish national flag, to a Western intro the guys rocked ahead to a spitfire beat and hard rocking riffs of the opening cut 'Kingslayer' and also with the following wouldn't fail to hold up their level of energy. That they had fun was obvious and singer Janne must've been very proud also for being a support act for the band he bought his first record of at the age of 13. Gloomy winds and a sinister bass announced 'Ravens Guide Our Way', a dark hymn to the sea that guides back to the origins. Next up came the 'Hammer of the North', bringing back tempo and more vivid movement into the game. I enjoyed that performance of the Swedish guys very much and later on the way back got to hear some of their music again on CD.

Rating
Music: 8
Performance: 8
Sound: 8
Light: 6
Total: 7.7 / 10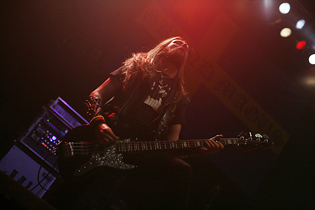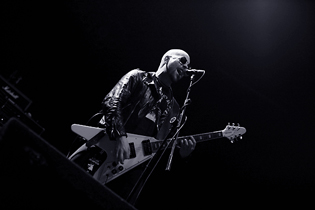 Doro

DORO started her career being a singer of the bands SNAKEBITE and WARLOCK. Her debut solo release under the DORO moniker made her famous way beyond the borders of Germany where she's coming from. Collaborations with such artists as Jürgen Engler (DIE KRUPPS), Lemmy Kilmister (MOTÖRHEAD) for instance clearly underpin her diversity and the standing she has not only in the Rock scene as these guys really wouldn't work with anybody. On 13th December 2008, she celebrated her 25th anniversary together with 8,000 fans and famous guests. After the appetizers 'Night of The Warlock' and 'Herzblut' her new album 'Fear No Evil' hit the shops at the end of January 2009. DORO Live is Doro (vocals), Joe Taylor (guitar), Oliver Palotai (guitar, keys), Nick Douglas (bass), Johnny Dee (drums) and Bas Maas (guitar). http://www.doromusic.de/ / http://www.myspace.com/doroband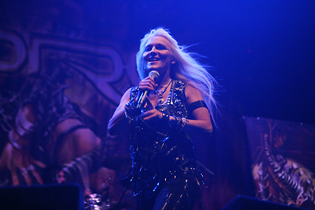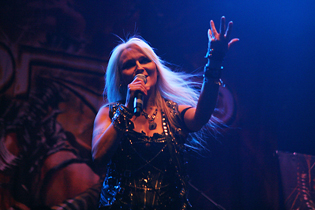 Music & Performance
I had seen DORO and her guys a couple times before and therefore did expect her to control the crowd again like she always did in the past, but on the other hand could also expect a show without many surprises. Turns out I was right. Right after hitting the stage as the last one she did her trademark movements to hype up everyone in the hall which worked quite well as expected. As for me, I'm starting to get tired of these ever-same movement combinations but I think I'm in the minority here. The set opened with the 'Earthshaker Rock' and in the following offered a cross-section through a long history in the rock music business. Also that concert was kind of special for DORO since it was going down within her home town. And you can imagine she was in a good mood accordingly. However, if she'd talked a little less she could've easily squeezed in another song in my opinion. A mutual performance with the audience of 'All We Are' closed her set under hails and applause.

Rating
Music: 7
Performance: 6
Sound: 8
Light: 4
Total: 6.4 / 10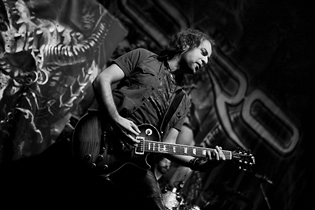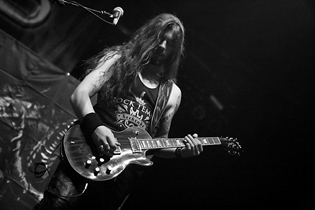 Motörhead

MOTÖRHEAD was formed in 1975 by Ian "Lemmy" Kilmister, who has remained the only constant member. Usually a power trio, MOTÖRHEAD had particular success in the early 1980s with several successful singles in the UK Top 40. The albums 'Overkill', 'Bomber', 'Ace of Spades', and particularly 'No Sleep 'til Hammersmith' have been catering for their enormous reputation that is lasting until the present day, where they have released a total of 19 full-length releases with the next one already being in the pipeline for a December release, entitled 'The World Is Yours'. MOTÖRHEAD is Ian "Lemmy" Kilmister (vocals, bass), Phil Campbell (guitar) and Mikkey Dee (drums, percussion). http://www.imotorhead.com/ / http://myspace.com/motorhead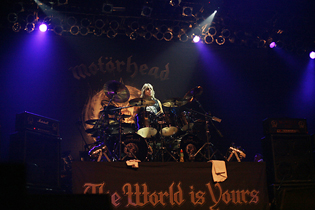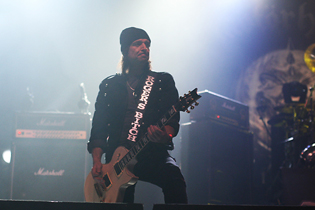 Music & Performance
The mandatory changeover followed but then finally the lights went down and the gentlemen of MOTÖRHEAD entered the arena to an excited crowd and Lemmy started just by saying "We are Motörhead and we play rock'n'roll" which can be equally seen as introduction to the first, driving adventure 'We are Motörhead'. The fans cracked up already at this early point and many of them started chanting along loudly. 'Stay Clean' followed and saw Lemmy leaving his regular place for the middle of the stage for a while. The third track of the evening was going by the name of 'Stay Clean' and taken off the upcoming new album 'The World Is Yours'. Just as though it would be an old track it was celebrated. The first chords of 'Metropolis' brought screaming over the venue with 'Over The Top' following suit regarding that.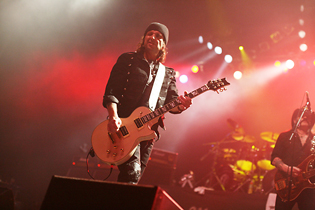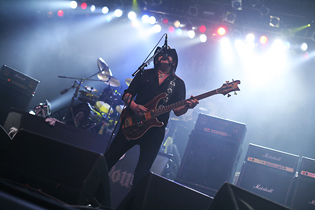 'One Night Stand' caused a few people near me to scream the chorus into my tortured ears and 'Rock Out' was like a demand to do the head banger. On stage there wasn't happening much really, except the mentioned outbreaks of Lemmy and Phil coming to the fore here and there as usual. But for most of the fans in the venue it wasn't about the action on stage anyway; they came to celebrate with songs that part of them do know for a very long time already. An encore at this show was just a formality and completed the night with 'Born To Raise Hell' and 'Overkill'.

Setlist
01. We Are Motörhead
02. Stay Clean
03. Get Back In Line
04. Metropolis
05. Over the Top
06. One Night Stand
07. Rock Out
08. The Thousand Names Of God
09. I Know How To Die
10. The Chase Is Better Than the Catch
11. In the Name of Tragedy
12. Just 'Cos You Got the Power
13. Going To Brazil
14. Killed By Death
15. Ace Of Spades
---
16. Born To Raise Hell
17. Overkill

Rating
Music: 8
Performance: 5
Sound: 8
Light: 5
Total: 6.7 / 10


All pictures by Dajana Winkel (http://www.nocturnalhall.com/
)
{jos_sb_discuss:19}
See also (all categories):