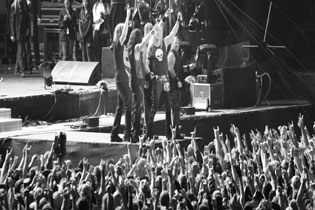 Bang Your Head Festival, Balingen, Germany
16th - 17th July 2010
Bang your Head 2010: Doro, Krokus, Artillery, Hammerfall, Dark Tranquillity, Nevermore, Queensryche, The Haunted, Twisted Sister
This is the 15th issue of the Bang Your Head Festival, beautiful located in the middle of nowhere. It was time to go back a bit in the music history and invite a lot of old school rock and metal bands from all over the world. The festival was almost sold out and started Thursday with a great warm-up show in a hall next to the festival. Headliner was good old SAXON and the evening was a journey trough the history of NWoBHM (New wave of British Heavy Metal).
Friday

A lot of older generations had been coming to celebrate their idols from the 80´s. Dressed in their old, worn out trousers (some of them were a bit to tiny already) and with their jackets covered over and over with patches. It was much more male than female people running around on the place in front of stage. The festival offered really good food this time, also for vegetarians and you could have sunglasses for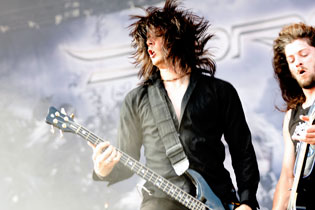 free and rain coats, you could pose for photos with real electric guitars you even could paint t-shirts for free! Everyone there! Thomas, the organizer, must be on first name terms with the local weather gods, because like last year the weather was fantastic reaching nearly 40 degrees. So with a festival as hot as Africa and a killer line up, DORO came on stage.
Doro

The Queen of Heavy Metal was of course totally dressed in black leather and lace and jumped around on stage from the first second till the last, looking fresh as a daisy and totally not worn out. She is a pretty good entertainer and searches always for some interaction between fans and her. She kicked off the festival with a full dose of metal using her sing-along songs 'White Weeding', 'Für immer' or 'Burning the Witches'. She is definitely a better head banger than all the guys in front of stage.
Setlist

01. You're My Family
02. I Rule the Ruins (Warlock)
03. Earthshaker Rock (Warlock)
04. Running from the Devil
05. Burning the Witches (Warlock)
06. Egypt (The Chains Are On) (Dio cover)
07. Für Immer (Warlock)
08. Burn It Up
09. Celebrate
10. Metal Racer (Warlock)
11. Always Live To Win
12. Breaking the Law (Judas Priest cover)
13. All We Are (Warlock)
Rating

Music: 8
Performance: 8
Sound: 9
Light: 9
Total: 8.3 / 10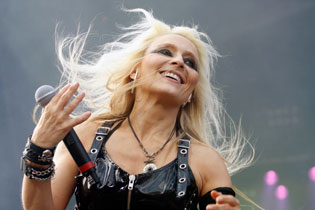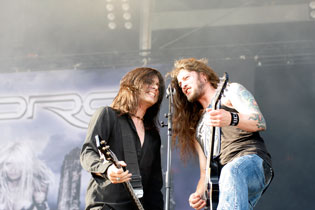 Krokus
The band from Switzerland has a history which reaches far back in time. Their first album came 1976 out and now it was about them to rock the areal in their original early 80ies line-up along with Marc Storace, Chris von Rohr and Fernando von Arb. The Swiss guys kicked old rock asses from the start with hits like: 'American Woman', 'Tokyo Nights' or 'Born to be wild' by STEPPENWOLF. A lot of youngsters were surprised because nearly none of them known the band by name but by all the titles they played. It was amazing to see how much energy they spread on stage!
Setlist
01. Long Stick Goes Boom
2. American Woman (The Guess Who cover)
03. Rock'n'Roll Handshake
04. Tokyo Nights
05. Fire
06. Burning Bones
07. Screaming In The Night
08. Easy Rocker
09. Bedside Radio
10. Heatstrokes
---
11. Hoodoo Woman
12. Born to Be Wild (Steppenwolf cover)
13. Long Live Rock'n'Roll (Rainbow cover)
Rating

Music: 7
Performance: 8
Sound: 9
Light: 9
Total: 7.9 / 10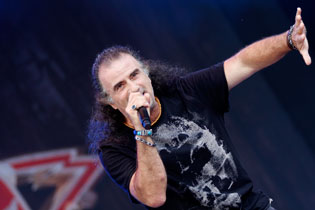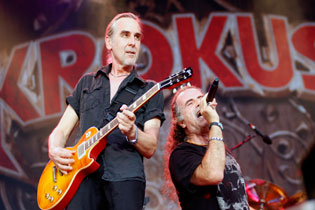 The BYH management had the idea to use the Warm-Up Hall next to the Centre Stage as a place to be for all the fans of Dark, Thrash and Doom Metal. It was mostly pretty warm in there and the stage was too small, but visitors had the chance to hear something different beside all the rock bands. Most of the artists came of course from Scandinavia.
Artillery

The band from Denmark was the opener for the hall this day and they made people bang their heads from the beginning. 'One Foot on the Grave, the other on the Trash' is the latest release from ARTILLERY, founded already 1982 as the innovators of Thrash Metal. Søren Adamsen, singer of the bad, loved to pose around with an army helmet while shouting his thrash into the mosh pit. Unfortunately the hall has roof windows, so whatever you wanna do special with stage lights, it will fail.
Rating

Music: 8
Performance: 6
Sound: 6
Light: 6
Total: 6.8 / 10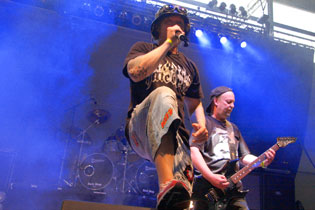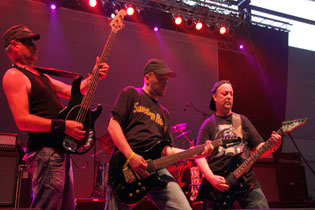 Hammerfall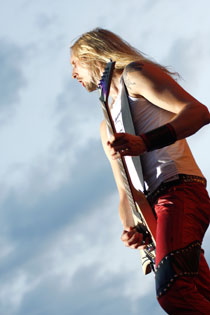 Swedish Power Metal appeared on stage to headline the first evening. It became a bit colder and looked like rain, but fortunately it started after the gig and not before. Anyone who can tell me three songs of HAMMERFALL not including the word hammer? A lot of people like them and of course they did a good show, a bit too routined. Oscar Dronjak did an amazing job on his guitar. He's the last original member of the band. But was it worth to put them on the headliner position? They used pyrotechnics on stage to make the show a bit more entertaining but nobody entertained more than Mikael Stanne the singer of DARK TRANQUILITY when he entered the stage to sing along with Joacim Cans. It was really special, because they sung the song 'Man on the Silver Mountain' from RAINBOW. A lot of fans loved it, because Dio always played a special roll on the BYH Festival like TWISTED SISTER did.
Setlist

01. Punish and Enslave
02. The Dragon Lies Bleeding
03. Crimson Thunder
04. Hallowed Be My Name
05. Renegade
06. Last Man Standing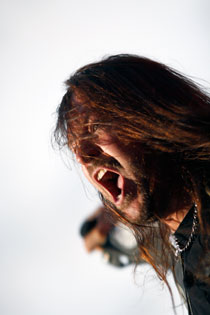 07. Blood Bound
08. Heeding the Call
09. Rebel Inside
10. Any Means Necessary
11. Stronger than All
12. Riders of the Storm
---
13. Secrets
14. Let The Hammer Fall
---
15. Man on the Silver Mountain (Rainbow cover with Mikael Stanne)
16. Hearts on Fire
Rating

Music: 7
Performance: 9
Sound: 8
Light: 8
Total: 7.9 / 10
After the HAMMERFALL show, it started raining and everybody rushed under the roof of the hall, also to see DARK TRANQUILITY performing there. But that was road with a dead end. Once you had been in the hall there was no coming back into the festival area. The crowd only had the chance to stay in the concert hall or leave the festival. All entrance doors to the festival area and to the hall (!) were locked to clean up the place and get all people out. A real suspicious thing to do and annoying for all who left their friends outside, or who were a second to late to see DARK TRANQUILITY....
Dark Tranquillity

DARK TRANQUILLITY is a Melodic Death Metal band from Sweden. They had a pretty good sound, but unfortunately the had back screen which was so long, due to the small stage, that the singer always had its shadows in the face. Very irritating! But he absolutely rocked the stage, jumped around, screamed his brain out and made the only quarter-filled hall dancing and banging. A successful end of the day!
Setlist

01. At The Point Of Ignition
02. The Fatalist
03. Focus Shift
04. The Wonders at Your Feet
05. Final Resistance
06. Misery's Crown
07. Punish My Heaven
08. Iridium
09. Shadow in Our Blood
10. The Lesser Faith
11. Dream Oblivion
12. Lethe
13. Lost To Apathy
14. ThereIn
15. The Grandest Accusation
16. Terminus (Where Death Is Most Alive)
Rating

Music: 9
Performance: 9
Sound: 7
Light: 5
Total: 8.1 / 10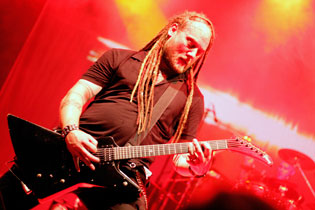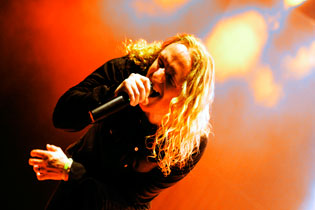 Saturday

While burning your skin on Friday, it rained like hell on Saturday. I've never seen so many colourfully dressed people on a Rock festival like on that day. It seems that a black raincoat would be a glorious invention. Luckily the ground was solid and not muddy. But something happened over night with the sound. It was crappy loud, so loud that people had been pulled out in front with the help from securities, because they became ear pain!
Nevermore

Warrel Dane seemed to be bored on stage. He wasn't interacting that much with his fans and he had to look on the setlist what songs gonna be next. Than the Drummer broke part of his drum kit and a very long break had to be filled. Warrel had nothing better to do than make those funny games everybody knows: Everybody makes uh, ah, eh when he tells them too..... It was boring. Only Jeff Loomis did his best. You can always feel his passion for the guitar.
Rating

Music: 5
Performance: 4
Sound: 6
Light: 5
Total: 4.9 / 10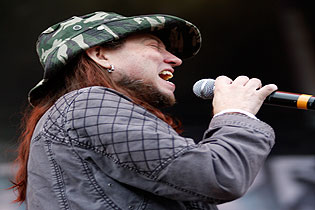 Queensryche

A "Best Of" set was expected but unfortunately something went wrong with it. Hymns like 'Take Hold of the Flame', groundbreaking classics à la 'I Dream in Infrared' or 'Walk in the Shadows' were totally missing. Only 'Empire' or 'I Don't Believe in Love' found a way onto the list. The new, second, guitarist Parker Lundgren did a real convincing job. On e of the show's highlights was 'Neon Knights' (Black Sabbath cover).
Setlist

01. Hit the Black
02. Sacred Ground
03. Man Down!
04. The Hands
05. Damaged
06. The Thin Line
07. Breaking the Silence
08. Silent Lucidity
09. The Right Side of My Mind
10. Neon Knights (Black Sabbath cover)
---
11. I Don't Believe In Love
12. Jet City Woman
13. Empire
Rating

Music: 6
Performance: 6
Sound: 6
Light: 8
Total: 6.3 / 10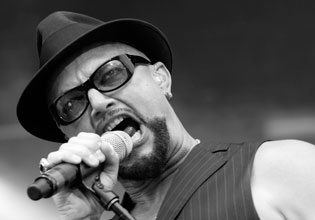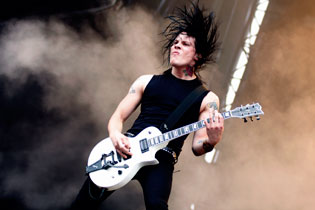 The Haunted

One more time a Thrash Metal band from Gothenburg in Sweden playing in the hall. The air was like being in a rainforest, no wonder because everybody was hiding himself from the rain outside. Peter Dolving, covered with tattoos and cuttings is cool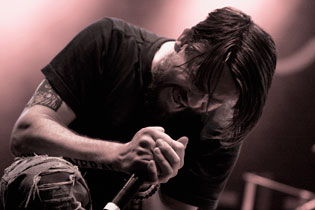 to look at also without music. But when he starts screaming, the walls start shaking and the head bangers freak out. It was a fresh, speedy, hard show and satisfied all the fans of the darker and harder sides of metal. Although they had the toughest competition, because they had to play when the headliner of the festival started too.
Rating
Music: 6
Performance: 6
Sound: 6
Light: 8
Total: 6.3 / 10
Twisted Sister
TWISTED fucking SISTER had attracted the most people this year. Surprise, surprise, Mr. Snyder was not in the mood for kinky outfits. He was just wearing black trouser and shirt. No make-up, no pink accessories. But some hardcore fans dressed up like Transvestites and took over his part. Dee turned the festival into a huge party ground. He was rolling, jumping, running lying around on stage. Burning up a lot of fireworks and playing one hit after the other, parents and children could sing along together. They acted in the complete original line-up. He was very talkative and talked more with single fans than with the crowd. Also the drum solo was nice but way to long. Additional songs would have been great. The highlight was the ballad 'The Price' where all stage lights were turned off and thousands of lighters have been waved in the air. Fans who missed the show - take a look on the upcoming live DVD, it was all filmed at the Bang your Head Festival 2010.
Setlist
01. Come Out and Play
02. The Kids are Back
03. Stay Hungry
04. Captain Howdy
05. Shoot 'em Down
06. You Can't Stop Rock 'n' Roll
07. The Fire Still Burns
08. I Am (I'm Me)
09. We're Not Gonna Take It
10. The Price
11. I Believe in Rock 'n' Roll
12. Burn In Hell (With drum solo)
13. I Wanna Rock
---
14. Under the Blade
15. Long Live Rock'n'Roll (Rainbow cover)
16. S.M.F.
Rating

Music: 9
Performance: 9
Sound: 8
Light: 9
Total: 8.8 / 10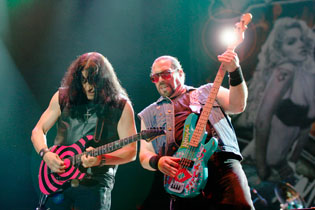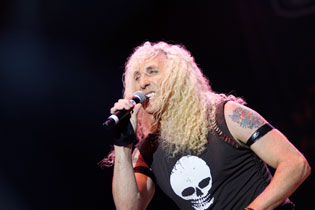 And while the last tones of TWISTED SISTER were fading, a huge Firework was exploding in the sky to say good bye and welcome back next year to one more episode of the Bang Your Head Festival. Hopefully it's gonna be a bit fresher and younger mixture of bands.
All pictures by Kira Appelt (
http://www.flickr.com/photos/kira-in666moments/
)
{jos_sb_discuss:17}
See also (all categories):