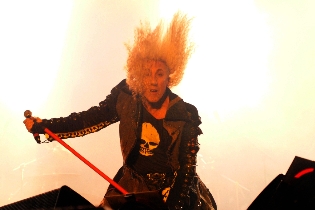 Catton Hall, Tamworth, UK
August 13th- 15th 2010
Bloodstock Open Air Day 3: Bonded by Blood, Suffocation, Holy Moses, Doro, Korpiklaani,
Gwar, Gojira, Bloodbath, Cannibal Corpse, Twisted Sister

Hooray for the weather on the final day - it didn't rain! Pleasanter weather brought crazily dressed up souls in their droves down to the arena for the great line up that we had in store.
Bonded by Blood 10.30 - 10.50

California showed it worth in terms of producing good thrashy metal bands and representing were BONDED BY BLOOD with their heavy tight riffs and their exotic sounding lead singer. It's a nice turn for a metal band to be able to clearly hear the lyrics and 'Prototype Death Machine' really stood out with clean crisp sound smacking you around the head coupled with dirty guitars and killer drumming. For an opening band they got a great reception and well deserve their slot with EVILE on their US tour.
http://www.myspace.com/bondedbyblood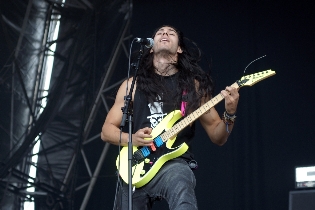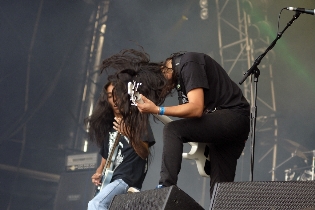 Setlist
01. Mind Pollution
02. Prototype Death Machine
03. Immortal Life
04. Exiled To Earth
05. Another Disease
06. Feed The Beast
Rating

Music: 8
Performance: 8
Sound: 9
Light: - (Daylight)
Total: 8.2 / 10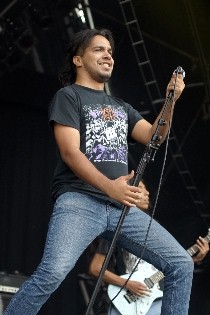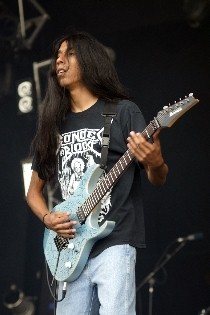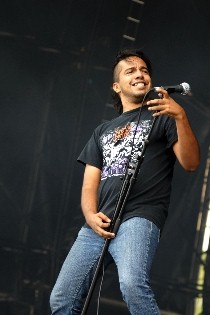 Suffocation (11.10 - 11.40)

"Brutal technical death metal" is what these guys are hailed as, well that's pretty spot on. The five New Yorkers crashed onto the stage beginning with the mighty 'Thrones of Blood' not leaving anyone in any doubt as to their cataclysmic sound. They're just a bit good this lot, being very, very together and heavy as you please. Their front man Frank Mullen does a great job of getting the audience on side and they were a welcome addition to the early line up.
http://www.suffocation.us/
/
http://www.myspace.com/suffocation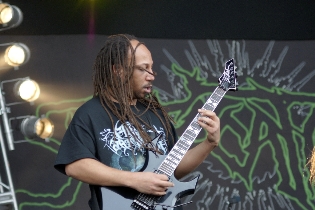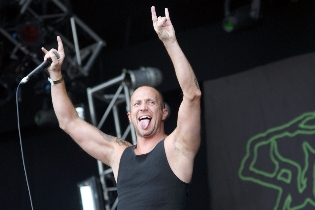 Setlist

01. Thrones Of Blood
02. Cataclysmic Purification
03. Pierced From Within
04. Blood Oath
05. Brood of Hatred
06. Infecting the Crypts
Rating

Music: 8
Performance: 8
Sound: 9
Light: - (Daylight)
Total: 8.2 / 10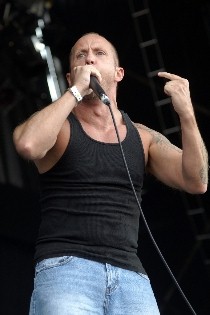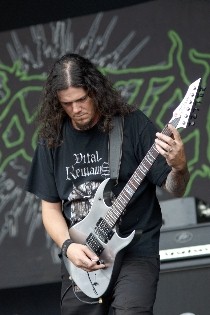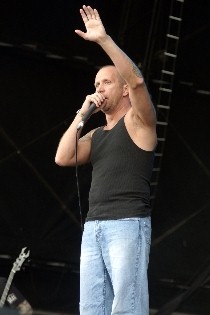 Holy Moses (12.00 - 12.40)

With Sabina Classen at the helm, HOLY MOSES make an impressive sight. Much as you double take slightly at the sight of the beautiful Angela Gossow growling like a demon with ARCH ENEMY, you do too with this lady whose voice is phenomenal. They're a really good hard thrash band with loads of personality, enthusiasm and a real knack for theatrical vocal. I was really pleasantly surprised never having seen them live before, but their show was a really enjoyable set and they certainly deserve the success they're achieving. With a strong setlist and a new album out they really impressed, with 'Shattered' for me being the zenith of the whole set. Awesome!
http://www.holymoses.de/
/
http://www.myspace.com/holymosesgermany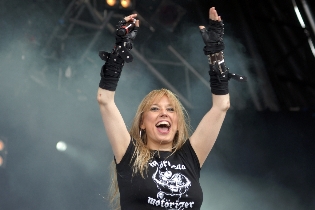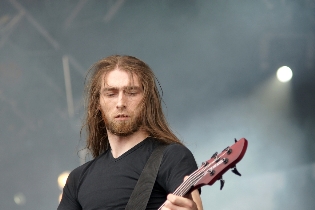 Setlist
01. Def con II
02. Life's Destroyer
03. Master of Disaster
04. Shattered
05. Blood Bond
06. Nothing for My Mum
07. Lost in the Maze
08. SSP
09. End of Time
Rating
Music: 8
Performance: 8
Sound: 9
Light: - (Daylight)
Total: 8.2 / 10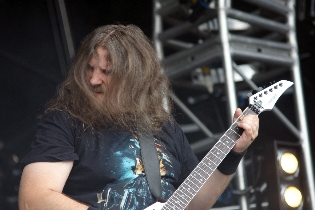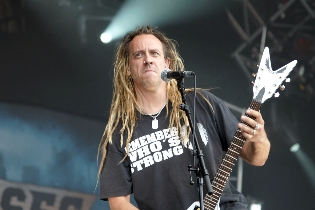 Doro (13.05 - 13.45)

Yeah, Doro! I love Doro. I love her talent, her diversity and her sheer staying power and today she was on really good form kicking off with 'Earthshaker' wreathed in smiles and clearly over the moon to be performing. An eight song dynamic set followed which included a lot of WARLOCK covers ( her former band to who she lost rights to the name) each track better than the last and culminating with the epic 'All we are'. Vocally she just gets better and better with age, and still doesn't look a day over 30. Fantastic!
http://www.doropesch.com/
/
http://www.myspace.com/doroband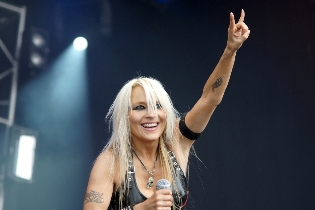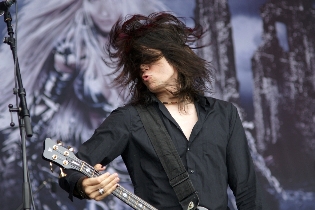 Setlist

01. Earthshaker Rock (Warlock)
02. I Rule the Ruins (Warlock)
03. Running From the Devil
04. Burning The Witches (Warlock)
05. Metal Racer (Warlock)
06. Celebrate
07. Breaking The Law Play (Judas Priest cover)
08. All We Are (Warlock)
Rating

Music: 9
Performance: 9
Sound: 9
Light: - (Daylight)
Total: 9 / 10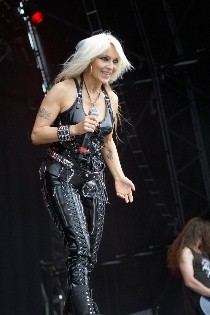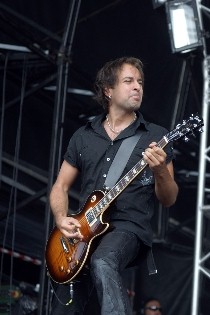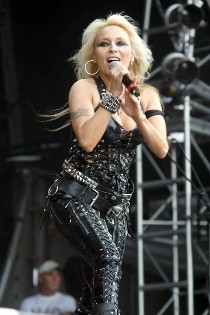 Korpiklaani (14.10 - 14.55)

Fabulously nutty Finnish folk metallers were up next in the guise of KORPIKLAANI, and as ever they put on an energetic, watchable and great show. They were amongst the first of the more folky Finnish metal bands and they shine like a beacon for that genre. Front man Jonne, with long fair dreadlocks flying around as if they have a life of their own, totally owned the audience from the offset while the remarkably laid back remainder of the band just smiled affably and really hit their mark with an understated killer precision. 'Vodka' was their opener, always a popular track amongst fans and the band name 'Korpiklaani' and penultimate track 'Happy little booser' were high points, however they predictably ended with the riotous 'Beer, Beer' to absolutely everyone's satisfaction.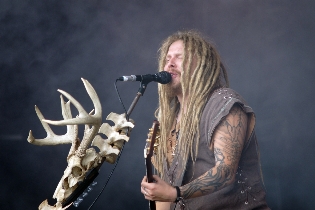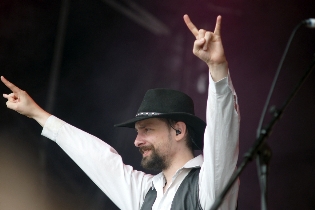 They're a great band and convey a very fraternal feeling to the audience as though the audience is there watching their mate's band- it's a nice friendly touch and one of the things I think that makes them so damned popular.
http://www.korpiklaani.com/
/
http://www.myspace.com/korpiklaani
Setlist

01. Vodka
02. Journey Man
03. Korpiklaani
04. Cottages and Saunas
05. Kipumylly
06. Tuli kokko
07. Viima
08. Juodaan Viinaa (Hector cover)
09. Pellonpekko
10. Happy Little Boozer
11. Beer, Beer
Rating

Music: 9
Performance: 10
Sound: 9
Light: - (Daylight)
Total: 9.4 / 10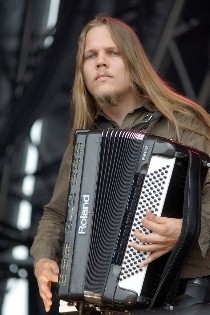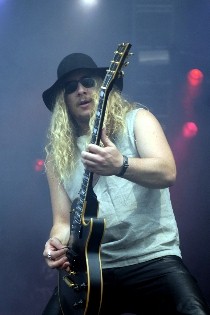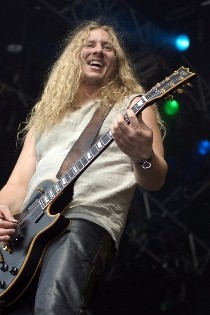 Gwar (15.25 - 16.10 )

Oh God where do I start? The first thing I knew about GWAR's antics was that the promoter was handing me a rain cape in the pit and waving a piece of paper at me asking if I REALLY wanted to take photos and was my camera waterproof. Noticing everyone in the pit was dressed like Captain Ahab should have given me the heads up about what was to come, but before I could really formulate any ideas in my head, onto stage walked a big monster dragging another sad long necked monster. This obviously cheered me up as some nasty dark clanging riffs appeared at the same time and I gullibly started snapping away. Just then the first monster pulled out a big sword and whacked off the other one's head whereupon the decapitated one started head banging (without a head) with a huge jet of blood spraying out from his neck all over the pit and the audience to the resounding 'Metal Metal Land'. Fantastic! I couldn't stop smiling!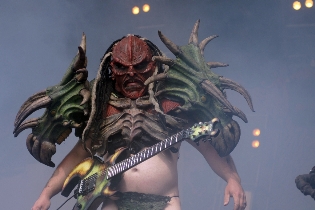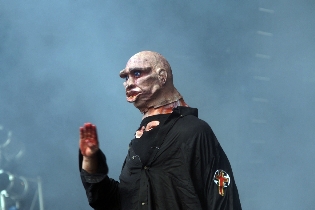 Needless to say this band need to be seen to be believed and they're so visually entertaining, (I was also covered in luminous lime green semen by a band member who looked like Hitler the one side and Jesus the other - on stage I might add) that you could forgive them being musically crap - except they aren't, they're really heavy and brutal. I could write for hours about their stage show, it was intricate, cleverly executed and well thought out, but really it defies proper explanation, but aside from monsters, Hitler, Jesus and a pig dressed as a policeman they were plain brilliant.
http://www.gwar.net/
/
http://www.myspace.com/gwarofficial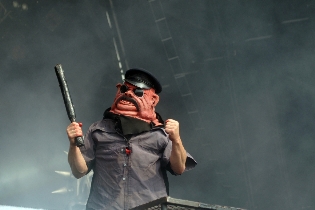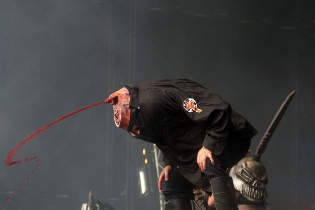 Setlist

01. Metal Metal Land
02. Lords and Masters
03. Ham on the Bone
04. Saddam a Go-Go
05. Unknown
06. Let Us Slay
07. Maggots
08. Immortal Corruptor
09. The Price of Peace
10. Sick of You
Rating

Music: 10
Performance: 10
Sound: 9
Light: - (Daylight)
Total: 9.8 / 10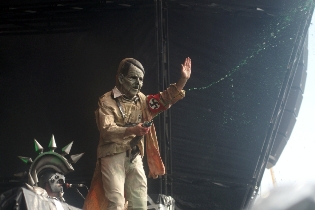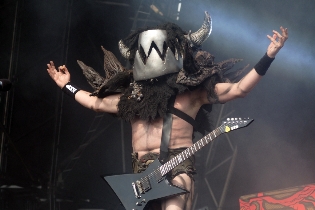 Gojira (16.40 - 17.25)

France next with the awesome GOJIRA, with their deep lyrics and lethally intoxicating sound. I was still on a high from GWAR, but these guys levelled me out nicely with tracks such as 'The heaviest matter in the universe' which is soul searing and 'Love' which isn't exactly your average love song. They only had eight tracks which was disappointing and I'd love to see them on a larger bill because they really are a monster of a band live, with a truly huge sound and a great stage presence. 'Vacuity' was the perfect end track and I was left wondering how much higher the bar could be raised on the bill today in terms of talent.
http://www.gojira-music.com/
/
http://www.myspace.com/gojira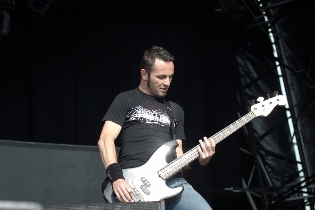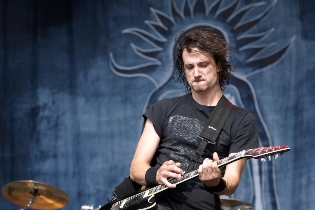 Setlist

01. Oroborus
02. The Heaviest Matter of the Universe
03. Backbone
04. Love
05. Flying Whales
06. The Art of Dying
07. Toxic Garbage Island
08. Vacuity
Rating

Music: 8
Performance: 8
Sound: 9
Light: - (Daylight)
Total: 9.2 / 10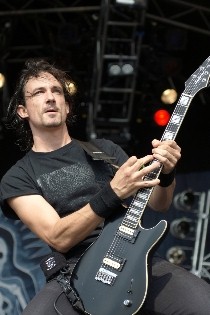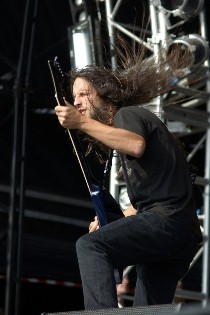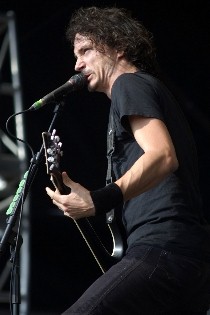 Bloodbath (18.00 - 19.00)

These guys would be irritated to be called an all-star band but really that's exactly what they are. Formed out of OPETHH, KATATONIA, HYPOCRISY and PAIN, all of these guys are major players in major other bands. So where does that leave BLOODBATH then? Well they're not just a nod back at the glory days of early 90's Swedish metal that's for sure; they're in fact utterly lethal. The fact that they are all involved in other major projects doesn't detract at all from the entity that is BLOODBATH, with two killer albums to their names they've proved they're not just a fun or gimmick band and so it was when they performed at BLOODSTOCK, raising the rafters with a deathly hard set of winter-cold tracks.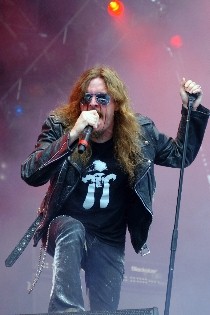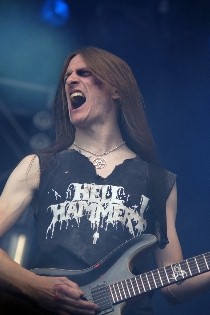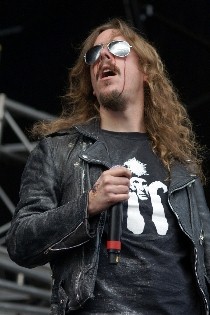 'Soul Evisceration', 'Mouth of Empty Praise' and 'Like Fire' all blew me away in terms of sheer aggression, and solid music. BLOODBATH is utterly a class act.
http://www.bloodbath.biz/
/
http://www.myspace.com/bloodbathband
Setlist

01. Ways to the Grave
02. Soul Evisceration
03. Process of Disillumination
04. Iesous
05. Breeding Death
06. Mouth of Empty Praise
07. Mass Strangulation
08. Cancer of the Soul
09. Mock the Cross
10. Like Fire
11. Outnumbering the Day
12. Eaten
Rating

Music: 9
Performance: 9
Sound: 9
Light: 8
Total: 8.9 / 10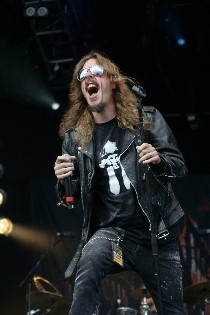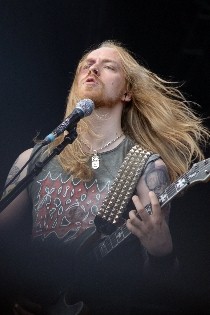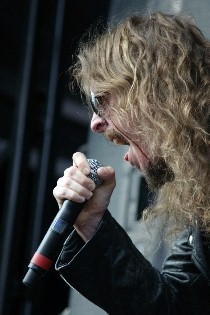 Cannibal Corpse (19.35 - 20.35)

Good old CANNIBAL CORPSE, you can always rely on them for several things. One is to try to shock you with their lyrics, the second is to put on a mind-blowing cool show, and the third is to link all their songs with the same audience patter every single time you see them. Why do they do that? I love them as a band and I was with two Norwegian guys to whom they were like the Messiah, but I really wish they wouldn't do that, it's so not rock n roll. However that small niggles aside they were carnage inducingly great. If you like hard heavy shock bands then these guys are the granddaddies of them all, having been banned all over the place (always a nice bit of free advertising) and being the scourge of church and Politicians alike. Good then, so was it a good show? Oh yes it most definitely was.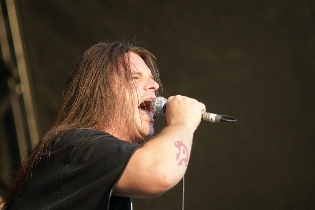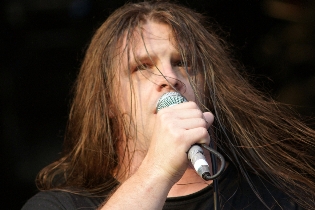 With epic head banging from the remarkably normally named front man George Fisher (seriously I'm amazed his head hasn't flown off before now) they're really something to experience. With most of their best known songs in the set it was hard to pick a favourite but I'll have to go with the brilliantly titled 'Scattered Remains, Splattered Brains' and of course their set finisher 'Stripped, Raped and Strangled'.
http://www.cannibalcorpse.net/
/
http://www.myspace.com/cannibalcorpse
Setlist

01. Scalding Hail
02. Unleashing the Bloodthirsty
03. Savage Butchery
04. Sentenced to Burn
05. The Wretched Spawn
06. I Will Kill You
07. I Cum Blood
08. Pounded Into Dust
09. Gutted
10. Scattered Remains, Splattered Brains
11. Make Them Suffer
12. Priests Of Sodom
13. Devoured By Vermin
14. Hammer Smashed Face
15. Stripped, Raped And Strangled
Rating

Music: 8
Performance: 9
Sound: 9
Light: 8
Total: 8.5 / 10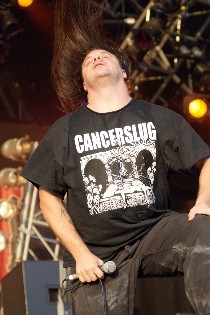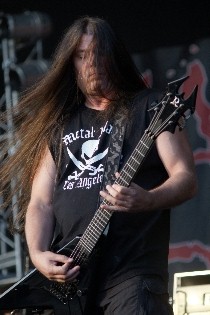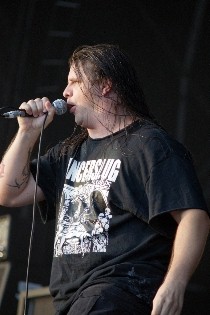 Twisted Sister (21.15 - 22.45)

Looking slightly like ALICE COOPER's strange albino brother, Dee Snider really piles it on thick as front man to great effect. He lies on the stage and arches backwards off it towards the crowd, he runs, he jumps he does pretty much everything to keep your attention all the while delivering a killer set in fantastic style. This band is ancient being formed all the way back in 1972 by current member Jay Jay French and they have lost none of their energy or verve along the way. 'Come out and play ' got the audience off to a fantastically hyped up start, with great sound and beautiful lighting, with 'The Fire Still Burns' (it certainly does) being another high point of the set.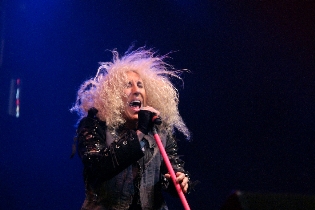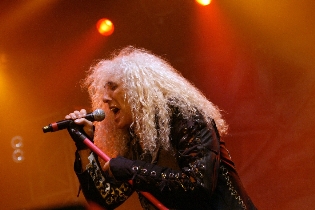 'I wanna Rock' finished the main part of the show and they were wildly screamed back on stage by the audience who were baying in anticipation for their three track encore which consisted of 'Under the Blade', 'Long Live Rock 'N' Roll' and 'S.M.F.' TWISTED SISTER were a worthy finale to an absolutely spectacular festival.
http://www.twistedsister.com/
/
http://www.myspace.com/twistedsister
Setlist

01. Come Out and Play
02. The Kids are Back
03. Stay Hungry
04. Captain Howdy
05. Shoot 'em Down
06. You Can't Stop Rock 'n' Roll
07. The Fire Still Burns
08. I Am (I'm Me)
09. We're Not Gonna Take It
10. The Price
11. Burn In Hell
12. Drum Solo
13. I Wanna Rock
---
14. Under the Blade
15. Long Live Rock 'N' Roll (Rainbow cover)
16. S.M.F.
Rating

Music: 9
Performance: 10
Sound: 9
Light: 9
Total: 9.3 / 10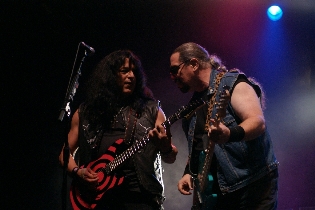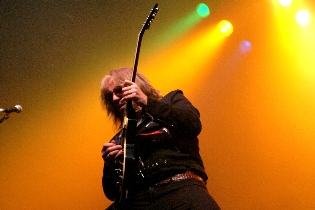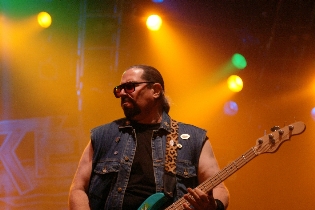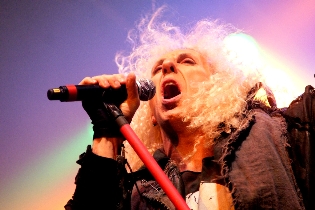 And that was it. Bloodstock 2010 was at an end, and what a truly superb festival it had been. 2009 was better than 2008 and 2010 was better than 2009, so what do we have in store for 2011? God only knows, but I really can't wait to see.
All pictures by Maddi Isaacs
{jos_sb_discuss:18}
See also (all categories):