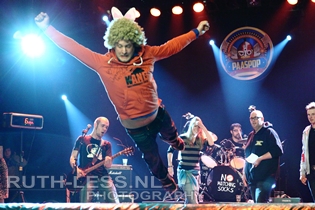 Paaspop, Schijndel, The Netherlands
29th to 31st March 2013
Paaspop Day 2: Gojira, Epica, Testament, Solstafir

The second day of Paaspop had a lot to offer for lovers of rock and metal with bands like GOJIRA, EPICA and TESTAMENT. But the overall program has something for everyone from dance, to hip-hop, folk, indie and loads of Dutch bands. Furthermore, the festival area has numerous little corners and tents to explore with all kinds of activities from art, tattoos, haircuts, but also little markets, mobile DJ's, tiny techno disco's, little handicraft workshops and even a bowling area and much more. Today also had the Dutch championship stagediving on program, definitely something I had to go and check out. Fortunately, the crowd did not really seem bothered much by the cold, well dressed with hats and gloves. Still, I was quite happy driving home in the evening and not having to spend the night camping – respect for those who did!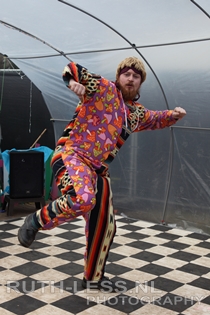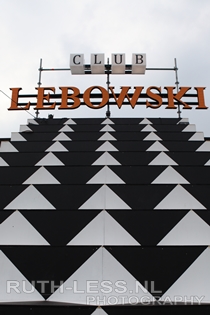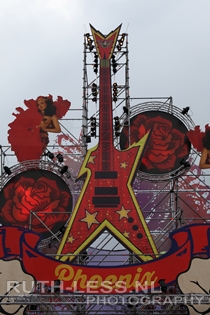 And here's the complete list of bands who were ready for your entertainment during the Easter weekend: And You Will Know Us by the trail of dead, Anne Soldaat, Babylon Circus, Barry Hay & Flying V formation, Batmobile, Beardyman, Beef, Berlinskibeat, Beth Hart, Black rebel motorcycle Club, Blaudzun, Blof, C2C, Caro emerald, Chase & Status DJ Set & Rage, Dexter, Dimitri Kneppers, Dope D.O.D., Douwe Bob, Elektro Guzzi Live, Gojira, Gomes, Goose, Grimskunk, Guerilla Speakerz, Gui Boratto, Hef, Honky, Huoratron, Jandino Asporaat, Jochen Otten, Joker, Julian Sas, Killer Queen, Kvelertak, La Pegatina, Memphis Maniacs, Moke, Mozes and the firstborn, Mr Polska & nouveau Riche, Nielson, Noisia, N-Type, Palio Superspeed Donkey, Peter Pan Speedrock, Racoon, Rotfront, Shadows Fall, Skip & Die feat De Jongens Driest, Skism, Skunk Anansie, Solstafir, Testament, The Bloody Beetroots Live, The Gaslight Anthem, The ZZ-tops, Will & The people, Yellowclaw, Fresku, DI-RECT, Tommie Sunshine, Dekmantel Soundsystem, The Kik, The Boy With Tape On His Face, Kensington, Balthazar, Jackmaster, Obey, Faberyayo, Death Angel, 80's Verantwoord, 90's Now, Beverly Hills 908000's, Otava Yo, Patchanka en Black Sun Empire & More…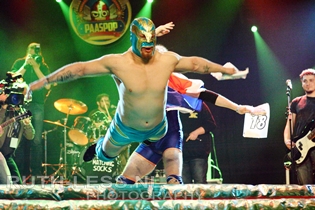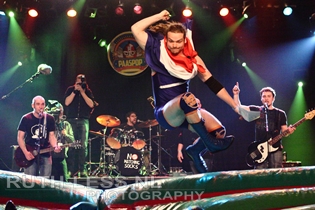 Gojira

GOJIRA is a progressive metal band formed in 1996 in Bayonne, France. They have proven their status in the scene as a loud, angry, brutal technical metal band with the albums 'From Mars To Sirius'(2005), 'The Way Of All Flesh'(2008) and the latest piece 'L'enfant Sauvage'(2012). Besides their unique sound, the band is known for their philosophical and environmentally-themed lyrics. In total, GOJIRA has released five studio albums, one live album, one single, and two DVDs. The fact that GOJIRA is being compared to MESHUGGAH, MASTODON and THE DILLINGER ESCAPE PLAN says enough about the loud and experimental mix that can be expected from their live shows. Since its first studio album, GOJIRA has had no changes in line-up. The band is formed by singer Joe Duplantier, his brother Mario Duplantier (drums), Christian Andreu (lead guitar) and Jean-Michel Labadie (bass). www.gojira-music.com / www.facebook.com/GojiraMusic / www.myspace.com/gojira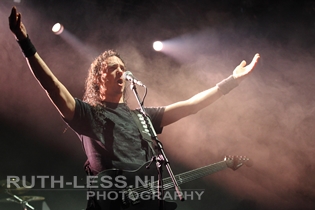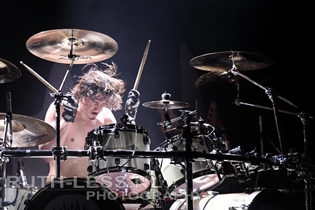 Music & Performance
Because of my last experience with GOJIRA at FortaRock festival, I was already bracing myself for some serious decibel violence and organ shuffling. To my surprise however, the sound and particularly the volume was better balanced now, working out positively in the total experience of the show. Angry as ever, Joe and his men took off with 'Explosia', the first song from their latest album 'L'enfant Sauvage' (2012), followed by some older songs from 'From Mars to Sirius'. After the suitable song 'The Heaviest Matter in the Universe' Joe gets somewhat philosophical and asks the audience whether they'd like to be zombies. Clearly, the audience above all likes to drink beer and listen to brutal metal music, but Joe is determined to finish his introduction to the song 'L'enfant Sauvage' the title song of their latest piece de resistance. It is notable that GOJIRA has grown further over the last couple of years towards a more balanced and refined sound, without losing the typical GOJIRA flavour.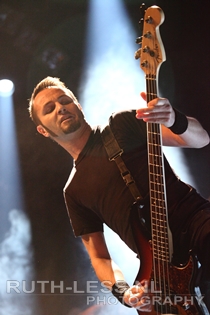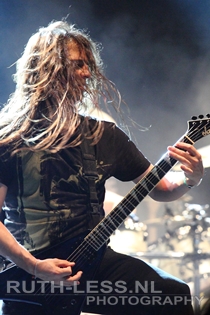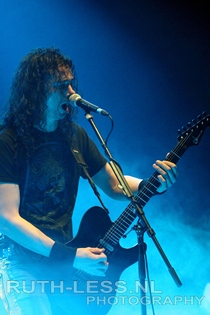 The tricky thing with this kind of music in live shows is that it tends to become a big loud mess if it is not executed perfectly well. We can however conclude that Joe, Mario, Christian and Jean-Michel have mastered their skills, as the show is rather technical and tight as a clock. The balance between guitars and drums in some parts could've been better though, as the last where too dominant. After 'Oroborus', it was time for Mario to show off his mad skills on the drums and the show was coming to an end with 'The Gift of Guilt'. Concluding, GOJIRA has much more to offer than just brutal loudness!

Setlist
01. Explosia
02. Flying Whales
03. Backbone
04. The Heaviest Matter of the Universe
05. L'Enfant Sauvage
06. Liquid Fire
07. Remembrance
08. Oroborus
10. Vacuity
11. The Gift of Guilt

Rating
Music: 8
Performance: 7
Sound: 8
Light: 7
Total: 7.5 / 10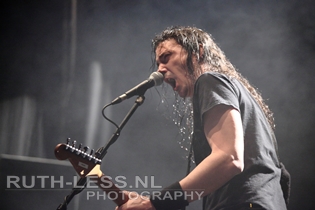 Epica

EPICA is a Dutch symphonic metal band founded by guitarist and vocalist Mark Jansen subsequent to his departure from gothic metal band AFTER FOREVER. They are known for their symphonic sound and the use of female vocals and male growls performed by Simone Simons and Mark Jansen. So far, EPICA has released five studio albums and one instrumental album. Their latest album 'Requiem for the Indifferent', was released in March 2012. Only one week ago, EPICA celebrated their 10th year anniversary with a huge live event in Eindhoven hosting a live orchestra from Hungary along with Special guests Floor Jansen, and former EPICA members: Ad Sluijter, Jeroen Simons, and Yves Huts. During the show a DVD release of this event was confirmed. EPICA is Mark Jansen (vocals, guitars), Simone Simons (vocals), Coen Janssen (synthesizer, piano), Ariën van Weesenbeek (drums, grunts), Isaac Delahaye (lead guitar, backing vocals) and Rob van der Loo (bass). www.epica.nl / www.myspace.com/epica / www.facebook.com/epica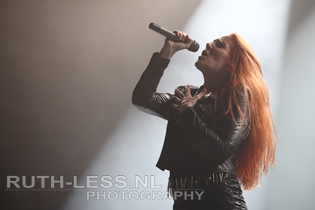 Music & Performance
EPICA was announced as one of the biggest Dutch bands in the area of symphonic rock/ metal and expectations are thus high. Just a week before, they celebrated their 10th anniversary with a huge orchestra and choir, so this stage probably looks tiny to them. Fortunately, it turns out that EPICA has some special effects prepared for us as well. As they enter the stage on the tunes of 'Unleashed' from their fore last album, fire and blazing smoke fills the scene. The bands enthusiasm radiates right from the start, and this also has its effect on the crowd in front of the stage as hands go up in the air. Up next is a song they specially prepared for their anniversary show. It seemed that Simone's voice needed a little warm up, but this was well compensated by the amount of backing vocals and choirs from the tape. After some technical issues with the drum kit (fortunately nothing Mark can't talk us through with a little joke and a cheesy guitar tune), EPICA continues their show with mostly old work from 2003 – 2007 such as 'Cry for the Moon', 'Never Enough' and 'Consign to Oblivion'.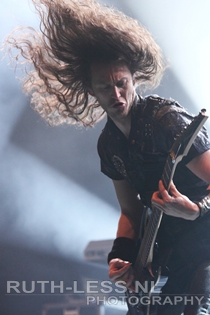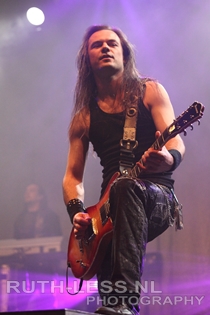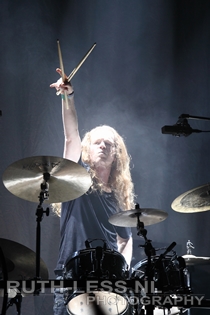 The band shows off some real chemistry on stage, and even keyboard player Coen joins in at the end with a futuristically shaped piano-gadget. Vocally there are surely some remarks to this gig, but it must be said that this is compensated by the slick show, the special effects and not to forget the energy of the band members. I'm sure they will do great in Australasia on the upcoming tour.

Setlist
01. Unleashed
02. Martyr of the Free Word
03. Retrospect
04. Storm the Sorrow
05. Cry for the Moon
06. Monopoly on Truth
07. Never Enough
08. Quietus
09. Consign to Oblivion

Rating
Music: 7
Performance: 9
Sound: 7
Light: 8
Total: 7.5 / 10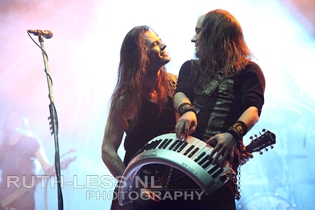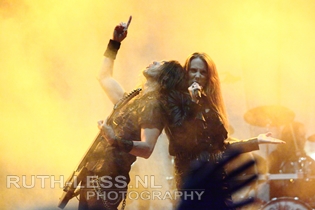 NK Stagediving

Formally, stagediving and crowd-surfing is mostly prohibited at concerts, so it is great to see that Paaspop took the opportunity to organize a little stagediving competition. With a big air cushion in front of the stage and a lovely vile punk band as support, tough guys, drunks, giggling girls but also Easter bunnies and professional wrestlers were lining up to take their turn from the stage. Both the audience and the participants had a blast, which I think says enough about the success of this initiative.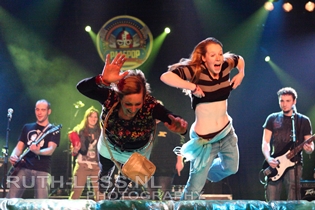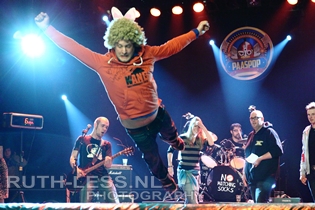 Testament

TESTAMENT is an American thrash metal band from Berkeley, California. Formed in 1983, they are often credited as one of the most popular bands of the 1980s thrash metal scene. In the 30 years since its inception, Testament has had numerous line-up changes, and guitarist Eric Peterson has been the only constant member, although the band currently also features two of its original members, Alex Skolnick (guitarist) and Greg Christian (bass). Chuck Billy replaced former singer Steve Souza in 1986, prior to the recording of their first studio album and has been a member of the band since. To date, Testament has released ten studio albums, four live albums, six compilation albums, and six singles. The band released their debut album 'The Legacy' in 1987, their latest work dates from 2012 and is titled 'Dark Roots of Earth'. TESTAMENT is Eric Peterson (rhythm & lead guitar, backing vocals), Greg Christian (bass), Alex Skolnick (lead guitar, backing vocals), Chuck Billy (vocals) and Gene Hoglan (drums). www.testamentlegions.com / www.facebook.com/testamentlegions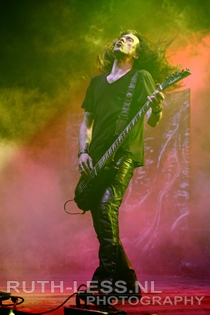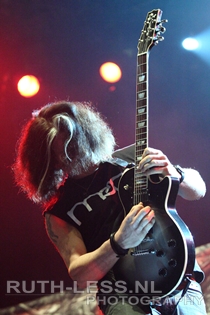 Music & Performance
With this legendary band, Paaspop definitely has a piece of history right there on stage. As front man Chuck makes his charismatic appearance, TESTAMENT literally takes your breath away. It was time to have my organs shuffled & stirred after all, as the sound was simply too loud to make out any structure in their set. What is perfectly clear though is that these guys still have an honest amount of fun on stage; Chuck, a big man with a huge voice, growls his way through the songs and plays air guitar with his mobile microphone stand as guitarists Alex and Eric take over in between. Their set consists of work throughout their career, but importantly some classic TESTAMENT songs are not left out. Being rather unfamiliar with their music, the classics are easy to distinguish by the audience's response, as hands go up and the pit starts moving when songs such as 'Into The Pit' and 'Practice What You Preach' are announced.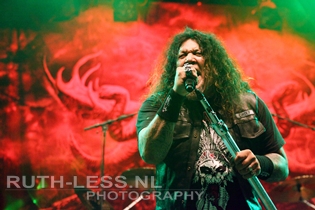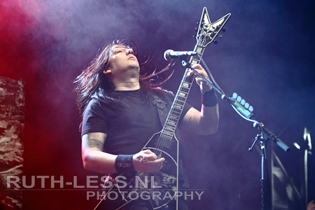 Although it took a while for my ears to get readjusted and my organs to get back in place, I'm glad to have seen this legendary band in a live show!

Setlist (incomplete)
Rise Up
More Than Meets The Eye
The Formation of Damnation
Native Blood
Into the Pit
Practice What You Preach
Over The Wall

Rating
Music: 7
Performance: 7
Sound: 5
Light: 7
Total: 6.5 / 10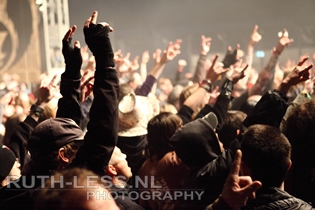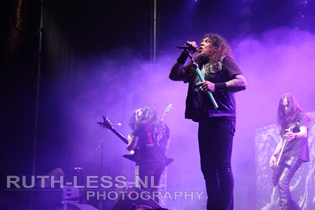 Sólstafir

SÓLSTAFIR is an Icelandic metal band, formed in 1995. The band's name is the Icelandic word for crepuscular rays. SÓLSTAFIR produces a mix of metal and post-rock/ stoner rock with both English and Icelandic lyrics. The band has a history of almost 20 years and has released several albums, demos and EPs over time. Furthermore, SÓLSTAFIR played on many of Europe's festivals including Roskilde Festival, Wacken Open Air and Summer-Breeze Open Air. Despite the good reviews, the band seems to be only particularly well-known in a small cycle of music lovers and since they don't visit the Netherlands that often, this is a rare occasion to see a live show of these icemen. SÓLSTAFIR is Svavar Austmann (bass), Guðmundur Óli Pálmason (drums), Sæþór Maríus Sæþórsson (guitar) and Aðalbjörn Tryggvason (guitar, vocals). www.solstafir.net / www.myspace.com/solstafir / www.facebook.com/solstafirice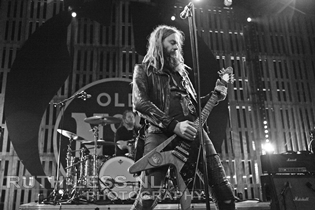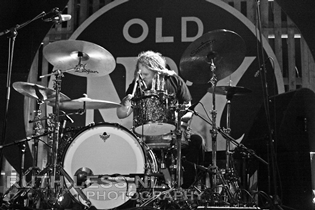 Music & Performance
After a couple of obvious jokes about how our Dutch icy spring must probably seem like midsummer to them, SÓLSTAFIR comfortably strolls onto the Jack Daniels Stage with a bottle of the same brand in hand. Svavar, Guðmundur, Sæþór and Aðalbjörn finally take off with their set after what seems like ages of guitar tuning. Despite their cheerful name, the music of SÓLSTAFIR has a melancholic and dark atmosphere to it. It took me a few songs to get somewhat used to their sound, exchanging loud and up-tempo sections with slow psychedelic parts. Also, the songs are very long, the band takes their time in between and makes little contact with the audience. For me personally, this makes it less interesting to enjoy a live concert.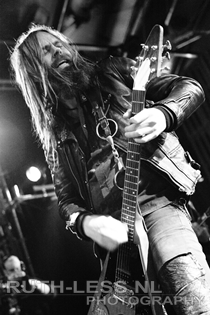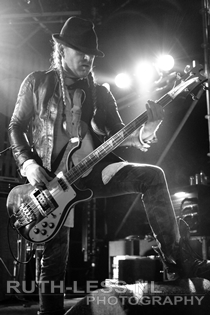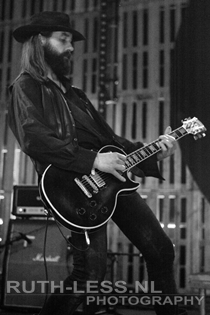 Fortunately, the relatively small audience clearly did have a few people familiar with their music, judging by the determined cheers and applause after each song. For me though, I need a little more time to get my head around the sound of SÓLSTAFIR music.

Rating
Music: 7
Performance: 5
Sound: 7
Light: 5
Total: 6 / 10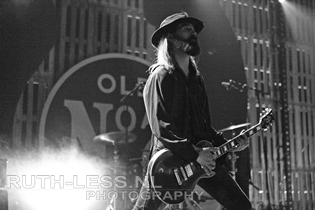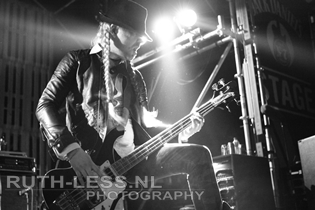 All pics by Ruth Mampuys (www.ruth-less.nl)



See also (all categories):