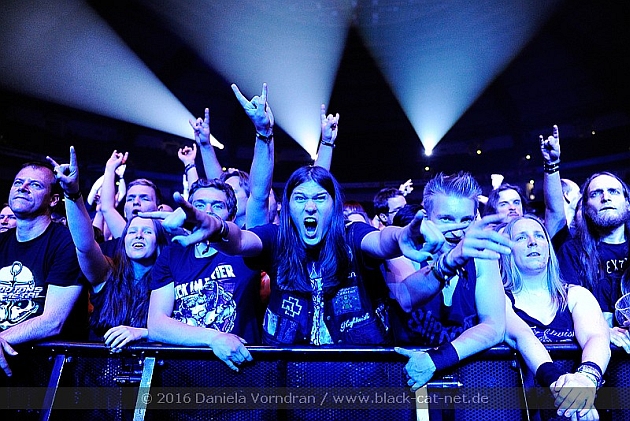 Westfalenhalle, Dortmund, Germany
26th - 28th May 2016
Rock im Revier Day 3: The New Black, Suicidal Tendencies, Gojira, Anthrax, Apocalyptica, In Extremo, Slayer, Nightwish

The final festival day ranged from the brutal, over the medieval, to the symphonic presenting THE NEW BLACK, SUICIDAL TENDENCIES, GOJIRA, ANTHRAX, APOCALYPTICA, IN EXTREMO, SLAYER, and NIGHTWISH. Such a mixed bag line-up allowed the indeed quite diverse Rock im Revier crowd to rock out with their favourite bands celebrating either trashy or more melodic tunes, or both.
The Westfalenhalle was filled with rockers and metal heads wearing various band shirts or the current black and yellow festival shirt they got at the merch for 25 bucks. Heavy biker dudes were roaming around the arena as did a few folks in simple casual wear, same as young girls wearing fancy dresses or corsages, and a few Goth ladies in lace, fishnets and heavy makeup. There were also some kids sitting up on their dads' shoulders during the shows as well as the elderly standing in front of the stage – All of them came out to enjoy this indoor festival in Dortmund for of one reason: As SLAYER's frontman Tom Araya said, "We're all here because of love... [dramatic pause] ...the love of music! The love of METAL!!!" Damn right!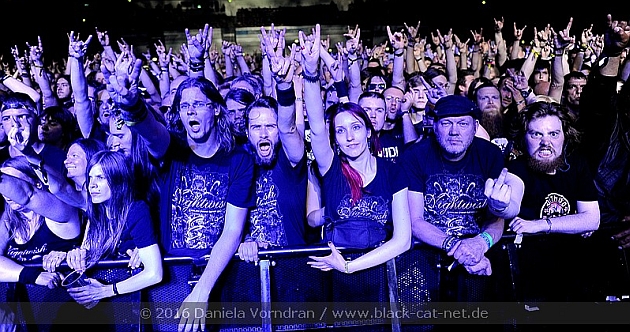 The New Black

"Just imagine BLACK LABEL SOCIETY inviting the NICKELBACK guy over for some THIN LIZZY covers, all dressed in PANTERA shirts." This is how THE NEW BLACK describe their musical influences and doesn't that sound promising? Quite a few thought so and gathered at early in the noon, right at 1:30pm, in front of the stage, which was decorated with the first banners in white presenting red Japanese letters. And so the five heavy rockers of THE NEW BLACK from Würzburg, Germany, sounded the bell for RIR's last day filled with a ton of loud live music. Let's rock! Exceptional singer Markus "Fludid" Hammer, the guitar heroes Christof "Leimsen" Leim and Fabian "Fabs" Schwarz, bassist Günther "Günt" Auschrat and the new drummer, Philipp "Flip" Klinger, played a set just half an hour long, but managed to convince with their diverse and catchy melodies, infectious grooves, and powerful vocals. THE NEW BLACK's killer riffs and catchy choruses and their energy on stage were just great to get the heavy rock party started again. Their fourth album 'A Monster's Life' has been out since February. On the backdrop, the beastly and gigantic lizard from the album cover was grinning at the audience which enjoyed three Godzilla smashers from the new record: the stomping earworm of groove called 'With a Grin', the crazily up-tempo 'Blockbuster Life' with its shouts, and the anthemic 'Long Time Coming'.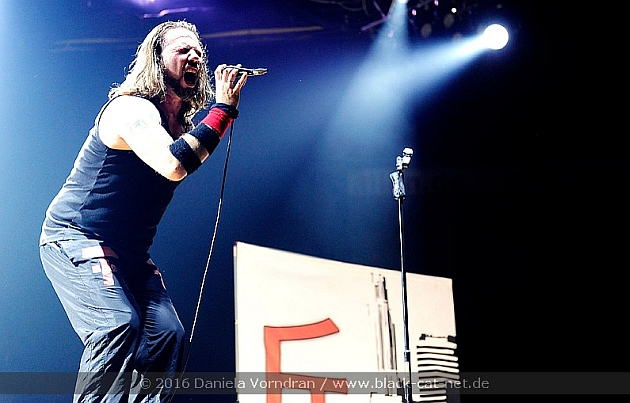 Unfortunately, the band had to cancel 'Poison' due to backline power problems. And what a shame that their 30 minutes playing time was over in a flash. Want some more? Commercial break: As the displays in the Westfalenhalle let us know, the ass-kicking monster will soon hit the stage again supporting the American rockers SIXX:A.M. on June 20 in Hamburg. Mark the date and also remember their upcoming gig at the Umsonst & Draussen Festival in their hometown (June 17), if you wanna hear THE NEW BLACK roar again. Playing right after almighty IRON MAIDEN, that is kicking off the third festival day the Rock im Revier as THE NEW BLACK jokingly said themselves, they gave us a good taste of how a new kind of black sounds like. //
http://www.thenewblackofficial.de
/
https://www.facebook.com/thenewblackofficial
// Setlist: Intro / 01. With A Grin / 02. Blockbuster Life / 03. The King I Was / 04. Long Time Coming / 05. Poison / 06. Everlasting / 07. Downgrade // Rating: 8 / 10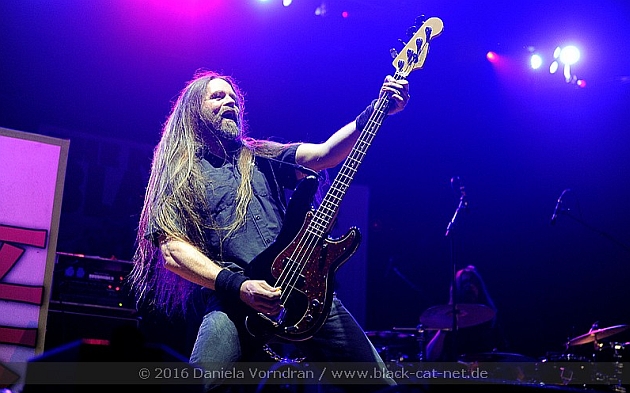 Suicidal Tendencies

After the first break, it was time for some Crossover Trash and Hardcore Punk by the American band SUICIDAL TENDENCIES. Vocalist Mike Muir asked the crowd laughingly: "How are you tonight? - Oh wait, it's afternoon!" He and his current band mates, Dave Lombardo on his Tama drums, Dean Pleasants and Jeff Pogan on guitar, and Ra Diaz on bass, played one neck breaker after the other. In front of me there was a middle-aged woman, a die-hard SUICIDAL fan impressing all the younger blokes around us with her enthusiastic head-banging, jumping around, fist raising, and hand shaking. Even before the show started she was already on tiptoe full of anticipation to see SUICIDAL. And with the first song, 'You Can't Bring Me Down', she took of her glasses and started to rock out for real, so that I could not but wonder, if she could keep this up for the entire song. How could I underestimate her? She kept going for the next 45 minutes. Next to me, there was her stoic husband who was bobbing up and down one knee, if he was moving at all. Then, Mike hold a little speech concluding with, "This isn't a slogan, this is reality: FREEDUMB!", and the band played 'Freedump'.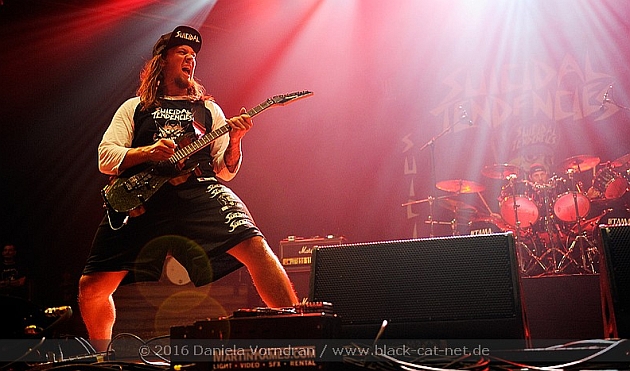 Everyone around me jumped up and down while Jeff kept on running across the stage from left to right and right to left playing rhythm guitar. Behind me, there were more avid fans who shouted along the lyrics like a true gang, especially during 'War Inside my Head', which Mike announced by talking about all the "fake smiles" around us that are "just waiting to explode". The band encouraged their fans' "S! T! S! T!" shouts and Mike instructed us to "separate, separate!" for some brutal walls of death. My personal highlight, though, was when SUICIDAL slowed downed for a bit during the heavy 'How Will I Laugh Tomorrow'. With its melodic metal balladry part in the beginning Mike sang along more softly before it got more speedy again in ST-style. In the end, he got off stage to visit the front row and said thanks to the ST army at the Rock im Revier. //
http://www.suicidaltendencies.com
/
https://www.facebook.com/suicidaltendencies
// Setlist: 01. You Can't Bring Me Down / 02. Freedumb / 03. Trip at the Brain / 04. War Inside my Head / 05. Subliminal / 06. Cyco Vision / 07. Pledge Your Allegiance / 08. How Will I Laugh Tomorrow // Rating: 6 / 10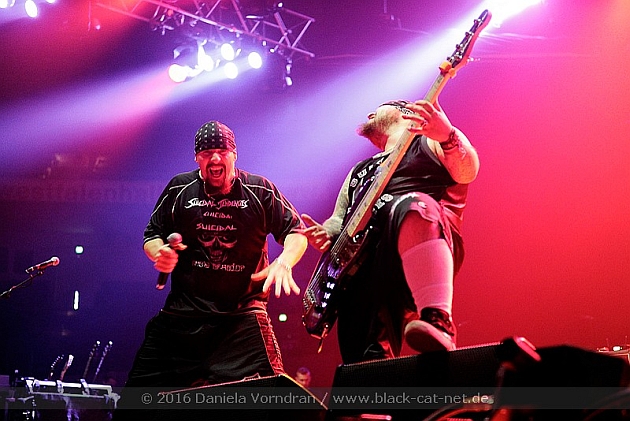 Gojira

After the American skate punks, the "wild children" GOJIRA from France hit the stage for the next 45 minutes of howling guitars, insane riffs, and intense drumming. Being called after the well-known giant monster, they also sounded like it: heavy and extreme. The stage was drowned in reptile green light as Joe Duplantier on guitar and vocals, shirtless Mario Duplantier on drums, Christian Andreu on guitar, and Jean-Michel Labadie on bass started to play. It was their first show after a great while and the band seemed eager to be back. All in all, GOJIRA played eight songs from the records that they've released so far and during the wild 'L'Enfant Sauvage' the RIR crowd started a mosh pit. Moreover, there was a live premier of two new songs from their upcoming album called 'Magma': We got a first taste of the singles 'Silvera' and 'Stranded' and when the band presented these two there were immediately a lot of raised hands and much head-banging. By the way, GOJIRA's sixth opus, 'Magma', will be out in a few days, on June 17.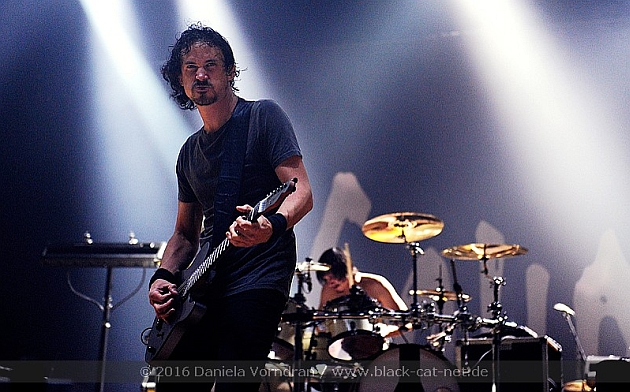 During the whole show, Joe's screaming, growling, and singing was full of passion and the entire band rocked out together on stage. They animated the crowd to make even more noise during the wicked sounding 'Vacuity'. I really enjoyed the changes in tempo during this last song as it progressed and watching GOJIRA from above, I saw a wonderful sea of horns lifted up the air after this tune. Joe thanked Rock im Revier for having them and that "it's a great honour" for the band. In the end, he dramatically threw his guitar to one of their helping hands on stage and so the Tech Death Metal heads GOJIRA handed over to the thrashers ANTHRAX. //
http://www.gojira-music.com
/
https://www.facebook.com/GojiraMusic
// Setlist: 01. Toxic Garbage Island / 02. Oroborus / 03. L'Enfant Sauvage / 04. Backbone / 05. Silvera / 06. Stranded / 07. Flying Whales / 08. Ocean Planet / 09. Wisdom Comes / 10. Vacuity // Rating: 7 / 10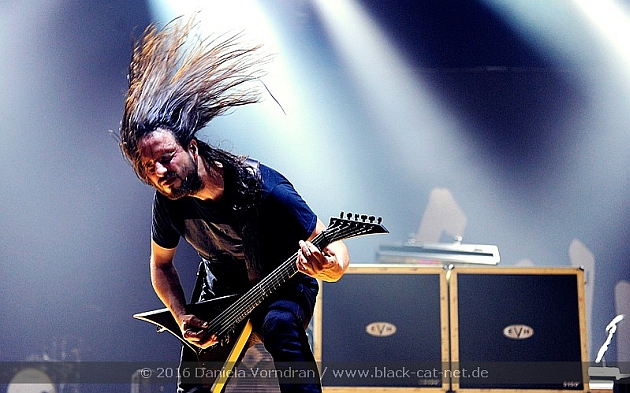 Anthrax

Next, ANTHRAX, one of the legendary "Big Four" in the Thrash genre who have influenced its style since the 80s, graced the Rock im Revier stage. Up to now, the infield had been only about half full; when the two huge ANTHRAX-pentagrams were put up as side drops, the arena filled up some more to three-quarters. There were many cheers and a hurricane of applause when founding member and guitarist Scott Ian and his band mates Frank Bello (bass), Charlie Benante (drums), and Jonathan Donais (lead guitar) entered the stage. At the very last minute, vocalist Joey Belladonna jumped on stage like a light-footed grasshopper to sing 'Caught in a Mosh' waiving his black mane. He greeted the entire audience from left to right with a friendly "Hello everybody, good afternoon". In an energetic set of seven songs, ANTHRAX played two covers: their version of the speedy rock song 'Got the Time', originally by JOE JACKSON, and 'Antisocial' by TRUST, during which Joey involved everyone, also the people sitting in the terrace, in singing along the "Ohhhh ohhh" choirs. 'Antisocial' was a blast making the crowd create two parallel circle pits at the same time. During the following 'Fight 'Em 'Til You Can't', some also blew soap bubbles in the air, while others engaged in crowd surfing.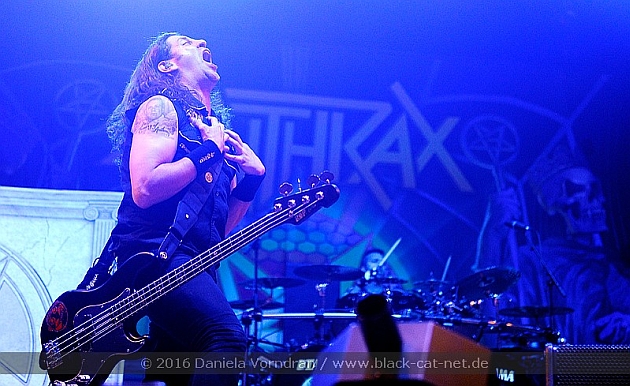 Before closing their energetic set with 'Indians', the New Yorkers played two tracks from their recent album 'For All Kings' (out since February). First, Scott hold a little speech telling us that this RIR gig was their first European show and he said "thanks so fucking much" for the No. 5 album chart entry in Germany. When he screamed "Do you love Thrash Metal?!" and the crowd roared "YEAH!", ANTHRAX played the kick-ass 'Evil Twin' from their eleventh album. After this one, I especially enjoyed the melodic 'Breathing Lightning' with its catchy chorus and beautiful interlude about singing angels. All in all, ANTHRAX did a great job and the show would be even greater, if just the sound was slightly better in the Westfalenhalle. Finally, Joey said bye: "God bless, have a good day, cheers! We'll see you soon on our headliner tour!" The powerful and anthemic thrashers gathered to bow together and left with Joey's last words to the fans: "Remember: Loudly and Rock'n'Roll!" //
http://anthrax.com
/
https://www.facebook.com/anthrax
// Setlist: Impaled (Intro) / 01. Caught in a Mosh / 02. Got the Time (JOE JACKSON cover) / 03. Antisocial (TRUST cover) / 04. Fight 'Em 'Til You Can't / 05. Evil Twin / 06. Breathing Lightning / 07. Indians // Rating: 7 / 10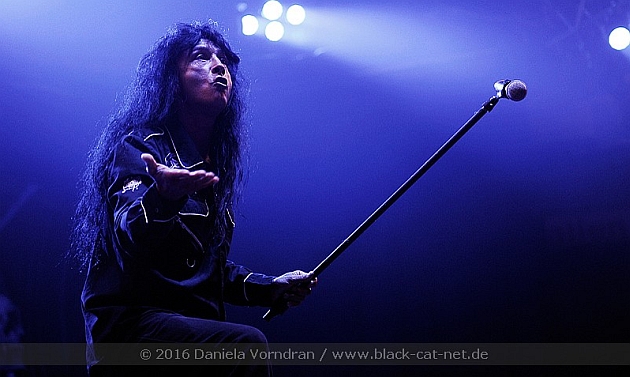 Apocalyptica

The following hour, APOCALYPTICA, who are the Finnish cellists Eicca Toppinen, Perttu Kivilaakso, Paavo Lötjönen, and the drummer in white, Mikko Sirén, shared their incredible and unique Cello Metal with us. They're currently on tour presenting the their latest masterpiece 'Shadowmaker' and are accompanied by the vocalist Franky Perez. Franky told us that "it was an honour of recording an album with them" and he himself delivered an amazing vocal performance singing songs like 'I Don't Care' and 'I'm Not Jesus' from the 'Worlds Collide' album. So, compared to his first entrance, when he came on stage for the second time after some instrumental piece, he was greeted with more enthusiastic applause. Here and there, Eicca and Perttu also joined him in the backing vocals. As always, the whole band was well attuned to each other; Paavo and Franky even managed to pull off a bullfight with a cello instead of the red muleta. Next to presenting wonderfully beautiful tunes like 'Bittersweet' and 'Grace', APOCALYPTICA got hard and heavy by playing SEPULTURA's 'Refuse/Resist'. Eicca heated things up even more: "Are you ready for Metal?" - Cheers from the RiR crowd. "Are you ready for fucking METAL?" More maniac cheers and APOCALYPTICA started to present the legendary 'Inquisition Symphony', originally also by SEPULTURA, of course.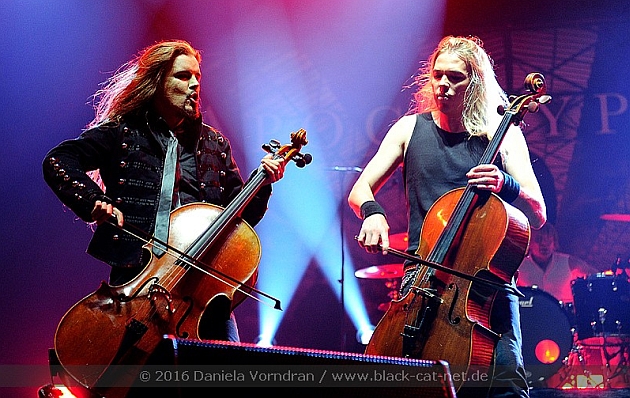 Further METALLICA smashers, such as the all-time favourites 'Master Of Puppets' and 'Seek and Destroy', made the audience completely go wild and sing/scream the lyrics at the top of their lungs. The guys around me were in awe: "These are songs I've been growing up with!" - "Yeah, classics!" - "They sound like a metal band! Do they really do this with cellos?" The exceptional musicians impressed those who have never seen then them live before and their long-time fans had obviously a blast. It wasn't just the Finns on stage who were wind milling their heads off. Eicca talked about their 20th anniversary of their debut 'Plays Metallica by Four Cellos' - Congratulations! On this record, they combined their love for classical as well as heavy metal music for the first time and APOCALYPTICA invited us to celebrate this union at the next tour in February 2017. Another highlight, was the epic 'Shadowmaker', APOCALYPTICA's haunting title song from the current album – an almost eight- minute-long sonic delight full of beautiful melodies, a gripping chorus, and energy leading to a burst of aggression in the end. Finally, the head-banging cellists wanted to "punish" us "with some classical music": 'Hall Of The Mountain King', a piece of orchestral music composed by Edvard Grieg, was more than welcome.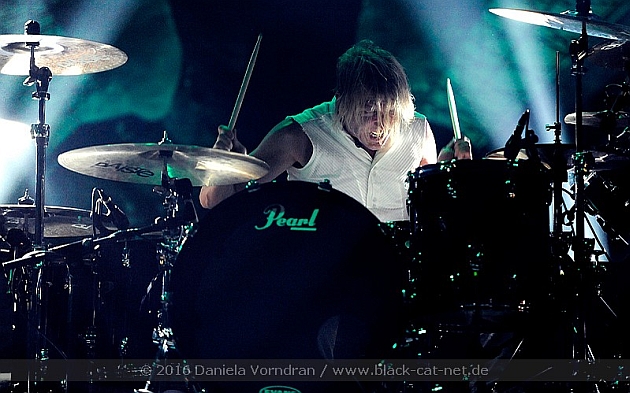 The crowd immediately started to clap their hands along to the tune going faster and faster and later joined in loud "Hey! Hey!" shouts initiated by Perttu. With Eicca's words of farewell, "Thank you, Dortmund! Enjoy the festival, have a good time with a great line-up tonight! Don't forget to check out the new 'Battery' video, don't forget to check out 'Shadowmaker' - Fuck it, most important: See you guys soon, because APOCALYPTICA will be back and that's for fucking sure!", they all made their bows, Mikko threw his drum sticks towards the audience, and the others carried their wooden instruments backstage. To put it in a nutshell: awesome and fitting light show, great sound, and, as expected, an amazing performance by APOCALYPTICA and Mr. Perez. Congrats, thank you, and see you in February! //
http://www.apocalyptica.com
/
http://www.fxptheartist.com
/
https://www.facebook.com/Apocalyptica
/
https://www.facebook.com/FrankyPerezOfficial
// Setlist (incomplete): I Don't Care / I'm Not Jesus / Bittersweet / Grace / Refuse/Resist / Inquisition Symphony / Master Of Puppets / Seek and Destroy / Shadowmaker / Hall Of The Mountain King // Rating: 9 / 10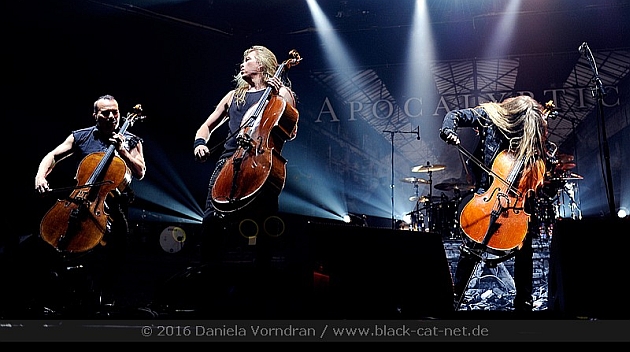 In Extremo

The next hour was filled with sounds by another combo of "extreme" musicians: the only German act at this year's RiR festival, IN EXTREMO, were hosting a great party of unique Medieval Rock/ Metal. The seven multi-instrumentalists have been around since 1995 and their fiery performance at the Rock im Revier once again showed that they know for sure what they doing when enriching their rocking and heavy tunes with old folk instruments, blending the electronic with the acoustic. When I was looking for a spot in front of the stage I found myself surrounded by excited and high-spirited IN EX diehards of all ages, all wearing an IN EXTREMO band shirts. A grinning medieval rocker, who was about one head taller than me, simply needed to get even closer to the front rows and made a good point: "I'm small – I have to get in front! May I?" Of course we let him pass wishing him a good time. And the IN EXTREMO crowd as well as the band around frontman Michael "Das Letzte Einhorn" Rhein (transl. "The Last Unicorn") indeed had an great time since the show was huge fun. When the intro resounded, only "Dr. Pymonte" (André Strugala) entered the stage to create some awesome bell sounds on an interesting heptagram instrument (Is it called "Klangbaum"?). Then, the other six musicians joined him to kick off their set with the evocative 'Rasend Herz' while we the stage was lit up in fitting red.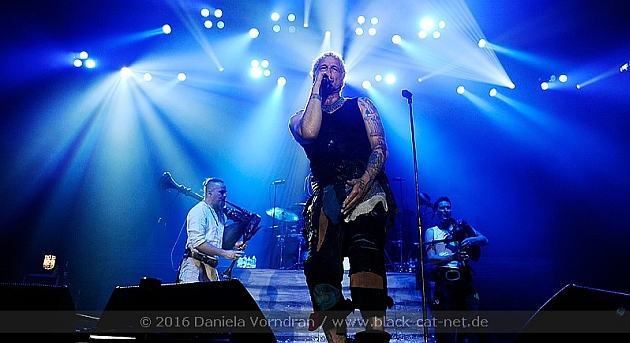 "Yellow Pfeiffer" (Boris Pfeiffer), "Flex Der Biegsame" (Marco Zorzytzky), and "Dr. Pymonte" are masters of further historical instruments, such as harps, bagpipes, and the woodwind instrument called shawn, and played them as if they actually came from the Middle Ages and grew up with these exotic folk instruments. When Micha also picked up his cither enthusiastically, he let us know that "it's again and again always so much fun to play some tunes" with the stringed instrument. Drummer "Specki T.D." (Florian Speckardt), bassist "Die Lutter" (Kai Lutter), and guitarist "Van Lange" (Sebastian Lange) also rocked out and played flawlessly. The Last Unicorn didn't want to waste much time with chitchat since they "didn't have that much time" to play music and so two smashers on freedom followed the opener, 'Zigeunerskat' and 'Frei zu sein'. When Dr. Pymonte played the intro melody of the beloved 'Vollmond' on his harp, the crowd started to clap along. Another highlight was when IN EXTREMO presented the new song 'Sternhagelvoll' (transl. "Dead Drunk") from their twelfth album entitled 'Quid Pro Quo' (out on June 24). As the vocalist said, this song "shouldn't encourage binge drinking, but rather swaying to excess" and wanted to see if it work out that day in Dortmund. It did - the crowd was swaying their arms from one side to the other in union during the entire song. During the heavy 'Unsichtbar', Dr. Pymonte once again produced some wonderful clangs on the instrument shaped like a seven-pointed star.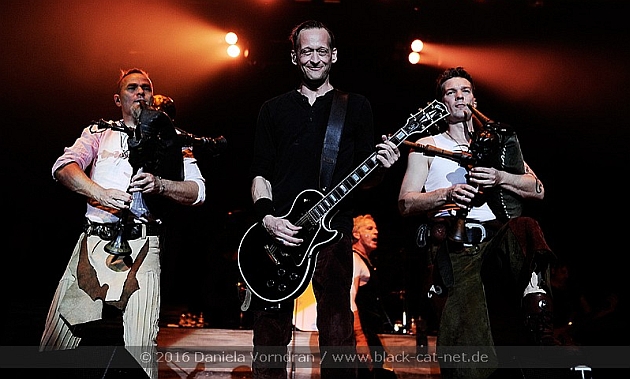 Right from the beginning, the word-perfect fans were singing along all twelve songs and it was getting warm in the pit because of all the clapping, jumping, dancing, and the fire show on stage. Some bottles of refreshing water were thrown to the front row. There was also loads of confetti that was blasted into the air raining down on the EXTREMOS in the arena. As always, everyone also gave a big hand "from the heart" to all the tech guys around the band, who worked on, behind, and in front of the stage contributing greatly to the medieval spectacle. All in all, it's been a hell of party at the Rock im Revier with "the seven" passionate and good-humoured musicians. When they said thanks and goodbye, Yellow Pfeiffer pretended to throw his bagpipe towards the audience. //
http://www.inextremo.de
/
https://www.facebook.com/officialinextremo
// Setlist: 01. Rasend Herz / 02. Zigeunerskat / 03. Frei zu sein / 04. Vollmond / 05. Himmel und Hölle / 06. Liam / 07. Belladonna / 08. Unsichtbar / 09. Sängerkrieg / 10. Sternhagelvoll / 11. Feuertaufe / 12. Küss mich // Rating: 9 / 10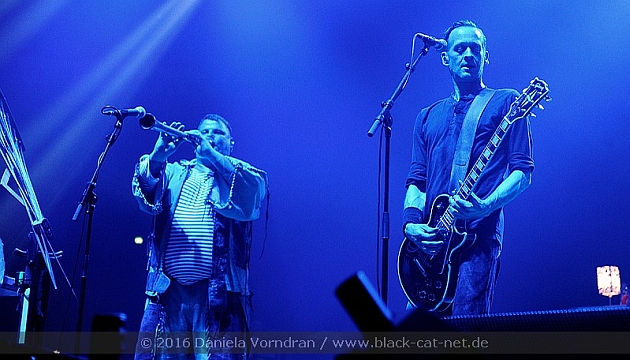 Slayer

The third festival day at the Rock im Revier was truly a celebration under the banner of Thrash. During the entire day, fans had been calling out for "SLAYER!", the second band in the line-up that belongs to "The Big Four". And while the cover of the current album No. 12, 'Repentless', appeared as a backdrop, the Westfalenhalle's infield finally filled up and a lot of seats were taken in the stands. With their new album the titans of Trash can boast with the pole position in Germany. After the great intro 'Delusions of Saviour' (also the first sounds on the latest record), frontman and bassist Tom Araya, returning drummer Paul Bostaph, and the guitarists Kerry King and Gary Holt kicked off their butcher set with the title track 'Repentless' and with their performance at the Rock im Revier they may be held responsible a lot of aching necks. One SLAYER worshipper in the front row caught my attention as he bowed over into the photographer's pit and started to bang his head with full force from the first song to the last without looking up just once. I was sitting in the terrace listening to the loud and crushing show filled with fast and brutal songs and watched the raging war in front of the stage and the party around me.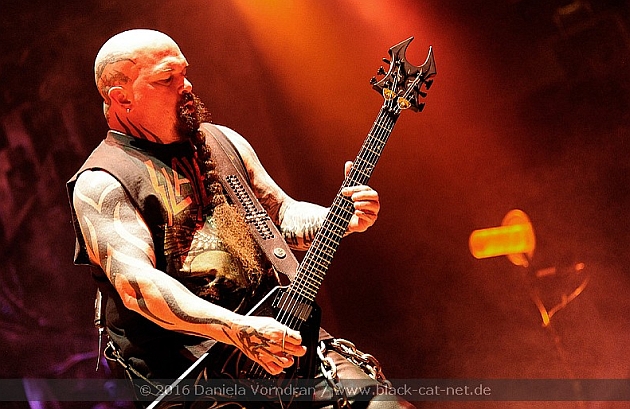 The guys having a blast in the infield lost their shirts and moshed in multiple pits like maniacs. On the terrace, there was also a lot of head-banging and thrashing around in the seats. One man stood up every once in a while and pretended to play some passionate Hardcore guitar with his crutch. If he wasn't injured already he would be in the moshing pit, for sure. Unfortunately, even though SLAYER slayed it, I have to say that it was difficult to make out their guitar solos at times due to the average sound in the arena. Tom thanked the crowd "for being here tonight." Playing a "slaytanic" set of oldies from the albums 'Hell Awaits' (1985), 'Reign in Blood' (1986), 'South of Heaven' (1988), 'Seasons in the Abyss' (1990), 'God Hates Us All' (2001), 'World Painted Blood' (2009) and just one more song from 'Repentless', namely the fast 'You Against You', the band was the first one on that day that got a loud hurricane of applause after every song. More enthusiastic "SLAYER! SLAYER!" calls were filling the arena while Tom was just standing there still in front of his microphone holding his bass and watching the raging crowd calmly with a smirk.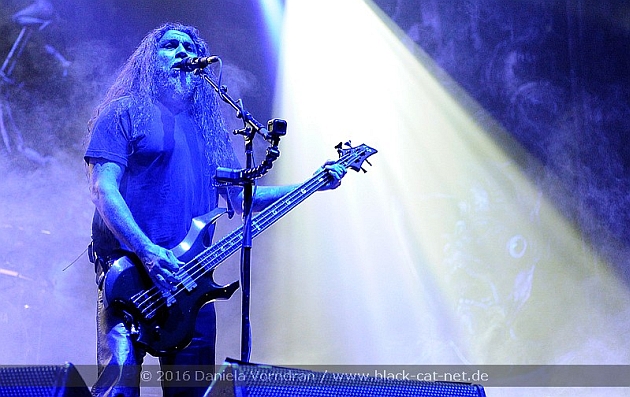 Then he said, "Thank you very much", and hold a little speech about us all "sharing a love for Metal" before he started to recite the chorus of 'Dead Skin Mask' beautifully ("Dance with the dead in my dreams / Listen to their hallowed screams / The dead have taken my soul") screaming out the final line: "Temptation's lost all control". To tell the truth I'm not a Thrash metal head myself, but if I had to pick a favourite from SLAYER's Rock im Revier setlist, this heavy tune from 'Seasons in the Abyss' would be the one. After the gig the Westfalenhalle looked like a battlefield with loads of crushed beer cups on the floor. This didn't seem to bother the exhausted moshers who took a rest lying on the ground smiling blissfully. //
http://www.slayer.net
/
https://www.facebook.com/slayer
// Setlist: Delusions of Saviour (Intro) / 01. Repentless / 02. Disciple / 03. Mandatory Suicide / 04. Necrophiliac / 05. You Against You / 06. Hate Worldwide / 07. War Ensemble / 08. Postmortem / 09. Raining Blood / 10. Dead Skin Mask / 11. Hell Awaits/ Encore: 12. South of Heaven / 13. Angel of Death // Rating: 6 / 10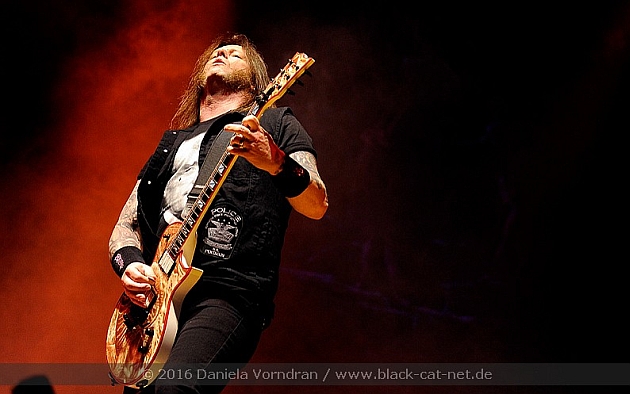 Nightwish

Saving the best for last: Finally, the "Edema Ruh" NIGHTWISH graced the Rock im Revier stage for 1.5 hours and, as expected, they conjured up a grand spectacle of wind, fog, flame, pyros, fitting moving images on a giant LED screen, a great light show and, most importantly, magical music with quite a few goose-bumps moments! The head-banging kings and wind-milling queen of Symphonic Metal – maestro Tuomas Holopainen (keyboards), Marco Hietala (bass & vocals), Emppu Vuorinen (guitars), Kai Hahto (drums), Troy Donockley (Uilleann pipes, bodhran, low whistles, bouzouki, vocals), and Floor Jansen (lead vocals) – blew their fans away with their inspiring music, which they make from the heart, leaving them speechless in awe. So far, the NIGHTWISH repertoire consists of eight masterpieces and as headliners of this year's Rock im Revier they celebrated with us twelve songs taken from their last four albums. After a, let me say, heart-killer intro, HANS ZIMMER's dramatic 'Roll Tide' from the 1995 movie "Crimson Tide" – alright, I've braced myself and am not going to go into rhapsodies about the god of film scores here – the Finnish/English/Dutch winning team played, all in all, six tunes from the latest opus titled 'Endless Forms Most Beautiful' (2015), three from the previous 'Imaginaerum' (2011), one from the 'Dark Passion Play' (2007) and two from the 'Once' album (2004).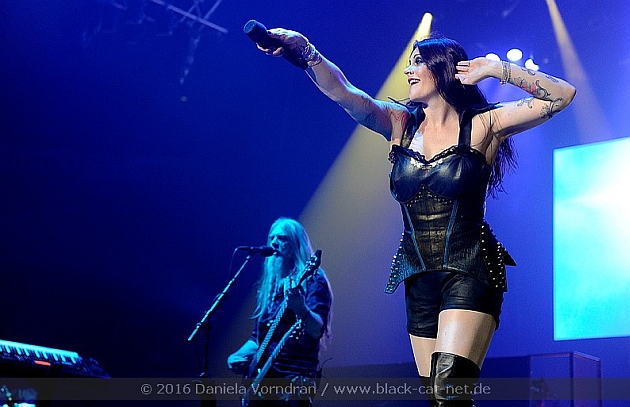 After the spoken intro by evolutionary biologist and author Richard Dawkins ("The deepest solace lies in understanding / This ancient unseen stream / A shudder before the beautiful") the album opener 'Shudder Before the Beautiful' exploded and a beautifully bombastic show on the grandeur of our planet and the wonder of life began. It followed 'Yours Is an Empty Hope', during which Floor showed that she can scream out as impressively as she can sing like a siren. Then, it was 'Storytime' and the audience, that was singing, dancing, head-banging, jumping and clapping along the second NIGHTWISH appeared, enjoyed every minute of it. During these initial songs the sound improved even more and 'My Walden' resounded perfectly in the Westfalenhalle doing Floor's stellar vocal performance and her band mate's flawless music playing justice. Magician Troy, the virtuoso of the Uilleann Pipes, sang the intro of this lyric wise Thoreau-esque song just beautifully and also joined Marco in the great backing vocals during the show. Even though one couldn't hear it, one could see that Tuomas, barricaded behind his keys, and Kai, who was sitting on the drum throne, also sang along many lines while playing their instruments passionately.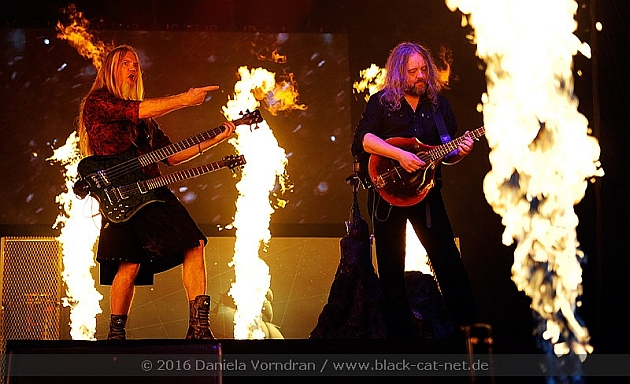 As usual, rhythm and riff master Emppu killed it on his purple guitar as he played it beaming at the audience and walking around on stage to visit the other band members and rock out with them. After two more songs from the last album, the high-spirited single and beautiful Celtic tune 'Élan' and one of my favourites, the heavy and darker 'Weak Fantasy', Tuomas started to play the melody of the beloved 'Nemo'. The audience cheered when recognising this older hit from the 'Once' album. Then, we were marching through the atmospheric 'Sahara' from 'Dark Passion Play' and the following Celtic smasher 'I Want My Tears Back' from 'Imaginaerum' made everyone dance a jig and clap their hands once again. Up next was another goose bumper from 'Once': Needless to say that the epic and all-time favourite 'Ghost Love Score' was a ten-minute-long highlight charged with emotion and energy – a tour de force, phenomenal! In the end, NIGHTWISH took the Rock im Revier crowd on the 'Last Ride of the Day' and concluded their set with the stunning chapters two and three from the 24-minute-long masterpiece 'The Greatest Show on Earth' from their latest opus. While most of the fans accepted Floor's invite to "sing along as loud as [they] can" and the words "We were here! We were here!" filled the arena, some were moved to tears. This was clearly another highlight which left us all silent and speechless in awe for a few seconds after the band played the final notes of 'The Toolmaker' and then led to a burst of a loud, heartfelt, and long lasting applause.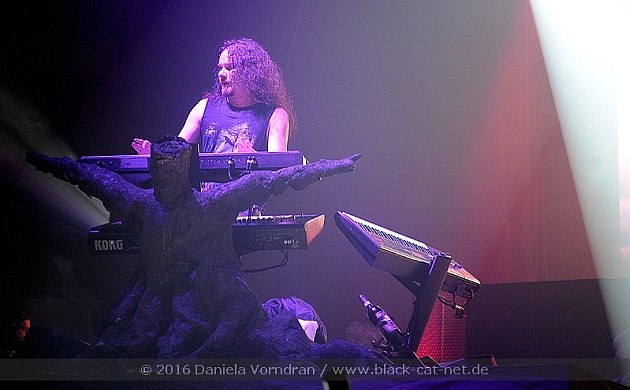 The band also clapped their hands, Marco lifted his green double neck bass and guitar up in the air and kissed it, and then they left the stage as we were listening to two more quite familiar and inspirational quotes, the first by Richard Dawkins and the second by Charles Darwin ('Chapter IV: The Understanding'). The instrumental piece 'Chapter V: Sea-Worn Driftwood' was a wonderful outro during which the sextet came back on stage to take a collective, deep bow and make their farewells. And so, with NIGHTWISH, this year's Rock im Revier in Dortmund ended without any doubt on a high note. Thank you! //
http://nightwish.com
/
https://www.facebook.com/nightwish
// Setlist: Roll Tide (Intro; by HANS ZIMMER) / 01. Shudder Before the Beautiful / 02. Yours Is an Empty Hope / 03. Storytime / 04. My Walden / 05. Élan / 06. Weak Fantasy/ 07. Nemo / 08. Sahara / 09. I Want My Tears Back / 10. Ghost Love Score / 11. Last Ride of the Day / 12. The Greatest Show on Earth (Chapter II: Life, Chapter III: The Toolmaker) / Outro: Greatest Show on Earth (Chapter IV: The Understanding, Chapter V: Sea-Worn Driftwood) // Rating: 10 / 10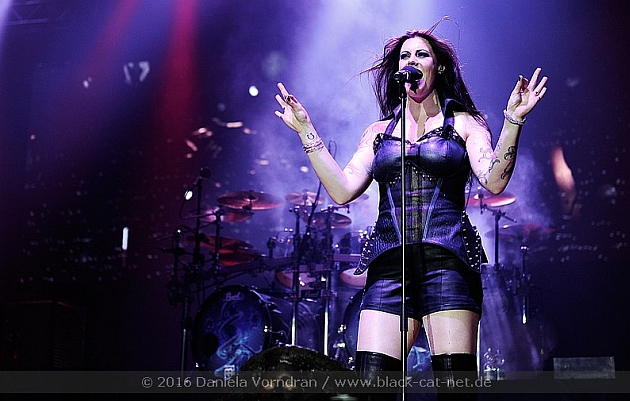 Conclusion

Around midnight the musical day No. 3 was done and the three-day Rock spectacle in Dortmund was over. With one or the other tune still in their heads, some people kept on hanging around outside of the arena, while others headed straight to the parking lots in search of their cars to drive home again. All in all, I have to say that I still haven't got used to festivals taking place indoors without all the camping and outdoors experience. Somehow, it felt slightly weird in the beginning to watch bands with all the atmospheric stage lighting in a darkened arena knowing it's actually sunny outside; kind of similarly strange as going to the cinema or a concert at early noon rather than in the evening as one is used to. Thus, being inside all time made the Rock im Revier festival feel more like a concert marathon. And compared to the first festival day, the third day with eight bands on stage in total, clearly was a long-distance run twice as long.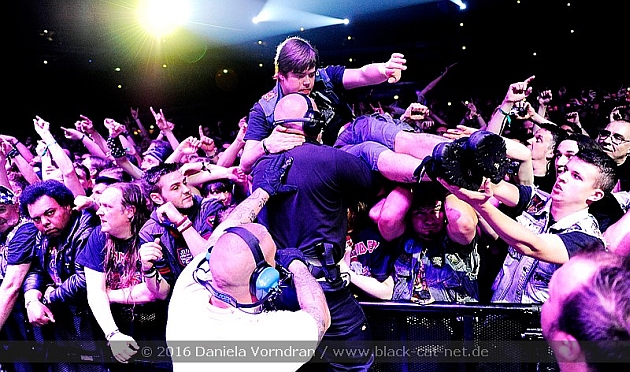 Still, even though indoors is different, it's not bad at all and many music addicts agree that having such a new festival in the Ruhr area is truly a great thing. I saw a lot of black wristbands meaning people had attended all three days. Having presented such a diverse line-up, the Rock im Revier also attracted a lot of rockers and metal heads to join in one particular day or the other – it's been a colourful red, green, or yellow for the single days, by the way – and this for a fairly decent price (about 60 bucks) to enjoy some of the very best that the international world of Rock and Metal can offer and to celebrate with their personal number one bands. So, on the whole, despite the first day being too short and a few sound issues in general, this year's second round of the Rock im Revier, and particularly its final day, can be considered a success. Who else is curious about next year? //
www.rock-im-revier.de
/
https://www.facebook.com/rockimrevier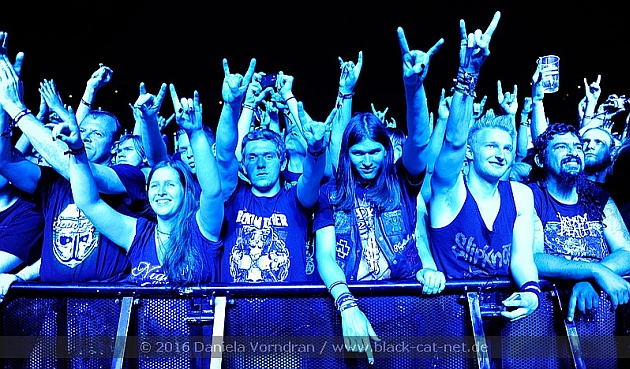 All pictures by Daniela Vorndran (
http://www.vorndranphotography.com
/
http://www.facebook.com/blackcatnet
)
See also (all categories):