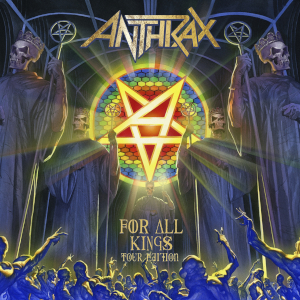 Artist: Anthrax
Title: For all Kings (Tour Edition)
Genre: Thrash Metal
Release Date: 17th February 2017
Label: Nuclear Blast
Review Flash

Legendary New York thrashers ANTHRAX toured Europe in 2017 for the band's first full European headline tour in more than a decade. On all of these dates and to celebrate the 30th anniversary of its release, ANTHRAX performed start-to finish, their classic 1987 album 'Among The Living', alongside fan favourites from throughout the band's rich 35-year career. In support of this track, ANTHRAX released a limited tour edition of their latest studio album, 'For All Kings', on February 17th, 2017. Besides the regular album it includes 'Vice Of the People' (previously only available in Japan) as well as a bonus disc of demo versions.
Drummer Charlie Benante commented on the bonus material: "We've included some of the demos from 'For All Kings' in this package. We wanted to show the evolution of the songs. The idea of a song can start from a guitar riff or a thought in your head. It then takes shape and goes from my music to Scott's lyrics to Frank and Joey's ideas and melodies to Jon's lead guitar. This is our way of making ANTHRAX music - ENJOY."
Conclusion: What can one say about ANTHRAX that has not been said over and over again in the last decades? Riffs as heavy as it gets, rhythms that empower the structure and melodies and a vocalist that once nailed "Star-Spangled-Banner" for a Chicago Bulls game. ANTHRAX is awesome and one of the most epic and melodic Thrash bands to roam this planet.
Rating: 9 / 10