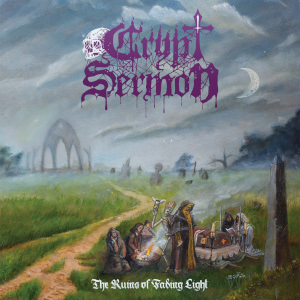 Artist: Crypt Sermon
Title: The Ruins of Fading Light
Genre: Epic Doom
Release Date: 13th September 2019
Label: Dark Descent Records
Review Flash

CRYPT SERMON was formed in the year 2013 by bassist and singer Brooks Wilson, guitarists Steve Jansson and James Lipczynski and drummer Enrique Sagarnaga. In 2014 Wilson decided to focus completely on vocals thus being replaced on bass by Will Mellor. Their demo 'MMXIII' came out in 2013 followed by their debut record, 'Out in the Garden', in 2015. Now in 2019 I have the honour to review their follow up, 'The Ruins of Fading Light'.
The five piece play a mix of SOLITUDE AETERNUS and CANDLEMASS and even sometimes remind me very much of SENTENCED, imagine KING DIAMOND epics but devoid of any falsetto vocals (thank god, only a few can pull that without quickly losing my interest). The key word is epic, strangely straight forward without any psychedelic odysseys or too much fucking around. Wilson's voice oscillates between barely controlled power and clean soothing mastery.
Conclusion: A really compelling piece of music and a must buy for fans of afore mentioned bands, check them out because I dig this hard!
Rating: 8 / 10