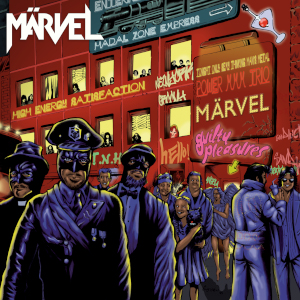 Artist: Märvel
Title: Guilty Pleasures
Genre: Rock
Release Date: 26th March 2019
Label: The Sign Records
Review Flash

Long ago
,
in the year 2014, I wrote "This masked Rock and Roll outfit was formed in 2002 by John Steen (The King), Ulrik Bostedt (Speedo) and Tony Samuelsson (The Vicar). These guys spent a year in Colorado during a High School exchange year and celebrated their first achievement as a band resulting in the band's first EP 'Marvellous'. The guys tasted blood and released two EPs in the following years". Four records and an LP, going by the name of 'The Hills have Eyes', later I am honoured to review their new output, 'Guilty Pleasures'
.


MÄRVEL did not forget a bit of their craft, still producing pure Rock'n'Roll magic. 'Guilty Pleasures' is a cover album and to my deepest regret I don't know most of the songs they interpretations but that doesn't restrict the fun I had listening to the stuff they ennobled with one hundred percent compassion for the source material. Songs like 'Sultans of Swing', 'Burning Love' and 'Ten o'clock Postman' really stay with you for quite a while because of the groove MÄRVEL infuse into those classics. My favourite as a big fan of MONSTER MAGNET just has to be 'Powertrip'; of course the original cannot be upgraded but I like the MÄRVEL perspective on this all-time favourite of mine.
Conclusion: If every cover ever done would be of this class I sure would buy more cover outputs, check it out and support MÄRVEL.
Rating: 9 / 10