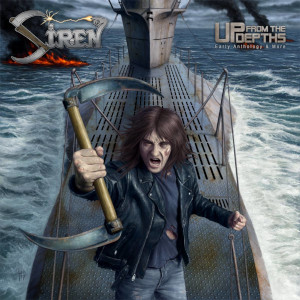 Artist: Siren
Title: Up from the Depths: Early Anthology and More
Genre: Heavy Metal
Release Date: 18th April 2018
Label: Stormspell
Review Flash

SIREN is a US Heavy Metal band that was established in 1981. Hailing from Florida, they still have a loyal group of fans around the world. This band consists of: Doug Lee (vocals), Ed Aborn (Drums), Hal Dunn (Guitars), Todd Grubbs (Guitars), Gregg Culbertson (Bass).
Then
Metro Mercenary (Single)
:
This starts with a bang: 'Metro Mercenary' reminds me of the NWOBHM, technically this ain't the crop of the cream but you can hear the band was hungry and authentic. Doug Lee's high pitched screams are quite nice I must say but this is an early demo so there was still an evolution to come.
Iron Coffins (Demo): SIREN's 'Iron Coffins' started of the way I like it: rough, a bit on the punky raw side of early Metal with a vocalist that sometimes reminds me of Biff Byford (nothing too fancy like Dickinson but a voice with character). The songs 'Before the Storm' and 'Iron Coffins' are classic 80s metal with a lot of 70s DIY attitude.
No Place like Home (Full-Length Record): With this output I start to hear that this is getting proggy and rhythmically dodgy, Lee's vocal style has found its way and I feel reminded to early SAVATAGE and QUEENSRYCHE. Although I am constantly reminded of John Oliva Lee's voice is not always my cup of tea. Although the first outputs were way straighter forward I can say that this is all the way likeable.
Now:

On to the new songs for this anthology, way more progressive and way better storytelling arrangement-wise but vocally still not what I dig. If you like Lee's voice 'Anastsia' could really appeal to you if you like proggy US Metal. 'Sun in my Face, Knife in my Back' is my least liked song in all ca 34 songs I listened through for this review.
Content:

This extensive anthology contains 34 total tracks including four, newly recorded songs. The set includes the Metro-Mercenary debut single, the 'Iron Coffins' demo cassette, the 'Dead of Night' demo cassette, the 'No Place Like Home' album, four new songs and tons of extras! The expansive 24-page booklet contains a detailed history of SIREN, dozens of photos from the band's personal collections, lyrics to the new songs, credits and more. This is a limited, hand-numbered edition presented in a triple-gatefold digipak. Early orders will receive an autographed 11"x17" mini-poster and SIREN patch! Don't miss out! Includes unlimited streaming of 'Up from the Depths: Early Anthology & More' via the free Bandcamp app, plus high-quality download in MP3, FLAC and more.
Conclusion: SIREN's Anthology is heaven on earth for any fan (look at the content, it's fucking epic). I am not a fan but I don''t have to be to unconditionally recommend any fan to buy this big piece of US Metal history.
Rating: 7 / 10