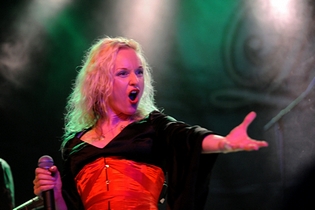 De Kade, Zaandam, The Netherlands
18th November 2009
Beauty And The Beast tour - Leaves'Eyes, Sirenia, Atrocity, Stream Of Passion, Elis


For months the fans are counting down for the long-expected 'Beauty And The Beast' tour. The first Dutch gig is in Sneek and we say 'goodbye' after four gigs in Vosselaar, Belgium. It was a very dynamic week; where all the bands came closer to each other and being stronger every night. It was a pleasure to be able to observe that. Sad news is that all the bands had to suffer with voice problems: hurting throats and shawls everywhere. Liv Kristine was challenged with no voice at all, but she handled it in the most professional way. Respected by the other bands and fans. It made this tour unforgettable. There are high expectations, but they are more than fulfilled!
Elis
Elis is a dynamic gothic metal band from Lichtenstein (the smallest principality in Europe). Their debut 'Twilight was released in 2001, but the success came with the single 'Der Letzte Tag' (2004). Sad enough vocalist Sabine Dünser passed away much too early. Elis was able to release 'Griefshire (2006) as a memoriam to her talent. On 27th November 2009 'Catharis' is released, the first full-length album with new vocalist Sandra Schleret.
http://www.elis.li/site/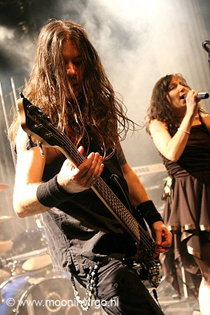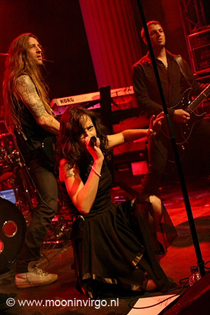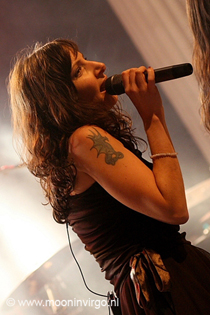 Music & Performance

Elis is always been a band that unites symphonic parts, doom influences with technical metal and a powerful female vocalist. This mixture makes them totally different from many female fronted bands nowadays. They are the opener of the evening in the Benelux, but in Germany, Switzerland and other country's the second band of the package. After the Kotipelto tour in 2007 Sandra made a very good impression on the crowd. This time the circumstances are not always perfect: often there is a very short sound check, or none. What has direct consequences on the sound, and the impression people get of Elis. They are highly underestimated. Sandra Schleret is a very talented vocalist: easily creating a full, high and bombastic sound in all the layers of her voice. Also she has a natural performance: very open, passionate, and easily moving around on stage.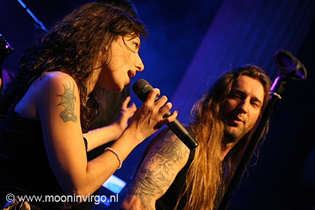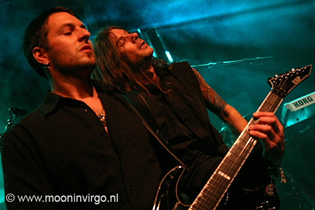 On the Dutch dates of this tour the sound is mainly not well balanced. In Sneek all the vocalists are too far away in the mix, also bass and guitars are too loud. A packed venue and enthusiastic audience makes it a great evening. This evening in Zaandam the sound is much better, but it is the audience what makes it a tough night for the whole package. I have never seen such a passive and cold audience. Simply standing there and giving no interaction back. It has to deal with all the fan-photographers in the front. It kills the efforts of the artist to reach the audience, when someone is only focussed on their photo instead of clapping and singing alone like some good fans did that night. Elis performs a very interesting set, daring to bring some new songs to warm up the audience. The response is good, especially when a sing-a-long song is played like 'Show Me The Way.' What refers to the old Elis period, with a very catchy melody. On stage Sandra perfectly transformed the feeling Sabina had, when it was written. And with many voice changes not an easy song.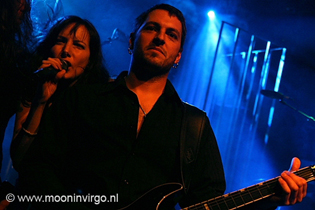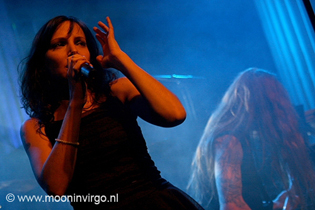 The band acts very natural on stage. There is always something happening; poses from guitarist Pete Streit, second guitarist Chris Gruber is running around a lot, bass player Tom Saxer is headbanging and giving some deep grunts as well. Drummer Max is temporary replaced by Trevor, who did an excellent job on this tour. Especially the new songs are strong, and much heavier. The climax comes with the German song 'Das Lebens Traum, De Traumes Leben' live video:
http://www.youtube.com/watch?v=2wH7X5Gs3t0
, with fast drum parts, up-tempo guitars, but still a catchy melody and a dark atmosphere. Elis is grown into a dynamic band with high potential for the future.
Rating
Music: 8
Performance: 8
Sound: 6.8
Light: 6.5
Total: 8.2 / 10
Stream Of Passion
Dutch proud on this tour is Stream Of Passion. A progressive metal band with female vocals from Marcela Bovio (also songwriter and violist). Started as a project from Arjen Lucassen (Star One, Ayreon), released their debut 'Embrace The Storm' in 2005. There are some line-up changes in 2007 when Arjen (and others) leaves the band. In May 2009 their second album 'The Flame Within' is recorded with a new formation.
http://www.streamofpassion.com/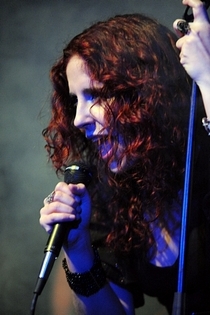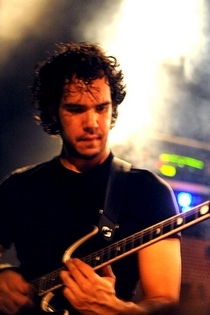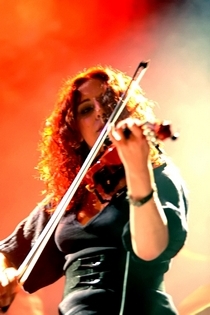 Music & Performance
Overwhelming, dynamic, mature, talented, vivid, charismatic…all words trying to capture the impressive sound coming from Stream Of Passion. There is a totally new sound coming from Dutch ground and it is filled with energy, passion and blowing away everyone. Each night they give two hundred percent activity on stage. Is it the charismatic personality of vocalist Marcela Bovio? Or is the chemistry between the members what makes them so special? Both, but there is much more to discover. Line-up changes gives a band new spirit, and a different view on the band itself. And in this case it turned out into a more adult, positive and very dynamic one. Stream Of Passion amazes everyone from the start till the last tone. Take for example their last video 'The End.' Also live it has a strong performance. Marcela is a real eye-catcher and well aware of what her voice can do and dares to show many emotions. She is surrounded by some powerful men and that makes their show unforgettable!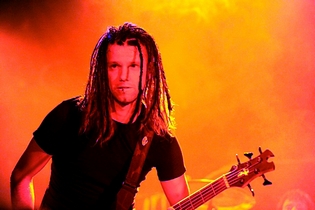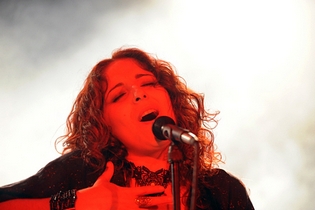 In Sneek Marcela easily impress the audience with her 'Sinterklaas' tiagra. She dares to speak Dutch and succeeded in that very well (original coming from Mexico). In each song she shows something from herself. Often strong and bombastic, but also very serene and pure. On 'This Endless Night' conducting herself on the violin, creating an extra dimension. Marcela had the bad luck to cut her finger, and need to change her playing method on the violin. It sounded very well and she solved that problem very professional. A trademark from Stream Of Passion, is their intense performance (besides their own sound). There is Johan van Stratum (since the beginning in 2005 bass player of the band) running around, jumping high, being everywhere on stage it seems, exploding energy.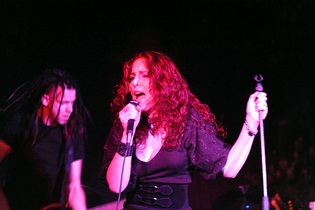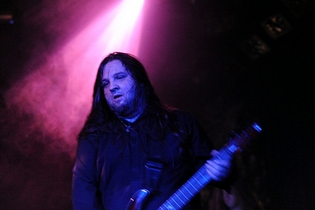 There is Erik Hazebroek (new guitarist) more calm and headbanging a lot, with on the other side second guitarist Stephan Schultz (also new guitarist) who definitely grabs the attention with his finger fast, catchy solo's. More hidden in the back there is on keyboards Jeffrey Revet together with drummer Martijn Peters. Both missing some spotlights from time to time, but they compensate that with headbanging synchronous . During the week the band grows each night more and more. Songs like 'Out In The Real World' gets a lot of feedback from the crowd. Their cover from Radiohead, makes the whole venue silent: impressive, full of emotions, like it is written for Marcela. It makes you realise to be an 'eye-witness' of an intense evening. Live video 'Street Spirit'
http://www.youtube.com/watch?v=vttfKKSCETA
Rating
Music: 9.5
Performance: 9.5
Sound: 8
Light: 7.5
Total: 9.3 / 10
Atrocity
One of the oldest bands on stage is the German formation Atrocity, started in the eighties with a technical death metal sound. In 2008 the band releases 'Werk 80 II' a follow-up from their cover album 'Werk 80 I' (1997). Having a totally different sound, in compare with their 'Atlantis' (2004) concept album. A band with a very wide background and a weakness for '80 hits.
http://www.atrocity.de/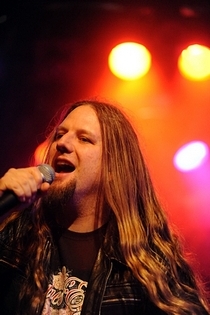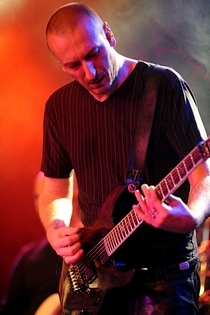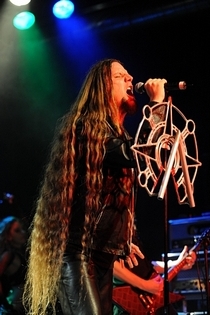 Music & Performance
When you say Atrocity the first thing that comes in your mind is the fact that the whole band is also playing in Leaves' Eyes. A new generation is forgotten their glorious time with old school metal shows. They transformed it now in catchy sing-a-long songs from the eighties. No wonder that there is a very diverse audience coming to their shows. Especially in Sneek an older generation is enjoying the metal version of many hits. For me it is a totally new experience. It is almost like a totally different band, in compare with their previous gigs on Dutch ground. At that time they were promoting the 'Atlantis' record with more technical metal influences. The show starts with two female dancers, 'unmask' their shapes in some lack dresses. The whole gig they are moving in the back, unfortunately the stage it not big enough for the huge cages. There is some distraction from the real show, but their moves are not very diverse for such a long show. Maybe a nice German tradition, but the risk is that people don't take the band that seriously.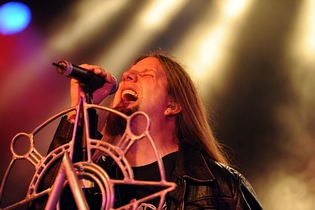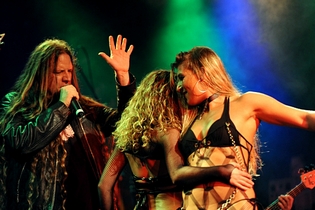 'The Great Commander' is a very catchy entrance and vocalist Alexander Krull has a deep growling voice in contrast with the catchy drums and guitars. Bass player Alla Fedynitch can't join the tour due to illness and Oliver Holzwarth (Tarja Turunen, Blind Guardian) is a perfect replacement. He needs some time to get used, in Sneek he is more on the background. In Zaandam he takes his space with poses and more interaction with the other members and the crowd. Alexander naturally get's the attention thanks to his long hair and tall posture. Besides that he is very open on stage: easily showing that he has fun and wants to share that with the audience. "
We are here to entertain you! Forget all your work in the middle of the week!
" Alexander says. He makes the audience scream time after time. Both guitarists are calmer and drummer Seven totally has his own party in the back: making weird faces, posing with his drum sticks and even turns around.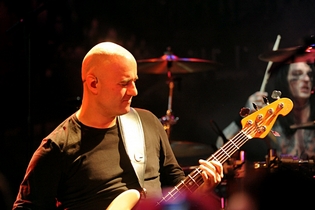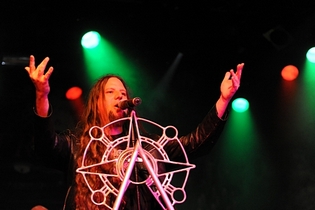 Liv Kristine, normally singing along on some duets like on 'Don't You Forget About Me' isn't on stage in Zaandam. Her voice is not strong enough and she needs her rest. In Sneek she was very natural on stage, giving all the space to Alex. She is grown in her high bombastic sounds and what's very suitable for those covers as well. Alexander is maybe not the strongest vocalist in compare with other metal frontmen, but he has a natural charisma. The raw sound makes Atrocity even more unique, and the band has enough experience to make the set-list dynamic with an up-tempo song after another. Creating a good vibe among the people and in the end everyone is singing along.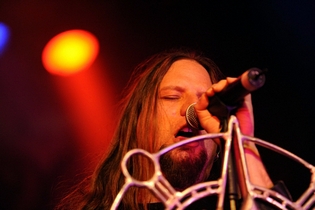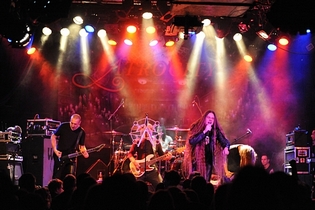 Vocalist Sandra Schleret (Elis) joins Atrocity during the duet 'The Sun Always Shines On Tv.' Finally she has a better sound and the audience is amazed by her extreme high voice. She makes the song her own, not copying Liv Kristine and that earns some respect. Live video from the song with Sandra:
http://www.youtube.com/watch?v=wVOqoHer4UI
. The climax is on 'Shout Shout Shout' the most famous cover song of the band and Alex wins the audience for sure! Atrocity is very entertaining and a nice "calm down" in between those female fronted bands.
Rating
Music: 8.0
Performance: 8.3
Sound: 7.5
Light: 7.5
Total: 8.3 / 10
Sirenia

A Norwegian band, formed by Morten Veland (songwriter, vocalist, guitarist) when he left Tristania. He is the driving force behind this band, with many lyrical and musical concepts: a multi talent. Each album of the bands sounds different, also because of the many changes in female singer. Still the band is a strong and respectful name. The fifth album 'The 13 Th Floor' is released this year, and introduces the new female vocalist Ailyn.
http://www.mortenveland.com/sirenia/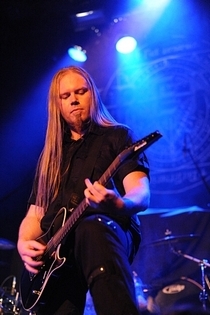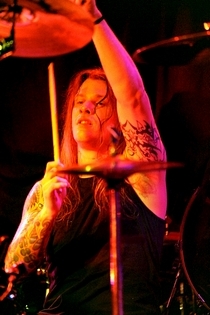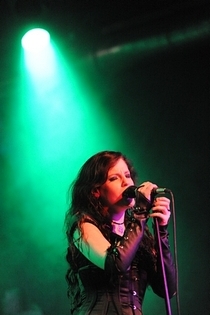 Music & Performance
Sirenia always 'conquered' an own place in the gothic metal world. Morten represents a strong sound from death, black metal mixed with classical music and beautiful choirs. That is the best trademark of the band and on the whole tour many fans are curious to see them again. Ailyn is the new female singer of the band, after many changes over the years. It takes a bit time to get used to her, because she has a very unique voice. Not always bombastic, high or deep. Just a soft clear voice and that is not always the expectation people form about a band. Also Sirenia has a different drummer on this tour. Roland Navrati (Dignity) replaces Jonathan Perez.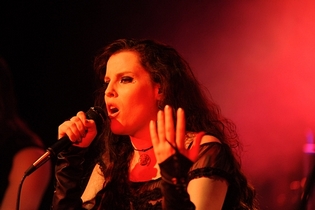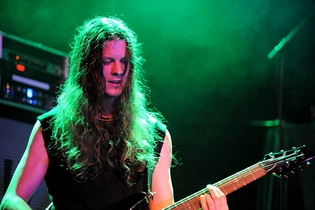 The band chooses a very mixed setlist with old and news songs. 'Downfall' has a catchy intro and creates an exciting mood. For a band with many layers a bad sound makes them flat and that is what happens sometimes with Sirenia. They can't help it that the choirs and keyboards from the hard disk are not often loud enough to grab the attention fully. There is always a difference between album and a show, but the contrast is a bit high this time. Ailyn makes a very good impression on 'The Seventh Summer' with her high sweet voice. There is a 'beauty and the beast' moment when Morten comes in with deep growling grunts. Ailyn doesn't speak much to the audience; she shares the attention with Morten. There is a lot of interaction between the band members and Ailyn adds a lot of enthusiasm what makes the band nowadays more interesting than before.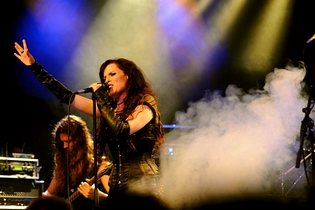 The new songs from 'The 13 Th Floor' are a great mixture between new influences and the old darker sound of the band. There is no doubt that Ailyn is very suitable to represent this new path of the band. 'The Other Side' is a song with a very catchy structure, and the audience is easily singing along and having a great interaction. Fans are screaming when 'Meridan' sets in. A much darker song from the debut 'At Sixes And Sevens' (2001). At that time Morten was developing the sound that formed the base for the modern gothic metal music. One thing is sure: this formation works very well. Guitarist Michael S. Krumins (Green Carnation) is a master in fast guitar solo's and has the experience to add something extra live on stage. The band absolutely convinces you on stage, and there is more potential for the future.
Video 'Lost In Life':
http://www.youtube.com/watch?v=UkZM31L3y2I

Rating
Music: 8.5
Performance: 8.0
Sound: 7.0
Light: 7.0
Total: 8.0 / 10


Leaves' Eyes
Norwegian, German band Leaves'Eyes is formed by Liv Kristine after she left Theatre Of Tragedy. Since their beginning 'Lovelorn'(2004) creating an own sound related to old saga's and nature. Success came with 'Elegy'(EP 2005) and with their new album 'Njord' all elements are bound in a strong master piece, bombastic and more mature.
http://www.leaveseyes.de/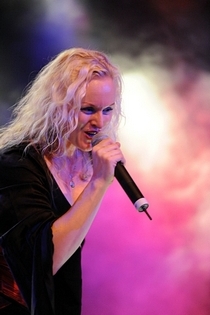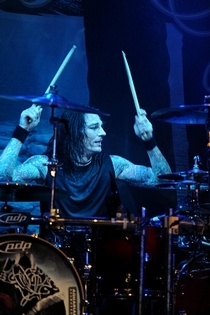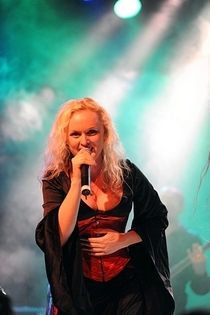 This tour will always be the one where Leaves' Eyes was challenged in a most uncomfortable way. Liv Kristine had voice problems since the start of the tour. When she enters the stage in Sneek she looks pale, sweaty and sounds very soft. Somehow she finds the power back and performs a strong set with support of the audience. Halfway there is more pain in her eyes and she is searching for some familiar faces in the crowd. Still she manages to get the power back and during Froya's Thema she shows what a real singer is: no matter what happens, stay professional and give all you have. She can't talk and disappears straight after the show after making excuses. The whole audience was supporting her with clapping, singing, and screaming. Although it was a hard evening for the band, it was an unique and impressive experience.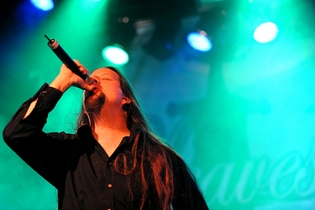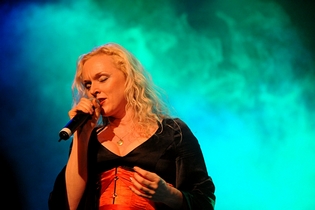 In Zaandam Liv Kristine explains more about her situation, she went to the hospital the day after Sneek. There is a different setlist to spare her voice. From the beginning of 'Njord' the titletrack of the evening it is clear why they are headliner of the tour. It is 'their' audience being supportive and excited to hear the new songs live on stage. Would it be as bombastic as on the album? Could she realise the expectations of her higher and deeper voice? And yes she can make it true, even ill. She earns more respect by standing there and still having all the energy to have such a personal contact with the audience. Live the new songs are fading away all the clichés and impressions people had. Here stands a more mature, bombastic band: being strong and overwhelming. 'Emerald Island' is grabbing you from the heavy intro till the last note. It has such a strong vibe and live you feel the adrenaline and the passion from the band.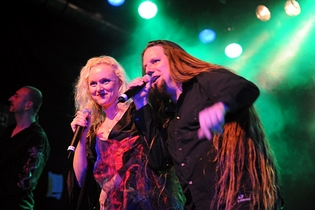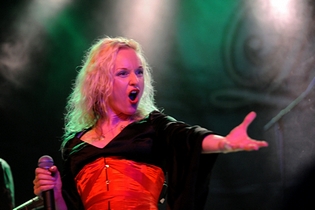 What Leaves'Eyes does, in compare with the other bands of the evening, is having a natural feeling for giving an impressive experience and memory to the audience. They make everyone feel special. That is the strength of Liv Kristine. Her personality and talent are one of the reasons why she is on the top of this scene. The diversity in the audiences reflects that they are more suitable for a bigger audience with their new album. Husband Alexander Krull is more in his element on stage during 'Take The Devil In Me' and drives the audience crazy with his enthusiasm: louder and louder he asks to scream for him. Video:
http://www.youtube.com/watch?v=zD3mHXGKHA8
. More older songs are played this night like 'New Found Land' and the mid-tempo soft parts from Liv Kristine in 'Norwegian Lovesong.' She moves gracefully with her hands, dressed in a nice white corset and her special black dress. It fits well with the Saga atmosphere. 'Nothbound' is a new song with a very full sound of all the instruments.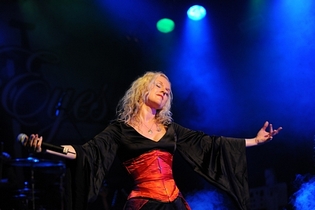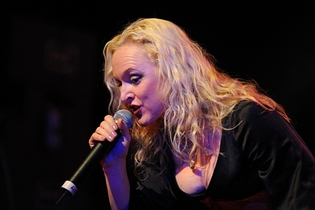 In the middle-part of the set is time for an acoustic performance of 'Irish Rain': A sweet dreamy ballade. All members are sitting down in a circle, Liv Kristine on her throne, carries the whole song. It is very funny to watch Alexander, the strong metal man, with a tambourine. Then speed is coming up with 'Ragnarok' the most aggressive with heavy screams and heavy drum parts from Seven. His drum solo – to changes dresses for Liv - is a big show element. He is grabbing the attention with his tricks and movements. Like a roller-coaster Leaves'Eyes is presenting a wide spectrum of emotions and diversity in style. The big climax and last energy-taking song is 'Froya's Theme.' Creating a different world for sure, but not the sweet tales Leaves' Eyes 'painted' for you on 'Lovelorn' of 'Elegy.' It is power, strength and the will the get further in life. The new album is a masterpiece, and live Leaves'Eyes surpass themselves in a fullest and most intense way!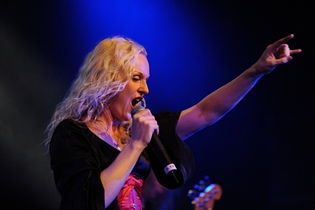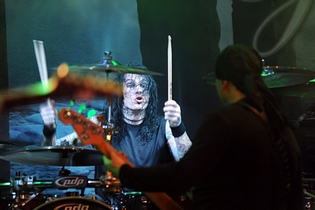 Rating
Music: 9.3
Performance: 9.5
Sound: 8.5
Light: 8.0
Total: 9.8 /10
Pictures by Moon In Virgo, more on:
http://www.mooninvirgo.nl/
and Edwin Van Der Ende. No use/copy without permission.
{jos_sb_discuss:17}
See also (all categories):