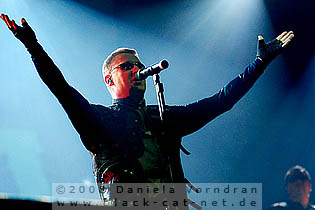 Flugplatz Drispenstedt, Hildesheim, Germany
9th to 10th August 2008
M'era Luna Festival Day 1 Main Stage: Delain, Elis, Rabenschrey, Ordo Rosarius Equilibrio, Red Lorry Yellow Lorry, Mesh, Tanzwut, Unheilig, ASP, VNV Nation, Front 242

Since its beginnings in 2000, the festival has constantly grown and has become a fixed institution in the Wave and Gothic scene. And it is considered the biggest European festival for that scene. The festival lures about 25,000 and counting fans a year to celebrate a melancholic weekend. A fashionable outfit with a touch of middle-age in combination with lacquer and leather is as popular as black colour or if necessary white. The most fans show themselves in the same individual and artificial way like the artists on stage. Bands from all over Europe come to the festival and for most of them it's not the first time, they're performing at the M'era Luna.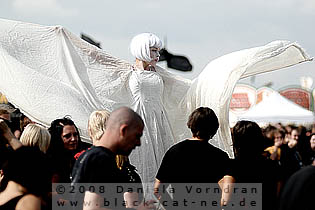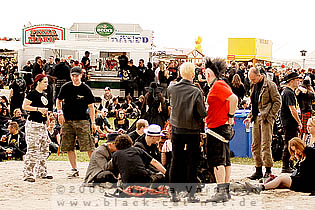 The bandwidth of musical styles is as diversified as the before mentioned outfits of the festival attendees. From medieval bands to powerful rock over to Electro in all its shimmering facets, everything is represented, so there's something for every taste at the festival. A new album is not a necessary requirement for the appearance at the M'era Luna. The audience always demands their "old" idols they feel very close to, but there's always a place for newcomers, who are anxiously expected every year. Of course, also this year's festival offered old heroes as well as newcomers, bands from the electronic side of dark music up to the metal side as well. Saturday on the main stage was started with female fronted metal presented by DELAIN and ELIS, over some medieval music to neo folk, over some synth pop to the electronic finish with VNV NATION and EBM pioneers FRONT 242. [DV]


Delain [SH]

Ex WITHIN TEMPTATION keyboarder Martijn Westerholdt founded DELAIN in 2002 after he left the former band in 2001 due to health issues. The band started recording the debut album in July 2005, after they had signed a contract with Roadrunner Records. The debut was named 'Lucidity' to which several well-known musicians contributed i.e. Liv Kristine (Leaves Eyes) or Marco Hietala (Nightwish). After some postponements the album finally was released in September 2008. By now work on a new album has already started and the songs 'Stay Forever' and 'Start Swimming' were already played live. DELAIN is Charlotte Wessels (vocals), Martijn Westerholdt (keyboards), Ronald Landa (guitar), Rob van der Loo (bass) and Sander Zoer (drums). http://www.delain.nl/ / http://www.myspace.com/delainmusic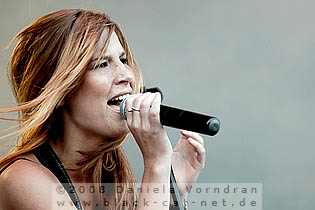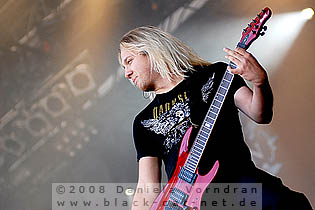 Music & Performance

Different from what I was expecting, plenty of people showed up in font of the main stage at this early hour to see the band of ex WITHIN TEMPTATION member Martijn Westerholdt and get their auditory channels blown through with some metal and to finally get awake of course. Musically, it was the well-known recipe of mixing symphonic keys with the relentless power of phat guitar walls and all the band members played their instruments with full commitment. Of course one can wonder how many male attendees actually noticed that with their eyes fixed on front woman Charlotte Wessels, not only having an extremely good voice, but also being eye candy.
Setlist
01. Silhouette of a Dancer
02. Frozen
03. The Gathering
04. Sleepwalker's Dream
05. Pristine
Rating

Music: 7
Performance: 7
Sound: 6
Light: - (daylight)
Total: 6.8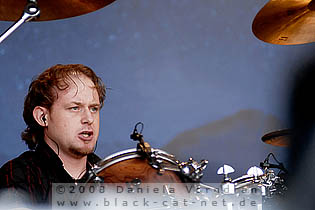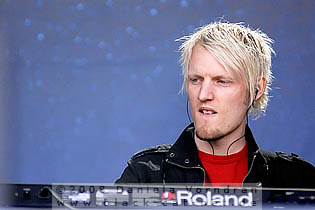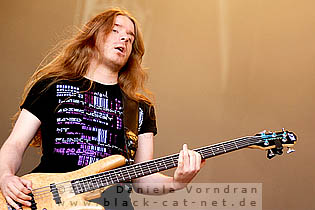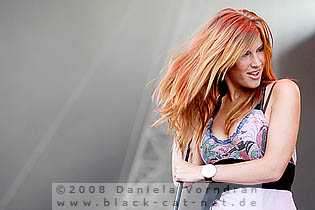 Elis [SH]
ELIS saw the light of day in 2002 when ERBEN DER SCHÖPDFUNG founder Oliver Falk split up with the remaining band members. He had all the naming rights, so the band took on the name ELIS, deriving from the first ERBEN DER SCHÖPFUNG single back in 2001 and in 2001, signed a contract with the label Napalm Records and debuted with 'Gods Silence, Devils Temptation' in August of the same year. The album reached the top ten of the German Alternative Charts (DAC). In 2004, 'Dark Clouds in a Perfect Sky' was released. A heavy stroke of fate claimed the band in 2006 died very young after she suffered a brain haemorrhage at a rehearsal. The band eventually decided in December 2006 to continue with a new singer with Sandra Schleret. ELIS are Sandra Schleret (vocals), Pete Streit (guitar), Christian Gruber (guitar), Tom Saxer (bass, vocals) and Max Näscher (drums).
http://www.elis.li/
/
http://www.myspace.com/elisofficial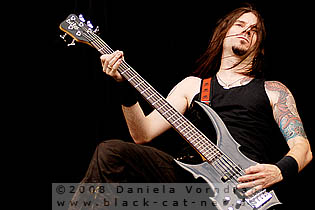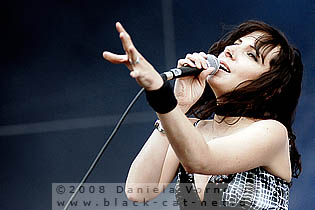 Music & Performance

It went on rocking at the M'era Luna main stage with the band ELIS who had to fight with a "small" technical problem right at the beginning of their set. As hard as singer Sandra tried, either we heard no vocals at all; or just fragments and we experienced an instrumental performance. Luckily, the sound engineers fixed the issue right in time for the second song and after a warm welcome the show could proceed as planned - just with different microphones; and as the audience, meanwhile increased a bit, was awake by now, they also insisted on clapping to the songs what, on the other hand, made the band happy and boosted them to give everything to lay down an even better show; and to my mind they succeeded.
Rating

Music: 7
Performance: 7
Sound: 7
Light: - (daylight)
Total: 7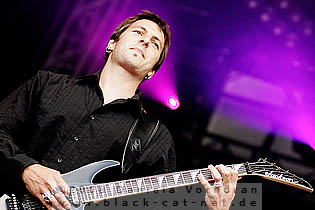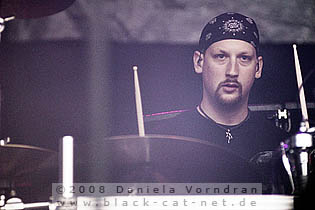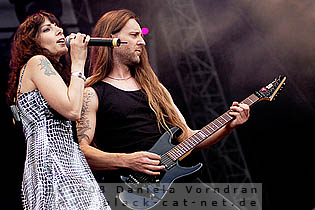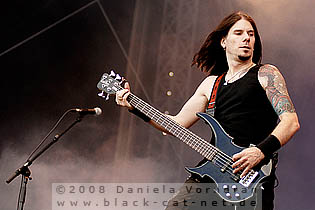 Rabenschrey [JU]
The band that describes their style as "Pagan Medieval Folk" was founded by Peter Herbertz ("Donar von Rabenschrey") and O'Connor in the year 2000. To go own musical ways and to write the music and lyrics themselves is a priority since the very beginning. Following their founding their released the debut 'Der verwunschene Eichenwald' the same year, followed a string of albums to the newest 'Auf den Fersen'. Not only the band plays on medieval market as it is typical, they also play on festivals and in clubs.
http://www.rabenschrey.de/
/
http://www.myspace.com/rabenschrey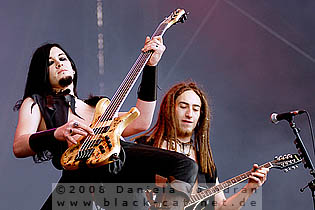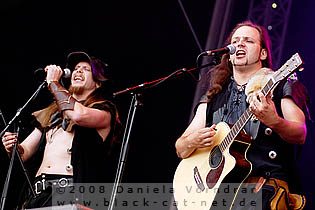 Music & Performance

The funniest pagans around entered the main stage at the M'era Luna at lunch time, and despite this early time they met a surprisingly huge audience. Usually the place in front of the open air stage is only at much later times of the day as packed as this. It seems that constant touring has paid off for RABENSCHREY - and their acoustic Folk Rock with medieval influences, pagan themes, tongue-in-cheek lyrics in German language and at times pretty earthy humour is surely appealing to a lot of people. However, RABENSCHREY had quite some technical problems which meant a longer sound check and a pretty muddy sound during their gig. But this was surely not the band's fault, as the sound was pretty awful at the main stage throughout most of the first day of the M'era Luna. But singer Donar von Rabenschrey and his fellow musicians were unimpressed by this and after a short welcome to "all pagans out there and anyone else who cares" they let go.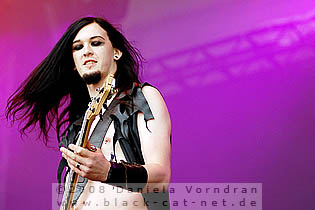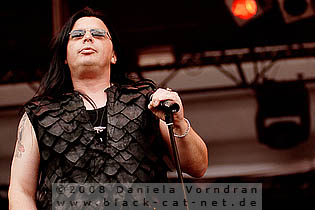 Going from new material from the recent album 'Auf den Fersen' to old faves like 'Mädelein', the hilarious 'Hey wir sind Heiden' (the tune might be familiar to anyone who knows a certain TV series called "Pippi Longstockings", the lyrics on the other hand are a completely different story…*g*) they surely did not fail to entertain the unexpectedly huge crowd. Okay, front man Donar von Rabenschrey exaggerated a little bit with animating the audience to sing along to 'Das Järv' (it got a little boring after shouting "Oooooooooodin!" for what felt like half an hour *g*) but a little over-enthusiasm is understandable when a still relative young band plays to a few thousand people. Despite the bad sound mix it was a cool gig with lots of jokes and a lot of fun, and RABENSCHREY proved that you don't necessarily need roaring e-guitars to rock an audience. A flute can do the trick too.
Setlist

01. Mädelein
02. Dreckstück
03. Tanze Dir
04. Hey wir sind Heiden
05. Das Järv
06. Templerschaf
Rating

Music: 7
Performance: 7
Sound: 4
Light: - (daylight)
Total: 6.5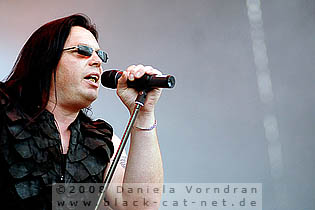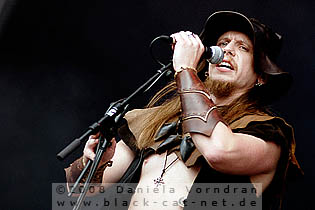 Ordo Rosarius Equilibrio [SH]
Ordo Rosarius Equilibrio is an aesthetic constellation situated somewhere on the illusive boundary between the impending apocalypse & the orgies of ancient Rome, besides that it's the sonic outlet of Tomas Pettersson, who founded the project in 1993 after his former project ARCHON SATANI had ceased to exist and ORDO ROSARIUS EQUILIBRIO is his way to canalize his remaining creativity "…through the aesthetic portrayal of the undivided spiritual and intellectual kinship between Light and Dark, Life and Death, Male and Female, Love and Hate, Beauty and Depravity, War and Peace" With all of its works starting with the debut 'Reaping the Fallen, The First Harvest' from 1995 the project meanwhile grown to a duo enchanted his listener's every time anew. ORDO ROSARIUS EQUILIBRIO is Tomas Pettersson (music, lyrics, vocals) and Rose-Marie Larsen (vocals).
http://www.ordo-rosarius-equilibrio.net/
/
http://www.myspace.com/ordorosariusequilibrio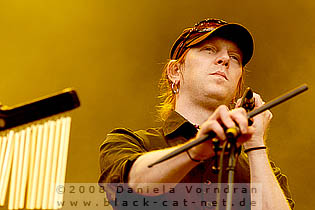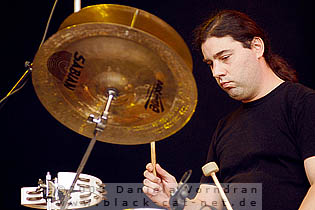 Music & Performance

The music of ORDO ROSARIUS EQUILIBRIO is referred to as "Apocalyptic Folk" and as if the heavens knew what was to come next they sent a dark cloud over to the main stage to provide for a proper ambience for the show. I had no expectations at all, because I knew the name but not the music, and was positively surprised by the show. Having heard the music now, I have to say, that the genre description works quite well when it comes to describing the mostly dark or melancholic mood of the songs, but it just doesn't work for the music, using electronic soundscapes as well as acoustic guitars; and most impressively for me during the performance; a carillon. Tomas Petterson also brought a prominent person with him. No one less than Jouni Havukainen, singer and founder of IN SLAUGHTER NATIVES was playing the keys. Petterson himself took his position at the front and accompanied the songs with a hybrid of spoken-word performance and singing - an incredibly intense and emotive performance, maybe just not fitting to the bright main stage at afternoon.
Setlist
01. Do Murder & Lust make me a Man? (Apocalips)
02. Hell is where the Heart is. The Gospel of Tomas (Satyriasis)
03. I W I L L be there, even after the Flowers are gone (O N A N I)
04. [Mercury rising] Seduced by the Kisses of Cinnabar Sweet (Apocalips)
05. Who stole the Sun from its place in my Heart? (Apocalips)
06. Singing for the Angel of the East (FOUR)
07. In High Heels througn Nights of Broken Glass (CCCP)
08. Three is an Orgy, Four is Forever (Satyriasis)
Rating

Music: 8
Performance: 6
Sound: 7
Light: - (daylight)
Total: 7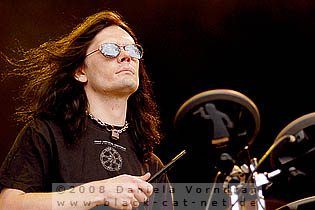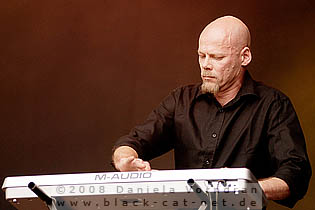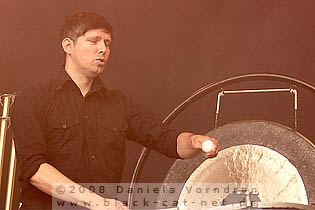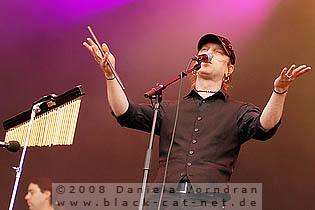 Red Lorry Yellow Lorry [JU]
The band was formed by guitarist/songwriter Chris Reed and vocalist Mark Sweeney, along with bassist Steve Smith and drummer Mick Brown (who would later join THE MISSION). Sweeney left the band in late 1981 and Reed permanently took over as vocalist, with Martin Fagan joining as a second guitarist. After numerous single releases, the band had its album debut in 1985 with 'Talk about the Weather' and received overall positive feedbacks, just like the single 'Hollow Eyes'. The album 'Paint Your Wagon' on the legendary "Red Rhino" label, whose founder Tony K sadly passed by this year, was to follow in 1986 and stayed on the trail of success by hitting #3 of the NME independent chart, followed by the single 'Cut Down' and the EP 'Crawling Mantra' under the name THE LORRIES. The band signed to Situation Two, a subsidiary label of the Major Company Beggars Blanquet and released the two albums 'Nothing Wrong' (1988) and 'Blow' (1989). Neither of the two albums came near a mainstream pop chart causing the label dropping the band. In 1991, the band released 'Blast off' on a tiny indie label but it became a major disappointment and Reed broke up with the rest of the band to revive the name in 2003 and release four new songs via download only. No further material has been released to this date.
http://www.red-lorry-yellow-lorry.com/
/
http://www.myspace.com/redlorryyellowlorry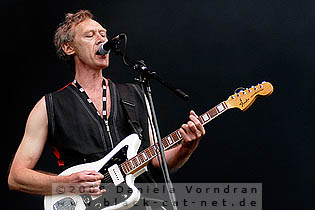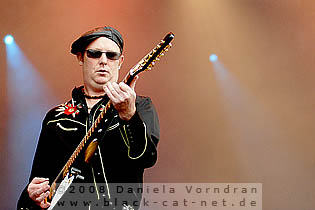 Music & Performance

When the news came in that RED LORRY YELLOW LORRY would have a live appearance at this year's M'era Luna festival I was more than stunned. In fact I was not aware that this band is still active, so I was more than just pleased to see them live in Hildesheim. In the late 1980s RED LORRY YELLOW LORRY were on the brink to make it into the premier league of Indie Rock and to be named in the same breath as big bands as THE MISSION, THE SISTERS OF MERCY or NEW MODEL ARMY. Unfortunately this never happened, and RED LORRY YELLOW LORRY never had the success their music would have deserved. So it was great to see them getting a good position in the line-up of the M'era Luna 2008, sadly they once again did not get the attention they really deserve as the place in front of the main stage was not even remotely as packed as during earlier gigs of the day. But it was most unfortunate anyway that RED LORRY YELLOW LORRY performed at the same time as CHRISTIAN DEATH at the second stage - a band they share most of their audience with. Well, this is what I call blundering scheduling!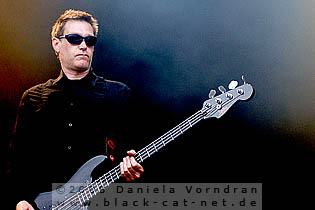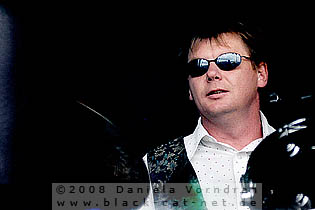 It was also pretty unfortunate that RED LORRY YELLOW LORRY's gig suffered from quite bad sound, a problem that many bands playing at the main stage had at the Saturday of the festival weekend. The disappointment about all these unfavourable circumstances was a little visible in Chris Reed's face but the "Lorries", as their fans call them, tried their best to deliver an energy-driven and captivating performance. They performed all songs in one go, only with a quick "Thank you!" between the songs, and although time did not allow to play all LORRY classics the selection of songs was great. 'Monkeys On Juice', 'Talk About The Weather' and 'Walking On Your Hands' went down very well in particular and were much applauded by the old fans. I for one would have loved to hear 'Beating My Head' or 'This Is Energy' just as much as seeing more people coming to the main stage to see RED LORRY YELLOW LORRY. But the old fans were happy to see Chris Reed's legendary band back on stage - let's hope that we will see the LORRIES more often on the bills of events like the M'era Luna in the near future!
Rating

Music: 9
Performance: 7
Sound: 5
Light: -
Total: 7.6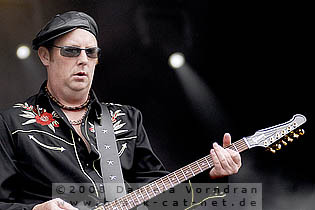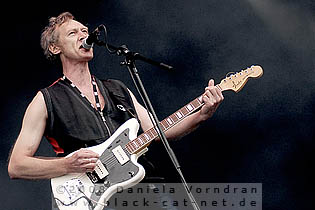 Mesh [SH]
Today their musical direction is referred to as Industrial Rock, but the roots MESH can be clearly targeted in the 80s Synth Pop, influenced by bands like DEPECHE MODE and the like ,Neil Taylor, Rich Silverthorn und Mark Hockings formed MESH in 1992 after meeting each other at a concert and a brief conversation afterwards. Their debut, the 'Fragile EP' was self-released under the moniker of their own label Tolerance Records but re-issued in Europe early in 1996 on Memento Materia with some additional tracks. From there on you could almost see the popularity of the sympathetic British guys grow. If they played in small clubs at the beginning they could now fill bigger and bigger venues. Also the sound has very much developed through the years and those almost mandatory DEPECHE MODE comparisons are relicts from the past by now. Their newest album 'We Collide' gives much more prominence to the guitar and incorporates an overall organic sound. We'll see what the future brings but it looks bright. MESH are Mark Hockings (vocals, guitar), Richard Silverthorn (guitar, keyboard, backing vocals), Gary Howe (live drums) and Geoff Pinckney (keyboards, backing vocals).
http://www.mesh.co.uk/
/
http://www.myspace.com/meshwecollide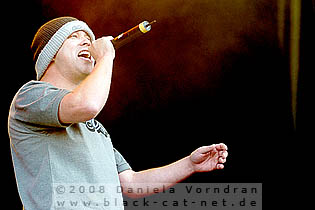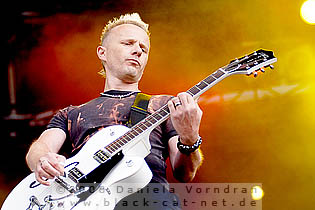 Music & Performance

So there it was, my first live experience with MESH; and just like me, masses of people were heading towards the main stage, so it was quite crowded to say the least. As soon as the band entered the stage to start with the first song, a great mood prevailed, even if the crowd still was a bit reluctant for my taste, but a radical change took place a bit later when the first tones of 'Leave you Nothing', admittedly a big hit of the band, emerged and you could suddenly see & hear the people screaming, singing and clapping their hands. To be in the middle of all this means to get infected and so I joined in. Mark, as usual armed with his trademark - the woolly hat - isn't a guy who's rushing over the stage and jumping all the time. Of course he's moving but he's doing it in a more relaxed way and in lieu demonstrates his vocal qualities.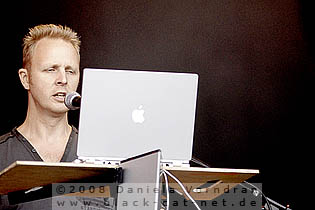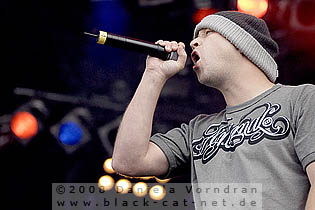 With hits in stock like the angry-pushing 'Fragile', the dreamy 'Not Prepared' which was a nice surprise for me as I hadn't hoped for such luck to finally hear it live, 'Petrified' and most notably 'Crash' during which the crowd went absolutely nuts, a successful show was guaranteed. When Mark announced 'Scares me' I was hoping that they might play the slower version this time. Guess I shouldn't have been that surprised to hear the other one as it would be much more befitting for it to be played in a more intimate atmosphere than on an open air stage, anyway the song is amazing in one or the other way but another thing that I found quite amazing was how much drive and power the live drums threw into the mix and how much it sets these versions apart from what you get to hear on a CD of the guys and a difference between studio and live versions isn't always given. At the end of it all I was pleased; the band was pleased and as several of the faces around me gave away, the audience too. Next time I'd prefer a later slot with more playing time please.
Setlist

01. What are you scared of?
02. People like me
03. Leave you nothing
04. Not Prepared
05. It Scares Me
06. Fragile
07. Crash
08. Petrified
Rating

Music: 9
Performance: 8
Sound: 8
Light: - (daylight)
Total: 8.5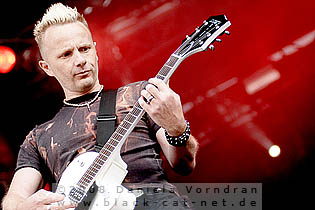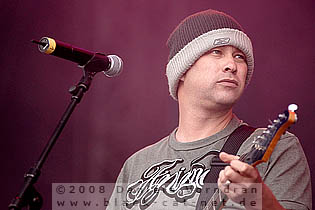 Tanzwut [TV]
You can call TANZWUT the electronically enhanced alter ego of the not so unknown medieval band CORVUS CORAX. The idea to not exclusively use medieval instruments already came up in 1996 but first in 199 TANZWUT came to live. Many fans who especially liked the acoustic direction of CORVUS CORAX couldn't get used to the new style, gravitating towards a more industrial metal approach on the recent releases, incorporating the use of more down-tuned guitars, harsher vocals and darker atmospheres. However the band found other fans and now fill big halls, even in Mexico. The most recent output goes by the name of 'Schattenreiter', released in 2006. TANZWUT is Teufel (bagpipe, lead vocals), Wim (bass, bagpipe), Norri (percussion, keyboard), Hatz (percussion, key drum, electronic drums, Riesentara, keyboard) and Patrick (guitar, backing vocals, bagpipe, Tromba Marina).
http://www.tanzwut.com/
/
http://www.myspace.com/tanzwutmusic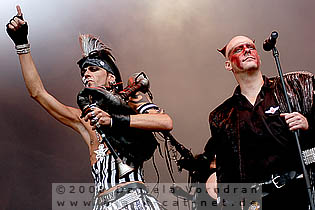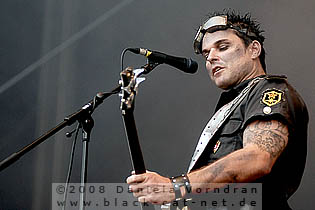 Music & Performance

Also on the main stage, TANZWUT were turning the tides into another musical direction with their sudatory medieval "Industrial" rock. The formation, emerged from the medieval band CORVUS CORAX, is well-known for their unique and impulsive show. Band member and singer Teufel (devil) claimed all attention with his uniform-like outfit and the distinct red horns and instantly encouraged the M'era Luna audience to go nuts, when 'Ihr wolltet Spaß' was started. The crowd got carried away swiftly. A sea of dancing people with their arms rose, unfolded as far as the eye could see. This was perfect for the upcoming title 'Meer' and also with the subsequent 'Vulkan'; the motto was to crack up completely in the middle of the day.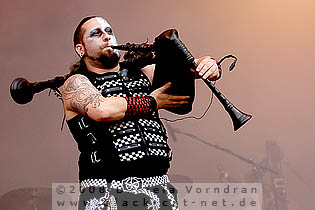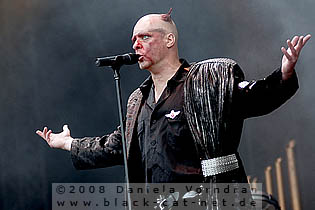 Bagpipes (and other not so known) medieval instruments were combined with harsh guitar riffs and drums and made the festival attendees in front of the main stage rock. Fascinating to see how keen on partying the massed already were at this early afternoon and celebrated the song 'Lügner'. Even people who weren't TANZWUT fans could sing along to the DIE ÄRZTE cover song 'Bitte, bitte'. A spectacular showdown was presented with a violin play on casket lids during 'Schattenreiter' from the current album and left a brooding and sweaty mass.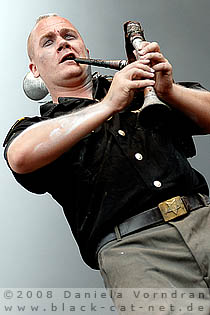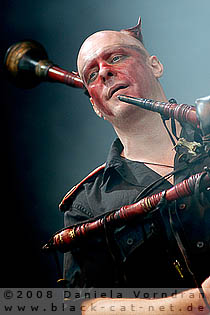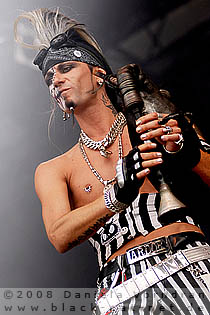 Unheilig [TV]
In 1999, the first sign of life of UNHEILIG appeared in the form of the first single 'Sage Ja!' which became a smash hit in the clubs and stayed in the DAC charts for several weeks. The first album 'Phosphor' was released in 2001, followed by live appearances on various festivals and open-air events. The second album 'Das zweite Gebot' was released in 2003 and was presented to the fans on a tour together with L'ÂME IMMORTELLE. 'Zelluloid', the third album, followed in 2004 together with a tour with Terminal Choice. In 2005, the time had come for the release of a Live CD and DVD. The next regular studio release was called 'Moderne Zeiten' and has been released in January 2006. UNHEILIG went on tour as a headliner for the first time to play the new songs live. In 2006, Der Graf (The Count) retreated to his studio to work on the new album 'Puppenspiel' released in February 2008, followed by the limited 'Spiegelbild EP' which is sold-out by now.
http://www.unheilig.com/
/
http://www.myspace.com/unheilig
Music & Performance

No one gets around the following artist for some time now and so UNHEILIG got hold of their first performance on the main stage at early evening; a logical consequence, after very successful albums and partly sold-out concerts. Der Graf (The Count) laid down a good show as usual, providing no surprises but a moody hour of entertainment, so he was backed again by his live musicians Henning (keys) and Licky (guitar); and had built up the known candle bearers as well. After the opener 'Puppenspiel', the current single 'Spiegelbild' followed being recently released as an EP and already sold-out two weeks prior to its release. The wonderful and calm ballad 'Astronaut' was alternated by the hit single 'Sage Ja'.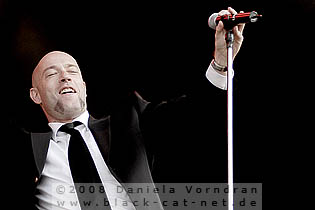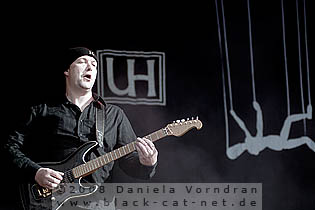 The audience was raving and sang at the top of their voices. Der Graf did some wild dancing duels with Licky and his guitar. Even if heard for a hundred times, 'An deiner Seite' is just wonderful and we enjoyed the performance of the count, who dedicated the song to a good friend, he would never forget. Despite countless shows and constant positive reactions from the fans, Der Graf always appears very moved and grateful; and he showed it. From now on, every song was rewarded with a warm applause. It went on enthusiastically with 'Feuerengel' and the explosive 'Lampenfieber'. "Fieber, Fieber" shouts and raised arms accompanied the whole song. It wasn't less hard with 'Maschine' and the classic 'Freiheit'. An honest thank you followed and the goose bump song 'Mein Stern' provided a calm finale to this UNHEILIG performance. One thing that' s left to say is that Der Graf meanwhile must've had a shake hands with almost every of his fans after the endless signing sessions at the Amphi Festival; and now also at the M'era Luna.
Setlist

01. Puppenspieler
02. Spiegelbild
03. Astronaut
04. Sage Ja
05. An Deiner Seite
06. Feuerengel
07. Lampenfieber
08. Maschine
09. Freiheit
10. Mein Stern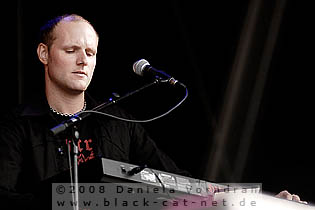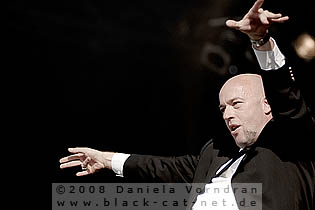 ASP [TV]
ASP are undoubtedly one of the shooting stars in the German Goth scene and maybe even beyond its borders. With the cycle of the black butterfly they've established, what you can call a brand, settled in the heads of the people, a true master stroke that you have to give him credit for, even if you don't like what he or should I say the band creates musically. One of the band's most famous hits is 'Und wir tanzten', still a crowd pleaser at every concert. While the early works were electronically driven, the subsequent releases enforced a gradual change to more rocking sounds. That style has meanwhile received the label 'Gothic Novel Rock. ASP's upcoming album 'Zaubererbruder' is due for a release at the end of August. ASP is Asp (vocals), Matthias Ambré (guitar), Andreas Gross (bass) and Oliver Himmighoffen (drums).
http://www.thetalesofasp.com/
/
http://www.myspace.com/thetalesofasp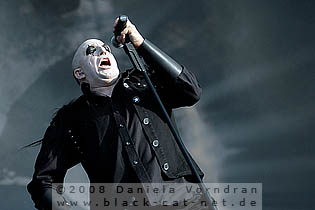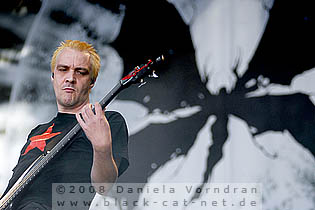 Music & Performance

Besides UNHEILIG, ASP is a band that needs no introduction anymore. They became known through lots of live performances and the cycle of the black butterfly, bestowing them a loyal following. Ready for some opulent Goth Rock, all the band members were warmly welcomed and started with the rocking and catchy 'Sing Child'. The sun shined down from the heavens but brought no real luck to the four-piece, as the sound was much too low and led to doubtful looks and "Louder, Louder" shouts by the audience. Despite those problems, which also couldn't be fixed in the course of the show, ASP didn't get confused and gave everything; show and vocal-wise. A new song called 'Denn ich bin der Meister' from the upcoming Krabat song cycle, entitled 'Zaubererbruder' was presented afterwards.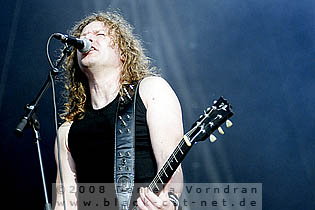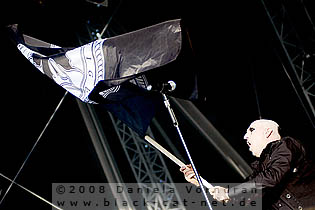 The following statement came from the heart "We're ASP and music is our life" and the set continued with 'Nie mehr' and 'Sanctus Benedictus'. Despite the low sound, there was a constantly good mood among the attendees. The audience sang and danced through the whole performance. With hits like 'Ich bin ein wahrer Satan', 'Werben' and the cult song 'Und wir tanzten - Ungeschickte Liebesbriefe' everyone could be satisfied. The letter-perfect festival attendees surely made the show a memorable experience with a sea of raised arms. The usually explosive 'Ich will brennen!' really rocked, but couldn't stand out with the low sound and regardless of the pyro show. You couldn't spot-out the disappointment on the band's side and professional as they are; they ended the show with 'Schwarzes Blut' and left the stage.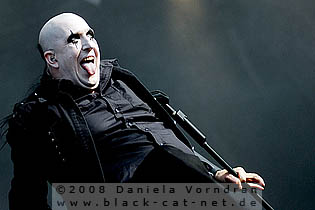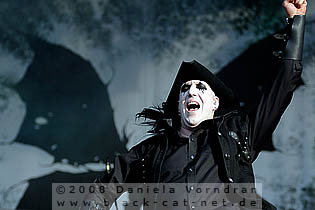 Singer Asp wrote down some very personal and interesting thoughts; as well as specific details about the problems and the performance here:
http://www.thetalesofasp.de/
Setlist

01. Sing Child
02. Denn ich bin der Meister
03. Nie mehr
04. Sanctus Benedictus
05. Ich bin ein wahrer Satan
06. Werben
07. Und Wir Tanzten - Ungeschickte Liebesbriefe
08. Ich will brennen
09. Schwarzes Blut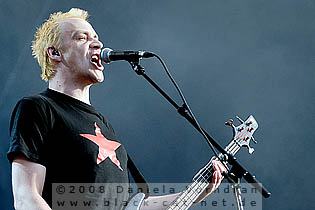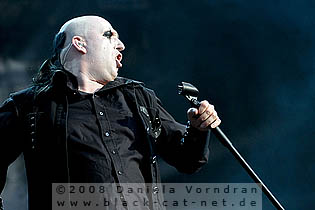 VNV Nation [SH]
Founded in 1999 as the solo project of Ronan Harris debuting with the album 'Advance & Follow (Now a rarity) in 1995, the project was joining the ranks of the big names after supporting Swedish COVENANT and releasing their second album 'Praise the Fallen' in 1998 and the following 'Solitary EP'. In late 1999 VNV NATION signs to the newly founded label Dependent Records and releasing their follow-up 'Empires' under that moniker including songs like 'Darkangel' and 'Standing' still being heavily played in clubs all over the world. The successor 'Future Perfect' was a pretty mixed up story. Old fans who were used to the EBM-ish sounds complained about the growing amount of Trance and pop elements, nonetheless it became a huge success for VNV NATION and with 'Beloved' contained an unforgettable hymn. On 'Matter & Form' (2005) new influences from various sources have been processed moving away from the trance sound to a more organic feeling  In 2007 it was time for the new strike 'Judgement' released on their own label Anachron Sounds. VNV NATION is Ronan Harris and Marc Jackson supported by different live musicians on stage.
http://www.myspace.com/vnvnation
/
http://www.vnvnation.com/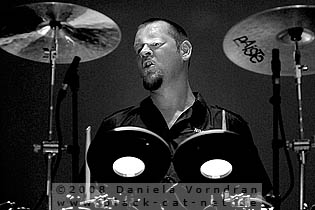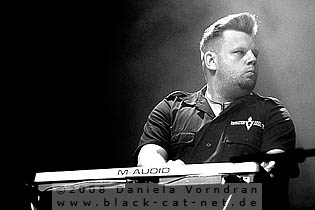 Music & Performance

You can say what you want but Ronan Harris is a great entertainer and live performer. When our Irishman enters the stage, he's already controlling the audience. The M'era Luna performance was no exception. Ronan was entertaining and interacting a lot with the masses. The cheering calls for the crowd wouldn't have been necessary as everyone got carried away into a rush from the first beats of the opener 'Joy' that blasted through the PA. A classic and an all-time fan favourite followed with 'Darkangel' and was continued with 'Legion' beginning with a monumental intro leading into a dance floor-oriented track afterwards. 'Chrome' the next song can't be missed out in a VNV NATION set either and adds another tune to the long list of club hits from the band. A try to let the crowd sing a part of the lyrics was rewarded with silence and in return with a comment of Ronan "You don't even know the words?", but he shrugged it off and with a big grin on his face started to dance and jump all over the stage again.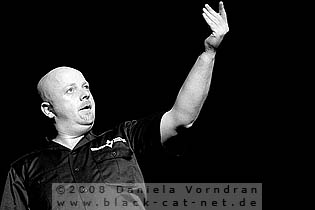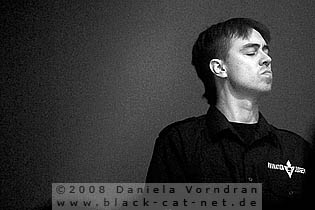 'Procession' then was something for the EBM and old-school admirers among the fans, before a doze of 'Judgement' followed with 'Illusion' which sends shivers down the spine and the catchy 'Farthest Star'. With 'Standing' we moved back in time to 'Empires' again. To see Ronan sing that song was just incredible. The next two songs represented two periods and connected the past 'Honour' (Ok it was the updated version, but it still is no new song) with the future and the, as Ronan titled it "Stadium Song" 'Perpetual' a song everyone knew and which boosted the adrenaline to unbelievable regions. The encore that had to follow surely will stay in the heads of the attendees forever with 'Further' being played by Ronan, alone on stage, only carried by the gentle piano and fragile vocals. With 'Beloved' the set ended and everyone who was attending the show could se they've been part of something very special.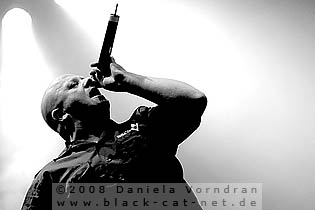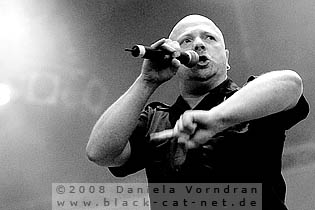 Setlist

01. Intro
02. Joy
03. Darkangel
04. Nemesis
05. Legion
06. Chrome
07. Procession
08. Illusion
09. Farthest Star
10. Standing
11. Honour 2003
12. Perpetual
---
13. Further (piano)
14. Beloved
Rating

Music: 8
Performance: 8
Sound: 8
Light: 8
Total: 8.7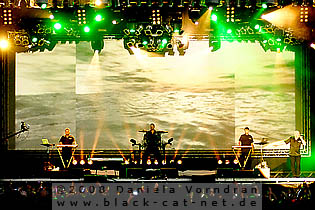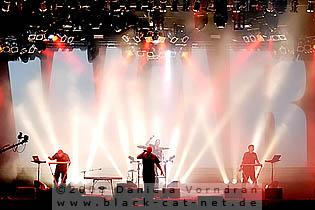 Front 242 [JU]
Front 242 were created in 1981 by Daniel Bressanutti and Dirk Bergen, who wanted to create music and graphic design using emerging electronic tools. The first single, Principles, was released late in 1981. One year later Patrick Codenys and lead singer Jean Luc de Meyer joined the line-up and the single 'U-Men' as well as the debut 'Geography' were released. These early releases are cited to be influential to many other artists in the genre; however, the breakthrough, and with it a rising popularity, came with the next album 'No Comment' which is the first to introduce the term 'Electronic Body Music' which would become the term for a whole genre. That time they also signed to the Wax Trax label and started their first US tour together with MINISTRY. The single 'Headhunter' taken off the accompanying album 'Front by Front' in 1988 was to become a widely popular track and now is a classic. Everything following this couldn't link to the former successes anymore, leading to the slow decay of the band. In 1997, the band surprisingly reunited and 2003 even saw the release of a brand-new album 'Pulse' showing the band going back to their roots sound-wise. FRONT 242 are: Jean-Luc De Meyer (vocals), Daniel Bressanutti (keyboards, programming, live mixing), Patrick Codenys (keyboards, programming, samplers) and Richard "23" Jonckheere (percussion, vocals).
http://www.front242.com/
/
http://www.myspace.com/front242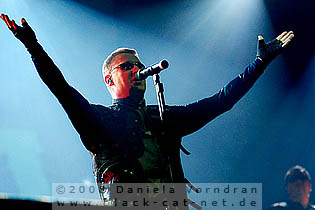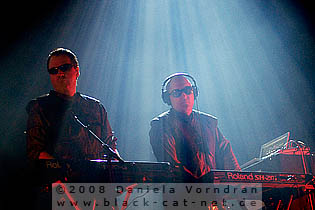 Music & Performance

It's only fair that a living legend like FRONT 242 was headlining the main stage of the M'era Luna, and as FRONT 242 has a reputation to provide powerful and highly dynamic live shows we all looked forward to an energetic show with lots of wild dancing. But FRONT 242 have also a reputation to surprise and challenge their fans, and this is what they did at the M'era Luna 2008. Instead of starting with a big bang FRONT 242 presented us a yet unreleased track called '98' - a track which was written by Richard Jonckheere and which didn't make it onto FRONT 242's last album 'Pulse'. The track is about human rights, and the words on the video screens behind the band supported the socio-critical and political approach of '98'. Richard Jonckheere delivered the lead vocals, while Jean-Luc DeMeyer played the keyboard next to sound wizard Patrick Codenys. Jonckheere and DeMeyer would often switch these positions, in case they didn't share vocal duties during a track. '98' was followed by a freaky version of 'Religion' and the first crowd pleaser of the gig, 'Welcome To Paradise'. It seemed that these three songs somehow built some kind of lyrical leitmotif, which was halted by the (musically very powerful) 1984 classic 'Lovely Day'.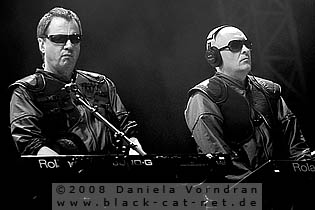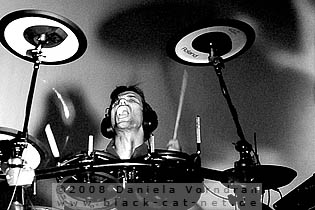 The audience was surprisingly calm but then FRONT 242 decided for a rather experimental mid-tempo set for most of the rest of the show anyway. An almost endless version of 'Commando Mix', some newer songs like 'Triple X Girlfriend' or 'Together' and updated (and somewhat tamed) old tracks like 'No Shuffle', 'Funkahdafi' or 'Moldavia' dominated the central part of FRONT 242's gig. Musically and sound-wise it was quite an experience, as FRONT 242 (by the way completed by live drummer Tim Kroker) decided against catering expectations and served their audience revamped versions of old songs and quite stunning sonic experiments. Not to forget the pretty amazing video show! All those who came to hear a hit parade of classics in familiar version to dance their asses off to the music might have been a little disappointed, but to give them some solace FRONT 242 offered them the 1980s dance tunes 'Take One' and 'Im Rhythmus Bleiben' and, as the last track of the night, the inevitable 'Headhunter'. This time, FRONT 242's show was less good old Electronic Body Music but more tricky and intricate Techno tunes. My dancing shoes were perhaps a little unhappy but my electronic music loving ears were more than pleased. FRONT 242 like to surprise, and next time both the shoes and the ears may be equally happy again.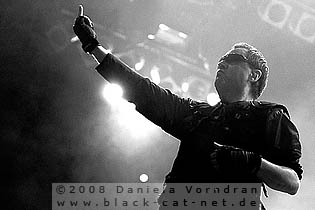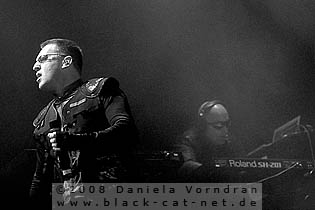 Setlist

01. 98
02. Religion
03. Welcome To Paradise
04. Lovely Day
05. XXX (Triple X Girlfriend)
06. Commando Mix
07. One
08. No Shuffle
09. Circling Overland
10. Funkahdafi
11. Moldavia
12. Together
13. Take One
14. Im Rhythmus Bleiben
---
15. Until Death Us Do Part
16. Headhunter
Rating

Music: 10
Performance: 9
Sound: 9
Light: 10
Total: 9.6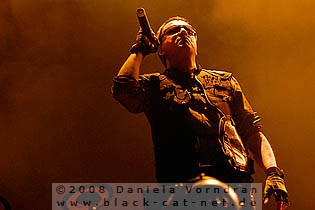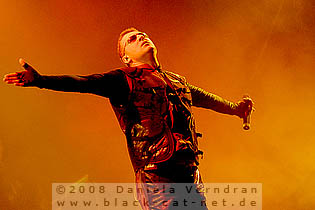 Even though there were several technical problems with the overall sound on the main stage during this first festival day, most of the 23,000 visitors will keep this day in best memory - not only because of the perfect festival weather on this Saturday. After the concerts, lots of the visitors celebrated at the after show party until the early morning hours. Others just relaxed with their beverages and friends at the camp side already looking forward the second festival day.
Written by: overall editor Daniela Vorndran [DV], all band intros Sebastian Huhn [SH] and J. "Niggels" Uhlenbruch [JU]. Translations by Sebastian Huhn [SH] for Tanzwut, Unheilig and ASP with friendly approval from the articles published at
http://www.musik.terrorverlag.de
[TV]
All pictures by Daniela Vorndran (
http://www.vorndranphotography.com/
/
http://www.black-cat-net.de/
/
www.myspace.com/vorndranphotography
)
{jos_sb_discuss:18}
See also (all categories):