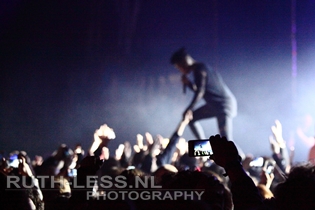 Paaspop, Schijndel, The Netherlands
29th to 31st March 2013
Paaspop Day 1: Skunk Anansie

Paaspop in Schijndel is the usual kick off for the festival season in the Netherlands. And, usually, we're able to have a cold beer in the hot spring sun around this time of year, but not in 2013. Armed with thermo wear, gloves and a big woollen hat, I drove over to Schijndel for what could easily become the coldest Paaspop festival thus far. Fortunately, there are some great bands in this year's line-up to warm us up!


And here's the complete list of bands who were ready for your entertainment during the Easter weekend: And You Will Know Us by the trail of dead, Anne Soldaat, Babylon Circus, Barry Hay & Flying V formation, Batmobile, Beardyman, Beef, Berlinskibeat, Beth Hart, Black rebel motorcycle Club, Blaudzun, Blof, C2C, Caro emerald, Chase & Status DJ Set & Rage, Dexter, Dimitri Kneppers, Dope D.O.D., Douwe Bob, Elektro Guzzi Live, Gojira, Gomes, Goose, Grimskunk, Guerilla Speakerz, Gui Boratto, Hef, Honky, Huoratron, Jandino Asporaat, Jochen Otten, Joker, Julian Sas, Killer Queen, Kvelertak, La Pegatina, Memphis Maniacs, Moke, Mozes and the firstborn, Mr Polska & nouveau Riche, Nielson, Noisia, N-Type, Palio Superspeed Donkey, Peter Pan Speedrock, Racoon, Rotfront, Shadows Fall, Skip & Die feat De Jongens Driest, Skism, Skunk Anansie, Solstafir, Testament, The Bloody Beetroots Live, The Gaslight Anthem, The ZZ-tops, Will & The people, Yellowclaw, Fresku, DI-RECT, Tommie Sunshine, Dekmantel Soundsystem, The Kik, The Boy With Tape On His Face, Kensington, Balthazar, Jackmaster, Obey, Faberyayo, Death Angel, 80's Verantwoord, 90's Now, Beverly Hills 908000's, Otava Yo, Patchanka en Black Sun Empire & More…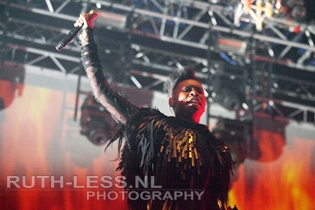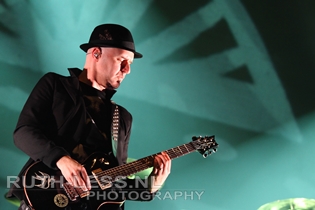 Skunk Anansie

English rock band SKUNK ANANSIE formed in March 1994 with members Skin, Cass, Ace and Mark. Their name was taken after an African tale of a spider-man called "Anansi". The band was named as one of the most successful UK chart acts between 1952 and 2003 by the Guinness Book of British Hit Singles & Albums in 2004. With their first albums `Paranoid and Sunburnt´ (1995) and 'Stoosh' (1996) SKUNK ANANSIE became popular very fast with singles 'Weak' and 'Charity'. In 1999, SKUNK ANANSIE released the album 'Post Orgasmic Chill' which, although a big success, turned out to be the final album before they disbanded in 2001. After the split, the band members turned to solo-projects: Skin recorded 'Fleshwounds' and 'Fake Chemical State', Cass collaborated with Gary Moore releasing the album 'Scars' and Mark recorded sessions with various artists. The band reformed in 2009 and released a new album called 'Wonderlustre'. In September 2012, their 6th studio album 'Black Traffic' successfully followed. SKUNK ANANSIE is Deborah Anne Dyer aka Skin (vocals), Mark Richardson (drums), Martin Ivor Kent aka Ace (guitar) and Richard Keith Lewis aka Cass (bass). www.skunkanansie.net / www.facebook.com/OfficialSkunkAnansie / www.myspace.com/skunkanansiemusic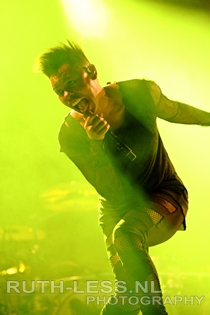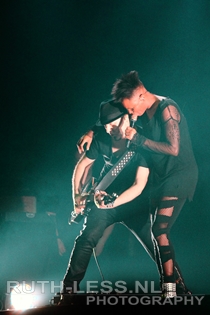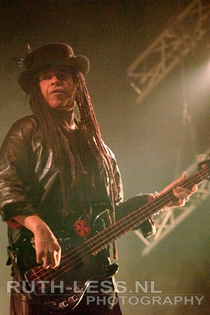 Music & Performance
Friday's biggest attraction is without any doubt rock band SKUNK ANANSIE from the UK. Bands reforming can be a tricky thing, but listening to the last two albums since their reform SKUNK ANANSIE clearly managed to keep their characteristic Skunk sound without repeating their old work. From their show at Lowlands festival two years ago, I also know that their live performance is nothing but impressive and I wonder if they have been able to keep up that quality and enthusiasm. With a blast of energy, Skin, Cass, Ace and Mark kick off their show with oldie 'The Skank Heads' from the album 'Post Orgasmic Chill' (1999). Wearing a black feather robe and some shiny glitter shoes, Skin looks impressive as always. The crowd instantly starts moving along with this charismatic front woman, who jumps and runs the stage like mad. And not unimportantly: the temperature starts to rise. SKUNK ANANSIE continues their show with some new work from the latest album 'Black Traffic' before returning to more old classics like 'Twisted' and 'Weak'. The crowd didn't really seem to know the lyrics as they were invited to sing along (now I feel old). Fortunately, this didn't temper SKUNK ANANSIE's enthusiasm. As Skin without doubt takes care of the energetic part of their show, guitar and bass player Ace and Cass do seem to have a good time on stage as well. The band takes a little break with the politically flavoured song 'This is not a Game', where our front lady again proves she has a marvellous voice.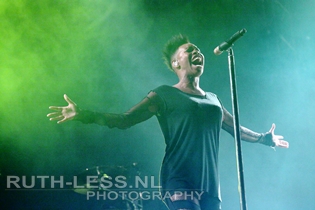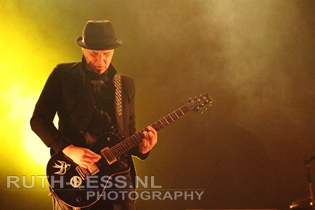 The next song is all about the energy again, as Skin flirts away with the camera man on 'I can Dream' from their first album 'Paranoid and Sunburnt'. After a great walk-through of the SKUNK ANANSIE repertoire, the main part of the show comes to an end with 'Charlie Big Potato'. After convincing cheers from the crowd, the band returns for three more songs in the encore. After we've 'teared the place up' and '100 Ways to be a Good Girl' it turns out to be Aces birthday, resulting in a big sing-along birthday song with the crowd. As the best is usually left for last, the show ends with 'Little Baby Swastikkka'. Skin asks whether they'd take care of her, as she mingles into the crowd and continues singing. She commands them to get down and jump up a few times before she kindly requests for a line of hands back to the stage. I don't know many musicians who can (and do) pull this off with a live show, but I think it's great that they're really making the crowd part of it. And as she makes her way back crowd surfing, this wicked show finally comes to an end. I make my way back to the car in the freezing cold and head home to get some sleep and re-energize for the second day of Paaspop festival 2013.

Setlist
01. The Skank Heads
02. I Will Break You
03. I Believed In You
04. God Loves Only You
05. Twisted (Everyday Hurts)
06. My Ugly Boy
07. Weak
08. Hedonism (Just Because You Feel Good)
09. This Is Not A Game
10. I Can Dream (flirt with camera man)
11. Spit You Out
12. Sad Sad Sad
13. Because Of You
14. Yes It's Fucking Political
15. Charlie Big Potato
---
16. Tear The Place Up
17. 100 Ways To Be A Good Girl
18. Little Baby Swastikkka

Rating
Music: 9
Performance: 9
Sound: 9
Light: 7
Total: 8.5 / 10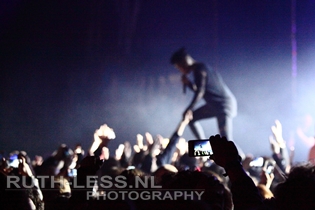 All pics by Ruth Mampuys (www.ruth-less.nl)



See also (all categories):