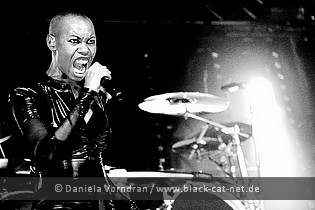 Live-Music-Hall, Cologne, Germany
20th February 2011
Skunk Anansie, The Virginmarys
To say we were somewhat happy to get to see SKUNK ANANSIE live would be a "mild" understatement; actually it we were pretty stoked to have the opportunity. The show being sold-out it was no wonder the queue stretched out across half the street and also clear that would be a cosy little concert.
The Virginmarys
The three-piece THE VIRGINMARYS started in the beginnings of 2009 and made a reputation for themselves first by playing a couple live gigs. That led to catching the attention of a producer who would be recording their debut mini-album 'Cast The First Stone'. In the following time their reputation started growing more. The debut full-length is expected for a release in this year's May. THE VIRGINMARYS are Ally Dickaty (guitar, vocals), Matt Rose (bass, vocals) and Danny Dolan (drums).
http://www.thevirginmarys.com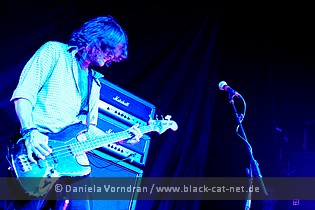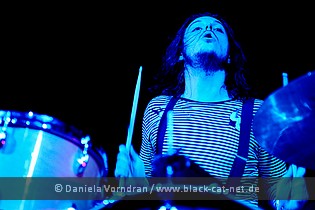 Music & Performance
Prior to the show I heard someone asking how THE VIRGINMARYS would sound and got answered they've a rather pop-tinged approach to rock music. Well, what's coming up then with the band walking up on stage was a pretty demanding blend of blues rock, garage, and a little prog in-between and packed with lots of fury. The guys started their set with 'Nothing To Lose' but everything to gain and that first sing kicked some ass. Contrary to other bands it was the drummer that attracted the most of attention during the performance. He played his instrument with so much verve you couldn't just take your eyes away from that. To the second song 'Bang, Bang, Bang', the drummer left his place to heavily stroke the gong to rush back to add the thumping rhythm to the electrifying track. It was nothing but heartfelt applause that followed after such a performance. A newer song called 'Just a Ride' shook the walls and bodies with its hefty forward momentum and eventually, the band gave us some 'Portrait Of Red' before leaving the stage.
Rating
Music: 7
Performance: 7
Sound: 8
Light: 6
Total: 7 / 10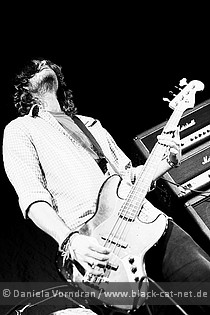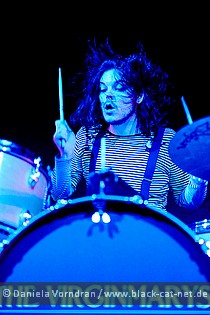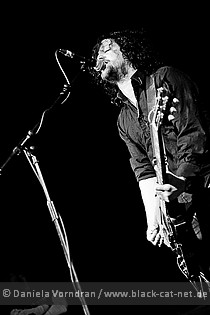 Skunk Anansie
The popular Britrock band SKUNK ANANSIE consisting of lead singer Deborah Anne Dyer aka Skin, Mark Richardson (drums), Ace (guitar) and Cass (bass) was formed in 1994. Their unusual name was taken after an African tale of a spider-man called "Anansi". One year after, they were voted "Best New British Band" by the readers of Kerrang!-magazine. The first albums `Paranoid and Sunburnt´ (1995) and `Stoosh´ (1996) made the world-wide breakthrough. In 1999, SKUNK ANANSIE released the long-player `Post Orgasmic Chill´ which should be the final album before the band disbanded in 2001. After the split, the band members turned to solo-projects: Skin recorded `Fleshwounds´ and `Fake Chemical State´, Cass collaborated with Gary Moore releasing the album `Scars´ and Mark recorded sessions with various artists. The band reformed then in 2009. And with 'Wonderlustre' released a completely new album.
http://www.skunkanansie.net
/
http://www.myspace.com/skunkanansiemusic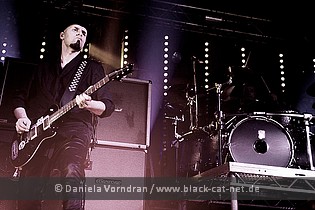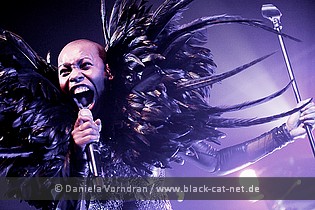 Music & Performance
A curtain veiled most of what was happening from there on until break beats and a multitude of lights told something would be coming soon. Then, three shapes appeared, and suddenly the curtain fell down and the show began with all eyes fixed on Skin right from the start, and it wasn't due to her body decoration; it's due to how she's acting on stage while she was impressively performing the opener 'Yes It's Fucking Political', sung along loudly by the audience. But back to the way she's performing and which leaves photographers all in awe. It's the look in her eyes, the feelings she transports while moving along like a cat that makes it most special to watch. 'Charlie Big Potato' continued the set with more vocal power that was running showers over your body. The light show was impressive before 'Because Of You' already. But the stuff going on then was a sheer sensation. It almost distracted you from fully appreciating the beauty that lies in the song…almost. Something way back from the astonishing debut album now came with '100 Ways To Be A Good Girl' and it is hard to describe what it triggered. It felt so overwhelming.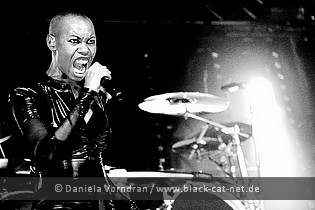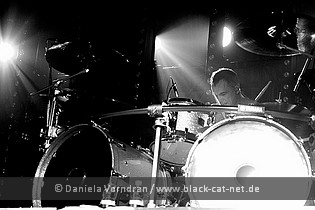 When Skin announced 'The Sweetest Thing' off their new album 'Wonderlustre', where she'd also play guitar, excitement rolled like a wave through the venue and clapping along to it was the least the people could do, and they certainly wouldn't be holding back loud chanting to the following 'Weak' which created an amazing atmosphere. With 'Brazen (Weak) , one of my favourite track also was a part of the setlist and as you can imagine made me more than just happy when it followed right up. A dry, deeply sinister bass carried us into 'My Love Will Fail' and bestowed us a few minutes of pure bliss as far as bliss goes with that track. With a venue packed like that and an audience riled up like that, there's no thinking of having a band disappear and it wouldn't happen with SKUNK ANANSIE who still had to present several gems such as the uber hit 'Hedonism'' before releasing their overly happy audience into the night. It was an honour to finally see that band live.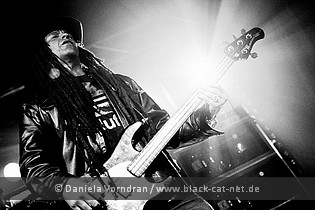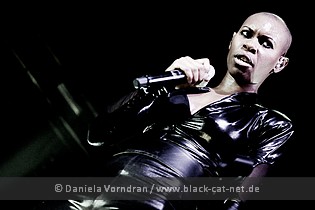 Setlist
01. Yes It's Fucking Political
02. Charlie Big Potato
03. Because of You
04. God Loves Only You
05. (riff from All In The Name Of Pity)
06. 100 Ways To Be A Good Girl
07. Secretly
08. Over the Love
09. I Can Dream
10. The Sweetest Thing
11. (Riff from Intellectualise My Blackness)
12. My Ugly Boy
13. Weak
14. Brazen (Weep)
15. My Love Will Fall
16. Twisted (Everyday Hurts)
17. Feeling the Itch
18. On My Hotel T.V.
19. Tear The Place Up
20. The Skank Heads (Get Off Me)
---
21. Hedonism (Just Because You Feel Good)
22. You Saved Me
23. Little Baby Swastikka
---
24. You'll Follow Me Down
Rating
Music: 9
Performance: 9
Sound: 8
Light: 9
Total: 8.9 / 10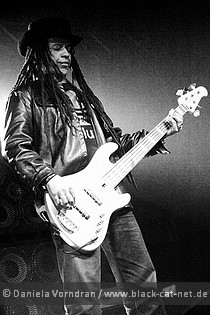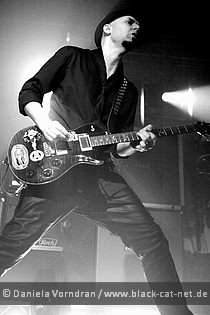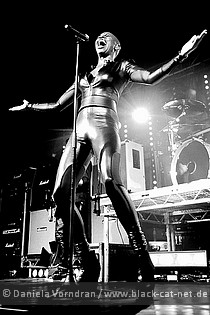 See also (all categories):