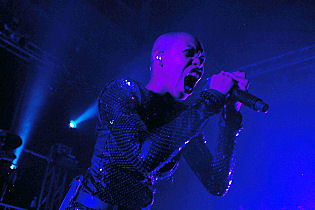 Posthalle, Würzburg, Germany
10th October 2009
Taubertal-Rocknacht: Skunk Anansie, Donots, Itchy Poopzkid, Fiddlers Green, Eternal Tango, The Intersphere

Every summer, the Taubertal festival - which is well-known for a hand-picked Alternative music programme - takes place in Southern Germany. On 10th October 2009, its indoor version attracted many listeners of popular international and German acts such as SKUNK ANANSIE, DONOTS, ITCHY POOPZKID, FIDDLERS GREEN, ETERNAL TANGO and THE INTERSPHERE. It was a cold afternoon when the attendees gathered in front of the Posthalle located the downtown area of Würzburg waiting for admission which should have taken place at half past 4 pm. However, there were some sound check problems resulting in a 30-minutes delay. At this point, I would like to praise the friendly and helpful Posthalle staff that finally made everything run smoothly.
The Intersphere

Christoph Hessler (vocals, guitar), Sebastian Wagner (bass), Thomas Zipner (guitar) and Moritz Müller (drums) are THE INTERSPHERE that played until recently under the name HESSLERS. Since 2005, the guys have been making music together. Their debut album `SmallOnes Brainpain´ was released in November 2006, after they had qualified for "Bandpool" which is a support project initiated by the federal state of Baden-Wuerttemberg. Afterwards, they went on tour and won the "Ringrocker"-Contest which made them part of the line-up of the popular German festival Rock am Ring. Recently, THE INTERSPHERE released a re-mastered version of the first album and announced new dates for appearances in Germany, Switzerland and The Netherlands in this year's autumn.
http://www.theintersphere.de/
/
http://www.myspace.com/theintersphere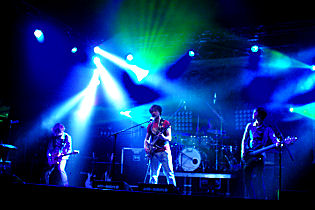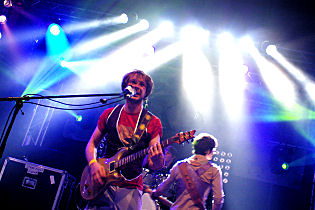 Music & Performance

The four-piece from Mannheim opened up the Taubertal-Rocknacht under difficult conditions. It was in the early evening and only a few people had already arrived. Some of the attendees preferred to pay a visit to the merchandise booth of the DONOTS, as there was a TV screen broadcasting the football match Germany vs Russia. Nevertheless, THE INTERSPHERE provided a powerful set, including rousing songs such as the catchy `Prodigy Composers´ and the multi-layered `Google Earth´. I had seen them live in concert several times before; therefore I didn't notice any curtailments regarding their performance and they acted like they would play in front of a huge crowd. Later on, I was told that the guys had a second appearance at another indoor festival, this time as headliner act.
Setlist
01. Intro
02. Prodigy Composers
03. Interspheres
04. Trans-late
05. State of the Divine
06. Google Earth

Rating

Music: 8
Performance: 8
Sound: 9
Light: 8
Total: 8.2 / 10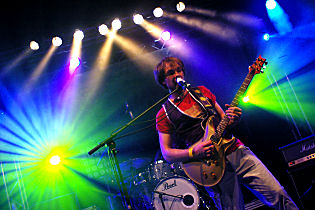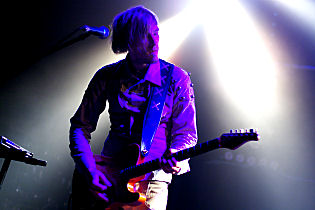 Eternal Tango

The Luxemburg-based Post Hardcore formation ETERNAL TANGO consists of David Moreira (vocals), Pit Romersa (drums), David Schmit (guitars), Joe Koener (guitars) and Tom Gatti (bass). Founded in 2002, the band released its first recording `Spyglass´ two years later followed up by the debut long-player `First Round at the Sissi Café´ in 2007, extensive touring and a video for `Narya Narya...´. The single of the same title made it into the Top 20 of the international German club charts. Last summer, the guys introduced the most recent single `Pink-White Sheets´. According to their announcements, a new album will be released in autumn / winter 2009/2010.
http://www.eternaltango.net/
/
http://www.myspace.com/eternaltangoband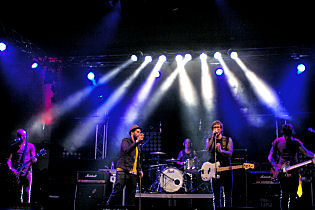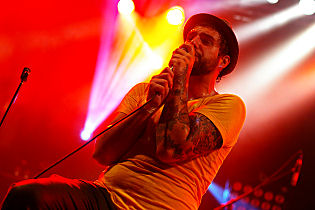 Music & Performance

Doubtlessly, ETERNAL TANGO turned out to be a nice surprise. I hadn't known the guys before and therefore I didn't have any expectations regarding their performance. When they came on stage, they met with only a few listeners. Later on, they were able to attract more and more attendees listening attentively to their nonchalantly presented Rock tunes. Fortunately, they didn´t only play their catchy songs such `Pink-White Sheeds´ and `Oh!No´ but also succeeded in making efforts to offer a splendid show. Therefore, they received a well-deserved increasing applause. Their 30 minutes-set was accompanied with a colourful light show that made taking photos as enjoyable as listening to their guitar-driven songs. In my opinion, front man David Moreira´s expressive vocals sounded similar to the singing of SEX PISTOLS lead vocalist Johnny Rotten. Furthermore, the guys were striking rock star posers and interacted with the audience in a pleasant way.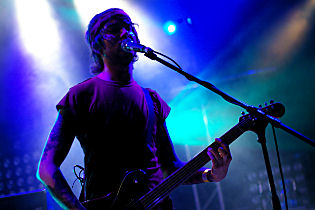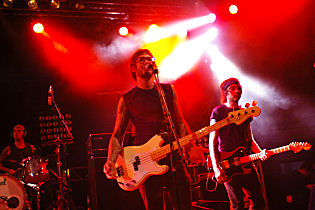 Setlist

01. Golden City
02. Viscious 5
03. Pink-White Sheeds
04. Ronny Roy Johnson
05. By the River
06. Be a Star
07. Oh!No
08. DA/DA
09. Touch the End
Rating

Music: 8
Performance: 8
Sound: 8
Light: 9
Total: 8.2 / 10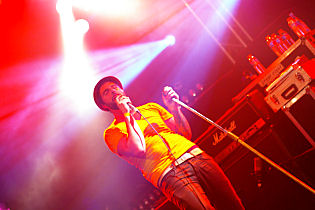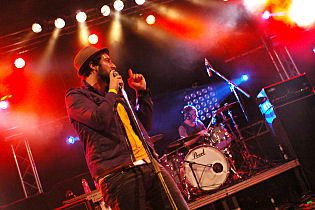 Fiddler´s Green
Combining Irish folk music-like sounds with Rock, Ska and Punk tunes, the German formation FIDDLER´S GREEN describes its style as "Irish Speedfolk". For about 19 years, the band members have been making music together. Ralf "Albi" Albers (vocals, acoustic guitar, bouzouki, mandolin), Pat Prziwara (vocals, guitars, banjo), Stefan Klug (accordion, bodhran), Tobias Heindl (violin, vocals), Rainer Schulz (bass) and Frank Jooss (drums, percussions) form the recent line-up. Meanwhile, they have released eleven long-players; the most recent one is `Sports Day at Killaloe´ (2009) that even hit the German album charts on #52 at the beginning of the year. At the moment, the guys are touring German clubs and have already announced tour dates for 2010.
http://www.fiddlers.de/
/
http://www.myspace.com/speedfolk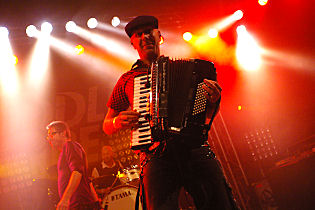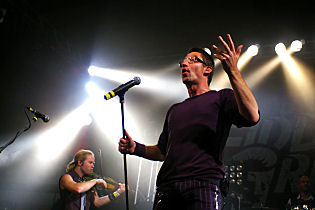 Music & Performance

Though the hall wasn't filled to capacity, it was getting hotter and tighter. A red backdrop displaying the band logo and some traditional instruments referred to the upcoming performance of the lively six-piece that is well-known for providing sweaty and cheerful concerts. And that's what the crowd was offered when the musicians came on stage. They formed a line like football players do right before a match and then the glittering feast began with the first song `Life full of Pain´. The suddenly high-spirited audience started to clap and chant along; the folks seemed to appreciate the lively Folk Rock songs very much. Most of the pieces were fast and vivacious - the right soundtrack for all the party-willing attendees who had gathered in the front rows. Besides the merry songs, the performance was rounded off by some funny interludes the guys were able to demonstrate their skills with. After 50 minutes, the band finished the set playing the cheeky `Bugger off´ and finally leaving an exhausted and obviously pleased crowd.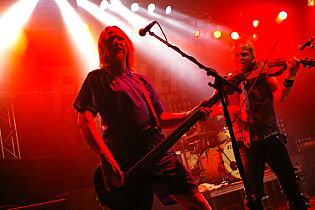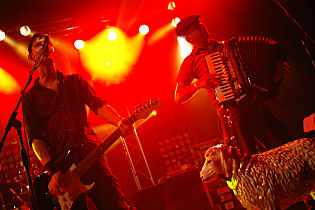 Setlist

01. Life full of Pain
02. Sporting Day
03. Bottom of our Glass
04. Folk´s not dead
05. Rose in the Heather
06. All these Feelings
07. Eimer Solo
08. Highland Road
09. Rocky Road to Dublin
10. The Night Pat Murphy died
11. Bugger off
Rating

Music: 8
Performance: 10
Sound: 9
Light: 8
Total: 8.8 / 10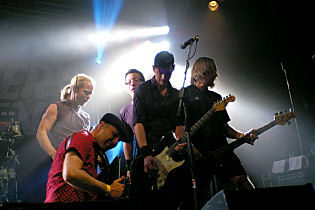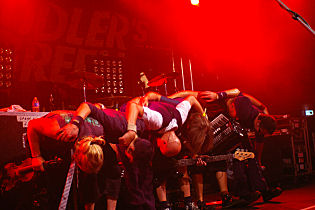 Itchy Poopzkid

Nine years ago, the German Punkrock band ITCHY POOPZKID started as a student band under the name NUTELLA covering other artists´ songs. When they decided to choose their recent name and to write own stuff, Sailor (drums), Panzer (vocals, bass, guitar) and Sibbi (vocals, guitar, bass) attracted a big following as well as the attention of the band DONOTS that wanted ITCHY POOPZKID to be their support act on tour. After they had released the EPs `Two Thumbs down´ and `...Having a time´, the debut album `Heart to believe´ followed up in 2005. The single `Silence is killing me´ taken from the second long-player `Time to ignite´ (2007) even made it into the German charts. This year, they released the third full-length recording `Dead Serious´. After having a lot of appearances at festivals and clubs in summer, they will continue their "Dead Serious Tour" in November which will lead them through Germany, Switzerland and Austria.
http://neu.itchypoopzkid.de
/
http://www.myspace.com/itchypoopzkid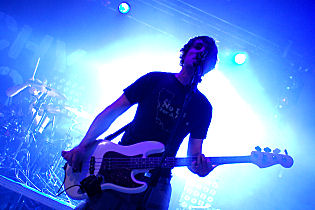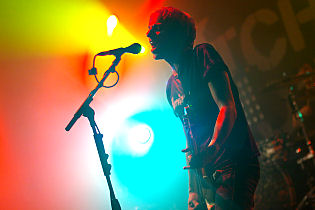 Music & Performance

Quite a few of people wearing ITCHY POOPZKID shirts revealed that the band was one of the most awaited acts. I have already experienced them live on stage when they played at the Taubertal festival last summer and I was taken with their rousing performance and the funny announcements between the songs. Therefore, I had high expectations and shouldn't be disappointed as the formation appeared in high spirits again. Naturally, crowd-surfing and wild jumps were part of the 60-minutes show. Beside the highly entertaining movements, interludes and jokes, the band fell back on a respectable set list containing guitar-driven party songs such as the anthemic `You don't bring me down´ and the RUN DMC cover `It´s tricky´. Thus, it wasn't astonishing that their fans were absolutely into that great appearance!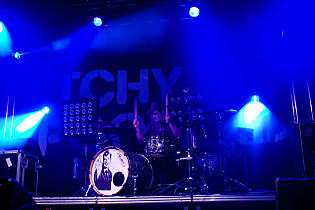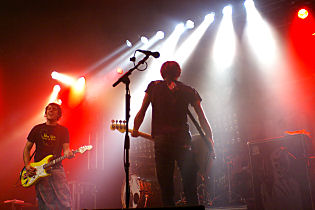 Setlist

01. Intro
02. Never be the same
03. Take me back
04. Try Try Try
05. Pretty me
06. The Lottery
07. Lyrically happy
08. It´s tricky
09. The Living
10. Personality
11. You don´t bring me down
12. Better off alone
---
13. Drogenfrau
14. Silence is killing me
15. As long as I feel fine
Rating

Music: 8
Performance: 9
Sound: 8
Light: 7
Total: 8.2 / 10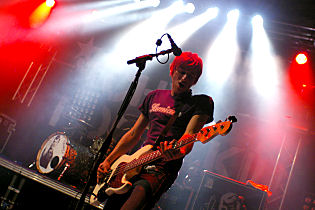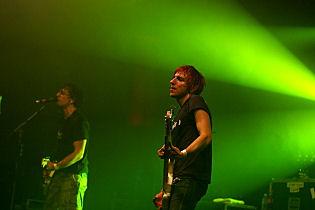 Donots

The Punkrock band DONOTS started playing music in 1993. Up to now, the recent line-up consisting of Ingo Knollmann (vocals, piano), Guido Knollmann (guitar), Alex Siedenbiedel (guitar), Jan-Dirk Poggemann (bass) and Eike Herwig (drums) has released all in all eight long-players and was on tour with bands such as DIE TOTEN HOSEN, TERRORGRUPPE and BLINK-182. Last year, the band from Ibbenbueren introduced the most recent album `Coma Chameleon´; a long-player standing in the tradition of fast and guitar-driven Punkrock radiating great party mood. In this year's September, they released an exclusive UK-only EP `To Hell with Love´ featuring six songs.
http://www.donots.com
/
http://www.myspace.com/donots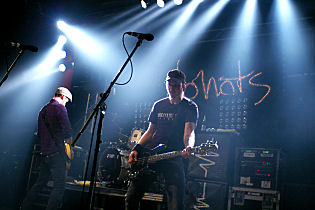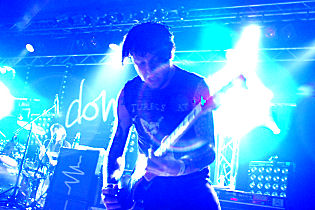 Music & Performance

An illuminated lettering announced the upcoming band: The German formation DONOTS headed onto the stage and kicked off with `This is not a Drill´. The guys soon made their fans going wild and it didn't take a long time until the appearance reached its flash point. Singing along and practising pogo dancing, the crowd got infected with the lively atmosphere of the Punkrock anthems. Even the folks in the back rows jumped up and down. Running across the stage like a berserk, singer Ingo Knollmann animated everyone to chant and clap along.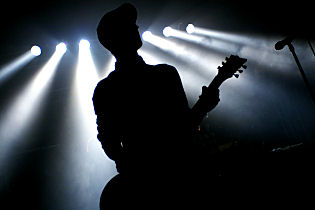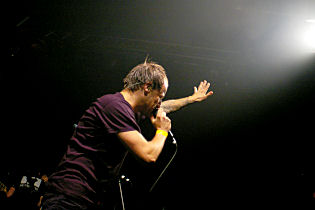 Over and over again, he got in contact with the fans in the front row who literally carried him on their hands. His colleagues were constantly in motion too and I often wondered how they managed to play properly. Finishing the performance with the two encore songs `Room with a View´ and `We're not gonna take it´, the band received great applause before they made room for the evening's headliner SKUNK ANANSIE.
Setlist

01. This is not a Drill
02. I quit
03. Pick up the Pieces
04. Big Mouth
05. Up Song
06. Today
07. To Hell with Love
08. Break my Stride
09. Anything
10. Saccharine Smile
11. Stop the Clocks
12. Duck and Cover
13. Whatever happened to the 80s
---
14. Room with a View
15. We´re not gonna take it
Rating

Music: 8
Performance: 9
Sound: 8
Light: 8
Total: 8.3 / 10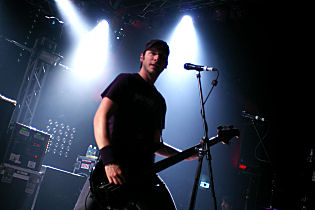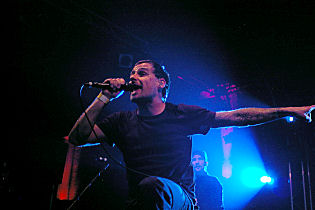 Skunk Anansie

The popular Britrock band SKUNK ANANSIE consisting of lead singer Deborah Anne Dyer aka Skin, Mark Richardson (drums), Ace (guitar) and Cass (bass) was formed in 1994. Their unusual name was taken after an African tale of a spider-man called "Anansi". One year after, they were voted "Best New British Band" by the readers of Kerrang!-magazine. The first albums `Paranoid and Sunburnt´ (1995) and `Stoosh´ (1996) made the world-wide breakthrough. In 1999, SKUNK ANANSIE released the long-player `Post Orgasmic Chill´ which should be the final album before the band disbanded in 2001.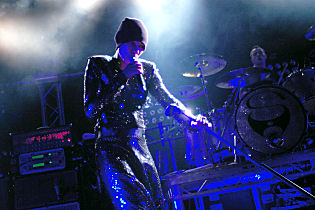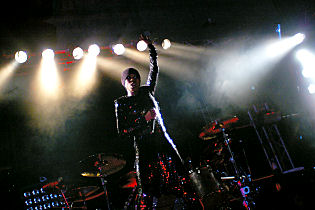 After the split, the band members turned to solo-projects: Skin recorded `Fleshwounds´ and `Fake Chemical State´, Cass collaborated with Gary Moore releasing the album `Scars´ and Mark recorded sessions with various artists. Last year, Mark surprisingly confirmed reports that the band would be reformed in 2009. Meanwhile, they have started their "Greatest Hits Tour" across Europe and announced the upcoming album `Smashes and Trashes´ featuring three new songs and 12 well-known hits.
http://www.skunkanansie.net
/
http://www.myspace.com/skunkanansiemusic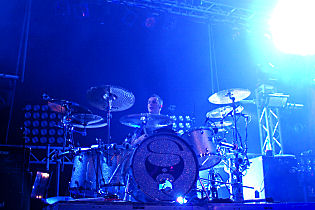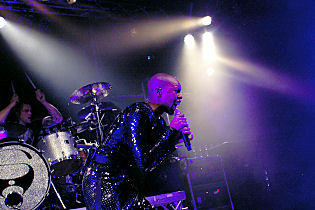 Music & Performance

Most listeners had longed for this moment when the hall's lights went off again and it was SKUNK ANANSIE´s turn. Obviously, the folks were counting down the seconds until two cubes displaying glowing LEDs prepared for the appearance of the British Rock band. Accompanied with an intro and frenetic applause, Ace, Mark Richardson and Cass walked to their instruments. Hell broke loose and shouts even became louder when front woman Skin jumped onto the still darkened stage. Dressed with a glittering suit and a woollen hat (that she ripped down later on), she danced wildly and was instantly in the spotlight of the show. The charismatic singer grabbed her micro with smooth movements and started to sing the first lines of the dark `Charlie Big Potato´. Naturally, the fans knew every word inside out and sang along the entire song in a nearly ecstatic manner.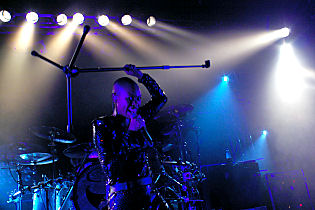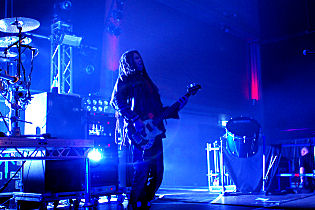 When they were reaching for their idol, the petite Skin didn't hesitate to get in contact with her audience. She climbed the barriers and gave a high five to some people. I was deeply impressed by the powerful performance and the voluminous, clear voice outshining other female fronted performances I have seen and listened to so far. Due to her expressive mimics and gestures, she was able to captivate everyone. Contrary to her, the guys preferred to take a back seat. Every now and then, they were involved into the show when Skin pushed and kicked at them. Apart from that, they focused on playing their instruments. The live versions of the new songs `Because of you´, `Tear the Place up´ and `Squander´ made me really curious about the upcoming recording. Beside the new tracks, classics such as the passionate `Weak´, the danceable blast `Twisted´ and the deeply sad `Brazen (Weep)´ shouldn´t be missing.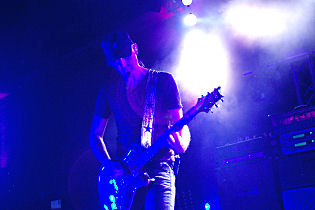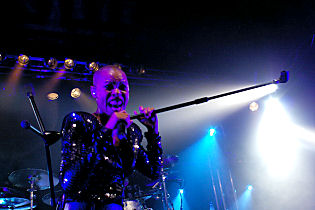 The set also provided some tougher stuff, for example the weird `On my Hotel TV´ and `The Skank Heads´. After they had played 14 songs, SKUNK ANANSIE left the stage, but they soon came back with three additional songs up to their sleeves. The first one was the eagerly awaited `Hedonism´ which became the stunning highlight of a picture-perfect show. The crowd sang along the whole chorus while Skin was adding some sobbing and squeaks making the live performance of this heart-wrenching ballad even more emotive than the bittersweet album version. It was an unbelievably rousing concert confirming that the band´s comeback has been the only right decision.
Thus, I experienced a well-organized and overall pleasing concert evening that makes me hope for more events of that kind.
Setlist

01. Intro
02. Charlie Big Potato
03. Because of you
04. Charity
05. 100 Ways to be a good Girl
06. I can dream
07. I don´t wanna kill you
08. Weak
09. Brazen (Weep)
10. Twisted (Everyday hurts)
11. Cheap Honesty
12. On my Hotel TV
13. Tear the Place up
14. The Skank Heads
---
15. Hedonism
16. Squander
17. Little Baby Swastika
Rating

Music: 9
Performance: 10
Sound: 9
Light: 9
Total: 9.3 / 10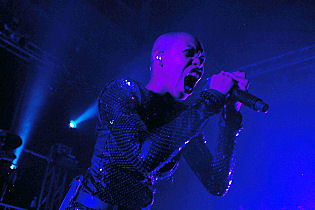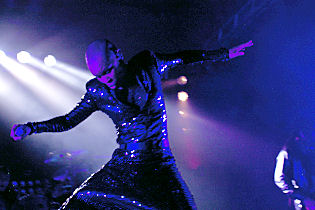 All pictures by Katrin Renner (
http://www.creavision-webdesign.de
)
{jos_sb_discuss:19}
See also (all categories):