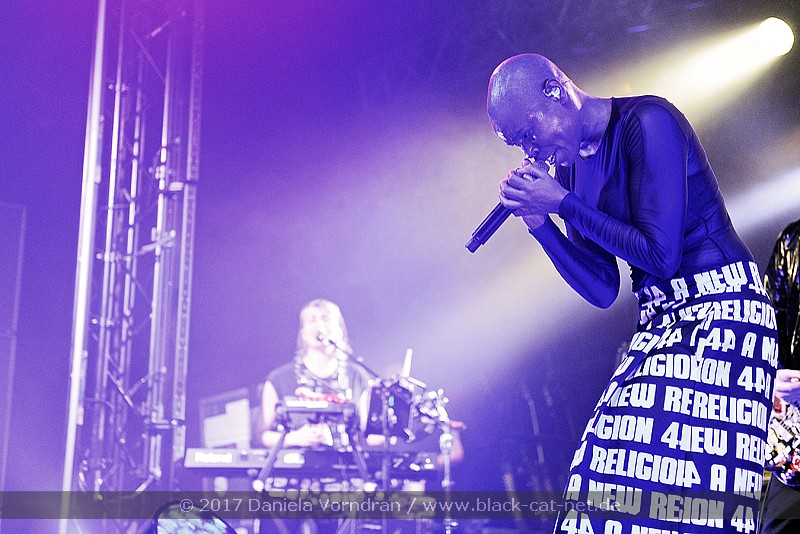 Live-Music-Hall, Cologne, Germany
4th March 2017
Skunk Anansie & The Pearl Harts

It's astonishing for how long SKUNK ANANSIE's front woman has managed to be one of the most dazzling figures in rock biz. Just a few weeks ago Skin graced the cover of the Italian Vanity Fair with a megaphone in her hands and now she's announcing to bring back her band where it belongs: on stage. This where the British woman still explodes as she did back in the mid-nineties. In those days, she appeared like the punky daughter of Grace Jones jumping around dressed in army pants and heavy Docs, licking over her bassist's bald head, and screaming at the audience: "Who put the little baby swastikka on the wall?" And now, where she is nearly fifty years old, she is still a pure energy package on stage. Amazing!
People used to marvel at SKUNK ANANSIE as newcomers until their second record 'Stoosh' entered the charts. With the success of the ballad 'Hedonism - Just Because You Feel Good' they brought a lesbian love relationship into the mainstream in an unbiased way. After their third album, 'Post Orgasmic Chill', and many tours, they called it quits in 2001, before they braced themselves in 2009 giving the world two new albums, a 'Best of' and an acoustic live album in 2013. After a four year break, the band released its new studio album 'Anarchytecture' in January 2016. Following this, the band played to concerts in Germany in February 2016 where they once again displayed all facets of the band: the explosive earlier pieces, that the strangely ageless seeming Skin still can sing and shout in a credible way; and their most multifaceted late work, which the band at times presents as ballads and at times as riot rock, such as in 'I Will Break You', the opener of the 2012 'Black Traffic' album.
The band itself has recently announced on their website that they're ushering in a new era. What exactly does this mean? We got the answer already in 2016 and now, the band is back in Germany for four more shows. The demand was very high and all shows were sold-out! Also the venue in Cologne was packed and people were celebrating SKNUNK ANANSIE and their support act, THE PEARL HARTS.
The Pearl Harts

http://www.thepearlharts.com
/
https://www.facebook.com/ThePearlHarts
Setlist

01. The Chief
02. Go Hard
03. Hurt
04. Lost In Time
05. Hit the Bottle
06. The Rush
07. Black Blood
Skunk Anansie

http://www.skunkanansie.net
/
https://www.facebook.com/OfficialSkunkAnansie
Setlist
01. And Here I Stand
02. Intellectualise My Blackness
03. Because of You
04. I Will Break You
05. My Love Will Fall
06. Death to the Lovers
07. Twisted (Everyday Hurts)
08. My Ugly Boy
09. Weak
10. Hedonism (Just Because You Feel Good)
11. Victim
12. Love Someone Else
13. I Believed in You
14. That Sinking Feeling
15. God Loves Only You
16. Without You
17. We Don't Need Who You Think You Are
18. Yes It's Fucking Political
19. Little Baby Swastikkka
---
20. Selling Jesus
21. Tracy's Flaw (followed by Thanks for Support and Band Introduction)
22. Charlie Big Potato
All pictures by Daniela Vorndran (
http://www.vorndranphotography.com
/
http://www.facebook.com/blackcatnet
)
See also (all categories):