Paaspop, Schijndel, The Netherlands
29th to 31st March 2013
Paaspop Day 3: Kvelertak, Peter Pan Speedrock, Dope DOD, La Pegatina, Wendy McNeill and The Gaslight Anthem, Death Angel

After two days of music and party, and an hour missing because of summertime (ouch!), Paaspop took a little longer to get started on Sunday. Today had more rock, rap, pop dance and of course more metal on the program, as well as some singer songwriting projects and activities the crowd could join in such as Hardrock Karaoke.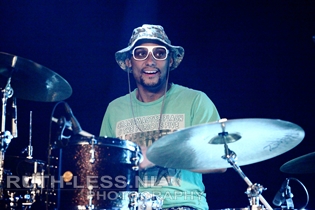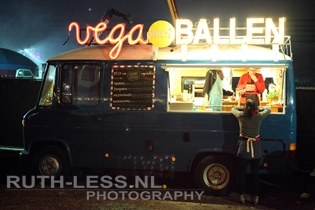 Kvelertak

KVELERTAK (Norwegian for choke hold) is a relatively young band from Norway that started out in 2007. Their main influences are rock and roll, black metal and punk rock. Most songs are in Norwegian, the band's native language. The band's self-titled debut album was released in 2010 and sold over 15,000 copies in Norway. The second album, 'Meir', was released in March 2013. KVELERTAK is Erlend Hjelvik (vocals), Vidar Landa (guitar), Bjarte Lund Rolland (guitar), Maciek Ofstad (guitar, vocals), Marvin Nygaard (bass) and Kjetil Gjermundrød (drums). www.facebook.com/Kvelertak / www.myspace.com/kvelertak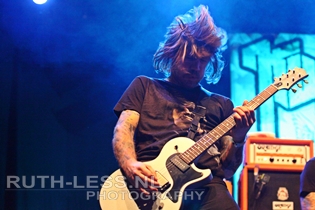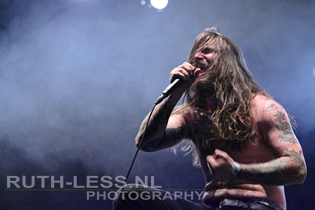 Music & Performance
Getting ready for the fierce Vikings of KVELERTAK, I am welcomed into the tent by a force of no less than three guitars and one bass player, trying to blow off the roof. Front man Erlend is jumping and running over the stage like a bare-chested mad man screaming his lungs out. There's no going around this band and it surprises me that the tent is only moderately filled. This doesn't seem to bother KVELERTAK though as they go through their set list fast forward. Their music is a combination of black metal and punk rock, although some of the songs are simply rock and roll and quite easily digestible. The sound is not exactly perfectly balanced, but not really a bother in this wild performance. The set list comprises both work from their second album 'Meir' that was released this month, as some older songs. A nice warm-up for the last day of Paaspop.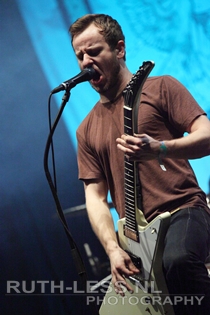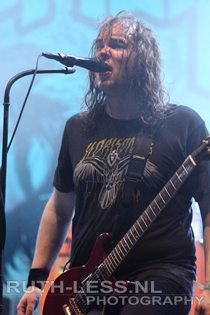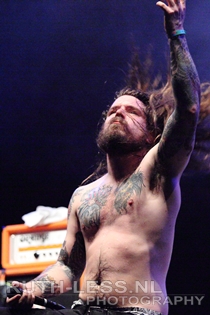 Setlist (incomplete)
Spring fra livet
Mjöd
Fossegrim
Ulvetid
Bruane Brenn
Blodtørst

Rating
Music: 6
Performance: 7
Sound: 6
Light: 6
Total: 6.5 / 10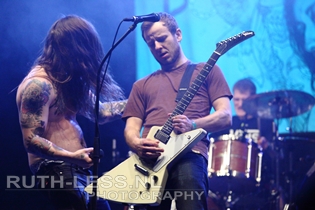 Peter Pan Speedrock

PETER PAN SPEEDROCK was founded in 1996 as simply PETER PAN (SPEEDROCK was added to the name in 2001, to make sure everyone knows what they stand for). Their musical style diverges from hard rock, punk, rockabilly and metal. Although the band had some trouble at take-off, they've so far released 13 albums (including three split albums and a compilation). PPSR has shared the stage with bands like MOTÖRHEAD, TURBONEGRO and NASHVILLE PUSSY. Their latest album 'We Want Blood' dates from 2010. PETER PAN SPEEDROCK consists of Peter van Elderen on vocals and guitar, Bart Gevers on bass and Bart Nederhands on drums. From 1998 on Dikke Dennis ('Fat Dennis'), a tattoo artist from Amsterdam, has been with the band as well as guest singer, presenter and mascot of the band. http://website.peterpanspeedrock.nl/ / www.myspace.com/peterpanspeedrock / www.facebook.com/peterpanspeedrock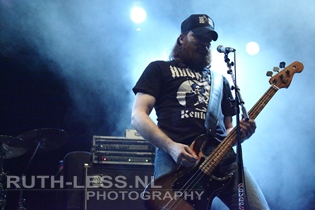 Music & Performance
PETER PAN SPEEDROCK does what their name promises; they rock at lightning speed. Judging from the T-shirts present in the crowd, many fans have gathered here to see this legendary Dutch band for the 15th time at this festival. That's right, they've been part of the line-up many times since Paaspop took off as a small festival many years ago. Announced by their mascot fat Dennis, Peter, Bart and Bart take off and the Phoenix stage starts steaming right away. Unfortunately, I learned only afterwards that the day before PETER PAN SPEEDROCK was also the Jack Daniels Legend Surprise Act at the Thunderbolt stage. Too bad I had missed that. With songs like 'Evil Sweet Things' and 'Better off Dead' PETER PAN SPEEDROCK is perfectly able to entertain a crowded Phoenix stage. We'll probably see them again next year at Paaspop!

Setlist (incomplete)
Evil Sweet things
Better off Dead

Rating
Music: 7
Performance: 7
Sound: 7
Light: 6
Total: 7 / 10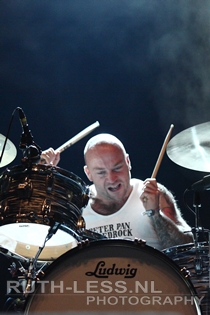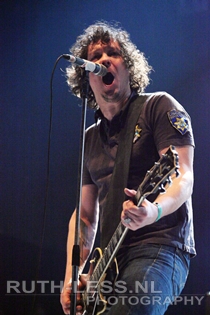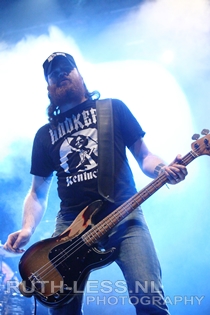 Other bands

Besides the obvious rock, punk and metal bands at Paaspop, there were numerous other bands to take a glimpse at as well. To be more precise; Paaspop festival has over 175 national and international acts in three days' time. Summarizing: Sunday started out being cool with the tough guys from rap formation DOPE D.O.D, I did a little dancing with Spanish rumba band LA PEGATINA, who totally put the Apollo stage upside down and created an instant summer. During lunch, I listened to the folk stories of singer songwriter WENDY MCNEILL from the UK. Although it must have been rather annoying for her to have an eating audience in front of her, that's the burden of a gig in the main restaurant area. Later on that afternoon, I had a blast at the HARDROCK KARAOKE stage and finally Punk-folk-indie legend THE GASLIGHT ANTHEM entertained the Apollo stage at the end of the day. Unfortunately, they couldn't really convince me personally.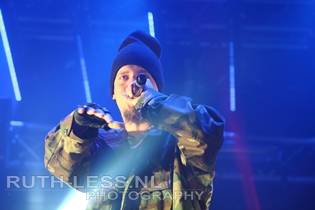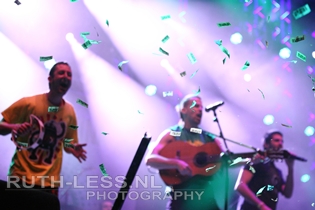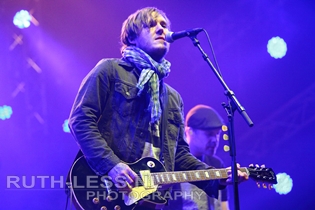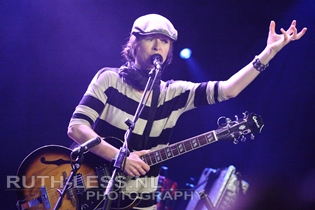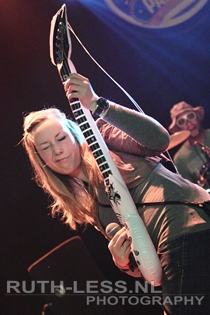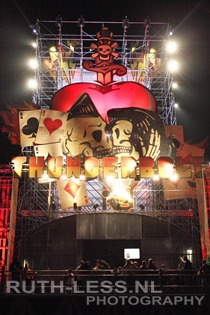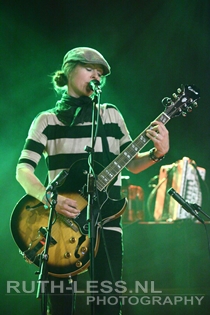 Death Angel

Death Angel is a thrash metal band from Concord, California, initially active from 1982 to 1991 and again since 2001. Death Angel has released six studio albums, two demo tapes, one box set and two live albums. Their latest album 'Relentless Retribution' dates from 2010 and the band has been touring ever since. The band has been working on a new album which is supposed to be out released somewhere in 2013. Death Angel is Rob Cavestany (guitars), Mark Osegueda (vocals), Ted Aguilar (guitars), Damien Sisson (bass guitar) and Will Carroll (drums). www.deathangel.us / www.myspace.com/deathangel / www.facebook.com/deathangel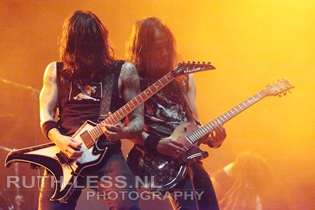 Music & Performance
DEATH ANGEL has been on the road touring for the last three years and tonight's show at Paaspop festival is the last one before they will head home to start recording their new album. Nevertheless, DEATH ANGEL looks and acts energetic as they present a mix of old ('Bored') and new songs (such as 'River of Rapture' and 'Dethroned') from their repertoire. Singer Mark has quite a versatile voice interchanging screams with clean vocals while jumping and running across the stage while guitarists Rob and Ted show off their skills in front of the stage. Mark is quite talkative and besides presenting a little history of the band and the band members, he emphasizes several times how much the band enjoys being in Holland and how they appreciate the support they've had from Dutch fans over the years.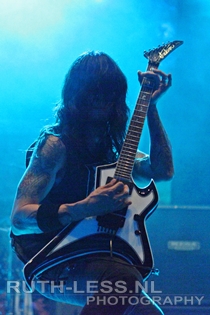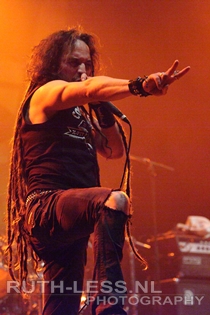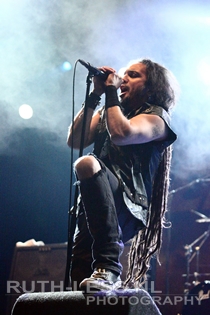 All in all a great energetic show and thumbs up to the Paaspop organizers to get yet another old skool trash metal legend to play at their festival! Unfortunately, this year's edition of Paaspop also ends here for me, as three days of festival take its toll with a sport injury from some mad mud obstacle race. I limp back to my car with a big smile on my face, see you next year Paaspop!

Setlist (incomplete)
Bored
Dethroned
River of Rapture
TUV Thrown

Rating
Music: 7
Performance: 8
Sound: 7
Light: 7
Total: 7.5/10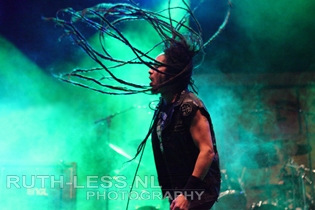 All pics by Ruth Mampuys (www.ruth-less.nl)



See also (all categories):