Page 1 of 2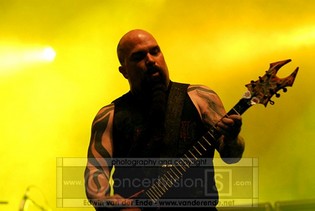 Waldrock, Burgum, The Netherlands
5th of July 2008
Slayer, 1349, My Dying Bride, Queensryche, Hollenthon, Lordi, Life of Agony, Symphony X, Itenstiid, Biohazard, Morbid Angel, Forbidden, Rose Tattoo, Death Angel, Hail of Bullets, Alchemist, Helmet, Pagan's Mind, Death By Stereo, Greyline
Waldrock seemed very promising this year. They had managed to gather a great line-up. The weather however seemed to be very poor. On the day of the pre-party the weather turned and it became a wonderful weekend. Maybe 20 minutes of rain but nothing drastic. It was time for some old rockers, some new rockers and even some crazy rockers. As every year the locals stood in front of the gate to look at all these metal head coming and going to the festival grounds. They got to see a lot of smiling faces this year!
Pagan's Mind
Pagan's Mind was founded in the year 2000. Their first album Infinity Divine was released that same year. 4 albums and eight years later they are still creating and entertaining. They were the opening act on the Tent Stage of Waldrock today.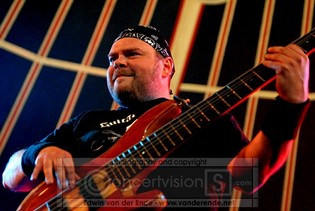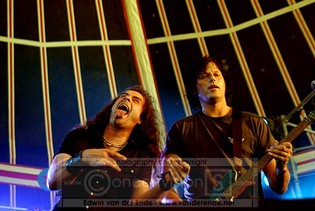 Music & Performance
When finally entering the festival area the band had already started. I walked in while they were playing their cover of "Hello Spaceboy" from David Bowie. A brilliant cover, it still has the true Bowie sound to it. Even though it was till early (for a festival) the audience was eager to participate and the band gave a lot of energy. Nils sings with a lot of passion and that is audible. Nils is constantly walking around, making contact with the audience. Stian (drums) and Ronny (keyboard) however are constantly hidden behind their hair. That was a pity.
Rating
Music: 7
Performance: 7
Sound: 7
Light: 7
Total: 7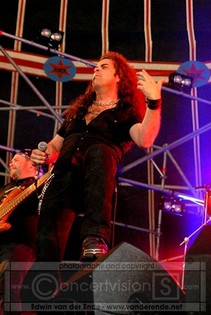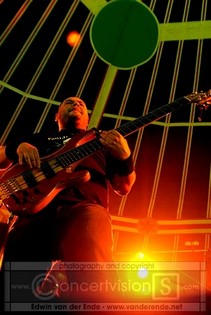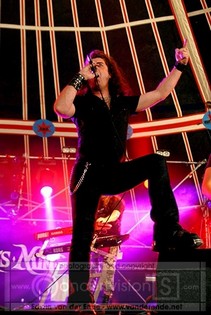 Helmet

Helmet has already celebrated their 20th anniversary. This might explain why there is only one of the original members left today: Page Hamilton (vocals/guitar). They will release their new record Monchrome on the 18th of July. So for those who loved their performance… remember this date.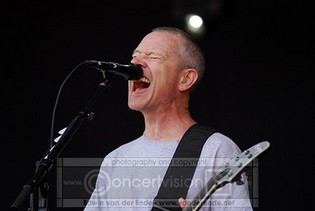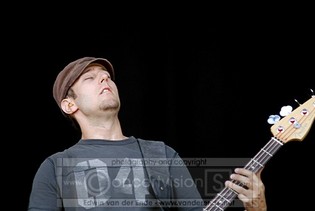 Music & Performance
It was quiet in front of the main stage when Helmet was playing. During the day the audience grew. Still there were a lot of fans there for those who were watching the show were very enthusiastic. The stage was quite empty. Just the band members and that was it. There was little contact with the audience. The music however sounded very good with the raw voice of Hamilton and the heavy beats of their music.
Rating
Music: 7
Performance: 6
Sound: 7
Light: -
Total: 7 (6,6)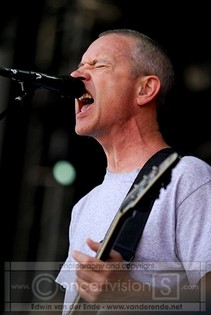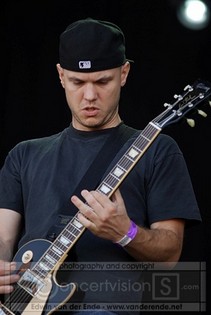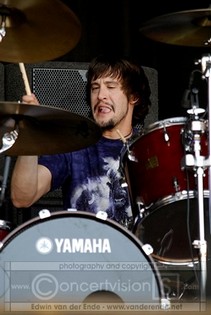 Alchemist


Again a band that has been around for quite some time. Alchemist was founded in 1989. There have been some line-up changes through time of course but they are still going strong. They haven't stood still but kept evolving through the years. Last year they released their album Tripsis on which they have even used influences of the local Aboriginal tradition.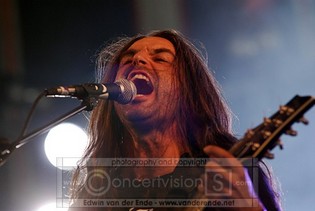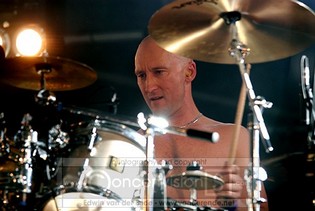 Music & Performance
When walking in to the tent you were welcomed by a wall of thunder. The vocals are hardly audible above the instruments. Even though this music is serious Agius (vocals) has a constant smile on his face, he is clearly enjoying himself. He has some great screams and in between singing he hits the keyboard to start new tunes. These melodies and subtle tunes give Alchemist their originality. Accompany this with a nice dark light show and you have a good show.
Rating
Music: 7
Performance: 7
Sound: 7
Light: 8
Total: 7 (7,2)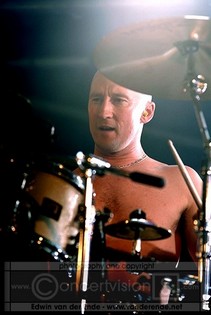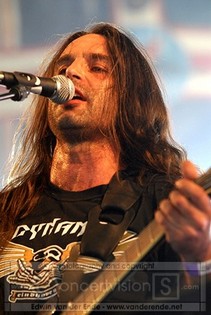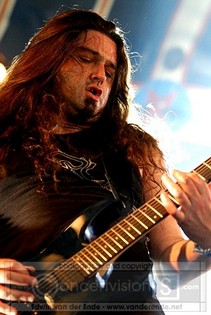 Death Angel


Their first demo was released in 1986, Kill As One. It was produced by Metallica's Kirk Hammet. That is a great start of course. Now 8 albums later they are more than loved by many. The tent was loaded. There was no getting to the front unless you were up for a huge mosh pit.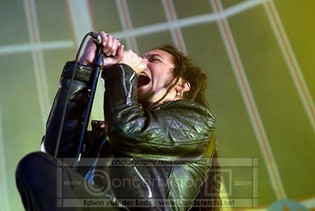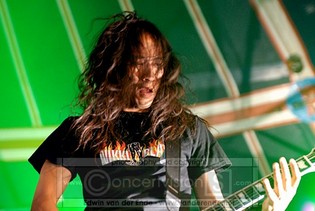 Music & Performance
Guitars were raging all through this performance. Mark Osegueda (vocals) was constantly banging his head making his long dreads in to lethal weapons. He is focused on the audience, making contact, getting his message across. There is power blasting off the stage and not just musically. These guys from San Francisco told us they were grateful to be there and as Mark said "if it ain't Dutch it ain't much". This was definitely one of the most energetic performances of the day.
Rating
Music: 8
Performance: 8
Sound: 8
Light: 7
Total: 8 (7,9)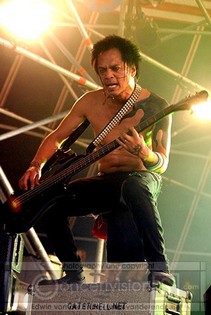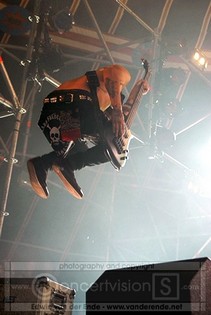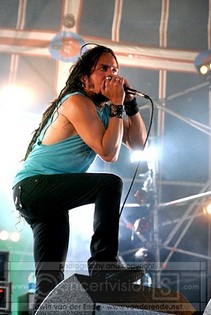 Rose Tattoo


These guys go way back. All the way to 1977, rocking for more than 30 years and still going strong! Their stage was decorated by a huge back drop with their logo. Fans had gathered in the front and were clapping and singing along all through the performance.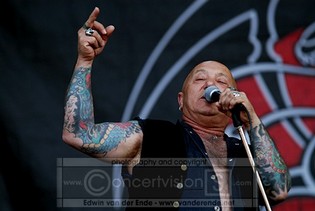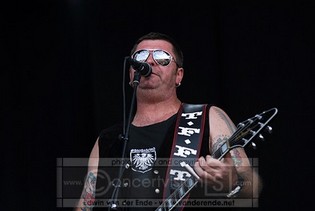 Music & Performance
These Australian rockers provided a swinging and rocking sound. Angry Anderson has a great voice. He might be small but his sound is great. One of the songs was announced shouted "what are we looking for, what fills our hearts? Freedom!". And then of course 'Freedom's Flame' was played. The leading vocals and back up vocals might not always be in sink but it does bring the right atmosphere. 'Rock 'N' Roll Outlaw' was also part of the set list today, a perfect title for them because that is what they look like.
Rating
Music: 8
Performance: 7
Sound: 7
Light: -
Total: 7 (7,4)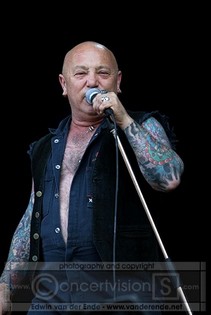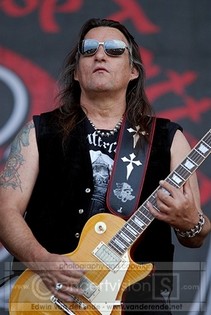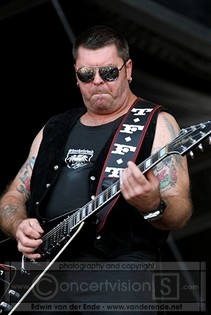 Morbid Angel

Their first album Altars of Madness was released in 1989. They are known to many as the best death metal band of all times. Today they were reinforced by the second guitarist of Destructhor for some extra metal power!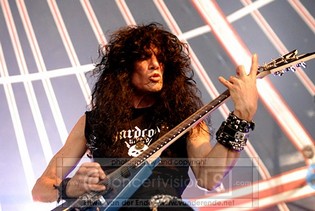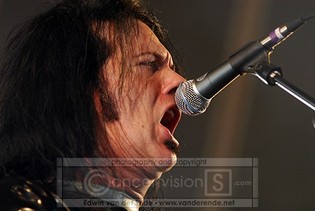 Music & Performance
David Vincent was wearing a black vinyl shirt with a huge silver pentagram on it. From the first note on they blasted the audience away. There was no time to take a breath. The stage raged with strobe lights and the mood for a huge mosh pit was set. All the tough guys in the audience made their way to the front. Besides the lights there is not much happening on stage. But when playing at this speed, there is no time to move I guess. It was a fantastic show to set the mood for the rest of the festival, let's rock and let's rock hard. Vincent demanded response from the audience "if I ask how you feel, you say, ALRIGHT!" The audience was more than happy to oblige.
Rating
Music: 8
Performance: 7
Sound: 8
Light: 7
Total: 8 (7,5)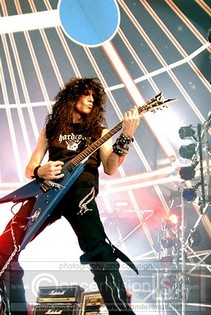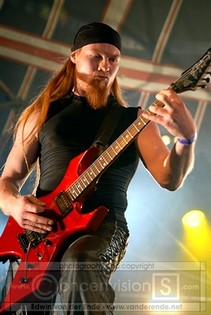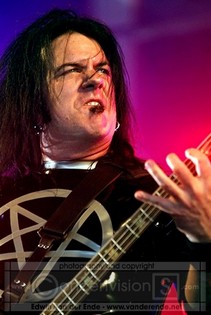 Biohazard


To celebrate their 20th anniversary the original Biohazard regrouped to tour during the summer of 2008. A new group photo can be found at
www.myspace.com/biohazard
. Biohazard is back, watch out.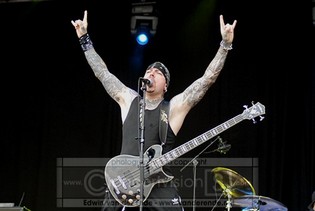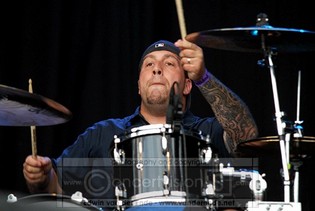 Music & Performance
The audience was definitely happy to see Biohazard. There was great energy on stage and that transferred to the audience. Their first festival ever was Dynamo and they thanked us for putting them on the map. We were treated to a mixture of songs from long ago and form more present dates. They were clearly enjoying themselves and that was audible for they played a great set!
Rating
Music: 8
Performance: 7
Sound: 7
Light: -
Total: 7 (7,4)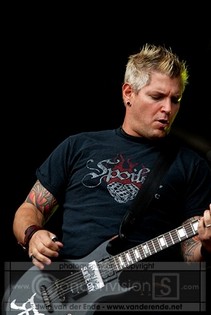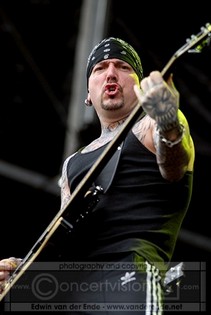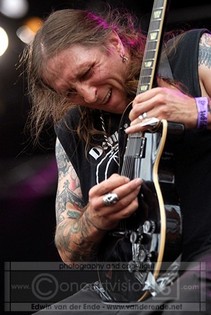 Symphony X


With their first album in 1994 Symphony X was one of the younger bands of the Waldrock festival. Their last album Paradise Lost from 2007 did great so it is an honor to welcome them this year on the Tent Stage.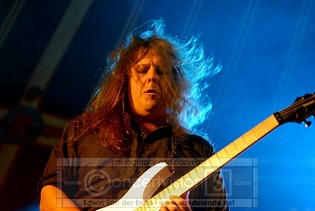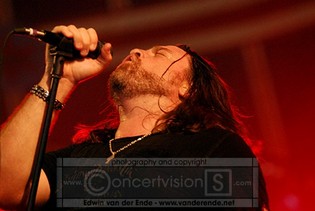 Music & Performance
The lightshow of Symphony X stood out today. It was well adjusted to their music. Russell Allen is going at it on stage, full of … let's call it energy. They told us that while here they took a trip to the Efteling (in more ways than one) and they loved it. Symphony X is versatile in its sound. During the title song of their latest album Allen shows the delicate site of his voice and of their music. The main and backing vocals work great together. The rest of the band is a bit mellow on stage compared to Allen. The fans were asked if they were feeling' brave today… if so they could sing along. The audience was definitely feeling brave.
Rating
Music: 8
Performance: 8
Sound: 7
Light: 9
Total: 8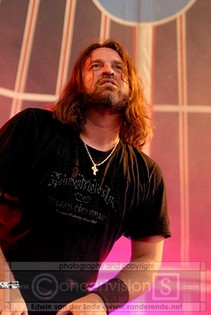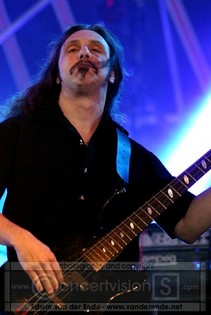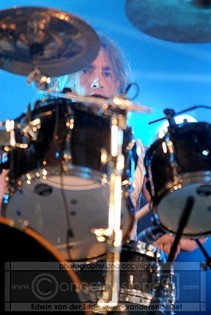 Life of Agony


At the end of the nineties Life of Agony ended their life story, or so we thought. Lucky for us they started living in agony again in 2003. Here today to prove that they still have what it takes were Alan Robert (bass), Joey Z. (guitar), Sal Abruscato (drums) and their energy bomb and vocalist: Keith Caputo.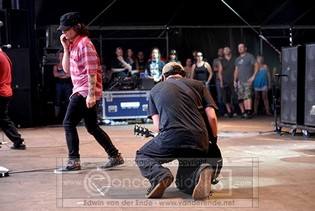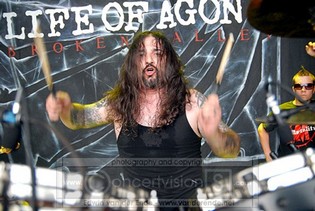 Music & Performance
Wow. Brace yourself if you want to see Life of Agony live. The energy waves are washing over the audience. Caputo even jumped off stage in to the photo pit to get closer to their audience. He is rushing all over the stage. Bending over backwards so far his head almost touches the stage. Every new song is welcomed by loud cheers. Caputo tells us "we do it right or we don't fucking do it at all". They did it right for sure! Many songs from Broken Valley were sung but also older songs such as 'Lost at 22'. A brilliant show!
Rating
Music: 9
Performance: 9
Sound: 9
Light: -
Total: 9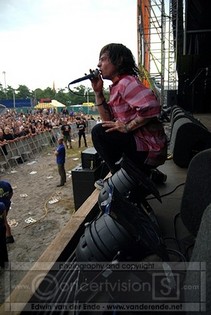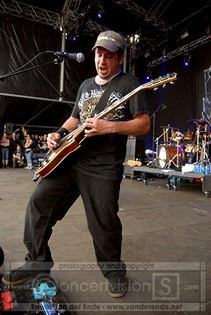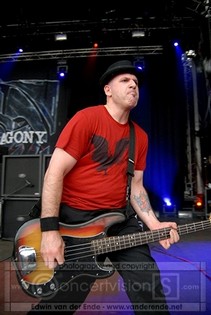 Lordi


Who would have thought that a winner of the Eurovision song festival would ever perform at a metal festival? Today was the day. Lordi came all the way from Finland to entertain us with some monster rock! Just for the fun of it go check out their website, great to explore.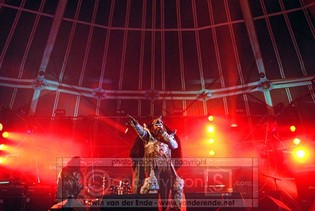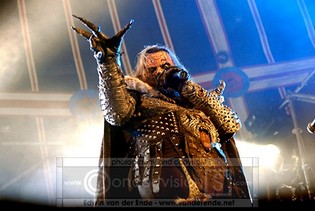 Music & Performance
A Lordi show is always a sight for sore eyes. A bucket of arms, legs and hands is just a normal prop for them. As is a huge blood spraying chain saw. Their songs usually have sing along refrains, making it a lot of fun for the audience. They played many songs from the Arockalypse such as 'Who's Your Daddy' but also older songs like 'The Devil is a Loser'. Their costumes are brilliant, they can move easily in them and you are truly looking at monsters. The final hit of the show was of course 'Hard Rock Hallelujah', not the best performance of this song but still fun to see and hear.
Rating
Music: 8
Performance: 9
Sound: 7
Light: 7
Total: 8 (8,1)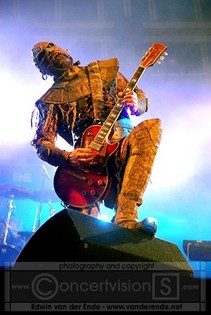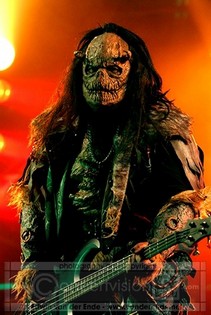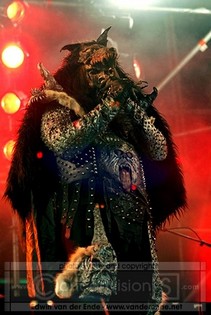 Queensryche

While it was getting colder and rain was falling, the stage only got hotter and heavier. Today legend after legend took to the stage. Now it was up to one of the best things Seattle has to over: Queensryche.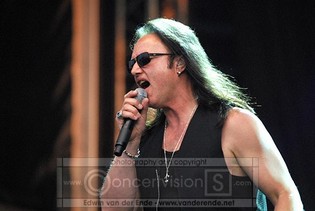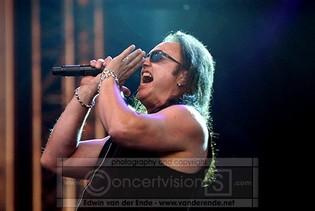 Music & Performance
The drums looked very impressive. It was hung with chains. Scott Rockenfield taught himself how to drum; he didn't feel comfortable taking lessons. This shows that with dedication and passion you can come a long way. After a short intermission due to power failure they rocked Waldrock. Geoff Tate has a way of singing that really gets his story across to the audience. It was a shame that the backing vocals were hardly audible. It seems as though the power failure only powered them even more!
Rating
Music: 8
Performance: 7
Sound: 7
Light: -
Total: 7 (7,4)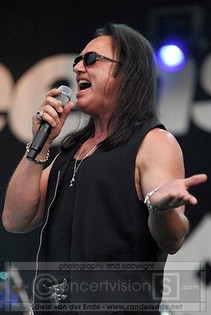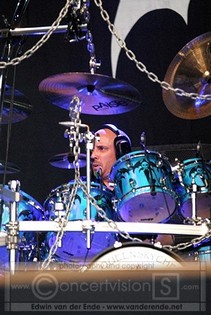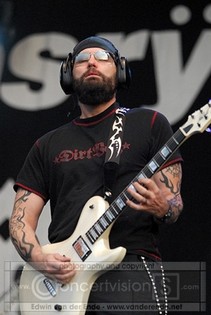 My Dying Bride

Their demo was called Towards the Sinister. The title couldn't have been more fitting. When thinking of My Dying Bride sinister is one of the first words that comes to mind. Their last album was called A Line of Deathless Kings and was released in 2006. Until now they have at leas released an album every two years so who knows, we might get lucky this year.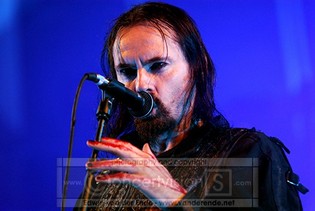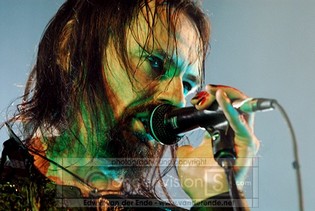 Music & Performance
The show of My Dying Bride was very intense to see: Aaron on his knees at the front of the stage, his hands in the air like bloody claws. It is almost like watching a very emotional play acted out with the most intense dark music you can imagine. The beats were nice and low. In the front the audience members were banging their heads. A song is announced, the crowd cheers, the same claw like hands come up in the audience. This is a concert you don't just come and see, you come and feel. The light show is moving, it emphasizes the music. Aarons low voice drags you in to the songs, screems and grunts are entwined. The musicians are gone, off to their own world in their own head. Sinister.
Rating
Music: 8
Performance: 8
Sound: 8
Light: 8
Total: 8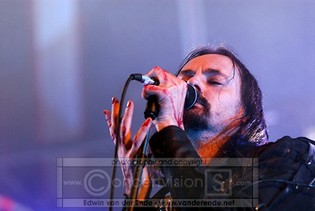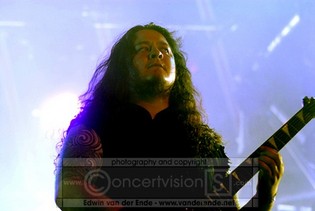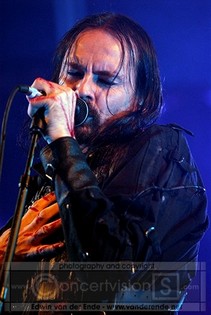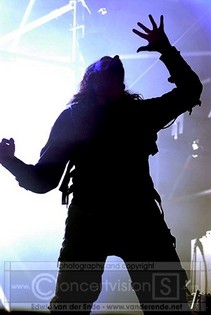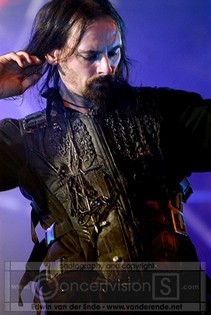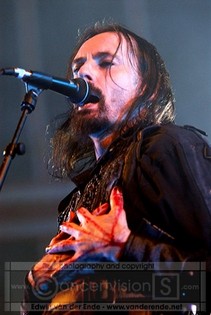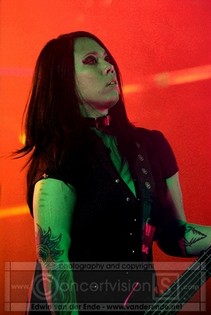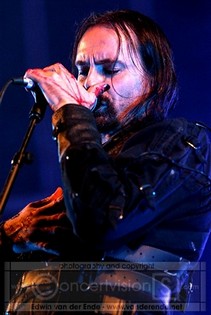 Slayer


Tom Aryaya, Kerry King, Jeff Hanneman and Dave Lombardo. All legends in the world of metal. It was the end of Waldrock. At last darkness had fallen. The mood was set. Finally all those Slayerrrrr callers get their way. Slayer was finally going to play.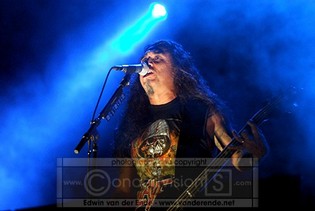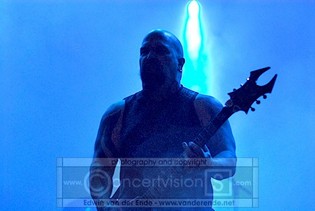 Music & Performance
The stage was decorated with a huge Raining Blood back drop. That looked great, it was a shame that during the show there was so much smoke on stage you could hardly see it. All of their greatest songs were played: 'God Hates Us All', 'South of Heaven', Raining Blood', 'Mandatory Suicide' and of course 'Angel of Death'. There was a lot of read light, smoke and strobe lights. Other than that there was little to see. Slayer has a very static stage presentation, it seemed as though the energy was a bit low. But then again, as long as you can hear them and trash yourself and each other in the mosh pit. The pit was there alright! Just as it should be.
Rating
Music: 8
Performance: 7
Sound: 7
Light: 6
Total: 7 (7,2)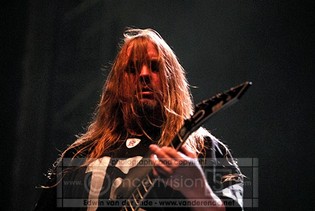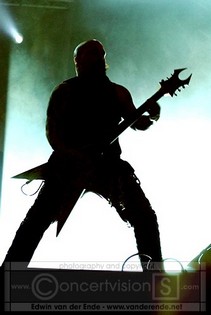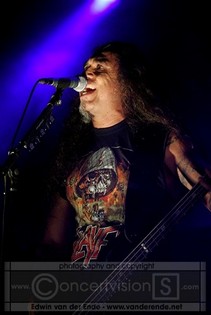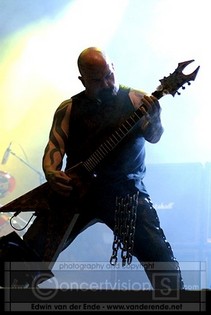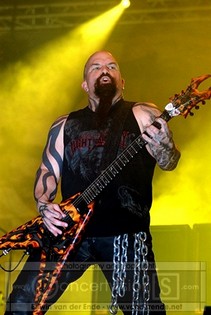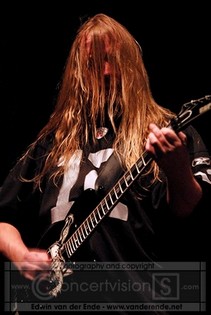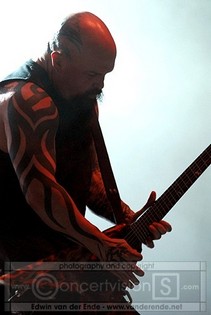 There was a third stage at Waldrock but since it wasn't possible for one reporter to see all shows of 3 stages here is a photo report of the Jagermeister stage:
Death By Stereo


Their name originates form a quote from the horror movie The Lost Boys. They had the honour of another band creating the exact opposite of their band: Life By Stereo, a Christian R&B act. Death By Stereo plays hardcore punk.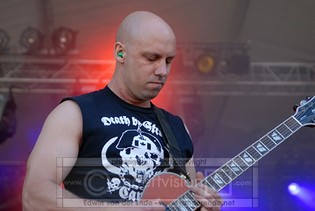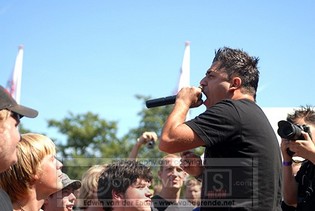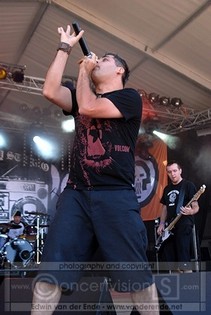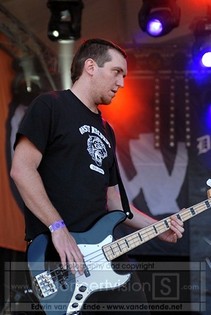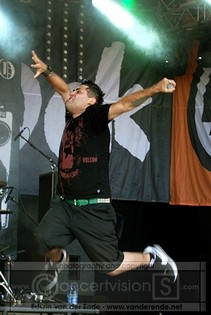 Hail of Bullets

Hail of Bullets plays old school death metal. Their themes are the German upcoming and defeat in the Second World War in Russia. Songs about despair and death.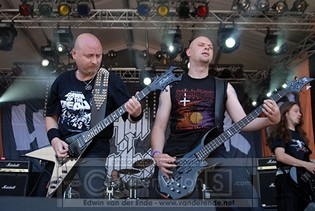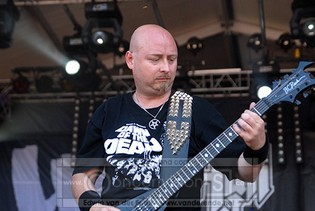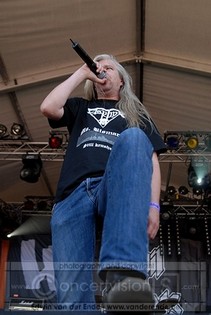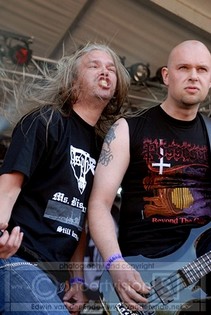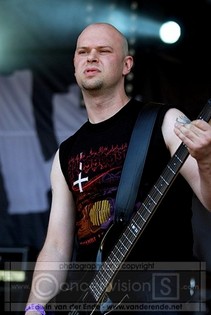 Forbidden


Forbidden is (almost) back in their original line-up. After some struggles within the band they are now stronger than ever. After playing in our small country they will go all the way to Japan!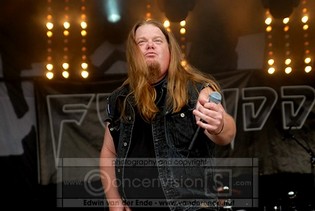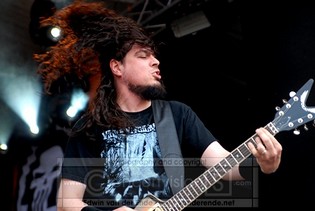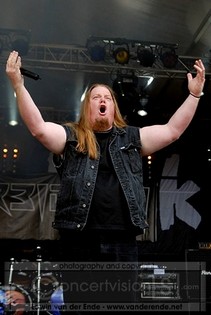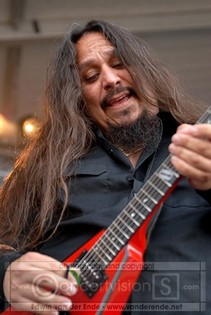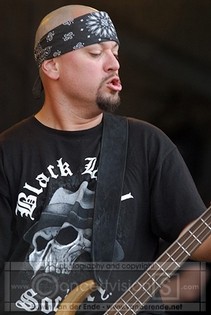 Strawelte
The long awaited reunion of Strawelte took place in front of a some long time fans. Strawelte was here to represent the Frisian bands!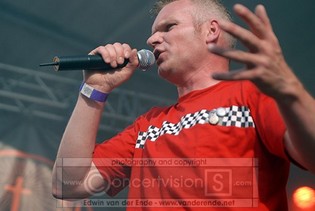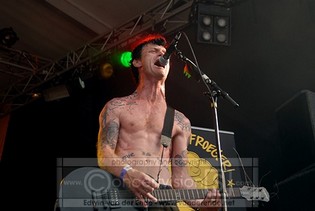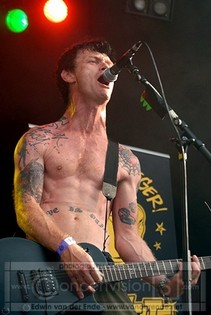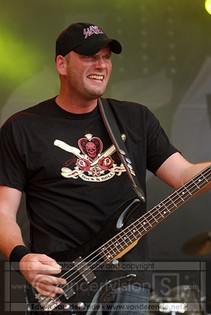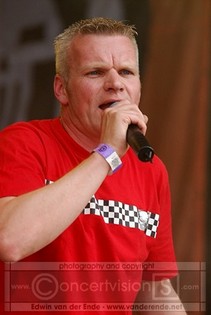 Hollenthon

Their latest album Opus Magnum has done them well, they have made their way up the metal way to fame. They play dark epic metal and take you on a journey to several parts of the world and times of old.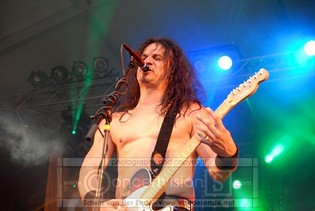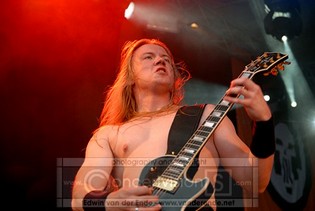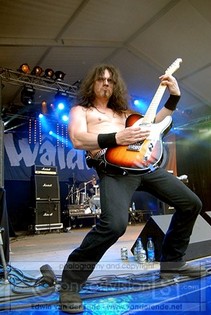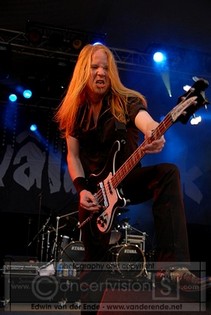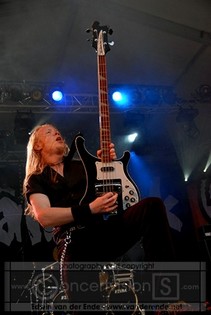 1349

This Norwegian band has chosen a year as name for their band. In this very year the horrible black death struck Norway. Their music is as dark as their band name. old fashioned primitive black metal.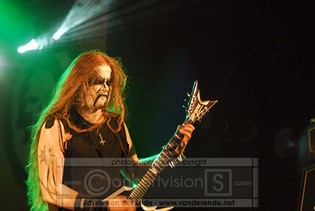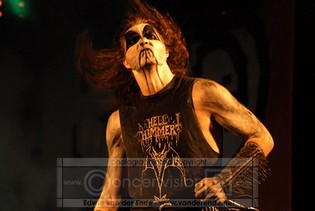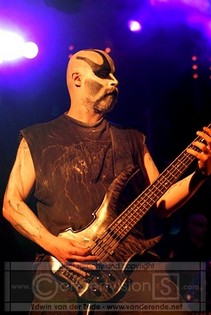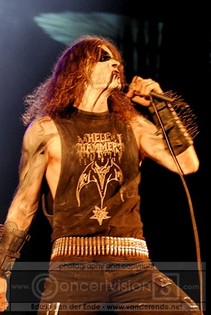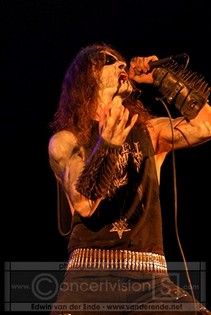 Greyline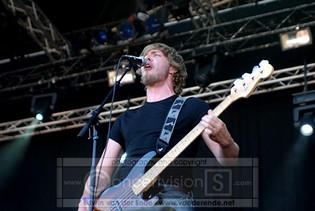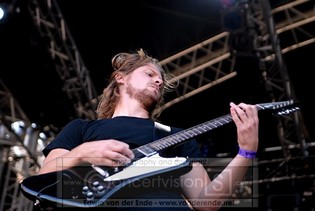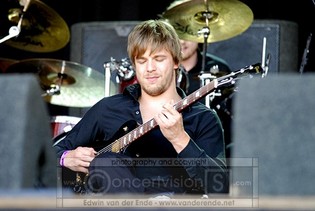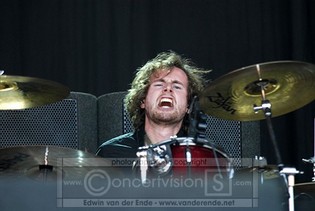 More photos on page 2
{jos_sb_discuss:18}