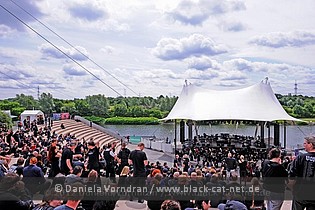 Amphitheater, Gelsenkirchen, Germany
23rd and 24th June 2012
Blackfield Festival Day 1: X-Divide, The Exploding Boy, Pakt, Herzfeind, She Wants Revenge, In Legend, Grendel, Weto, End of Green, Roterfeld, Dreadful Shadows, The Eden House, Hocico, Deathstars, Oomph!, VNV Nation

The Blackfield Festival in Gelsenkirchen, Germany, celebrated its 5th anniversary this summer. And for this anniversary, the promoters could celebrate a sold-out festival for the first time in the festival history! The Amphitheatre Gelsenkirchen, embedded in a municipal park and located next to the Rhine-Herne canal, is surely one of the most beautiful locations in the West of Germany. But there are more reasons why the five-year history of the Blackfield Festival is a success story. The promoters of the festival have managed to book bands of all shades and sub-genres which you might outline as Goth. From EBM and Industrial to classic Gothic Rock to Synth Pop to the permanently popular bands of the Medieval Rock & Metal scene range the bands who perform at this festival. And while the Blackfield promoters tend to book the more 'mainstream' bands of the Goth scene they still rarely forget to look at the wider picture by including one of the odder act or a band which you would rather associate with Indie than with Goth.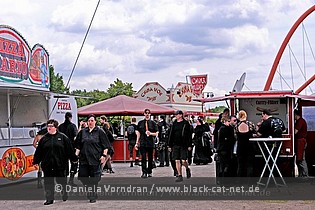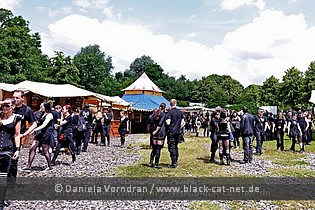 This year this all was no different, with one exception: To commemorate the anniversary the Blackfield had for the first time a second stage, which was located in a huge circus tent next to the Amphitheatre. So more bands to check out than ever before at the Blackfield, and the Reflections Of Darkness crew were happy to join the fun. Besides the bands, there was as usually a framing program. You had i.e. the pre-party at the tent the night before the festival started. After the first festival day, there was also an after show party held. Besides all those market stands around the Amphi theatre, there was also a medieval market in the area of the tent stage. And last but not least, every day had lots of signing sessions in stock, for fans a perfect chance to be close to their favourite bands. http://www.blackfield-festival.de/ / https://www.facebook.com/BlackfieldFestival [Niggels & Dani]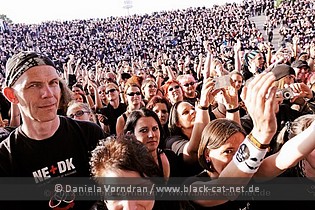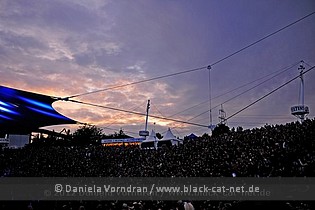 The Saturday was welcoming us with perfect festival weather. The sun was shining – what granted a sun burn to many visitors – and it was not too hot. When we arrived at the early hour, at 10 to be exact, the main parking area was already packed… promising that there would be already quite some visitors in front of the stage when the first band of the day, X-DIVIDE, would enter the stage. Since festival moderator Jens is also playing in X-DIVIDE, the opening act was announced by Krishan of ROTERSAND. The Synth-Pop duo firstly was surprising with a new face on stage, keyboarder Bernd Seeburg who was supporting the band during their show. But still, the band made a little sleepy impression at this time and singer Eric even missed the right start of the first song. Anyway, soon first people started dancing in front of the stage. // Setlist: 1. Sympathy / 2. My love is... / 3. Now or never (NamNamBulu) / 4. Forever / 5.New Song // Rating: 5 / 10 // http://www.x-divide.de / https://www.facebook.com/xdividecologne [Dani]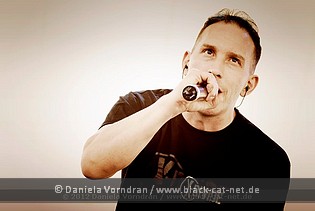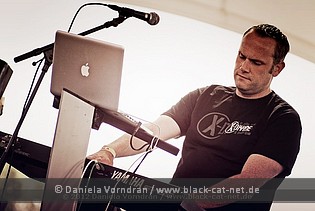 From Synth-Pop we reached some more Post-Punk-ish and wavier waters with Swedish band THE EXPLODING BOY, who is perhaps not the most obvious band to play at the Blackfield as they are rather established in the hip Indie Rock scene. But after all THE EXPLODING BOY draw a lot of inspiration from 80s New Wave, and are named after a THE CURE song after all, so in the end it's not too surprising that black-clad Goth audiences cherish them too. A quarter to twelve is perhaps not the most thankful time to perform at a festival but THE EXPLODING BOY attracted a nice little crowd including some fans who attended the festival just for this gig. With the beautiful canal and park behind them (no backdrop on stage!) the Stockholm based band blasted their melancholic yet powerful tunes into the round of the Amphitheatre, performing songs from all their albums including, of course, their latest and highly recommendable long player 'The Black Album'. THE EXPLODING BOY's performance was a nice way to get things going for the first day of the Blackfield. Only bummer was that such great music should get a better spot and more playing time than this - and perhaps less sunshine. // Rating: 8 / 10 // http://www.exploding-boy.com/ / https://www.facebook.com/theexplodingboysweden [Niggels]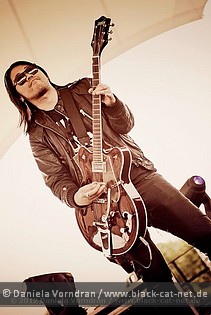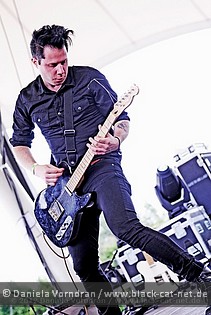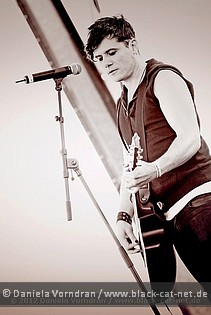 From guitar driven music we moved back again to the electronic side with PAKT, this time it was rather EBM influenced than Synth-Pop. Ex- AND ONE members Chris Ruiz and Gio van Oli were already performing on several occasions and are supported on stage by drummer Cani Nickels. There were lots of people awaiting this show, being eager to dance along to the driving electro tunes. It seemed people were slowly waking up to pushing 'Freiheit' or 'Egoshooter', being spit out into the audience by Chris. For 'All reminds me', it went calmer and Gio was taking over. He surely has the better singing voice, at least for such balladry tunes. With more power, they ended the set with 'Lichterloh' and surely convinced one or another visitor. // Setlist: 1. Revolution / 2. Freiheit / 3. Egoshooter / 4. All reminds me / 5. Angriff / 6. Lichterloh // Rating: 7 / 10 // http://www.paktprodukt.de / https://www.facebook.com/PAKTofficial [Dani]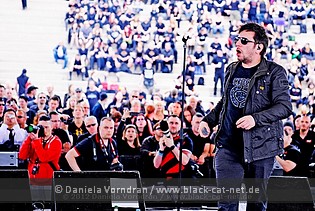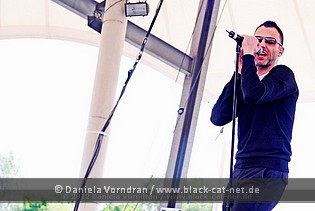 After PAKT, you had to decide which band to see since the concerts at the tent were also starting. While SHE WANTS REVENGE was coming up next at the main stage, the tent offered HERZFEIND, the band of DREADFUL SHADOWS guitarist André Feller and his girlfriend Juliane Richter. André founded this band after his main band called it quits. HERZFEIND is a German tongued Electro-Punk-Rock band with male and female vocals. Being the first band at the tent was kind of risky, but there showed quite a few fans up to support their show, a lot of them surely were DRADFUL SHADOWS fans, but also other people who showed up were surely infected by the band's show which was lively and at the same time melancholy with some bittersweet touches in the music. // Setlist: 1. Bulimieshow / 2. Bitter / 3. Kein zu Spät / 4. Botoxparty / 5. Fort von hier / 6. Aufstehn / 7. Lolita // Rating: 8 / 10 // http://www.herzfeind.de / https://www.facebook.com/pages/Herzfeind/125961380796700 [Dani]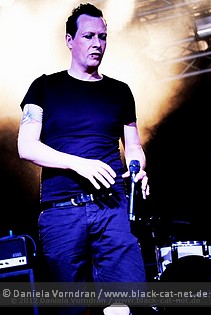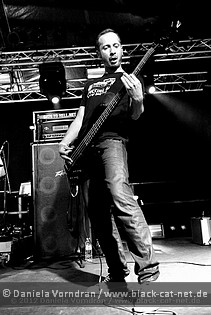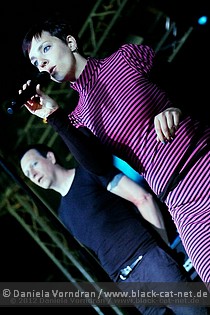 While HERZFEIND were opening the tent stage, the main stage offered a band from far away. US-American band SHE WANTS REVENGE has two things in common with THE EXPLODING BOY: They are more on the Indie side of things, and their gig at the Blackfield was at a way too early time of the day! Actually the popularity of SHE WANTS REVENGE would have allowed a later and thus better spot in the running order of this festival but as the band around Justin Warfield and Adam Bravin had a in Prague next day and flights had to be caught, there was simply no other choice than doing a lunch time show at the Blackfield. Anyway, completed by guitarist Thomas Froggatt and Jason Payne (NITZER EBB) on the drums, SHE WANTS REVENGE fought sunshine with their black-hearted Indie/ Post-Punk anthems. Their setlist concentrated very much on the first few releases and the band, ignoring largely the most recent album 'Valleyheart'. Perhaps SHE WANTS REVENGE simply decided to focus on the darker stuff of their older works for this festival.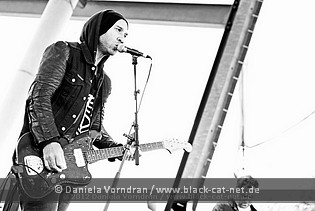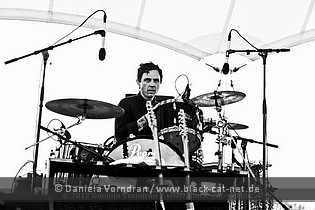 As energetic the sound was as much the band members remained rather stoic and distanced but the crowd seemed to consume each and every minute with delight anyway. At times singer Justin Warfield with his Ian Curtis-esque voice would step back to let band mate Adam Bravin do the lead vocals, giving the synth-driven Post-Punk anthems a slightly different flavour. The flavour always remains dark and sultry, though, which makes SHE WANTS REVENGE people who love DEPECHE MODE (whom they actually supported once) and JOY DIVISION (whom they dedicated a song to). The hot sun at the Amphitheatre was a bit inopportune for music like this but the show went down well and the band sounded just as perfect as on CD. Here's hope that SHE WANTS REVENGE might come back to the Blackfield fest next time, and maybe they will have a bit more time for us then. // Setlist: 1. Red Flags And Long Nights / 2. Sister / 3. True Romance / 4. These Things / 5. Take The World / 6. Written In Blood / 7. Out Of Control / 8. Tear You Apart // Rating: 9 / 10 // http://www.shewantsrevenge.com / https://www.facebook.com/OfficialSheWantsRevenge?rf=104085286293368 [Niggels]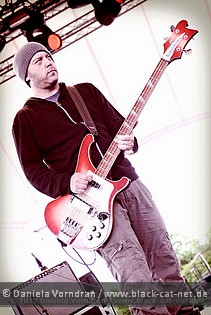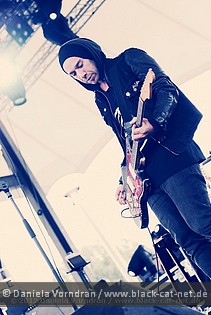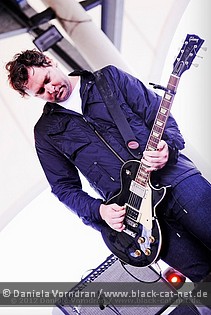 Next up in the tent was IN LEGEND who many consider to be one of the newcomer bands of 2011. A brilliant debut album, a cover feature in the renowned Orkus magazine and a lot of praise for their extraordinary live performance shown on several tours are proof for this. In the line-up of Blackfield Festival, they once again seemed to stand out with their unique piano-driven and heavy metal-influenced sound, made up of pure emotions, melancholy, intensity, energy and strong lyrics. While being the second act to grace the newly set up tent stage, the four-piece consisting of vocalist and pianist Bastian Emig (also known as the drummer of the a-cappella heavy metal formation VAN CANTO), keytarist Daniel Schmidle (yes, this band has a keytar, but no guitar in their line-up!), bassist Daniel Wicke and drummer Dennis Otto were in fact able to not only heat up the tent, but also to gain a lot of new fans with their entertaining performance. Their beautiful Steampunk style stage setup also contributed to build up a captivating atmosphere starting from the first song 'Heya'.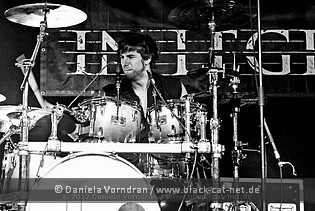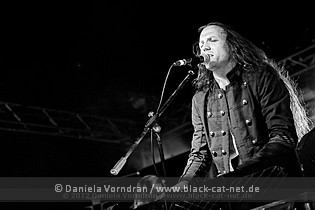 Throughout the set, vocalist Emig began to notice that they might be the most extraordinary band in the line-up which is also characterized by a complete lack of make-up – but this, of course, did not harm their performance in any way. Great compositions, beautiful piano tunes, catchy melodies, original live arrangements (including an improvised classical interlude featuring the popular Beethoven piece 'Für Elise' throughout the song 'A Hanging Matter' that lead to a lot of applause, or some sort of "jam session" at the end of the song 'Elekbö' where every band member had a solo part to show his skills), a nice electronic intro for the song 'Soul Apart', a powerful, atmospheric and intense performance, a very well-mixed sound and a thankful audience that really seemed to dig the band's style – yes, these 45 minutes could not be more successful for the quartet that also really seemed to enjoy playing for the dark audience which increased from song to song until the tent was really crowded (which is quite surprising, considering that it was 2 P.M., the sun was shining and GRENDEL played on the main stage at the same time). Definitely one of the best performances on the festival and I'm sure that the band will have even more in store for us in the near future! // Setlist: 1. Heya / 2. Prestinate / 3. Soul Apart / 4. The Healer / 5. Pandemonium / 6. A Hanging Matter / 7. Me Against A Wall / 8. Elekbö / 9. Vortex // Rating: 9.5 / 10 // https://www.facebook.com/inlegend / http://www.inlegend.de [Lisa]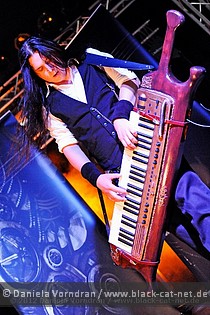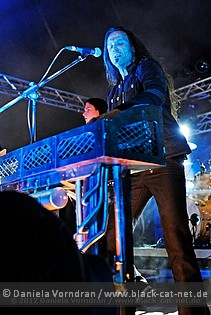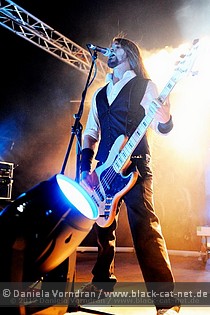 From the tent back to the main stage, where Industrial-electro act GRENDEL were up to get people dance. Again, Jens introduced the band, telling people that the band asked him to make no jokes about Holland (the Dutch team just missed the next round of European Football Championship). Well, he said that GRENDEL arrived with their caravan (what of course WAS a joke ;) ). The band entered the stage with 'Harsh Generation', just making people, especially the Cyber Goth audience, moving in front of the stage. People did not stop dancing along 'Soilbleed', 'One Eight Zero' or to the new song 'Timewave Zero'. The band also had a female guest on stage, a blonde girl was joining them after 'Hate This' for a little more action on stage. // Setlist: 1. Intro / 2. Harsh Generation / 3. Conflict Instigation / 4. Chemicals and Circuitry v.2012 / 5. Soilbleed / 6. One Eight Zero / 7. Timewave Zero / 8. Hate This / 9. Dirty // Rating: 7 / 10 // http://www.grendel-base.com / https://www.facebook.com/grendel.music [Dani]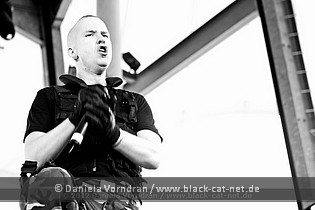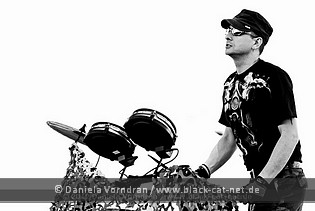 In the tent, WETO were up next. The band around SCHANDMAUL singer Thomas Lindner was taking care for some rockier tunes. Besides Thomas, the band consists of other male SCHANDMAUL musicians, namely Martin Duckstein on guitar, Stefan Brunner on drums, Heiner Jaspers on keyboard and bassist Matthias Richter. Even though there were no medieval instruments, WETO spread some kind of SCHANDMAUL flair, especially through Thomas little stories he also told during this show. Already founded in 1993, the band was put on hold for a while when SCHANDMAUL became really famous. But currently, Thomas and his band are putting again more efforts into WETO, releasing 'Schattenspieler' as latest album in 2011. Sadly I did not see much of the show, but they were rocking and entertaining the tent quite well. // Rating: 8 / 10 // http://www.weto-music.de / https://www.facebook.com/WETOMusic [Dani]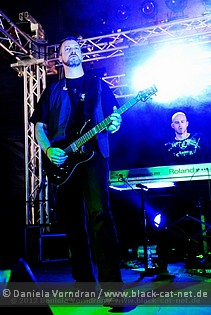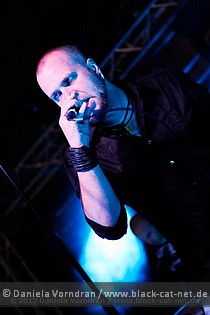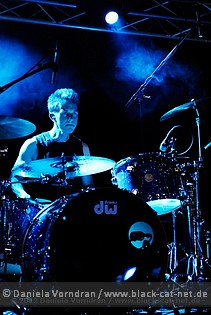 Rock was also the motto on the main stage. Since their career start in 1992, the gothic rockers END OF GREEN from Stuttgart have been playing so many festivals that there are hardly any people who don't know their name yet. And of course they aren't strangers to the Blackfield audience either. Nevertheless it felt quite awkward to see them in the afternoon at 3:40 P.M. while the sun was shining heavily and while there was no light show at whatsoever. This is also the reason why the spark didn't really ignite to the audience, including myself. I guess you just can't really play dark and gloomy songs by daylight, in the most beautiful sunshine... And yes, Michelle Darkness and his fellow band mates actually brought with them some of their saddest songs; for example 'Tie Me A Rope', that is always a highlight for me – just not in this moment. The same goes for melancholic songs such as 'Die Lover Die' and 'Bury Me Down (The End)'.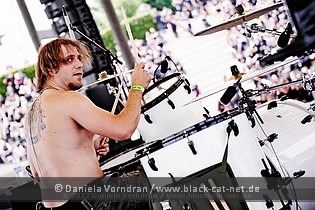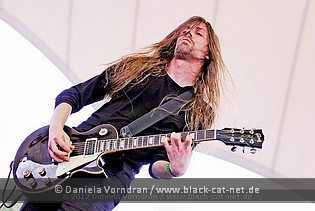 I also thought they played way too few songs from my favourite album 'Dead End Dreaming' – actually only one song ('Drink Myself To Sleep') found its way into the setlist, and this was also the song that could best compete with the sunshine, if you ask me. In general they played a lot of newer songs, such as 'Goodnight Insomnia' and 'Killhoney' which aren't bad at all – I just didn't like the more current albums as much as the older stuff. To cut this short: The band in fact played a solid show that had its highlights – but it lacked a lot of atmosphere due to their slot in the line-up. The audience also didn't really move along but rather stood still and listened. When the band's same came to a close, some people definitely came out of their shells, though, and became a bit more active. Maybe next time everything will be better – and yes, I have definitely experienced a great show by them before! // Setlist: 1. Evergreen / 2. Under The Sway / 3. Demons / 4. Killhoney / 5. Hurter / 6. Goodnight Insomnia / 7. Tie Me A Rope… While You're Calling My Name / 8. Drink Myself To Sleep / 9. Die Lover Die / 10. Bury Me Down (The End) // Rating: 7 / 10 // http://www.endofgreen.de / https://www.facebook.com/pages/end-of-green/354439435400 [Lisa]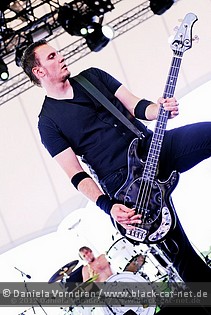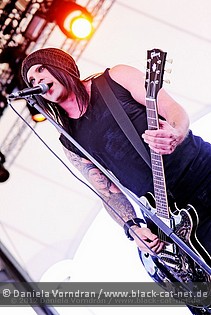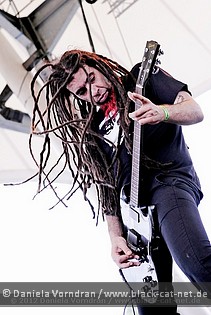 ROTERFELD at the tent, who came up next, stayed also on the heavier side of music. After releasing a single, 'Great New Life' in September 2011, the album 'Blood Diamond Romance' followed two weeks later on 14th October. While during WETO the tent wasn't that crowded, this changed when ROTERFELD started their set. Apparently this band was a favourite among many people in the audience. In general their music also wasn't really my cup of tea but I watched about two songs and have to admit that their performance was quite stunning, especially because of the charisma of front man Aaron Roterfeld. // Setlist: 1. Intro (by Leandra) / 2. Sick Of Being Bored / 3. Don't Be Afraid Of The Dark / 4. Blood Diamond Romance / 5. I Would Rather Ride Into Hell / 6. Great New Life / 7. Nothing Lasts But The Past / 8. Going Down / 9. Bring Your Own Star To Life / 10. You And Me In Agony / 11. Blood Diamond Romance II // Rating: 8 / 10 // http://www.roterfeld.com / https://www.facebook.com/roterfeld [Lisa]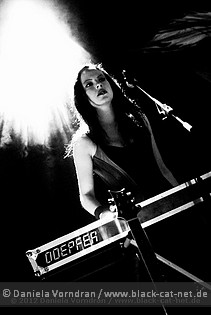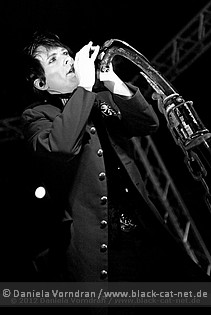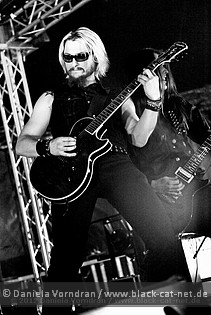 Guitar driven but not as heavy as ROTERFELD, DREADFUL SHADOWS were entering the main stage. The quintet delivered classic Gothic Rock in a stricter sense at this year's Blackfield. The band, founded 1993 in Berlin, was also part of the very first Blackfield festival five years ago. This might be surprising to people who read somewhere that DREADFUL SHADOWS disbanded in the year 2000 to pursue other projects (e.g. ZERAPHINE) but in 2007, the band reformed for some exclusive live shows. Word has it that the band now even works on new songs again. Anyway, at the anniversary edition of the Blackfield, DREADFUL SHADOWS left a mark about their qualities as a live band. Dark, intense, dynamic and despite the gloomy and grim nature of their music, DREADFUL SHADOWS did not forget about plain old fun. Cover versions like NEW ORDER's 'True Faith' surely added to the fun factor but DREADFUL SHADOWS' own old classics like 'Burning the Shrouds' or 'Chains' were just as entertaining and enjoyable.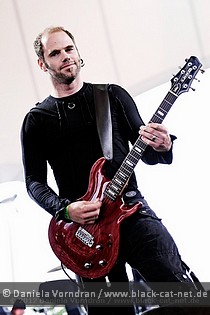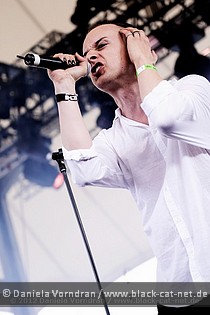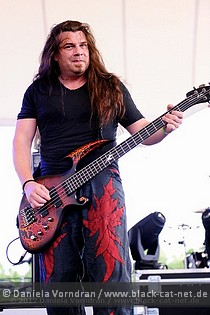 Excellent band, and singer Sven Friedrich simply has one of the most stunning and remarkable voices of the genre. At the end of the gig Friedrich announced that DREADFUL SHADOWS will do a no-go and end their set with a cover version, TANITA TIKARAM's 'Twist In My Sobriety'. For this one the band was joined by guest vocalist Juliane Richter of HERZFEIND, another DREADFUL SHADOWS spin-off. To the surprise of the band they still had some time left and so played yet another cover version, a spontaneous rendition of NINE INCH NAILS' ballad 'Hurt'! It's always been an unwritten law that no-one may cover this song except for the late JOHNNY CASH. This rule should be bent a little because DREADFUL SHADOWS did a good job with this one. Awesome! Setlist: 1. Chains / 2. Burning The Shrouds / 3. A Sea Of Tears / 4. The Racking Call / 5. New Day / 6. Craving / 7. Desolated Home / 8. True Faith (New Order Cover) / 9. A Better God / 10. Dead Can Wait / 11.Twist In My Sobriety (Tanita Tikaram Cover) / 12. Hurt (Nine Inch Nails Cover) // Rating: 9 / 10 // http://www.dreadful-shadows.de / https://www.facebook.com/pages/Dreadful-Shadows/291276927570315 [Niggels]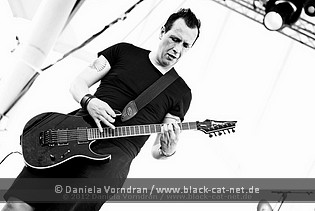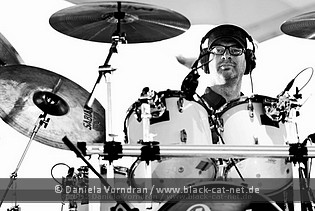 Gloomy good old Darkwave was now presented at the tent with THE EDEN HOUSE. Last time when I saw this band, it was during the Gothic Festival 2010 in Waregem, they were performing in a different line-up with different female singers. This has changed now, presenting Laura Bennett as only female voice. The band is a collaboration of artists from various bands, the core members are Stephen Carey (Adoration / This Burning Effigy), Tony Pettitt (NFD / Fields of the Nephilim) and Andy Jackson (Pink Floyd/David Gilmour engineer). Besides you have i.e. Bob Loveday (Violinist for Bob Geldof / Van Morrison) or Simon Rippin (NFD/Nefilim). Judging those names you might get an impression what you'll get presented. Any musician brings his very own talents into the band to produce atmospheric songs. It was indeed a touching set I wished I could have seen more of. // Rating: 9 / 10 // http://www.theedenhouse.com / https://www.facebook.com/TheEdenHouse [Dani]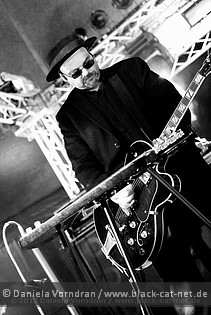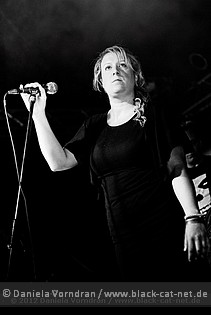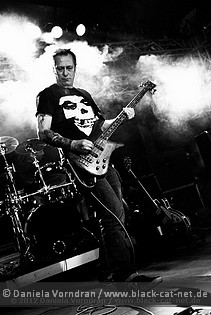 Darkwave and Goth Rock was for now on history on that day and the bigger Electro acts had their time. First of them was Mexican power duo HOCICO, one of the ambassadors of Hellectro at this year's Blackfield. Last year HOCICO shouter Erk Aircrag rocked the Blackfield with his solo project RABIA SORDA, this time he brought his band mate Racso Agroyam to perform with his main project. Since 1992, the two cousins from Mexico City have been producing harsh Electro and EBM influenced by the likes of SKINNY PUPPY, LEAETHER STRIP or FRONT LINE ASSEMBLY. Over the years HOCICO chose a more danceable approach for their music by weaving Trance and Techno elements into their sound. Four to the floor galore, and the result at the Blackfield was a huge dancing fest in front of the stage. Daylight and the idyllic setting of the park and canal was probably not the perfect coulisse for the harsh darkness of HOCICO's sonic attacks but in the end no-one cared and the compelling beats of HOCICO just worked as they should.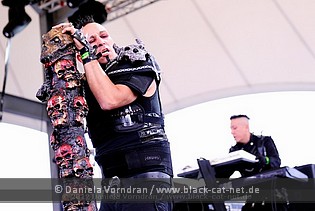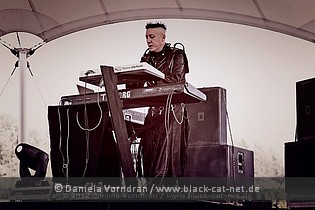 One could argue that too many tracks of the HOCICO set sounded the same but on the other hand you have to give front man Erk Aircrag respect for being one of the most energetic and vigorous performers of the scene! He simply refuses to stand still while he shouts his heavily distorted commands, and I have to say that I like his aggressive and somewhat punk-ish attitude a lot more than the old boring "let's see your hands clapping!" routine of so many other front men. Little fun fact: At one moment there was a cruise boat passing on the canal behind the stage, and was amusing to see dozens of elderly people staring in bewilderment at HOCICO performing in front of a black mass. How many festivals are there which can offer you such bizarre moments? // Setlist: 1. Intro / 2. Where Words Fail, Hate Speaks / 3. About A Dead / 4. Untold Blasphemies / 5. Dog Eat Dog / 6. Bite Me! / 7. Bloodshed / 8. Altered States / 9. Spirits Of Crime / 10. Poltergeist / 11. Tiempos de Furia // Rating: 8 / 10 // http://www.hocico.com / https://www.facebook.com/pages/hocico/31503584584 [Niggels]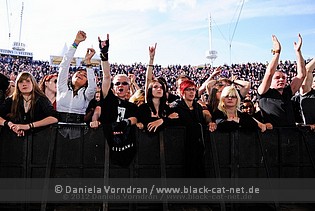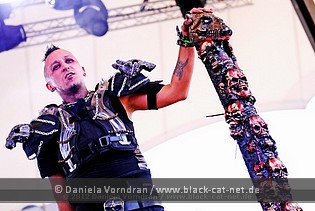 The Swedish industrial metallers DEATHSTARS were the last ones to play at tent stage that day... and they totally managed to push the people in the audience to their limits for one last time with hit songs like 'Death Dies Hard', 'Blitzkrieg', 'Chertograd', 'Cyanide' and the obligatory 'Blitzkrieg'. The tent was fuller by now and people were celebrating and screaming with the band who was in a great mood and was moving a lot – especially singer Whiplasher Bernadotte seemed to enjoy the show, even though the tent wasn't too packed – which was no real surprise, as OOMPH! were playing the main stage at the same time. The fans rocked out, the band delivered a solid performance, the sound was good, and I guess the show fulfilled every expectation – a great way to close the first day at tent stage! // Rating: 8 / 10 // http://www.deathstars.net / https://www.facebook.com/deathstars [Lisa]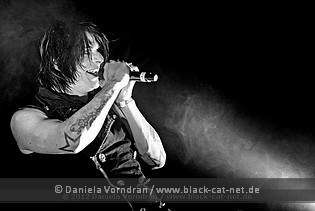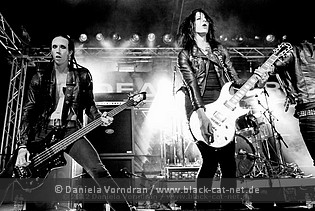 While DEATHSTARS were rocking the tent, a German institution was conquering the main stage. The ever-evolving OOMPH! saw many incarnations in their 20 year career. Starting with straight EBM on their debut album to the Industrial-Metal crossover of their 1990s albums, which were a major influence for RAMMSTEIN (please note: not vice versa!), to OOMPH! more and more staring into the Rock mainstream with hit singles like 'Augen Auf', which even went number one in the German singles chart! OOMPH! just released their latest album 'Des Wahnsinns fette Beute' (roughly translated "fat booty of madness") which received mixed reactions and alienated old fans even more than the previous efforts. Some songs of the album are just, oh well, pretty weird and mad! However, OOMPH! still do have a reputation as a great live band which attracts big crowds so it was no surprise that the Blackfield promoters invited them just another time.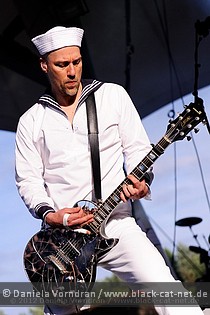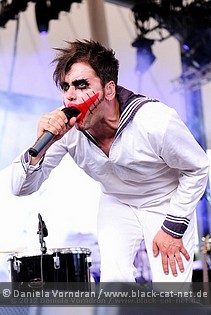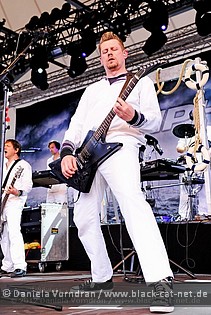 Expanded to a seven-heads strong live band, OOMPH! entered the stage in a rush with the song 'Unzerstörbar' from their new album to start a set which focussed heavily on the last two or three albums. Uniformed in sailor costumes, the maritime theme was later supported by the chanty song 'Seemannsrose' for which singer Dero asked the audience to link arms and sway left and right. Which people did. Surely something the elderly people on the excursion boat would have enjoyed (minus Dero's "Joker" make up) so too bad that they passed the festival area during HOCICO's noise fest. Talking about crowd interaction, during the gig you could never tell if Dero is really that much into the show or if he's just going through the motions. When he yelled "You are aaaawesoooome!" after the third track I could have sworn that he's doing this at every show at this exact point of the set. However, from an objective point of view OOMPH! delivered a perfect, highly professional and well choreographed performance.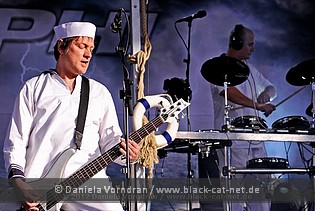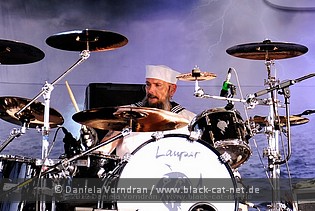 Personally I just thought "what the f*ck?" and I know a number of people who cherished this band in the past and lost track of them a bit after their more Pop-orientated albums who also wondered where the OOMPH! of the old days have gone. This was like a totally different band! I know you shouldn't take things too serious all the time but it hurts to see something that used to be great doing down the route of ultimate silliness in the name of mass appeal further and further. Thankfully OOMPH! threw in the odd old songs, and I was glad to hear the song 'Wunschkind' which hasn't been performed in 15 years. OOMPH! waved goodbye with their version of the Monthy Python classic 'Always Look On The Bright Side Of Life', and this made clear that this show was meant as comedy. The problem is that it simply wasn't funny at all. // Setlist: 1. Unzerstörbar / 2. Labyrinth / 3. Mein Schatz / 4. Bis der Spiegel zerbricht / 5. Niemand / 6. Kleinstadtboy / 7. Mitten ins Herz / 8. Zwei Schritte vor / 9. Gott ist ein Popstar / 10. Seemannsrose / 11. Sandmann / 12. Wunschkind / 13. Augen auf / 14. Always look on the bright side of life // Rating: 6 / 10 // http://www.oomph.de / https://www.facebook.com/oomphband [Niggels]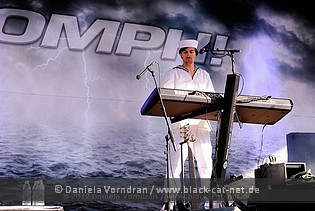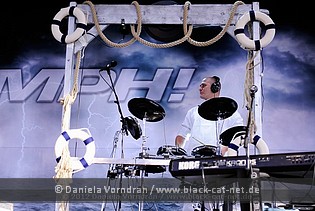 VNV Nation, long-established electro-rock pioneers from England and Ireland who are currently living in Hamburg, were the final band on the first festival day – and really did their justice to the headliner position they were in. And holy shit – it was crowded... Now you really know why the festival was announced as "Sold-out". As I had spent most of the day in the area of the tent stage, I was very surprised how many people were now gathering around the main stage. I had actually seen VNV NATION before (at M'era Luna Festival 2011) and they didn't really do it for me back then. But I must say today's performance was just lofty – to say the least. From the first tune on they had complete control over the audience that went totally crazy. One highlight was – as usual – Mark Jackson walking at a treadmill onstage while playing the percussions.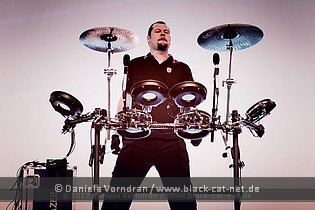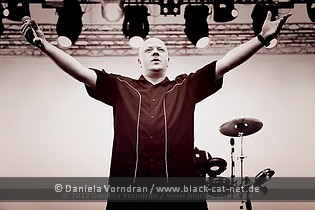 Hit songs like 'Space & Time', 'Sentinel' and 'The Great Divide' were really catchy, and the audience was singing, clapping and moving along to the heavy electro beats, while being fuelled by Ronan Harris' appealing announcements. This band was definitely the highlight act that most people had been waiting for patiently – and as it got darker, the atmosphere became even more intense and a special feeling was conveyed to the audience. Everything just fit together – the performance, the atmosphere, the sound and the reactions. Thus, the Saturday at Blackfield ended with a huge party and left the fans satisfied but still hungry for more – which would be delivered to them the next day, with even more great bands. // Setlist: 1. On-Air / 2. Chrome / 3. Space & Time / 4. Sentinel / 5. Illusion / 6. Standing / 7. Epicentre / 8. The Great Divide / 9. Nemesis / 10. Kingdom / 11. Resolution / 12. Control / 13. Nova / 14. Beloved / 15. Perpetual // Rating: 9 / 10 // http://www.vnvnation.de / https://www.facebook.com/VNVNation [Lisa]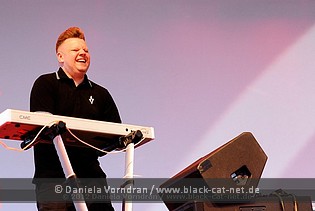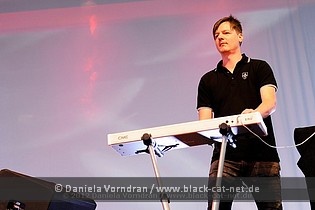 Links to the extended galleries

Impressions / Signing Sessions / Bands Day 1 / Bands Day 2

Written by Daniela "Dani" Vorndran, Lisa Young-In and J. "Niggels" Uhlenbruch
All pictures by Daniela Vorndran (http://www.vorndranphotography.com / http://www.black-cat-net.de/ / http://www.myspace.com/vorndranphotography / http://www.facebook.com/blackcatnet)



See also (all categories):