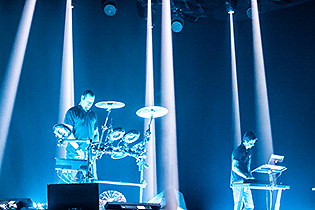 Columbiahalle, Berlin, Germany
4th December 2015
VNV Nation – Compendium Gala Event with special guest Marsheaux

VNV Nation is a band that can be identified as one of the most popular ones among the gothic and electronic scene. With every album they released their fan base got bigger and their reputation grew. Now in 2015, the bands looks back on 20 years of history and decided to celebrate that with special shows.
Marsheaux

MARSHEAUX is a Greek Synth Pop duo formed in Athens in 2003. The group is composed of vocalists, songwriters and keyboardists Marianthi Melitsi and Sophie Sarigiannidou. The name MARSHEAUX is derived from the first syllable of each band member's name. Both members sing almost exclusively in English. In 2015, MARSHEAUX released their fifth studio album 'A Broken Frame,' which is a cover album of DEPECHE MODE's 1982 LP of the same name. It has been seen as faithful to the original but with a modernised sound including some darker and slower interpretations of tracks like 'The Meaning Of Love' and 'A Photograph Of You' as well as a trip hop version of 'Shouldn't Have Done That'.
http://marsheaux.com
/
https://www.facebook.com/marsheaux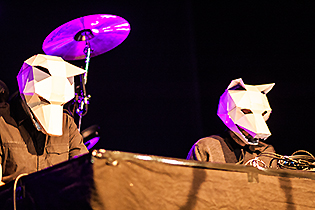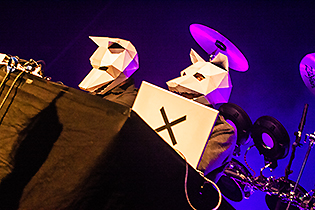 Music & Performance

When two men with strange looking animal heads entered the stage, no one really knew what to expect. Although the band was announced in advance, only a few people in the audience seem to have heard of them before. Nevertheless, the band was welcomed with a warm applause and immediately started with their electronic beats combined with two female vocalists. The sound progressed over the time leaving the audience with good vibes which also encouraged them to warm up before the main act. However, the songs were very much alike and did not show a great deal of variety. Also, it is not completely sure why the band would need two vocalists when their voices were changed with the help of electronic devises which made them sound like one computer animated voice. The two girls just stood there and did not move one foot away from their microphones which also did not contribute to the rather unexciting show. After listening to a couple of songs a certain pattern seemed to be visible which made their performance a little boring. All in all, it was a nice warm-up but did not leave a major impression.
Rating

Music: 6
Performance: 6
Sound: 7
Light: 7
Total: 6.5 / 10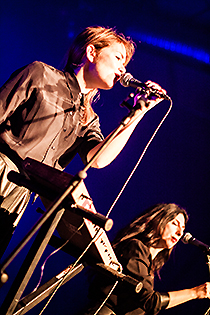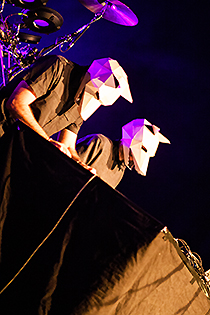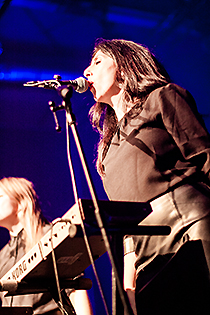 VNV Nation

VNV NATION were founded in the early 1990ies by Ronan Harris and Mark Jackson. They are based in England and Ireland. Ronan Harris is now living in Hamburg, Germany. During the years, they became an important base in the electronic alternative music and what some magazine named of Future Pop. Until now they have released ten studio albums. The latest album 'Transnational' came out in October 2013 was then followed by their project 'Resonance: Music For Orchestra Vol. 1'. This year, they are celebrating their 20th adversary.
http://www.anachronsounds.de
/
https://www.facebook.com/VNVNation/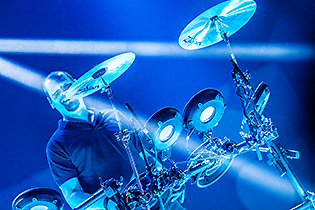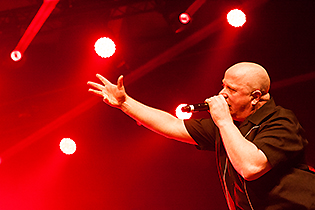 Music & Performance

This tour's performance is probably one of the most anticipated shows ever. The band announced in advance that the Compendium shows would be extra special due to extra-long shows, a special light show and special guests. And what can I say? The band did not disappoint! The show was packed with hits from all the past years, giving the audience songs from each album their have released. Major hits like 'Chrome' and the well-known 'Illusion' were played at the beginning and really set the mood for this great evening. The band managed to play songs from every album and fulfilled every possible wish. Songs like 'Perpetual' and 'Control' led the fans to loud sing-alongs which created unforgettable moments. Especially 'Space and Time' was quite magical.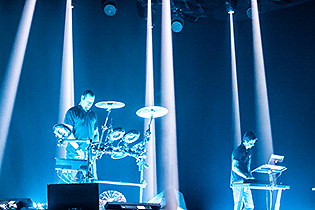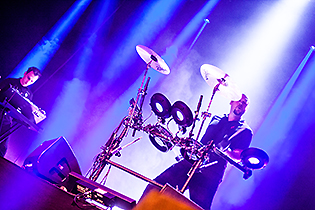 However, there was one particular moment which left everyone in a halt - Ronan was unsatisfied with the sound and interrupted his singing several times until he could finally hear himself again - but Ronan would not be Ronan if he did not use his charm to turn this whole scene around: he excused himself by simply saying "I'm just human" and smiling at everyone. The band was also not kidding around when it came to special guests. They told the audience how they also worked on some remixes over the past years and especially mentioned APOPTYGMA BERZERK's 'Kathy's song' - and before the people could even believe it, Stefan Groth was already on stage singing the song together with Ronan.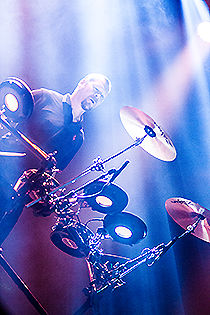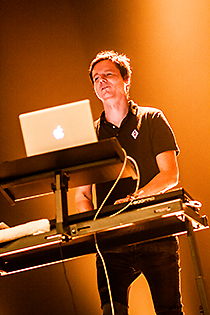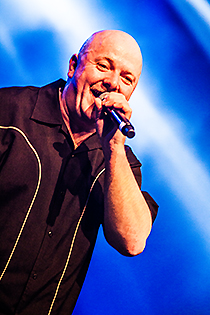 All in all, the band played for 2h 40m and left everyone in a state of complete happiness. Very special moments were created which did not only leave the fans speechless but also the band itself. Ronan was close to tears as everyone sang along and cheered. Let's hope the next 20 years will be just as great as the last!
Rating

Music: 10
Performance: 10
Sound: 9
Light: 8
Total: 9.3 / 10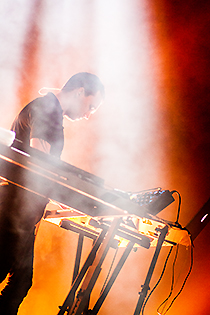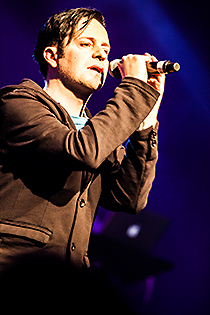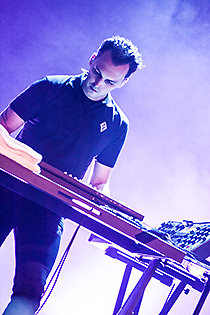 All pictures by Anne Kuhfuß
See also (all categories):